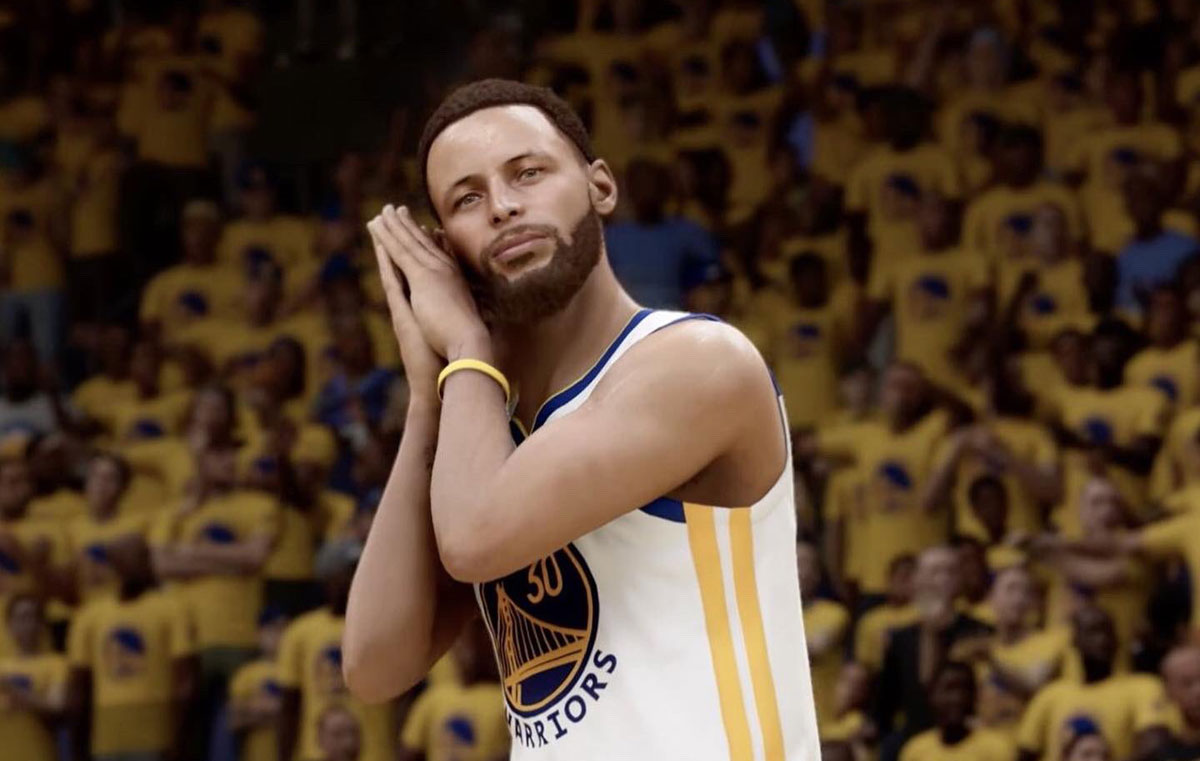 The NBA and NBA 2K23 showcases some of the best signature celebrations in sports. You can showoff in-game by pressing 'D-pad Down'. Here is the list of in-game celebrations for NBA 2K23 MyCAREER / MyPLAYER.
(Note: Some celebrations may be "Season Exclusive", meaning they are only available to purchase exclusively for that season only.)
Also See:
NBA 2K23 In-Game Celebrations
NBA & PRO-AM SHOT CELEBRATIONS
Determine how you land on your jumper when you get a green release in NBA, Park, and Pro-Am games.
Agent Zero
Arrow
Baby Face Stomp
Big Carry
Big Shot Bob
Bunny Hop
Bye Bye Bye
Carried
Doc's Reminder
Desperado
ET Signal
Fired Up
Fist Pump
Flip Phone
Hula Hoop
Ice In My Veins
Kawhi Squat
KB24
Knew It
Larry Legend
Melo Triple Tap
No Look
Rip Shirt
Shimmy
Silky Smooth
Suns Out Guns Out
Swoop
The Reality Check
The Shot
The Truth
Trae Of Ice
NBA & PRO-AM DUNK CELEBRATIONS
Ball Of Energy
Button Up
Carried
Clean Shoes
Fired Up
Jab To The Heart
LeBron Stomp
Love My Fans
Nope
Point To Ground
Scream Stomp
Shake It Off
Something Else
Super Dunk
Too Small
Trae Of Ice
Trash Talker
PARK SHOT CELEBRATIONS
Agent Zero
Air It Out
Baby Face Stomp
Banana Peel
Billy Bounce
Blades of Glory
Doc's Reminder
Dysfunctional
Feelin' Myself
Flip Phone
Giddy Up
Hips Ain't Lie
Hit My Line
Holy Ghost
Home Run
Hot Handles
I'm Comin' Home
I'm Out
In N' Out
Ja Slide
Kawhi Squat
Kitty Cat
No Worries
Overcharged
Party Time
Poole Party
Pray
Primetime
Prince of Pop
Prolific
Ready Up
Rock N' Jack
Secret Stuff
Shimmy
Silky Smooth
Slalom
Speed Bag
Speed Skate
Swoop N' Slap
Ta-ta
Tap Slide
The Reality Check
Tickle Tickle
Yippy
Zip It
PARK DUNK CELEBRATIONS
Determine how you land on your dunk in Park games.
Awkward
Banana Peel
Blades of Glory
Bushwacker
Cry Cry Cry
Dysfunctional
Gymnast
Hit My Line
Holy Ghost
Hot Handles
I Did It Again
I'm Out
In N' Out
Ja Slide
Kitty Cat
Like What You See
No Worries
Nope
Overcharged
Party Time
Poole Party
Pray
Primetime
Profilic
Ready Up
Rock N' Jock
Shimmy
Skippity Skip
Slalom
Smiling
Speed Bag
Speedy Skate
Swoop N' Slap
Ta-da
Tap Slide
Too Small
Well Rested
Yippy
NBA & PRO-AM STANDING
Euro Celly
Fist Pump
Head Tap
Kemp Point
Mesmerized
Night Night
Praise The Three
Ring Ring
Rock Paper Scissors
Salsa
Splash
Too Cool
Young Bow
NBA & PRO-AM AFTER TWO
Bow & Aarrow
Head Shaker
Head Tapper
Hype
Ice Trae
Kemp Point
Loaded
Nance Jr. Airlines
Night Night
Salsa
Shhh
Shrug
Steph Point
Talkin'
Vinsanity Rev
Young Bow
Hype
NBA & PRO-AM AFTER THREE
3 Kiss Sky
3 On The Sleeve II
3 Wide
Bow & Arrow
Bropez On Fire
Fist Pump
Head Shaker
Head Tapper
Hype
Ice Trae
Kemp Point
Loaded
Nance Jr. Airlines
Night Night
Ray Ray For 3
Salsa
Shhh
Shrug
Steph Point
Talkin'
Three Low
Vinsanity Rev
Young Bow
Zo For 3
PARK STANDING
Banana Peel
Blades Of Glory
Dice Roll
Dysfunctional
Effortless
Euro Celly
Freeze
Freeze Pop
Head Tap
Hit My Line
Holy Ghost
Hot Handles
Kemp Point
Mesmerized
Night Night
Overcharged
In N' Out
Ja Slide
No Worries
Party Time
Poole Party
Prime Time
Praise The Three
Push Flip
Race Car
Ready Up
Relaxin'
Ring Ring
Rock N' Jock
Rock Paper Scissors
Salsa
Slalom
Speed Bag
Speed Skate
Splash
Swoop N' Slap
Surf
Tap Slide
The King
Too Cool
Yippy
Young Bow
PARK AFTER TWO
B-Boy
Bow & Arrow
Cacaw
Fist Pump
Head Shaker
Head Slide
Head Tapper
Hype
Ice Trae
Jragon Flip
Kemp Point
Nance Jr Airlines
Night Night
Loaded
Night Night
Salsa
Shhh
Shrug
Side Winder
Steph Point
Talkin'
Vinsanity Rev
Wavy Wock
Young Bow
PARK AFTER THREE
3 Kiss Sky
3 On the Sleeve II
3 Wide
B-Boy
Bow & Arrow
Bropez On Fire
Cacaw
Fist Pump
Head Shaker
Head Slide
Head Tapper
Hype
Ice Trae
Jragon Flip
Kemp Point
Loaded
Nance Jr Airlines
Night Night
Ray Ray For 3
Salsa
Shhh
Shrug
Side Winder
Steph Point
Talkin'
Three Low
Vinsanity Rev
Wavy Wock
Young Bow
Zo For 3
PARK FLOPS
Back Drop
Back Flip
Bruiser
Bye
Clear Out
Down and Out
Effortless
Farewell
Front Flip
Going Low
Headstrong
Knockout
Obviously
Ouch
Push Flip
Side Flip
Slingshot
Split
Timber
Trapped
Twice Is Nice
Wash It Off
Yanked
Yawn
Wow
NBA JUMPBALL RITUALS
Kobe Bryant
Stephen Curry
Kevin Garnett
James Harden
Kyrie Irving
DeAndre Jordan
Dirk Nowitzki
Russell Westbrook
360 Spin
Arms Behind
Calf Stretch
Cooking
Cross Arms
Focus
Hand Sign
Hands On Knees
Hops
Jersey Point
Jumping Jacks
Jumps
Point
Push-Ups
Rally Crowd
Shoe Scratch
Shoe Wipe
Stretch Arms
Swing Arms
Warm Hands