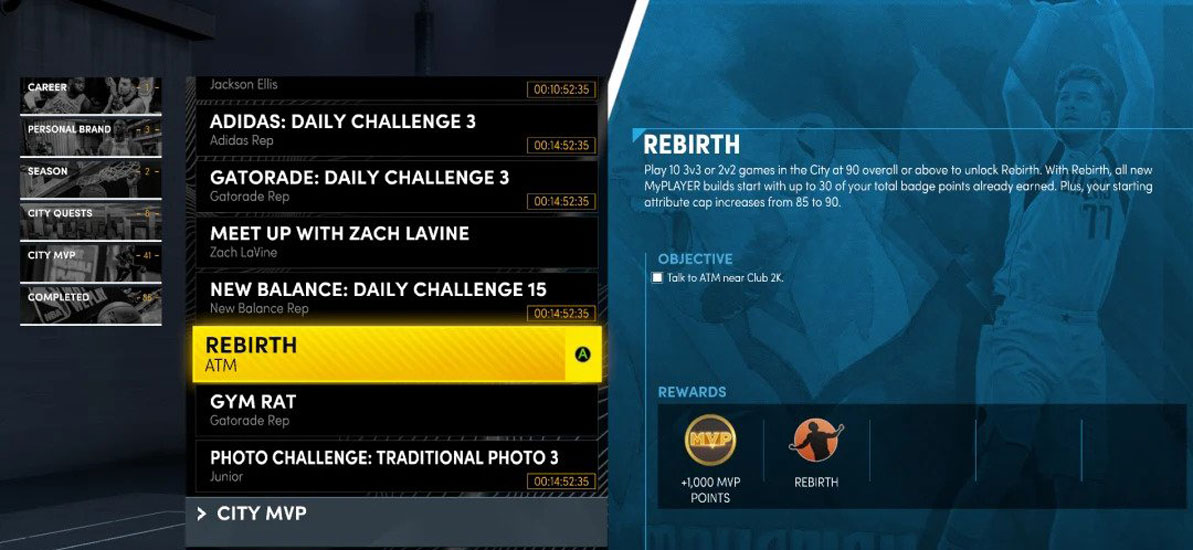 In NBA 2K22, it's all about integration. New to the series are "Quests" in NBA 2K22 MyCAREER, which invite players to complete various activities and challenges throughout the City to reap rewards for your MyPLAYER. Rewards range from earning the Gym Rat Badge, to unlocking a Penthouse, to earning "Rebirth", and many more. 2K has "added lots more Side Quests to enrich the experience outside of the main story arc…there are also tons of opportunities for fun diversions throughout the City that can change on a daily, weekly, and yes, Seasonal, basis."
General Tips & Info for NBA 2K22 Quests:
Quests can be found under the MyCAREER menu
There are 5 Quest main categories: Career, Personal Brand, Season, City Quests, & City MVP.
Activate the Quest by pressing A (Xbox) / X (Playstation)
Press Y / Triangle to Track a Quest on the City Map
Quest locations can also be found on the City Map
Some Quests have time limits
It's helpful to prioritize the Quests with the biggest payoffs (i.e Rebirth)
Try to do Quests in bulk when you're in a Quest location close to another Quest
Typical rewards include MVP Points, VC, Season Level XP, and more
You can skip cutscenes by holding A (Xbox) / X (Playstation)
Check out many of the individual quests in NBA 2K22, including the objectives and rewards, below.
(Note: Work in progress)