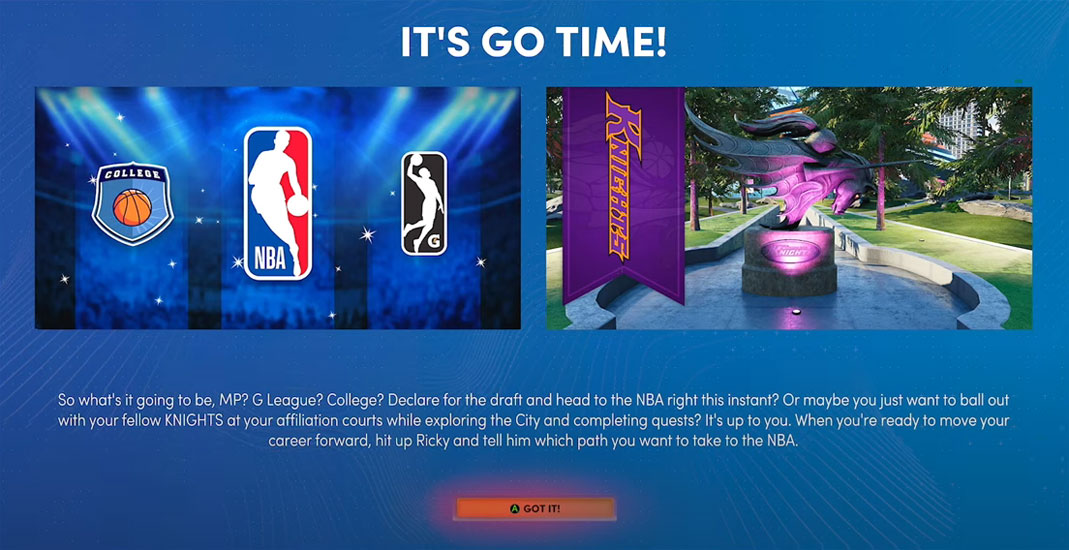 The quest to perfect your MyPLAYER build has become an NBA 2K tradition, and this year is no different for NBA 2K22. The MyCAREER journey and storyline this year offers fans the ability for your MyPLAYER to start his career either in the NCAA like most NBA players do, via the G League like what 2021 NBA lottery pick Jonathan Kuminga did, or declare for the NBA draft and go straight to the NBA, a la the path of Kobe, LeBron, and KG. Whatever decision you end up making comes with certain perks and consequences – here they are:
G League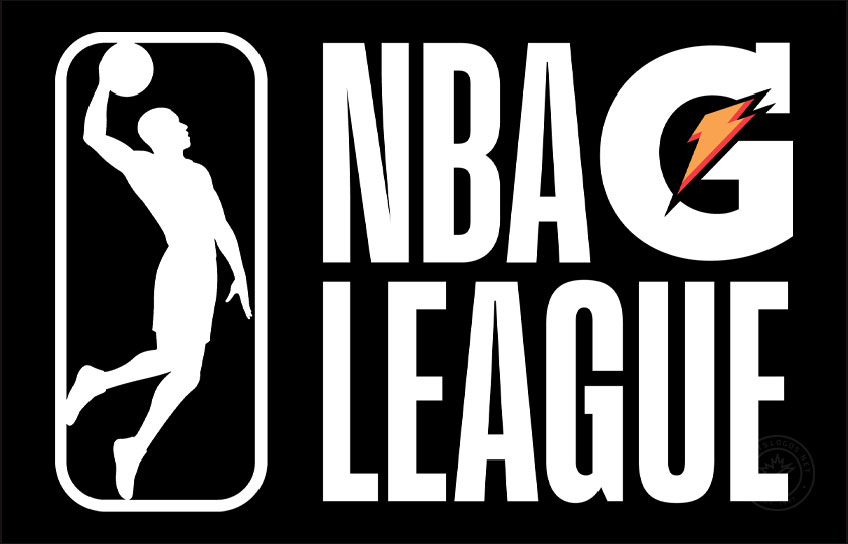 Earn permanent 5% MyPoints accelerator to speed up process of upgrading your MyPLAYER
Pursue endorsement opportunities on off days to earn VC and start building your Personal Brand
Prepare yourself for the league by playing against NBA-caliber talent
Meet the press to take control of your narrative and practice your interviewing skills
College (NCAA)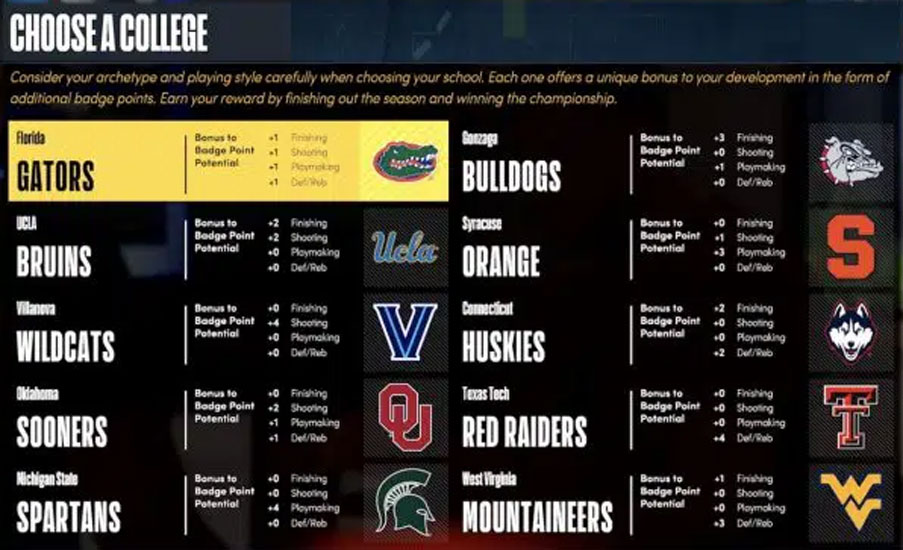 Jump directly into the single-elimination tournament (March Madness) and earn additional badge points by winning the national championship
Gain more fans by playing on a national stage and proving you're a top prospect
Earn attribute boosts for the tournament by attending practices that teach you key skills in your build
Maintain amateur status, allowing you to sign with the G League after college (you can't attend college after going to the G)
College Bonus Badge Points List
Florida Gators

+1 to Shooting, Playmaking, Defense, and Finishing

UCLA Bruins

+2 to Finishing and Shooting

Villanova Wildcats
Oklahoma Sooners

+2 to Shooting, and +1 to Playmaking and Defense

Michigan State Spartans
Gonzaga Bulldogs

+3 to Finishing and +1 to Playmaking

Syracuse Orange

+3 to Playmaking and +1 to Shooting

Connecticut Huskies

+2 to Finishing and +2 to Defense

Texas Tech Red Raiders
West Virginia Mountaineers

+3 to Defense and +1 to Finishing
NBA
The NBA route doesn't offer any special or specific tangible perks in the form of boosts, but this route does let you accelerate right into the action amongst the NBA superstars of today.
Our Recommendation
If you're in a rush to get your MyPoints fast to upgrade your MyPLAYER, then the G League is the best option. Conversely, it's tough to leave badge points on the table, which is the major perk of going the NCAA route. Another benefit of choosing college, is it still leaves the door open to going to the G League, whereas the G League's only next step is the NBA.
If you're not in a rush to get to the NBA and looking for the best long-term benefit for your MyPLAYER, we recommend going the NCAA > G League > NBA route. But the choice will ultimately depend on which route makes the most sense for you and your MyPLAYER.