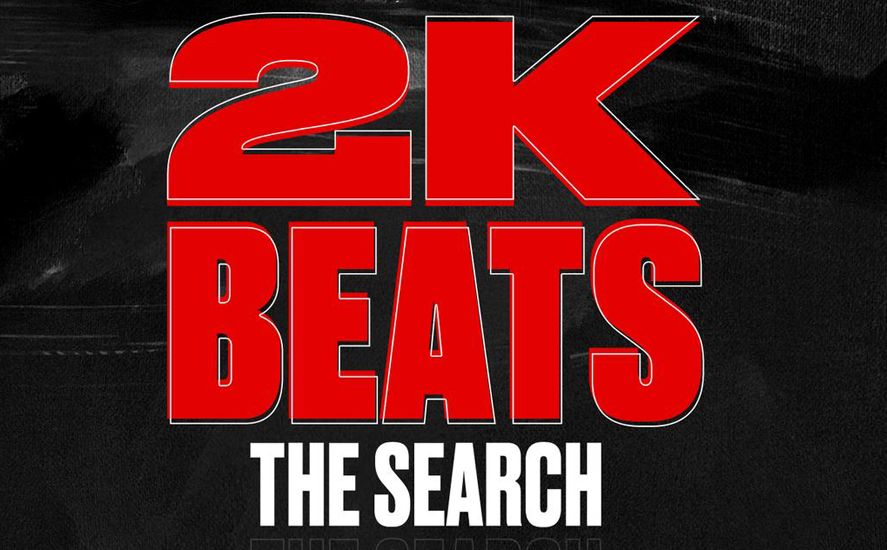 Like last year, 2K Sports has partnered with United Masters to give aspiring artists an opportunity to get their music featured on an upcoming NBA 2K21 Soundtrack update. Artists can sign up here to enter the contest.
Here is the full press release:
2K today announced that after the huge success of the first international competition, 2K and UnitedMasters are partnering for their second international talent search ("2K Beats: The Search") to give the best up-and-coming artists an opportunity to have their song featured on the NBA 2K21 next-gen soundtrack.
"NBA 2K continues to move culture forward by providing a platform for new music discovery," said Steve Stoute, Founder and CEO of Translation and UnitedMasters. "Last year, we discovered incredible talents like Quantrelle and Fourtee who used this competition to emerge on a global stage. We're thrilled to bring this competition back for a second year. NBA 2K converges music and gaming better than any other platform in the world."
The competition takes place in two phases. The first phase runs from September 9 to October 15, where artists can submit a track for in-game consideration that will be judged by 2K and UnitedMasters and 10 winners will be announced in November. The second phase runs from October 16 to November 30, and an additional 10 winners will be announced in December. Aspiring artists can submit their tracks and learn more about this year's competition here: https://unitedmasters.com/NBA2K.*
"Having my music be a part of NBA 2K was a dream come true," said Quantrelle, one of the winners of last year's competition. "Exposure is incredibly important for musicians and NBA 2K offers a huge platform for artists."
The NBA 2K21 in-game soundtrack sets the gold standard for music, with one of the largest collections of music ever assembled for a sports video game. Featuring tracks from Damian 'Dame D.O.L.L.A.' Lillard and global artists such as Stormzy, Roddy Ricch, Little Simz and more, the NBA 2K21 UnitedMasters competition winners will be cemented in the top-rated and top-selling NBA video game simulation series of the past 19 years alongside today's top musical talent.
"Music has always been an integral part of NBA 2K, and each year we strive to expand our approach to the players' in-game experience," said Alfie Brody, Vice President of Global Marketing for NBA 2K. "This year we're able to bring the soundtrack to completely new heights, and the return of the UnitedMasters competition allows us to discover top artists that embody the NBA 2K21 theme – Everything is Game."
For more information on NBA 2K21, please visit www.nba.2k.com, become a fan on Facebook, follow on Twitter, Instagram, TikTok, or subscribe on YouTube.
Visual Concepts is a 2K studio. 2K is a wholly owned publishing label of Take-Two Interactive Software, Inc. (NASDAQ: TTWO).
*NO PURCHASE NECESSARY TO ENTER OR WIN. Open to legal residents of 50 United States & D.C., Australia, Belgium, Canada (excluding Quebec), China (excluding Taiwan, Hong Kong and Macau), France, Germany, Great Britain, Republic of Ireland, Japan, Luxembourg, Mexico, the Netherlands, New Zealand, the Republic of Korea, and Spain, who are at least 18 years of age and the age of majority in their state/country/province of residence. In order to enter the Contest, entrants must have a UnitedMasters account (which is free) and must agree to the UnitedMasters Terms of Use. Entrants cannot have an exclusive recording or distribution agreement or be signed to a collection society other than ASCAP, BMI, or SESAC. Void in Hong Kong, Macau, Quebec, Taiwan, and where prohibited. Phase 1 of the Contest begins at 7:00:01 AM Pacific Time (PT) (U.S.) on September 9, 2020 and ends at 11:59:59 PM PT (U.S.) on October 15, 2020. Ten Phase 1 winners will be selected on or about November 1, 2020. Phase 2 of the Contest begins at 12:00:00 AM PT (U.S.) on October 16, 2020 and ends at 11:59:59 PM PT (U.S.) on November 30, 2020. Ten Phase 2 winners will be selected on or about December 21, 2020. Subject to the Official Rules, available at www.UnitedMasters.com/NBA2K/rules. Limit 1 entry per person. Sponsored by 2K Games, Inc. ("2K"), a wholly owned subsidiary of Take-Two Interactive Software, Inc., 10 Hamilton Landing, Novato, CA 94949, USA.