With a height of 7'4″ and a do-it-all game and fluidity not seen from a 7 footer since Kevin Durant, the 18-year-old French basketball phenom Victor Wembanyama has taken the basketball world by storm. The highly-touted center is considered a generational prospect and the best basketball prospect to come around since LeBron James. As expected, the San Antonio Spurs drafted "Wemby" with the #1 overall pick in the 2023 NBA Draft today. Coined an "alien" by LeBron for his other-worldly talent at his size, Wembanyama has been dominating the competition in a French professional league and is ready to take his talents to the NBA.
Also See:
In this article we take a look at Wembanyama's impact on NBA 2K24 and much more!
Victor Wembanyama Info & Scouting Report
Vitals
Position: Center
Height: 7'3.5″
Weight: 210 lbs
Wingspan: 8'0″
Strengths
Elite 2-way player
Advanced ball-handling skills for his position and size, can create his own shot and create space
Impressive athleticism, lateral quickness, and fluidity for someone his size
Elite defensive player who can cover ground quickly, moves fluidly, quick off his feet, capable of perimeter defense, blocks and contests shots from anywhere on the court, good defensive instincts.
Good shooting mechanics with range that stretches to the 3PT Line
Competitive mindset
Weaknesses
Tall and slender frame raises questions about how his body could hold up in the NBA
Can sometimes be turnover prone and foul prone
Has tendency to take wild shots difficult shots, although he can make many of them
Pro Comparisons
Ralph Sampson, Kristaps Porzingis, Kevin Durant
Key Numbers
Led LNB Pro A in scoring, rebounding and blocked shots
Two-time LNB Pro A All-Star; All-Star Game MVP in 2022-23 season
✅ Victor Wembanyama officially scanned in NBA 2K24 (Before New Haircut) #NBA2K24 pic.twitter.com/r9FIkd2tdT

— JumpmanGerm (@Jumpman_Germ) July 18, 2023
NBA 2K Info on Wembanyama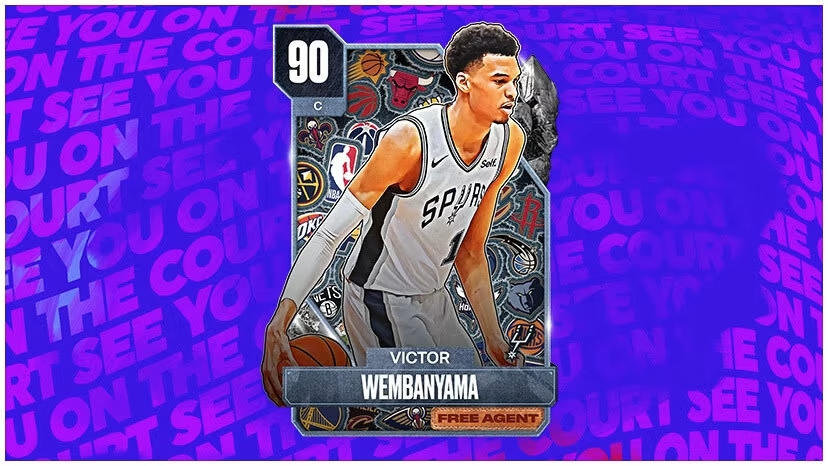 Victor Wembanyama in NBA 2K24
Pre-order the NBA 2K24 25th Anniversary Edition between July 7 and July 17 to receive a 90 Rated Victor Wembanyama Free Agent Card and a Victor Wembanyama Jersey for your MyPLAYER.
Victor Wembanyama in NBA 2K23 MyTEAM
Wemby is officially in NBA 2K23! 2K announced that an Invincible Victor Wembanyama MyTEAM card will be available on June 22 as part of an NBA Draft content drop.
Check out highlights of Wemby in NBA 2K23 below:
The time has come… who is ready for Victor Wembanyama to join #NBA2K23 MyTEAM?! 😤 #NBADraft pic.twitter.com/Hrs3H5Y6DU

— NBA 2K MyTEAM (@NBA2K_MyTEAM) June 21, 2023
NBA 2K23 Invincible Wembanyama MyTEAM Card Info
GENERAL
Name: Victor Wembanyama
MyTEAM Card: Invincible
OVR: 99
Height: 7'5″
Weight: 230 lbs
Wingspan: 8'0″
Position:  PF / SF
ATTRIBUTES
Shooting
Shot Close: 99
Shot Mid: 99
Shot 3PT: 99
Free Throw: 99
Offensive Consistency: 99
Inside Scoring
Driving Layup: 99
Standing Dunk: 99
Driving Dunk: 99
Draw Foul: 99
Post Moves: 99
Post Hook: 99
Post Fade: 99
Hands: 99
Playmaking
Speed With Ball: 99
Ball Handle: 99
Passing Accuracy: 99
Passing Vision: 99
Passing IQ: 99
Defense
Interior Defense: 99
Perimeter Defense: 99
Help Defense IQ: 99
Lateral Quickness: 99
Pass Perception: 99
Steal: 99
Block: 99
Defensive Consistency: 99
Rebound
Offensive Rebound: 99
Defensive Rebound: 99
Athleticism
Speed: 99
Acceleration: 99
Vertical: 99
Strength: 99
Stamina: 99
Hustle: 99
Potential
Intangibles: 95
Potential: 99
BADGES
Bronze: 0
Silver: 0
Gold: 8
HOF: 55
Finishing Badges
HOF Acrobat
HOF Aerial Wizard
HOF Backdown Punisher
HOF Bully
HOF Dropstepper
HOF Fast Twitch
HOF Fearless Finisher
HOF Limitless Takeoff
HOF Masher
HOF Posterizer
HOF Post Spin Technician
HOF Rise Up
Gold Giant Slayer
Gold Pro Touch
Gold Slithery
Shooting Badges
HOF Agent 3
HOF Amped
HOF Blinders
HOF Catch and Shoot
HOF Claymore
HOF Corner Specialist
HOF Green Machine
HOF Guard Up
HOF Limitless Range
HOF Middy Magician
HOF Slippery Off Ball
HOF Volume Shooter
Gold Clutch Shooter
Gold Comeback Kid
Gold Space Creator
Playmaking Badges
HOF Ankle Breaker
HOF Bail Out
HOF Break Starter
HOF Clamp Breaker
HOF Dimer
HOF Floor General
HOF Handles for Days
HOF Hyperdrive
HOF Killer Combos
HOF Needle Threader
HOF Post Playmaker
HOF Quick First Step
HOF Vice Grip
HOF Gold Special Delivery
Defensive / Rebounding Badges
HOF Anchor
HOF Boxout Beast
HOF Bick Wall
HOF Challenger
HOF Chase Down Artist
HOF Clamps
HOF Glove
HOF Interceptor
HOF Menace
HOF Off Ball Pest
HOF Pick Dodger
HOF Pogo Stick
HOF Post Lockdown
HOF Rebound Chaser
HOF Work Horse
Gold Ankle Braces
Personality Badges
Ronnie 2K: "Victor Wembanyama is Going to Break (NBA 2K24)"
Many NBA and 2K fans see Wembanyama as the ultimate real-life version of an NBA 2K 'demigod' – a.k.a. a created player so over-powered and glitchy that it's only seen in videogames.
In a recent interview on 'The Rich Eisen Show', 2K rep Ronnie 2K said 2K has already started talking about Wembanyama's 2K rating and jokingly said Wembanyama is "going to break our game" when he arrives in NBA 2K24.
Ronnie 2K went on to say that 2K had a similar challenge in 2016 on how the game had to adapt to Stephen Curry's IRL "arcadey" shooting ability and videogame-like limitless range.
Victor Wembanyama NBA 2K24 Build & Ratings Projection
Archetype
Two-Way Inside-Out Scorer
OVR Rating
Victor Wembanyama NBA 2K23 Build & Face Creation