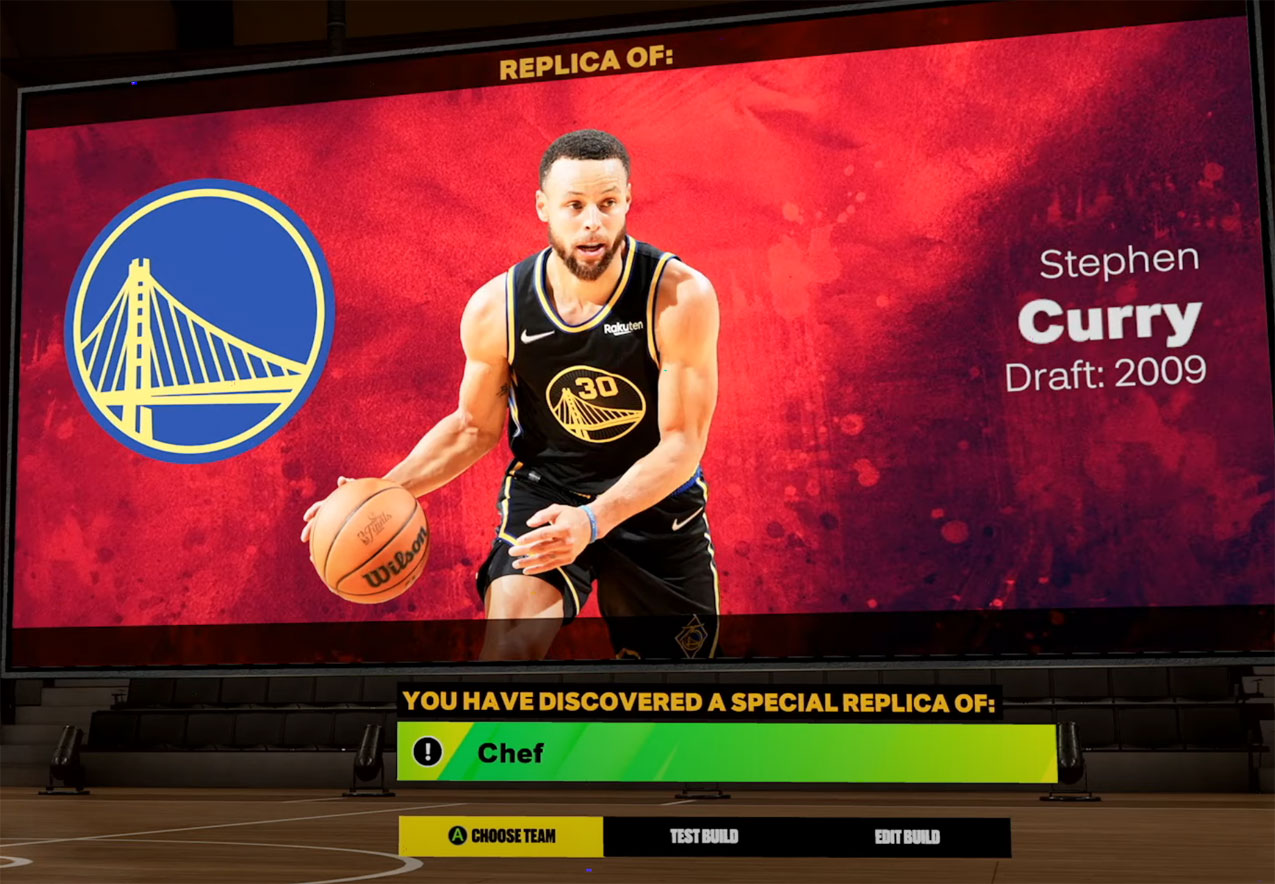 NBA 2K23 "Replica Builds" are a new 'easter egg' type of feature in the NBA 2K23 MyPLAYER Builder, which highlight created builds that are very similar to a real NBA player's build-type (past and present). When this happens, you'll get this notice at the end of the build creation process – "You have discovered a special replica of" (NBA player), in the form of their nickname.
Replica Builds range from today's stars like "Chef" Curry and Kevin "Slim Reaper" Durant, to historical players like George "Mr. Basketball" Mikan and Jerry "The Logo" West; from non-superstar, but unique players, like Rafer "Skip 2 My Lou" Alston and Avery "Little General" Johnson, to the G.O.A.T., Michael "Air" Jordan.
(Updated: 08/03/23)
Also See:
No word yet on how many total replica builds are in the game, but we will update this post whenever any new ones are found in the game! Replica builds are available for both current-gen and next-gen.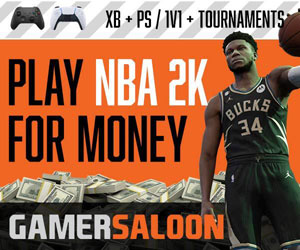 If you want to learn how to make player replica's, check out the following build tutorials below!
NBA 2K23 Replica Builds List
Point Guards (43)
Shooting Guards (35)
Small Forwards (36)
Power Forwards (26)
Centers (39)
(Note: Body Shape, Badges, and Takeover selections do not affect the creation of replica builds)
POINT GUARDS
Rafer Alston – "Skip 2 My Lou"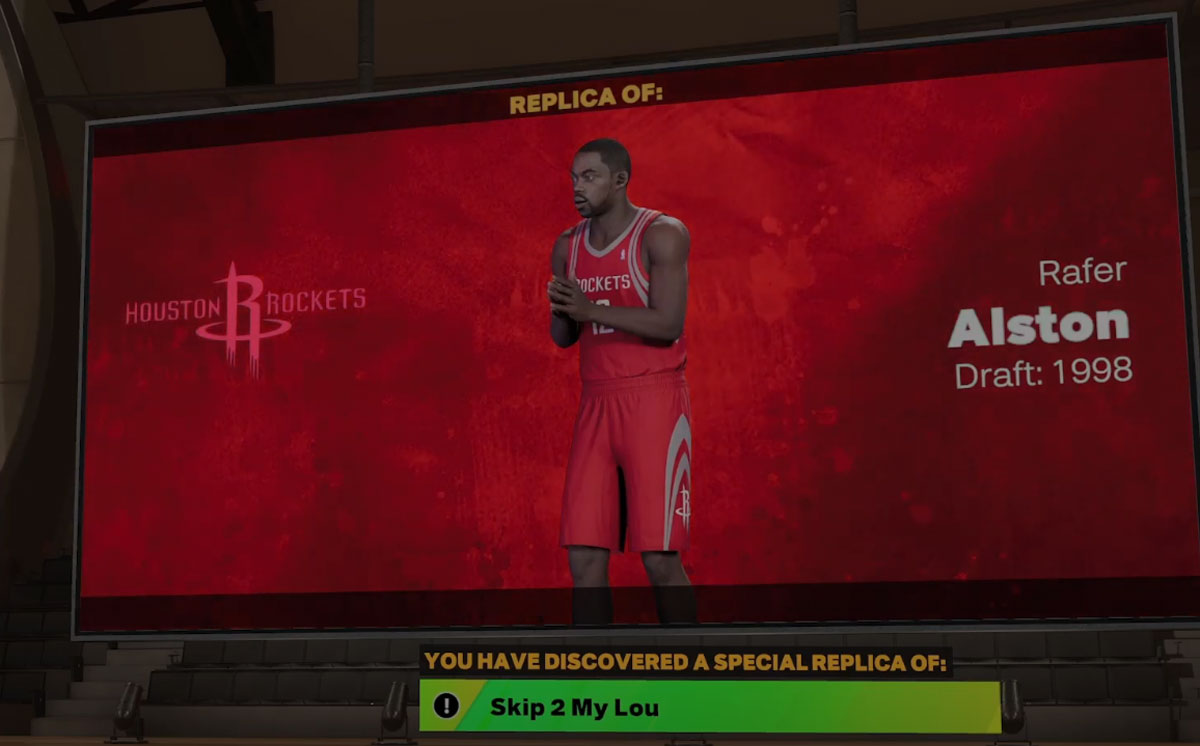 Position: PG
Handed: Right
Jersey Number: 12
Height: 6'2″
Weight: 193 lbs
Wingspan: 6'6″
Close Shot: 80
Driving Layup: 81
Driving Dunk: 30
Standing Dunk: 25
Post Control: 70
Mid-Range Shot: 81
Three-Point Shot: 86
Free-Throw: 77
Pass Accuracy: 82
Ball Handle: 92
Speed With Ball: 91
Interior Defense: 33
Perimeter Defense: 75
Steal: 69
Block: 45
Offensive Rebound: 36
Defensive Rebound: 42
Speed: 90
Acceleration: 90
Strength: 39
Vertical: 80
Stamina: 99
Nate Archibald – "Tiny"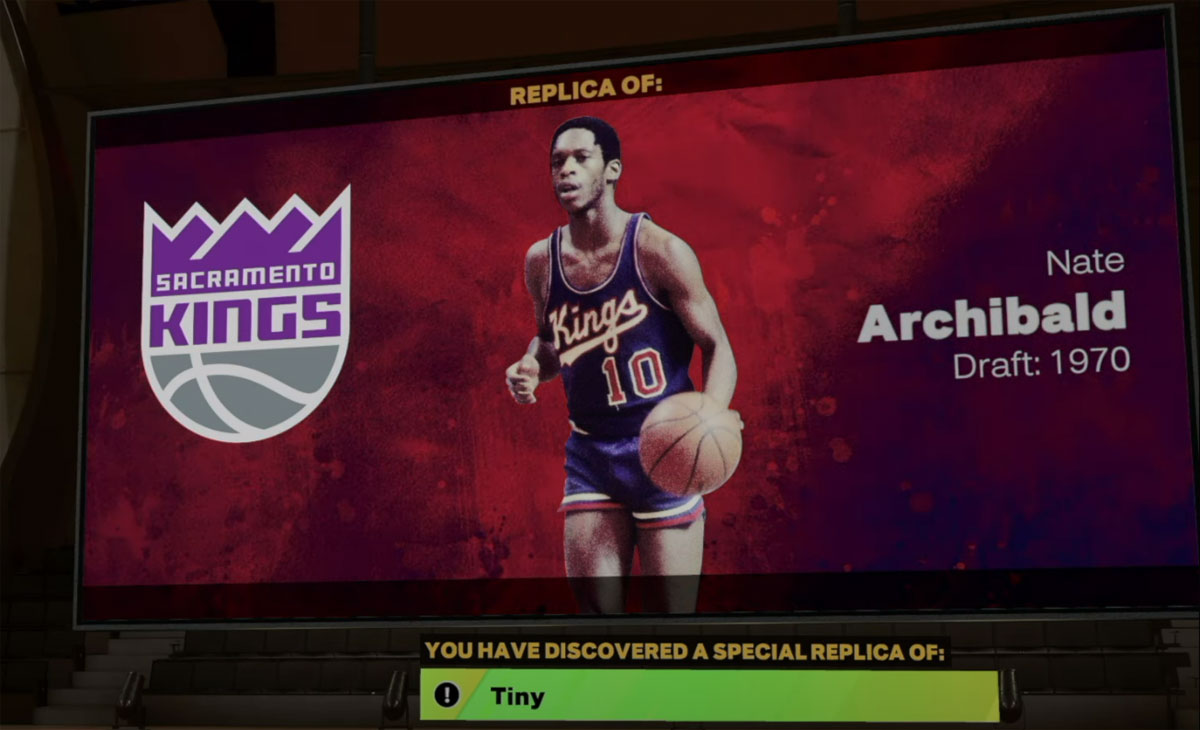 Position: PG
Handed: Left
Jersey Number: 1
Height: 6'1″
Weight: 170 lbs
Wingspan: 6'6″
Close Shot: 89
Driving Layup: 92
Driving Dunk: 25
Standing Dunk: 25
Post Control: 38
Mid-Range Shot: 91
Three-Point Shot: 71
Free-Throw: 72
Pass Accuracy: 86
Ball Handle: 90
Speed With Ball: 89
Interior Defense: 25
Perimeter Defense: 73
Steal: 76
Block: 32
Offensive Rebound: 30
Defensive Rebound: 37
Speed: 85
Acceleration: 94
Strength: 42
Vertical: 87
Stamina: 90
Gilbert Arenas – "Agent Zero"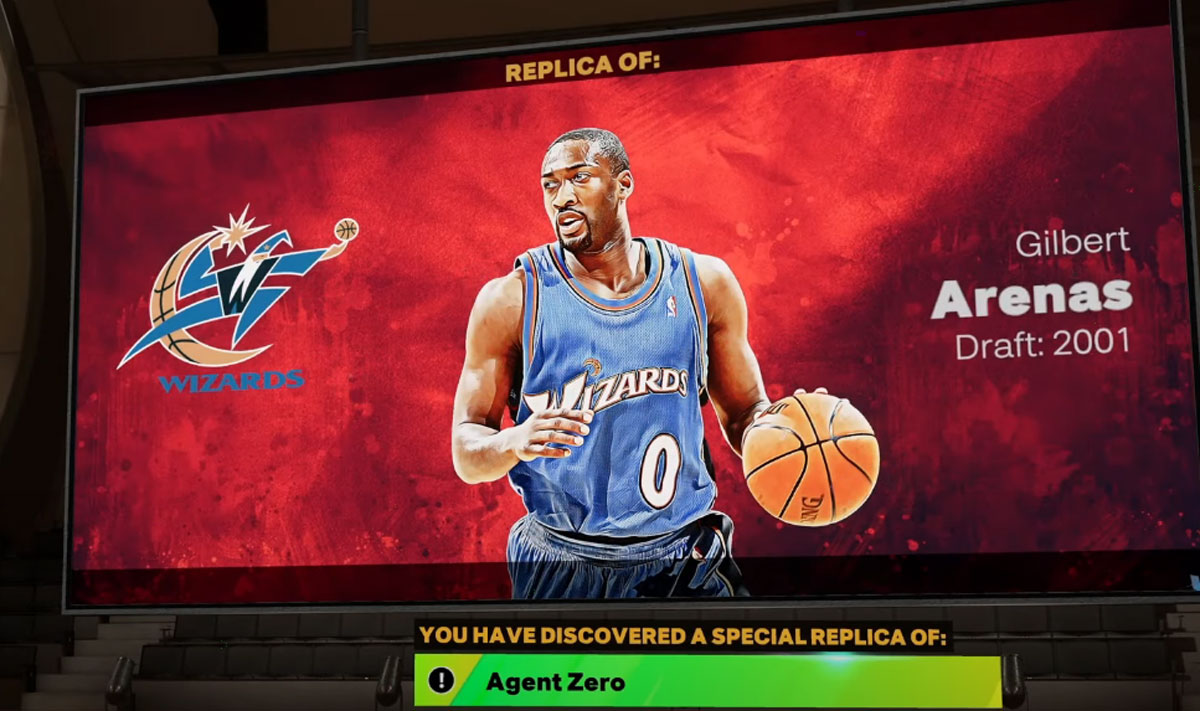 Position: PG
Handed: Right
Jersey Number: 0
Height: 6'3″
Weight: 191 lbs
Wingspan: 6'7″
Close Shot: 81
Driving Layup: 80
Driving Dunk: 71
Standing Dunk: 31
Post Control: 57
Mid-Range Shot: 91
Three-Point Shot: 80
Free-Throw: 80
Pass Accuracy: 82
Ball Handle: 92
Speed With Ball: 84
Interior Defense: 60
Perimeter Defense: 72
Steal: 70
Block: 43
Offensive Rebound: 47
Defensive Rebound: 55
Speed: 84
Acceleration: 84
Strength: 71
Vertical: 81
Stamina: 94
Gilbert Arenas – "Hibachi"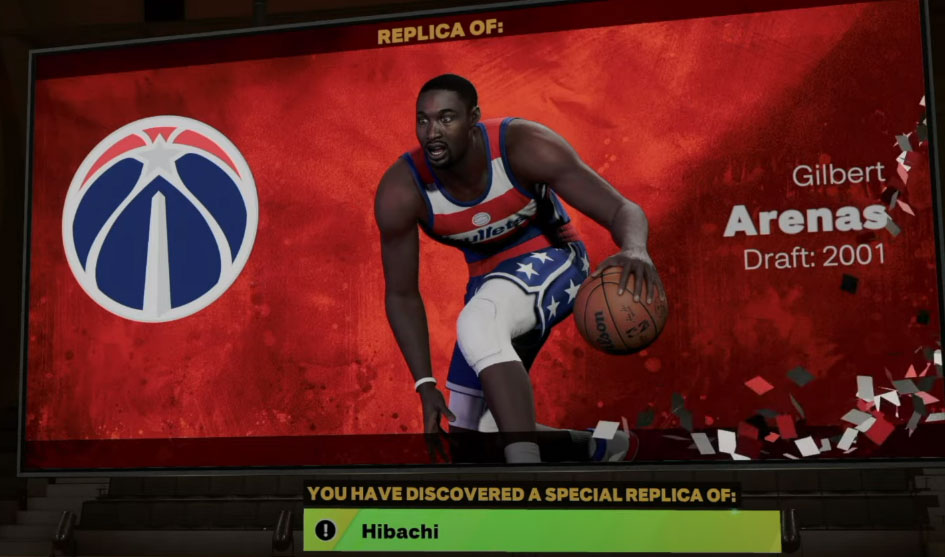 Position: PG
Handed: Right
Jersey Number: 0
Height: 6'3″
Weight: 198 lbs
Wingspan: 6'8″
Close Shot: 80
Driving Layup: 87
Driving Dunk: 80
Standing Dunk: 27
Post Control: 66
Mid-Range Shot: 84
Three-Point Shot: 85
Free-Throw: 74
Pass Accuracy: 82
Ball Handle: 87
Speed With Ball: 86
Interior Defense: 60
Perimeter Defense: 74
Steal: 69
Block: 42
Offensive Rebound: 46
Defensive Rebound: 54
Speed: 86
Acceleration: 86
Strength: 70
Vertical: 87
Stamina: 90
Patrick Beverley – "Mr. 94 Feet"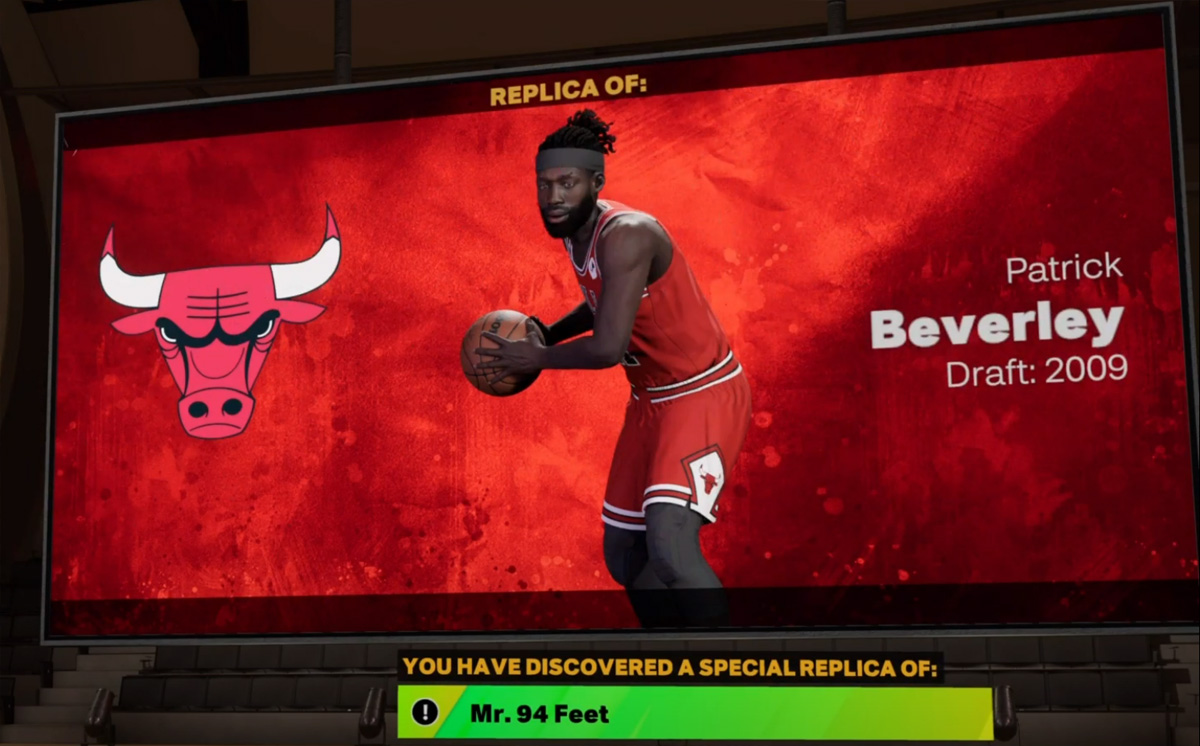 Position: SG
Handed: Right
Jersey Number: 21
Height: 6'1″
Weight: 190 lbs
Wingspan: 6'10"
Close Shot: 93
Driving Layup: 86
Driving Dunk: 53
Standing Dunk: 26
Post Control: 25
Mid-Range Shot: 73
Three-Point Shot: 85
Free-Throw: 81
Pass Accuracy: 82
Ball Handle: 86
Speed With Ball: 83
Interior Defense: 60
Perimeter Defense: 97
Steal: 78
Block: 60
Offensive Rebound: 55
Defensive Rebound: 70
Speed: 86
Acceleration: 86
Strength: 68
Vertical: 96
Stamina: 96
Chauncey Billups – "Mr. Big Shot"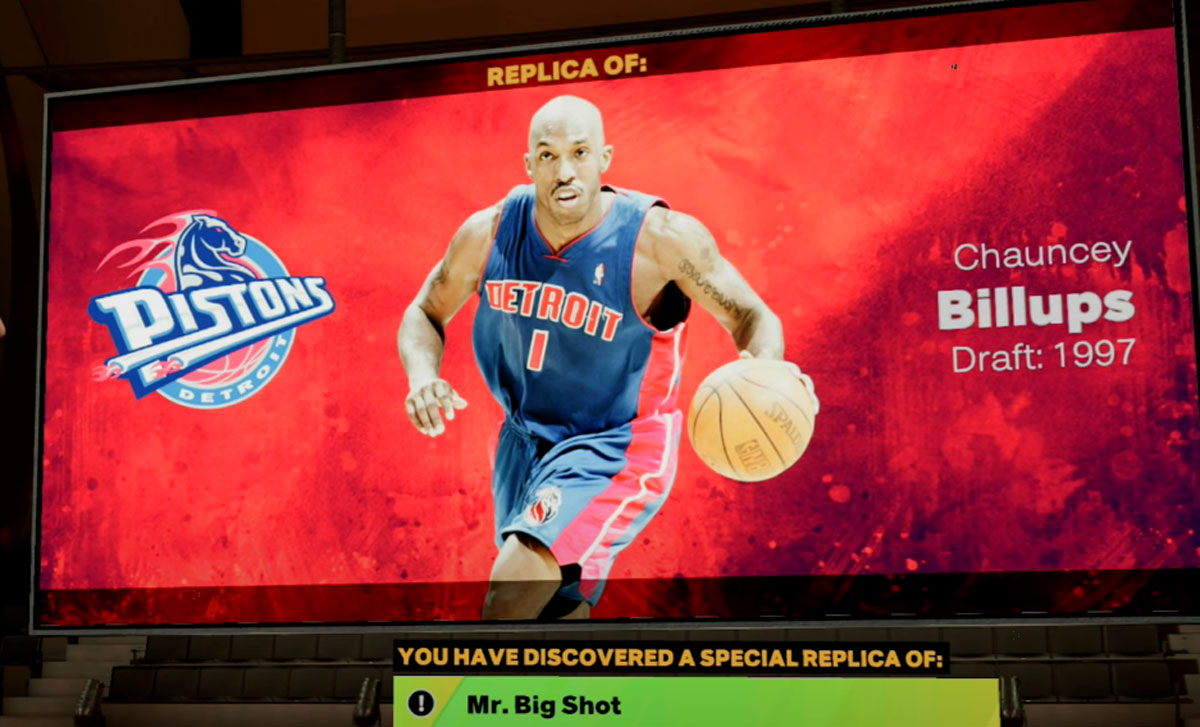 Position: PG
Handed: Right
Jersey Number: 1
Height: 6'3″
Weight: 202 lbs
Wingspan: 6'6″
Close Shot: 86
Driving Layup: 88
Driving Dunk: 32
Standing Dunk: 25
Post Control: 40
Mid-Range Shot: 84
Three-Point Shot: 84
Free-Throw: 83
Pass Accuracy: 90
Ball Handle: 84
Speed With Ball: 85
Interior Defense: 54
Perimeter Defense: 90
Steal: 68
Block: 30
Offensive Rebound: 33
Defensive Rebound: 50
Speed: 88
Acceleration: 88
Strength: 80
Vertical: 72
Stamina: 93
Fred Brown – "Downtown"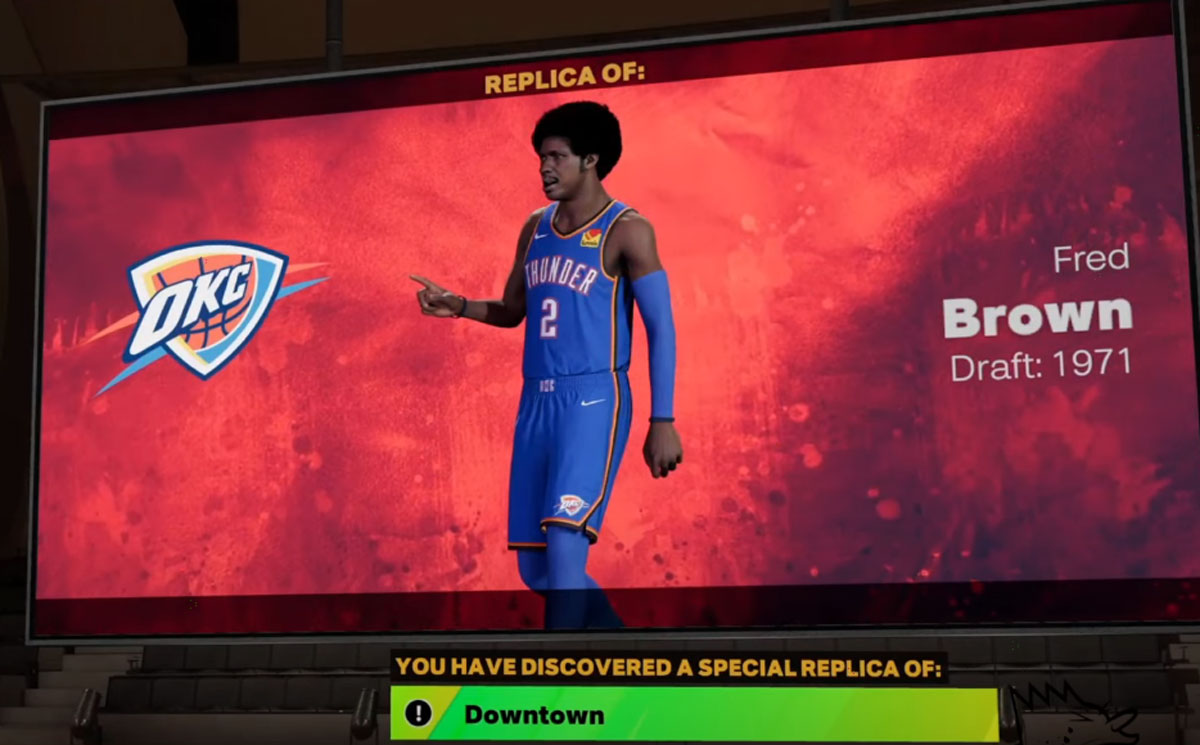 Position: PG
Handed: Right
Jersey Number: 2
Height: 6'3
Weight: 193 lbs
Wingspan: 6'7″
Close Shot: 82
Driving Layup: 81
Driving Dunk: 34
Standing Dunk: 25
Post Control: 49
Mid-Range Shot: 82
Three-Point Shot: 92
Free-Throw: 82
Pass Accuracy: 77
Ball Handle: 94
Speed With Ball: 88
Interior Defense: 57
Perimeter Defense: 71
Steal: 67
Block: 44
Offensive Rebound: 37
Defensive Rebound: 41
Speed: 80
Acceleration: 89
Strength: 35
Vertical: 74
Stamina: 90
Seth Curry – "Swaggy Swag"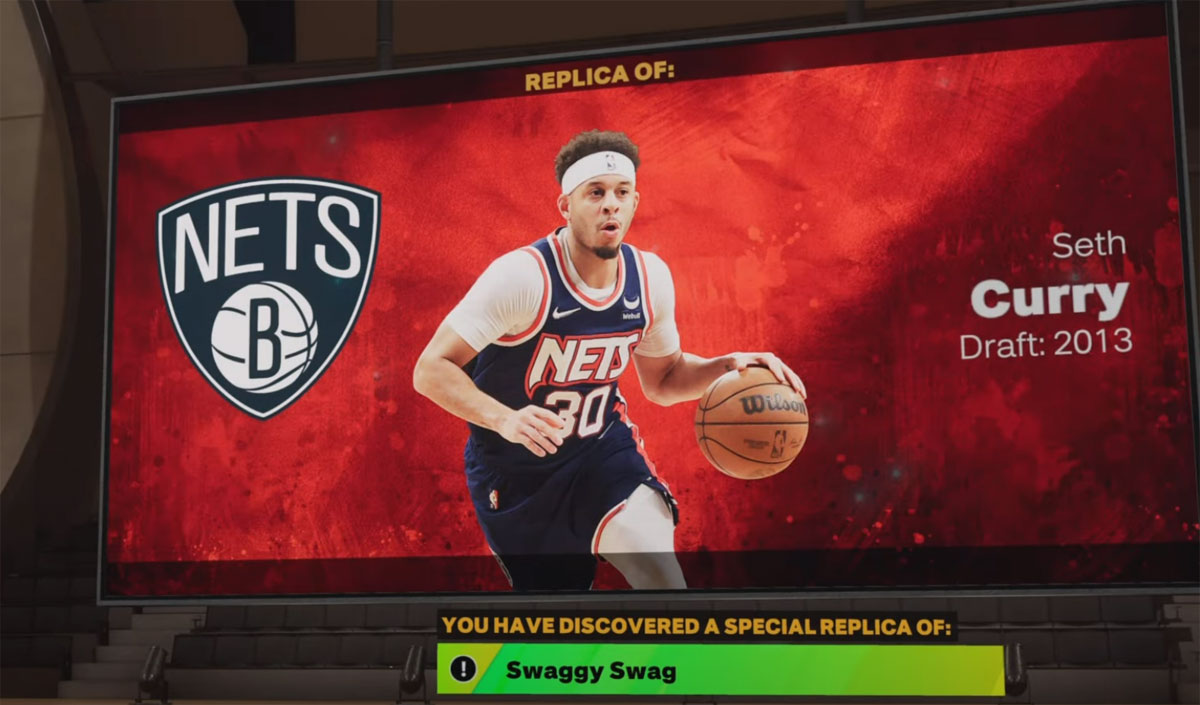 Position: PG
Handed: Right
Jersey Number: 30
Height: 6'1″
Weight: 185 lbs
Wingspan: 6'5″
Close Shot: 96
Driving Layup: 92
Driving Dunk: 28
Standing Dunk:  25
Post Control: 25
Mid-Range Shot: 96
Three-Point Shot: 93
Free-Throw: 93
Pass Accuracy: 80
Ball Handle: 86
Speed With Ball: 83
Interior Defense: 25
Perimeter Defense: 60
Steal: 35
Block: 35
Offensive Rebound: 25
Defensive Rebound: 38
Speed: 76
Acceleration: 86
Strength: 46
Vertical: 76
Stamina: 91
Stephen Curry – "Chef"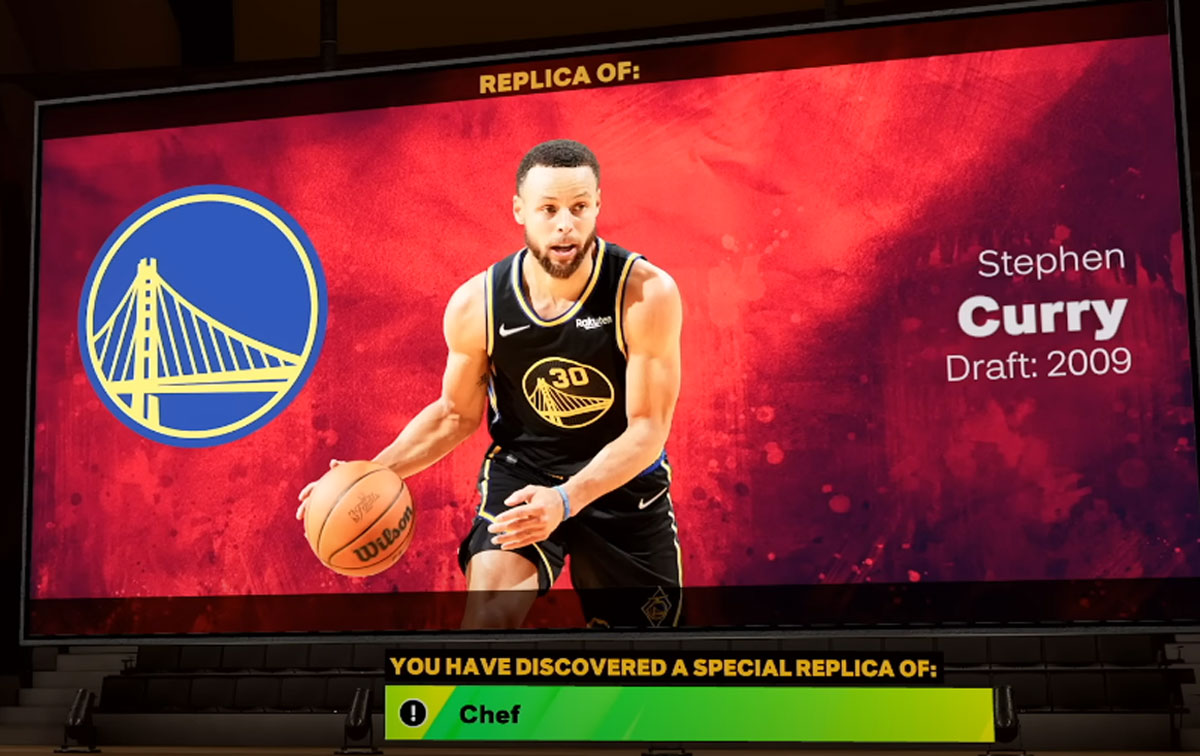 Position: PG
Handed: Right
Jersey Number: 30
Height: 6'2″
Weight: 185 lbs
Wingspan: 6'3″
Close Shot: 90
Driving Layup: 91
Driving Dunk: 31
Standing Dunk: 25
Post Control: 30
Mid-Range Shot: 87
Three-Point Shot: 92
Free-Throw: 88
Pass Accuracy: 89
Ball Handle: 92
Speed With Ball: 78
Interior Defense: 26
Perimeter Defense: 71
Steal: 51
Block: 46
Offensive Rebound: 29
Defensive Rebound: 58
Speed: 80
Acceleration: 80
Strength: 45
Vertical: 70
Stamina: 97
Bob Cousy – "Houdini of the Hardwood"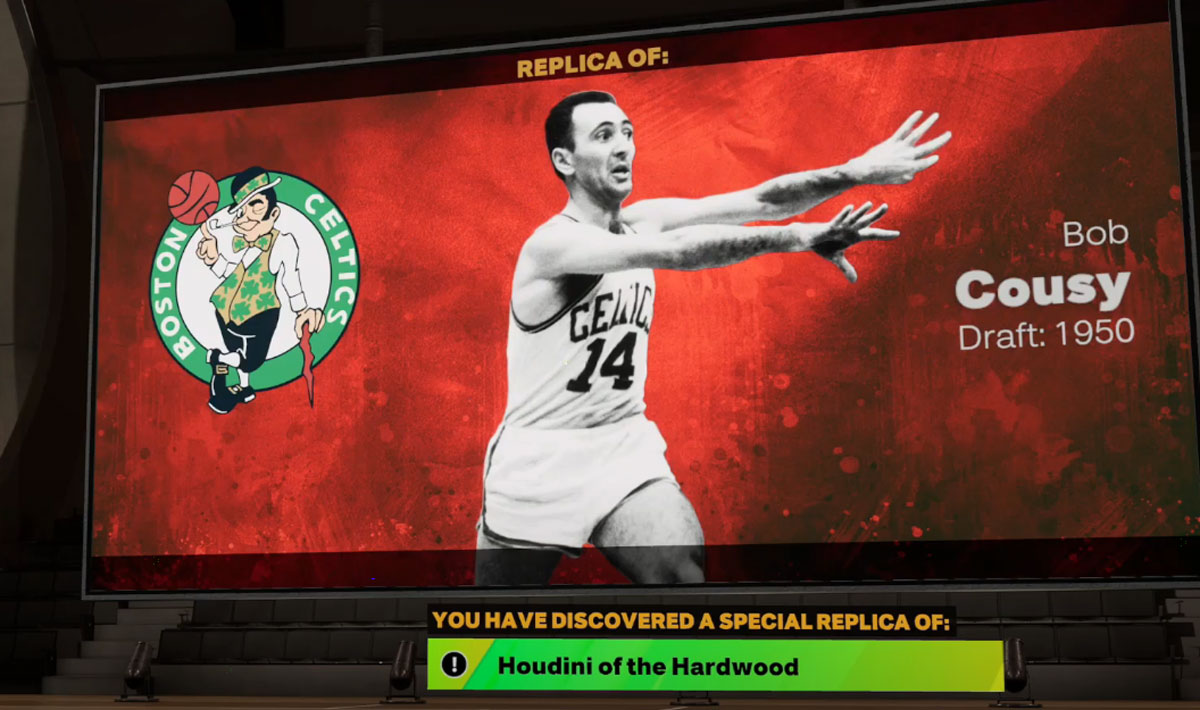 Position: PG
Handed: Right
Jersey Number: 14
Height: 6'1″
Weight: 175 lbs
Wingspan: 6'6″
Close Shot: 80
Driving Layup: 87
Driving Dunk: 25
Standing Dunk: 25
Post Control: 47
Mid-Range Shot: 88
Three-Point Shot: 87
Free-Throw: 83
Pass Accuracy: 90
Ball Handle: 87
Speed With Ball: 87
Interior Defense: 27
Perimeter Defense: 87
Steal: 86
Block: 25
Offensive Rebound: 68
Defensive Rebound: 71
Speed: 87
Acceleration: 86
Strength: 48
Vertical: 72
Stamina: 90
Baron Davis – "B-Diddy" (Warriors)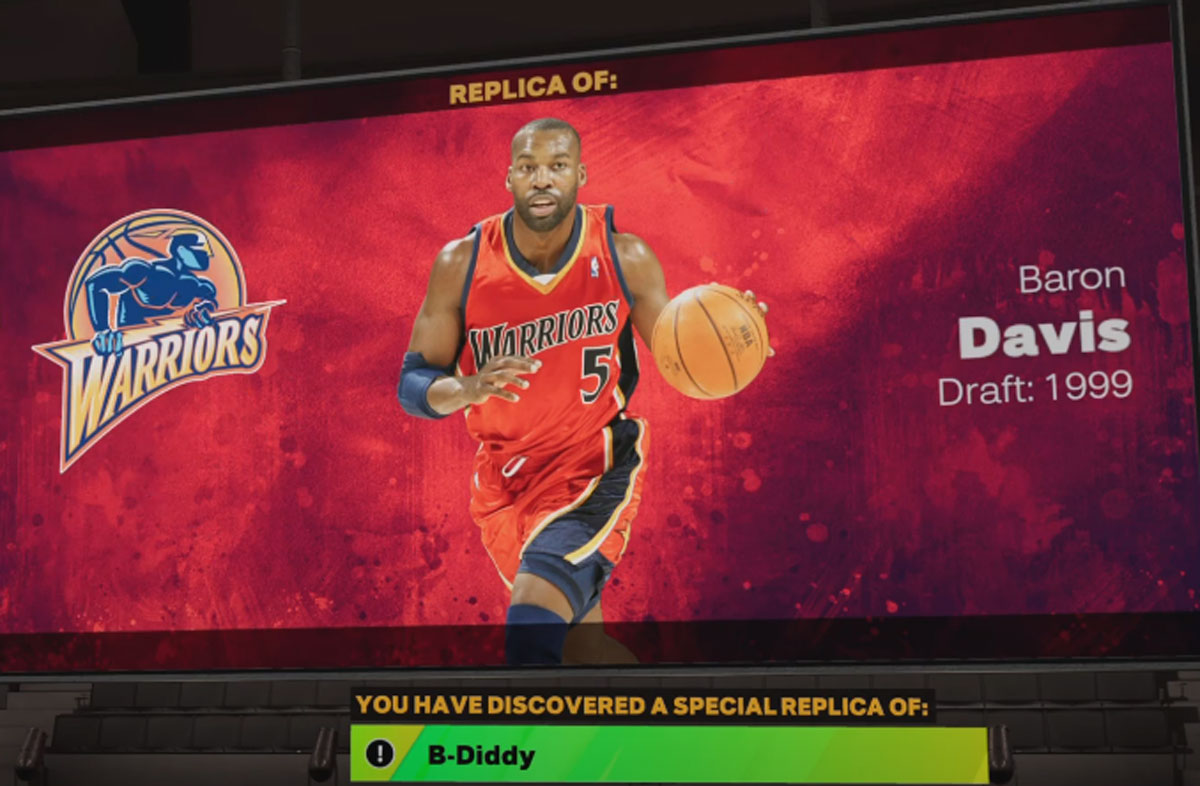 Position: PG
Handed: Right
Jersey Number: 5
Height: 6'3″
Weight: 195 lbs
Wingspan: 6'8″
Close Shot: 75
Driving Layup: 84
Driving Dunk: 85
Standing Dunk: 25
Post Control: 34
Mid-Range Shot: 84
Three-Point Shot: 80
Free-Throw: 77
Pass Accuracy: 80
Ball Handle: 89
Speed With Ball: 80
Interior Defense: 32
Perimeter Defense: 92
Steal: 95
Block: 32
Offensive Rebound: 47
Defensive Rebound: 54
Speed: 80
Acceleration: 80
Strength: 58
Vertical: 81
Stamina: 90
Baron Davis – "B-Diddy" (Hornets)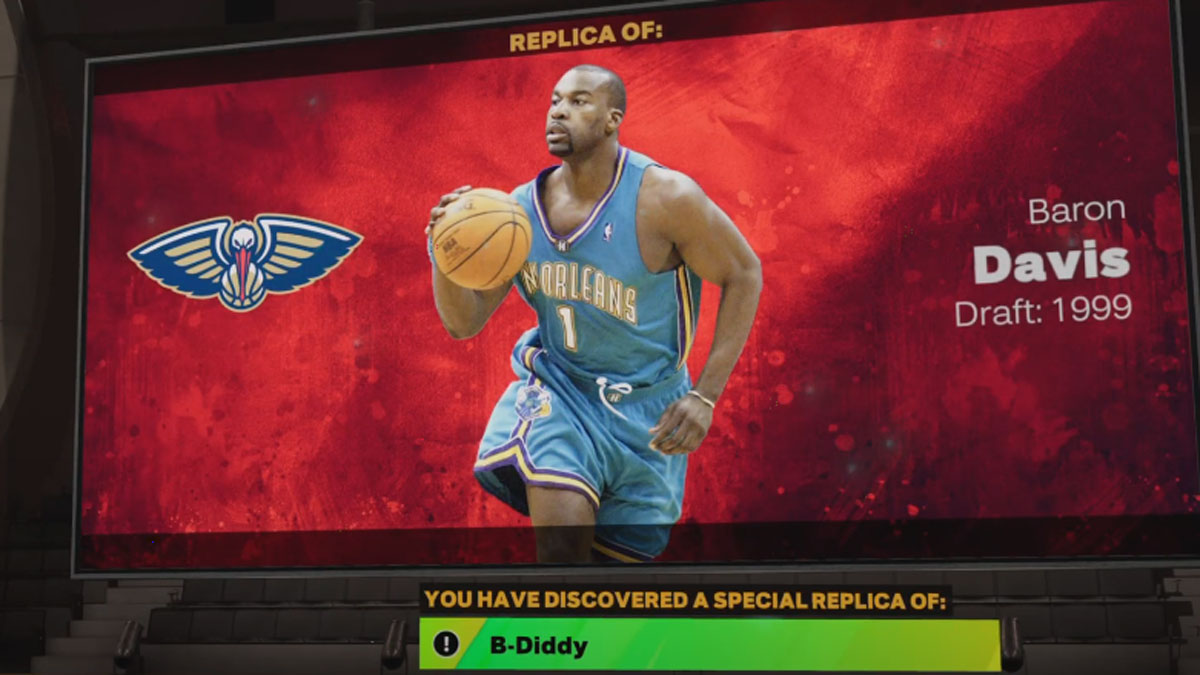 Position: PG
Handed: Right
Jersey Number: 1
Height: 6'3″
Weight: 195 lbs
Wingspan: 6'7″
Close Shot: 85
Driving Layup: 84
Driving Dunk: 85
Standing Dunk: 25
Post Control: 40
Mid-Range Shot: 82
Three-Point Shot: 85
Free-Throw: 77
Pass Accuracy: 80
Ball Handle: 89
Speed With Ball: 82
Interior Defense: 27
Perimeter Defense: 87
Steal: 90
Block: 32
Offensive Rebound: 47
Defensive Rebound: 54
Speed: 80
Acceleration: 84
Strength: 58
Vertical: 81
Stamina: 93
Luka Doncic – "The Matador"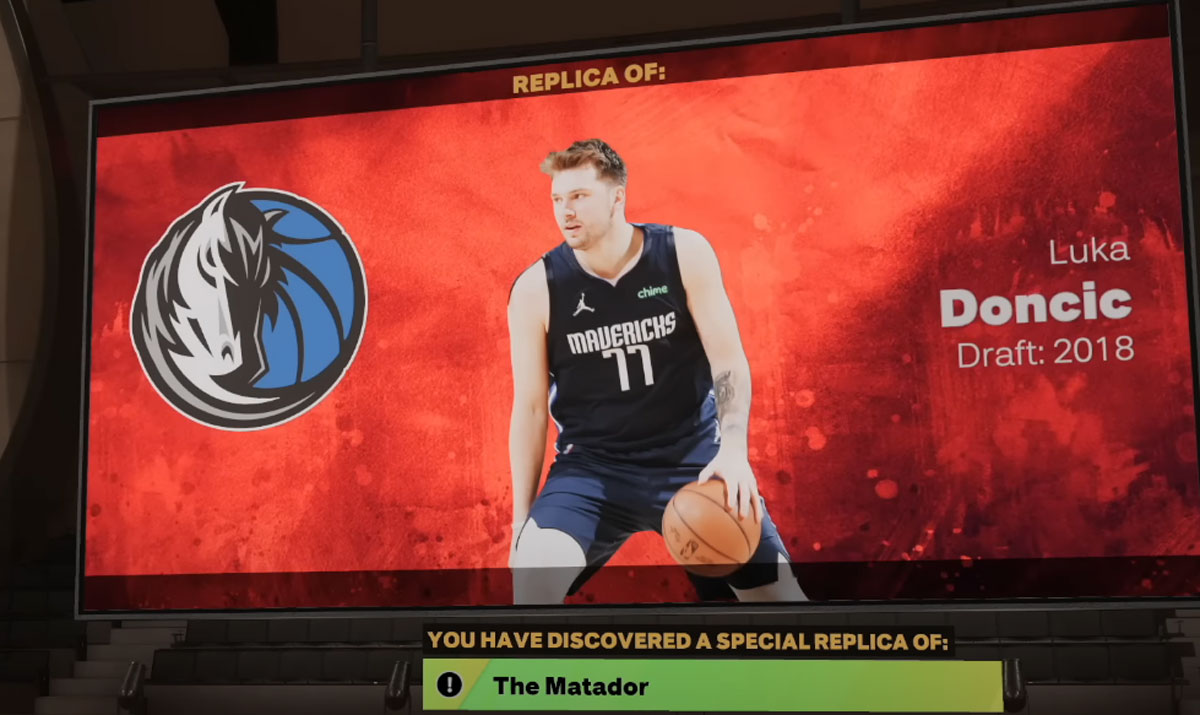 Position: PG
Handed: Right
Jersey Number: 77
Height: 6'7″
Weight: 230 lbs
Wingspan: 6'8″
Close Shot: 88
Driving Layup: 87
Driving Dunk: 68
Standing Dunk: 48
Post Control: 75
Mid-Range Shot: 80
Three-Point Shot: 79
Free-Throw: 79
Pass Accuracy: 89
Ball Handle: 87
Speed With Ball: 76
Interior Defense: 46
Perimeter Defense: 66
Steal: 59
Block: 55
Offensive Rebound: 66
Defensive Rebound: 80
Speed: 76
Acceleration: 76
Strength: 64
Vertical: 69
Stamina: 90
Goran Dragic – "The Dragon"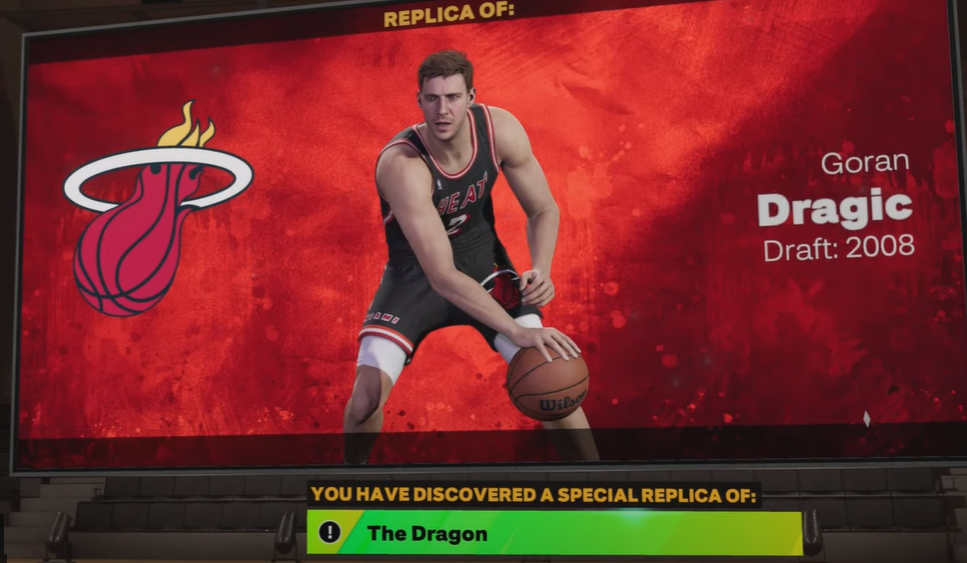 Position: PG
Handed: Left
Jersey Number: 2
Height: 6'3″
Weight: 190 lbs
Wingspan: 6'8″
Close Shot: 85
Driving Layup: 89
Driving Dunk: 53
Standing Dunk: 25
Post Control: 32
Mid-Range Shot: 85
Three-Point Shot: 92
Free-Throw: 81
Pass Accuracy: 83
Ball Handle: 92
Speed With Ball: 76
Interior Defense: 25
Perimeter Defense: 79
Steal: 78
Block: 32
Offensive Rebound: 30
Defensive Rebound: 53
Speed: 76
Acceleration: 86
Strength: 46
Vertical: 71
Stamina: 90
Sleepy Floyd – "Sleepy"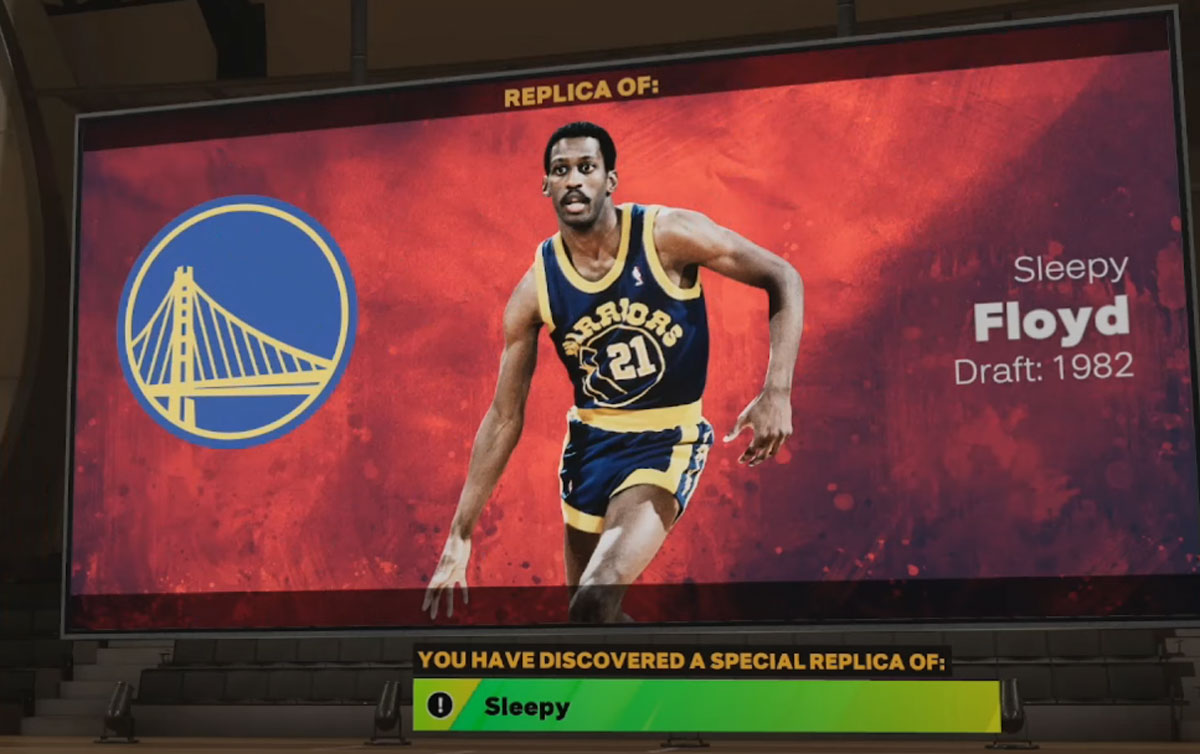 Position: PG
Handed: Right
Jersey Number: 21
Height: 6'3″
Weight: 170 lbs
Wingspan: 6'5″
Close Shot: 82
Driving Layup: 86
Driving Dunk: 68
Standing Dunk: 25
Post Control: 42
Mid-Range Shot: 83
Three-Point Shot: 81
Free-Throw: 82
Pass Accuracy: 91
Ball Handle: 89
Speed With Ball: 87
Interior Defense: 32
Perimeter Defense: 70
Steal: 66
Block: 25
Offensive Rebound: 27
Defensive Rebound: 28
Speed: 87
Acceleration: 90
Strength: 41
Vertical: 73
Stamina: 98
De'Aaron Fox – "Swipa"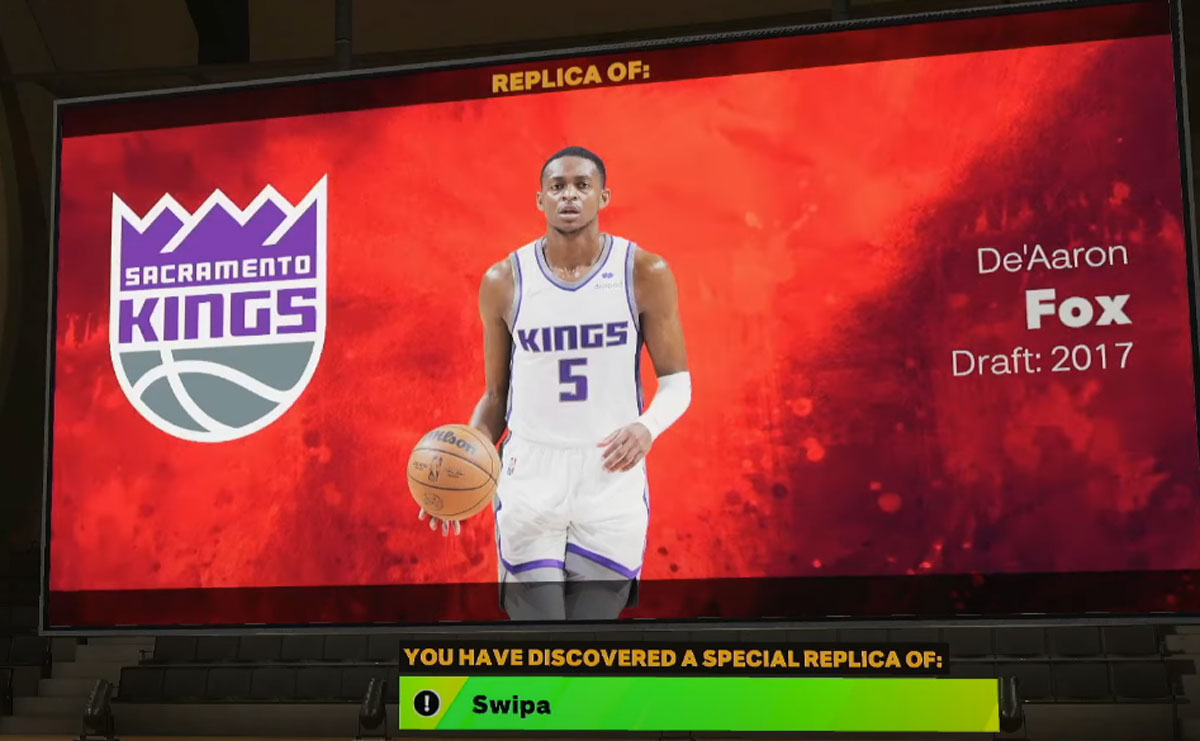 Position: PG
Handed: Left
Jersey Number: 5
Height: 6'3″
Weight: 185 lbs
Wingspan: 6'6″
Close Shot: 88
Driving Layup: 88
Driving Dunk: 79
Standing Dunk: 25
Post Control: 25
Mid-Range Shot: 84
Three-Point Shot: 69
Free-Throw: 72
Pass Accuracy: 77
Ball Handle: 86
Speed With Ball: 91
Interior Defense: 30
Perimeter Defense: 74
Steal: 42
Block: 47
Offensive Rebound: 27
Defensive Rebound: 46
Speed: 95
Acceleration: 93
Strength: 44
Vertical: 82
Stamina: 92
Steve Francis – "The Franchise"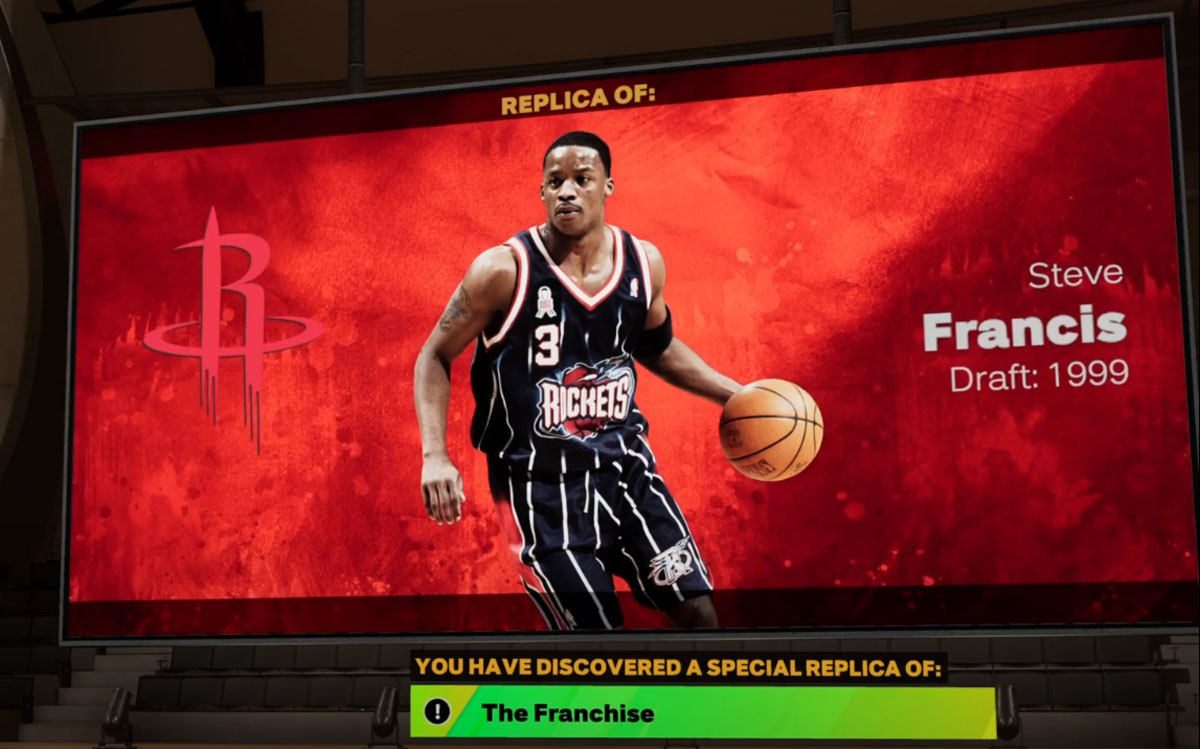 Position: PG
Handed: Right
Jersey Number: 3
Height: 6'3″
Weight: 195 lbs
Wingspan: 6'6″
Close Shot: 82
Driving Layup: 86
Driving Dunk: 90
Standing Dunk: 25
Post Control: 45
Mid-Range Shot: 80
Three-Point Shot: 79
Free-Throw: 81
Pass Accuracy: 78
Ball Handle: 87
Speed With Ball: 85
Interior Defense: 46
Perimeter Defense: 76
Steal: 83
Block: 55
Offensive Rebound: 53
Defensive Rebound: 57
Speed: 86
Acceleration: 84
Strength: 52
Vertical: 94
Stamina: 95
Darius Garland – "Boog"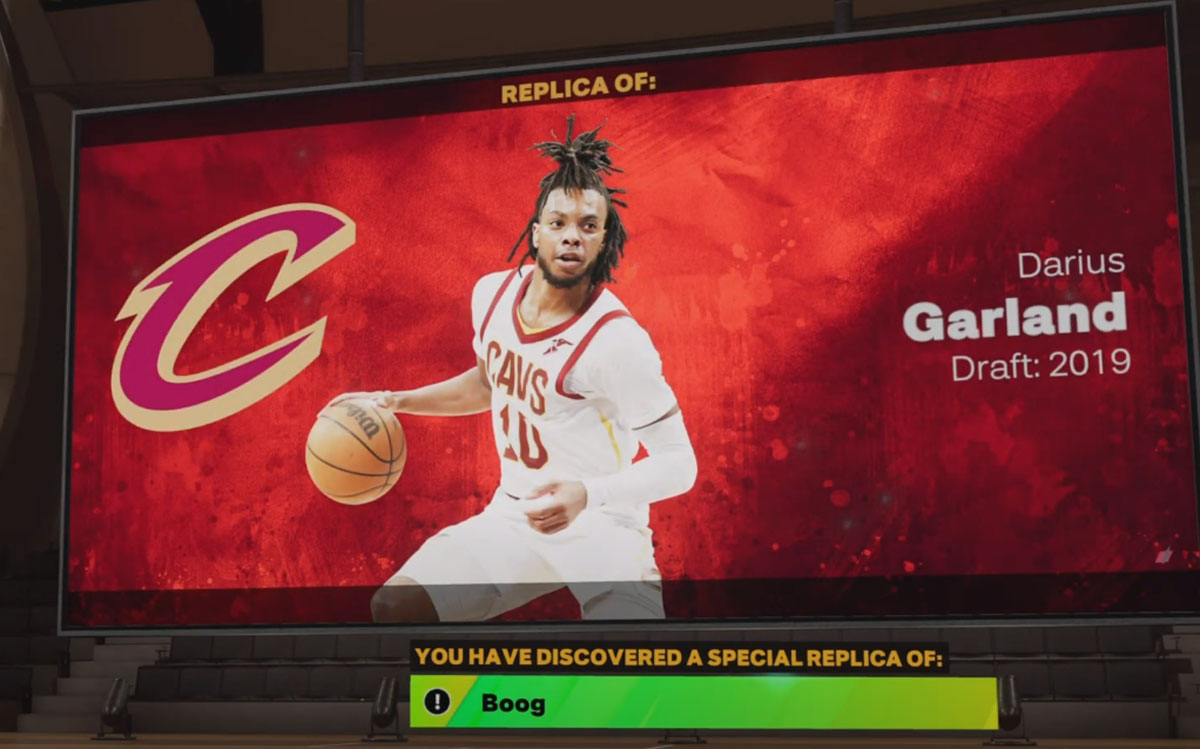 Position: PG
Handed: Right
Jersey Number: 10
Height: 6'1″
Weight: 192 lbs
Wingspan: 6'3″
Close Shot: 87
Driving Layup: 89
Driving Dunk: 72
Standing Dunk: 25
Post Control: 36
Mid-Range Shot: 81
Three-Point Shot: 92
Free-Throw: 81
Pass Accuracy: 88
Ball Handle: 87
Speed With Ball: 90
Interior Defense: 25
Perimeter Defense: 76
Steal: 60
Block: 25
Offensive Rebound: 25
Defensive Rebound: 36
Speed: 80
Acceleration: 90
Strength: 46
Vertical: 76
Stamina: 90
Penny Hardaway – "Lil Penny"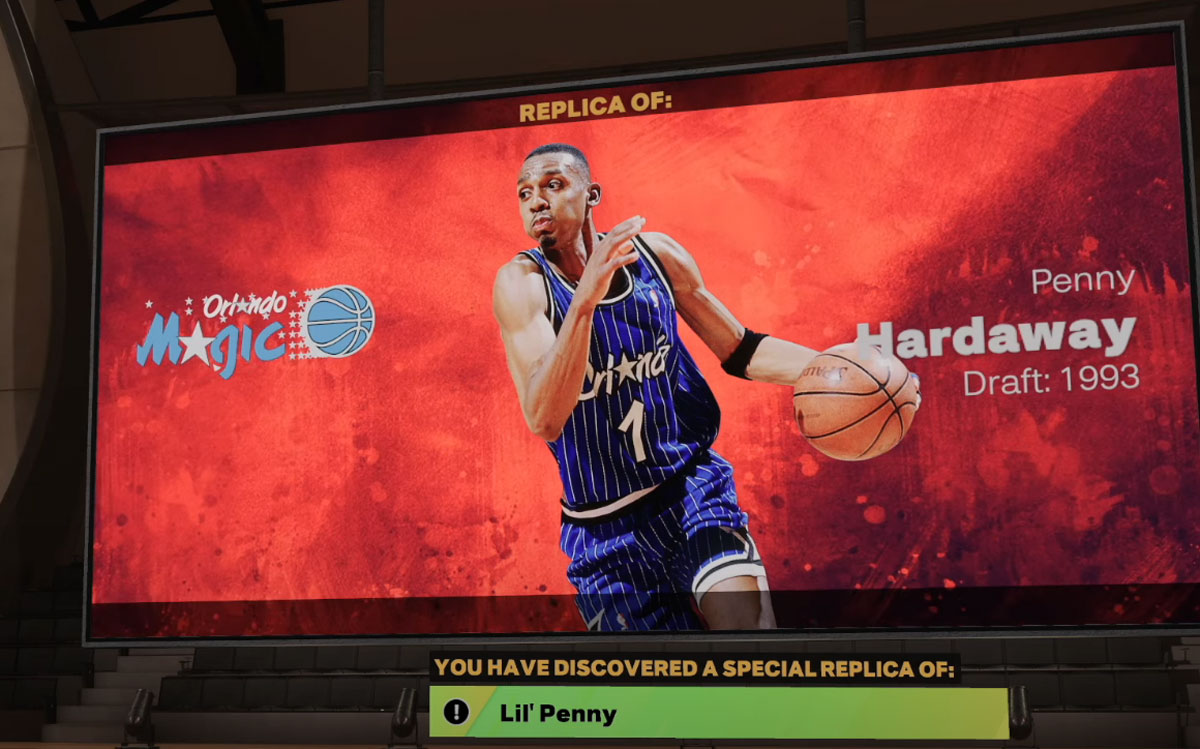 Position: PG
Handed: Right
Jersey Number: 1
Height: 6'7″
Weight: 215 lbs
Wingspan: 7'0″
Close Shot: 86
Driving Layup: 90
Driving Dunk: 83
Standing Dunk: 67
Post Control: 67
Mid-Range Shot: 77
Three-Point Shot: 77
Free-Throw: 77
Pass Accuracy: 77
Ball Handle: 91
Speed With Ball: 79
Interior Defense: 52
Perimeter Defense: 75
Steal: 68
Block: 37
Offensive Rebound: 50
Defensive Rebound: 40
Speed: 82
Acceleration: 79
Strength: 55
Vertical: 83
Stamina: 94
Nah'Shon Hyland – "Bones"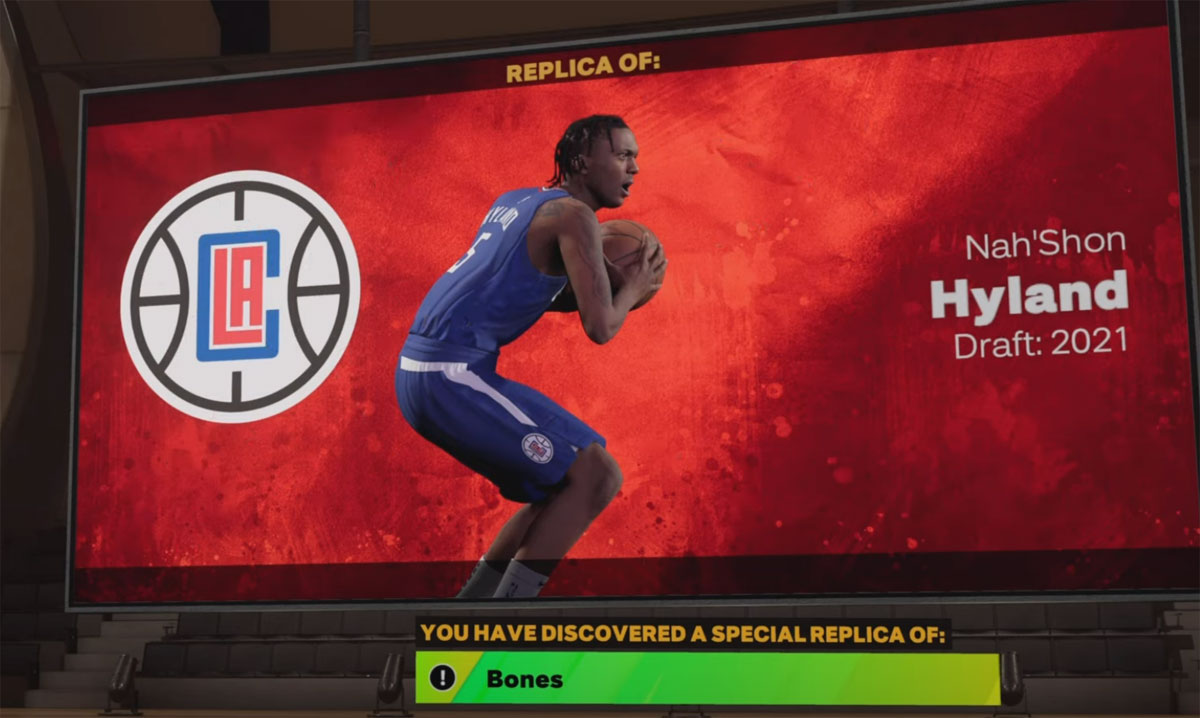 Position: PG
Handed: Right
Jersey Number: 5
Height: 6'2″
Weight: 169 lbs
Wingspan: 6'9″
Close Shot: 68
Driving Layup: 89
Driving Dunk: 66
Standing Dunk: 25
Post Control: 25
Mid-Range Shot: 78
Three-Point Shot: 89
Free-Throw: 86
Pass Accuracy: 79
Ball Handle: 87
Speed With Ball: 90
Interior Defense: 30
Perimeter Defense: 73
Steal: 57
Block: 59
Offensive Rebound: 25
Defensive Rebound: 55
Speed: 86
Acceleration: 95
Strength: 40
Vertical: 72
Stamina: 92
Kyrie Irving – "The Ankletaker"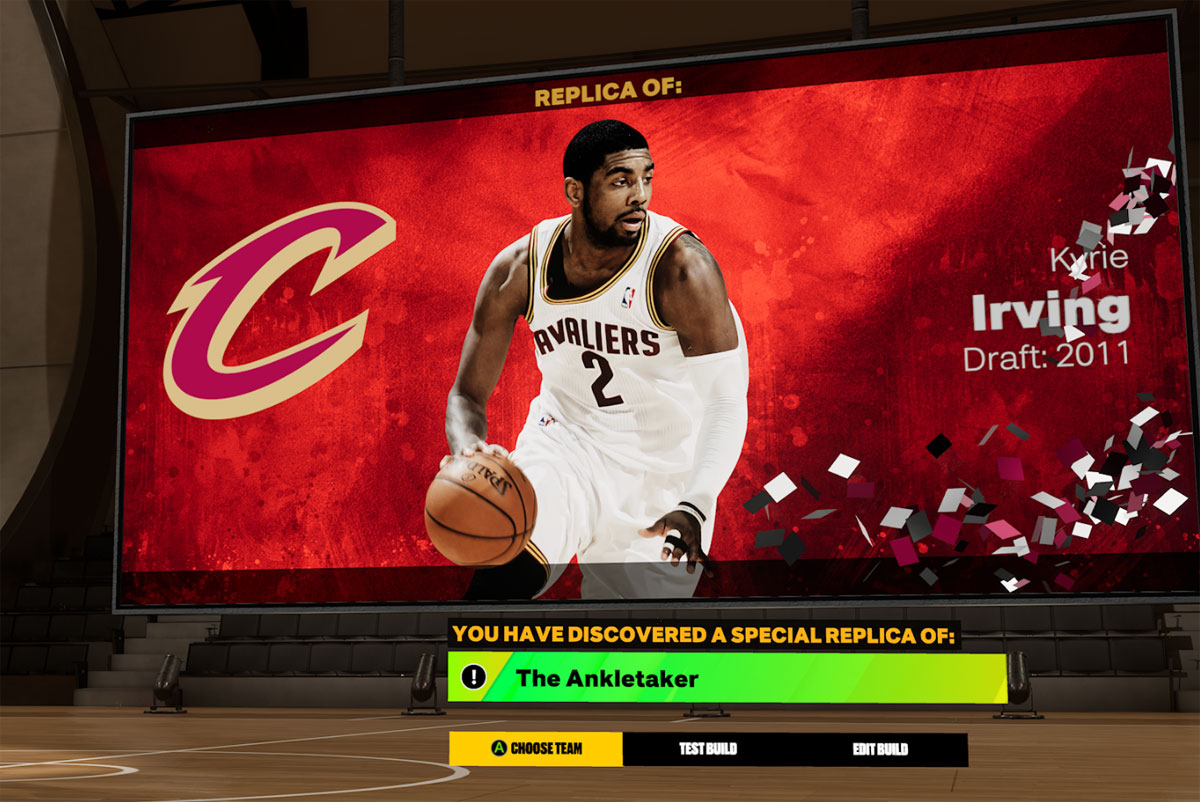 Position: PG
Handed: Right
Jersey Number: 2
Height: 6'3″
Weight: 193 lbs
Wingspan: 6'4″
Close Shot: 87
Driving Layup: 89
Driving Dunk: 33
Standing Dunk: 25
Post Control: 56
Mid-Range Shot: 90
Three-Point Shot: 86
Free-Throw: 87
Pass Accuracy: 80
Ball Handle: 92
Speed With Ball: 80
Interior Defense: 25
Perimeter Defense: 78
Steal: 60
Block: 45
Offensive Rebound: 41
Defensive Rebound: 50
Speed: 85
Acceleration: 88
Strength: 39
Vertical: 73
Stamina: 93
 Avery Johnson – "Little General"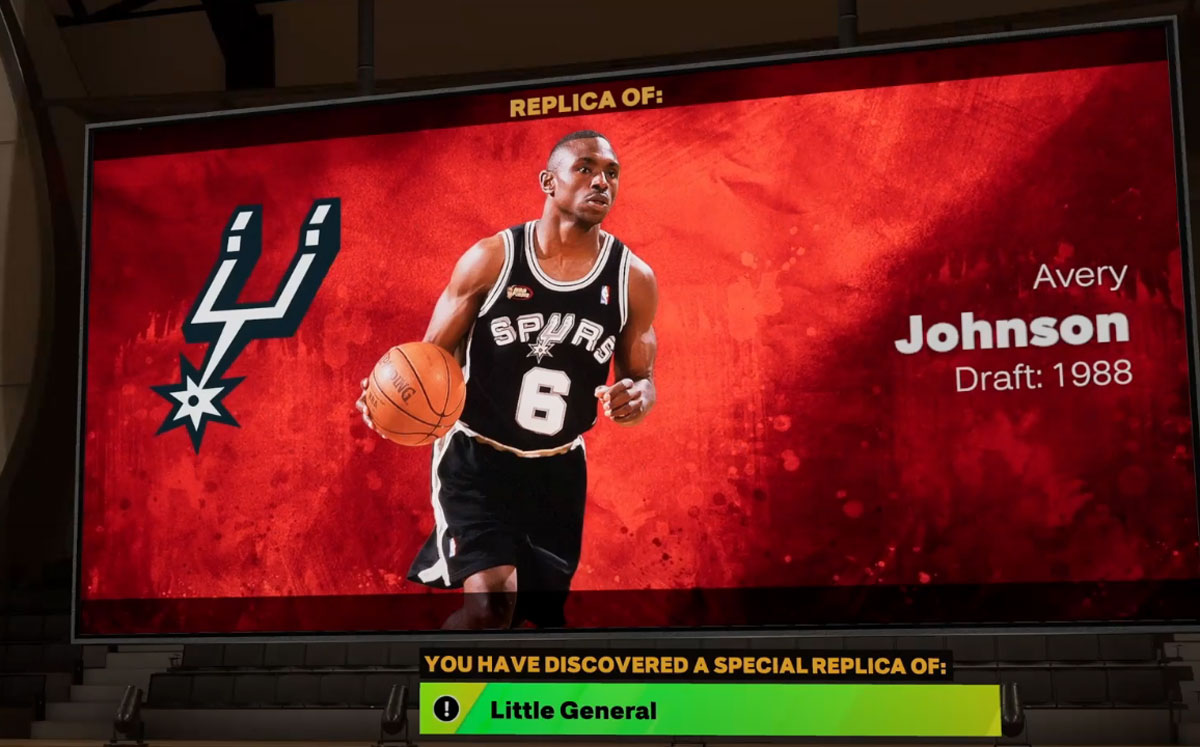 Position: PG
Handed: Left
Jersey Number: 6
Height: 5'10"
Weight: 175 lbs
Wingspan: 6'1″
Close Shot: 77
Driving Layup: 88
Driving Dunk: 25
Standing Dunk: 25
Post Control: 25
Mid-Range Shot: 78
Three-Point Shot: 62
Free-Throw: 73
Pass Accuracy: 94
Ball Handle: 89
Speed With Ball: 91
Interior Defense: 52
Perimeter Defense: 88
Steal: 63
Block: 37
Offensive Rebound: 32
Defensive Rebound: 43
Speed: 87
Acceleration: 90
Strength: 60
Vertical: 75
Stamina: 99
Magic Johnson – "Magic"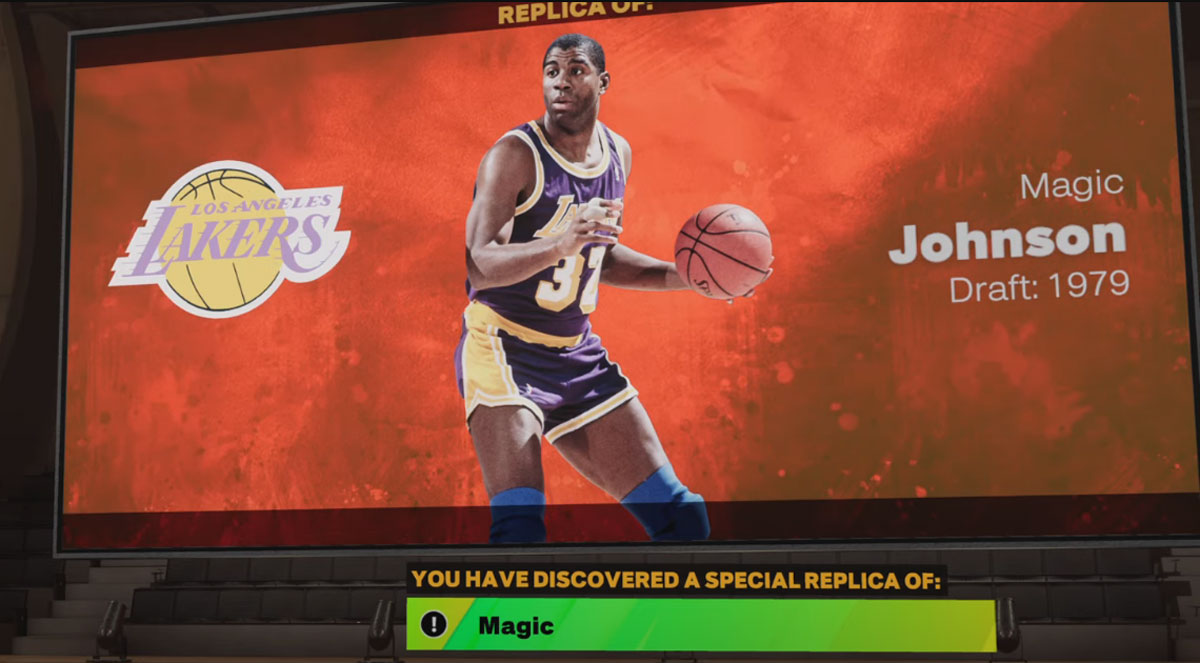 Position: PG
Handed: Right
Jersey Number: 32
Height: 6'9″
Weight: 220 lbs
Wingspan: 7'0″
Close Shot: 91
Driving Layup: 90
Driving Dunk: 46
Standing Dunk: 26
Post Control: 86
Mid-Range Shot: 75
Three-Point Shot: 72
Free-Throw: 86
Pass Accuracy: 95
Ball Handle: 86
Speed With Ball: 73
Interior Defense: 80
Perimeter Defense: 80
Steal: 68
Block: 28
Offensive Rebound: 62
Defensive Rebound: 70
Speed: 75
Acceleration: 75
Strength: 62
Vertical: 61
Stamina: 97
Damian Lillard – "D.O.L.L.A."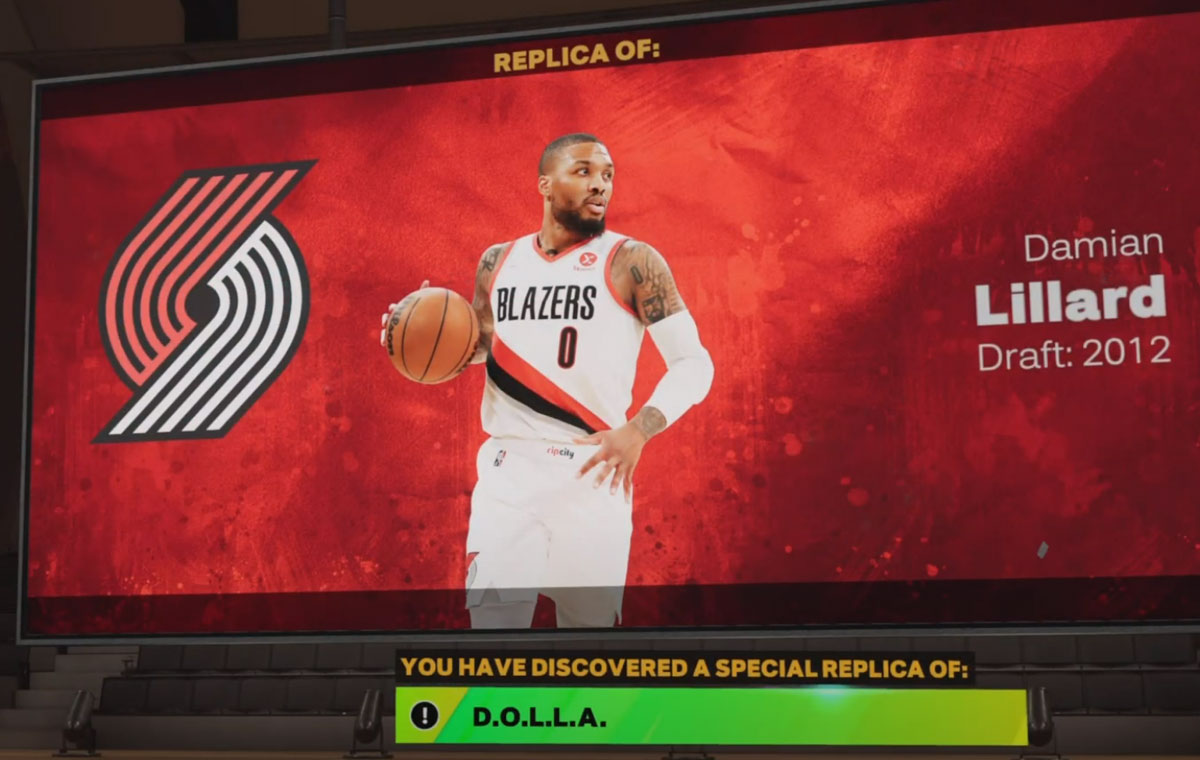 Position: PG
Handed: Right
Jersey Number: 0
Height: 6'2″
Weight: 195 lbs
Wingspan: 6'9″
Close Shot: 86
Driving Layup: 89
Driving Dunk: 86
Standing Dunk: 25
Post Control: 34
Mid-Range Shot: 90
Three-Point Shot: 86
Free-Throw: 86
Pass Accuracy: 84
Ball Handle: 90
Speed With Ball: 80
Interior Defense: 25
Perimeter Defense: 77
Steal: 63
Block: 37
Offensive Rebound: 28
Defensive Rebound: 55
Speed: 80
Acceleration: 80
Strength: 61
Vertical: 81
Stamina: 90
Stephon Marbury – "Starbury" (Suns)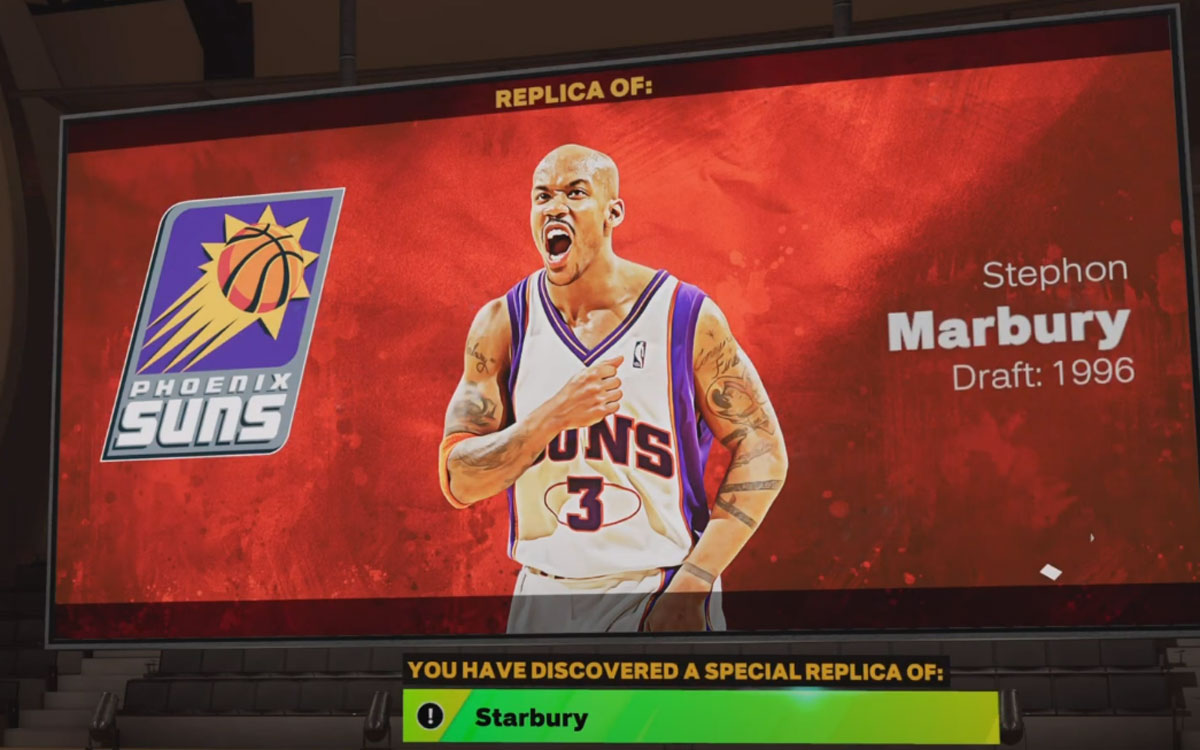 Position: PG
Handed: Right
Jersey Number: 3
Height: 6'3″
Weight: 190 lbs
Wingspan: 6'7″
Close Shot: 85
Driving Layup: 89
Driving Dunk: 40
Standing Dunk: 25
Post Control: 47
Mid-Range Shot: 88
Three-Point Shot: 82
Free-Throw: 82
Pass Accuracy: 86
Ball Handle: 92
Speed With Ball: 82
Interior Defense: 58
Perimeter Defense: 83
Steal: 58
Block: 30
Offensive Rebound: 26
Defensive Rebound: 38
Speed: 79
Acceleration: 92
Strength: 58
Vertical: 75
Stamina: 90
Stephon Marbury – "Starbury" (Twolves)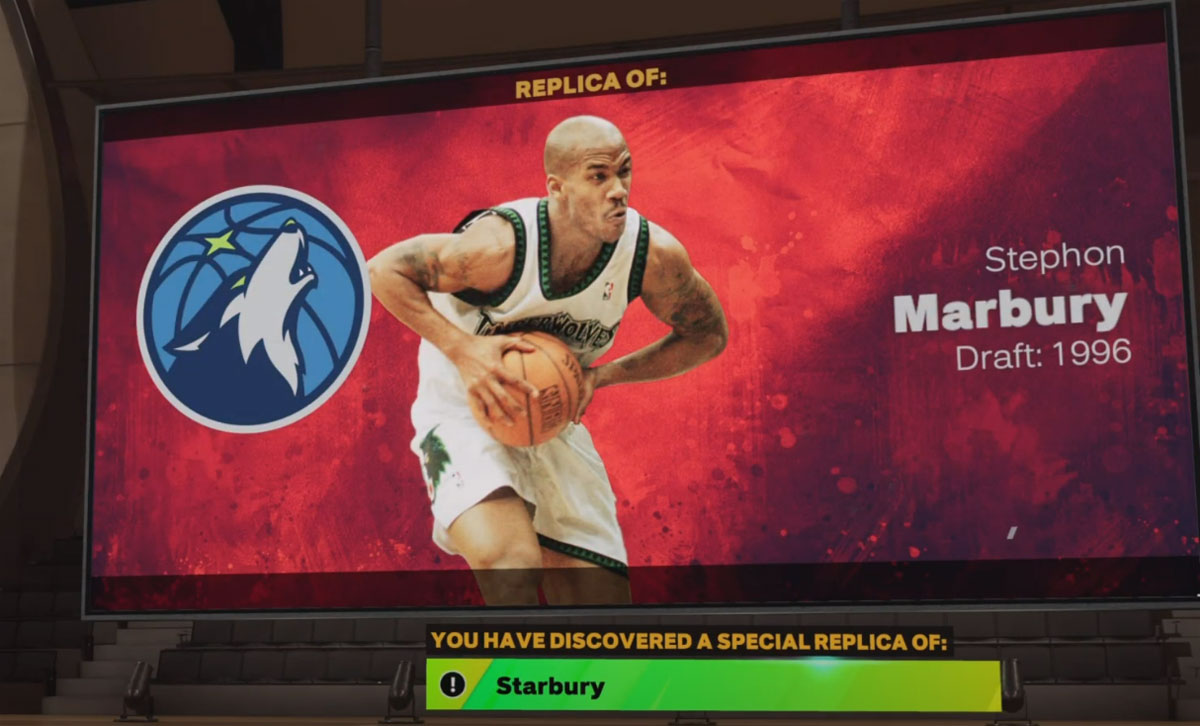 Position: PG
Handed: Right
Jersey Number: 3
Height: 6'3″
Weight: 190 lbs
Wingspan: 6'7″
Close Shot: 93
Driving Layup: 89
Driving Dunk: 37
Standing Dunk: 25
Post Control: 55
Mid-Range Shot: 84
Three-Point Shot: 86
Free-Throw: 85
Pass Accuracy: 80
Ball Handle: 92
Speed With Ball: 86
Interior Defense: 58
Perimeter Defense: 78
Steal: 66
Block: 30
Offensive Rebound: 28
Defensive Rebound: 53
Speed: 86
Acceleration: 86
Strength: 56
Vertical: 75
Stamina: 90
Davion Mitchell – "Off-Night"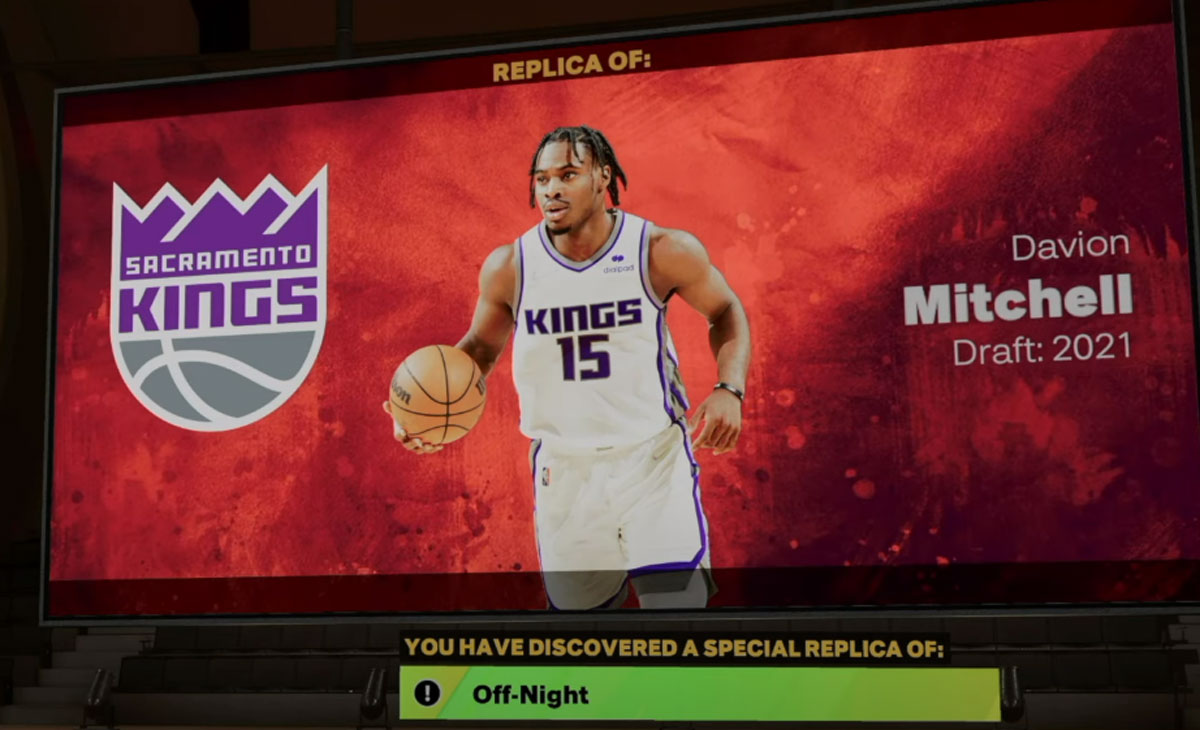 Position: PG
Handed: Right
Jersey Number: 15
Height: 6'0″
Weight: 202
Wingspan: 6'4″
Close Shot: 97
Driving Layup: 82
Driving Dunk: 48
Standing Dunk: 25
Post Control: 38
Mid-Range Shot: 80
Three-Point Shot: 83
Free-Throw: 75
Pass Accuracy: 88
Ball Handle: 94
Speed With Ball: 87
Interior Defense: 39
Perimeter Defense: 84
Steal: 49
Block: 42
Offensive Rebound: 25
Defensive Rebound: 39
Speed: 80
Acceleration: 90
Strength: 68
Vertical: 63
Stamina: 90
Earl Monroe – "The Pearl"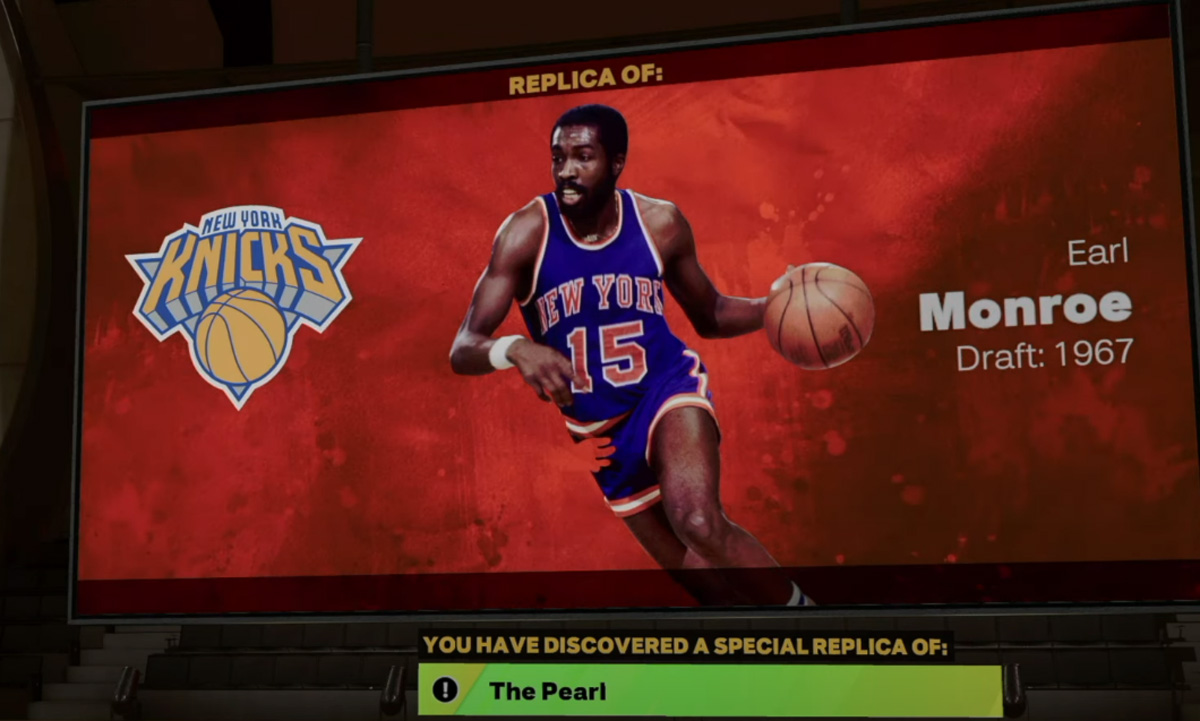 Position: PG
Handed: Right
Jersey Number: 15
Height: 6'3″
Weight: 198 lbs
Wingspan: 6'8″
Close Shot: 85
Driving Layup: 89
Driving Dunk: 42
Standing Dunk: 25
Post Control: 25
Mid-Range Shot: 81
Three-Point Shot: 89
Free-Throw: 83
Pass Accuracy: 80
Ball Handle: 94
Speed With Ball: 75
Interior Defense: 28
Perimeter Defense: 87
Steal: 85
Block: 32
Offensive Rebound: 25
Defensive Rebound: 42
Speed: 80
Acceleration: 89
Strength: 60
Vertical: 74
Stamina: 90
Jamal Murray – "Blue Arrow"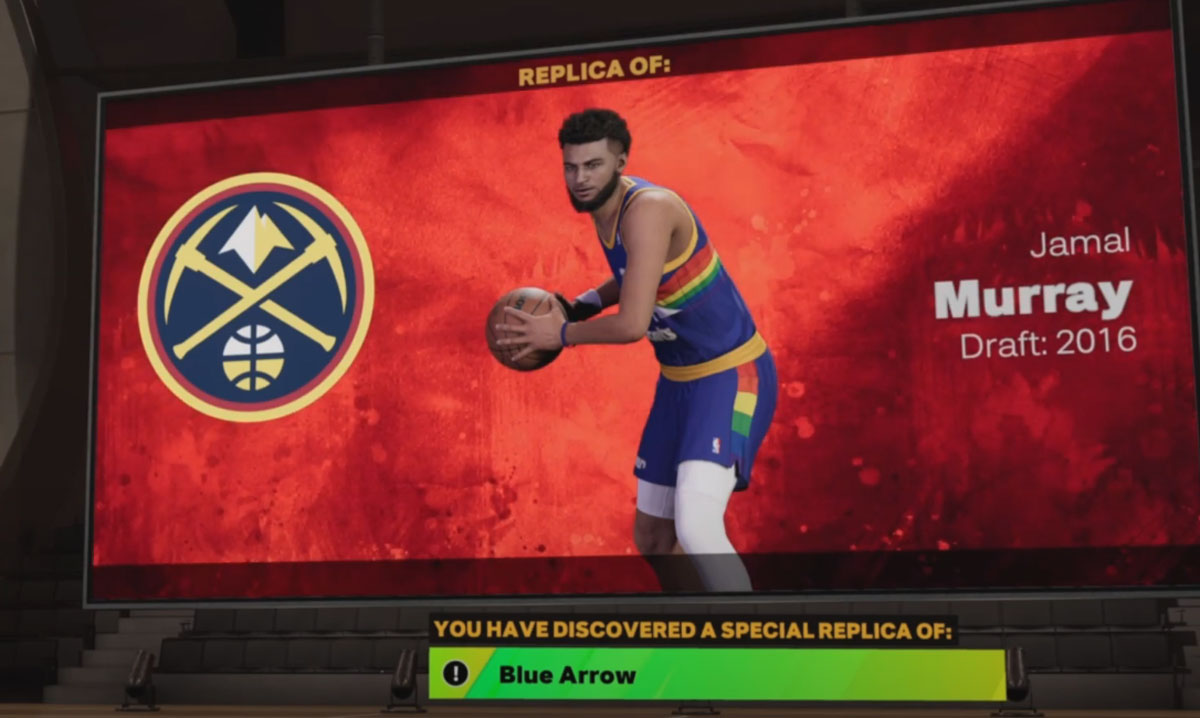 Position: PG
Handed: Right
Jersey Number: 27
Height: 6'4″
Weight: 207 lbs
Wingspan: 6'7″
Close Shot: 86
Driving Layup: 82
Driving Dunk: 86
Standing Dunk: 25
Post Control: 76
Mid-Range Shot: 87
Three-Point Shot: 85
Free-Throw: 77
Pass Accuracy: 82
Ball Handle: 89
Speed With Ball: 75
Interior Defense: 27
Perimeter Defense: 80
Steal: 48
Block: 34
Offensive Rebound: 29
Defensive Rebound: 43
Speed: 80
Acceleration: 85
Strength: 46
Vertical: 75
Stamina: 90
Steve Nash – "Hair Canada"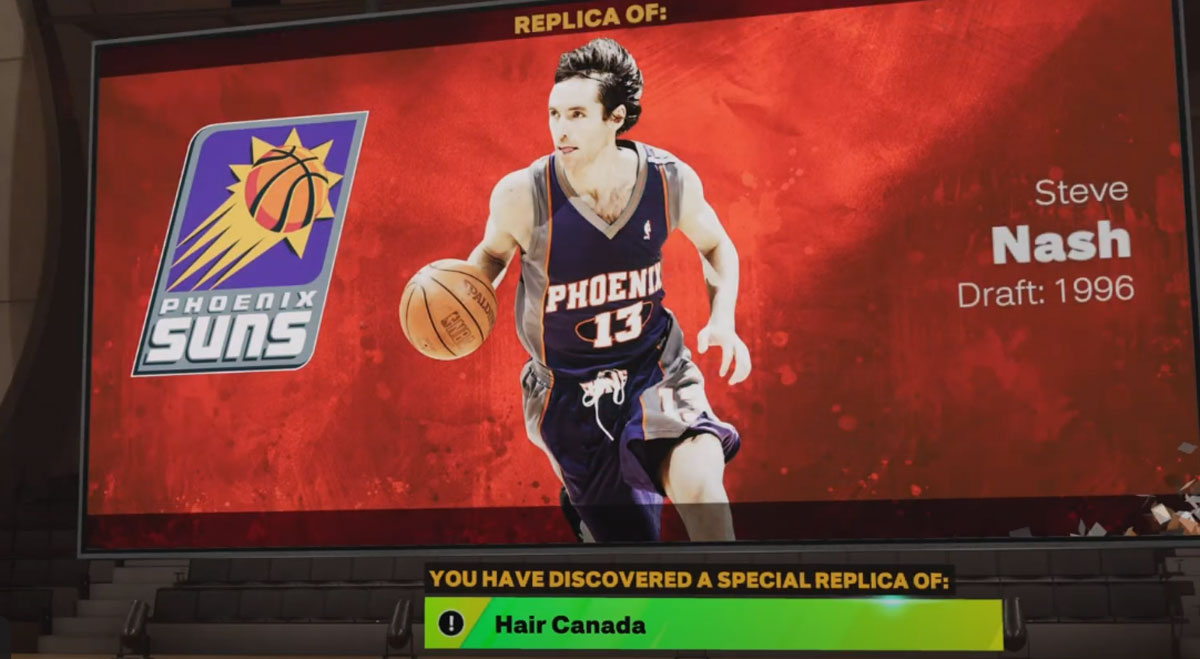 Position: PG
Handed: Right
Jersey Number: 13
Height: 6'3″
Weight: 195 lbs
Wingspan: 6'8″
Close Shot: 86
Driving Layup: 89
Driving Dunk: 25
Standing Dunk: 25
Post Control: 25
Mid-Range Shot: 86
Three-Point Shot: 86
Free-Throw: 85
Pass Accuracy: 90
Ball Handle: 87
Speed With Ball: 86
Interior Defense: 28
Perimeter Defense: 87
Steal: 81
Block: 25
Offensive Rebound: 58
Defensive Rebound: 68
Speed: 85
Acceleration: 85
Strength: 42
Vertical: 57
Stamina: 90
Chris Paul – "The Point God"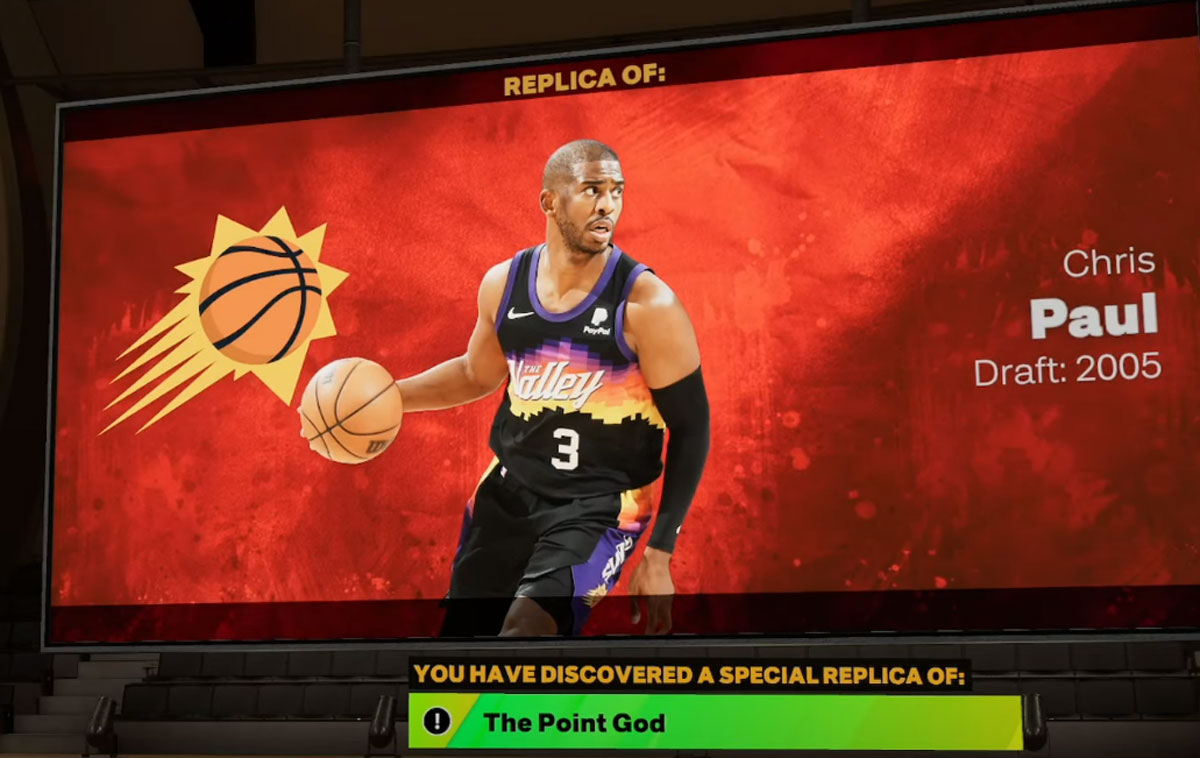 Position: PG
Handed: Right
Jersey Number: 3
Height: 6'0″
Weight: 175 lbs
Wingspan: 6'4″
Close Shot: 91
Driving Layup: 84
Driving Dunk: 25
Standing Dunk: 25
Post Control: 65
Mid-Range Shot: 94
Three-Point Shot: 71
Free-Throw: 84
Pass Accuracy: 93
Ball Handle: 90
Speed With Ball: 77
Interior Defense: 56
Perimeter Defense: 87
Steal: 80
Block: 44
Offensive Rebound: 26
Defensive Rebound: 55
Speed: 80
Acceleration: 77
Strength: 62
Vertical: 72
Stamina: 90
Gary Payton – "The Glove"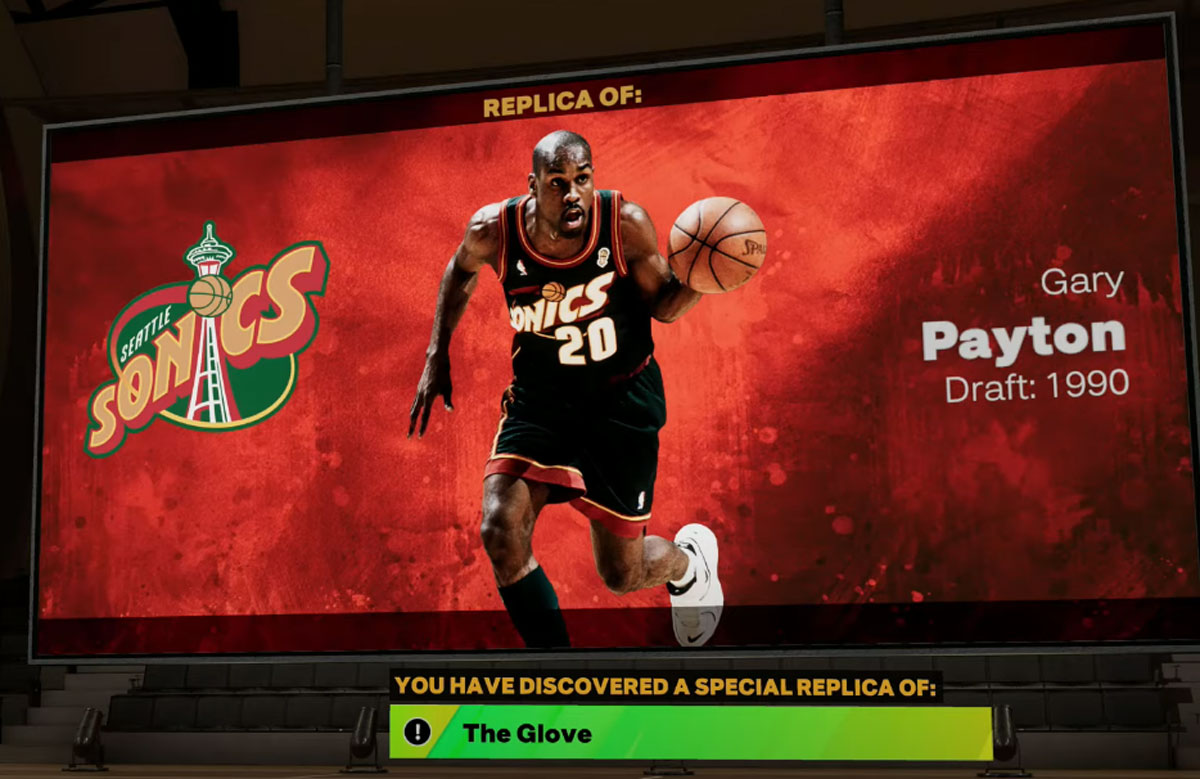 Position: PG
Handed: Right
Jersey Number: 20
Height: 6'4″
Weight: 180 lbs
Wingspan: 6'8″
Close Shot: 76
Driving Layup: 85
Driving Dunk: 35
Standing Dunk: 25
Post Control: 77
Mid-Range Shot: 83
Three-Point Shot: 73
Free-Throw: 69
Pass Accuracy: 89
Ball Handle: 81
Speed With Ball: 85
Interior Defense: 52
Perimeter Defense: 90
Steal: 91
Block: 29
Offensive Rebound: 37
Defensive Rebound: 47
Speed: 85
Acceleration: 85
Strength: 57
Vertical: 66
Stamina: 90
Doc Rivers – "Doc"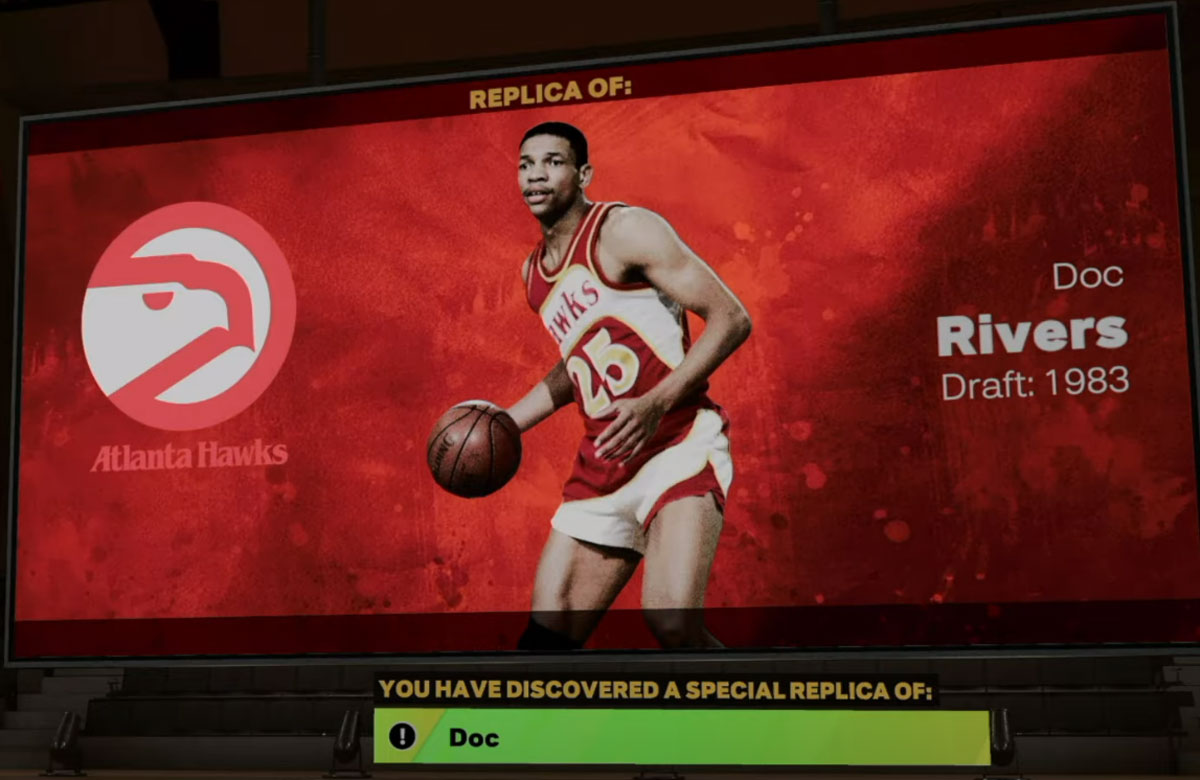 Position: PG
Handed: Right
Jersey Number: 25
Height: 6'4″
Weight: 185 lbs
Wingspan: 6'9″
Close Shot: 78
Driving Layup: 80
Driving Dunk: 60
Standing Dunk: 25
Post Control: 58
Mid-Range Shot: 73
Three-Point Shot: 65
Free-Throw: 68
Pass Accuracy: 85
Ball Handle: 88
Speed With Ball: 75
Interior Defense: 52
Perimeter Defense: 87
Steal: 99
Block: 29
Offensive Rebound: 35
Defensive Rebound: 42
Speed: 85
Acceleration: 90
Strength: 55
Vertical: 67
Stamina: 91
Oscar Robertson – "The Big O"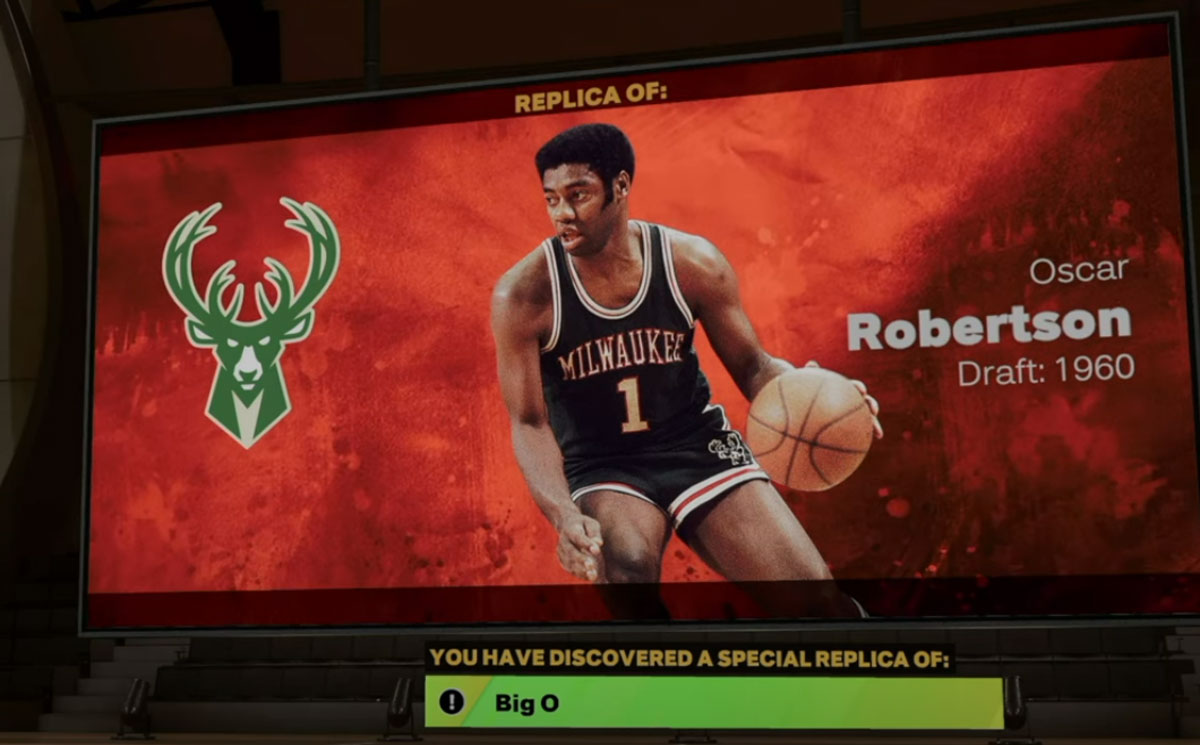 Position: PG
Handed: Right
Jersey Number: 1
Height: 6'5″
Weight: 210 lbs
Wingspan: 6'8″
Close Shot: 81
Driving Layup: 90
Driving Dunk: 43
Standing Dunk: 25
Post Control: 77
Mid-Range Shot: 82
Three-Point Shot: 72
Free-Throw: 82
Pass Accuracy: 90
Ball Handle: 88
Speed With Ball: 75
Interior Defense: 47
Perimeter Defense: 86
Steal: 80
Block: 37
Offensive Rebound: 58
Defensive Rebound: 70
Speed: 75
Acceleration: 81
Strength: 68
Vertical: 78
Stamina: 90
Michael Ray Robinson – "Sugar"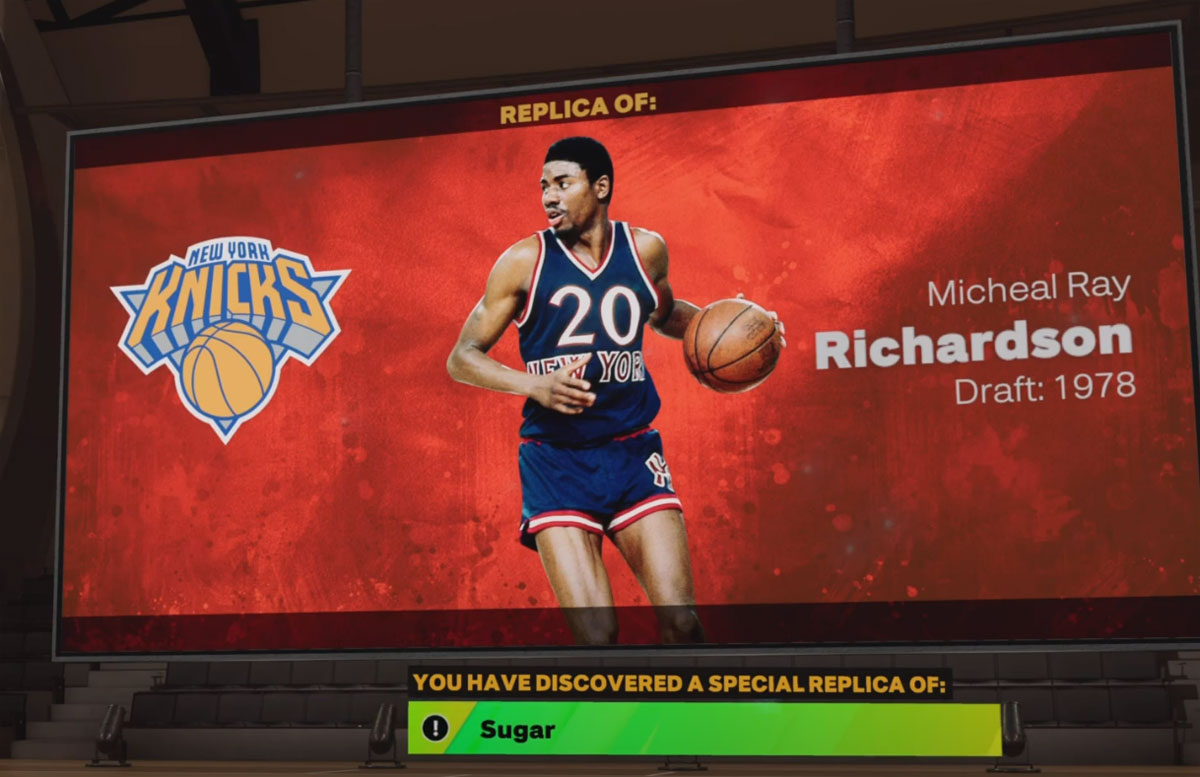 Position: PG
Handed: Right
Jersey Number: 20
Height: 6'5″
Weight: 189 lbs
Wingspan: 6'11"
Close Shot: 85
Driving Layup: 80
Driving Dunk: 78
Standing Dunk: 27
Post Control: 44
Mid-Range Shot: 72
Three-Point Shot: 80
Free-Throw: 76
Pass Accuracy: 87
Ball Handle: 82
Speed With Ball: 83
Interior Defense: 62
Perimeter Defense: 87
Steal: 90
Block: 60
Offensive Rebound: 58
Defensive Rebound: 51
Speed: 80
Acceleration: 80
Strength: 60
Vertical: 75
Stamina: 90
Nate Robinson – "Krypto"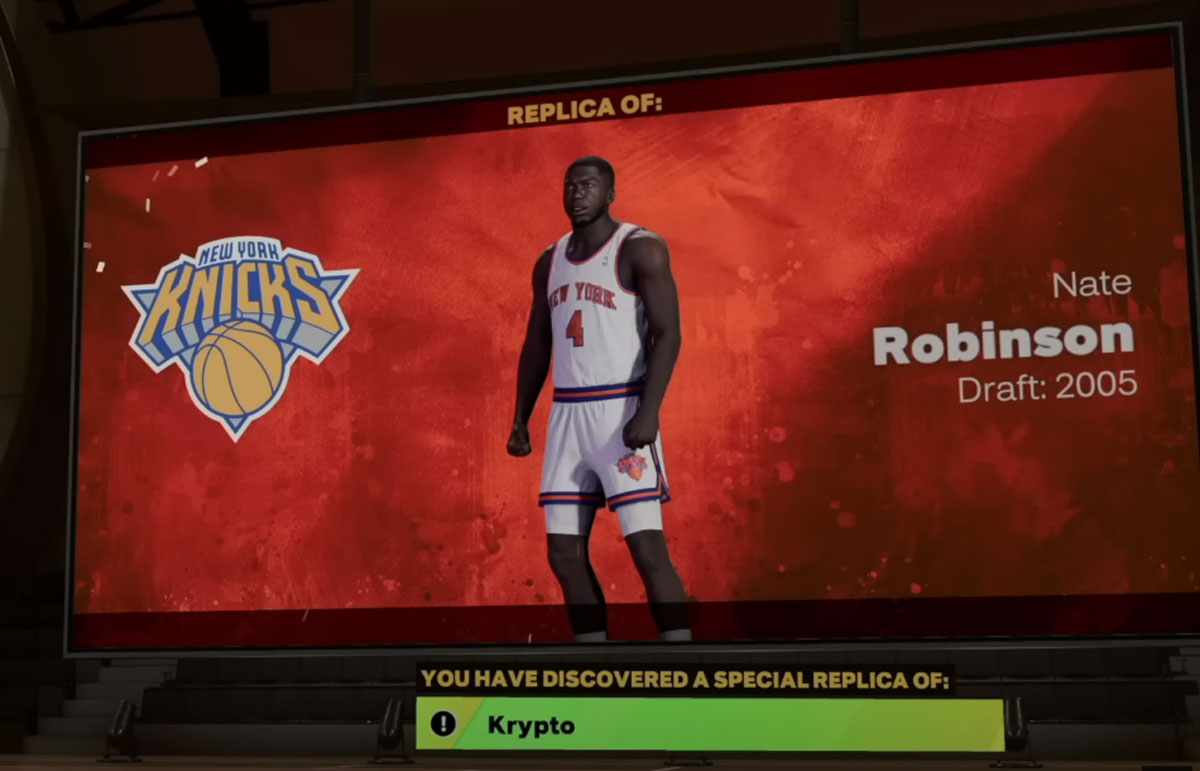 Position: PG
Handed: Right
Jersey Number: 4
Height: 5'9″
Weight: 180 lbs
Wingspan: 6'2″
Close Shot: 85
Driving Layup: 86
Driving Dunk: 80
Standing Dunk: 25
Post Control: 25
Mid-Range Shot: 74
Three-Point Shot: 78
Free-Throw: 85
Pass Accuracy: 71
Ball Handle: 90
Speed With Ball: 92
Interior Defense: 51
Perimeter Defense: 58
Steal: 77
Block: 39
Offensive Rebound: 38
Defensive Rebound: 38
Speed: 86
Acceleration: 94
Strength: 68
Vertical: 88
Stamina: 92
Derrick Rose – "Pooh"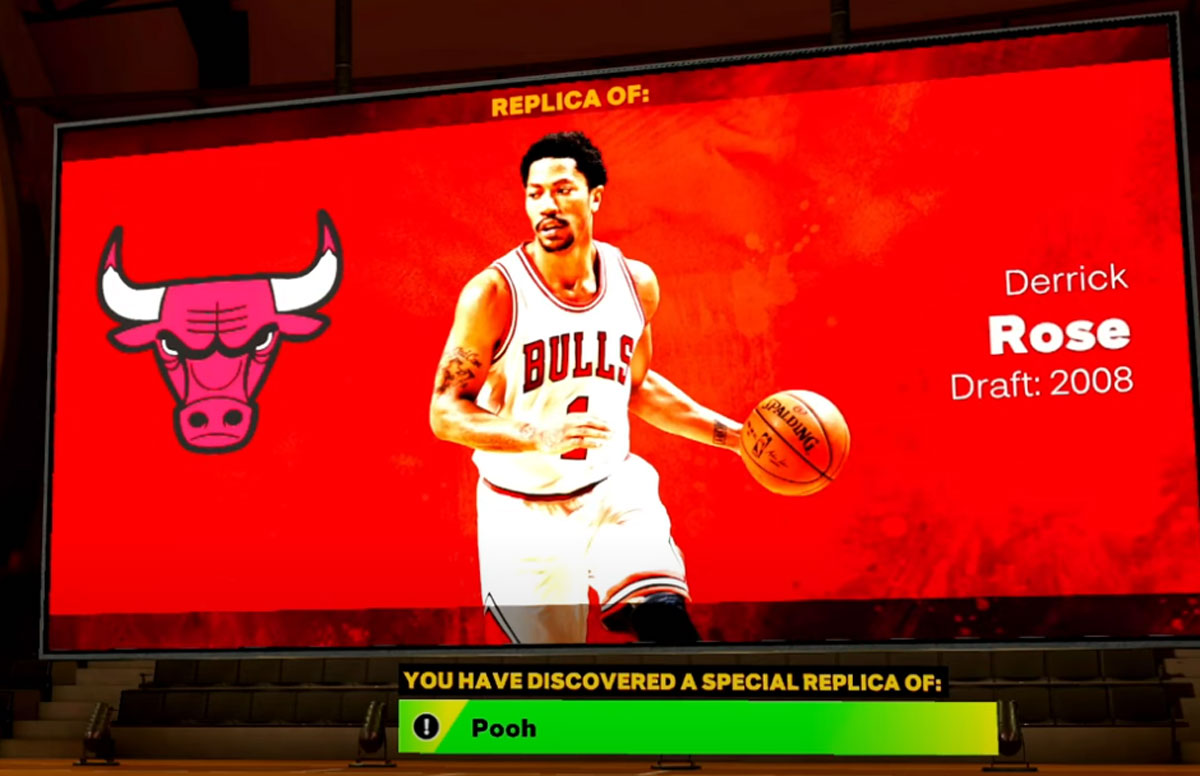 Position: PG
Handed: Right
Jersey Number: 1
Height: 6'3″
Weight: 190 lbs
Wingspan: 6'8″
Close Shot: 76
Driving Layup: 87
Driving Dunk: 82
Standing Dunk: 25
Post Control: 47
Mid-Range Shot: 82
Three-Point Shot: 70
Free-Throw: 78
Pass Accuracy: 80
Ball Handle: 88
Speed With Ball: 91
Interior Defense: 42
Perimeter Defense: 66
Steal: 62
Block: 33
Offensive Rebound: 28
Defensive Rebound: 47
Speed: 91
Acceleration: 91
Strength: 62
Vertical: 88
Stamina: 96
Collin Sexton – "Young Bull"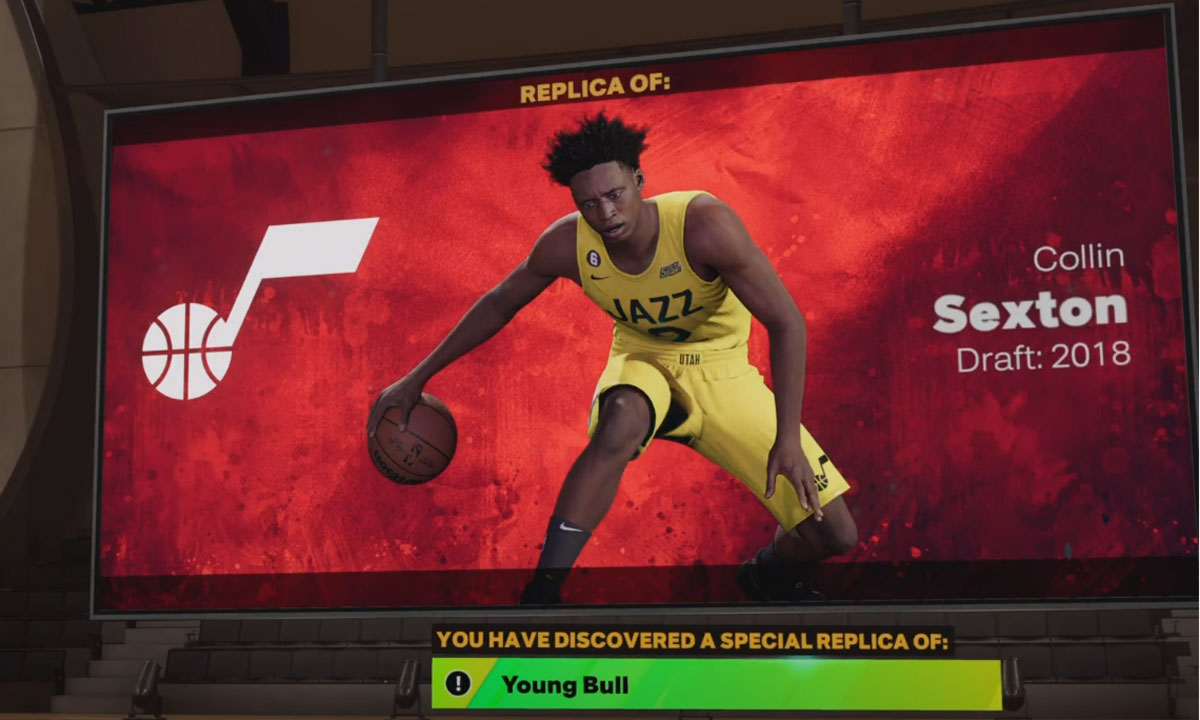 Position: PG
Handed: Right
Jersey Number: 2
Height: 6'2″
Weight: 190 lbs
Wingspan: 6'7″
Close Shot: 88
Driving Layup: 92
Driving Dunk: 80
Standing Dunk: 25
Post Control: 25
Mid-Range Shot: 83
Three-Point Shot: 86
Free-Throw: 88
Pass Accuracy: 75
Ball Handle: 92
Speed With Ball: 86
Interior Defense: 38
Perimeter Defense: 73
Steal: 38
Block: 30
Offensive Rebound: 36
Defensive Rebound: 33
Speed: 86
Acceleration: 91
Strength: 63
Vertical: 82
Stamina: 95
Jason Terry – "The Jet"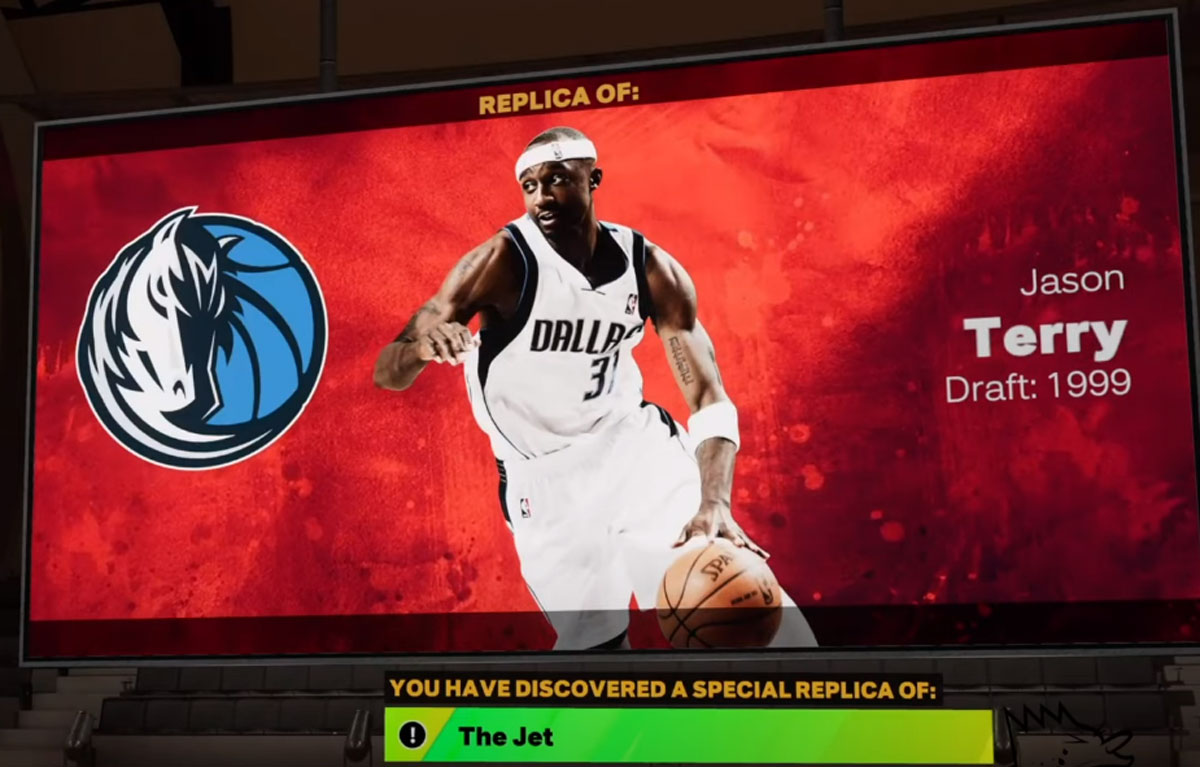 Position: PG
Handed: Right
Jersey Number: 31
Height: 6'2″
Weight: 185 lbs
Wingspan: 6'5″
Close Shot: 77
Driving Layup: 90
Driving Dunk: 40
Standing Dunk: 25
Post Control: 35
Mid-Range Shot: 95
Three-Point Shot: 83
Free-Throw: 92
Pass Accuracy: 78
Ball Handle: 84
Speed With Ball: 89
Interior Defense: 33
Perimeter Defense: 69
Steal: 63
Block: 40
Offensive Rebound: 31
Defensive Rebound: 39
Speed: 89
Acceleration: 86
Strength: 40
Vertical: 63
Stamina: 85
Isiah Thomas – "Zeke"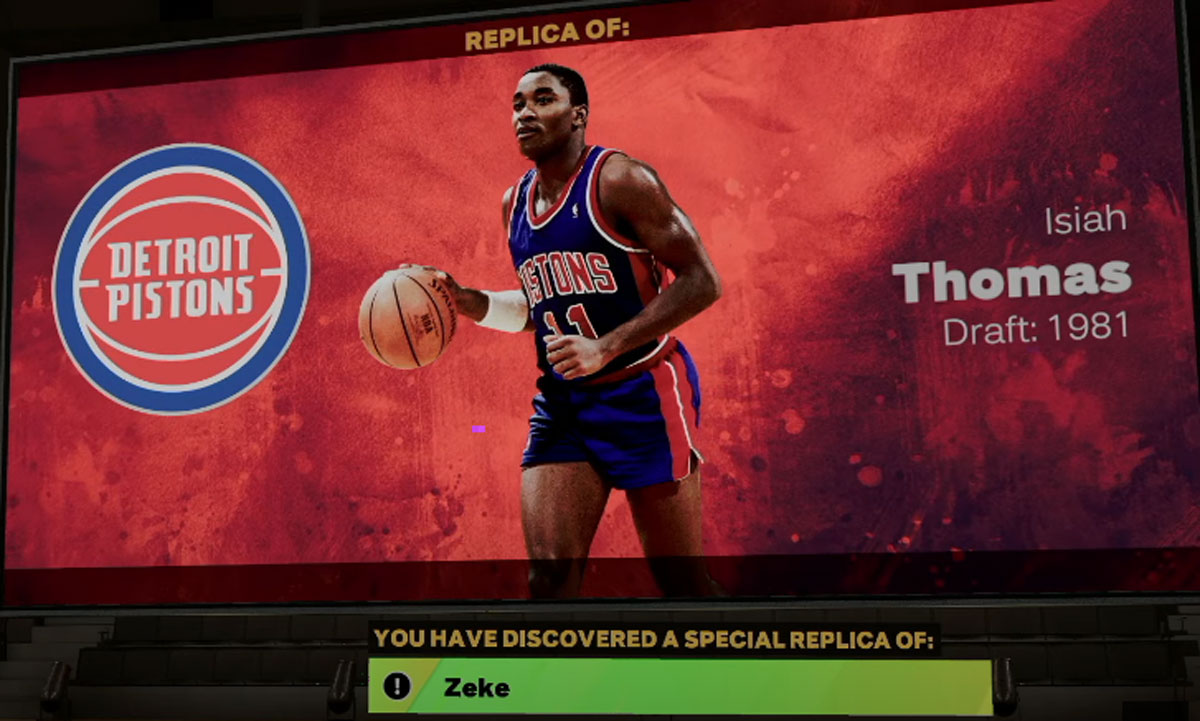 Position: PG
Handed: Right
Jersey Number: 11
Height: 6'1″
Weight: 180 lbs
Wingspan: 6'6″
Close Shot: 88
Driving Layup: 89
Driving Dunk: 60
Standing Dunk: 25
Post Control: 36
Mid-Range Shot: 85
Three-Point Shot: 84
Free-Throw: 81
Pass Accuracy: 89
Ball Handle: 89
Speed With Ball: 86
Interior Defense: 32
Perimeter Defense: 87
Steal: 85
Block: 27
Offensive Rebound: 27
Defensive Rebound: 42
Speed: 86
Acceleration: 86
Strength: 58
Vertical: 76
Stamina: 90
Jerry West – "The Logo"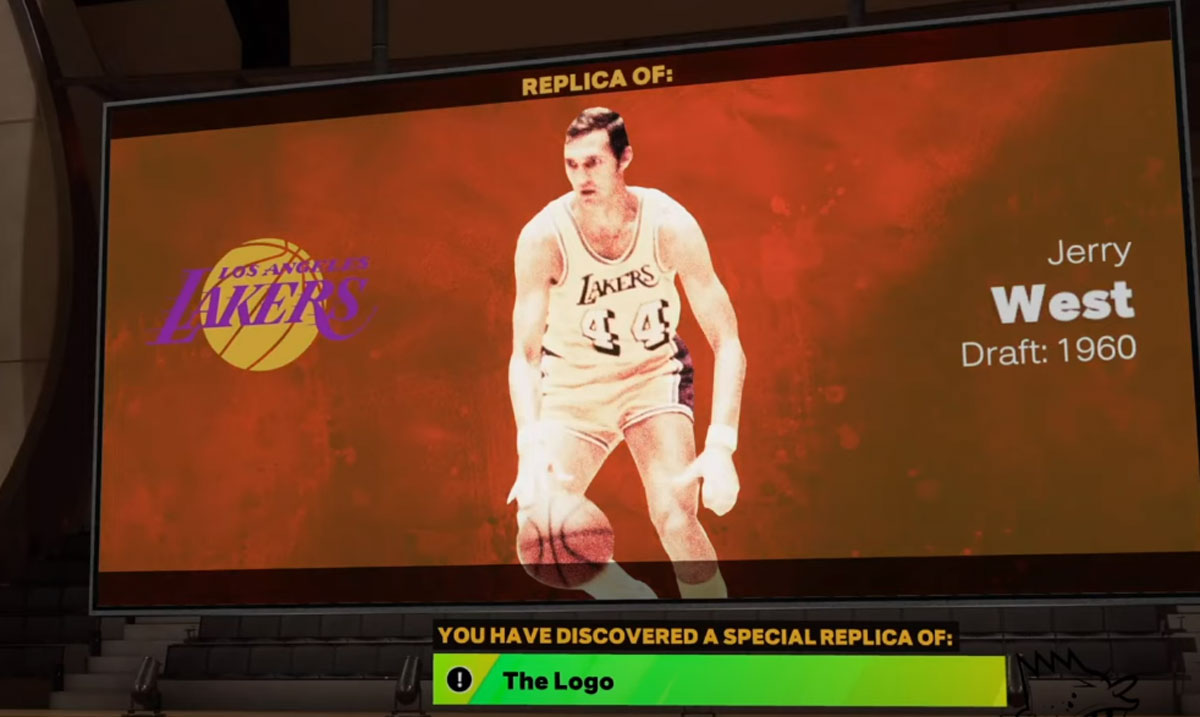 Position: PG
Handed: Right
Jersey Number: 44
Height: 6'2″
Weight: 175 lbs
Wingspan: 6'9″
Close Shot: 87
Driving Layup: 86
Driving Dunk: 25
Standing Dunk: 25
Post Control: 51
Mid-Range Shot: 92
Three-Point Shot: 91
Free-Throw: 75
Pass Accuracy: 88
Ball Handle: 84
Speed With Ball: 76
Interior Defense: 36
Perimeter Defense: 87
Steal: 90
Block: 32
Offensive Rebound: 27
Defensive Rebound: 42
Speed: 76
Acceleration: 76
Strength: 53
Vertical: 54
Stamina: 99
Russell Westbrook – "Brodie"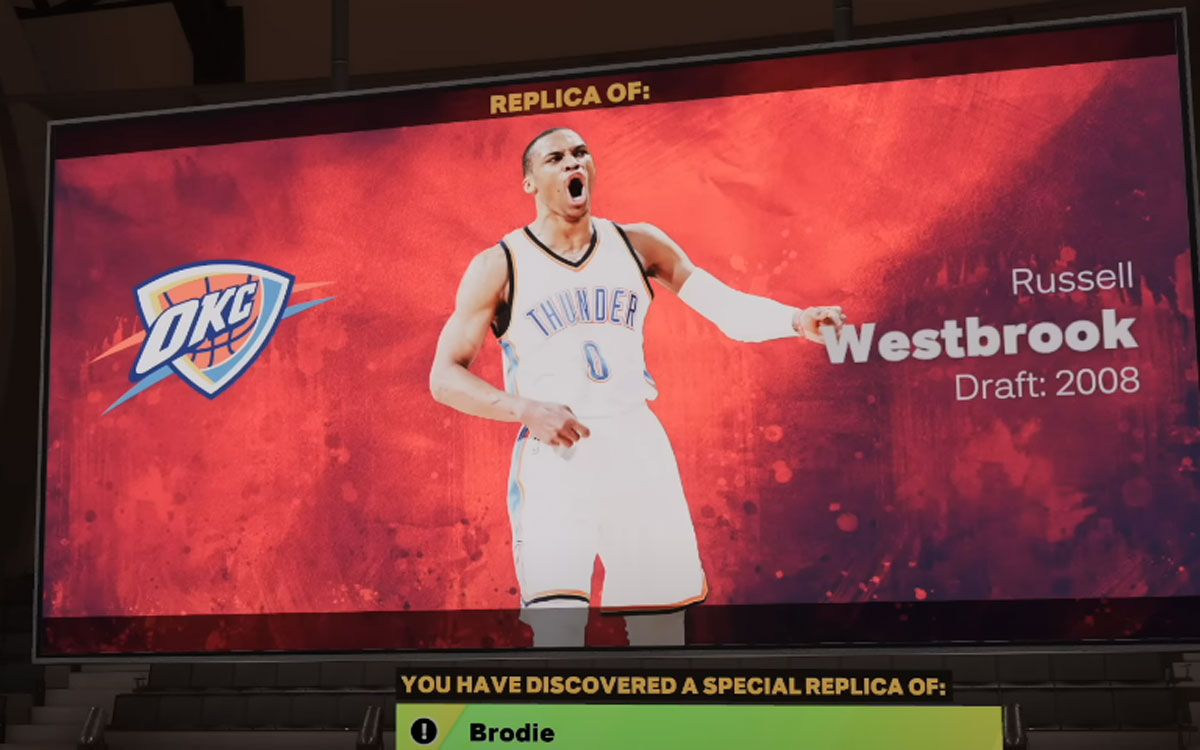 Position: PG
Handed: Right
Jersey Number: 0
Height: 6'3″
Weight: 200 lbs
Wingspan: 6'8″
Close Shot: 76
Driving Layup: 90
Driving Dunk: 86
Standing Dunk: 25
Post Control: 69
Mid-Range Shot: 76
Three-Point Shot: 79
Free-Throw: 78
Pass Accuracy: 79
Ball Handle: 87
Speed With Ball: 90
Interior Defense: 34
Perimeter Defense: 75
Steal: 63
Block: 39
Offensive Rebound: 54
Defensive Rebound: 82
Speed: 90
Acceleration: 88
Strength: 74
Vertical: 84
Stamina: 90
Gus Williams – "The Wizard"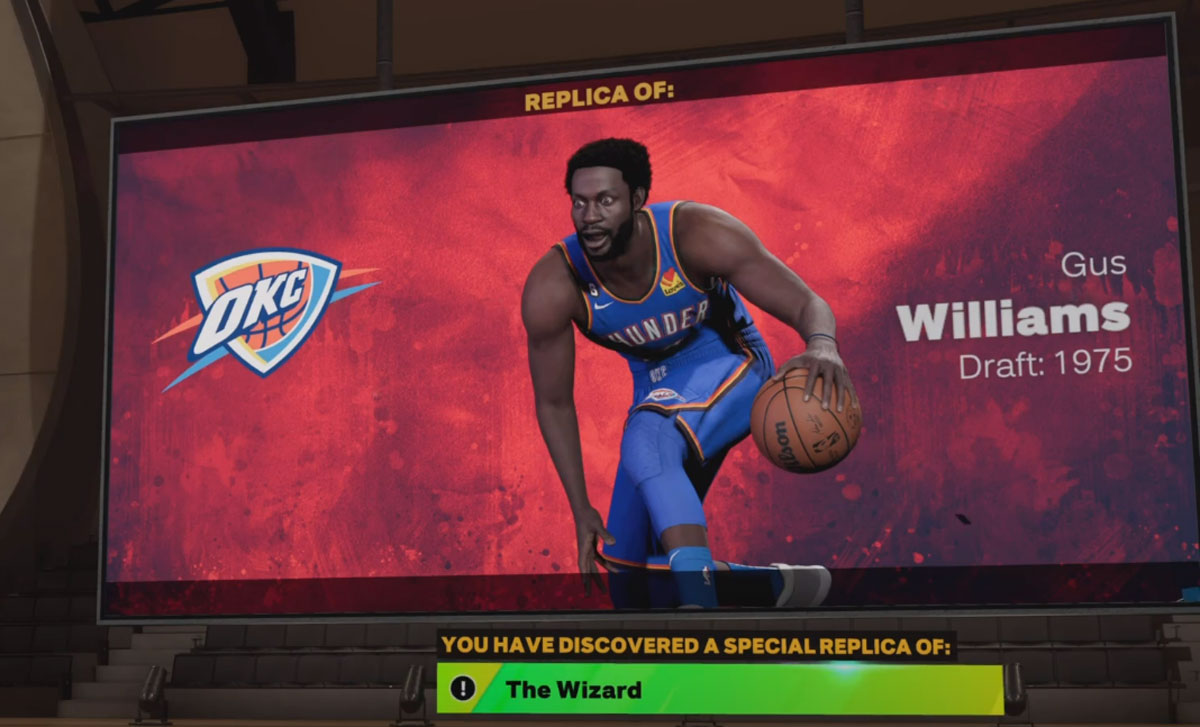 Position: PG
Handed: Right
Jersey Number: 15
Height: 6'2″
Weight: 175 lbs
Wingspan: 6'7″
Close Shot: 86
Driving Layup: 89
Driving Dunk: 25
Standing Dunk: 25
Post Control: 27
Mid-Range Shot: 85
Three-Point Shot: 76
Free-Throw: 81
Pass Accuracy: 83
Ball Handle: 87
Speed With Ball: 90
Interior Defense: 27
Perimeter Defense: 86
Steal: 85
Block: 36
Offensive Rebound: 27
Defensive Rebound: 43
Speed: 89
Acceleration: 90
Strength: 46
Vertical: 87
Stamina: 95
Trae Young – "Ice Trae"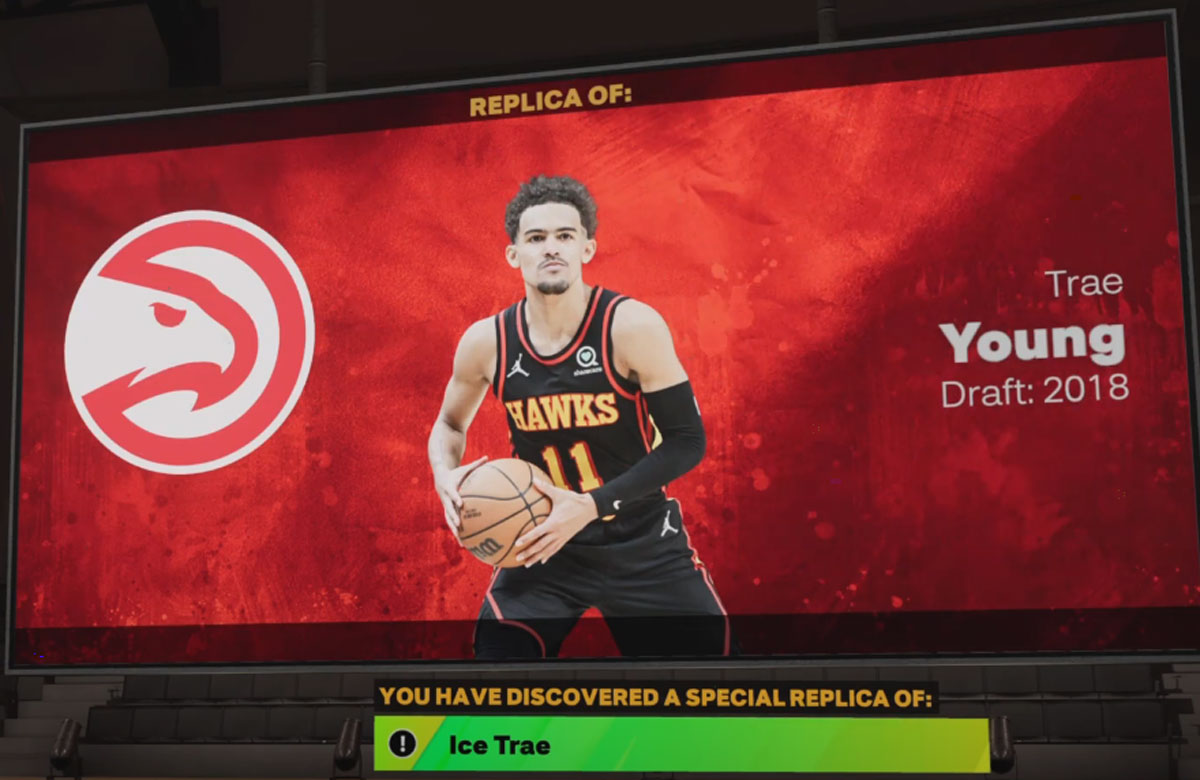 Position: PG
Handed: Right
Jersey Number: 11
Height: 6'1″
Weight: 180 lbs
Wingspan: 6'4″
Close Shot: 85
Driving Layup: 89
Driving Dunk: 25
Standing Dunk: 25
Post Control: 27
Mid-Range Shot: 81
Three-Point Shot: 93
Free-Throw: 91
Pass Accuracy: 80
Ball Handle: 95
Speed With Ball: 80
Interior Defense: 30
Perimeter Defense: 63
Steal: 30
Block: 30
Offensive Rebound: 30
Defensive Rebound: 38
Speed: 92
Acceleration: 92
Strength: 58
Vertical: 85
Stamina: 99
SHOOTING GUARDS
Leandro Barbosa – "The Blur"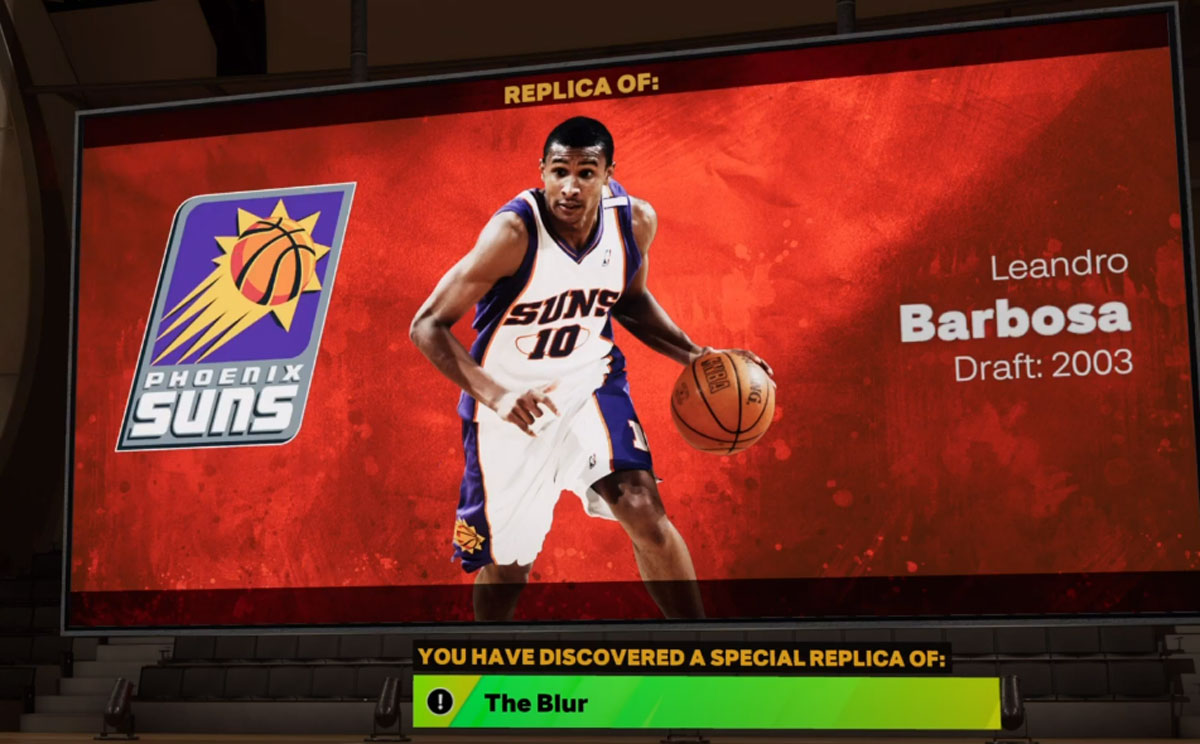 Position: SG
Handed: Right
Jersey Number: 10
Height: 6'3″
Weight: 175 lbs
Wingspan: 6'9″
Close Shot: 76
Driving Layup: 89
Driving Dunk: 30
Standing Dunk: 25
Post Control: 25
Mid-Range Shot: 83
Three-Point Shot: 89
Free-Throw: 87
Pass Accuracy: 80
Ball Handle: 92
Speed With Ball: 87
Interior Defense: 30
Perimeter Defense: 78
Steal: 67
Block: 27
Offensive Rebound: 33
Defensive Rebound: 53
Speed: 89
Acceleration: 90
Strength: 40
Vertical: 70
Stamina: 88
Dick Barnett – "Fall Back Baby"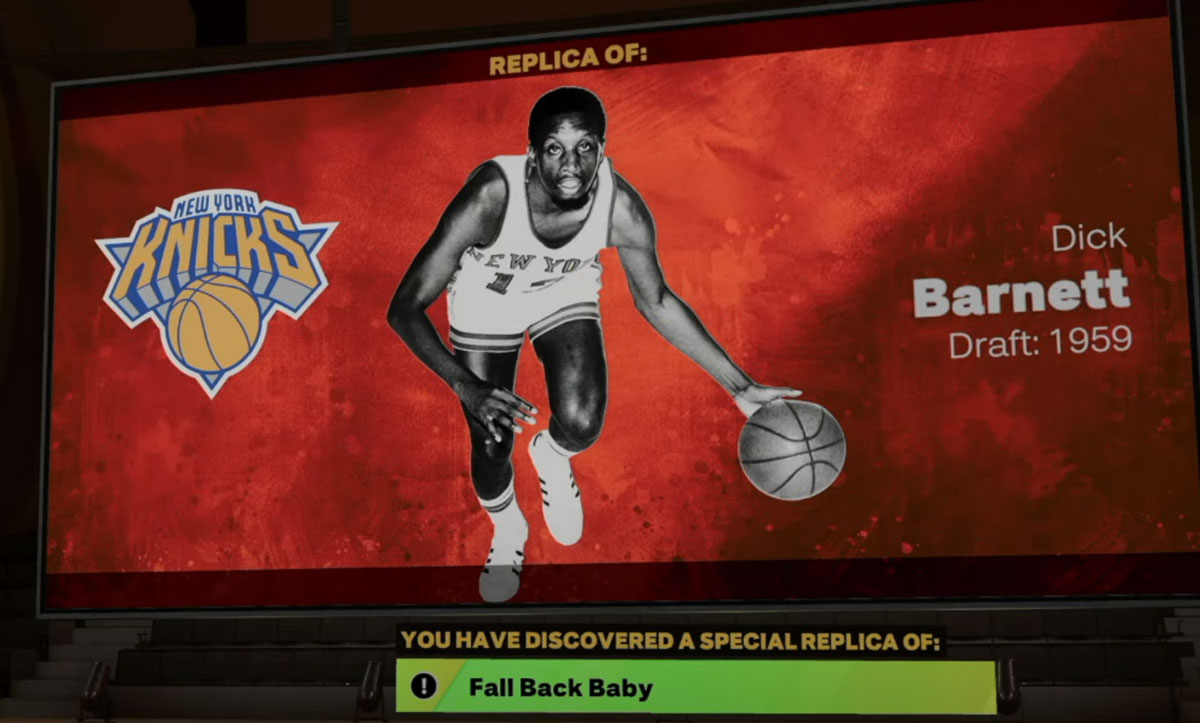 Position: SG
Handed: 12
Jersey Number: 12
Height: 6'4″
Weight: 200 lbs
Wingspan: 6'10"
Close Shot: 85
Driving Layup: 81
Driving Dunk: 86
Standing Dunk: 38
Post Control: 58
Mid-Range Shot: 81
Three-Point Shot: 85
Free-Throw: 78
Pass Accuracy: 74
Ball Handle: 87
Speed With Ball: 75
Interior Defense: 47
Perimeter Defense: 87
Steal: 85
Block: 36
Offensive Rebound: 40
Defensive Rebound: 70
Speed: 75
Acceleration: 88
Strength: 47
Vertical: 75
Stamina: 90
Bradley Beal – "Big Panda"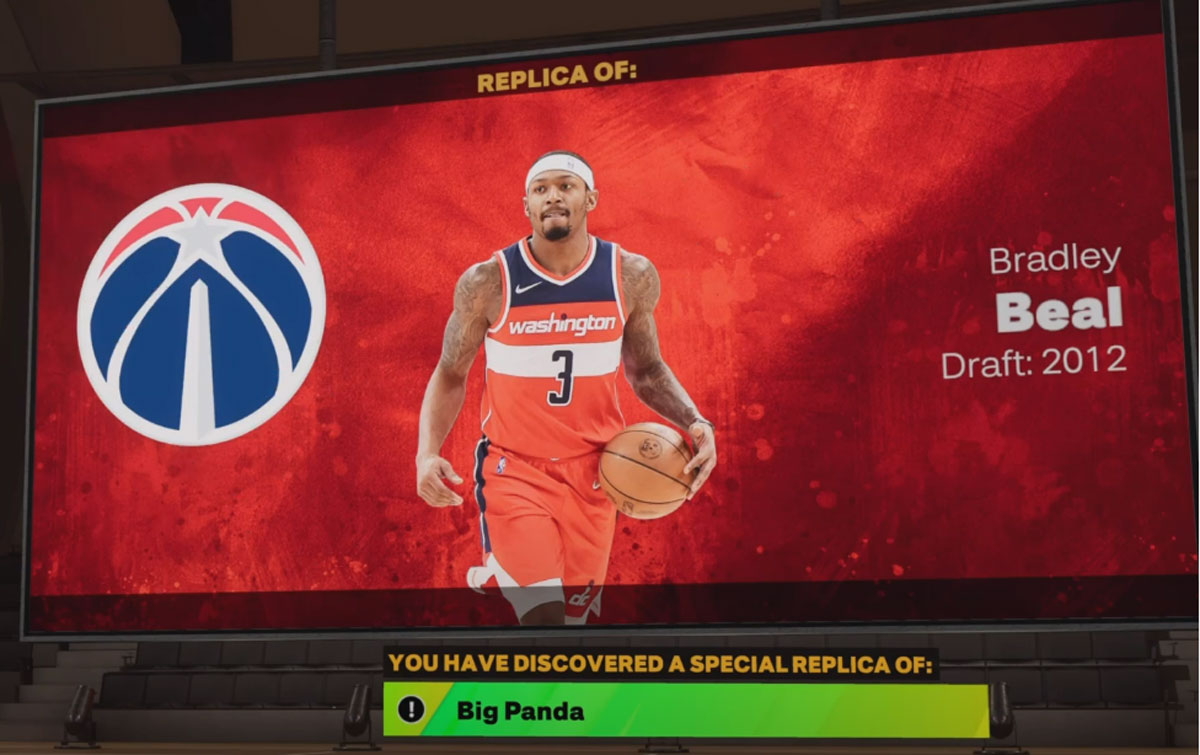 Position: SG
Handed: Right
Jersey Number: 3
Height: 6'4″
Weight: 207 lbs
Wingspan: 6'10"
Close Shot: 85
Driving Layup: 89
Driving Dunk: 86
Standing Dunk: 25
Post Control: 54
Mid-Range Shot: 86
Three-Point Shot: 86
Free-Throw: 84
Pass Accuracy: 80
Ball Handle: 90
Speed With Ball: 80
Interior Defense: 38
Perimeter Defense: 70
Steal: 35
Block: 60
Offensive Rebound: 30
Defensive Rebound: 43
Speed: 75
Acceleration: 80
Strength: 70
Vertical: 80
Stamina: 90
Kobe Bryant – "Mamba" (#8)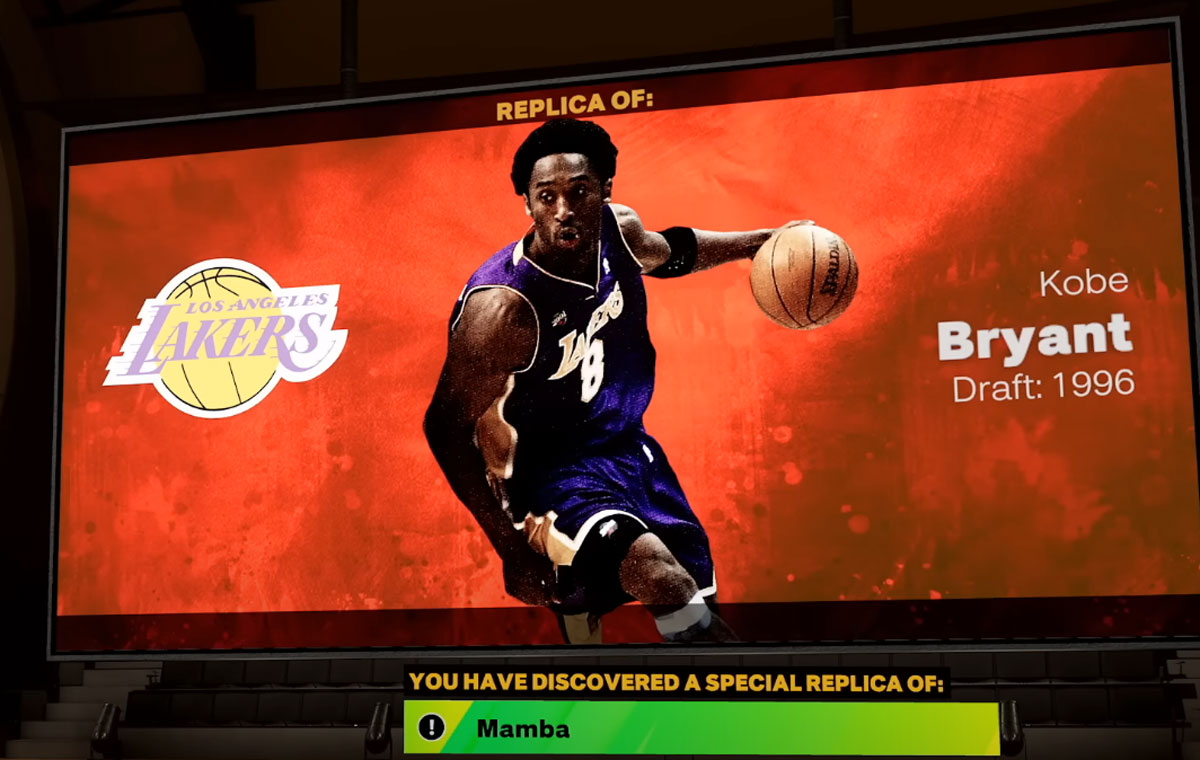 Position: SG
Handed: Right
Jersey Number: 8
Height: 6'6″
Weight: 200 lbs
Wingspan: 6'11"
Close Shot: 88
Driving Layup: 90
Driving Dunk: 87
Standing Dunk: 32
Post Control: 60
Mid-Range Shot: 86
Three-Point Shot: 71
Free-Throw: 77
Pass Accuracy: 76
Ball Handle: 81
Speed With Ball: 78
Interior Defense: 61
Perimeter Defense: 87
Steal: 69
Block: 46
Offensive Rebound: 48
Defensive Rebound: 51
Speed: 80
Acceleration: 79
Strength: 68
Vertical: 80
Stamina: 98
Kobe Bryant – "Mamba" (#24)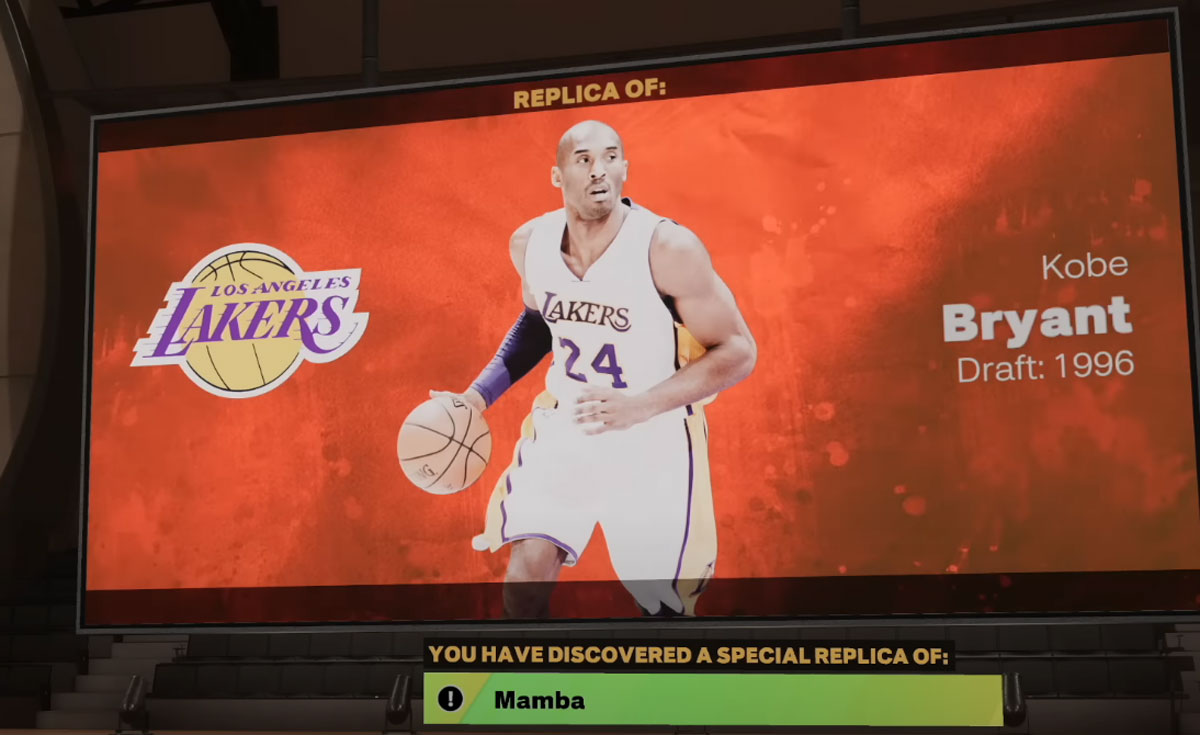 Position: SG
Handed: Right
Jersey Number: 24
Height: 6'6″
Weight: 200 lbs
Wingspan: 6'11"
Close Shot: 84
Driving Layup: 90
Driving Dunk: 77
Standing Dunk: 32
Post Control: 60
Mid-Range Shot: 86
Three-Point Shot: 71
Free-Throw: 78
Pass Accuracy: 77
Ball Handle: 81
Speed With Ball: 78
Interior Defense: 54
Perimeter Defense: 88
Steal: 69
Block: 53
Offensive Rebound: 38
Defensive Rebound: 56
Speed: 80
Acceleration: 86
Strength: 70
Vertical: 85
Stamina: 92
Joe Caldwell – "Pogo"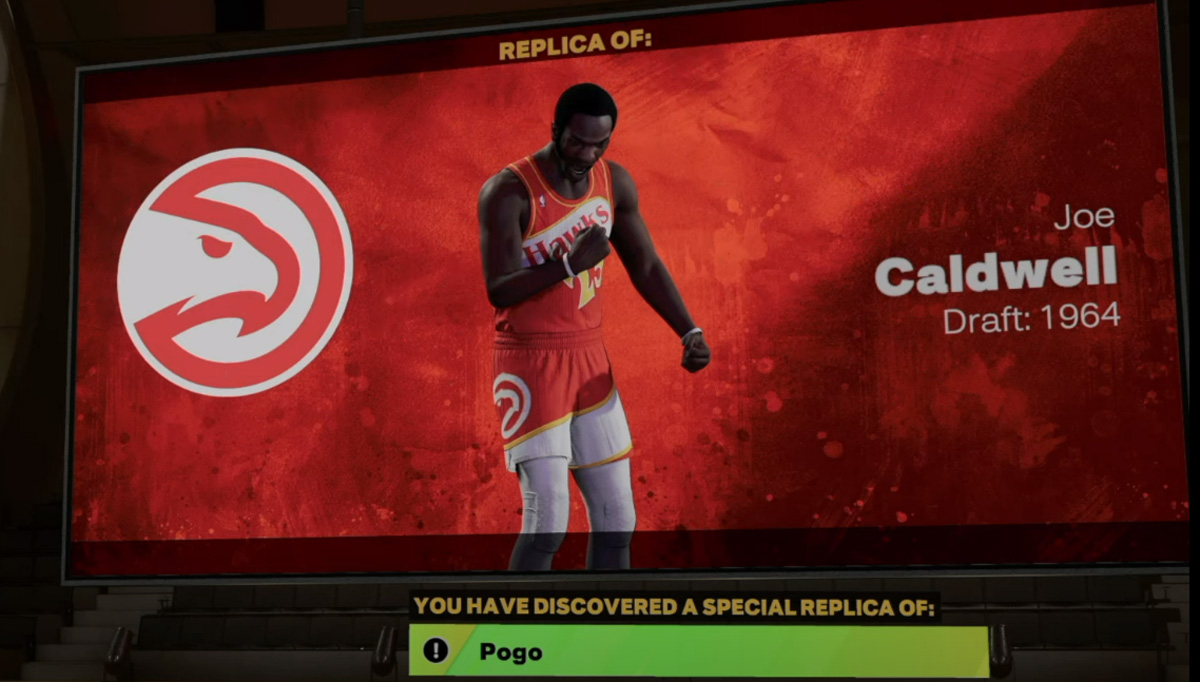 Position: SG
Handed: Right
Jersey Number: 23
Height: 6'5″
Weight: 205 lbs
Wingspan: 6'10"
Close Shot: 93
Driving Layup: 82
Driving Dunk: 86
Standing Dunk: 32
Post Control: 64
Mid-Range Shot: 80
Three-Point Shot: 86
Free-Throw: 83
Pass Accuracy: 75
Ball Handle: 89
Speed With Ball: 75
Interior Defense: 60
Perimeter Defense: 82
Steal: 70
Block: 39
Offensive Rebound: 42
Defensive Rebound: 50
Speed: 75
Acceleration: 75
Strength: 57
Vertical: 75
Stamina: 90
Vince Carter – "Half Man, Half Amazing"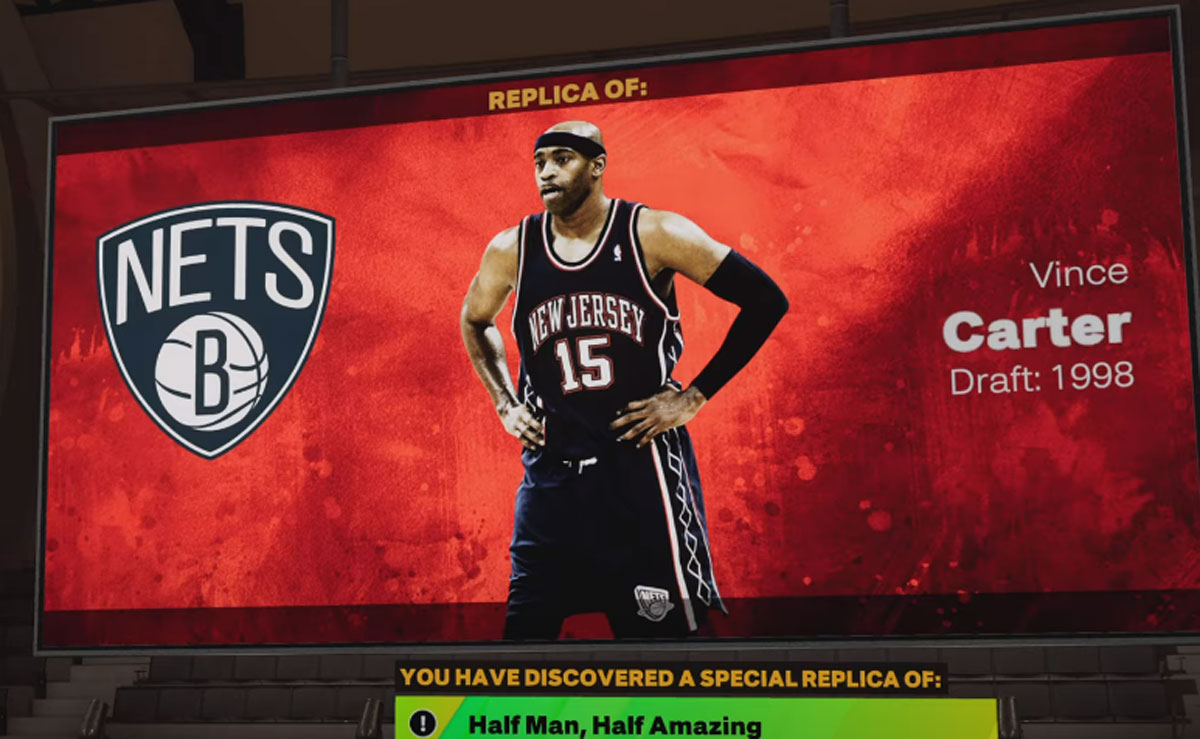 Position: SG
Handed: Right
Jersey Number: 15
Height: 6'6″
Weight: 220 lbs
Wingspan: 6'11"
Close Shot: 84
Driving Layup: 86
Driving Dunk: 92
Standing Dunk: 74
Post Control: 60
Mid-Range Shot: 78
Three-Point Shot: 78
Free-Throw: 74
Pass Accuracy: 76
Ball Handle: 78
Speed With Ball: 77
Interior Defense: 53
Perimeter Defense: 74
Steal: 56
Block: 54
Offensive Rebound: 44
Defensive Rebound: 48
Speed: 82
Acceleration: 82
Strength: 51
Vertical: 93
Stamina: 92
Walter Davis – "The Greyhound"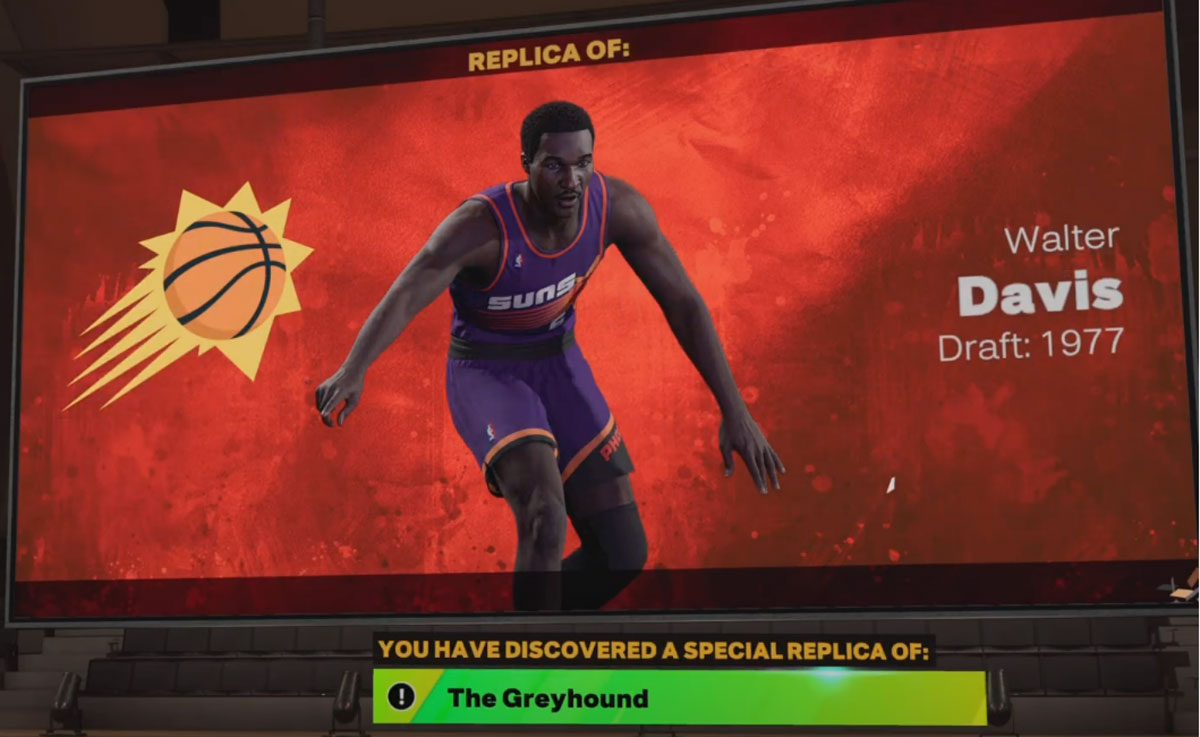 Position: SG
Handed: Right
Jersey Number: 6
Height: 6'6″
Weight: 193 lbs
Wingspan: 6'11"
Close Shot: 89
Driving Layup: 89
Driving Dunk: 86
Standing Dunk: 55
Post Control: 74
Mid-Range Shot: 87
Three-Point Shot: 77
Free-Throw: 83
Pass Accuracy: 75
Ball Handle: 86
Speed With Ball: 76
Interior Defense: 32
Perimeter Defense: 80
Steal: 72
Block: 30
Offensive Rebound: 36
Defensive Rebound: 50
Speed: 76
Acceleration: 78
Strength: 56
Vertical: 80
Stamina: 90
Clyde Drexler – "The Glide"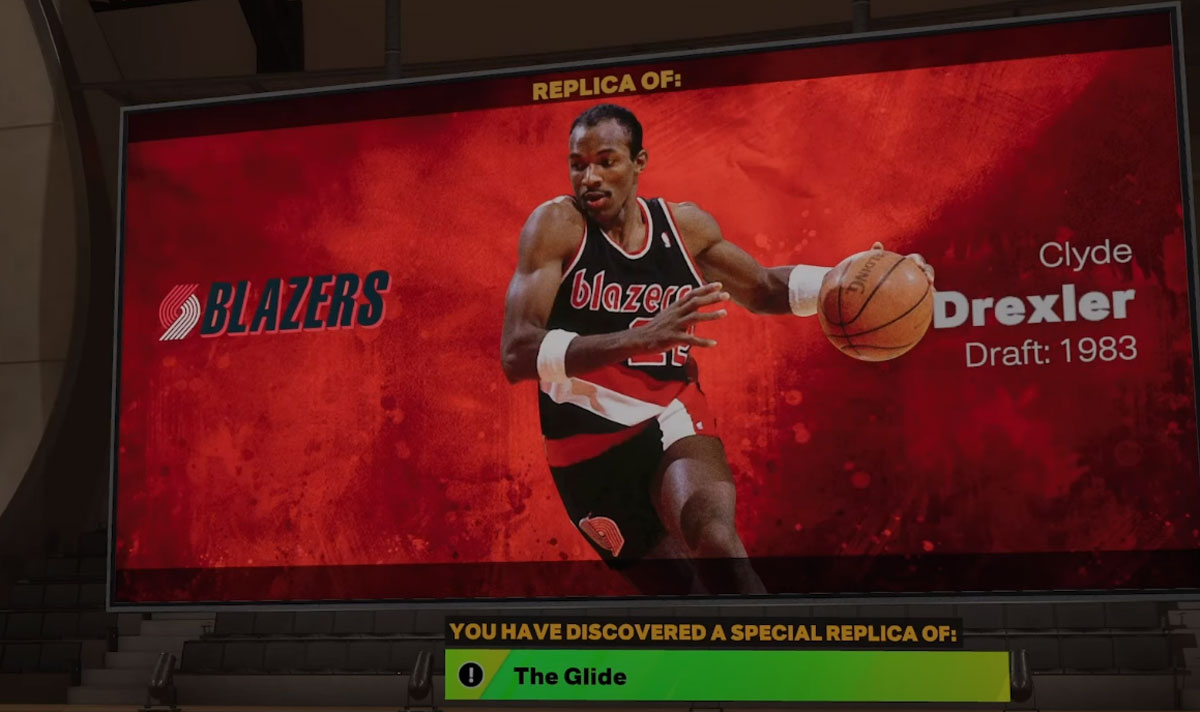 Position: SG
Handed: Right
Jersey Number: 22
Height: 6'7″
Weight: 210 lbs
Wingspan: 7'1″
Close Shot: 86
Driving Layup: 86
Driving Dunk: 93
Standing Dunk: 76
Post Control: 67
Mid-Range Shot: 84
Three-Point Shot: 77
Free-Throw: 81
Pass Accuracy: 76
Ball Handle: 77
Speed With Ball: 77
Interior Defense: 61
Perimeter Defense: 80
Steal: 78
Block: 50
Offensive Rebound: 61
Defensive Rebound: 53
Speed: 70
Acceleration: 70
Strength: 63
Vertical: 82
Stamina: 90
Anthony Edwards – "Ant"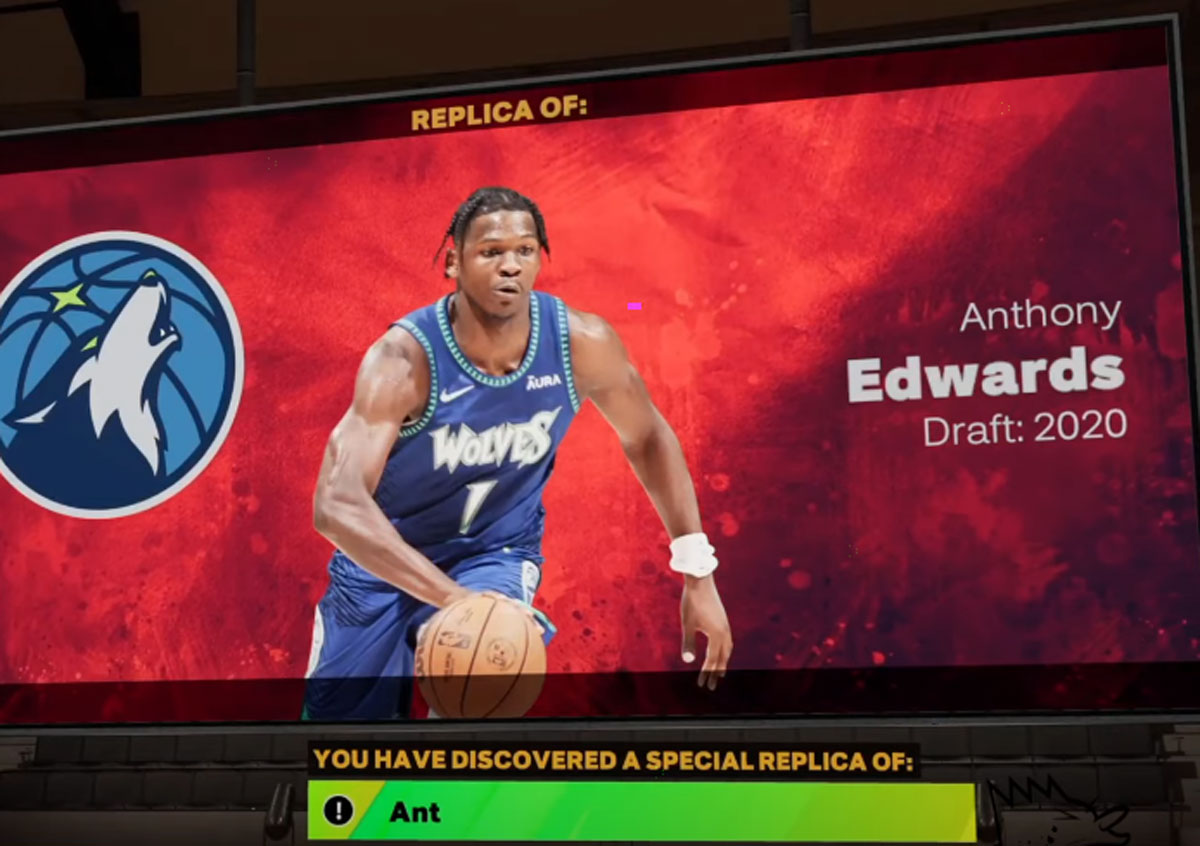 Position: SG
Handed: Right
Jersey Number: 1
Height: 6'4″
Weight: 210 lbs
Wingspan: 6'9″
Close Shot: 79
Driving Layup: 86
Driving Dunk: 94
Standing Dunk: 50
Post Control: 54
Mid-Range Shot: 82
Three-Point Shot: 79
Free-Throw: 78
Pass Accuracy: 74
Ball Handle: 84
Speed With Ball: 83
Interior Defense: 50
Perimeter Defense: 74
Steal: 59
Block: 57
Offensive Rebound: 37
Defensive Rebound: 56
Speed: 85
Acceleration: 85
Strength: 52
Vertical: 83
Stamina: 95
Paul George – "PG-13" (Clippers)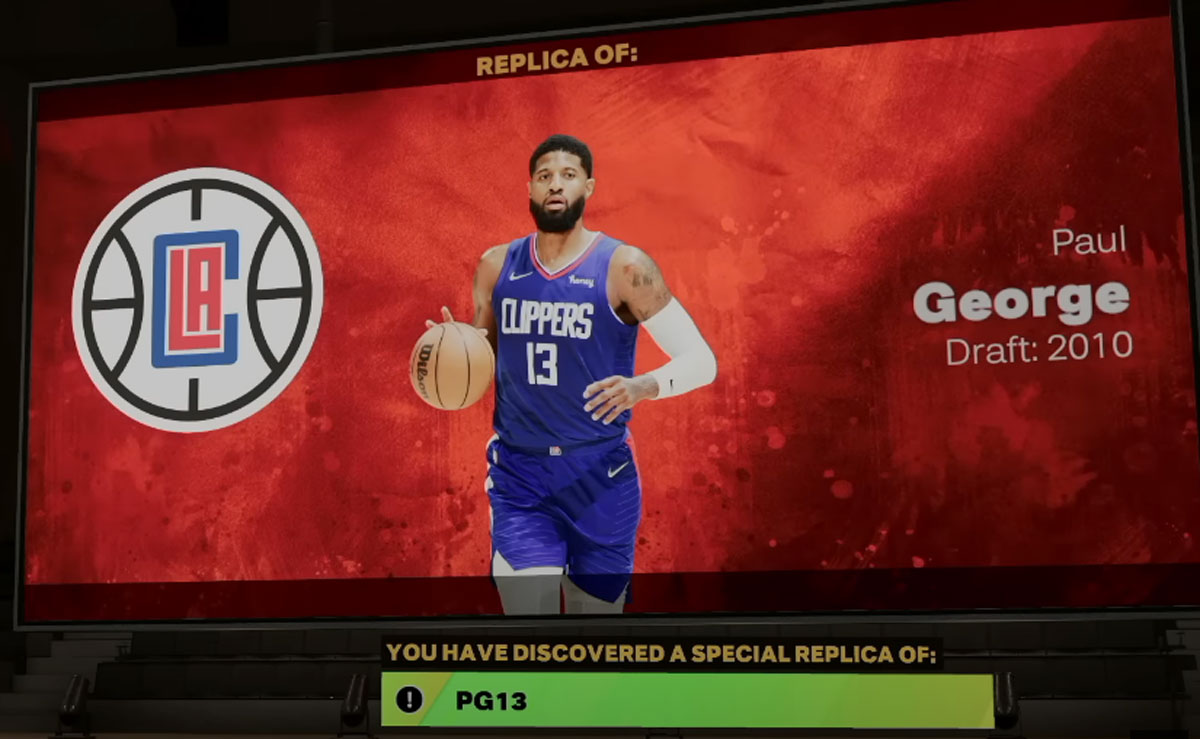 Position: SG
Handed: Right
Jersey Number: 13
Height: 6'8″
Weight: 220 lbs
Wingspan: 7'2″
Close Shot: 82
Driving Layup: 82
Driving Dunk: 86
Standing Dunk: 47
Post Control: 72
Mid-Range Shot: 83
Three-Point Shot: 85
Free-Throw: 80
Pass Accuracy: 70
Ball Handle: 89
Speed With Ball: 75
Interior Defense: 72
Perimeter Defense: 87
Steal: 85
Block: 47
Offensive Rebound: 25
Defensive Rebound: 58
Speed: 75
Acceleration: 77
Strength: 70
Vertical: 80
Stamina: 90
Darrell Griffith – "Dunkenstein"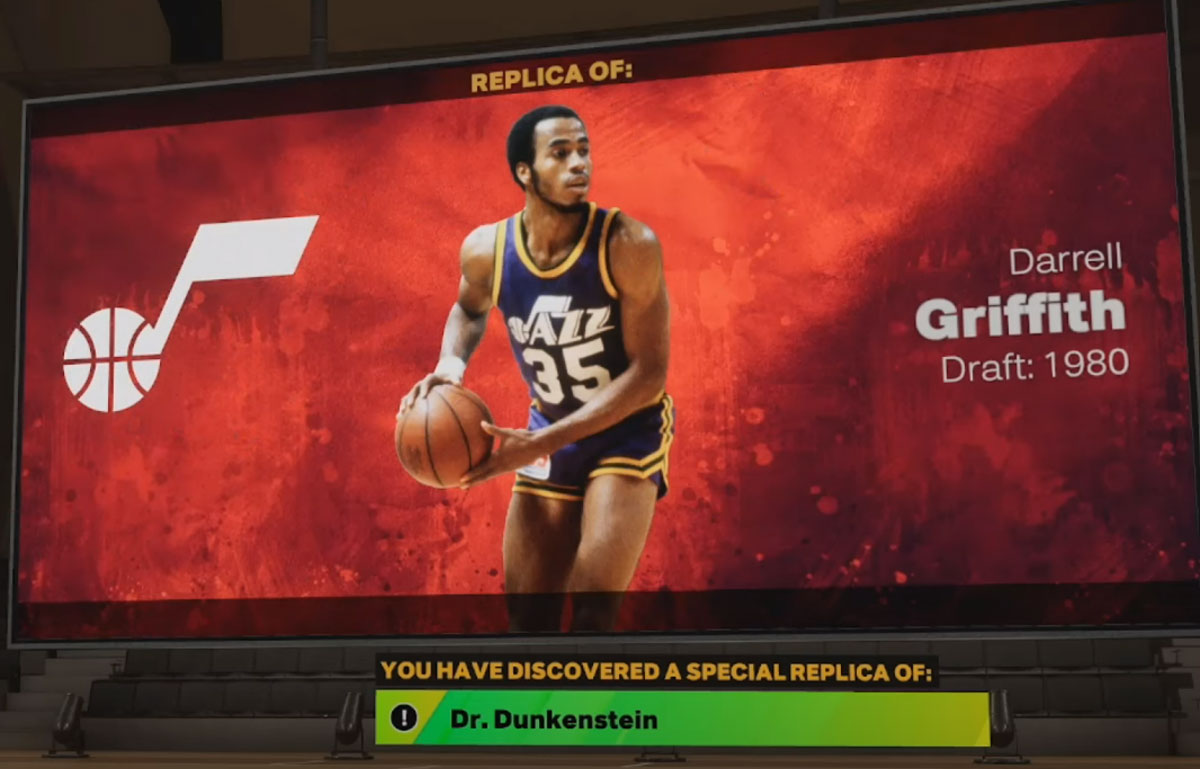 Position: SG
Handed: Right
Jersey Number: 35
Height: 6'4″
Weight: 185 lbs
Wingspan: 6'7″
Close Shot: 88
Driving Layup: 86
Driving Dunk: 91
Standing Dunk: 32
Post Control: 59
Mid-Range Shot: 80
Three-Point Shot: 81
Free-Throw: 77
Pass Accuracy: 83
Ball Handle: 76
Speed With Ball: 77
Interior Defense: 62
Perimeter Defense: 80
Steal: 65
Block: 44
Offensive Rebound: 49
Defensive Rebound: 53
Speed: 79
Acceleration: 81
Strength: 49
Vertical: 94
Stamina: 97
Richard Hamilton – "Rip"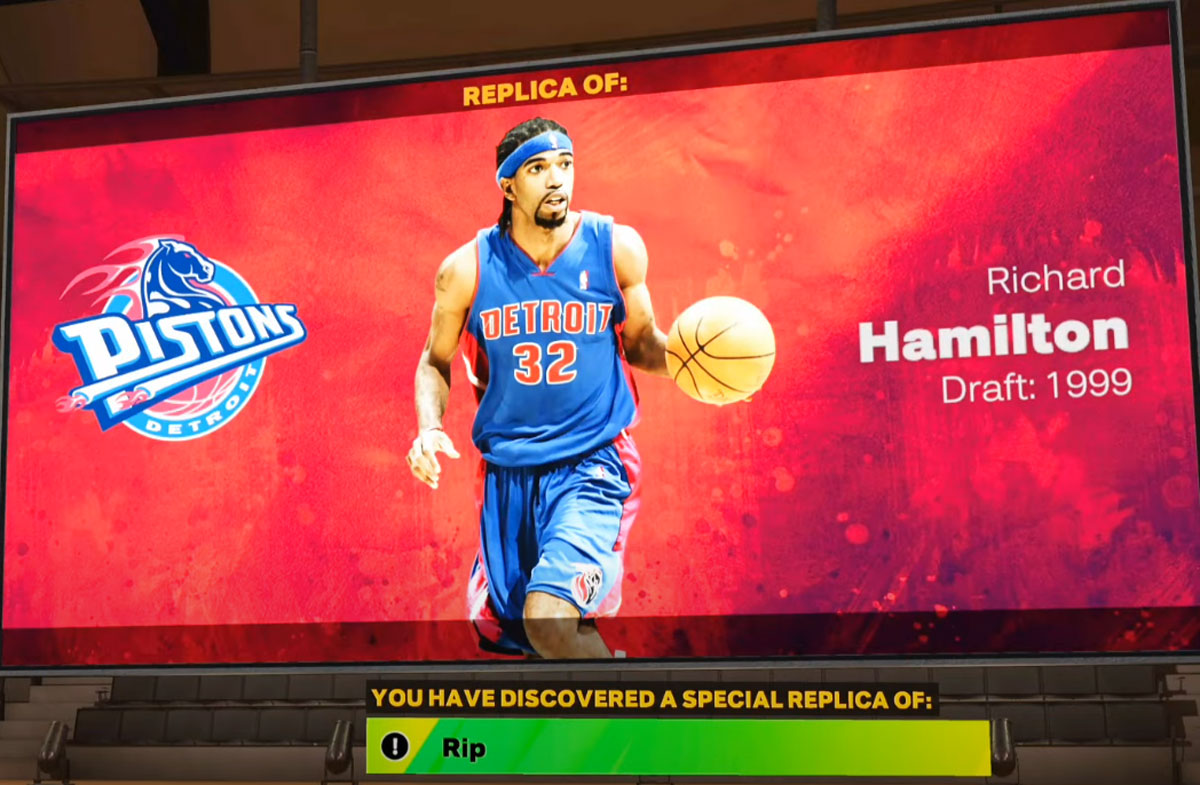 Position: SG
Handed: Right
Jersey Number: 32
Height: 6'6″
Weight: 185 lbs
Wingspan: 6'11"
Close Shot: 84
Driving Layup: 85
Driving Dunk: 70
Standing Dunk: 35
Post Control: 60
Mid-Range Shot: 89
Three-Point Shot: 88
Free-Throw: 87
Pass Accuracy: 81
Ball Handle: 80
Speed With Ball: 75
Interior Defense: 65
Perimeter Defense: 85
Steal: 70
Block: 40
Offensive Rebound: 50
Defensive Rebound: 50
Speed: 75
Acceleration: 75
Strength: 55
Vertical: 60
Stamina: 99
James Harden – "The Beard" (76ers)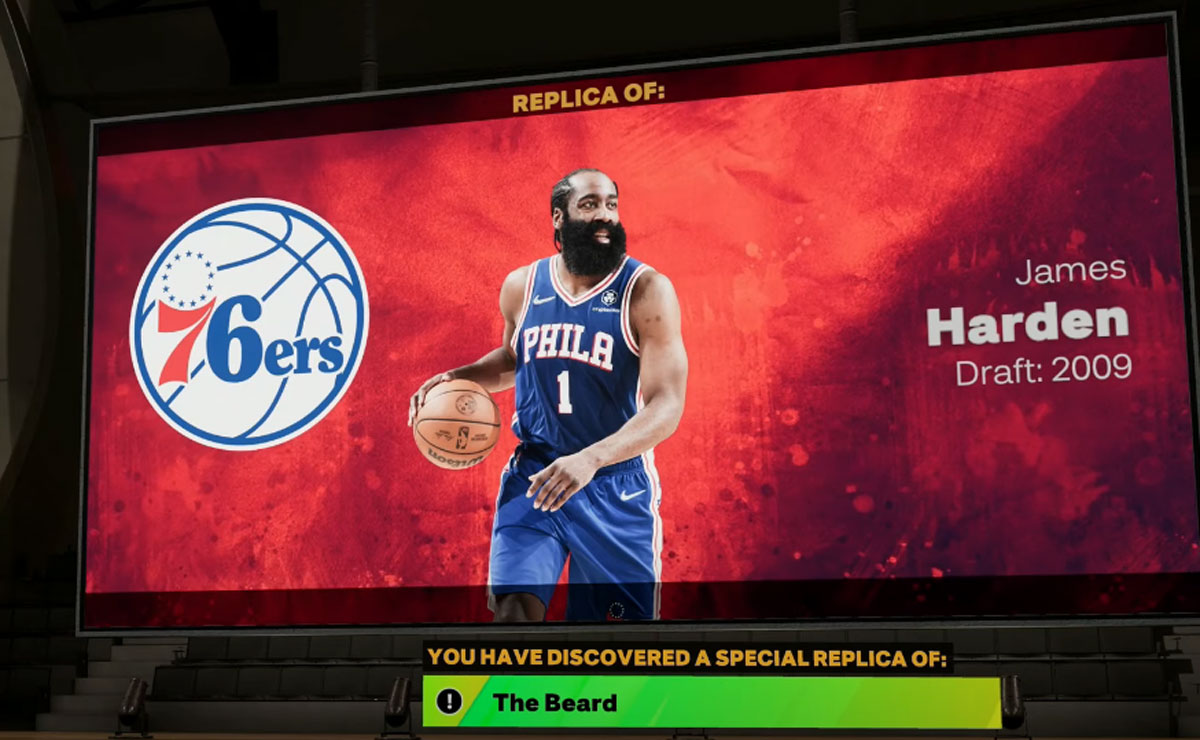 Position: SG
Handed: Left
Jersey Number: 1
Height: 6'5″
Weight: 220 lbs
Wingspan: 6'10"
Close Shot: 85
Driving Layup: 85
Driving Dunk: 86
Standing Dunk: 31
Post Control: 61
Mid-Range Shot: 81
Three-Point Shot: 85
Free-Throw: 82
Pass Accuracy: 74
Ball Handle: 89
Speed With Ball: 78
Interior Defense: 54
Perimeter Defense: 78
Steal: 43
Block: 48
Offensive Rebound: 31
Defensive Rebound: 70
Speed: 80
Acceleration: 83
Strength: 63
Vertical: 79
Stamina: 90
James Harden – "The Beard" (Thunder)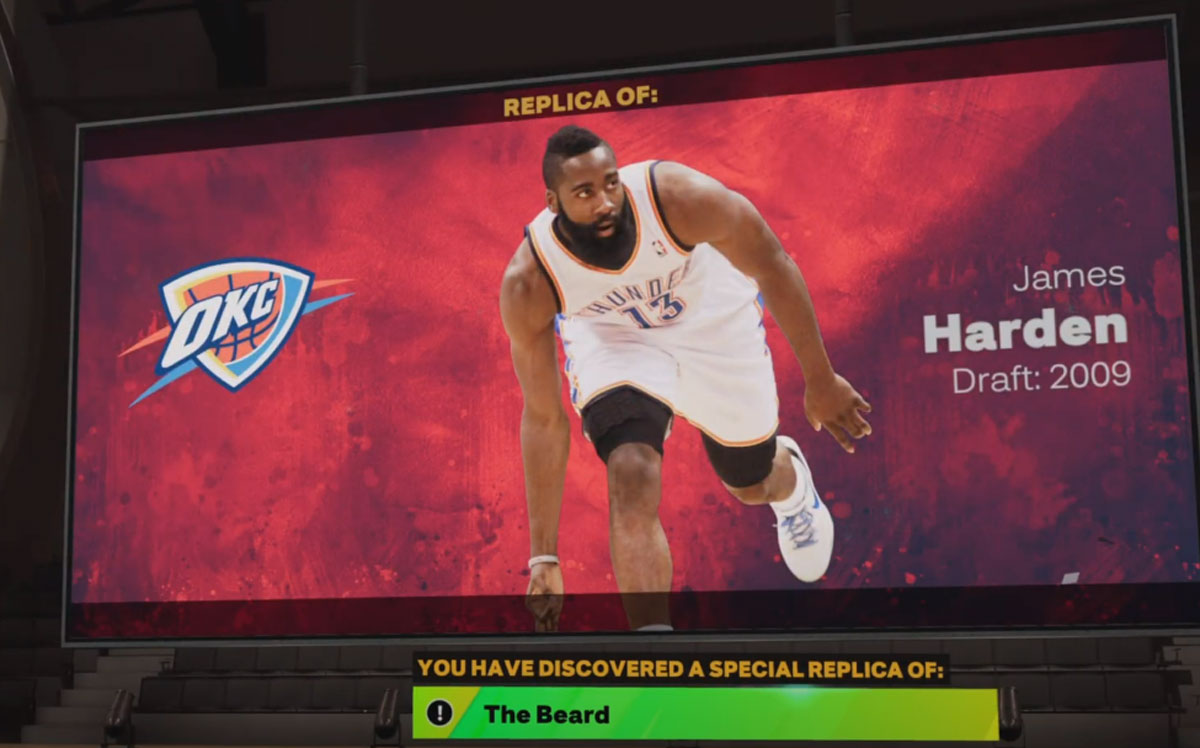 Position: SG
Handed: Left
Jersey Number: 13
Height: 6'5″
Weight: 220 lbs
Wingspan: 6'10"
Close Shot: 67
Driving Layup: 89
Driving Dunk: 85
Standing Dunk: 30
Post Control: 47
Mid-Range Shot: 77
Three-Point Shot: 85
Free-Throw: 77
Pass Accuracy: 75
Ball Handle: 89
Speed With Ball: 79
Interior Defense: 59
Perimeter Defense: 61
Steal: 77
Block: 59
Offensive Rebound: 28
Defensive Rebound: 51
Speed: 80
Acceleration: 85
Strength: 76
Vertical: 80
Stamina: 93
Tyler Herro – "Boy Wonder"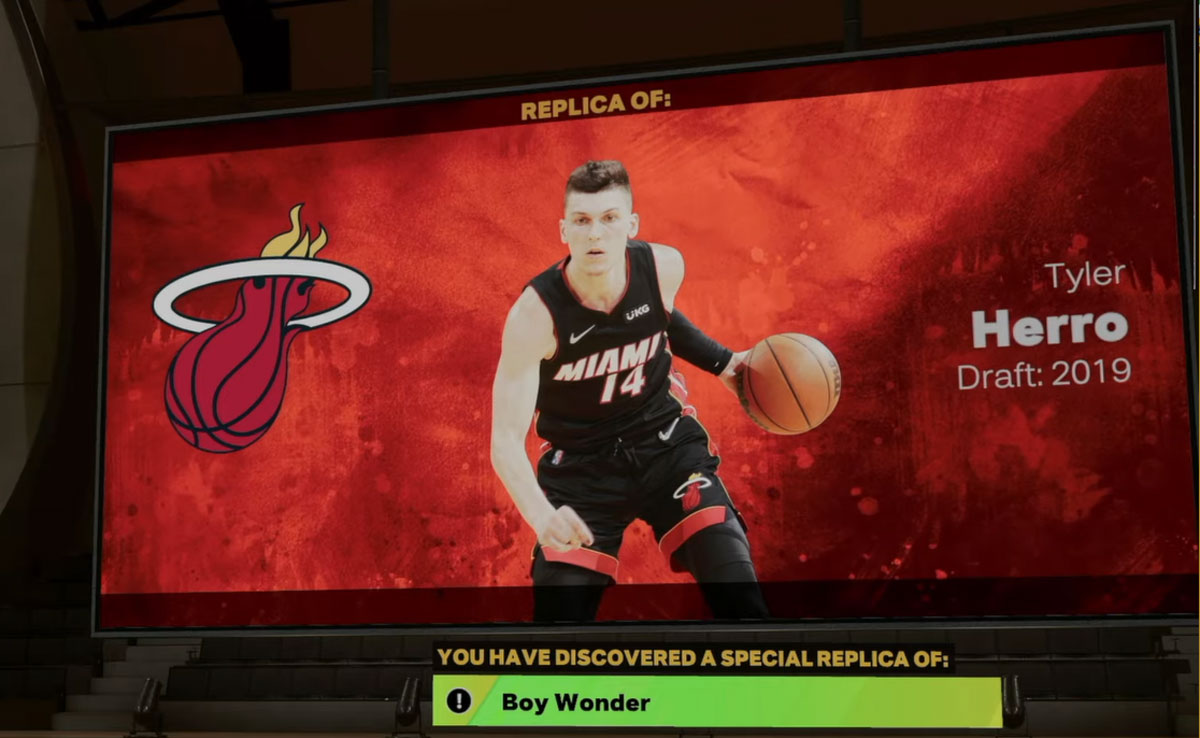 Position: SG
Handed: Right
Jersey Number: 14
Height: 6'5″
Weight: 195 lbs
Wingspan: 6'5″
Close Shot: 86
Driving Layup: 80
Driving Dunk: 60
Standing Dunk: 25
Post Control: 40
Mid-Range Shot: 81
Three-Point Shot: 93
Free-Throw: 81
Pass Accuracy: 79
Ball Handle: 90
Speed With Ball: 75
Interior Defense: 38
Perimeter Defense: 70
Steal: 35
Block: 39
Offensive Rebound: 25
Defensive Rebound: 70
Speed: 80
Acceleration: 86
Strength: 51
Vertical: 65
Stamina: 90
Fred Hoiberg – "The Mayor"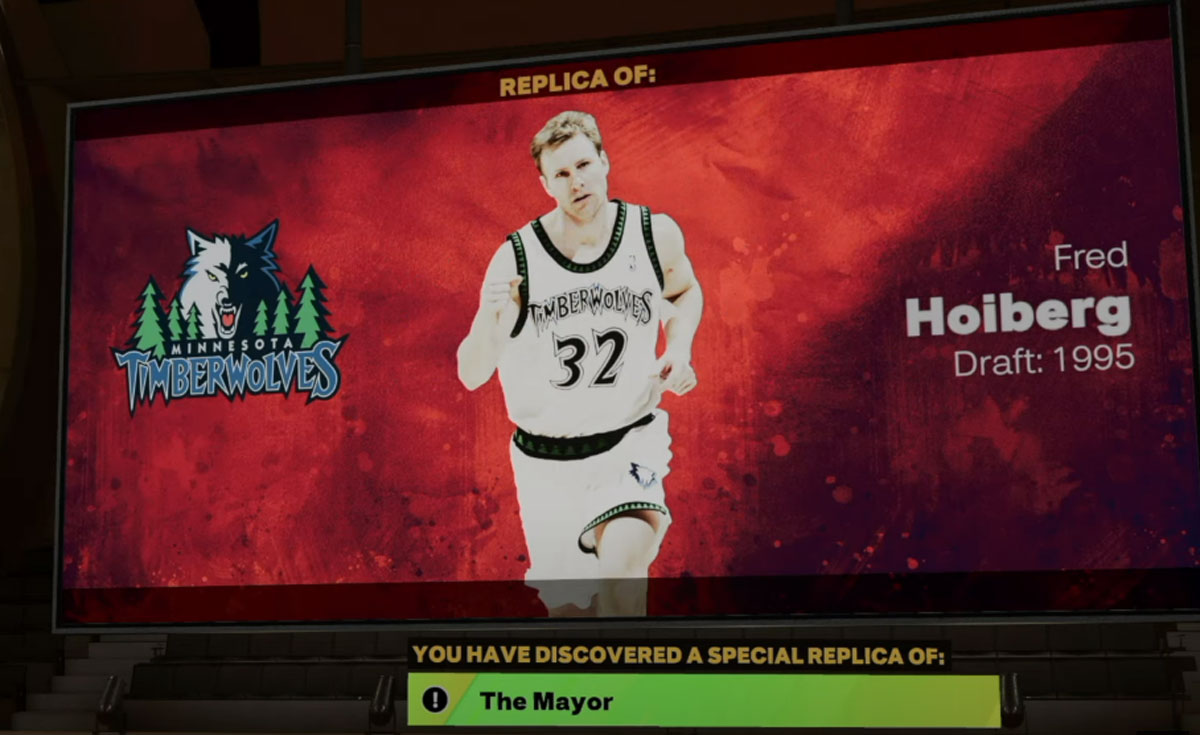 Position: SG
Handed: Right
Jersey Number: 32
Height: 6'4″
Weight: 190 lbs
Wingspan: 6'4″
Close Shot: 77
Driving Layup: 77
Driving Dunk: 38
Standing Dunk: 25
Post Control: 56
Mid-Range Shot: 92
Three-Point Shot: 98
Free-Throw: 89
Pass Accuracy: 67
Ball Handle: 74
Speed With Ball: 68
Interior Defense: 25
Perimeter Defense: 67
Steal: 73
Block: 41
Offensive Rebound: 40
Defensive Rebound: 70
Speed: 78
Acceleration: 68
Strength: 44
Vertical: 72
Stamina: 92
Allen Iverson – "The Answer"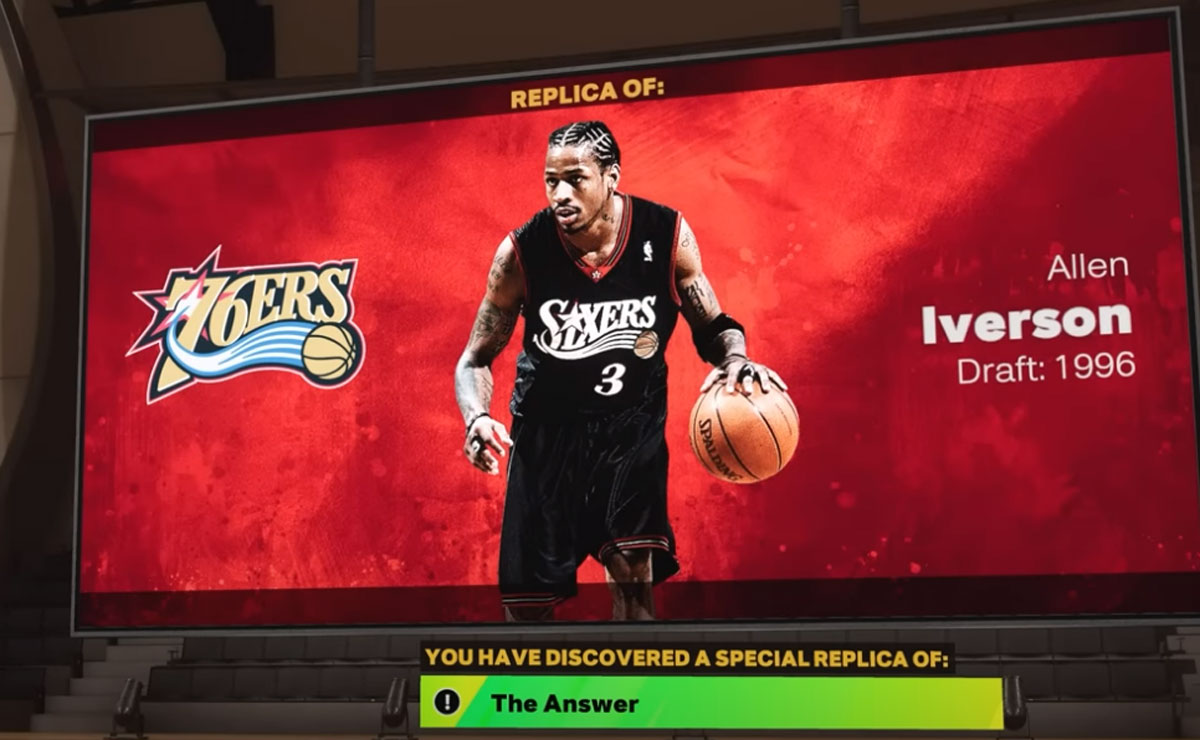 Position: SG
Handed: Right
Jersey Number: 3
Height: 6'0″
Weight: 175 lbs
Wingspan: 6'3″
Close Shot: 70
Driving Layup: 90
Driving Dunk: 57
Standing Dunk: 25
Post Control: 32
Mid-Range Shot: 79
Three-Point Shot: 71
Free-Throw: 77
Pass Accuracy: 82
Ball Handle: 89
Speed With Ball: 88
Interior Defense: 27
Perimeter Defense: 80
Steal: 87
Block: 34
Offensive Rebound: 41
Defensive Rebound: 47
Speed: 89
Acceleration: 91
Strength: 61
Vertical: 89
Stamina: 92
Vinnie Johnson – "The Microwave"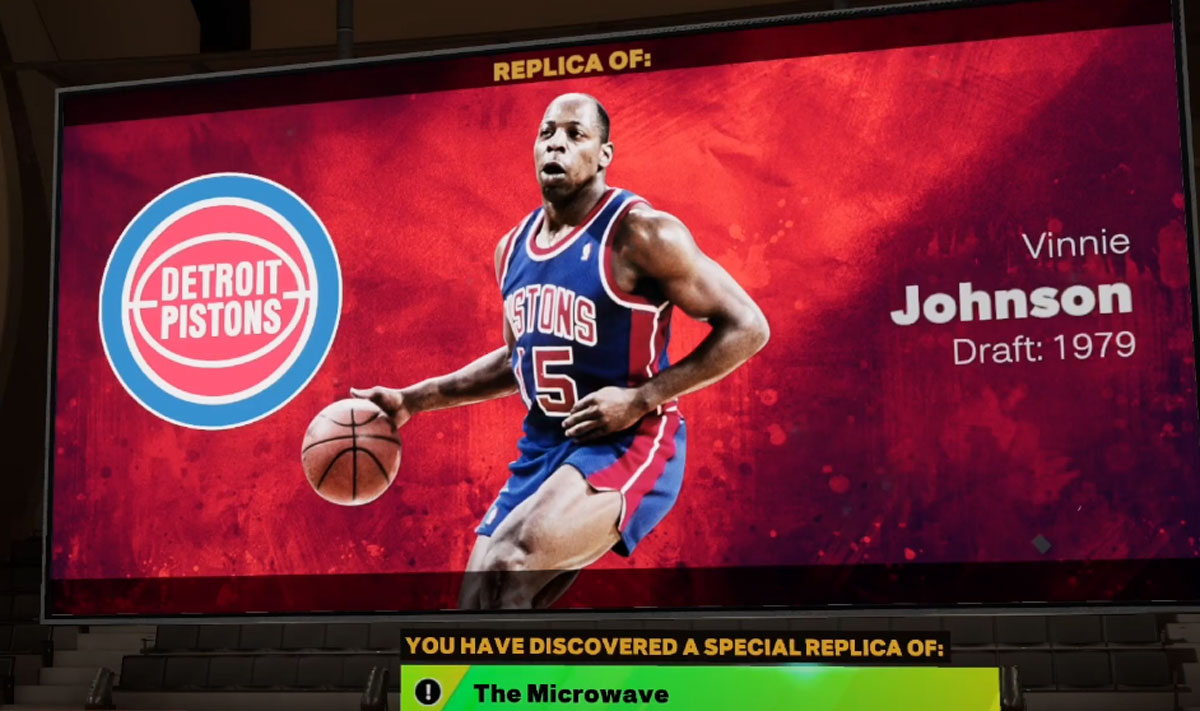 Position: SG
Handed: Right
Jersey Number: 15
Height: 6'2″
Weight: 200 lbs
Wingspan: 6'6″
Close Shot: 89
Driving Layup: 94
Driving Dunk: 25
Standing Dunk: 25
Post Control: 25
Mid-Range Shot: 93
Three-Point Shot: 73
Free-Throw: 80
Pass Accuracy: 86
Ball Handle: 91
Speed With Ball: 80
Interior Defense: 52
Perimeter Defense: 83
Steal: 81
Block: 29
Offensive Rebound: 48
Defensive Rebound: 38
Speed: 84
Acceleration: 84
Strength: 74
Vertical: 68
Stamina: 90
Herbert Jones – Straight Jacket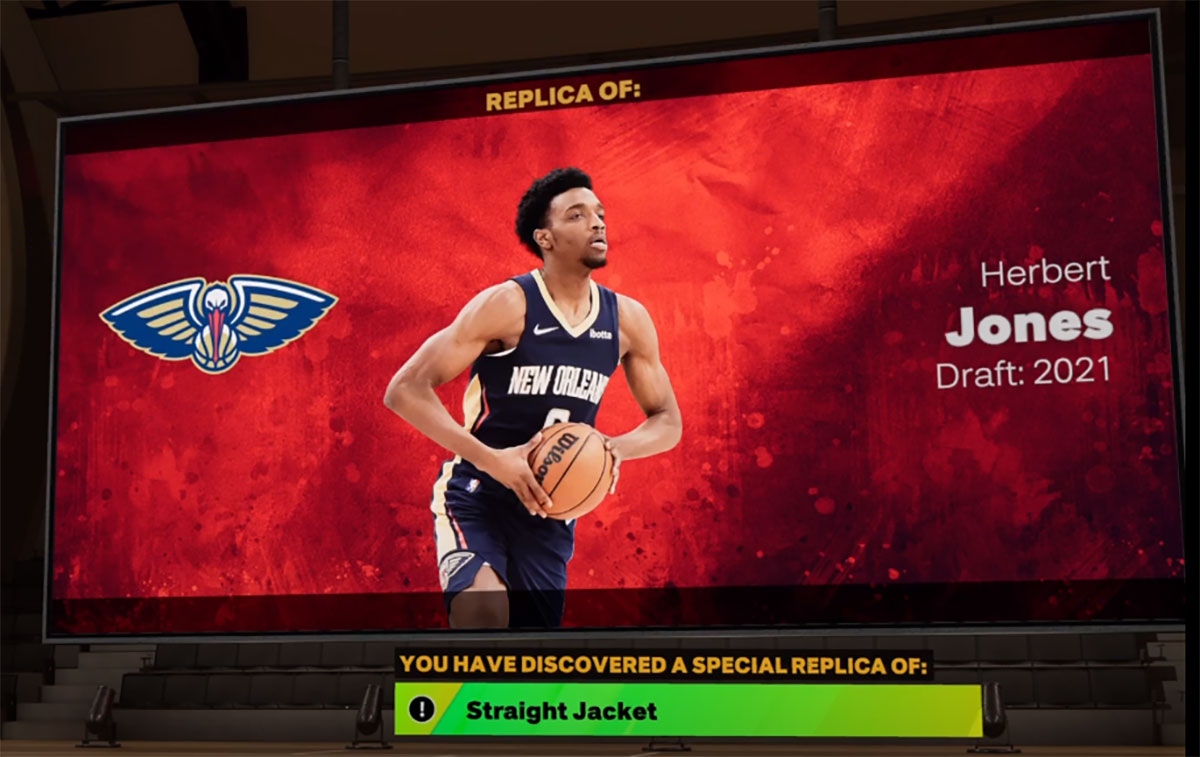 Position: SG
Handed: Left
Jersey Number: 5
Height: 6'7″
Weight: 205 lbs
Wingspan: 7'2″
Close Shot: 85
Driving Layup: 84
Driving Dunk: 82
Standing Dunk: 55
Post Control: 70
Mid-Range Shot: 74
Three-Point Shot: 84
Free-Throw: 78
Pass Accuracy: 76
Ball Handle: 73
Speed With Ball: 77
Interior Defense: 68
Perimeter Defense: 93
Steal: 85
Block: 60
Offensive Rebound: 60
Defensive Rebound: 58
Speed: 75
Acceleration: 78
Strength: 56
Vertical: 70
Stamina: 90
Michael Jordan – "His Airness" (Rookie)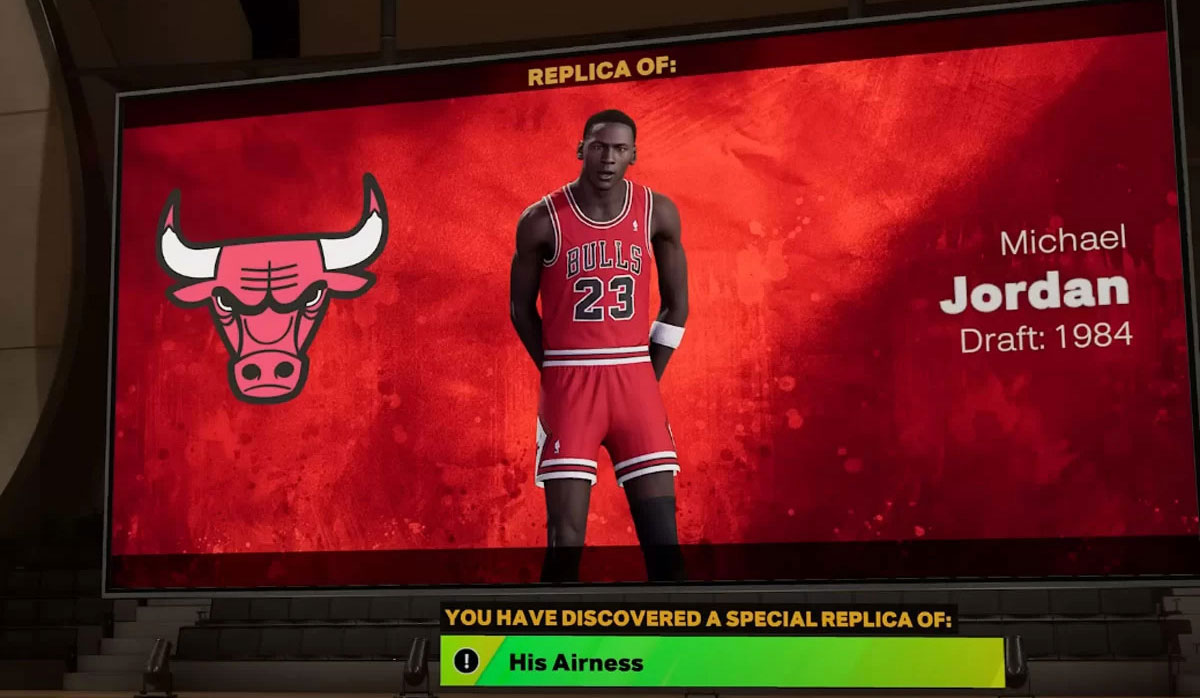 Position: SG
Handed: Right
Jersey Number: 23
Height: 6'6″
Weight: 195 lbs
Wingspan: 6'11"
Close Shot: 84
Driving Layup: 90
Driving Dunk: 92
Standing Dunk: 68
Post Control: 61
Mid-Range Shot: 68
Three-Point Shot: 53
Free-Throw: 77
Pass Accuracy: 71
Ball Handle: 81
Speed With Ball: 79
Interior Defense: 54
Perimeter Defense: 82
Steal: 85
Block: 60
Offensive Rebound: 45
Defensive Rebound: 44
Speed: 85
Acceleration: 86
Strength: 53
Vertical: 91
Stamina: 92
Michael Jordan – "His Airness" (Prime)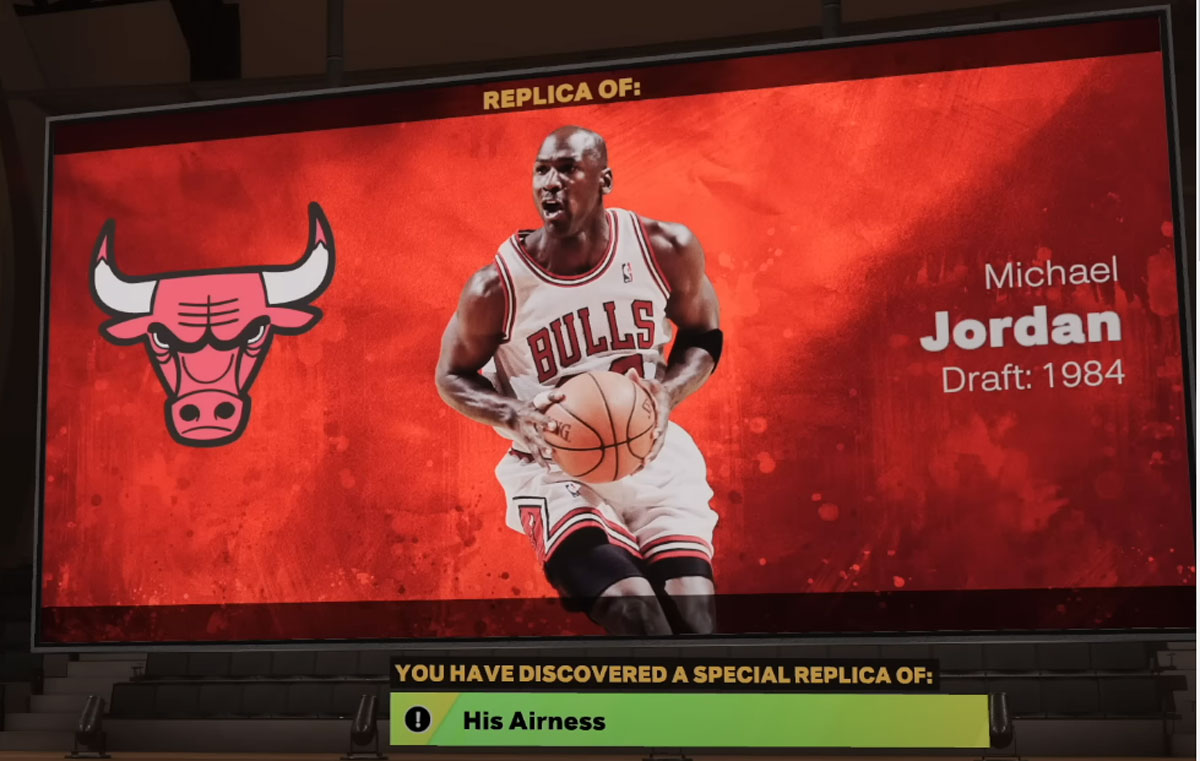 Position: SG
Handed: Right
Jersey Number: 23
Height: 6'6″
Weight: 205 lbs
Wingspan: 6'11"
Close Shot: 87
Driving Layup: 89
Driving Dunk: 72
Standing Dunk: 52
Post Control: 90
Mid-Range Shot: 89
Three-Point Shot: 75
Free-Throw: 74
Pass Accuracy: 76
Ball Handle: 77
Speed With Ball: 72
Interior Defense: 77
Perimeter Defense: 90
Steal: 42
Block: 40
Offensive Rebound: 40
Defensive Rebound: 48
Speed: 74
Acceleration: 75
Strength: 74
Vertical: 82
Stamina: 90
Kyle Korver – "Threezus"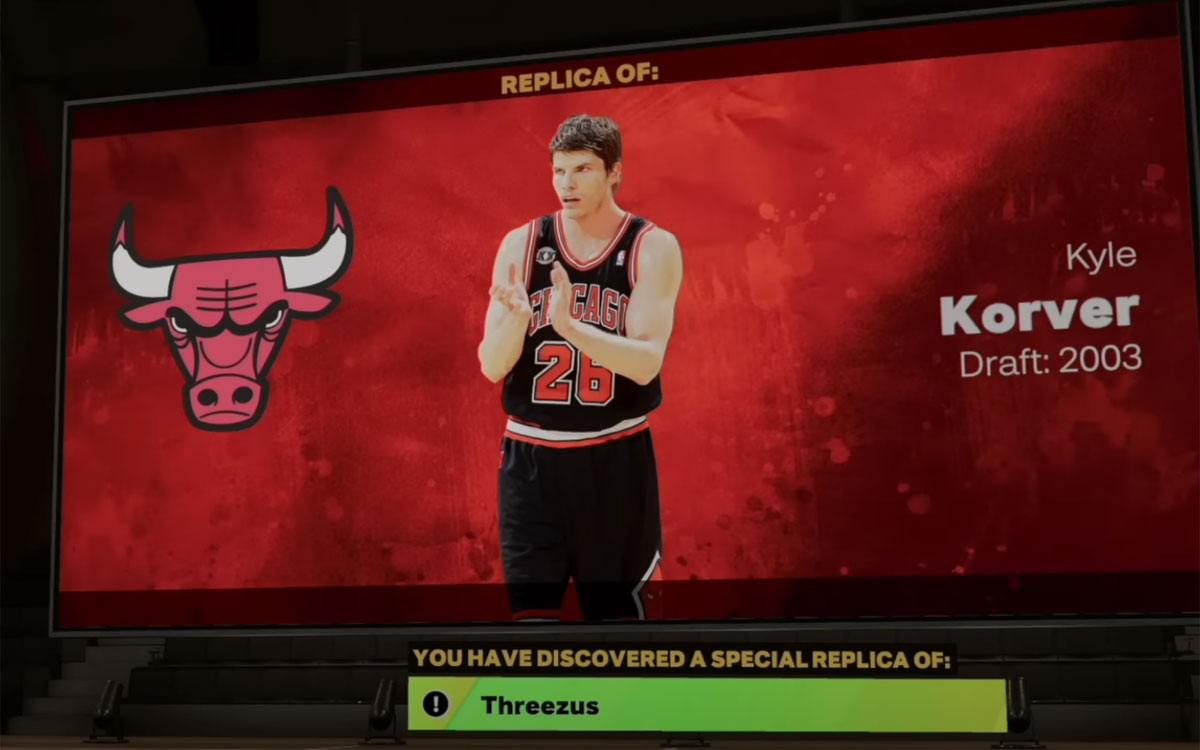 Position: SG
Handed: Right
Jersey Number: 26
Height: 6'7″
Weight: 212 lbs
Wingspan: 6'8″
Close Shot: 68
Driving Layup: 76
Driving Dunk: 33
Standing Dunk: 33
Post Control: 40
Mid-Range Shot: 95
Three-Point Shot: 95
Free-Throw: 97
Pass Accuracy: 76
Ball Handle: 78
Speed With Ball: 58
Interior Defense: 54
Perimeter Defense: 63
Steal: 65
Block: 58
Offensive Rebound: 35
Defensive Rebound: 60
Speed: 76
Acceleration: 71
Strength: 44
Vertical: 63
Stamina: 94
Dan Majerle – "Thunder"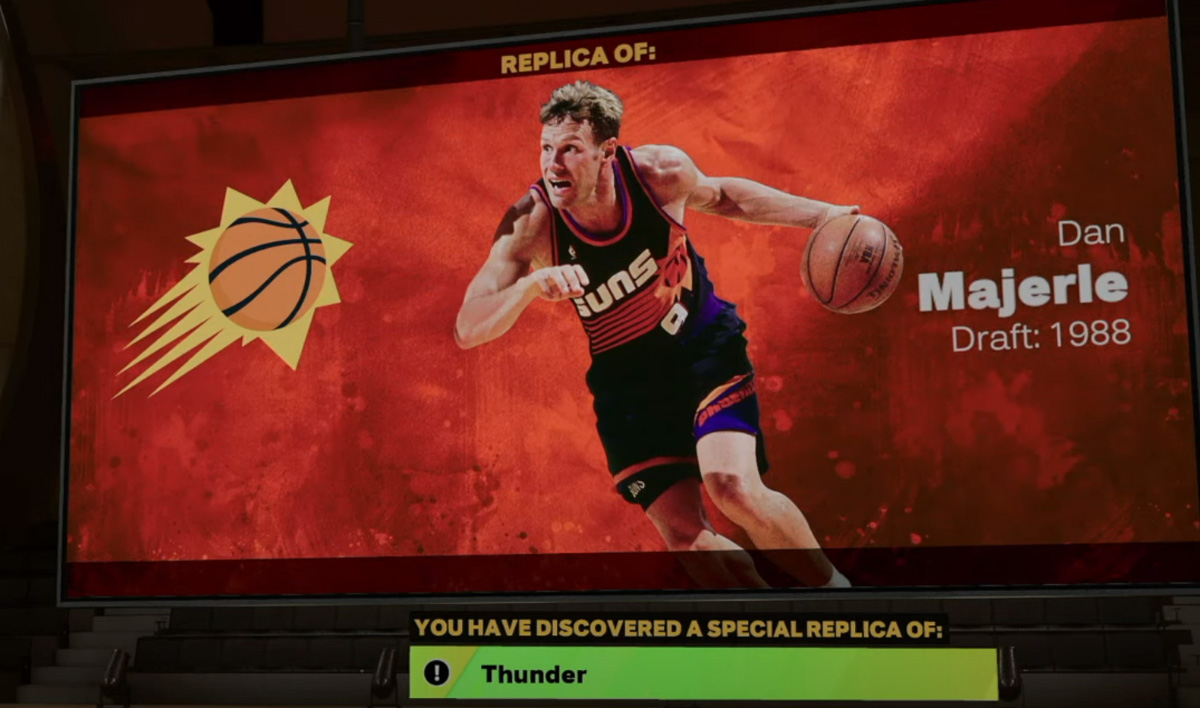 Position: SG
Handed: Right
Jersey Number: 9
Height: 6'6″
Weight: 208 lbs
Wingspan: 6'10"
Close Shot: 85
Driving Layup: 80
Driving Dunk: 80
Standing Dunk: 42
Post Control: 42
Mid-Range Shot: 80
Three-Point Shot: 93
Free-Throw: 79
Pass Accuracy: 75
Ball Handle: 85
Speed With Ball: 75
Interior Defense: 62
Perimeter Defense: 87
Steal: 81
Block: 27
Offensive Rebound: 51
Defensive Rebound: 50
Speed: 75
Acceleration: 67
Strength: 71
Vertical: 67
Stamina: 90
Vernon Maxwell – "Mad Max"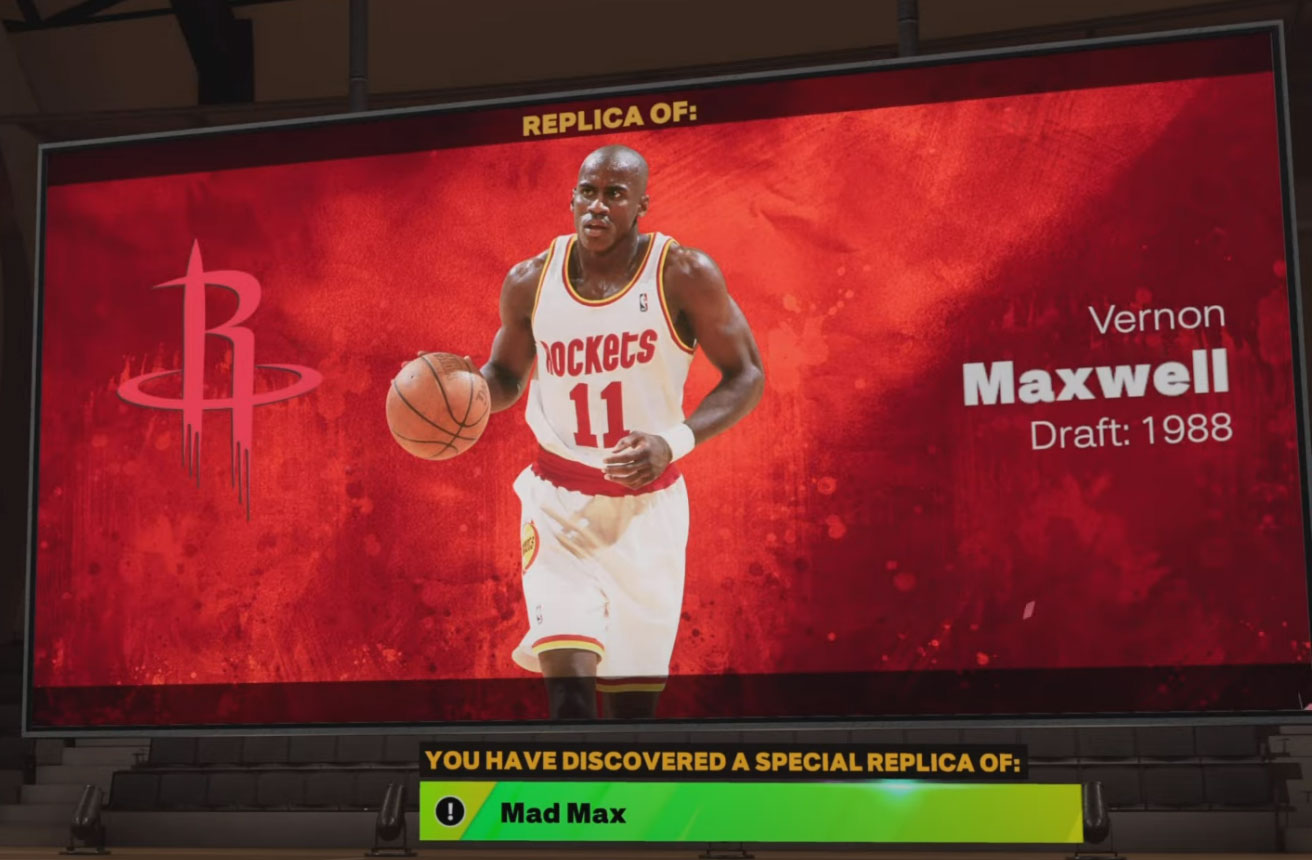 Position: SG
Handed: Right
Jersey Number: 11
Height: 6'4″
Weight: 205 lbs
Wingspan: 6'9″
Close Shot: 85
Driving Layup: 84
Driving Dunk: 70
Standing Dunk: 25
Post Control: 37
Mid-Range Shot: 82
Three-Point Shot: 85
Free-Throw: 82
Pass Accuracy: 80
Ball Handle: 87
Speed With Ball: 80
Interior Defense: 58
Perimeter Defense: 86
Steal: 85
Block: 29
Offensive Rebound: 58
Defensive Rebound: 65
Speed: 76
Acceleration: 86
Strength: 76
Vertical: 76
Stamina: 90
Tracy McGrady – "T-Mac"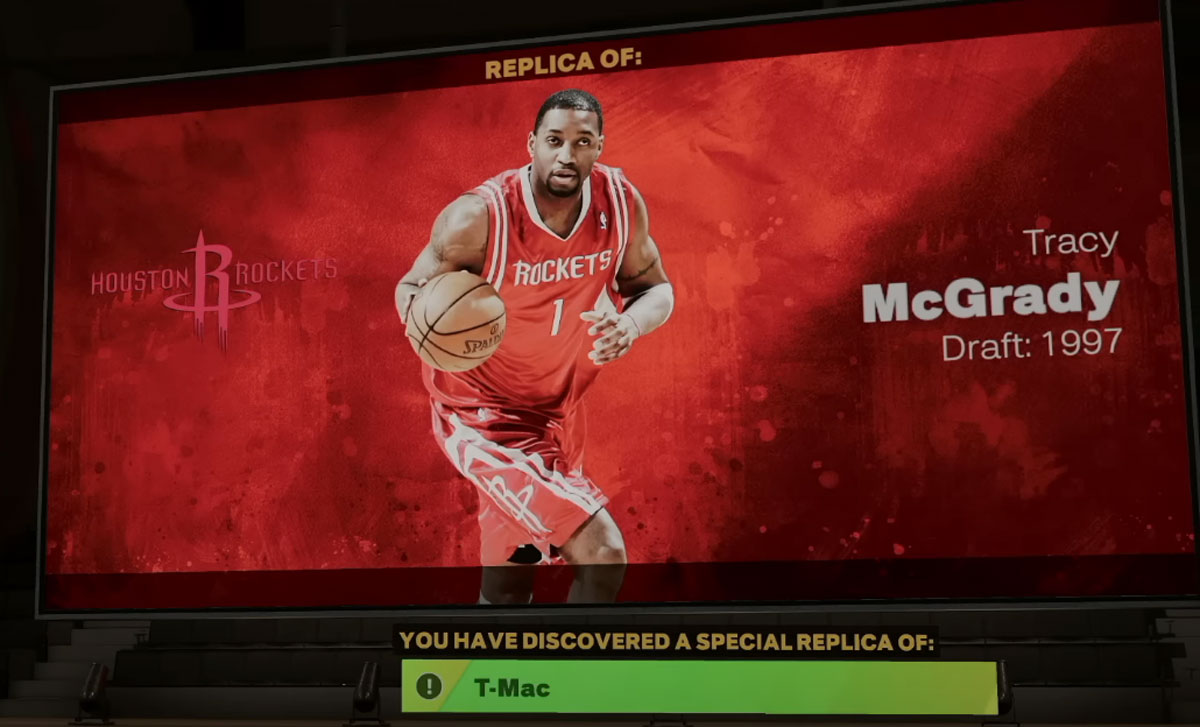 Position: SG
Handed: Right
Jersey Number: 1
Height: 6'8″
Weight: 210 lbs
Wingspan: 7'1″
Close Shot: 85
Driving Layup: 82
Driving Dunk: 86
Standing Dunk: 67
Post Control: 68
Mid-Range Shot: 87
Three-Point Shot: 83
Free-Throw: 70
Pass Accuracy: 74
Ball Handle: 89
Speed With Ball: 76
Interior Defense: 58
Perimeter Defense: 77
Steal: 53
Block: 39
Offensive Rebound: 27
Defensive Rebound: 52
Speed: 79
Acceleration: 74
Strength: 60
Vertical: 87
Stamina: 90
Donovan Mitchell – "Spida" (Jazz)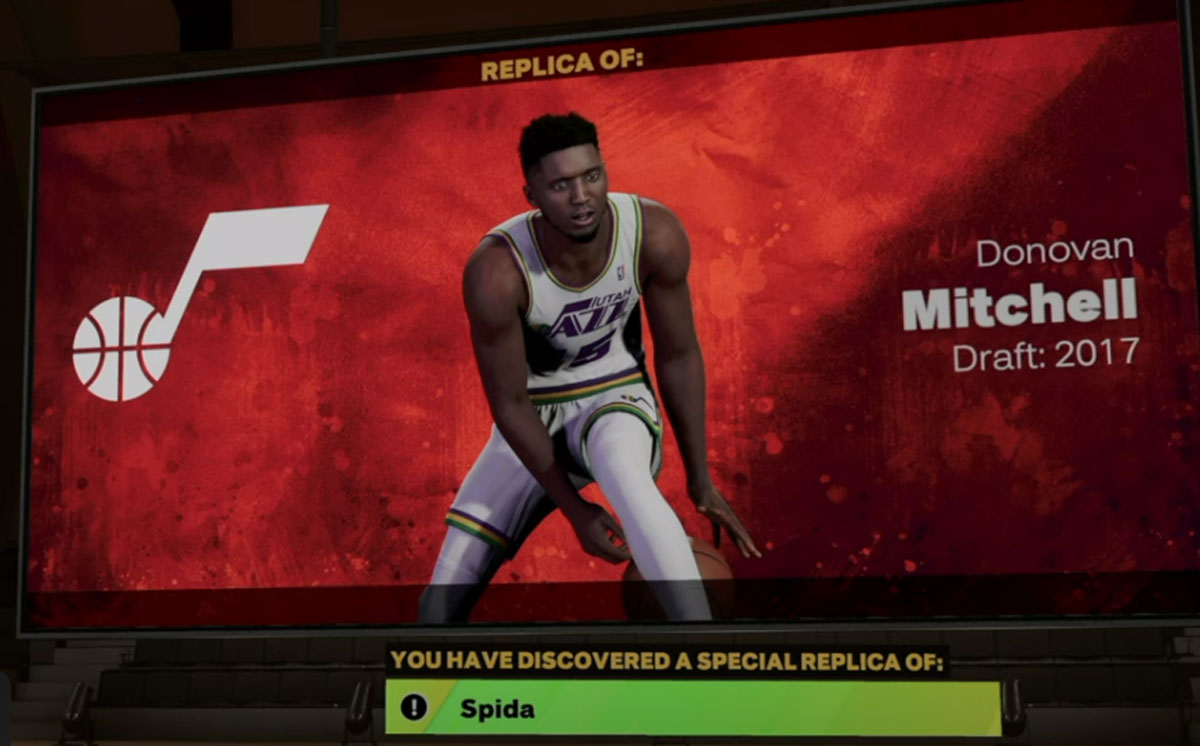 Position: SG
Handed: Right
Jersey Number: 45
Height: 6'1″
Weight: 195 lbs
Wingspan: 6'10"
Close Shot: 83
Driving Layup: 89
Driving Dunk: 90
Standing Dunk: 40
Post Control: 30
Mid-Range Shot: 85
Three-Point Shot: 88
Free-Throw: 80
Pass Accuracy: 80
Ball Handle: 82
Speed With Ball: 75
Interior Defense: 40
Perimeter Defense: 86
Steal: 81
Block: 43
Offensive Rebound: 31
Defensive Rebound: 43
Speed: 88
Acceleration: 90
Strength: 60
Vertical: 89
Stamina: 90
Donovan Mitchell – "Spida" (Cavs)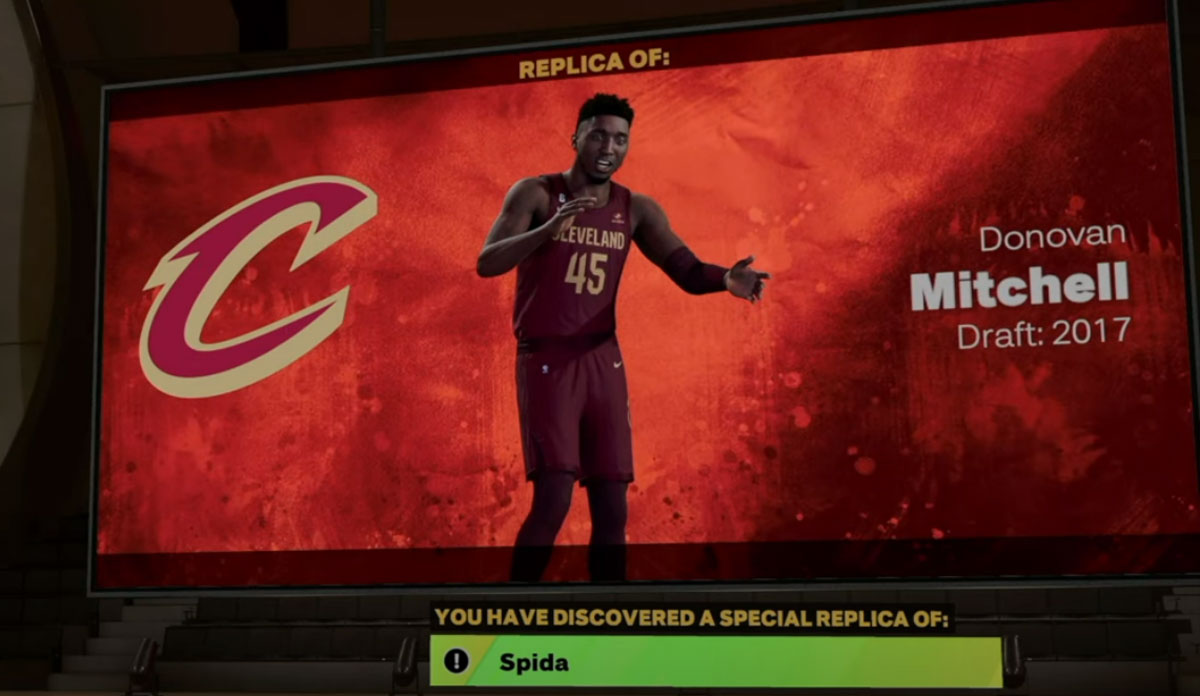 Position: SG
Handed: Right
Jersey Number: 45
Height: 6'1″
Weight: 195 lbs
Wingspan: 6'10"
Close Shot: 96
Driving Layup: 84
Driving Dunk: 86
Standing Dunk: 40
Post Control: 30
Mid-Range Shot: 81
Three-Point Shot: 89
Free-Throw: 82
Pass Accuracy: 80
Ball Handle: 92
Speed With Ball: 77
Interior Defense: 60
Perimeter Defense: 70
Steal: 58
Block: 34
Offensive Rebound: 30
Defensive Rebound: 43
Speed: 88
Acceleration: 90
Strength: 60
Vertical: 89
Stamina: 90
Sidney Moncrief – "The Squid"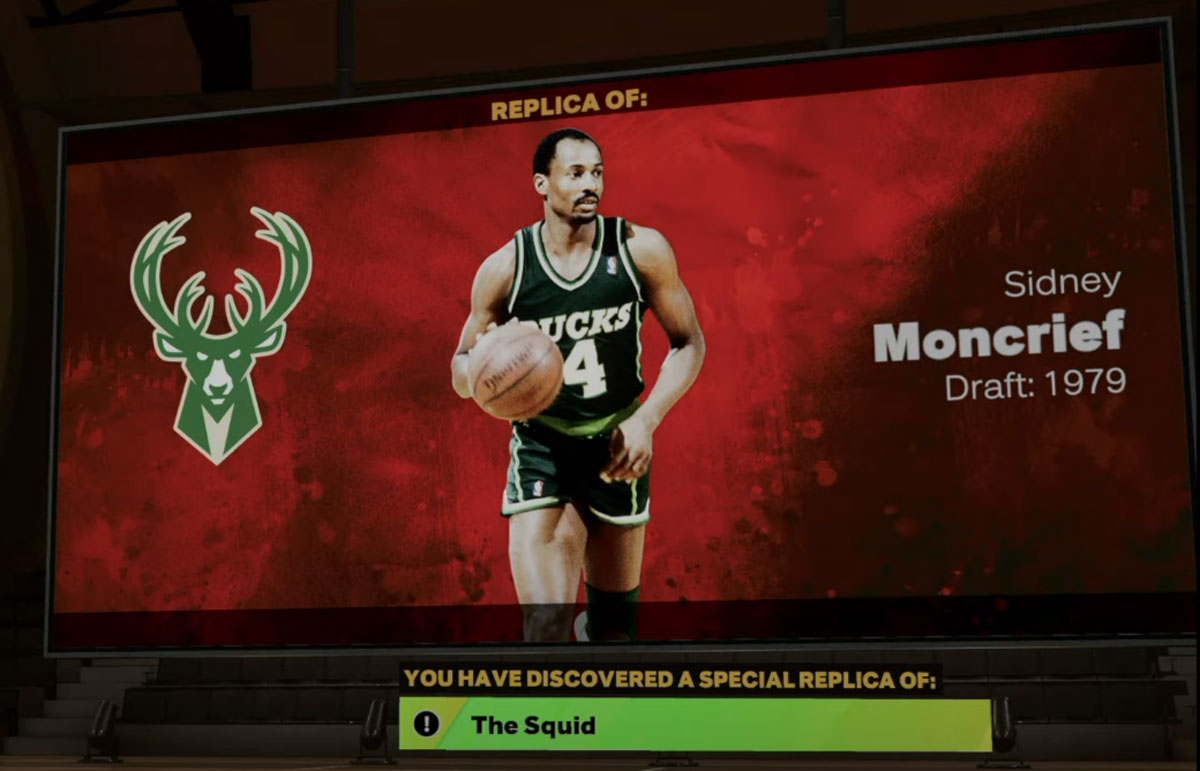 Position: SG
Handed: Right
Jersey Number: 4
Height: 6'3″
Weight: 200 lbs
Wingspan: 6'8″
Close Shot: 85
Driving Layup: 84
Driving Dunk: 86
Standing Dunk: 32
Post Control: 72
Mid-Range Shot: 79
Three-Point Shot: 83
Free-Throw: 80
Pass Accuracy: 76
Ball Handle: 87
Speed With Ball: 75
Interior Defense: 65
Perimeter Defense: 99
Steal: 75
Block: 37
Offensive Rebound: 54
Defensive Rebound: 70
Speed: 85
Acceleration: 83
Strength: 77
Vertical: 80
Stamina: 90
Kelly Oubre – "Wave Papi"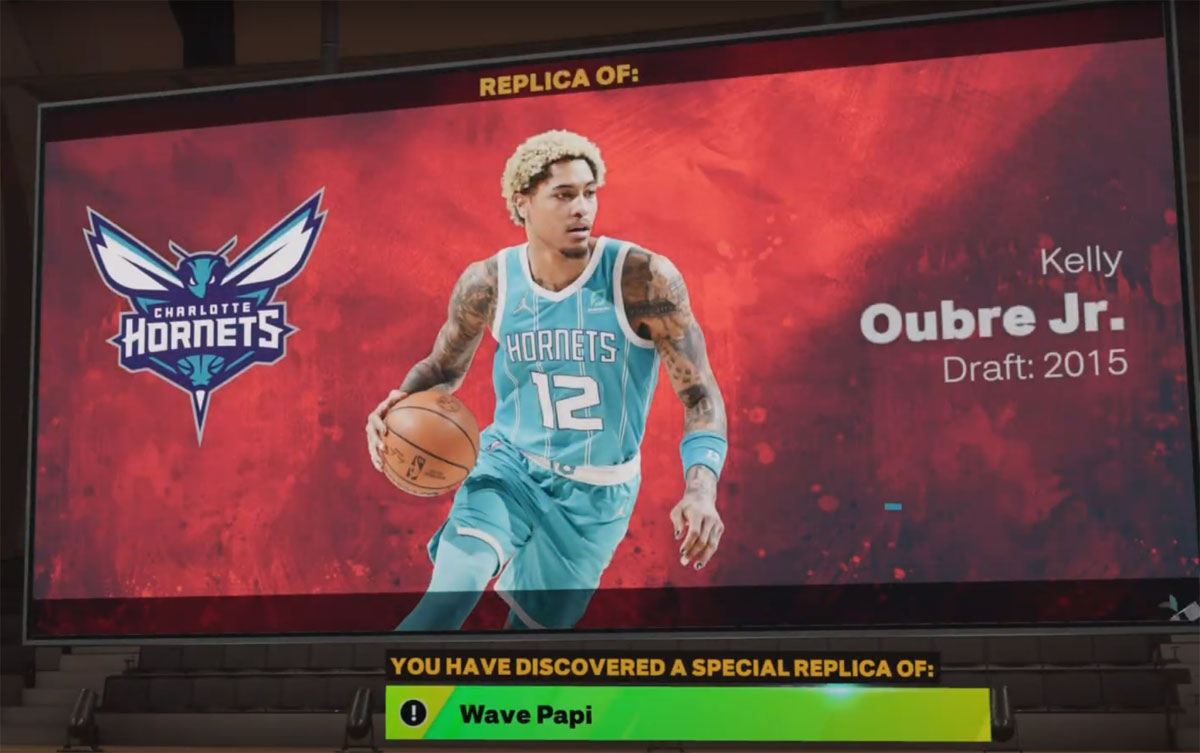 Position: SG
Handed: Left
Jersey Number: 12
Height: 6'6″
Weight: 203 lbs
Wingspan: 7'3″
Close Shot: 75
Driving Layup: 80
Driving Dunk: 86
Standing Dunk: 32
Post Control: 60
Mid-Range Shot: 87
Three-Point Shot: 85
Free-Throw: 80
Pass Accuracy: 70
Ball Handle: 86
Speed With Ball: 76
Interior Defense: 55
Perimeter Defense: 80
Steal: 67
Block: 51
Offensive Rebound: 40
Defensive Rebound: 59
Speed: 76
Acceleration: 81
Strength: 50
Vertical: 87
Stamina: 90
Dejounte Murray – "Baby Boy"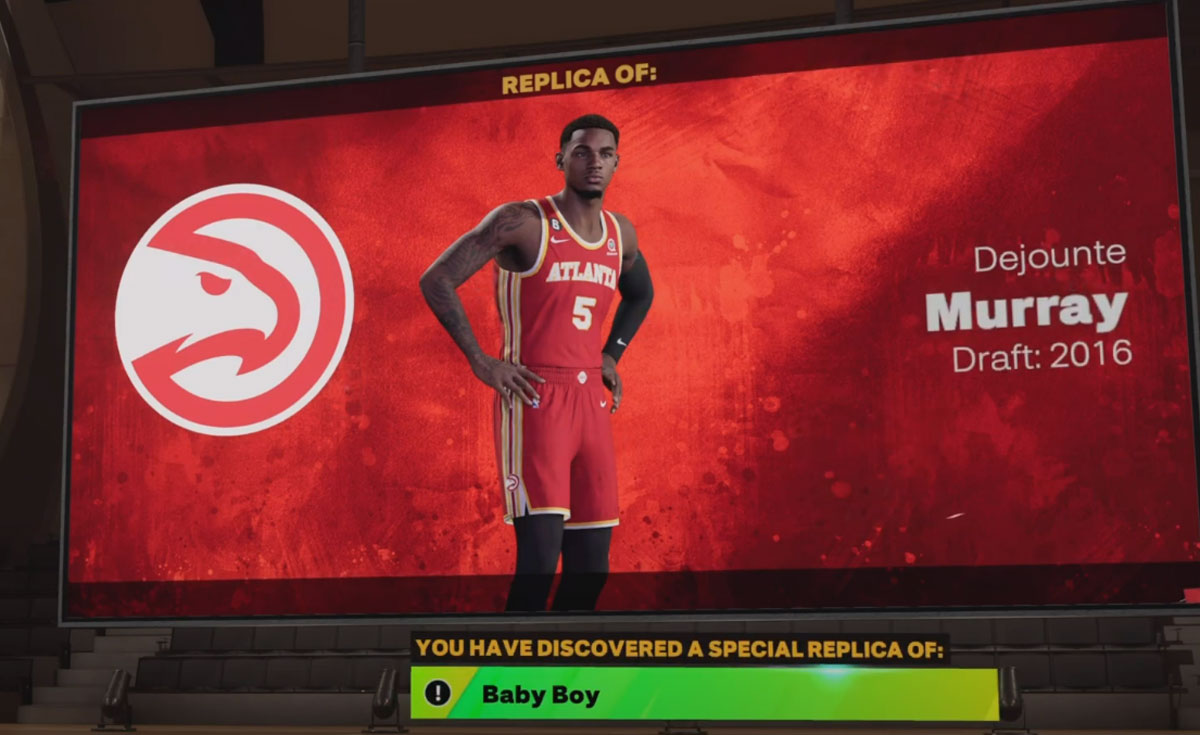 Position: SG
Handed: Right
Jersey Number: 5
Height: 6'5″
Weight: 180 lbs
Wingspan: 7'0″
Close Shot: 85
Driving Layup: 85
Driving Dunk: 80
Standing Dunk: 32
Post Control: 41
Mid-Range Shot: 83
Three-Point Shot: 82
Free-Throw: 87
Pass Accuracy: 80
Ball Handle: 89
Speed With Ball: 76
Interior Defense: 46
Perimeter Defense: 86
Steal: 73
Block: 37
Offensive Rebound: 28
Defensive Rebound: 54
Speed: 81
Acceleration: 86
Strength: 41
Vertical: 61
Stamina: 90
Stamina: 90
J.R. Smith – "Swish"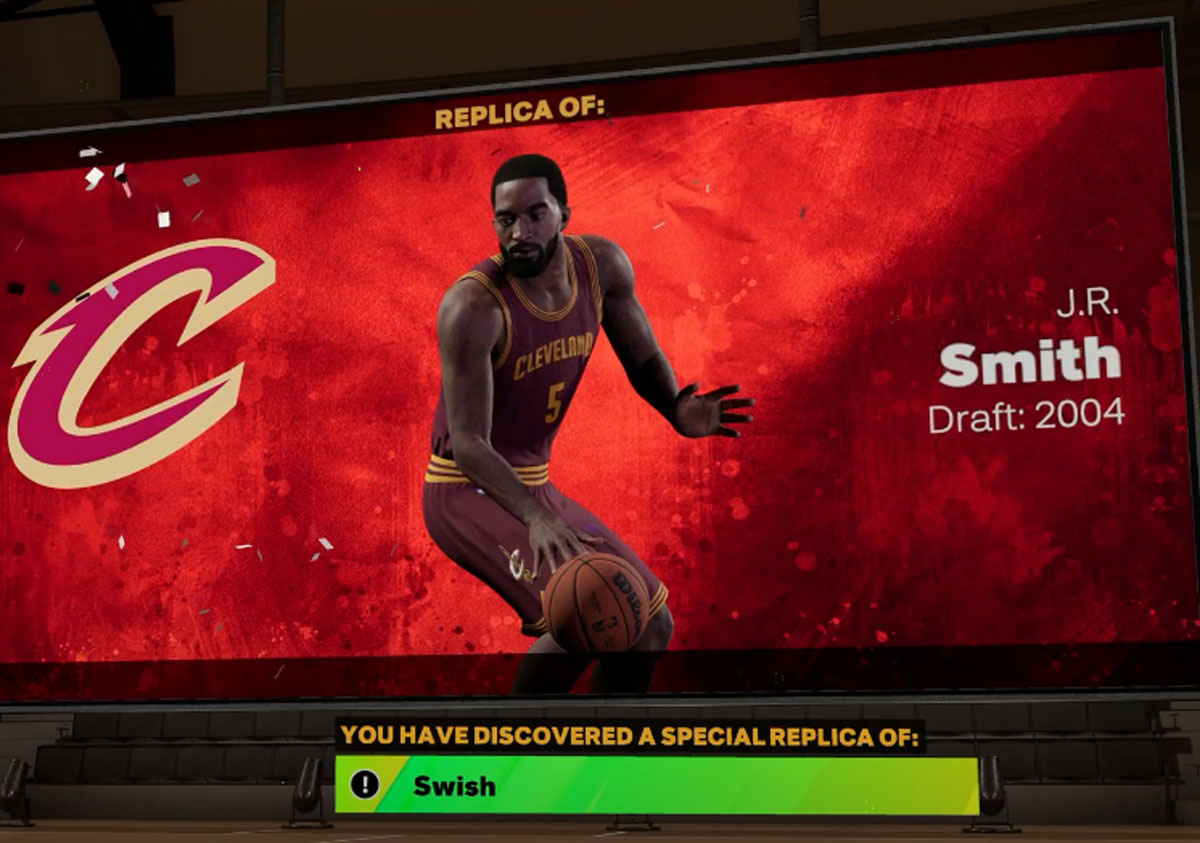 Position: SG
Handed: Right
Jersey Number: 5
Height: 6'6″
Weight: 220 lbs
Wingspan: 6'10"
Close Shot: 68
Driving Layup: 88
Driving Dunk: 93
Standing Dunk: 40
Post Control: 37
Mid-Range Shot: 84
Three-Point Shot: 86
Free-Throw: 63
Pass Accuracy: 75
Ball Handle: 85
Speed With Ball: 80
Interior Defense: 37
Perimeter Defense: 81
Steal: 56
Block: 34
Offensive Rebound: 27
Defensive Rebound: 37
Speed: 73
Acceleration: 85
Strength: 44
Vertical: 82
Stamina: 95
Lance Stephenson – "Born Ready"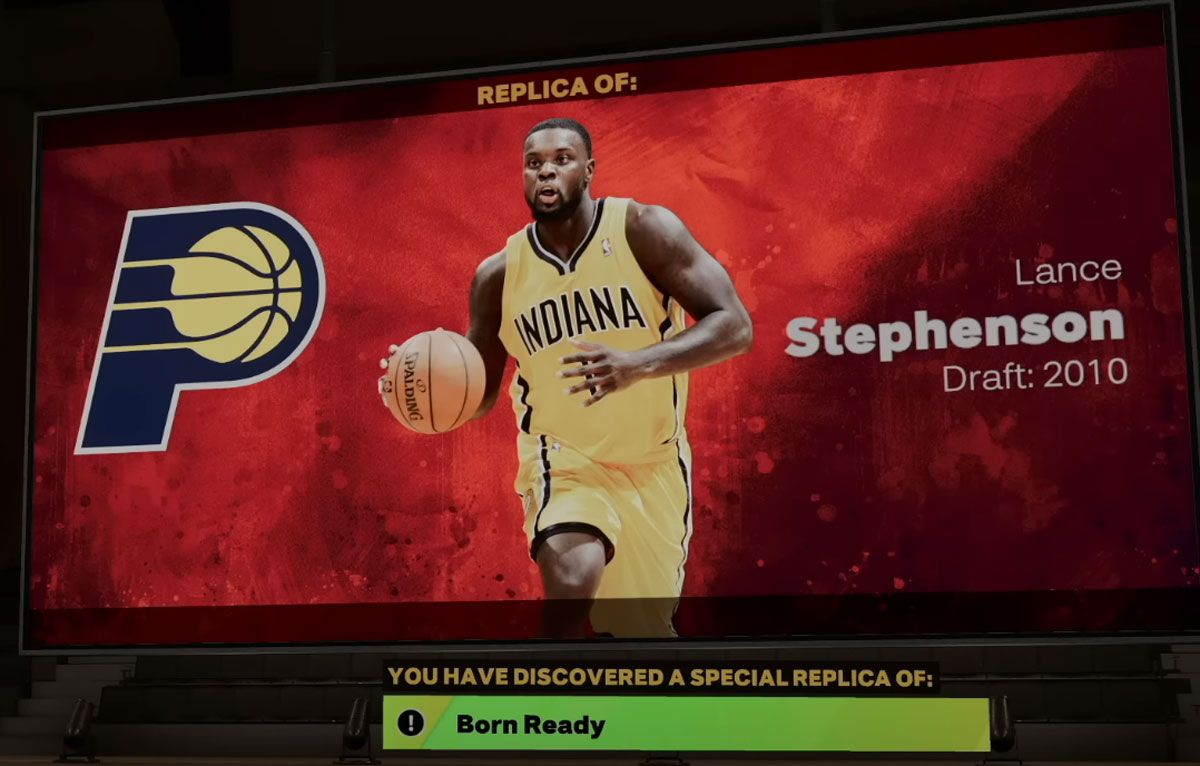 Position: SG
Handed: Right
Jersey Number: 1
Height: 6'5″
Weight: 228 lbs
Wingspan: 6'10"
Close Shot: 85
Driving Layup: 89
Driving Dunk: 80
Standing Dunk: 42
Post Control: 47
Mid-Range Shot: 77
Three-Point Shot: 85
Free-Throw: 71
Pass Accuracy: 80
Ball Handle: 92
Speed With Ball: 75
Interior Defense: 40
Perimeter Defense: 80
Steal: 45
Block: 25
Offensive Rebound: 37
Defensive Rebound: 70
Speed: 80
Acceleration: 85
Strength: 78
Vertical: 62
Stamina: 90
David Thompson – "Skywalker"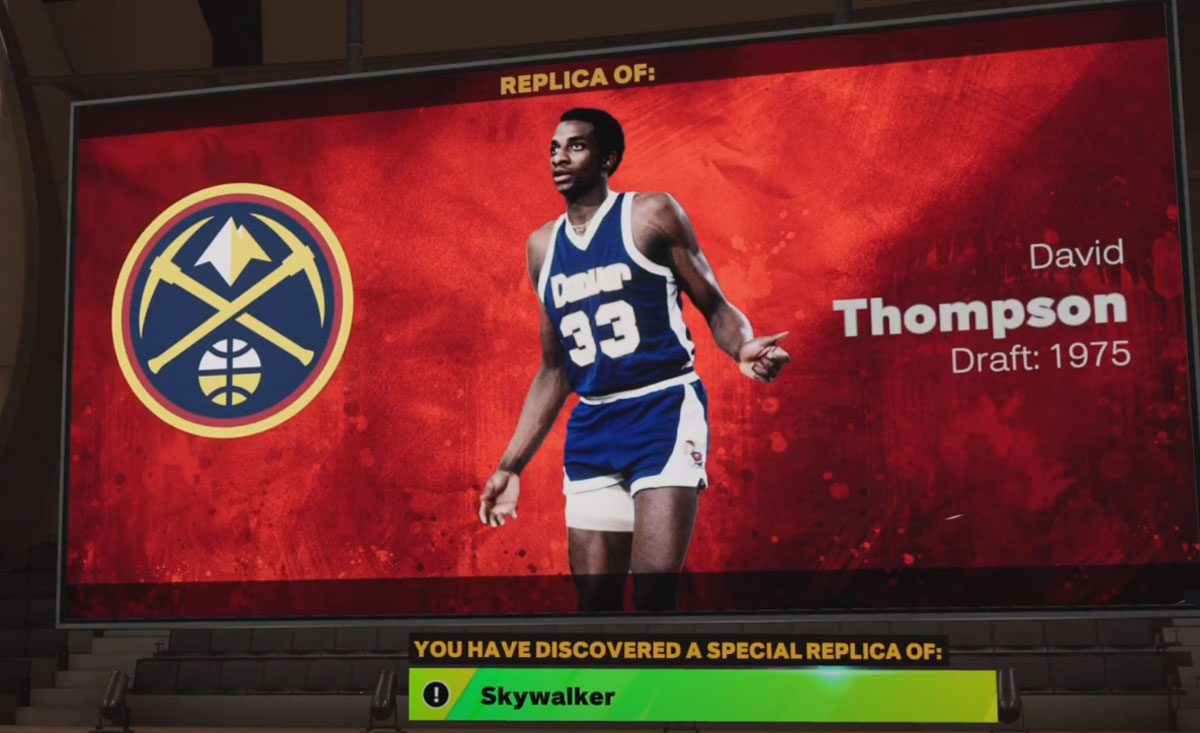 Position: SG
Handed: Right
Jersey Number: 33
Height: 6'4″
Weight: 202 lbs
Wingspan: 6'10"
Close Shot: 89
Driving Layup: 90
Driving Dunk: 90
Standing Dunk: 80
Post Control: 70
Mid-Range Shot: 80
Three-Point Shot: 70
Free-Throw: 80
Pass Accuracy: 70
Ball Handle: 78
Speed With Ball: 70
Interior Defense: 57
Perimeter Defense: 80
Steal: 61
Block: 47
Offensive Rebound: 72
Defensive Rebound: 70
Speed: 87
Acceleration: 88
Strength: 70
Vertical: 91
Stamina: 90
Dwyane Wade – "Flash"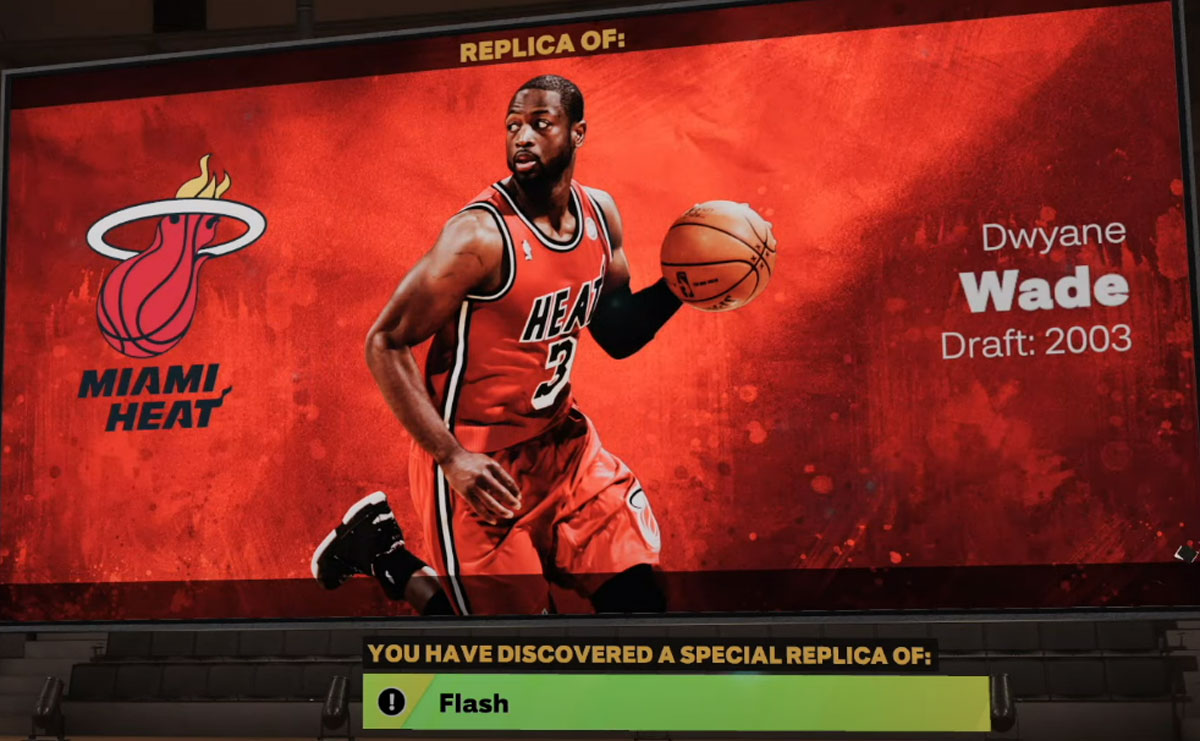 Position: SG
Handed: Right
Jersey Number: 3
Height: 6'5″
Weight: 205 lbs
Wingspan: 6'10"
Close Shot: 85
Driving Layup: 91
Driving Dunk: 52
Standing Dunk: 27
Post Control: 65
Mid-Range Shot: 82
Three-Point Shot: 74
Free-Throw: 71
Pass Accuracy: 81
Ball Handle: 86
Speed With Ball: 85
Interior Defense: 61
Perimeter Defense: 88
Steal: 82
Block: 54
Offensive Rebound: 48
Defensive Rebound: 59
Speed: 83
Acceleration: 81
Strength: 75
Vertical: 78
Stamina: 90
SMALL FORWARDS
Giannis Antetokounmpo – "Freak"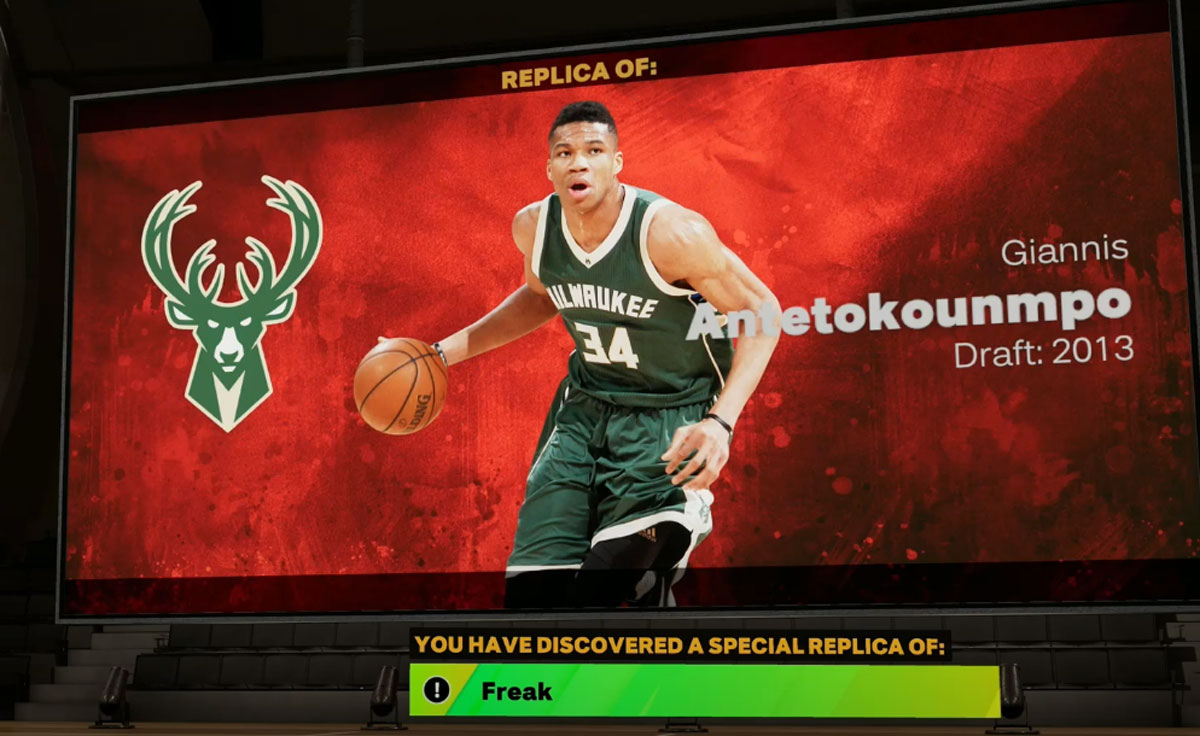 Position: SF
Handed: Right
Jersey Number: 34
Height: 6'11"
Weight: 222 lbs
Wingspan: 7'4″
Close Shot: 85
Driving Layup: 93
Driving Dunk: 86
Standing Dunk: 80
Post Control: 83
Mid-Range Shot: 70
Three-Point Shot: 65
Free-Throw: 65
Pass Accuracy: 79
Ball Handle: 73
Speed With Ball: 67
Interior Defense: 82
Perimeter Defense: 75
Steal: 72
Block: 77
Offensive Rebound: 50
Defensive Rebound: 85
Speed: 77
Acceleration: 73
Strength: 82
Vertical: 80
Stamina: 95
Carmelo Anthony – "Melo"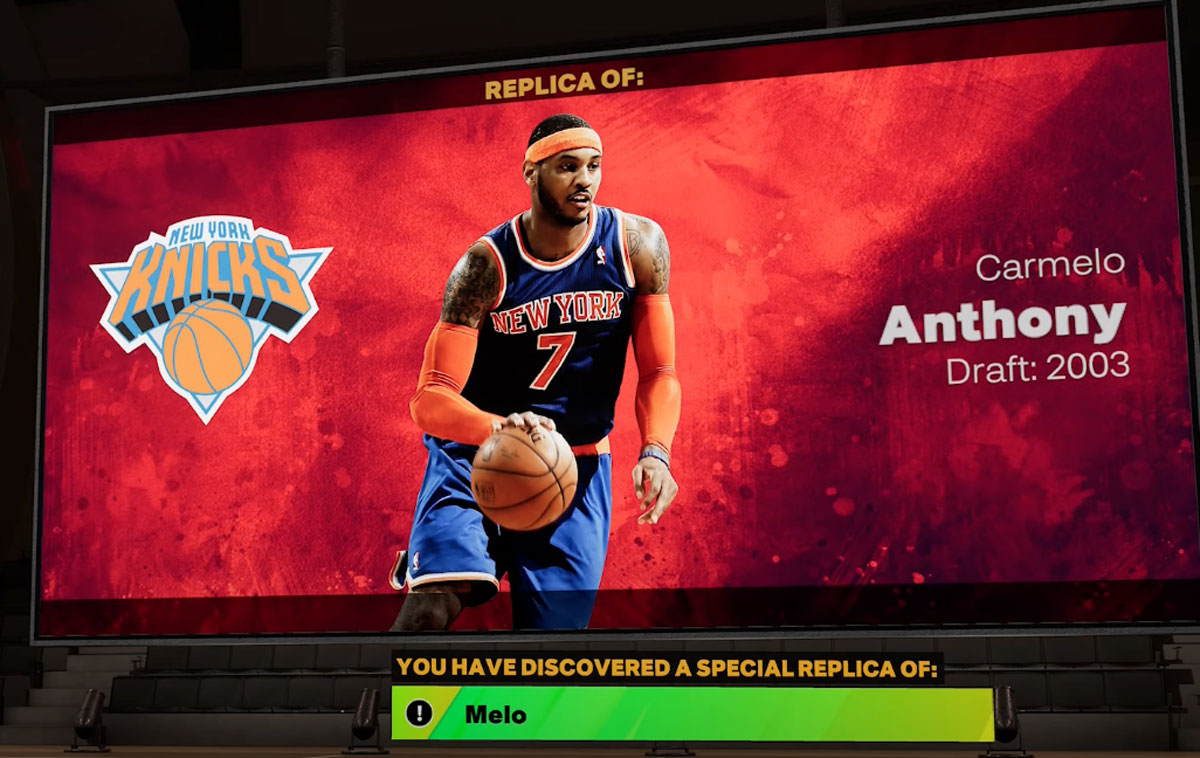 Position: SF
Handed: Right
Jersey Number: 7
Height: 6'8″
Weight: 240 lbs
Wingspan: 7'0″
Close Shot: 70
Driving Layup: 82
Driving Dunk: 87
Standing Dunk: 70
Post Control: 87
Mid-Range Shot: 81
Three-Point Shot: 81
Free-Throw: 77
Pass Accuracy: 76
Ball Handle: 89
Speed With Ball:75
Interior Defense: 74
Perimeter Defense: 74
Steal: 70
Block: 70
Offensive Rebound: 37
Defensive Rebound: 70
Speed: 80
Acceleration: 74
Strength: 74
Vertical: 77
Stamina: 90
Rick Barry – "The Miami Grayhound"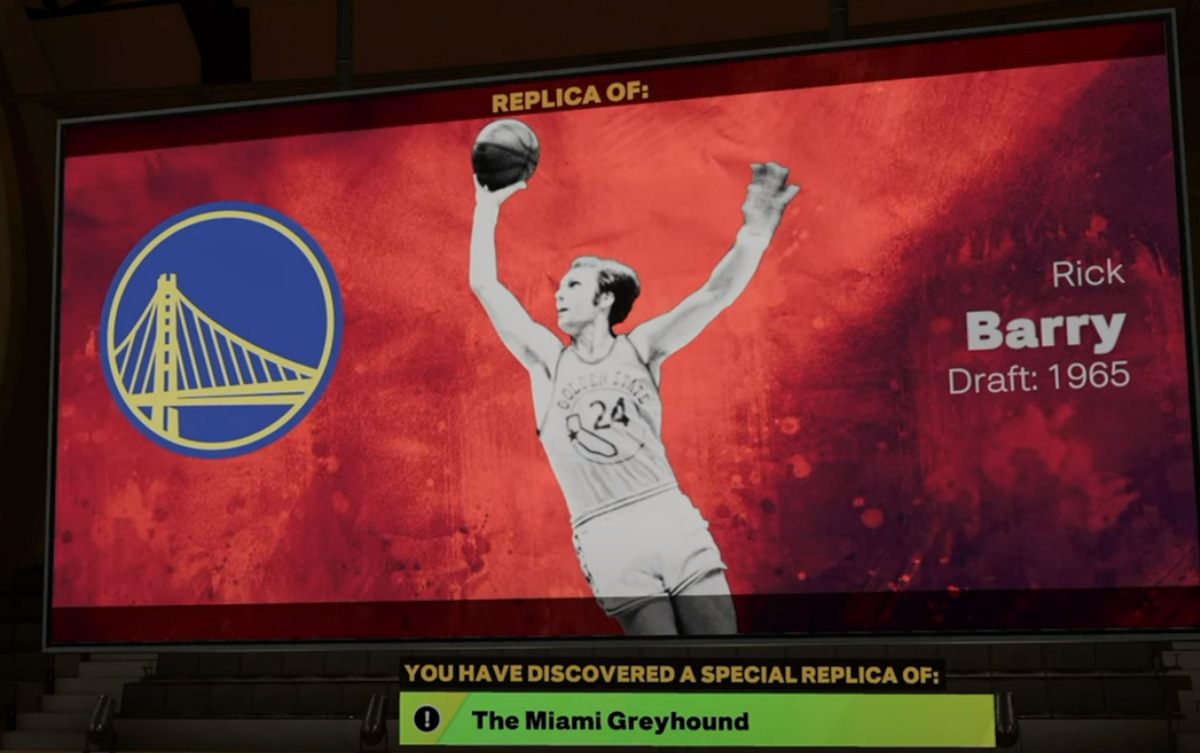 Position: SF
Handed: Right
Jersey Number: 24
Height: 6'7″
Weight: 215 lbs
Wingspan: 7'0″
Close Shot: 88
Driving Layup: 86
Driving Dunk: 80
Standing Dunk: 69
Post Control: 77
Mid-Range Shot: 88
Three-Point Shot: 71
Free-Throw: 87
Pass Accuracy: 74
Ball Handle: 79
Speed With Ball: 75
Interior Defense: 75
Perimeter Defense: 75
Steal: 76
Block: 68
Offensive Rebound: 76
Defensive Rebound: 77
Speed: 78
Acceleration: 77
Strength: 71
Vertical: 67
Stamina: 90
Larry Bird – "The Hick from French Lick"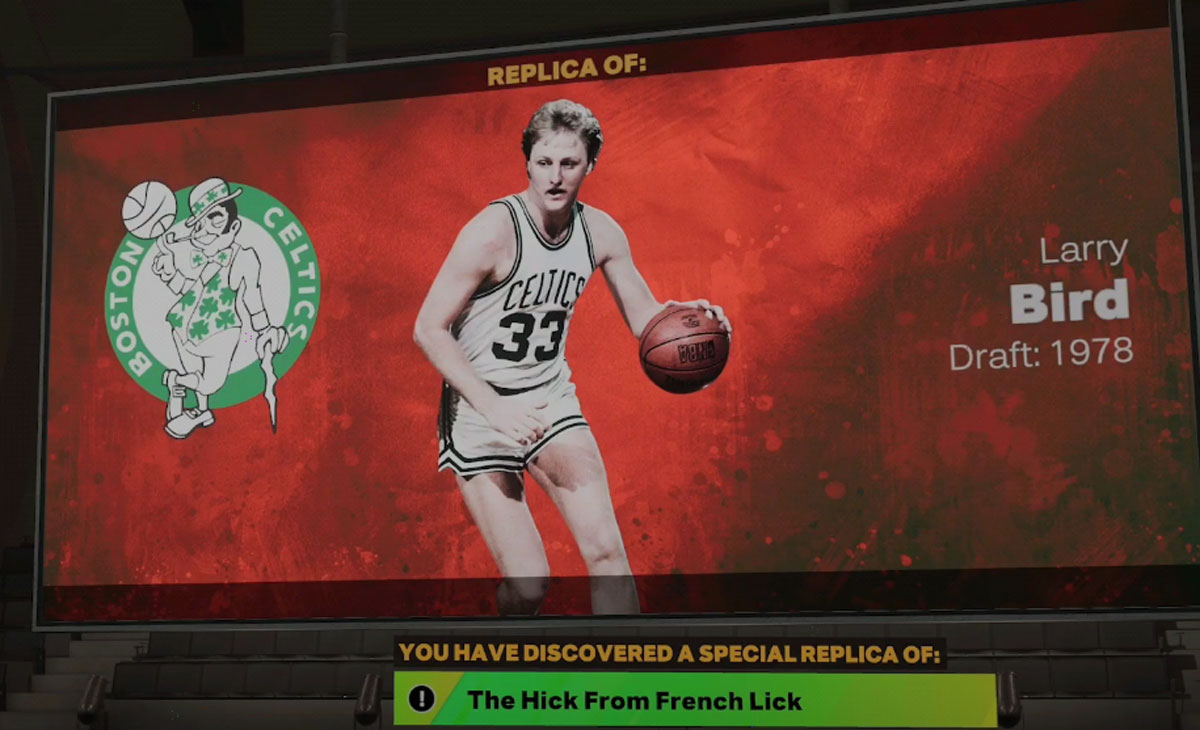 Position: SF
Handed: Right
Jersey Number: 33
Height: 6'9″
Weight: 220 lbs
Wingspan: 7'2″
Close Shot: 88
Driving Layup: 65
Driving Dunk: 45
Standing Dunk: 40
Post Control: 88
Mid-Range Shot: 88
Three-Point Shot: 88
Free-Throw: 82
Pass Accuracy: 86
Ball Handle: 80
Speed With Ball: 71
Interior Defense: 80
Perimeter Defense: 85
Steal: 77
Block: 40
Offensive Rebound: 58
Defensive Rebound: 70
Speed: 75
Acceleration: 75
Strength: 65
Vertical: 50
Stamina: 92
Bill Bradley – "Dollar Bill"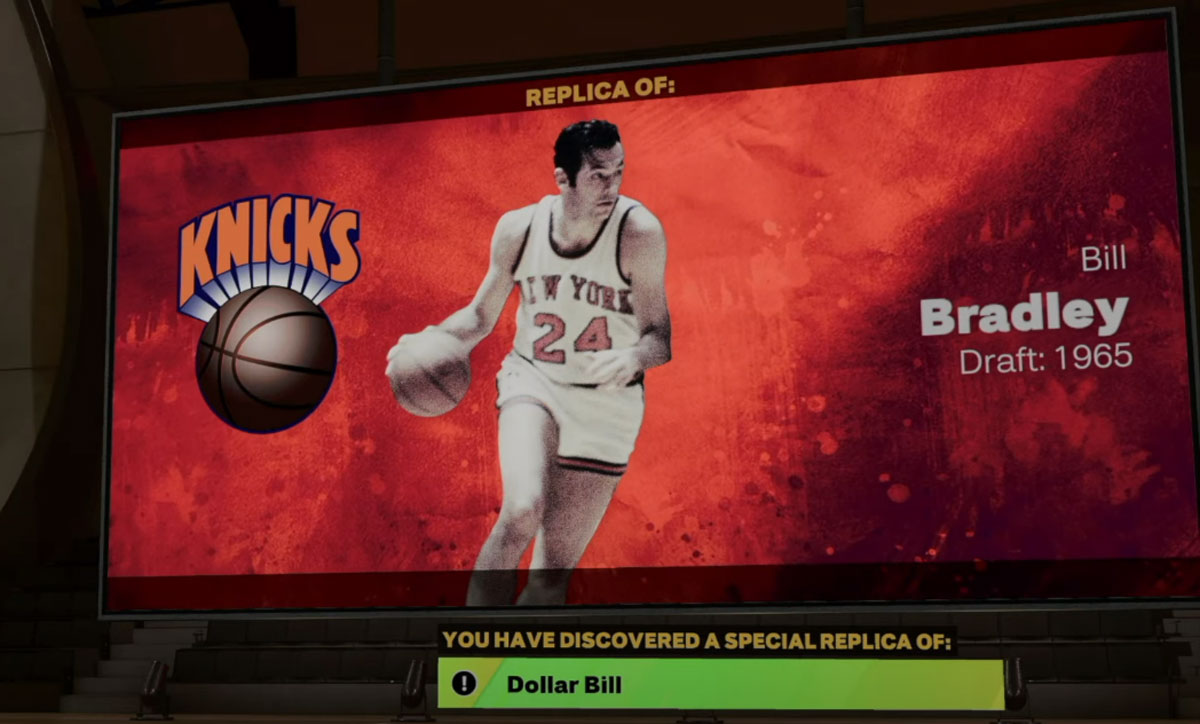 Position: SF
Handed: Right
Jersey Number: 24
Height: 6'5″
Weight: 213 lbs
Wingspan: 6'10"
Close Shot: 95
Driving Layup: 72
Driving Dunk: 60
Standing Dunk: 38
Post Control: 68
Mid-Range Shot: 91
Three-Point Shot: 88
Free-Throw: 91
Pass Accuracy: 77
Ball Handle: 84
Speed With Ball: 60
Interior Defense: 66
Perimeter Defense: 86
Steal: 68
Block: 25
Offensive Rebound: 25
Defensive Rebound: 42
Speed: 66
Acceleration: 69
Strength: 72
Vertical: 73
Stamina: 96
Joe Bryant – "Jellybean"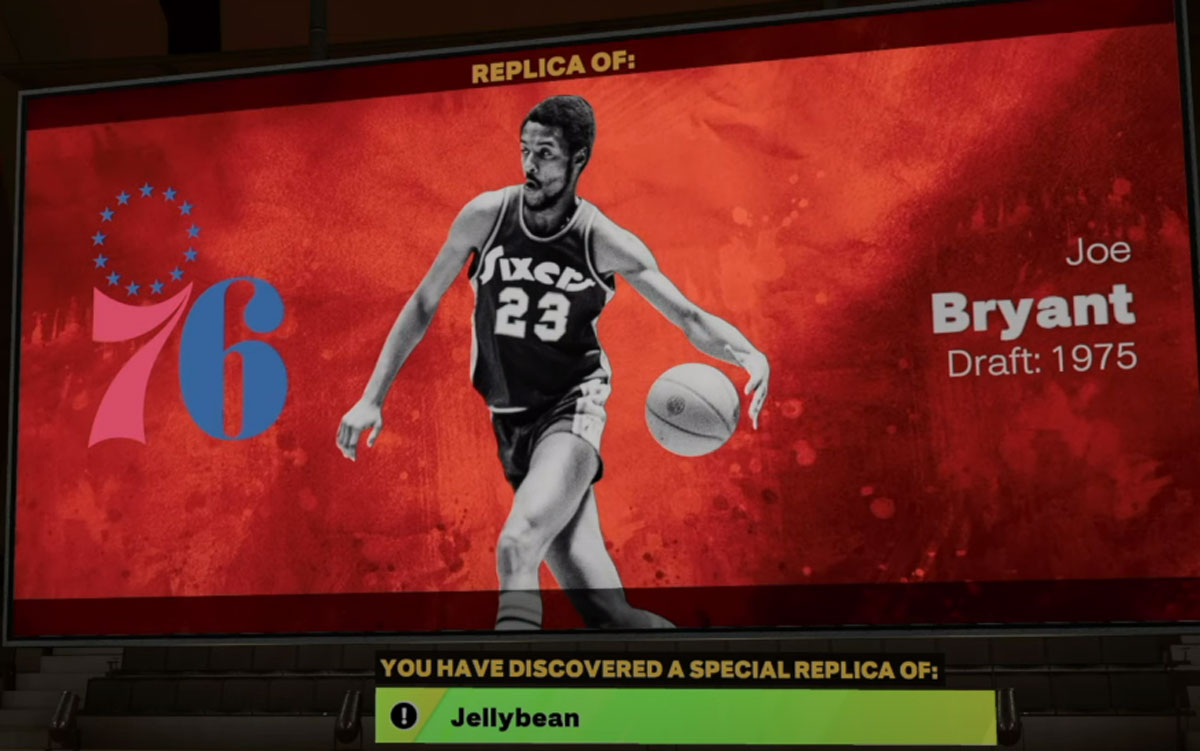 Position: SF
Handed: Right
Jersey Number: 23
Height: 6'9″
Weight: 185 lbs
Wingspan: 7'0″
Close Shot: 87
Driving Layup: 92
Driving Dunk: 86
Standing Dunk: 77
Post Control: 64
Mid-Range Shot: 78
Three-Point Shot: 72
Free-Throw: 77
Pass Accuracy: 76
Ball Handle: 80
Speed With Ball: 75
Interior Defense: 58
Perimeter Defense: 74
Steal: 78
Block: 63
Offensive Rebound: 70
Defensive Rebound: 69
Speed: 83
Acceleration: 81
Strength: 61
Vertical: 83
Stamina: 98
Caron Butler – "Tough Juice" (Mavericks)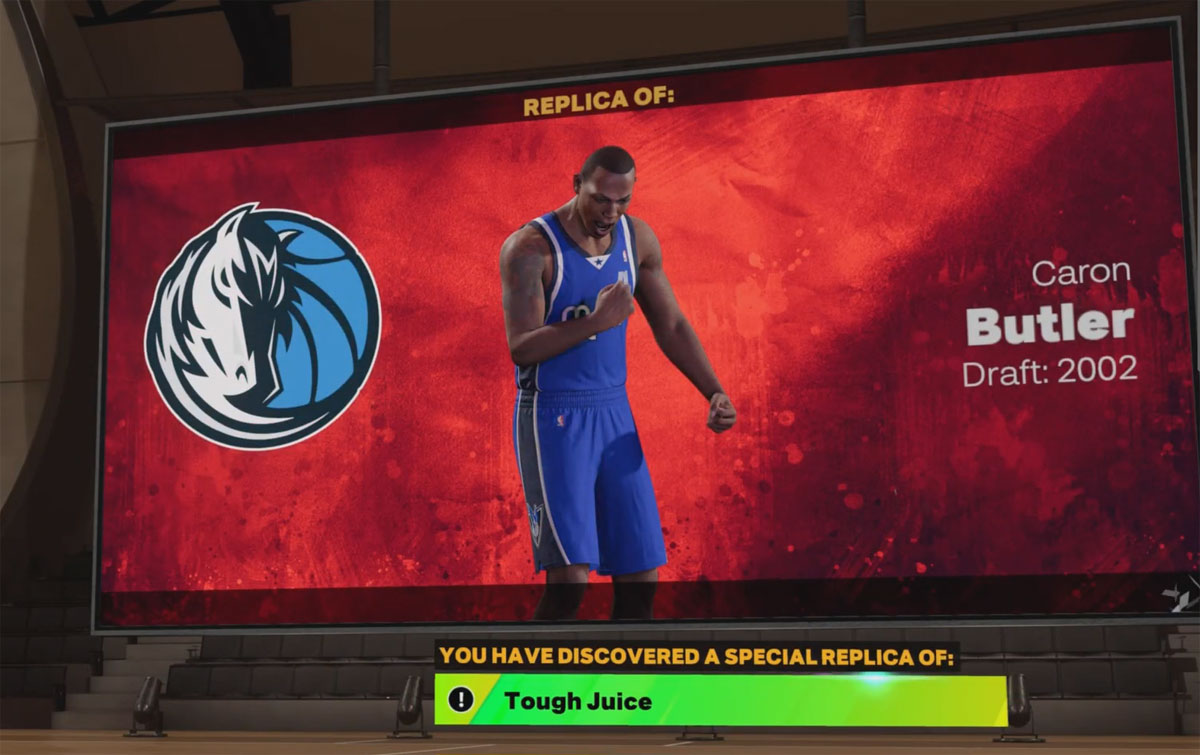 Position: SF
Handed: Right
Jersey Number: 4
Height: 6'7″
Weight: 228 lbs
Wingspan: 7'1″
Close Shot: 83
Driving Layup: 80
Driving Dunk: 72
Standing Dunk: 27
Post Control: 80
Mid-Range Shot: 89
Three-Point Shot: 89
Free-Throw: 85
Pass Accuracy: 78
Ball Handle: 83
Speed With Ball: 70
Interior Defense: 54
Perimeter Defense: 80
Steal: 83
Block: 30
Offensive Rebound: 32
Defensive Rebound: 50
Speed: 76
Acceleration: 75
Strength: 76
Vertical: 68
Stamina: 90
Caron Butler – "Tough Juice" (Wizards)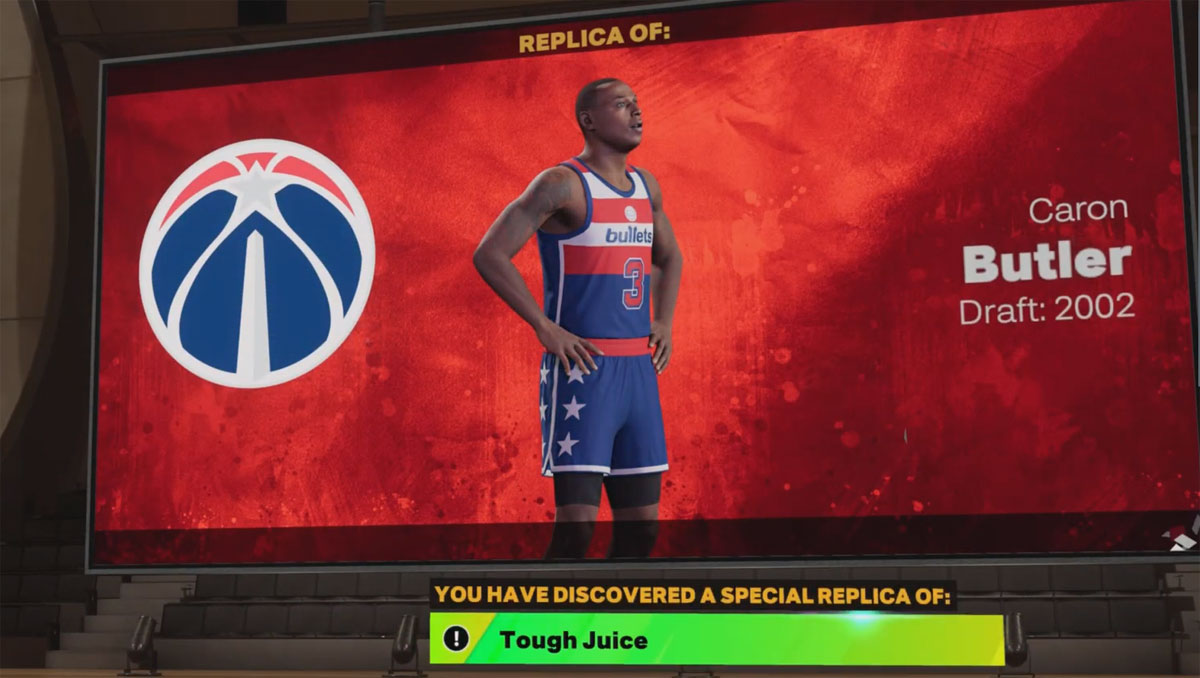 Position: SF
Handed: Right
Jersey Number: 3
Height: 6'7″
Weight: 225 lbs
Wingspan: 7'1″
Close Shot: 85
Driving Layup: 84
Driving Dunk: 86
Standing Dunk: 36
Post Control: 78
Mid-Range Shot: 84
Three-Point Shot: 88
Free-Throw: 88
Pass Accuracy: 76
Ball Handle: 85
Speed With Ball: 77
Interior Defense: 53
Perimeter Defense: 80
Steal: 71
Block: 30
Offensive Rebound: 32
Defensive Rebound: 50
Speed: 76
Acceleration: 76
Strength: 76
Vertical: 68
Stamina: 95
Cedric Ceballos – "Garbage Man"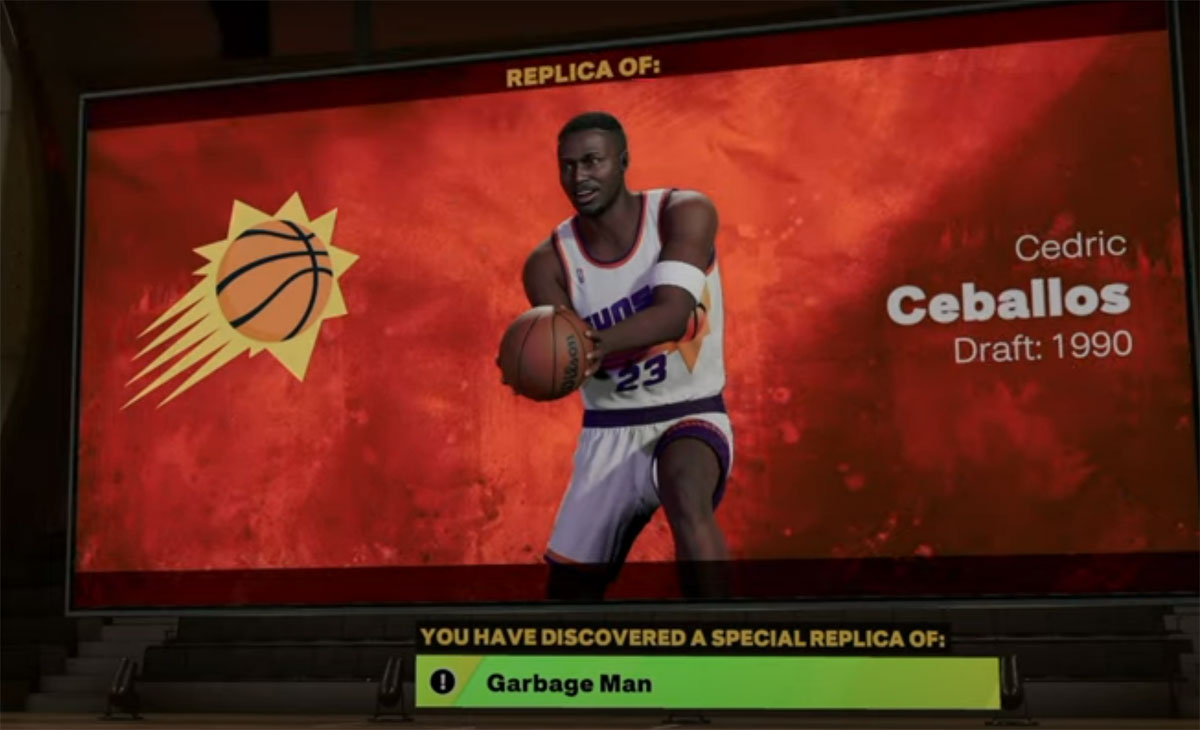 Position: SF
Handed: Right
Jersey Number: 23
Height: 6'7″
Weight: 215 lbs
Wingspan: 7'0″
Close Shot: 90
Driving Layup: 85
Driving Dunk: 96
Standing Dunk: 71
Post Control: 43
Mid-Range Shot: 86
Three-Point Shot: 55
Free-Throw: 74
Pass Accuracy: 58
Ball Handle: 80
Speed With Ball: 75
Interior Defense: 59
Perimeter Defense: 75
Steal: 65
Block: 33
Offensive Rebound: 70
Defensive Rebound: 68
Speed: 86
Acceleration: 79
Strength: 71
Vertical: 85
Stamina: 91
Billy Cunningham – "The Kangaroo Kid"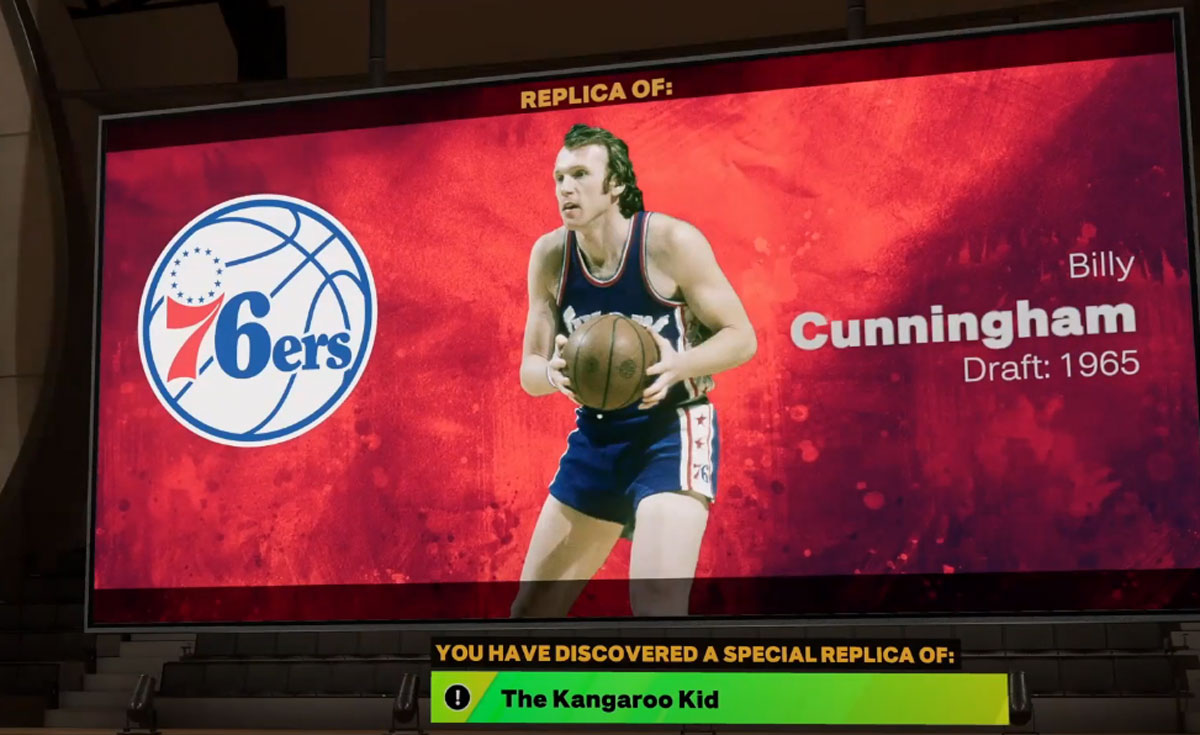 Position: SF
Handed: Left
Jersey Number: 32
Height: 6'6″
Weight: 250 lbs
Wingspan: 6'10"
Close Shot: 90
Driving Layup: 85
Driving Dunk: 85
Standing Dunk: 86
Post Control: 87
Mid-Range Shot: 79
Three-Point Shot: 69
Free-Throw: 76
Pass Accuracy: 73
Ball Handle: 72
Speed With Ball: 58
Interior Defense: 75
Perimeter Defense: 68
Steal: 73
Block: 66
Offensive Rebound: 87
Defensive Rebound: 94
Speed: 74
Acceleration: 73
Strength: 85
Vertical: 90
Stamina: 99
DeMar DeRozan – "Deebo"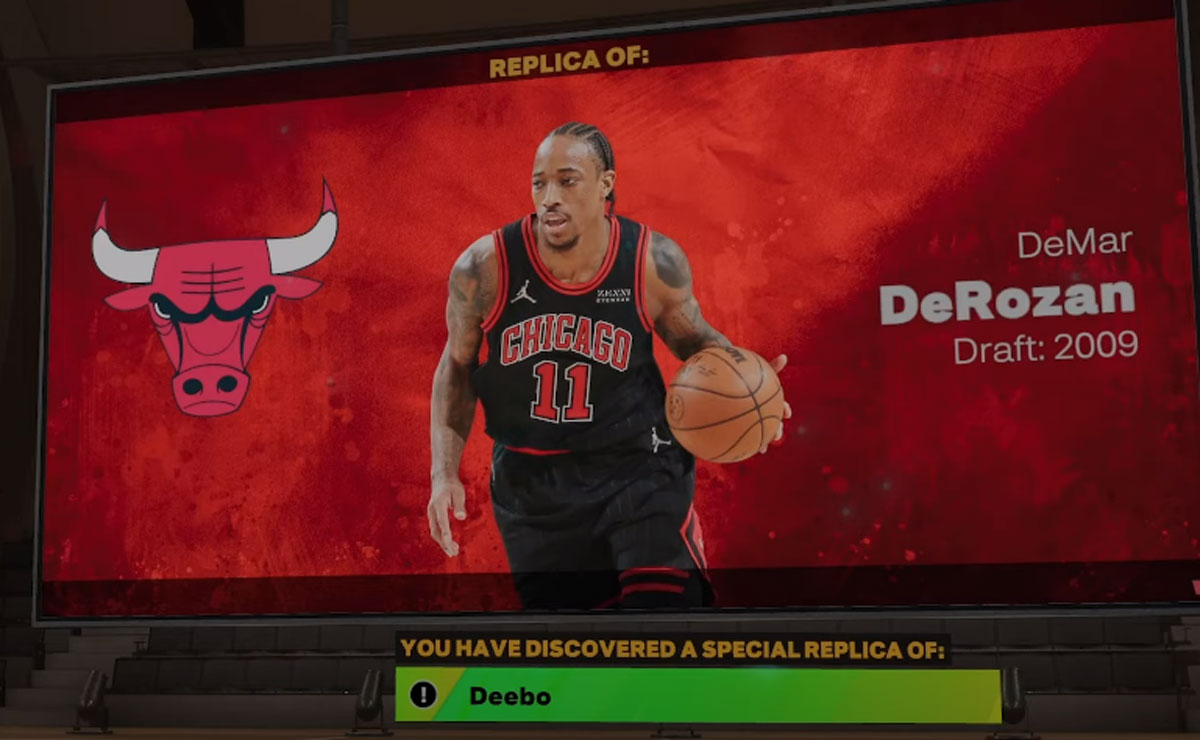 Position: SF
Handed: Right
Jersey Number: 11
Height: 6'6″
Weight: 220 lbs
Wingspan: 6'9″
Close Shot: 92
Driving Layup: 89
Driving Dunk: 86
Standing Dunk: 55
Post Control: 84
Mid-Range Shot: 87
Three-Point Shot: 77
Free-Throw: 84
Pass Accuracy: 75
Ball Handle: 81
Speed With Ball: 76
Interior Defense: 45
Perimeter Defense: 77
Steal: 42
Block: 42
Offensive Rebound: 34
Defensive Rebound: 58
Speed: 77
Acceleration: 77
Strength: 75
Vertical: 84
Stamina: 90
Kevin Durant – "Slim Reaper" (Thunder)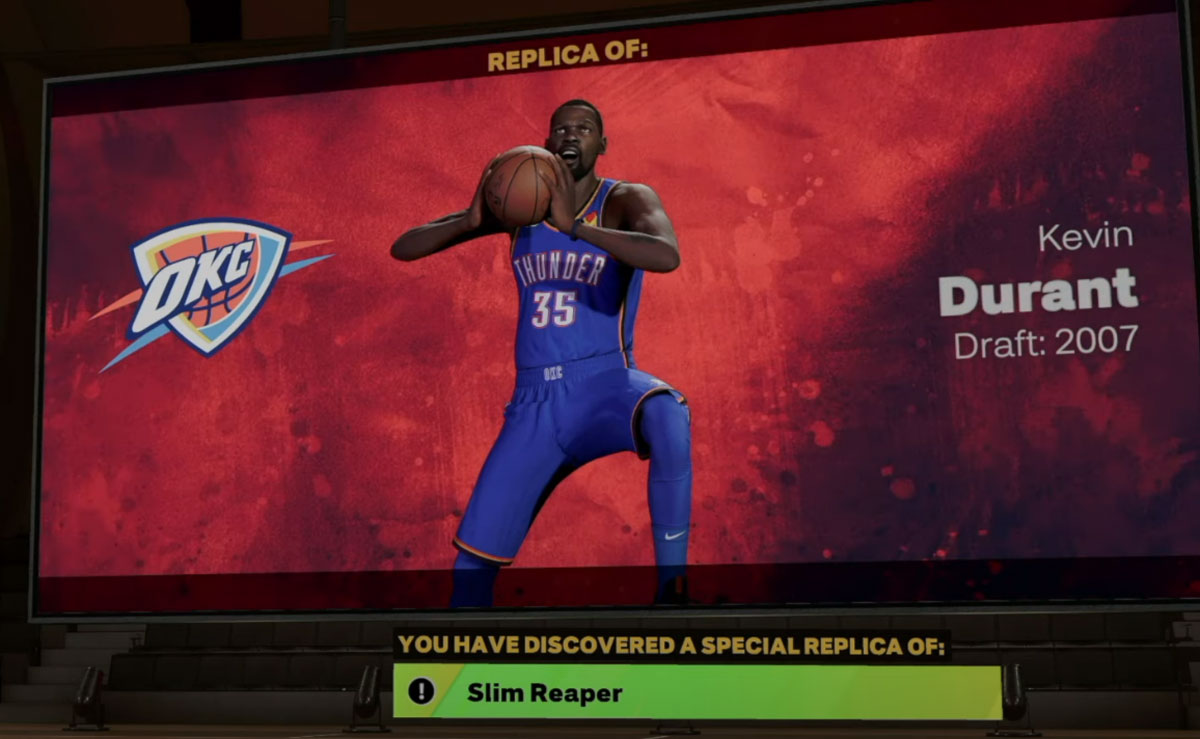 Position: SF
Handed: Right
Jersey Number: 35
Height: 6'9″
Weight: 220 lbs
Wingspan: 7'2″
Close Shot: 88
Driving Layup: 90
Driving Dunk: 85
Standing Dunk: 51
Post Control: 76
Mid-Range Shot:  89
Three-Point Shot: 81
Free-Throw: 80
Pass Accuracy: 72
Ball Handle: 85
Speed With Ball: 72
Interior Defense: 60
Perimeter Defense: 62
Steal: 66
Block: 66
Offensive Rebound: 42
Defensive Rebound: 76
Speed: 79
Acceleration: 76
Strength: 47
Vertical: 76
Stamina: 90
Kevin Durant – "Slim Reaper" (Warriors)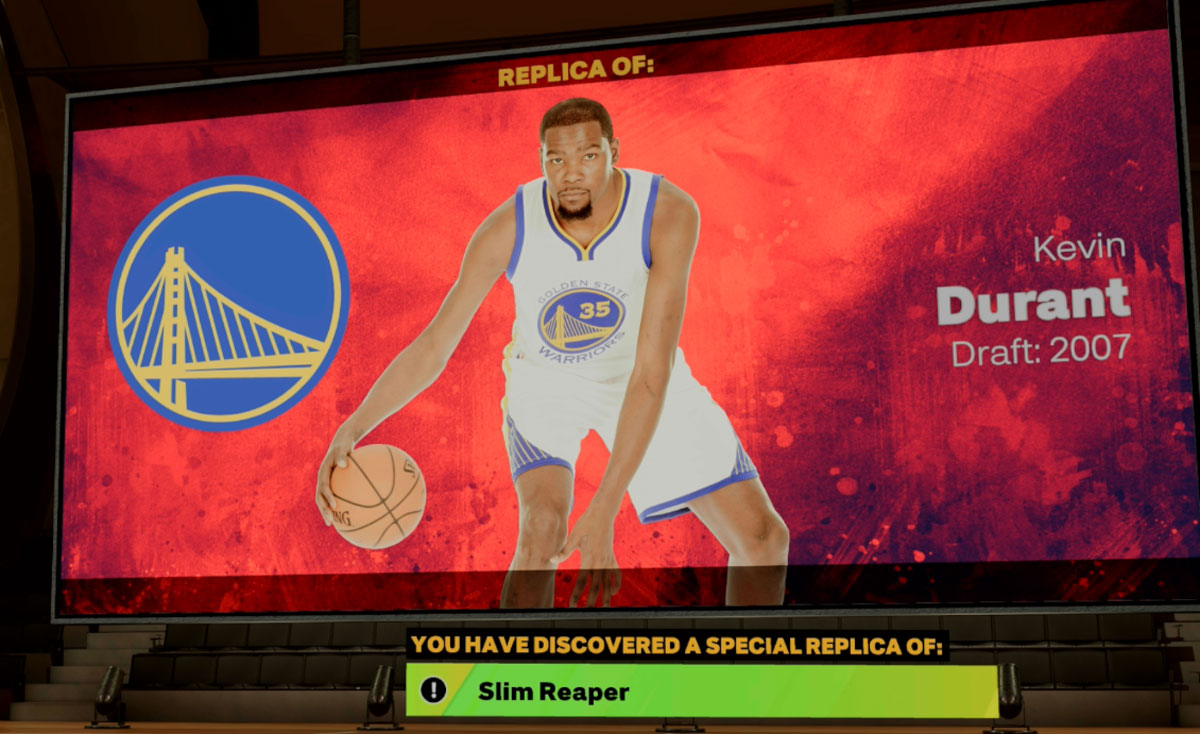 Position: SF
Handed: Right
Jersey Number: 35
Height: 6'9″
Weight: 240 lbs
Wingspan: 7'2″
Close Shot: 91
Driving Layup: 89
Driving Dunk: 79
Standing Dunk: 54
Post Control: 76
Mid-Range Shot: 89
Three-Point Shot: 82
Free-Throw: 85
Pass Accuracy: 70
Ball Handle: 86
Speed With Ball: 72
Interior Defense: 62
Perimeter Defense: 80
Steal: 45
Block: 68
Offensive Rebound: 54
Defensive Rebound: 73
Speed: 74
Acceleration: 73
Strength: 57
Vertical: 71
Stamina: 90
Alex English – "The Blade"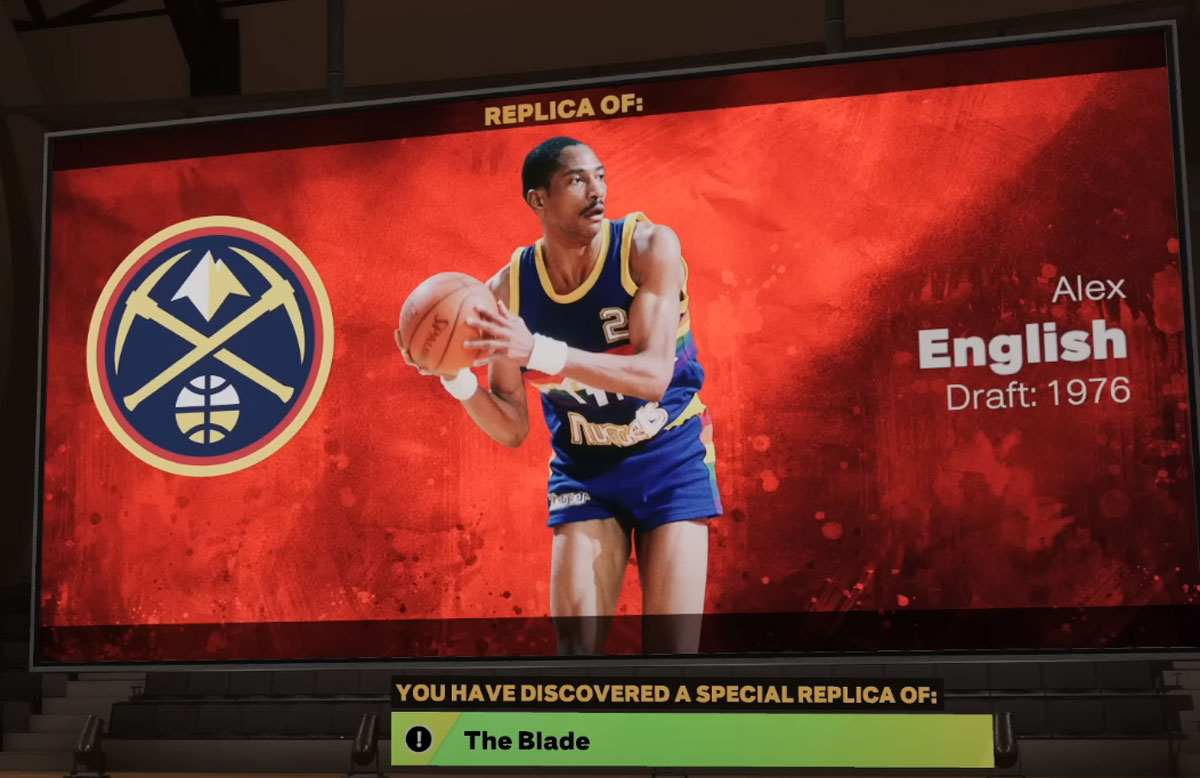 Position: SF
Handed: Right
Jersey Number: 2
Height: 6'7″
Weight: 196 lbs
Wingspan: 6'11"
Close Shot: 86
Driving Layup: 90
Driving Dunk: 86
Standing Dunk: 67
Post Control: 80
Mid-Range Shot: 86
Three-Point Shot: 75
Free-Throw: 79
Pass Accuracy: 70
Ball Handle: 78
Speed With Ball: 72
Interior Defense: 72
Perimeter Defense: 74
Steal: 55
Block: 42
Offensive Rebound: 70
Defensive Rebound: 71
Speed: 80
Acceleration: 80
Strength: 74
Vertical: 82
Stamina: 90
Julius Erving – "The Doctor"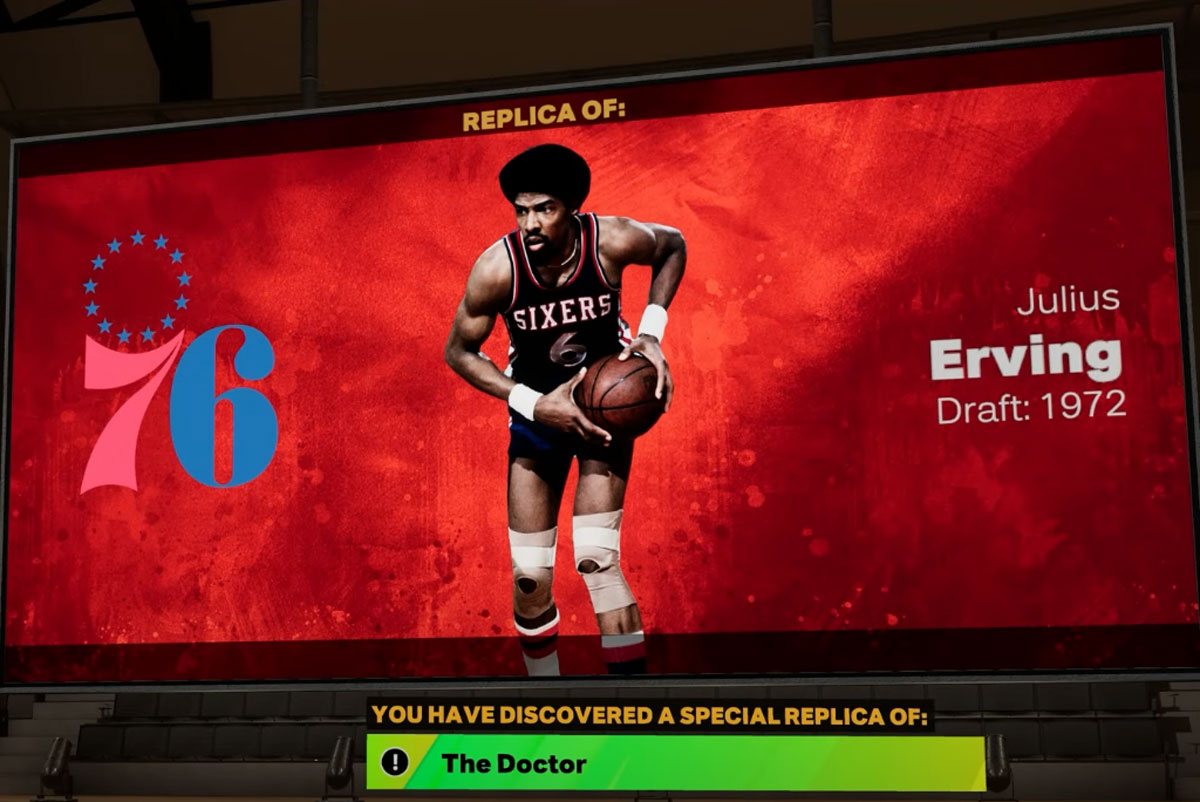 Position: SF
Handed: Right
Jersey Number: 6
Height: 6'6″
Weight: 212 lbs
Wingspan: 6'11"
Close Shot: 87
Driving Layup: 90
Driving Dunk: 90
Standing Dunk: 77
Post Control: 71
Mid-Range Shot: 71
Three-Point Shot: 65
Free-Throw: 76
Pass Accuracy: 75
Ball Handle: 77
Speed With Ball: 75
Interior Defense: 70
Perimeter Defense: 81
Steal: 71
Block: 56
Offensive Rebound: 73
Defensive Rebound: 75
Speed: 82
Acceleration: 82
Strength: 77
Vertical: 90
Stamina: 92
Paul George – "PG13" (Pacers)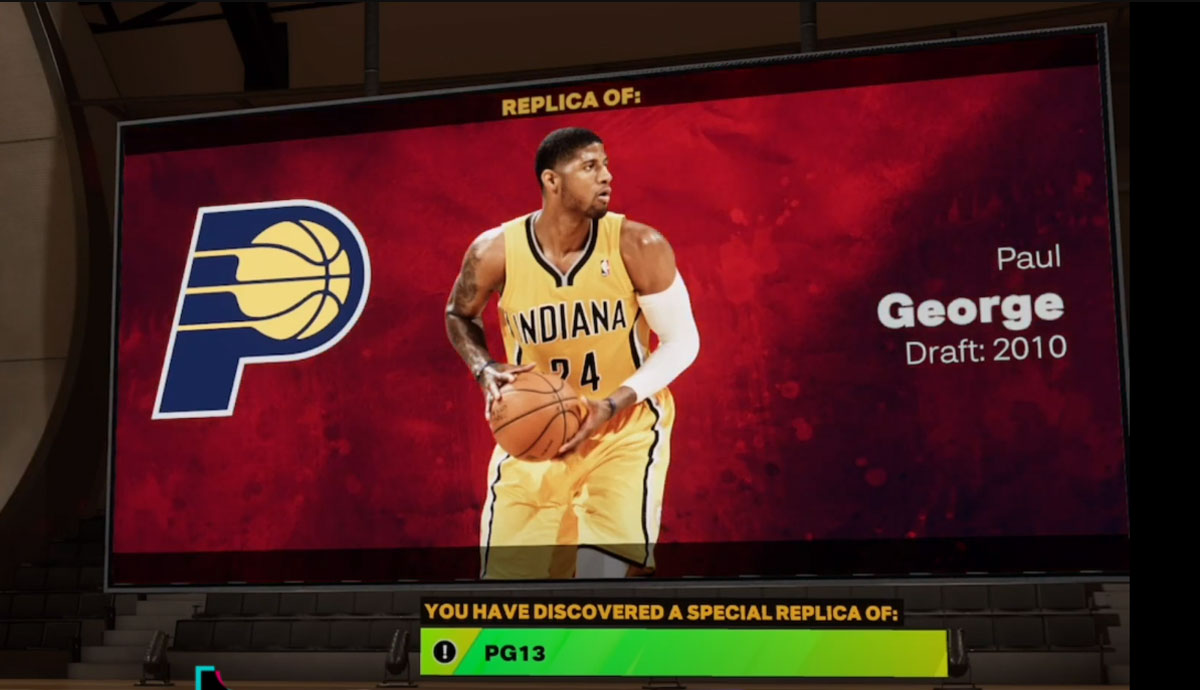 Position: SF
Handed: Right
Jersey Number: 24
Height: 6'9″
Weight: 220 lbs
Wingspan: 6'10"
Close Shot: 76
Driving Layup: 82
Driving Dunk: 92
Standing Dunk: 57
Post Control: 70
Mid-Range Shot: 77
Three-Point Shot: 92
Free-Throw: 79
Pass Accuracy: 75
Ball Handle: 87
Speed With Ball: 71
Interior Defense: 55
Perimeter Defense: 87
Steal: 68
Block: 39
Offensive Rebound: 30
Defensive Rebound: 70
Speed: 77
Acceleration: 76
Strength: 52
Vertical: 82
Stamina: 89
George Gervin – "The Iceman"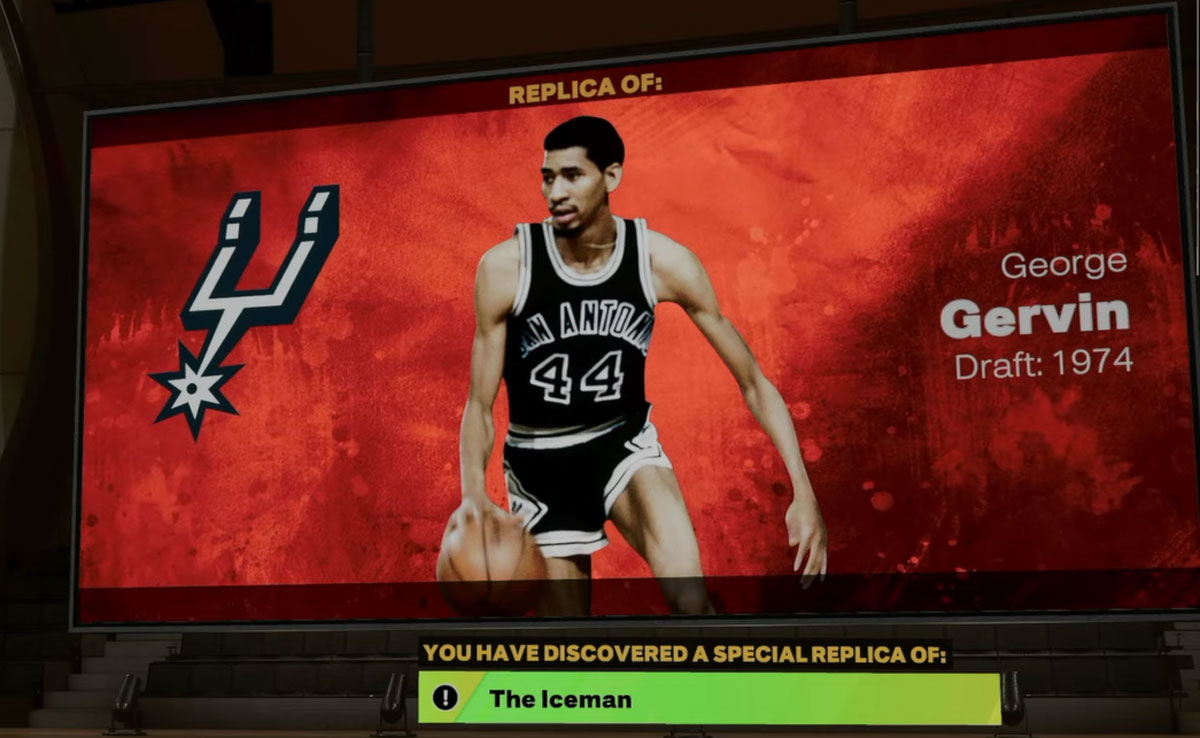 Position: SF
Handed: Right
Jersey Number: 44
Height: 6'7″
Weight: 185 lbs
Wingspan: 7'0″
Close Shot: 89
Driving Layup: 91
Driving Dunk: 87
Standing Dunk: 52
Post Control: 70
Mid-Range Shot: 82
Three-Point Shot: 71
Free-Throw: 80
Pass Accuracy: 68
Ball Handle: 72
Speed With Ball: 75
Interior Defense: 62
Perimeter Defense: 80
Steal: 70
Block: 70
Offensive Rebound: 69
Defensive Rebound: 71
Speed: 85
Acceleration: 80
Strength: 52
Vertical: 87
Stamina: 90
John Havlicek – "Hondo"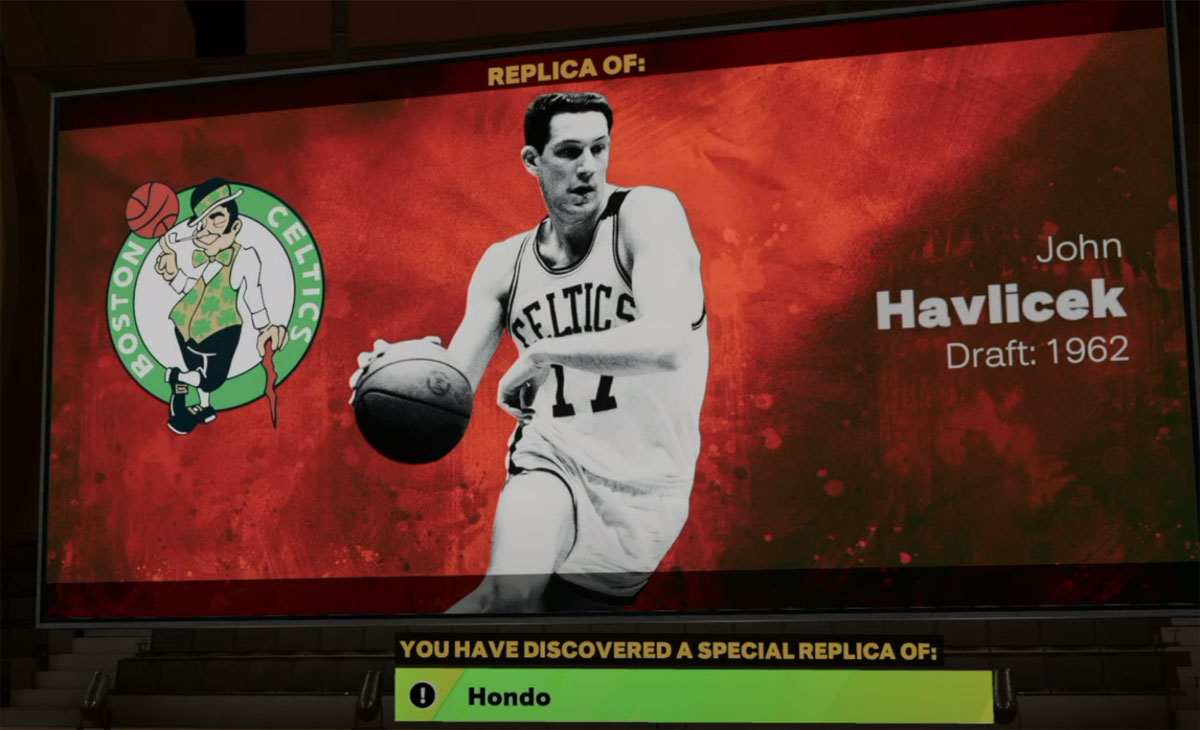 Position: SF
Handed: Right
Jersey Number: 17
Height: 6'5″
Weight: 200 lbs
Wingspan: 6'10"
Close Shot: 87
Driving Layup: 87
Driving Dunk: 75
Standing Dunk: 32
Post Control: 60
Mid-Range Shot: 87
Three-Point Shot: 86
Free-Throw: 83
Pass Accuracy: 71
Ball Handle: 78
Speed With Ball: 75
Interior Defense: 57
Perimeter Defense: 89
Steal: 87
Block: 66
Offensive Rebound: 62
Defensive Rebound: 72
Speed: 67
Acceleration: 69
Strength: 72
Vertical: 60
Stamina: 91
Robert Horry – "Big Shot"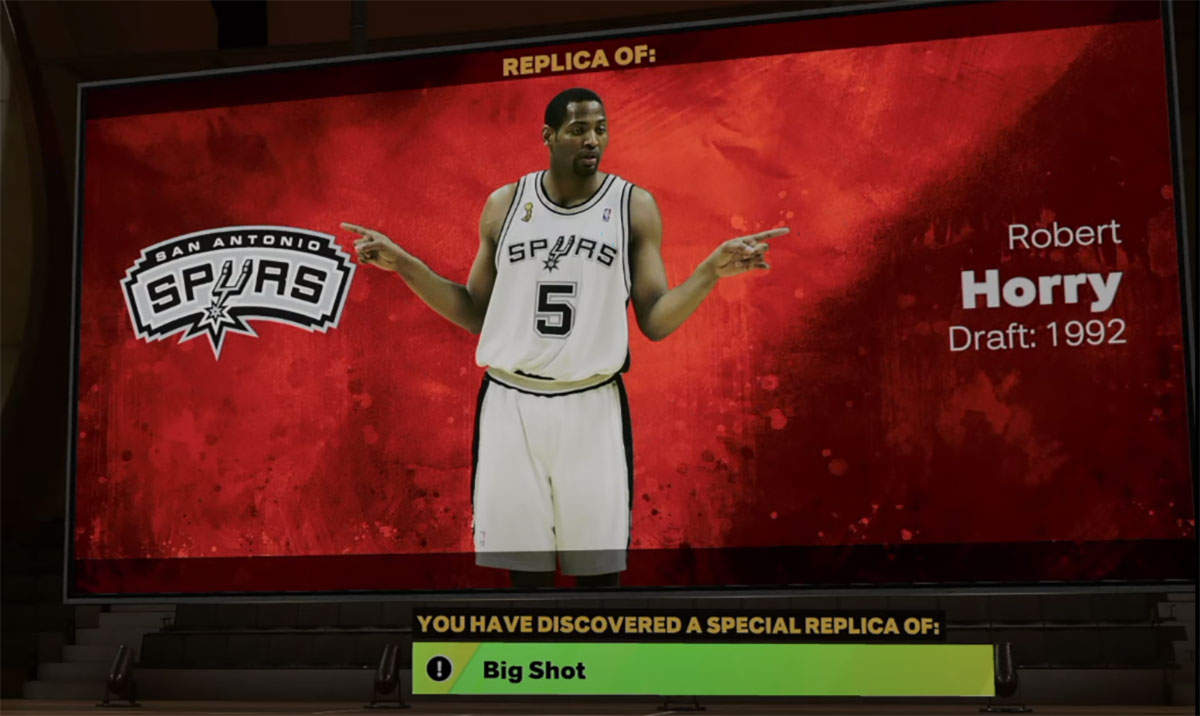 Position: SF
Handed: Right
Jersey Number: 5
Height: 6'10"
Weight: 225 lbs
Wingspan: 6'11"
Close Shot: 88
Driving Layup: 78
Driving Dunk: 68
Standing Dunk: 93
Post Control: 73
Mid-Range Shot: 81
Three-Point Shot: 90
Free-Throw: 87
Pass Accuracy: 63
Ball Handle: 72
Speed With Ball: 44
Interior Defense: 76
Perimeter Defense: 76
Steal: 74
Block: 68
Offensive Rebound: 77
Defensive Rebound: 80
Speed: 63
Acceleration: 63
Strength: 68
Vertical: 77
Stamina: 80
LeBron James – "King" (Cavaliers)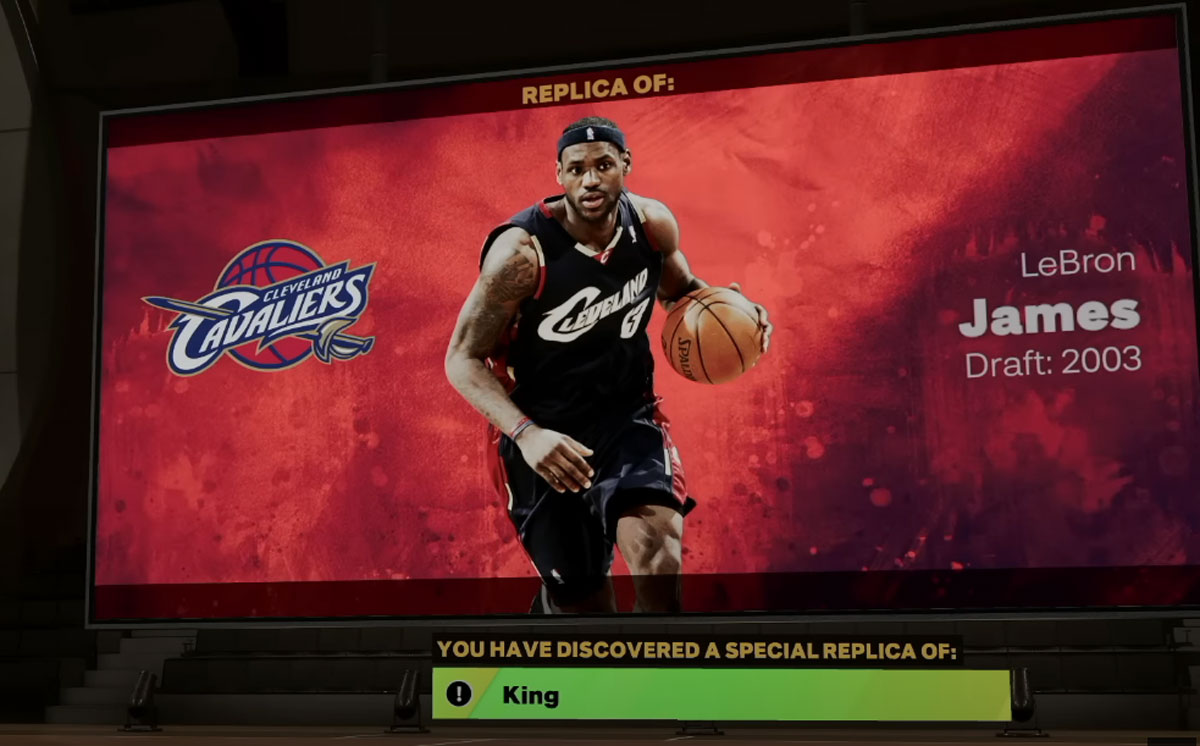 Position: SF
Handed: Right
Jersey Number: 23
Height: 6'8″
Weight: 235 lbs
Wingspan: 7'0″
Close Shot: 80
Driving Layup: 90
Driving Dunk: 90
Standing Dunk: 62
Post Control: 79
Mid-Range Shot: 80
Three-Point Shot: 75
Free-Throw: 70
Pass Accuracy: 77
Ball Handle: 77
Speed With Ball: 77
Interior Defense: 70
Perimeter Defense: 86
Steal: 59
Block: 44
Offensive Rebound: 42
Defensive Rebound: 59
Speed: 82
Acceleration: 75
Strength: 76
Vertical: 89
Stamina:90
LeBron James – "King" (Heat)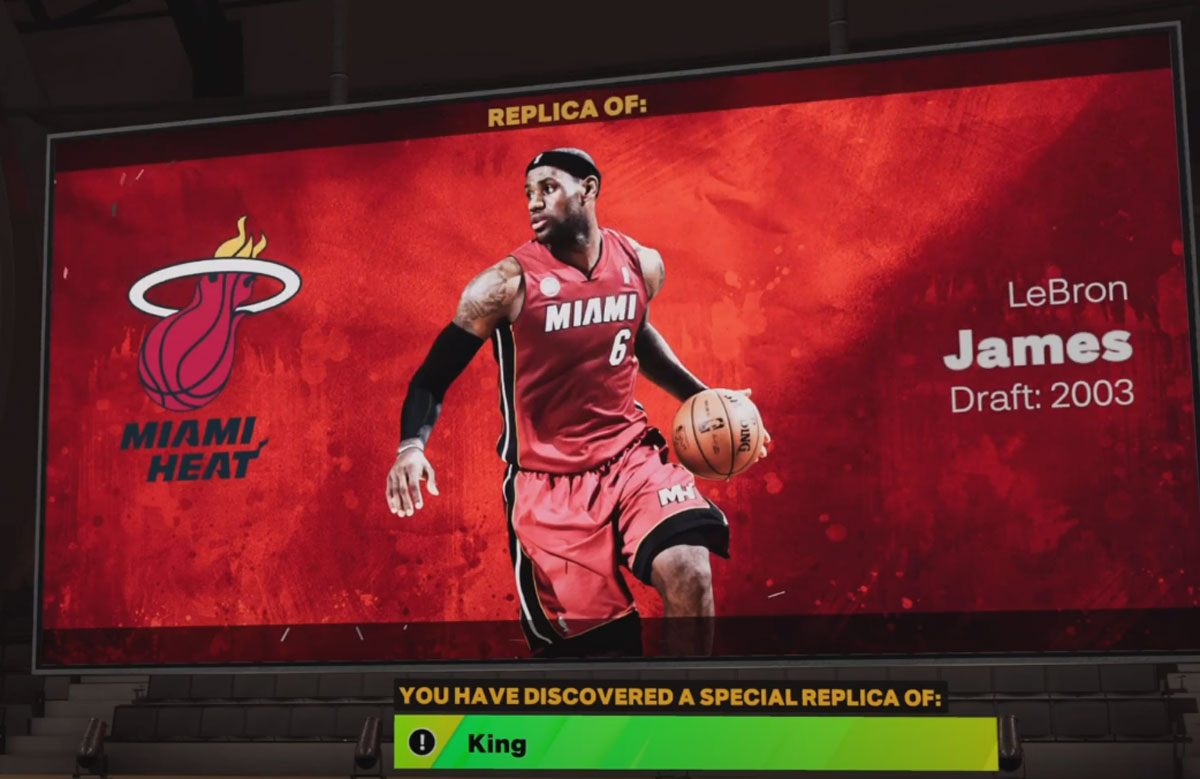 Position: SF
Handed: Right
Jersey Number: 6
Height: 6'8″
Weight: 230 lbs
Wingspan: 7'3″
Close Shot: 81
Driving Layup: 89
Driving Dunk: 85
Standing Dunk: 62
Post Control: 81
Mid-Range Shot: 79
Three-Point Shot: 80
Free-Throw: 69
Pass Accuracy: 80
Ball Handle: 77
Speed With Ball: 77
Interior Defense: 70
Perimeter Defense: 87
Steal: 65
Block: 50
Offensive Rebound: 42
Defensive Rebound: 74
Speed: 82
Acceleration: 75
Strength: 81
Vertical: 80
Stamina: 90
LeBron James – "King" (Lakers)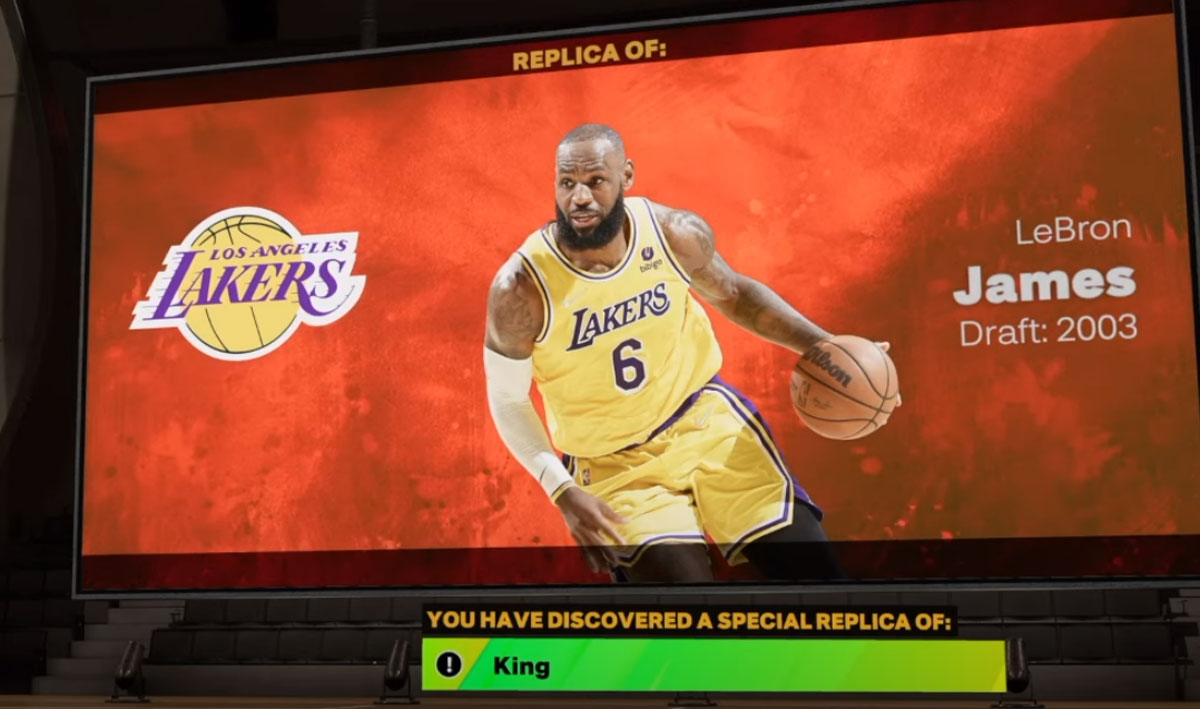 Position: SF
Handed: Right
Jersey Number: 6
Height: 6'9″
Weight: 230 lbs
Wingspan: 7'1″
Close Shot: 85
Driving Layup: 89
Driving Dunk: 86
Standing Dunk: 68
Post Control: 79
Mid-Range Shot: 73
Three-Point Shot: 78
Free-Throw: 71
Pass Accuracy: 82
Ball Handle: 80
Speed With Ball: 72
Interior Defense: 74
Perimeter Defense: 81
Steal: 61
Block: 75
Offensive Rebound: 60
Defensive Rebound: 73
Speed: 79
Acceleration: 73
Strength: 82
Vertical: 81
Stamina: 91
Bobby Jones – "The Secretary of Defense"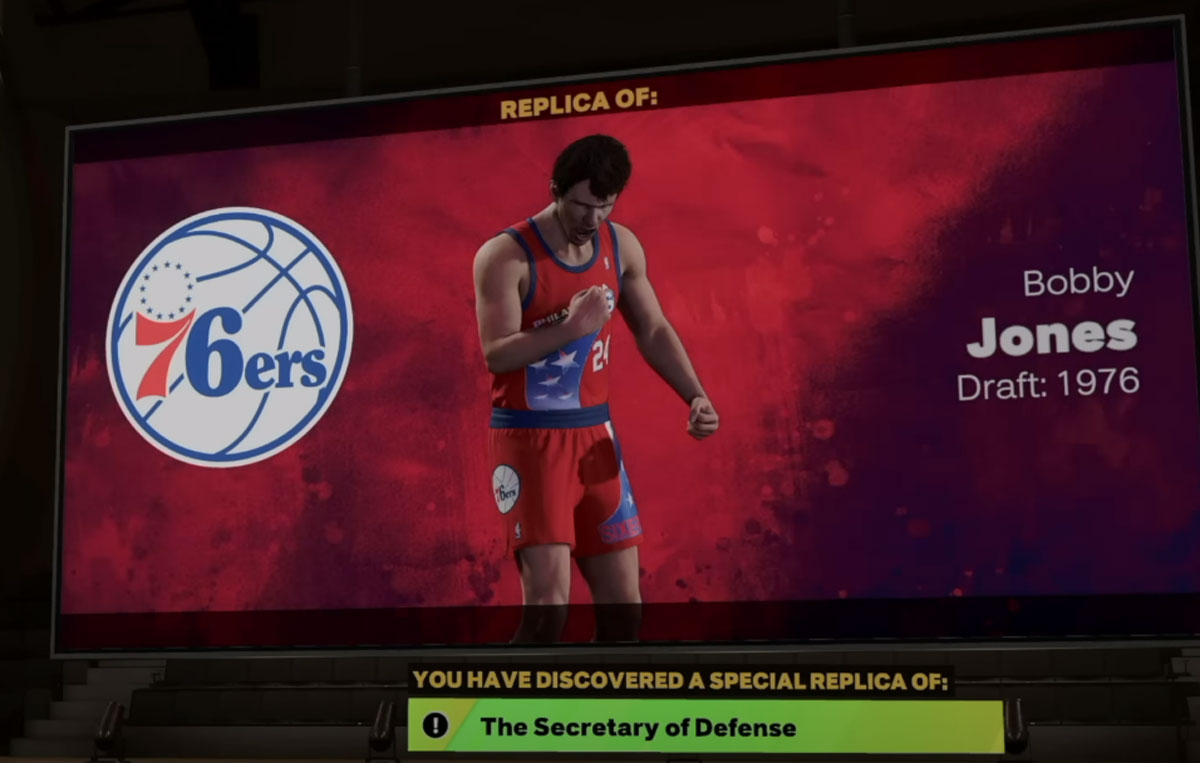 Position: SF
Handed: Right
Jersey Number: 24
Height: 6'9″
Weight: 210 lbs
Wingspan: 7'0″
Close Shot: 88
Driving Layup: 93
Driving Dunk: 73
Standing Dunk: 73
Post Control: 86
Mid-Range Shot: 83
Three-Point Shot: 38
Free-Throw: 78
Pass Accuracy: 64
Ball Handle: 69
Speed With Ball: 68
Interior Defense: 90
Perimeter Defense: 88
Steal: 82
Block: 89
Offensive Rebound: 58
Defensive Rebound: 66
Speed: 80
Acceleration: 75
Strength: 78
Vertical: 79
Stamina: 78
Kawhi Leonard – "The Klaw"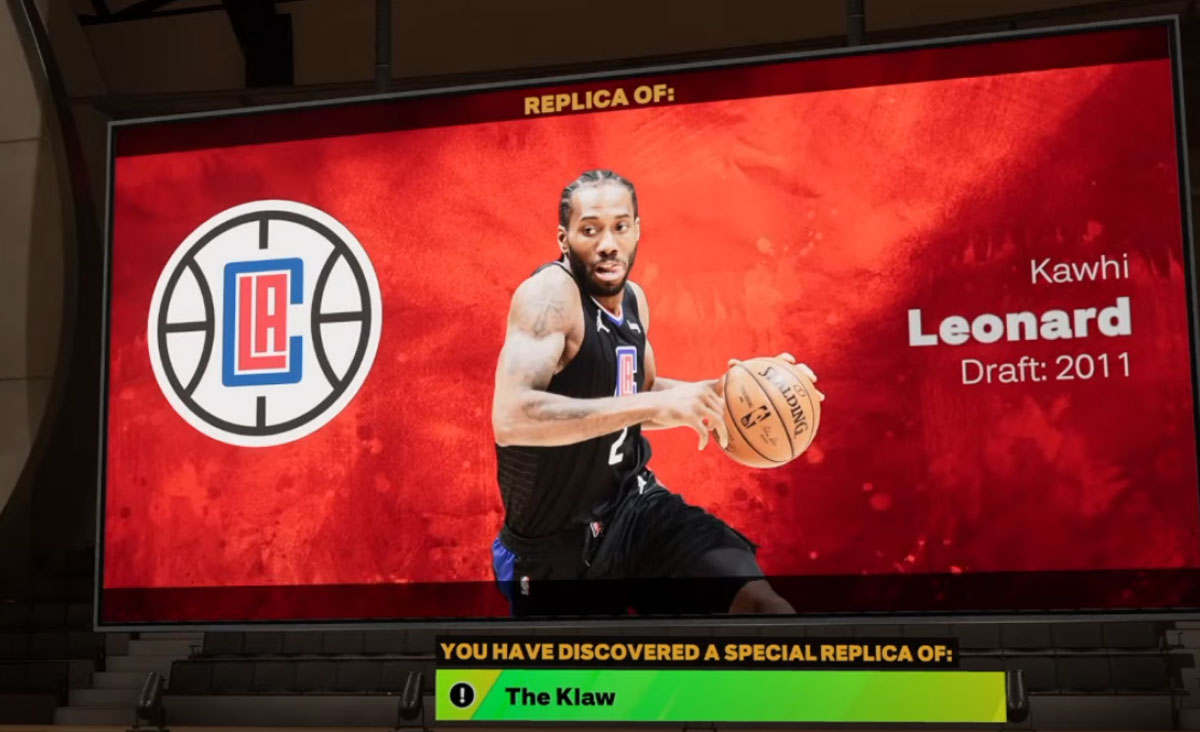 Position: SF
Handed: Right
Jersey Number: 2
Height: 6'7″
Weight: 225 lbs
Wingspan: 7'3″
Close Shot: 90
Driving Layup: 82
Driving Dunk: 77
Standing Dunk: 47
Post Control: 81
Mid-Range Shot: 85
Three-Point Shot: 77
Free-Throw: 84
Pass Accuracy: 72
Ball Handle: 78
Speed With Ball: 75
Interior Defense: 74
Perimeter Defense: 92
Steal: 83
Block: 52
Offensive Rebound: 35
Defensive Rebound: 74
Speed: 80
Acceleration: 77
Strength: 74
Vertical: 72
Stamina: 90
Shawn Marion – "The Matrix"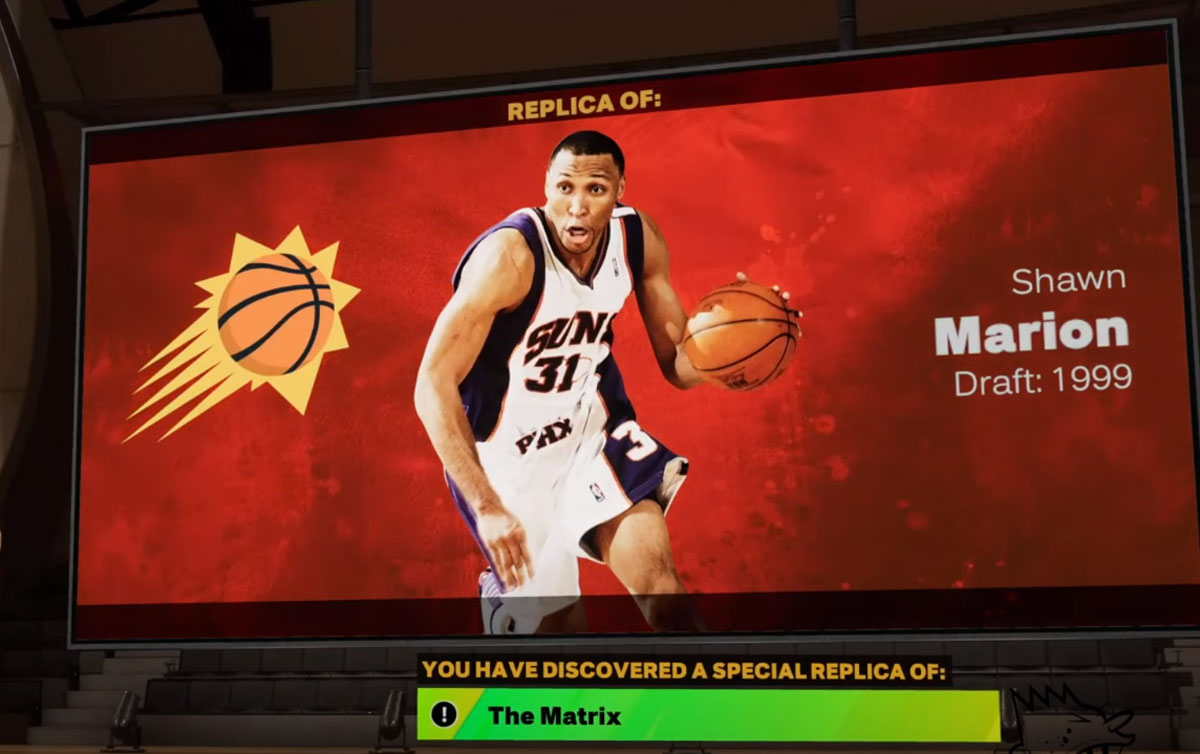 Position: SF
Handed: Right
Jersey Number: 31
Height: 6'7″
Weight: 220 lbs
Wingspan: 7'0″
Close Shot: 90
Driving Layup: 85
Driving Dunk: 70
Standing Dunk: 70
Post Control: 80
Mid-Range Shot: 84
Three-Point Shot: 76
Free-Throw: 80
Pass Accuracy: 60
Ball Handle: 61
Speed With Ball: 66
Interior Defense: 84
Perimeter Defense: 81
Steal: 77
Block: 66
Offensive Rebound: 81
Defensive Rebound: 86
Speed: 75
Acceleration: 75
Strength: 70
Vertical: 85
Stamina: 95
Larry Nance – "High-Ayatolla of Slamola"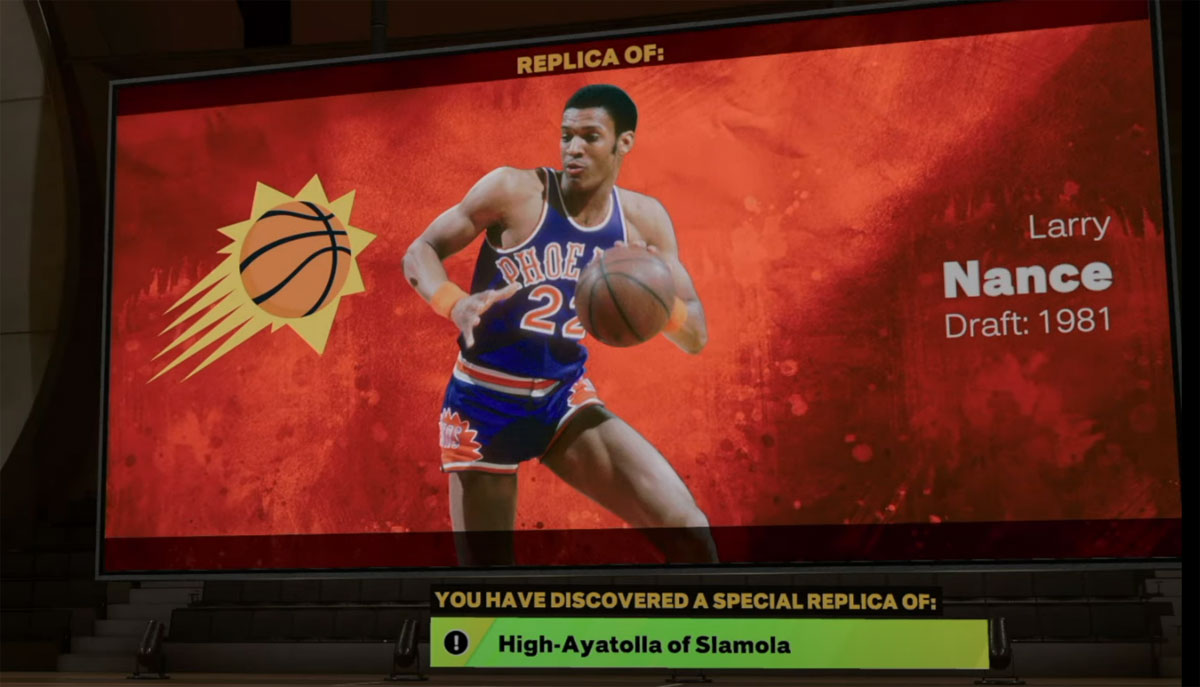 Position: SF
Handed: Right
Jersey Number: 22
Height: 6'10"
Weight: 225 lbs
Wingspan: 7'4″
Close Shot: 96
Driving Layup: 73
Driving Dunk: 93
Standing Dunk: 90
Post Control: 80
Mid-Range Shot: 86
Three-Point Shot: 47
Free-Throw: 72
Pass Accuracy: 43
Ball Handle: 43
Speed With Ball: 45
Interior Defense: 93
Perimeter Defense: 81
Steal: 52
Block: 82
Offensive Rebound: 74
Defensive Rebound: 82
Speed: 71
Acceleration: 61
Strength: 74
Vertical: 82
Stamina: 91
Lamar Odom – "The Candyman"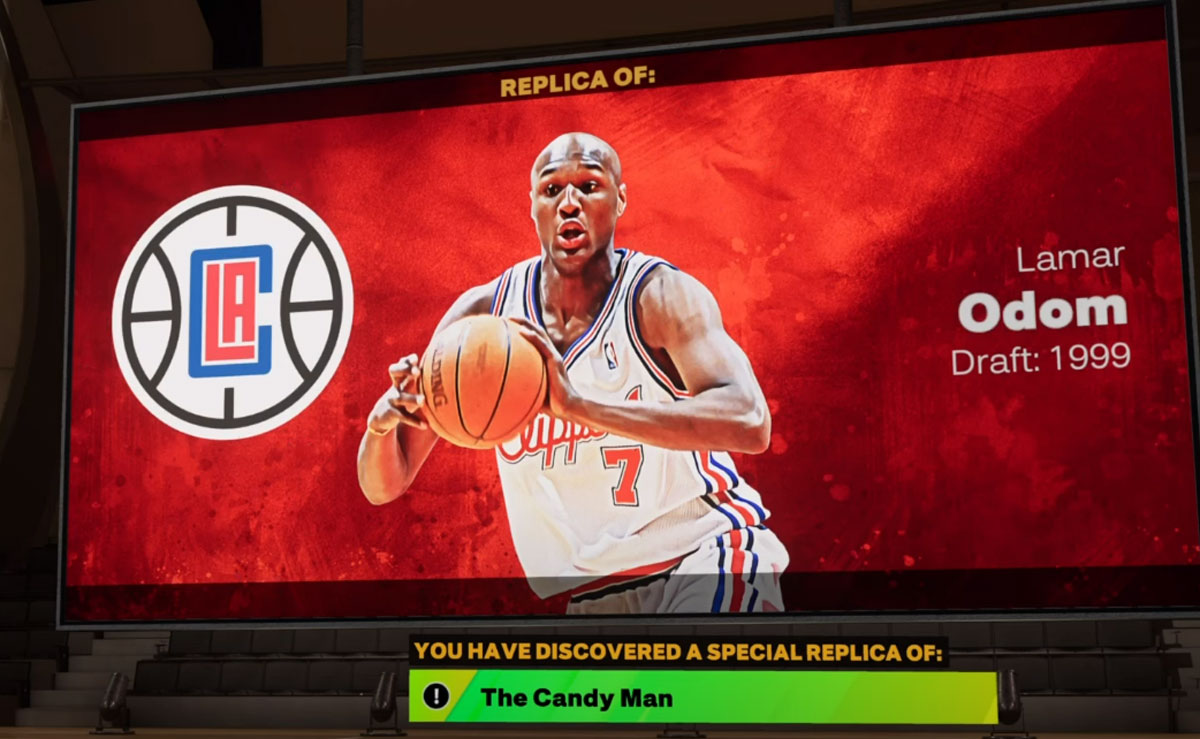 Position: SF
Handed: Left
Jersey Number: 7
Height: 6'10"
Weight: 220 lbs
Wingspan: 7'1″
Close Shot: 85
Driving Layup: 68
Driving Dunk: 83
Standing Dunk: 68
Post Control: 70
Mid-Range Shot: 81
Three-Point Shot: 83
Free-Throw: 81
Pass Accuracy: 61
Ball Handle: 80
Speed With Ball: 70
Interior Defense: 87
Perimeter Defense: 79
Steal: 53
Block: 87
Offensive Rebound: 73
Defensive Rebound: 72
Speed: 76
Acceleration: 74
Strength: 86
Vertical: 80
Stamina: 90
Paul Pierce – "The Truth"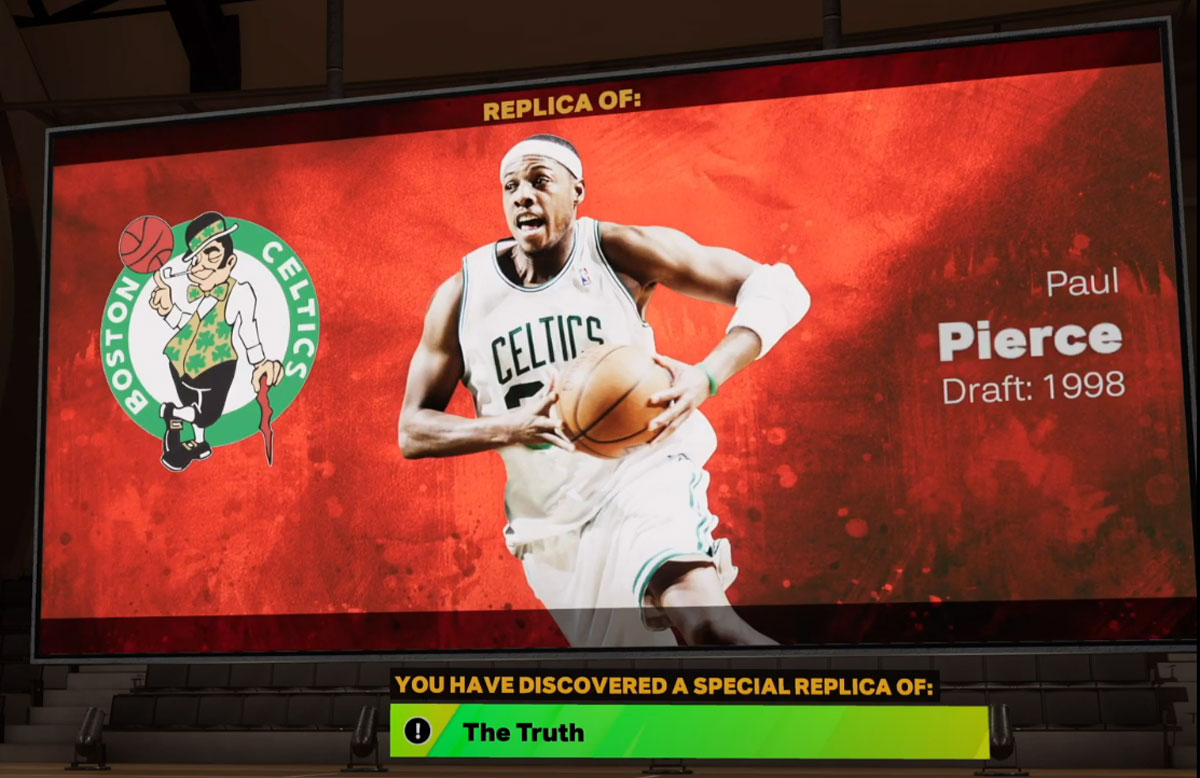 Position: SF
Handed: Right
Jersey Number: 34
Height: 6'7″
Weight: 235 lbs
Wingspan: 6'10"
Close Shot: 92
Driving Layup: 89
Driving Dunk: 70
Standing Dunk: 45
Post Control: 79
Mid-Range Shot: 81
Three-Point Shot: 86
Free-Throw: 84
Pass Accuracy: 70
Ball Handle: 82
Speed With Ball: 70
Interior Defense: 77
Perimeter Defense: 87
Steal: 65
Block: 50
Offensive Rebound: 49
Defensive Rebound: 69
Speed: 73
Acceleration: 73
Strength: 80
Vertical: 70
Stamina: 98
Ricky Pierce – "Big Paper Daddy"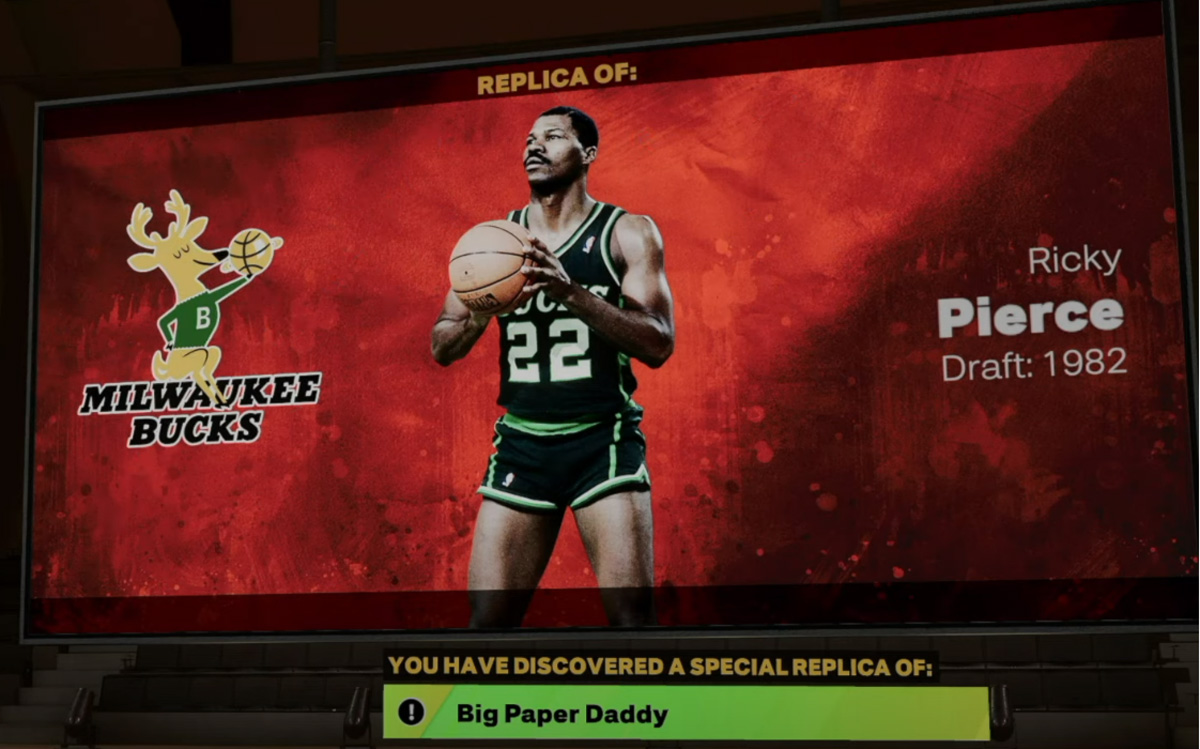 Position: SF
Handed: Right
Jersey Number: 22
Height: 6'4″
Weight: 205 lbs
Wingspan: 6'10"
Close Shot: 92
Driving Layup: 82
Driving Dunk: 66
Standing Dunk: 25
Post Control: 67
Mid-Range Shot: 92
Three-Point Shot: 88
Free-Throw: 90
Pass Accuracy: 80
Ball Handle: 83
Speed With Ball: 73
Interior Defense: 49
Perimeter Defense: 70
Steal: 56
Block: 25
Offensive Rebound: 48
Defensive Rebound: 38
Speed: 80
Acceleration: 78
Strength: 75
Vertical: 75
Stamina: 92
Glenn Robinson – "Big Dog"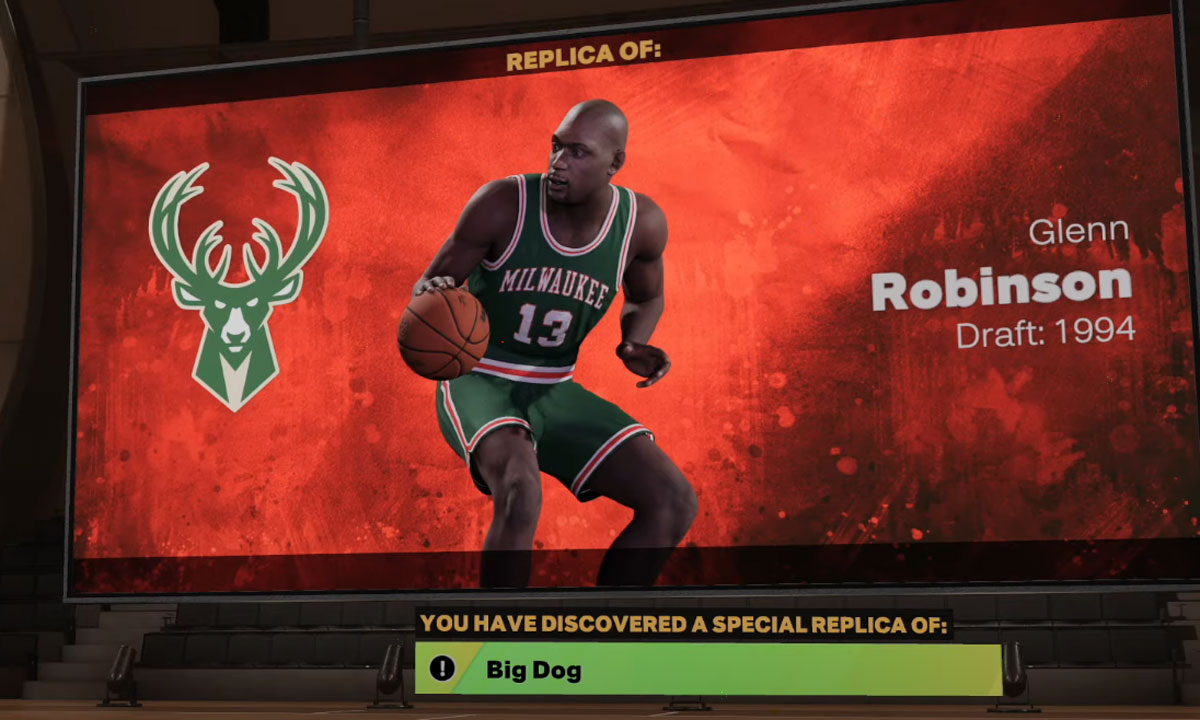 Position: SF
Handed: Right
Jersey Number: 13
Height: 6'7″
Weight: 225 lbs
Wingspan: 6'11"
Close Shot: 85
Driving Layup: 82
Driving Dunk: 86
Standing Dunk: 58
Post Control: 76
Mid-Range Shot: 81
Three-Point Shot: 82
Free-Throw: 77
Pass Accuracy: 72
Ball Handle: 85
Speed With Ball: 76
Interior Defense: 72
Perimeter Defense: 76
Steal: 70
Block: 71
Offensive Rebound: 71
Defensive Rebound: 71
Speed: 77
Acceleration: 77
Strength: 77
Vertical: 78
Stamina: 90
Gerald Wallace – "Crash" (Hornets)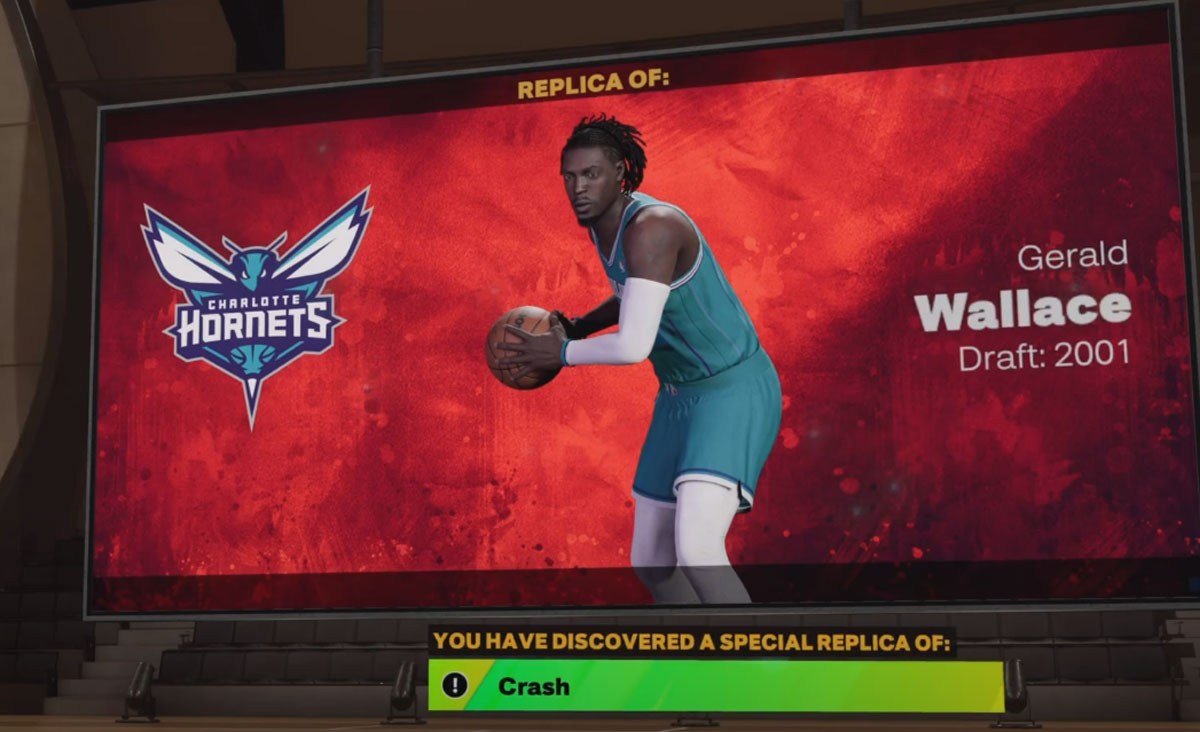 Position: SF
Handed: Right
Jersey Number: 3
Height: 6'7″
Weight: 220 lbs
Wingspan: 7'0″
Close Shot: 80
Driving Layup: 84
Driving Dunk: 86
Standing Dunk: 36
Post Control: 42
Mid-Range Shot: 81
Three-Point Shot: 85
Free-Throw: 83
Pass Accuracy: 76
Ball Handle: 78
Speed With Ball: 75
Interior Defense: 80
Perimeter Defense: 87
Steal: 85
Block: 70
Offensive Rebound: 46
Defensive Rebound: 75
Speed: 77
Acceleration: 77
Strength: 67
Vertical: 82
Stamina: 93
Gerald Wallace – "Crash" (Kings)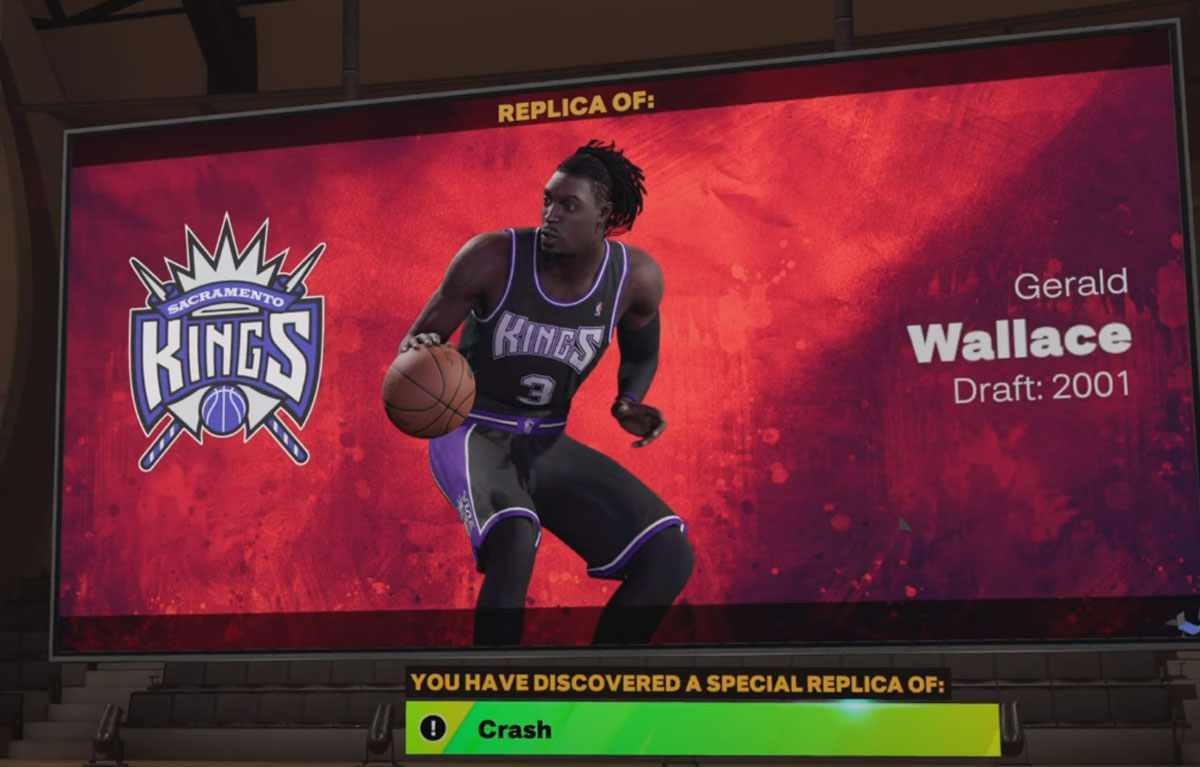 Position: SF
Handed: Right
Jersey Number: 3
Height: 6'7″
Weight: 215 lbs
Wingspan: 7'0″
Close Shot: 56
Driving Layup: 76
Driving Dunk: 93
Standing Dunk: 43
Post Control: 58
Mid-Range Shot: 73
Three-Point Shot: 38
Free-Throw: 58
Pass Accuracy: 76
Ball Handle: 86
Speed With Ball: 75
Interior Defense: 90
Perimeter Defense: 88
Steal: 90
Block: 70
Offensive Rebound: 87
Defensive Rebound: 76
Speed: 86
Acceleration: 79
Strength: 68
Vertical: 88
Stamina: 91
Jamaal Wilkes – "Silk"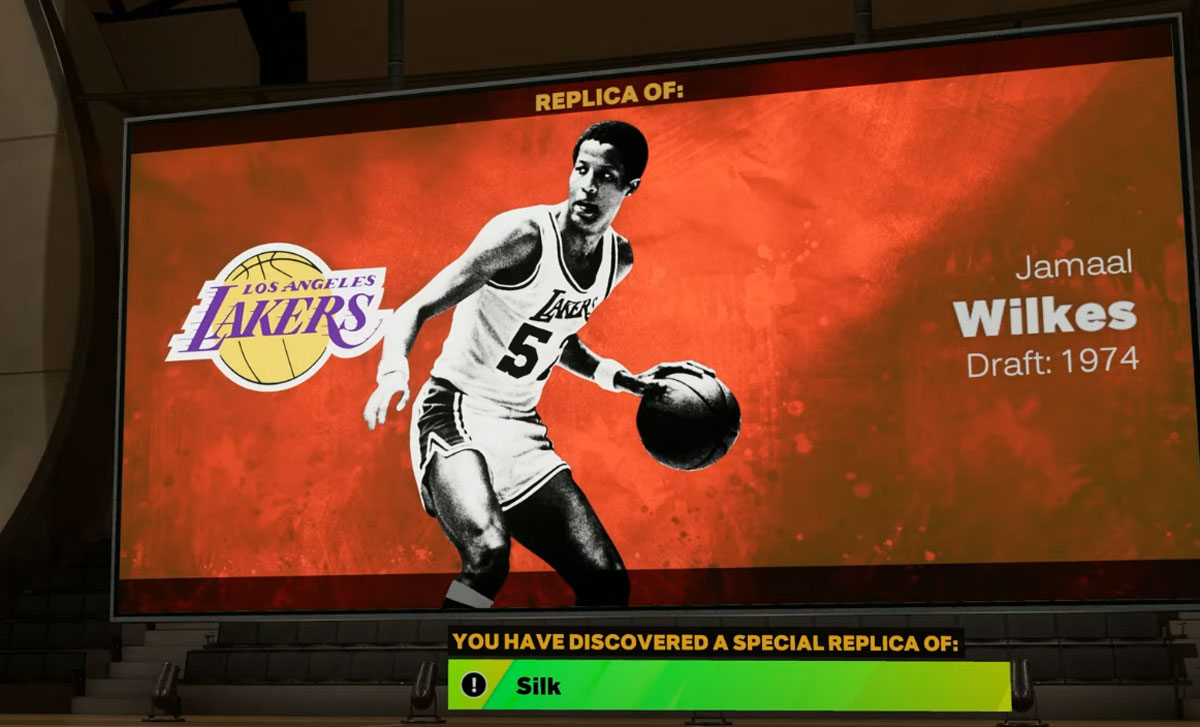 Position: SF
Handed: Right
Jersey Number: 52
Height: 6'6″
Weight: 190 lbs
Wingspan: 6'9″
Close Shot: 90
Driving Layup: 88
Driving Dunk: 83
Standing Dunk: 83
Post Control: 78
Mid-Range Shot: 80
Three-Point Shot: 71
Free-Throw: 77
Pass Accuracy: 70
Ball Handle: 78
Speed With Ball: 78
Interior Defense: 76
Perimeter Defense: 91
Steal: 75
Block: 44
Offensive Rebound: 64
Defensive Rebound: 81
Speed: 80
Acceleration: 80
Strength: 69
Vertical: 70
Stamina: 94
Corliss Williamson – "Big Nasty"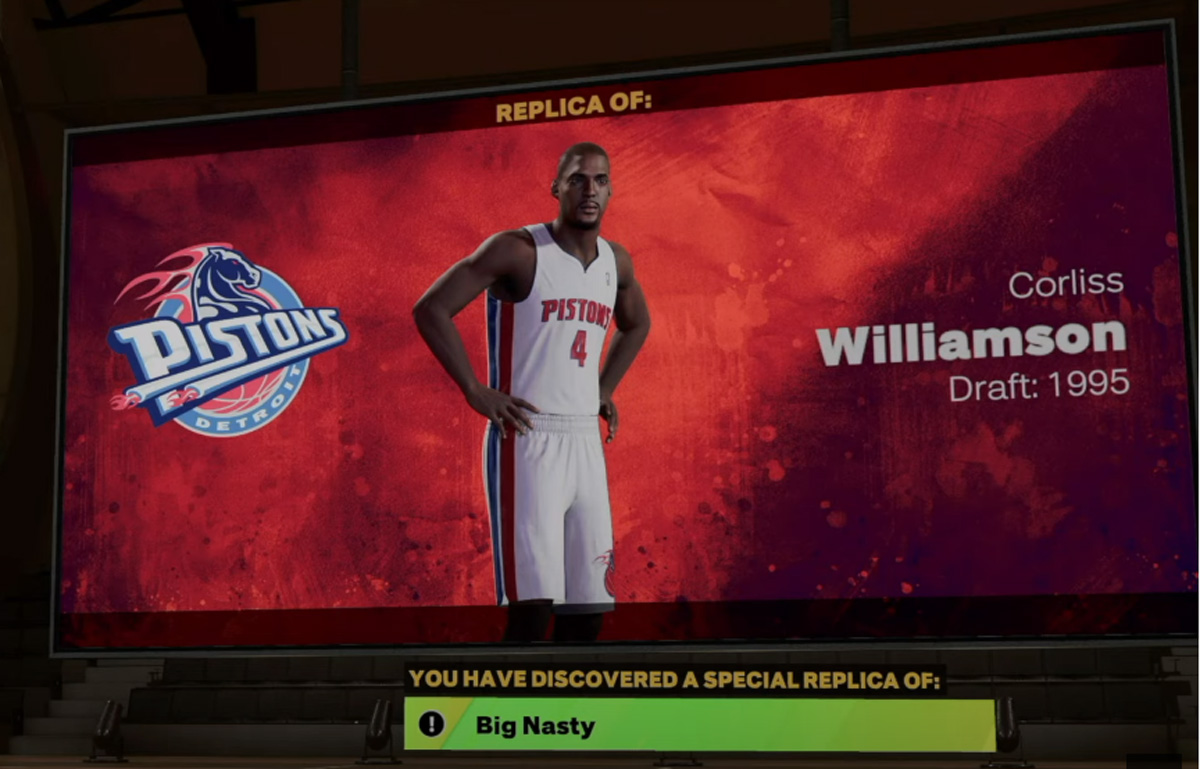 Position: SF
Handed: Right
Jersey Number: 4
Height: 6'7″
Weight: 245 lbs
Wingspan: 7'1″
Close Shot: 96
Driving Layup: 88
Driving Dunk: 83
Standing Dunk: 63
Post Control: 80
Mid-Range Shot: 80
Three-Point Shot: 59
Free-Throw: 77
Pass Accuracy: 68
Ball Handle: 70
Speed With Ball: 73
Interior Defense: 84
Perimeter Defense: 83
Steal: 70
Block: 55
Offensive Rebound: 70
Defensive Rebound: 68
Speed: 78
Acceleration: 75
Strength: 93
Vertical: 83
Stamina: 93
James Worthy – "Big Game"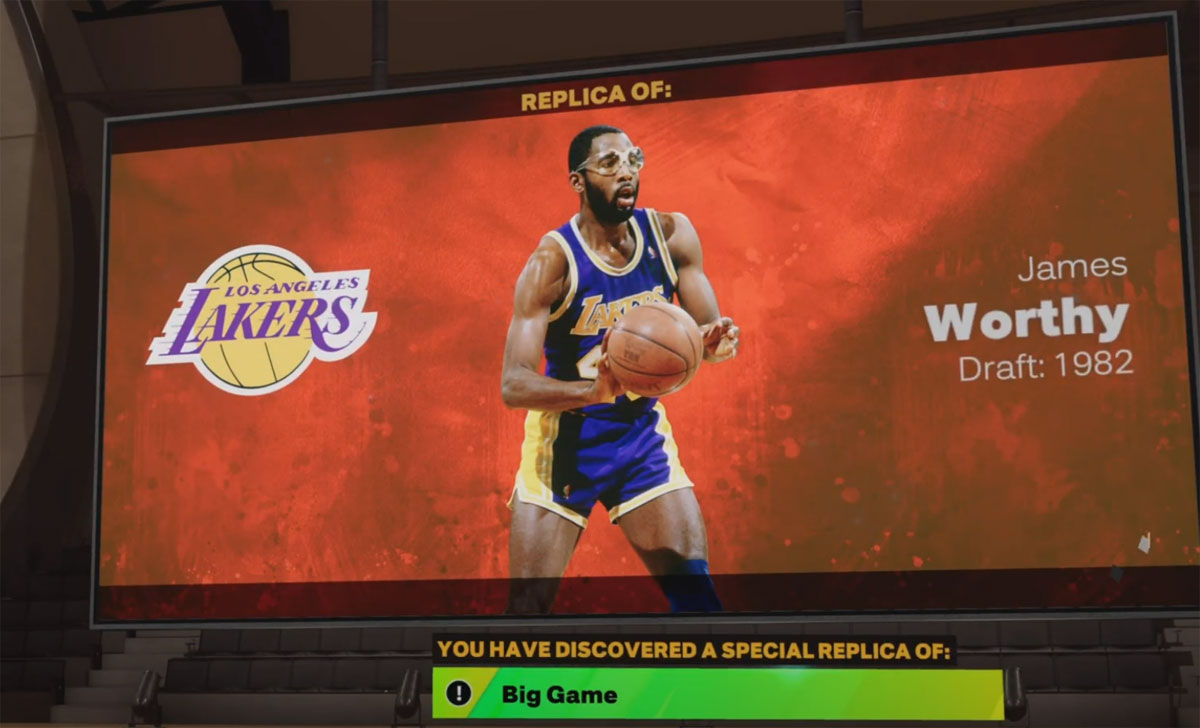 Position: SF
Handed: Right
Jersey Number: 42
Height: 6'9″
Weight: 225 lbs
Wingspan: 7'2″
Close Shot: 89
Driving Layup: 86
Driving Dunk: 87
Standing Dunk: 82
Post Control: 82
Mid-Range Shot: 82
Three-Point Shot: 74
Free-Throw: 73
Pass Accuracy: 67
Ball Handle: 70
Speed With Ball: 65
Interior Defense: 80
Perimeter Defense: 78
Steal: 61
Block: 65
Offensive Rebound: 82
Defensive Rebound: 77
Speed: 75
Acceleration: 75
Strength: 76
Vertical: 82
Stamina: 90
Dominique Wilkins – "Human Highlight Reel"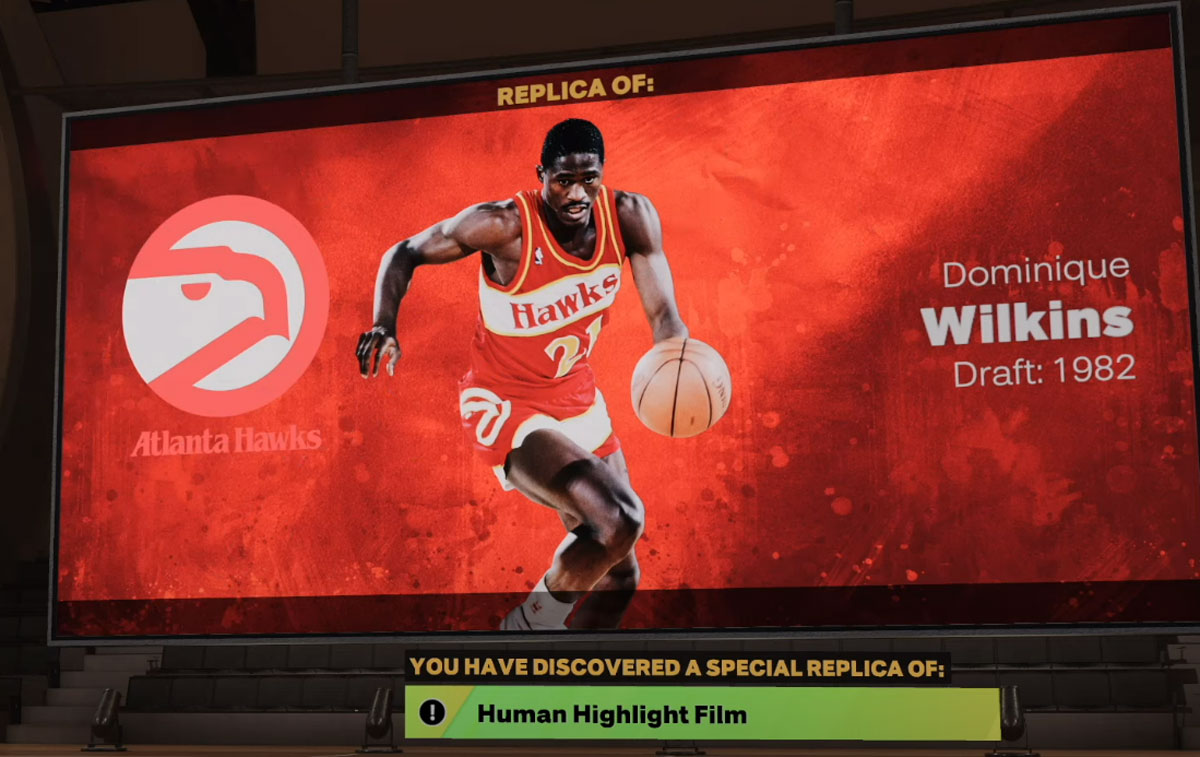 Position: SF
Handed: Right
Jersey Number: 21
Height: 6'7″
Weight: 200 lbs
Wingspan: 6'10"
Close Shot: 86
Driving Layup: 90
Driving Dunk: 92
Standing Dunk: 90
Post Control: 67
Mid-Range Shot: 76
Three-Point Shot: 64
Free-Throw: 76
Pass Accuracy: 55
Ball Handle: 69
Speed With Ball: 74
Interior Defense: 60
Perimeter Defense: 77
Steal: 66
Block: 41
Offensive Rebound: 62
Defensive Rebound: 63
Speed: 83
Acceleration: 81
Strength: 74
Vertical: 93
Stamina: 89
POWER FORWARDS
Marvin Bagley – "Problem Child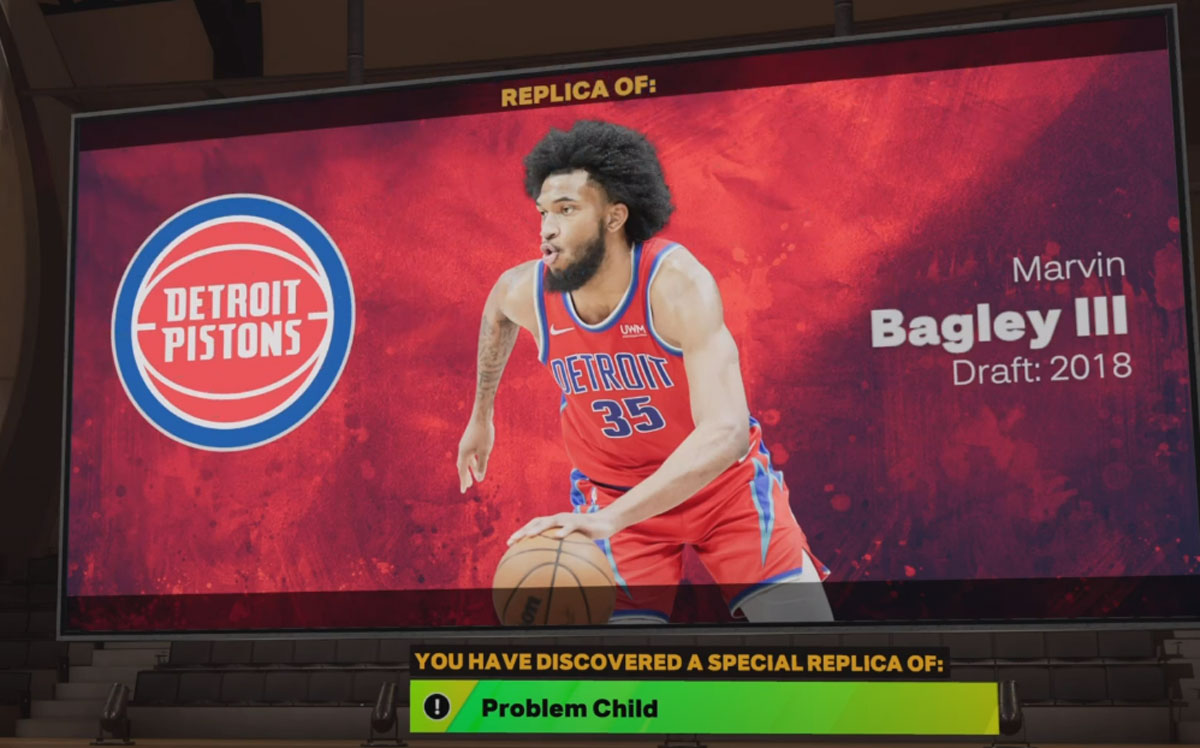 Position: PF
Handed: Left
Jersey Number: 35
Height: 6'10"
Weight: 235 lbs
Wingspan: 7'2″
Close Shot: 85
Driving Layup: 84
Driving Dunk: 86
Standing Dunk: 80
Post Control: 87
Mid-Range Shot: 81
Three-Point Shot: 78
Free-Throw: 73
Pass Accuracy: 55
Ball Handle: 70
Speed With Ball: 67
Interior Defense: 74
Perimeter Defense: 55
Steal: 28
Block: 75
Offensive Rebound: 81
Defensive Rebound: 85
Speed: 76
Acceleration: 71
Strength: 86
Vertical: 86
Stamina: 90
Antoine Carr – "Big Dawg"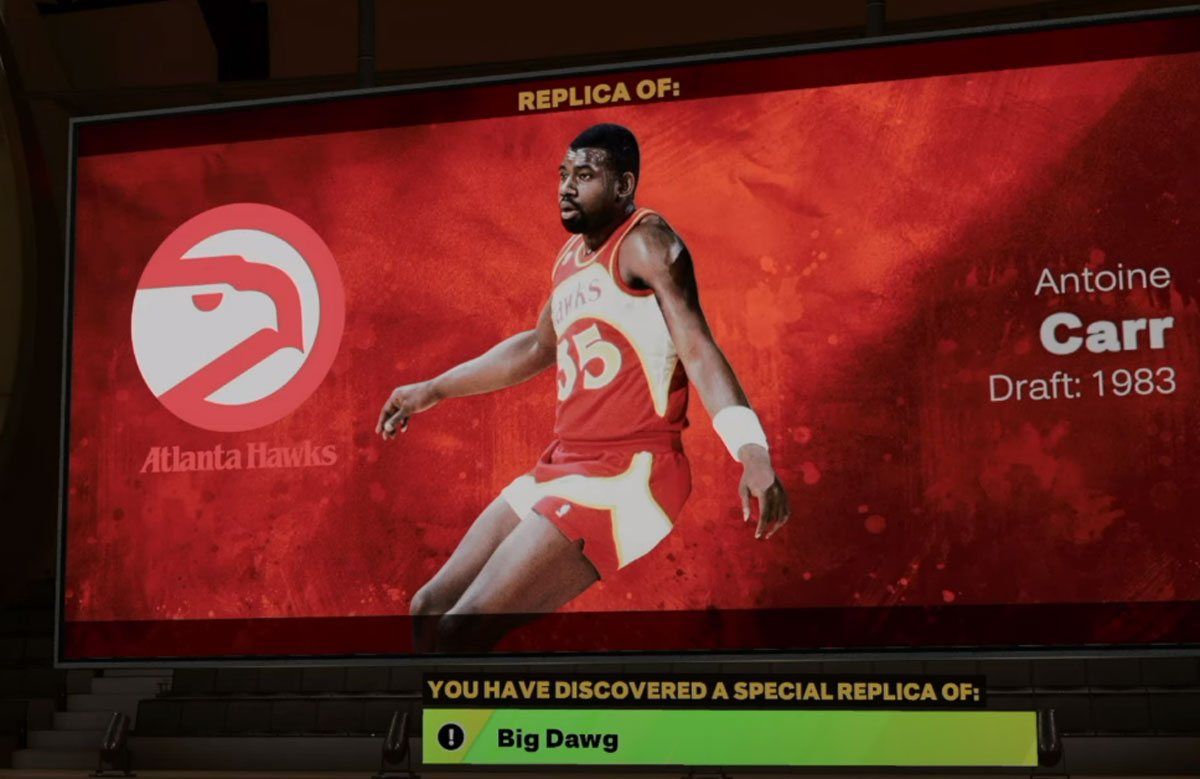 Position: PF
Handed: Right
Jersey Number: 33
Height: 6'9″
Weight: 225 lbs
Wingspan: 7'0″
Close Shot: 88
Driving Layup: 68
Driving Dunk: 73
Standing Dunk: 97
Post Control: 83
Mid-Range Shot: 91
Three-Point Shot: 46
Free-Throw: 80
Pass Accuracy: 70
Ball Handle: 63
Speed With Ball: 53
Interior Defense: 78
Perimeter Defense: 63
Steal: 68
Block: 88
Offensive Rebound: 73
Defensive Rebound: 78
Speed: 71
Acceleration: 66
Strength: 83
Vertical: 65
Stamina: 88
Glen Davis "Big Baby"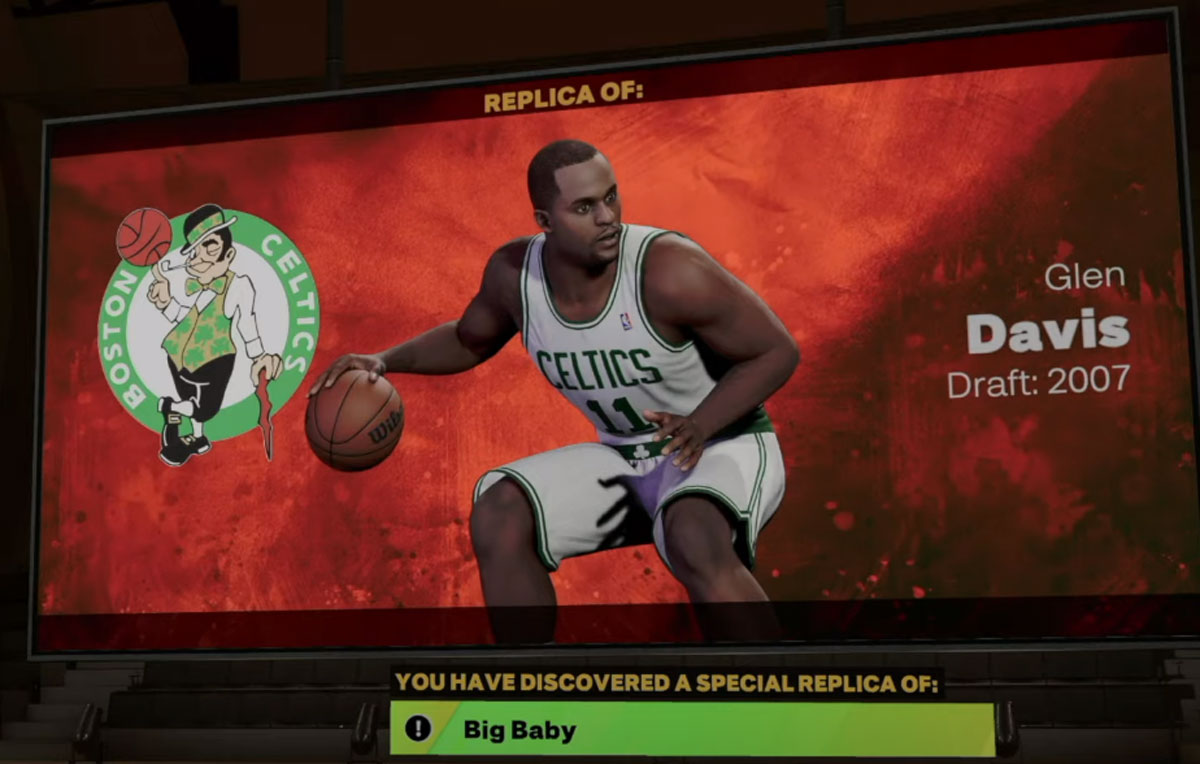 Position: PF
Handed: Right
Jersey Number: 11
Height: 6'9″
Weight: 279 lbs
Wingspan: 7'2″
Close Shot: 92
Driving Layup: 74
Driving Dunk: 52
Standing Dunk: 68
Post Control: 89
Mid-Range Shot: 89
Three-Point Shot: 66
Free-Throw: 82
Pass Accuracy: 52
Ball Handle: 70
Speed With Ball: 58
Interior Defense: 89
Perimeter Defense: 72
Steal: 73
Block: 66
Offensive Rebound: 92
Defensive Rebound: 78
Speed: 70
Acceleration: 62
Strength: 95
Vertical: 53
Stamina: 86
Tim Duncan – "The Big Fundamental"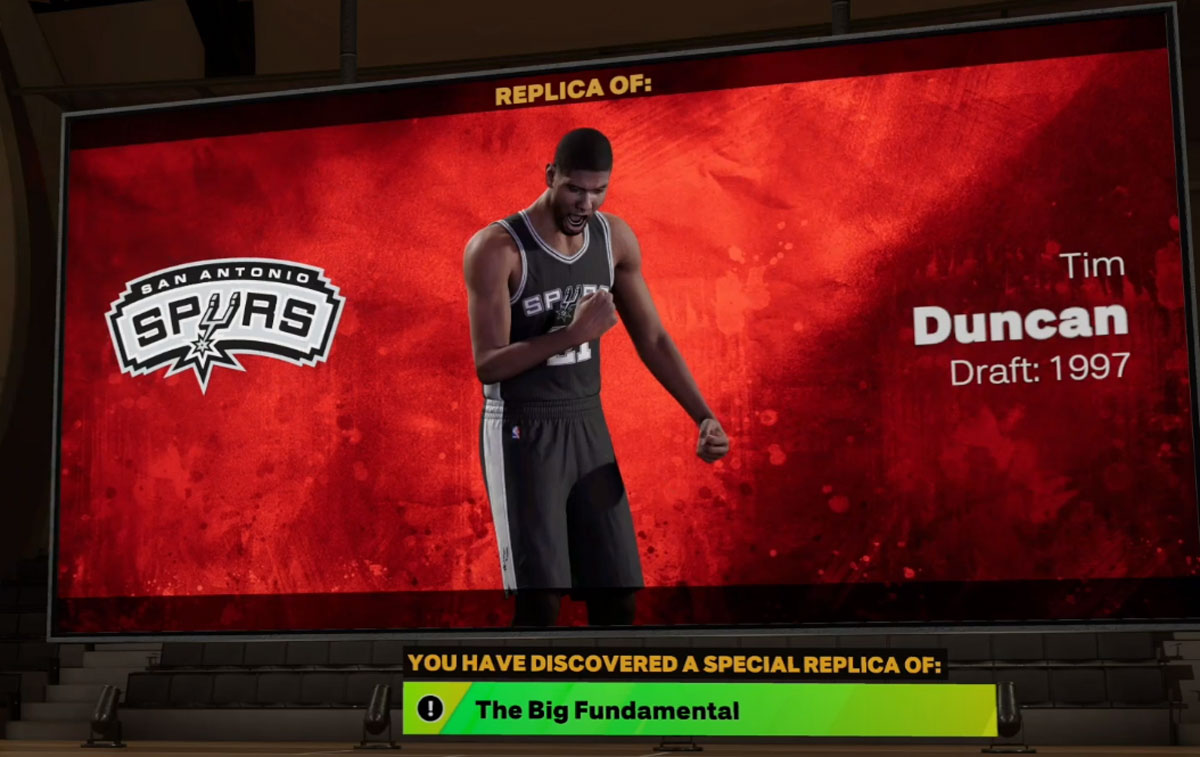 Position: PF
Handed: Right
Jersey Number: 21
Height: 6'11"
Weight: 255 lbs
Wingspan: 7'5″
Close Shot: 95
Driving Layup: 78
Driving Dunk: 65
Standing Dunk: 80
Post Control: 98
Mid-Range Shot: 70
Three-Point Shot: 48
Free-Throw: 73
Pass Accuracy: 68
Ball Handle: 55
Speed With Ball: 42
Interior Defense: 95
Perimeter Defense: 69
Steal: 60
Block: 86
Offensive Rebound: 86
Defensive Rebound: 85
Speed: 61
Acceleration: 57
Strength: 79
Vertical: 57
Stamina: 97
Kevin Durant – "Slim Reaper" (Nets)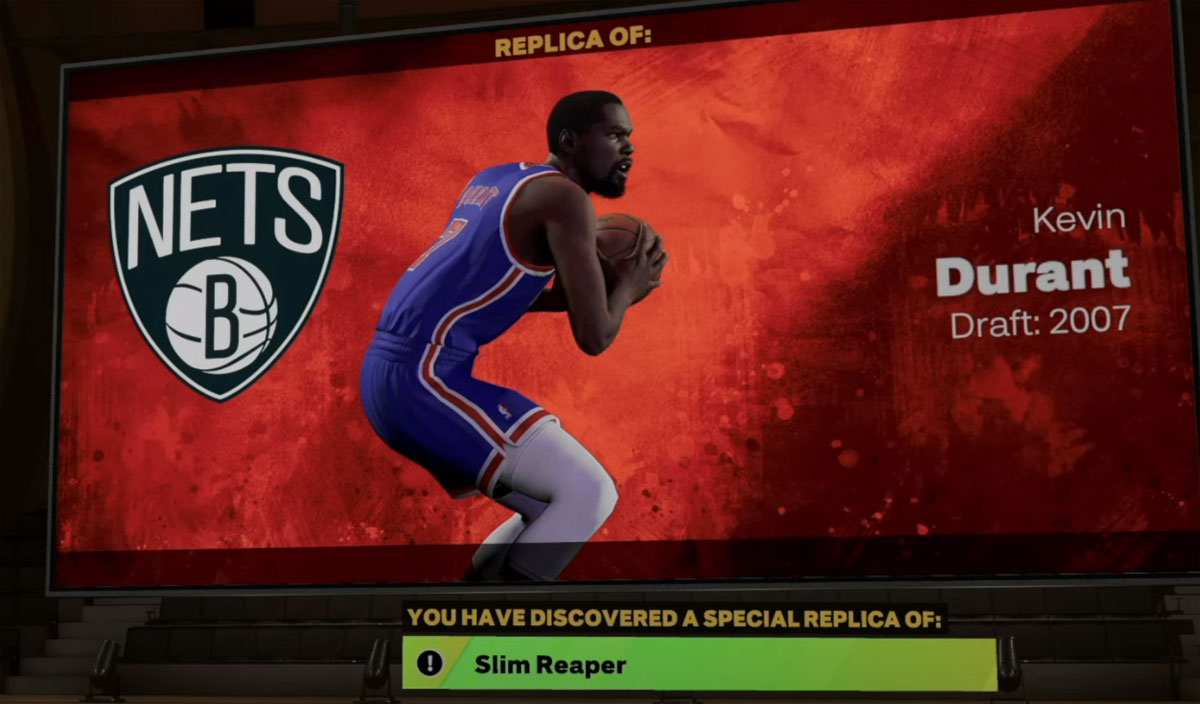 Position: PF
Handed: Right
Jersey Number: 7
Height: 6'10"
Weight: 230 lbs
Wingspan: 7'4″
Close Shot: 90
Driving Layup: 89
Driving Dunk: 86
Standing Dunk: 57
Post Control: 81
Mid-Range Shot: 87
Three-Point Shot: 85
Free-Throw: 80
Pass Accuracy: 70
Ball Handle: 80
Speed With Ball: 69
Interior Defense: 60
Perimeter Defense: 77
Steal: 42
Block: 70
Offensive Rebound: 53
Defensive Rebound: 71
Speed: 77
Acceleration: 72
Strength: 55
Vertical: 75
Stamina: 90
Kevin Garnett – "The Big Ticket"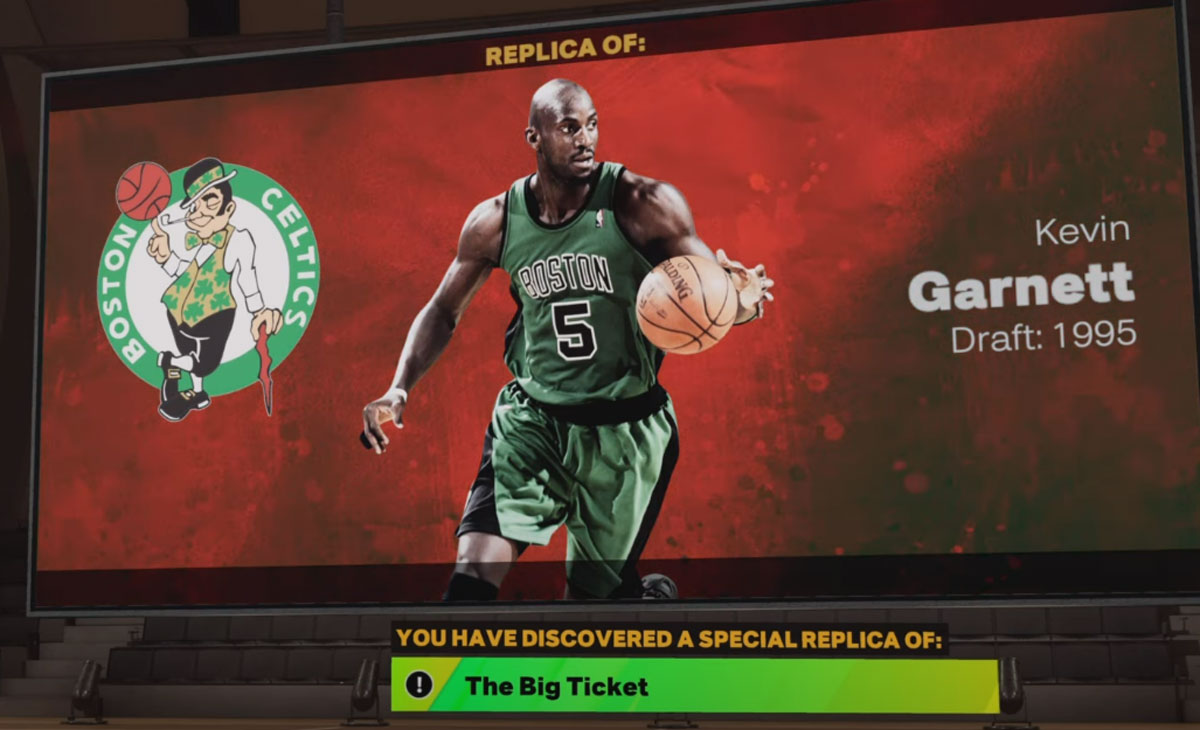 Position: PF
Handed: Right
Jersey Number: 5
Height: 6'11"
Weight: 220 lbs
Wingspan: 7'4″
Close Shot: 90
Driving Layup: 72
Driving Dunk: 67
Standing Dunk: 80
Post Control: 92
Mid-Range Shot: 88
Three-Point Shot: 68
Free-Throw: 77
Pass Accuracy: 66
Ball Handle: 57
Speed With Ball: 32
Interior Defense: 90
Perimeter Defense: 60
Steal: 72
Block: 72
Offensive Rebound: 83
Defensive Rebound: 86
Speed: 60
Acceleration: 50
Strength: 81
Vertical: 81
Stamina: 94
A.C. Green – "Iron Man"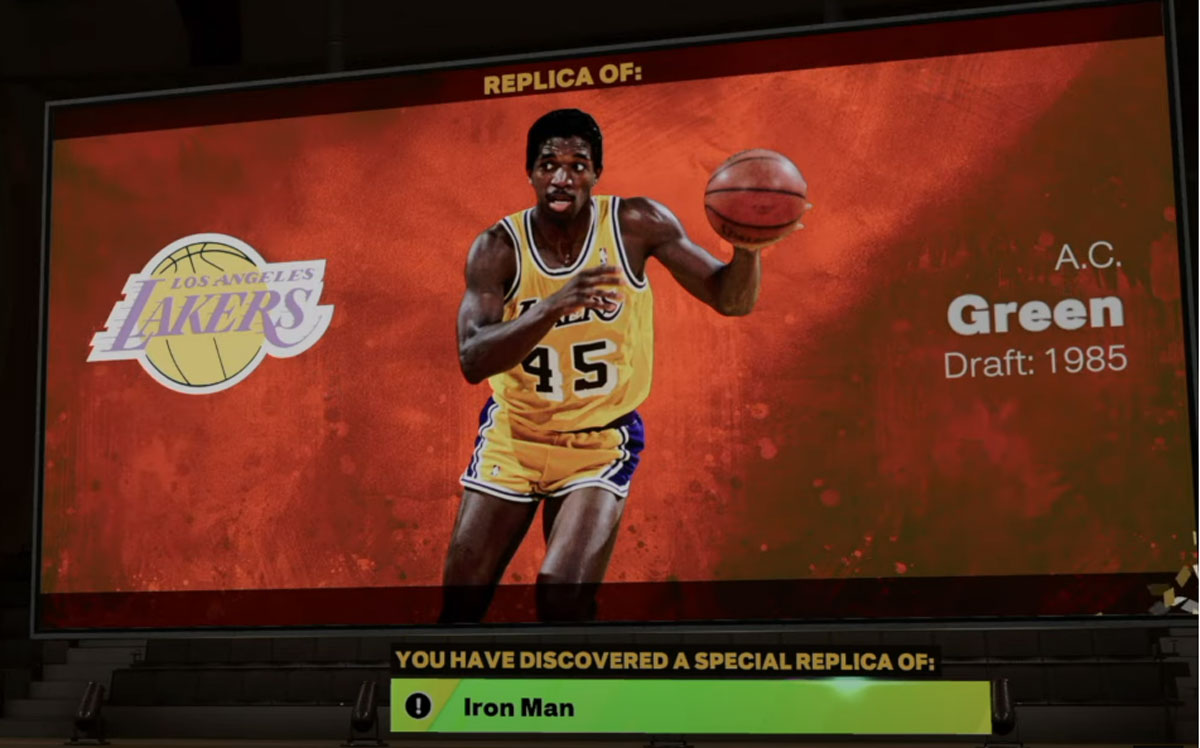 Position: PF
Handed: Right
Jersey Number: 45
Height: 6'9″
Weight: 223 lbs
Wingspan: 7'3″
Close Shot: 92
Driving Layup: 68
Driving Dunk: 75
Standing Dunk: 63
Post Control: 87
Mid-Range Shot: 83
Three-Point Shot: 68
Free-Throw: 80
Pass Accuracy: 53
Ball Handle: 71
Speed With Ball: 59
Interior Defense: 85
Perimeter Defense: 68
Steal: 69
Block: 70
Offensive Rebound: 94
Defensive Rebound: 92
Speed: 76
Acceleration: 68
Strength: 86
Vertical: 78
Stamina: 90
Serge Ibaka – "Air Congo"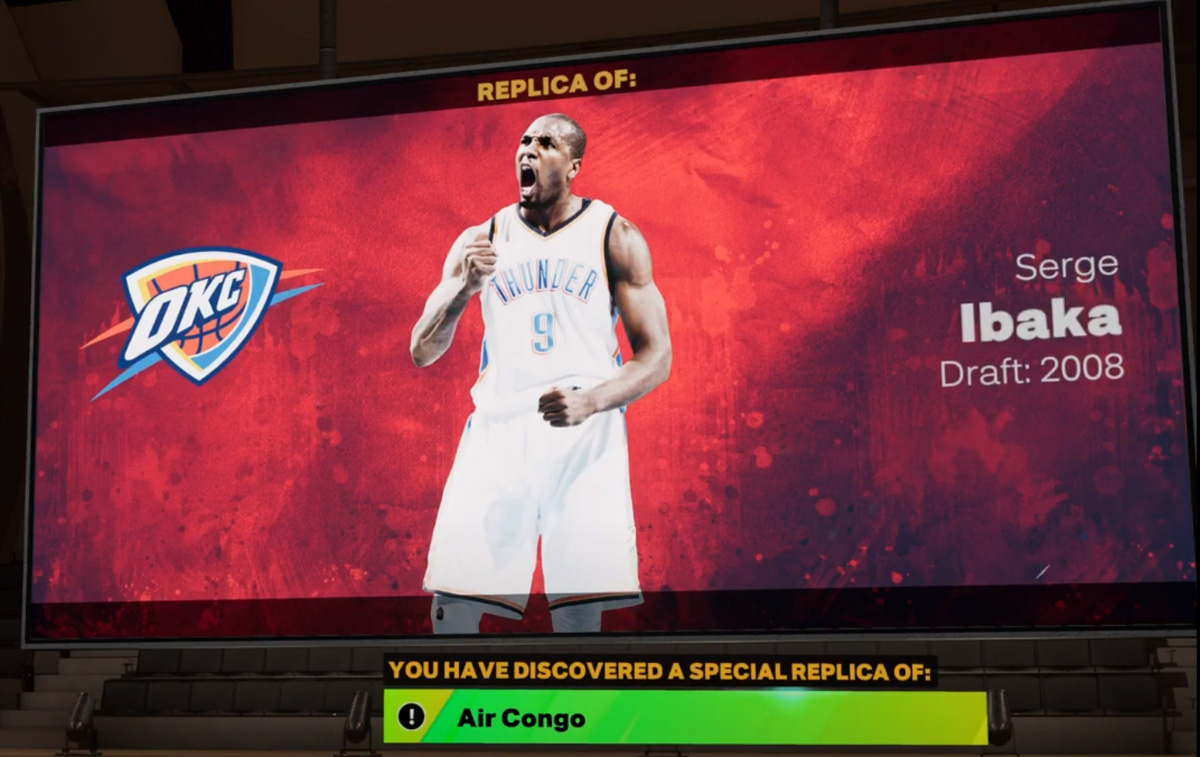 Position: PF
Handed: Right
Jersey Number: 9
Height: 6'10"
Weight: 245 lbs
Wingspan: 7'5″
Close Shot: 85
Driving Layup: 76
Driving Dunk: 86
Standing Dunk: 80
Post Control: 78
Mid-Range Shot: 85
Three-Point Shot: 76
Free-Throw: 72
Pass Accuracy: 25
Ball Handle: 36
Speed With Ball: 25
Interior Defense: 90
Perimeter Defense: 63
Steal: 45
Block: 99
Offensive Rebound: 94
Defensive Rebound: 80
Speed: 68
Acceleration: 53
Strength: 86
Vertical: 97
Stamina: 90
Phil Jackson – "Zen Master"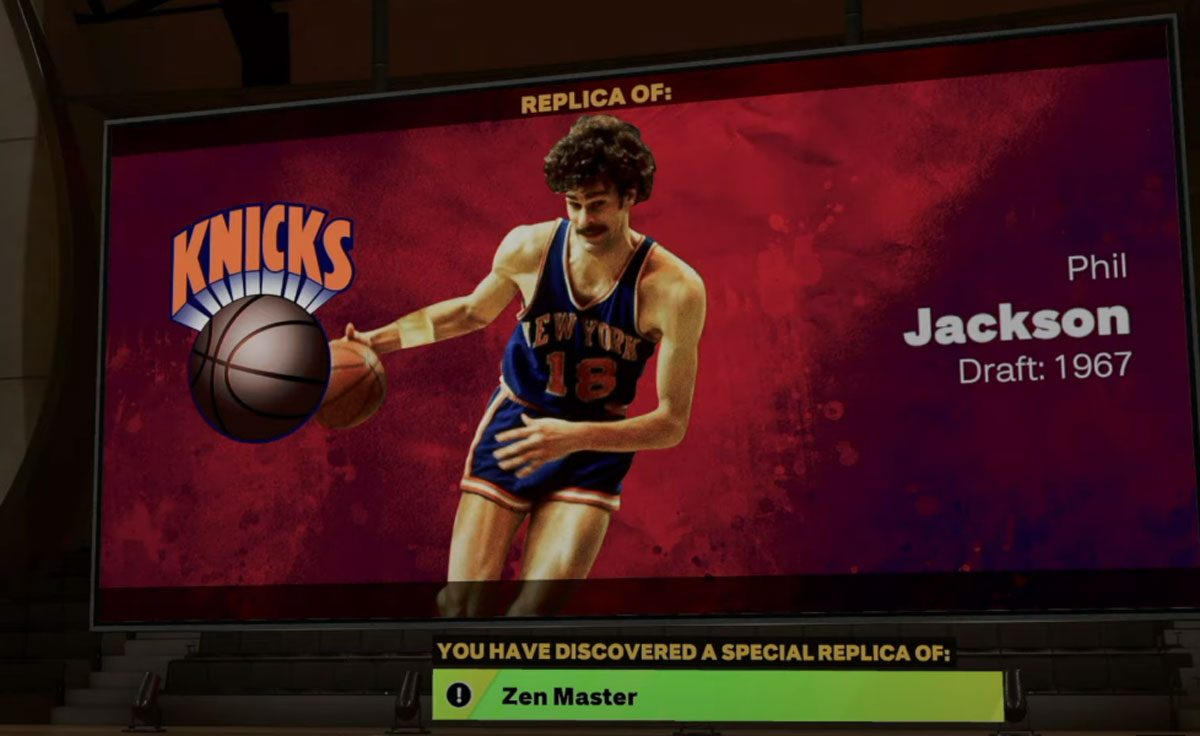 Position: PF
Handed: Left
Jersey Number: 18
Height: 6'8″
Weight: 220 lbs
Wingspan: 7'2″
Close Shot: 95
Driving Layup: 84
Driving Dunk: 73
Standing Dunk: 73
Post Control: 73
Mid-Range Shot: 88
Three-Point Shot: 68
Free-Throw: 88
Pass Accuracy: 68
Ball Handle: 63
Speed With Ball: 58
Interior Defense: 83
Perimeter Defense: 58
Steal: 70
Block: 78
Offensive Rebound: 78
Defensive Rebound: 93
Speed: 78
Acceleration: 70
Strength: 83
Vertical: 63
Stamina: 91
Larry Johnson – "Grandmama"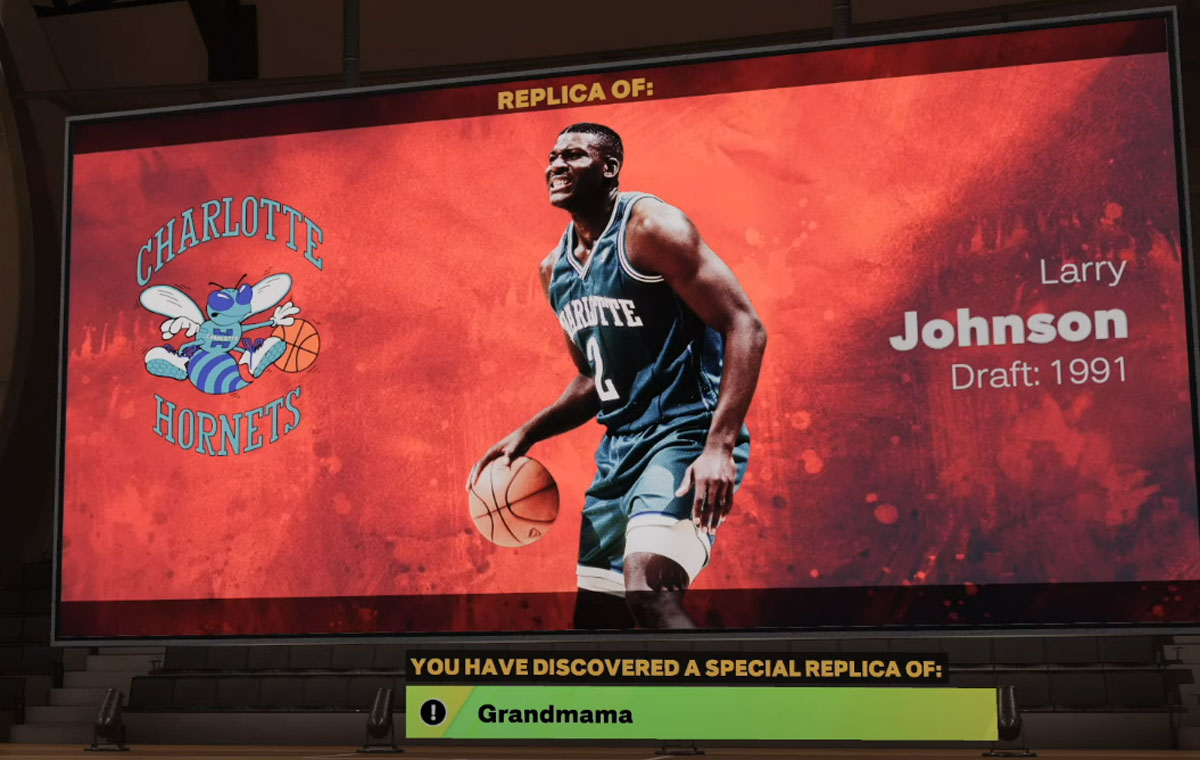 Position: PF
Handed: Right
Jersey Number: 2
Height: 6'7″
Weight: 257 lbs
Wingspan: 7'0″
Close Shot: 86
Driving Layup: 75
Driving Dunk: 77
Standing Dunk: 87
Post Control: 90
Mid-Range Shot: 82
Three-Point Shot: 74
Free-Throw: 77
Pass Accuracy: 74
Ball Handle: 71
Speed With Ball: 74
Interior Defense: 82
Perimeter Defense: 57
Steal: 56
Block: 37
Offensive Rebound: 70
Defensive Rebound: 70
Speed: 85
Acceleration: 73
Strength: 96
Vertical: 85
Stamina: 95
Shawn Kemp – "Reign Man"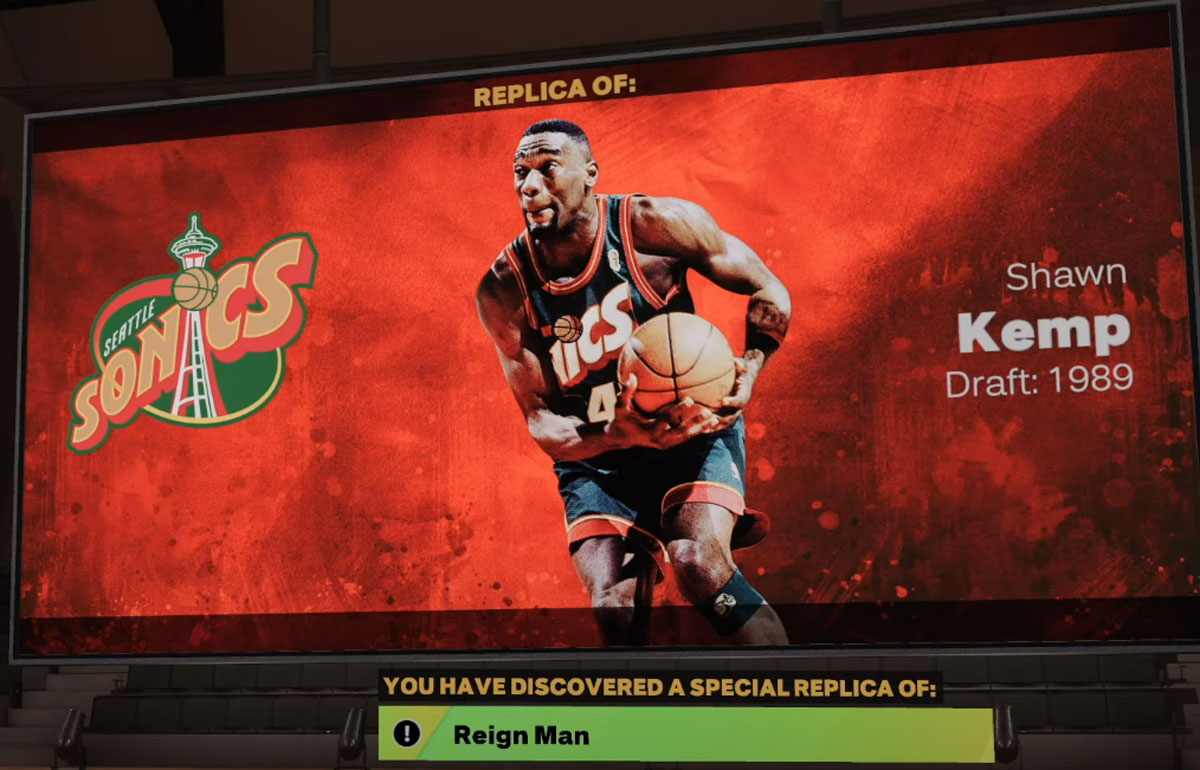 Position: PF
Handed: Right
Jersey Number: 40
Height: 6'10"
Weight: 230 lbs
Wingspan: 7'1″
Close Shot: 76
Driving Layup: 74
Driving Dunk: 92
Standing Dunk: 96
Post Control: 87
Mid-Range Shot: 56
Three-Point Shot: 49
Free-Throw: 70
Pass Accuracy: 61
Ball Handle: 64
Speed With Ball: 68
Interior Defense: 82
Perimeter Defense: 78
Steal: 59
Block: 73
Offensive Rebound: 81
Defensive Rebound: 84
Speed: 75
Acceleration: 72
Strength: 81
Vertical: 90
Stamina: 94
Karl Malone – "The Mailman"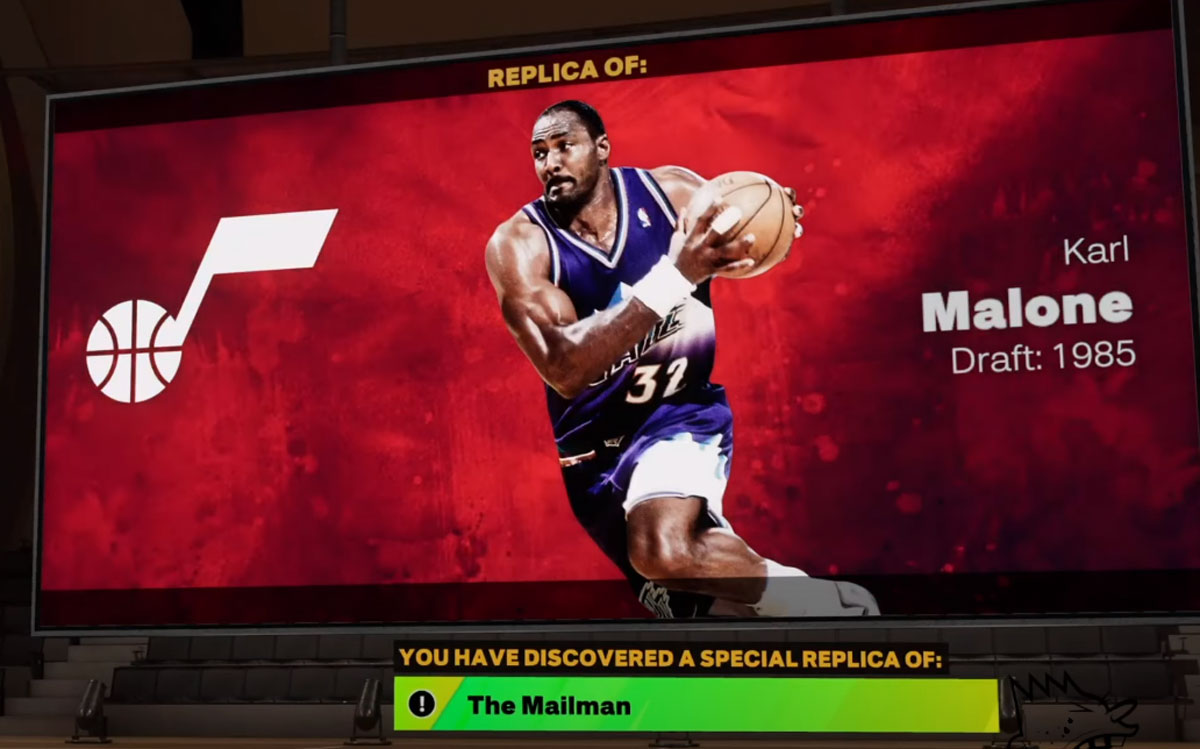 Position: PF
Handed: Right
Jersey Number: 32
Height: 6'9″
Weight: 250 lbs
Wingspan: 7'0″
Close Shot: 91
Driving Layup: 64
Driving Dunk: 67
Standing Dunk: 67
Post Control: 90
Mid-Range Shot: 87
Three-Point Shot: 72
Free-Throw: 72
Pass Accuracy: 67
Ball Handle: 61
Speed With Ball: 66
Interior Defense: 88
Perimeter Defense: 47
Steal: 55
Block: 77
Offensive Rebound: 87
Defensive Rebound: 88
Speed: 70
Acceleration: 70
Strength: 89
Vertical: 72
Stamina: 90
Mark Madsen – "Mad Dog"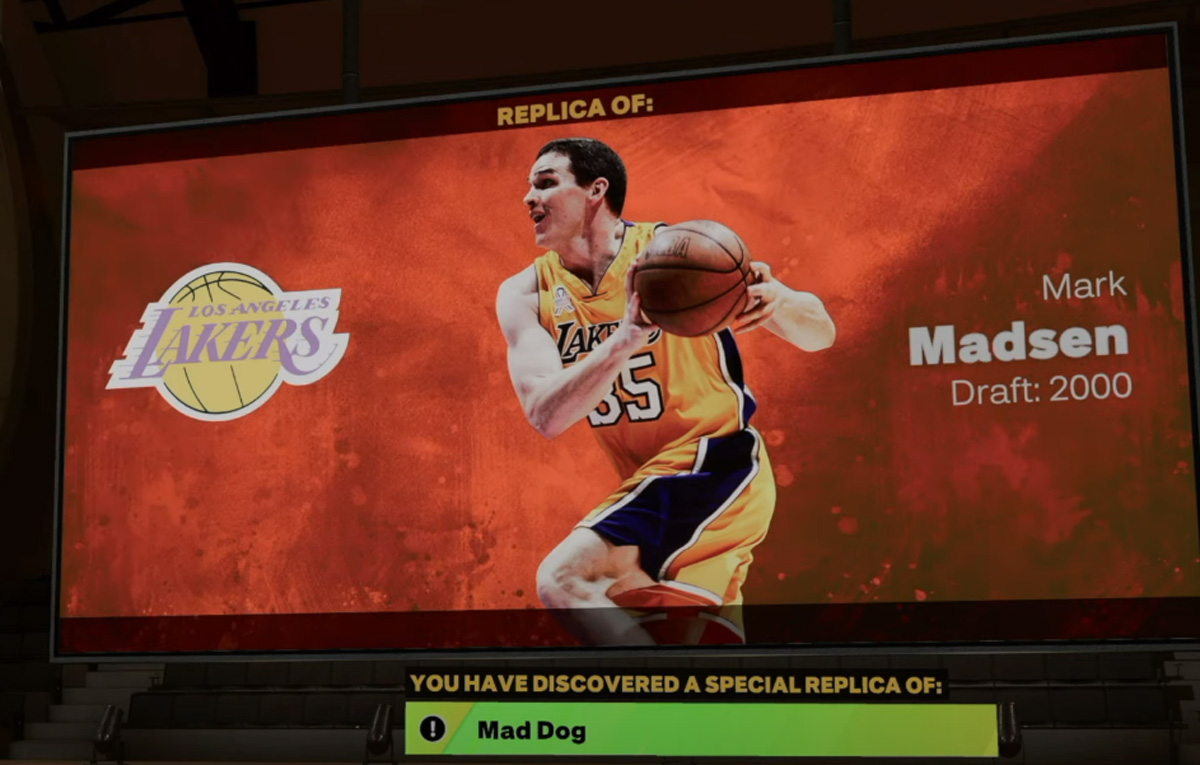 Position: PF
Handed: Right
Jersey Number: 35
Height: 6'9″
Weight: 248 lbs
Wingspan: 7'2″
Close Shot: 93
Driving Layup: 63
Driving Dunk: 73
Standing Dunk: 76
Post Control: 83
Mid-Range Shot: 78
Three-Point Shot: 38
Free-Throw: 78
Pass Accuracy: 75
Ball Handle: 53
Speed With Ball: 48
Interior Defense: 90
Perimeter Defense: 53
Steal: 68
Block: 73
Offensive Rebound: 99
Defensive Rebound: 96
Speed: 71
Acceleration: 60
Strength: 95
Vertical: 70
Stamina: 93
Antonio McDyess – "Dice"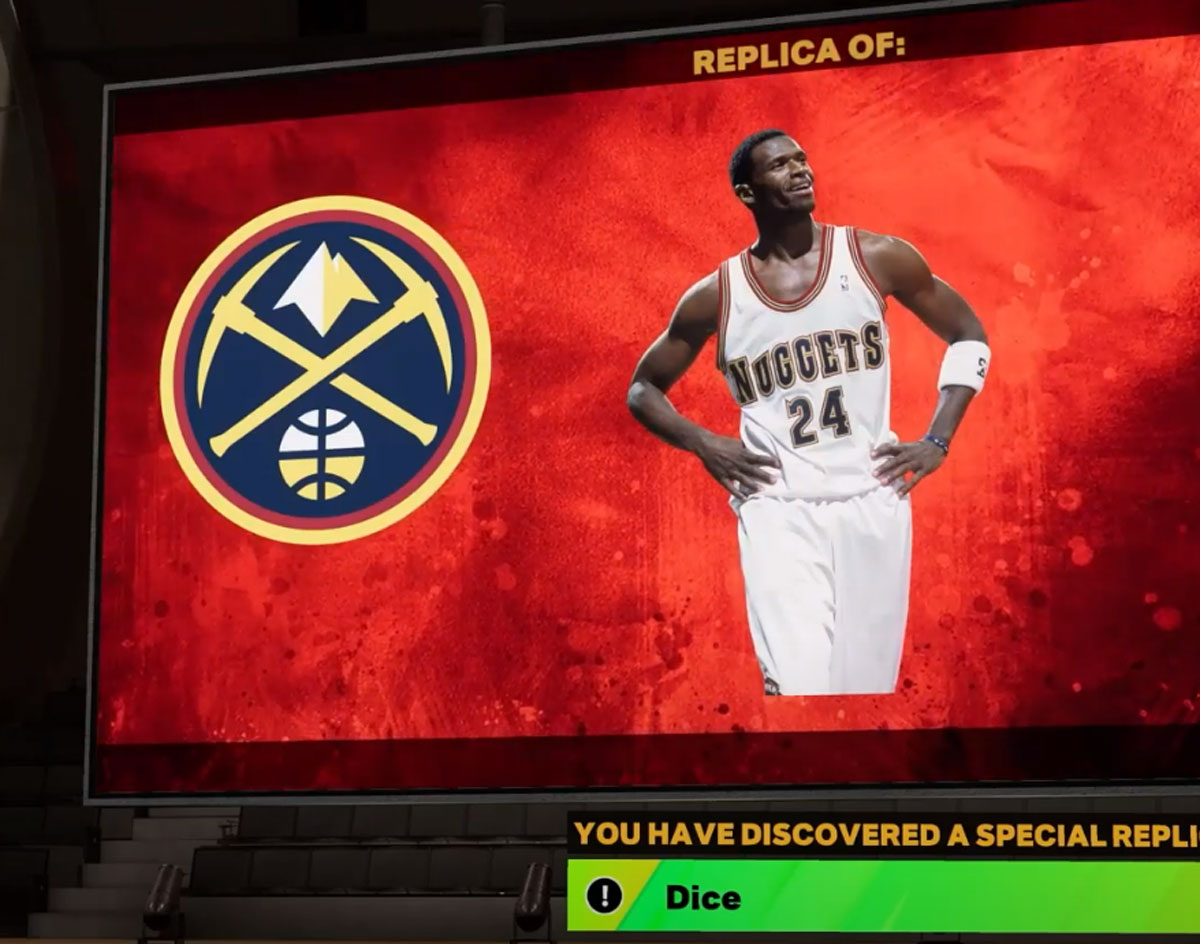 Position: PF
Handed: Right
Jersey Number: 24
Height: 6'9″
Weight: 225 lbs
Wingspan: 7'0″
Close Shot: 99
Driving Layup: 82
Driving Dunk: 82
Standing Dunk: 96
Post Control: 94
Mid-Range Shot: 81
Three-Point Shot: 36
Free-Throw: 76
Pass Accuracy: 31
Ball Handle: 44
Speed With Ball: 25
Interior Defense: 89
Perimeter Defense: 50
Steal: 66
Block: 74
Offensive Rebound: 90
Defensive Rebound: 91
Speed: 69
Acceleration: 67
Strength: 92
Vertical: 63
Stamina: 98
Sam Perkins – "Big Smooth"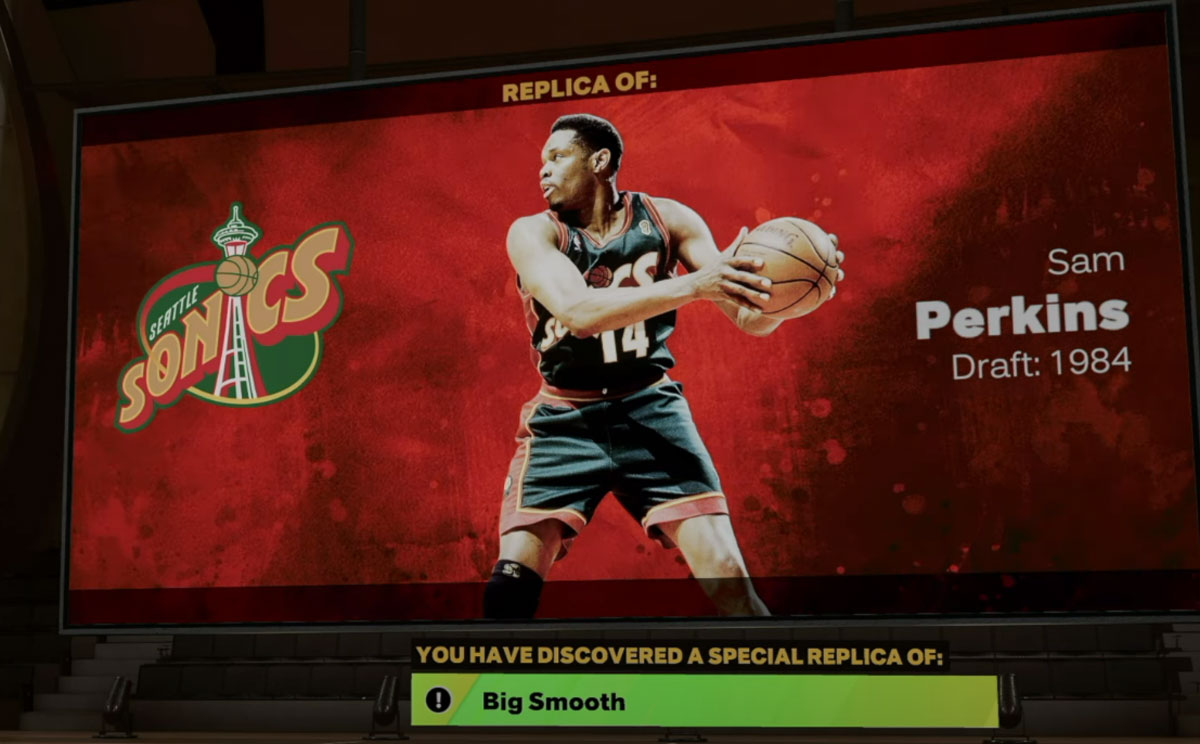 Position: PF
Handed: Left
Jersey Number: 14
Height: 6'9″
Weight: 235 lbs
Wingspan: 6'10"
Close Shot: 91
Driving Layup: 63
Driving Dunk: 52
Standing Dunk: 70
Post Control: 78
Mid-Range Shot: 87
Three-Point Shot: 92
Free-Throw: 84
Pass Accuracy: 66
Ball Handle: 63
Speed With Ball: 44
Interior Defense: 88
Perimeter Defense: 40
Steal: 60
Block: 70
Offensive Rebound: 78
Defensive Rebound: 90
Speed: 60
Acceleration: 58
Strength: 89
Vertical: 56
Stamina: 90
Bob Pettit – "Big Blue"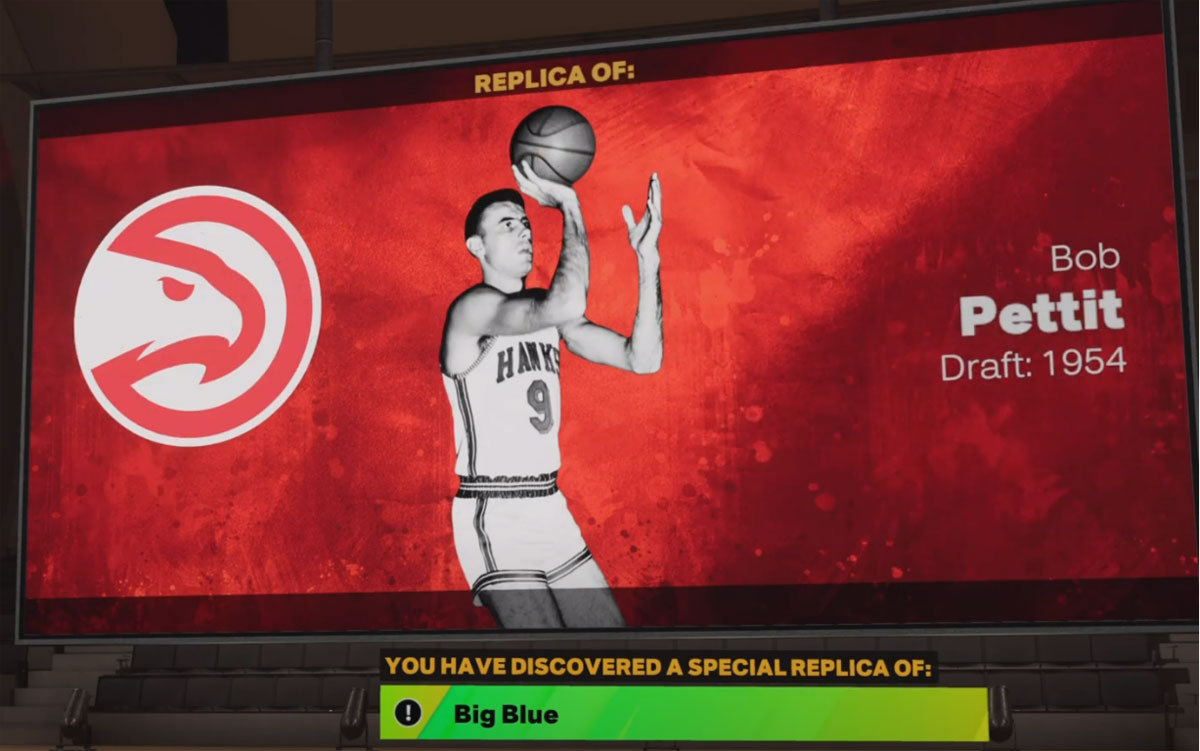 Position: PF
Handed: Right
Jersey Number: 9
Height: 6'9″
Weight: 220 lbs
Wingspan: 7'2″
Close Shot: 90
Driving Layup: 70
Driving Dunk: 75
Standing Dunk: 82
Post Control: 87
Mid-Range Shot: 87
Three-Point Shot: 88
Free-Throw: 77
Pass Accuracy: 54
Ball Handle: 54
Speed With Ball: 51
Interior Defense: 74
Perimeter Defense: 41
Steal: 68
Block: 80
Offensive Rebound: 87
Defensive Rebound: 90
Speed: 66
Acceleration: 52
Strength: 82
Vertical: 74
Stamina: 90
Truck Robinson – "Truck"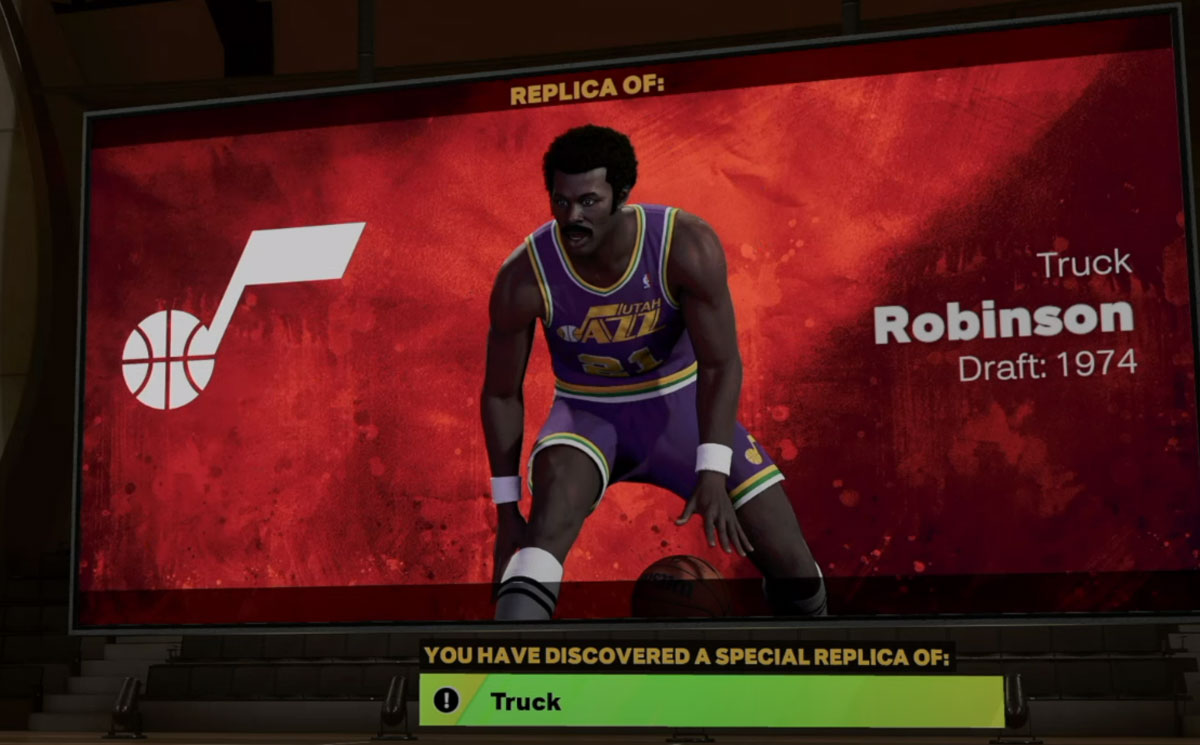 Position: PF
Handed: Right
Jersey Number: 21
Height: 6'7″
Weight: 225 lbs
Wingspan: 6'11"
Close Shot: 85
Driving Layup: 80
Driving Dunk: 80
Standing Dunk: 82
Post Control: 87
Mid-Range Shot: 92
Three-Point Shot: 68
Free-Throw: 78
Pass Accuracy: 63
Ball Handle: 42
Speed With Ball: 47
Interior Defense: 86
Perimeter Defense: 50
Steal: 70
Block: 70
Offensive Rebound: 92
Defensive Rebound: 91
Speed: 80
Acceleration: 70
Strength: 86
Vertical: 74
Stamina: 93
Dennis Rodman – "The Worm"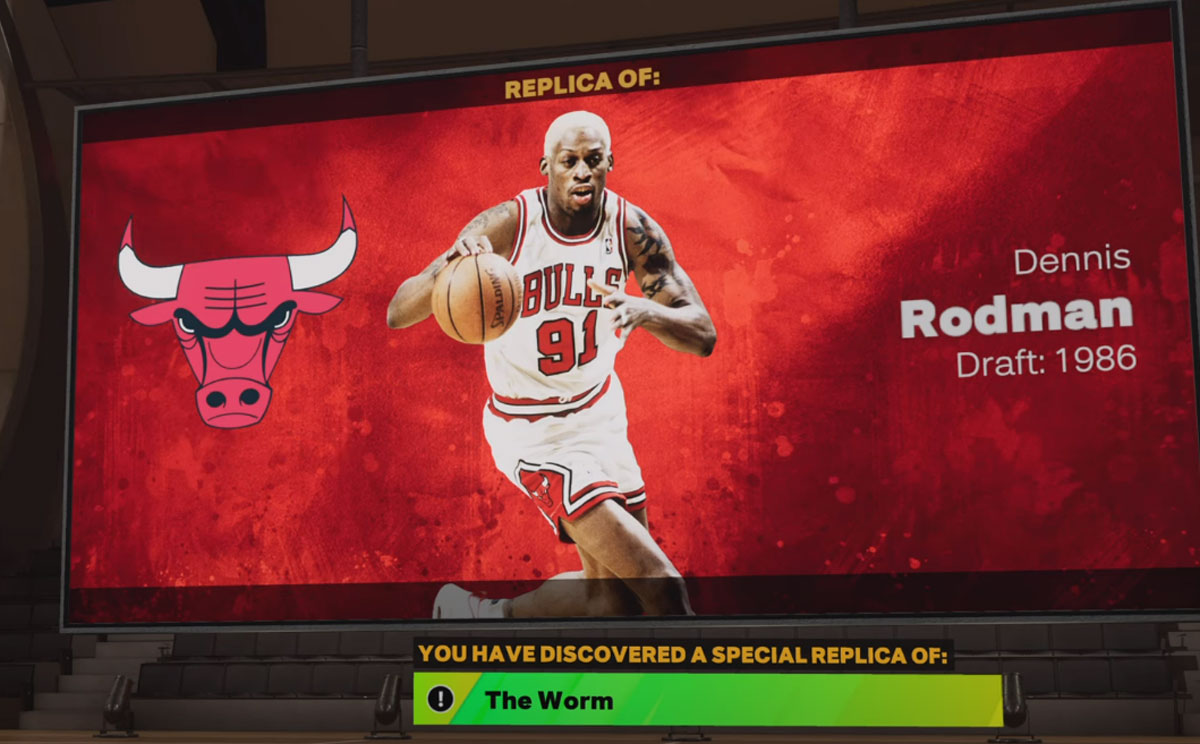 Position: PF
Handed: Right
Jersey Number: 91
Height: 6'7″
Weight: 219 lbs
Wingspan: 7'4″
Close Shot: 86
Driving Layup: 55
Driving Dunk: 70
Standing Dunk: 95
Post Control: 79
Mid-Range Shot: 65
Three-Point Shot: 62
Free-Throw: 72
Pass Accuracy: 61
Ball Handle: 45
Speed With Ball: 50
Interior Defense: 91
Perimeter Defense: 79
Steal: 57
Block: 50
Offensive Rebound: 99
Defensive Rebound: 98
Speed: 78
Acceleration: 75
Strength: 79
Vertical: 96
Stamina: 99
Tom Sanders – "Satch"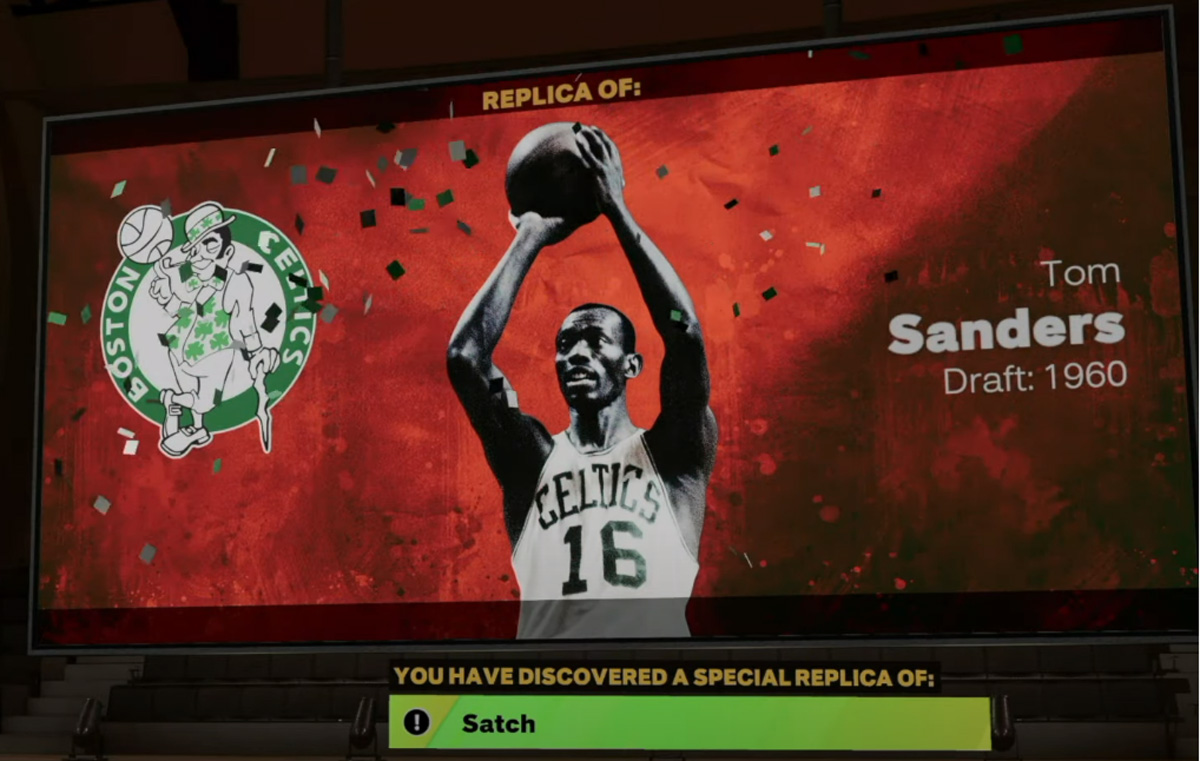 Position: PF
Handed: Right
Jersey Number: 16
Height: 6'6″
Weight: 230 lbs
Wingspan: 7'0″
Close Shot: 86
Driving Layup: 82
Driving Dunk: 90
Standing Dunk: 74
Post Control: 68
Mid-Range Shot: 73
Three-Point Shot: 53
Free-Throw: 84
Pass Accuracy: 58
Ball Handle: 63
Speed With Ball: 58
Interior Defense: 82
Perimeter Defense: 93
Steal: 74
Block: 76
Offensive Rebound: 90
Defensive Rebound: 93
Speed: 87
Acceleration: 83
Strength: 85
Vertical: 86
Dolph Schayes – "The Rainbow Kid"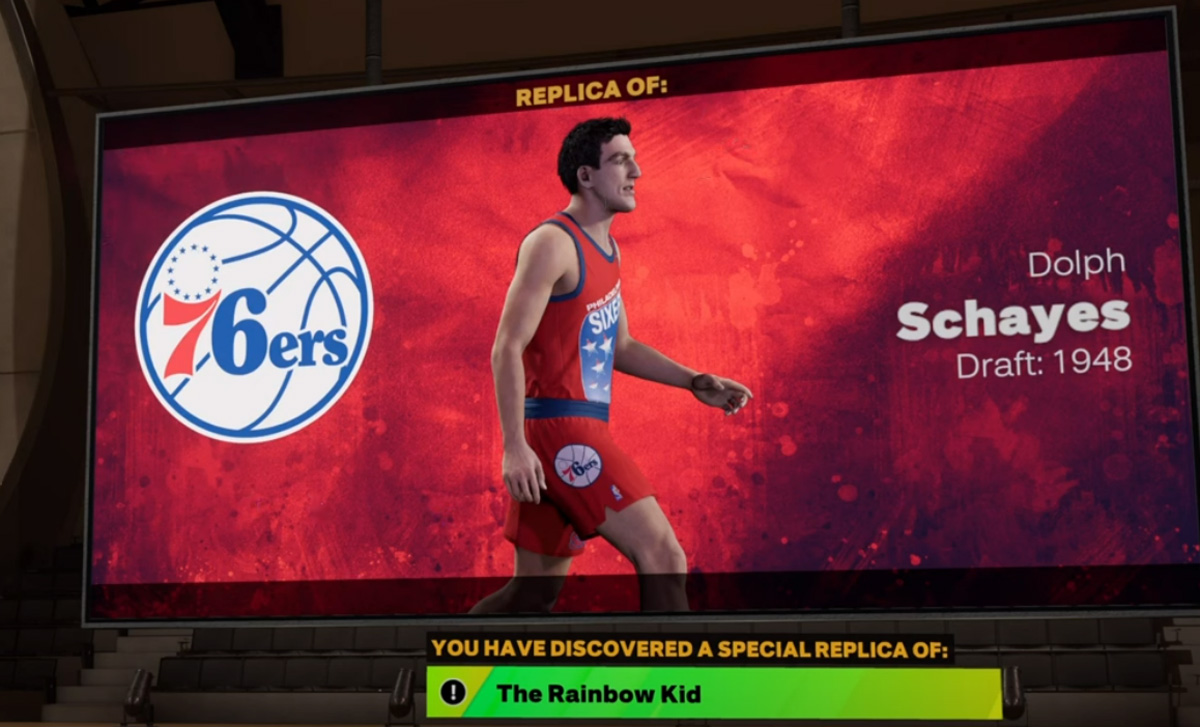 Position: PF
Handed: Right
Jersey Number: 4
Height: 6'8″
Weight: 240 lbs
Wingspan: 7'3″
Close Shot: 85
Driving Layup: 85
Driving Dunk: 72
Standing Dunk: 72
Post Control: 87
Mid-Range Shot: 84
Three-Point Shot: 83
Free-Throw: 84
Pass Accuracy: 56
Ball Handle: 75
Speed With Ball: 67
Interior Defense: 82
Perimeter Defense: 73
Steal: 78
Block: 75
Offensive Rebound: 87
Defensive Rebound: 88
Speed: 70
Acceleration: 70
Strength: 77
Vertical: 70
Stamina: 92
Pascal Siakam – "Spicy P"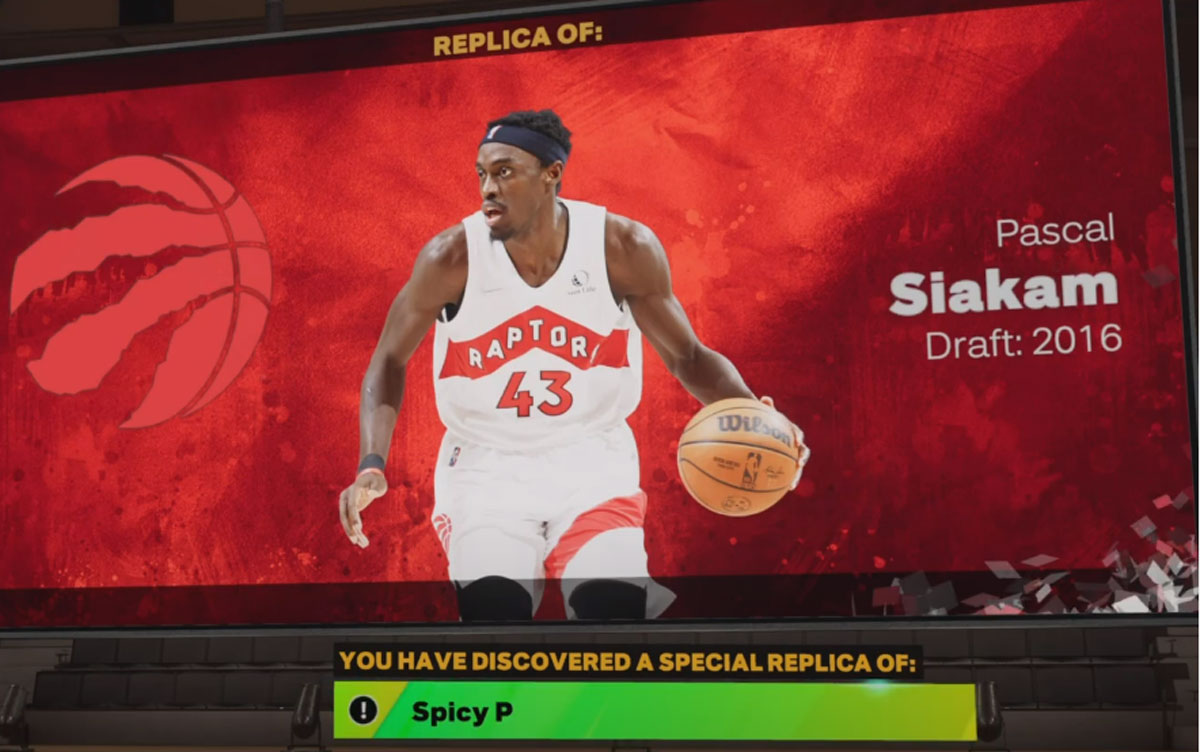 Position: PF
Handed: Right
Jersey Number: 43
Height: 6'8″
Weight: 225 lbs
Wingspan: 7'5″
Close Shot: 85
Driving Layup: 85
Driving Dunk: 86
Standing Dunk: 80
Post Control: 80
Mid-Range Shot: 81
Three-Point Shot: 85
Free-Throw: 77
Pass Accuracy: 71
Ball Handle: 81
Speed With Ball: 77
Interior Defense: 81
Perimeter Defense: 81
Steal: 46
Block: 60
Offensive Rebound: 43
Defensive Rebound: 74
Speed: 75
Acceleration: 75
Strength: 76
Vertical: 76
Stamina: 90
Amare Stoudemire – "S.T.A.T." (Suns)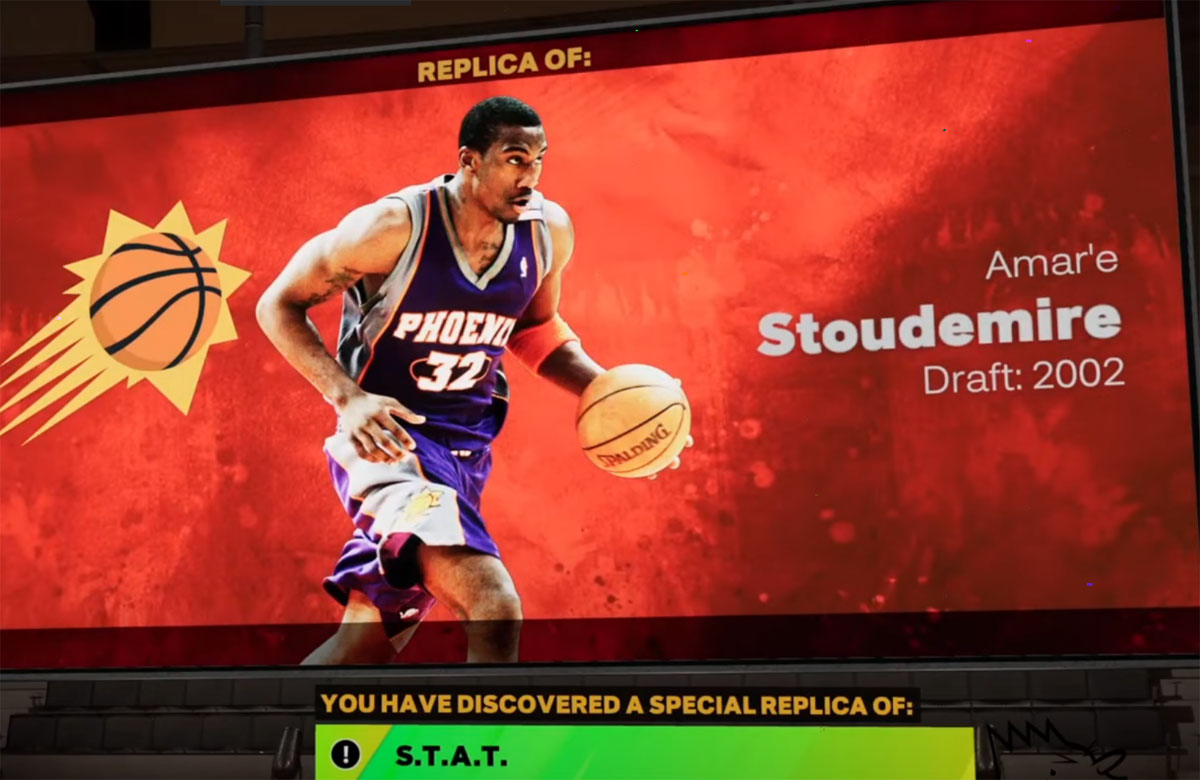 Position: PF
Handed: Right
Jersey Number: 32
Height: 6'10"
Weight: 243 lbs
Wingspan: 7'3″
Close Shot: 85
Driving Layup: 73
Driving Dunk: 93
Standing Dunk: 90
Post Control: 87
Mid-Range Shot: 86
Three-Point Shot: 70
Free-Throw: 72
Pass Accuracy: 44
Ball Handle: 56
Speed With Ball: 61
Interior Defense: 86
Perimeter Defense: 40
Steal: 52
Block: 72
Offensive Rebound: 80
Defensive Rebound: 81
Speed: 70
Acceleration: 70
Strength: 74
Vertical: 87
Stamina: 90
Amar'e Stoudemire – "S.T.A.T." (Knicks)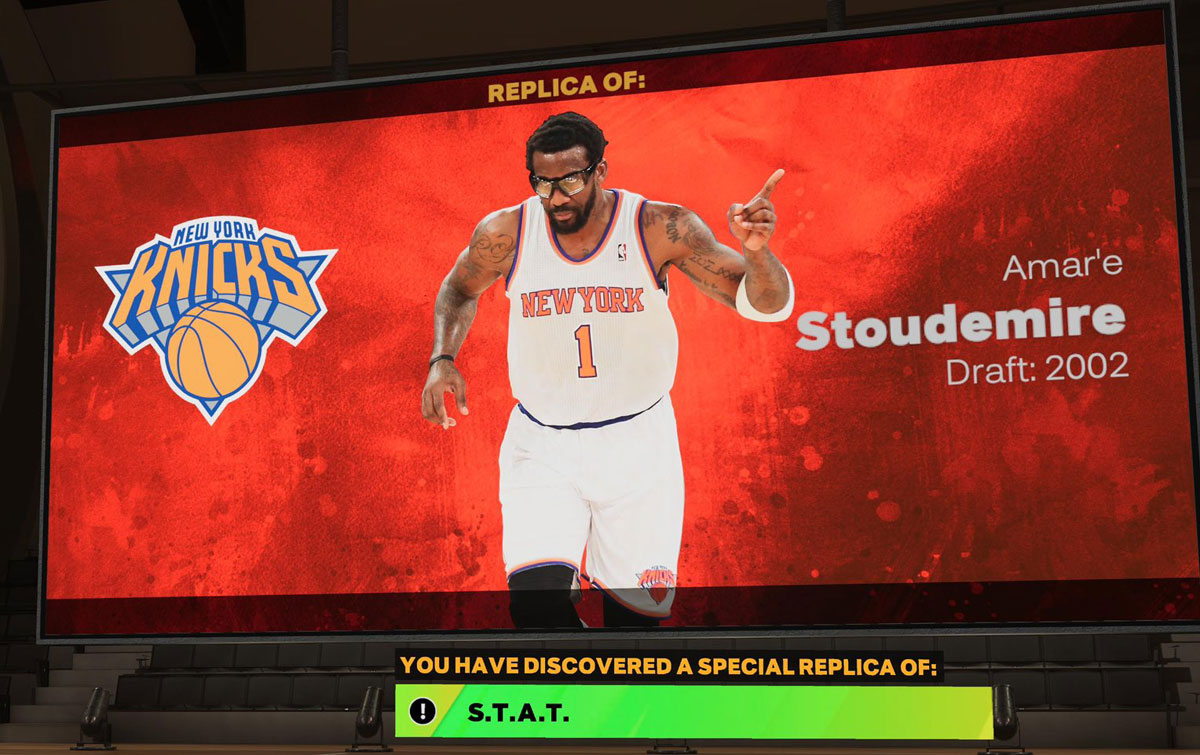 Position: PF
Handed: Right
Jersey Number: 1
Height: 6'10"
Weight: 233 lbs
Wingspan: 7'2″
Close Shot: 88
Driving Layup: 77
Driving Dunk: 87
Standing Dunk: 87
Post Control: 87
Mid-Range Shot: 82
Three-Point Shot: 75
Free-Throw: 77
Pass Accuracy: 55
Ball Handle:56
Speed With Ball: 61
Interior Defense: 77
Perimeter Defense: 46
Steal: 60
Block: 70
Offensive Rebound: 85
Defensive Rebound: 79
Speed: 76
Acceleration: 72
Strength: 82
Vertical: 87
Stamina: 90
Jayson Tatum – "The Problem"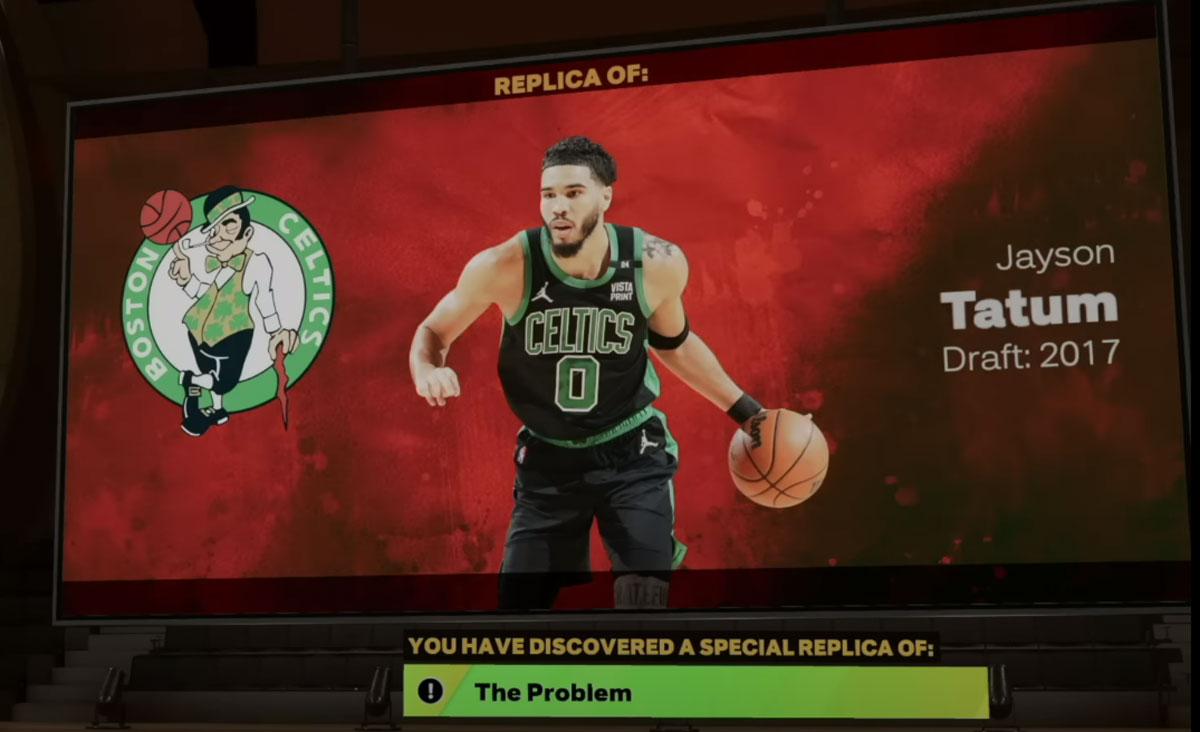 Position: PF
Handed: Right
Jersey Number: 0
Height: 6'8″
Weight: 210 lbs
Wingspan: 7'1″
Close Shot: 87
Driving Layup: 87
Driving Dunk: 86
Standing Dunk: 42
Post Control: 75
Mid-Range Shot: 82
Three-Point Shot: 82
Free-Throw: 78
Pass Accuracy: 70
Ball Handle: 87
Speed With Ball: 75
Interior Defense: 73
Perimeter Defense: 86
Steal: 67
Block: 70
Offensive Rebound: 69
Defensive Rebound: 70
Speed: 74
Acceleration: 74
Strength: 63
Vertical: 75
Stamina: 90
John Williams – "Hot Rod"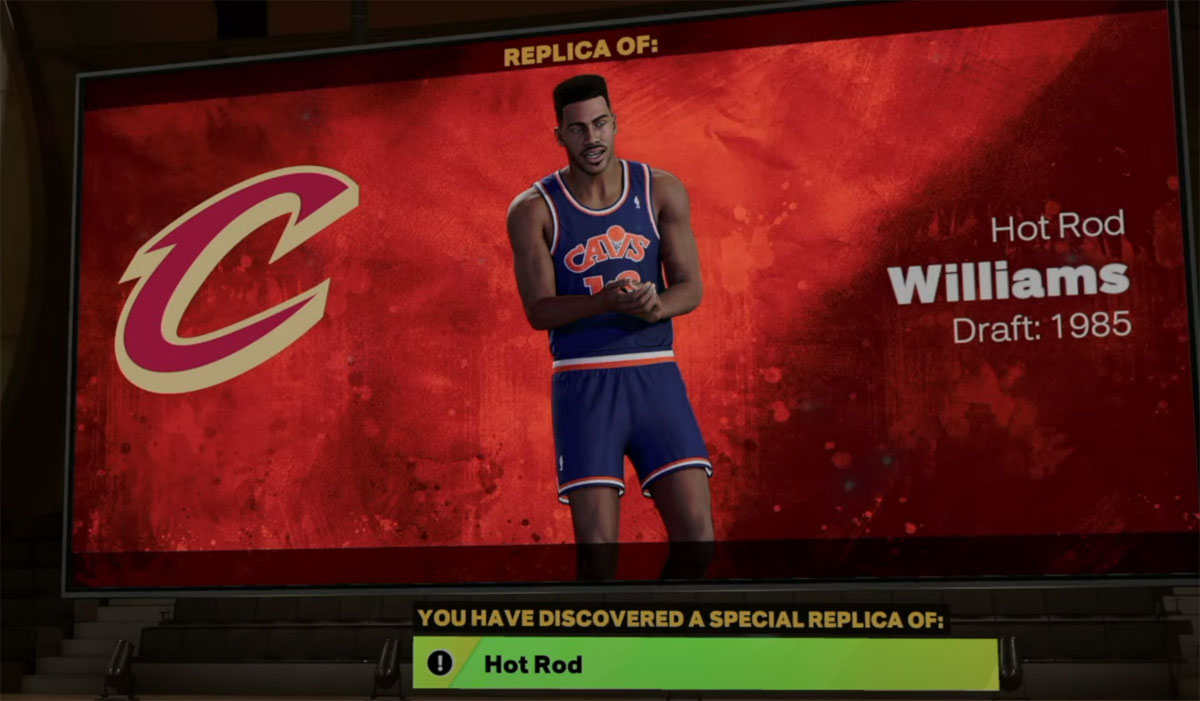 Position: PF
Handed: Right
Jersey Number: 18
Height: 6'11"
Weight: 235 lbs
Wingspan: 7'3″
Close Shot: 90
Driving Layup: 57
Driving Dunk: 77
Standing Dunk: 99
Post Control: 94
Mid-Range Shot: 68
Three-Point Shot: 30
Free-Throw: 70
Pass Accuracy: 58
Ball Handle: 44
Speed With Ball: 49
Interior Defense: 88
Perimeter Defense: 44
Steal: 54
Block: 94
Offensive Rebound: 85
Defensive Rebound: 86
Speed: 71
Acceleration: 69
Strength: 79
Vertical: 71
Stamina: 91
Zion Williamson – "Zanos"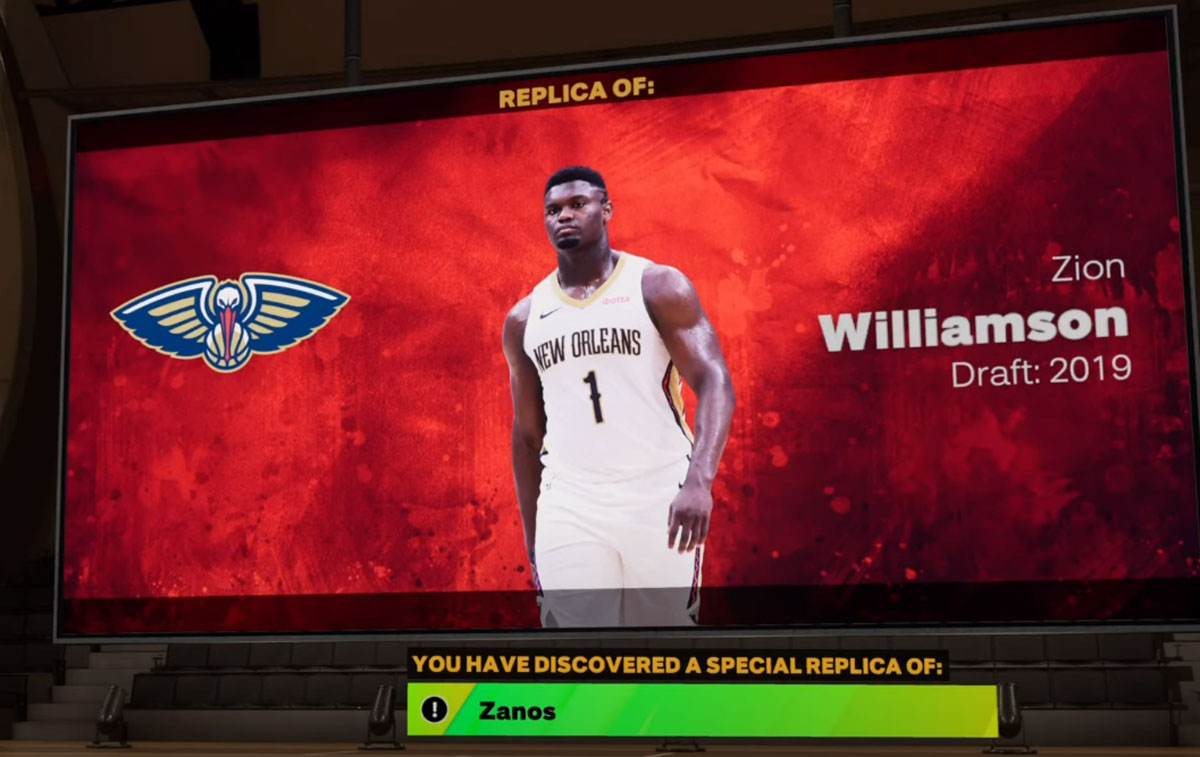 Position: PF
Handed: Left
Jersey Number: 1
Height: 6'6″
Weight: 265 lbs
Wingspan: 6'10"
Close Shot: 87
Driving Layup: 94
Driving Dunk: 93
Standing Dunk: 90
Post Control: 86
Mid-Range Shot: 70
Three-Point Shot: 70
Free-Throw: 70
Pass Accuracy: 61
Ball Handle: 75
Speed With Ball: 70
Interior Defense: 55
Perimeter Defense: 53
Steal: 35
Block: 53
Offensive Rebound: 63
Defensive Rebound: 75
Speed: 81
Acceleration: 79
Strength: 86
Vertical: 94
Stamina: 80
CENTERS
Bam Adebayo – "Bam"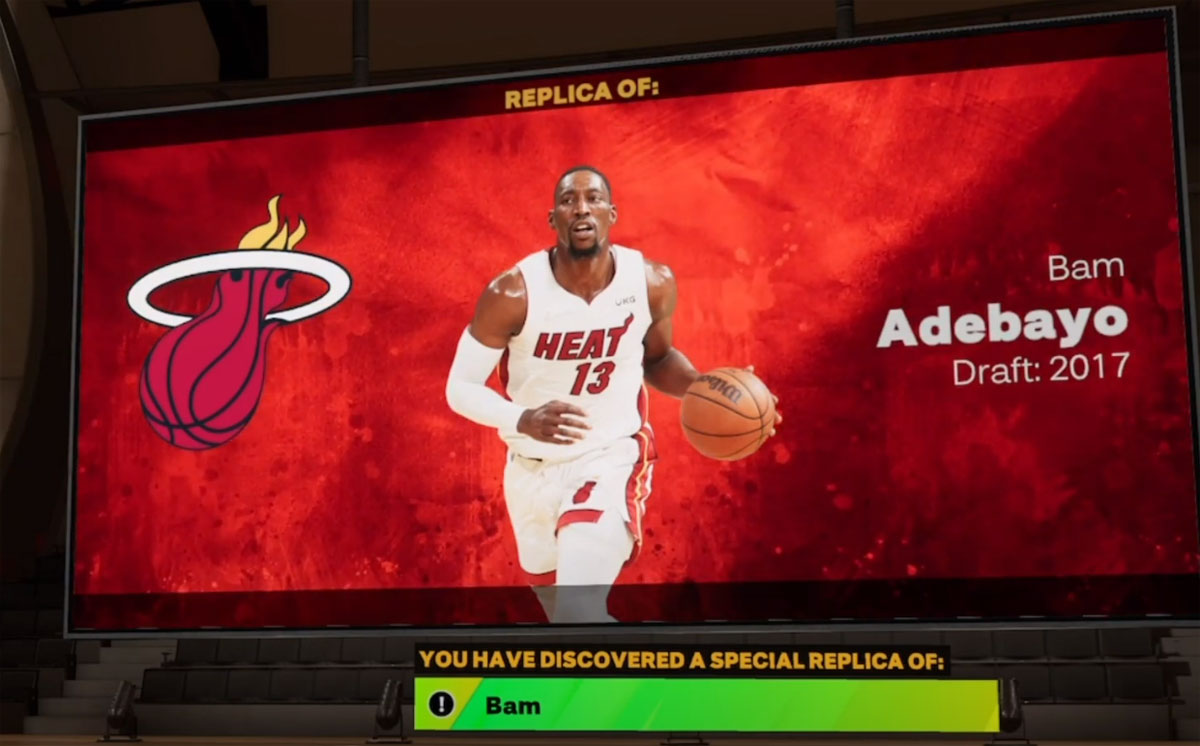 Position: C
Handed: Right
Jersey Number: 13
Height: 6'0″
Weight: 244 lbs
Wingspan: 7'1″
Close Shot: 86
Driving Layup: 74
Driving Dunk: 80
Standing Dunk: 80
Post Control: 80
Mid-Range Shot: 81
Three-Point Shot: 77
Free-Throw: 73
Pass Accuracy: 76
Ball Handle: 70
Speed With Ball: 65
Interior Defense: 88
Perimeter Defense: 86
Steal: 51
Block: 70
Offensive Rebound: 70
Defensive Rebound: 85
Speed: 78
Acceleration: 72
Strength: 86
Vertical: 80
Stamina: 92
Deandre Ayton – "Dominatyon"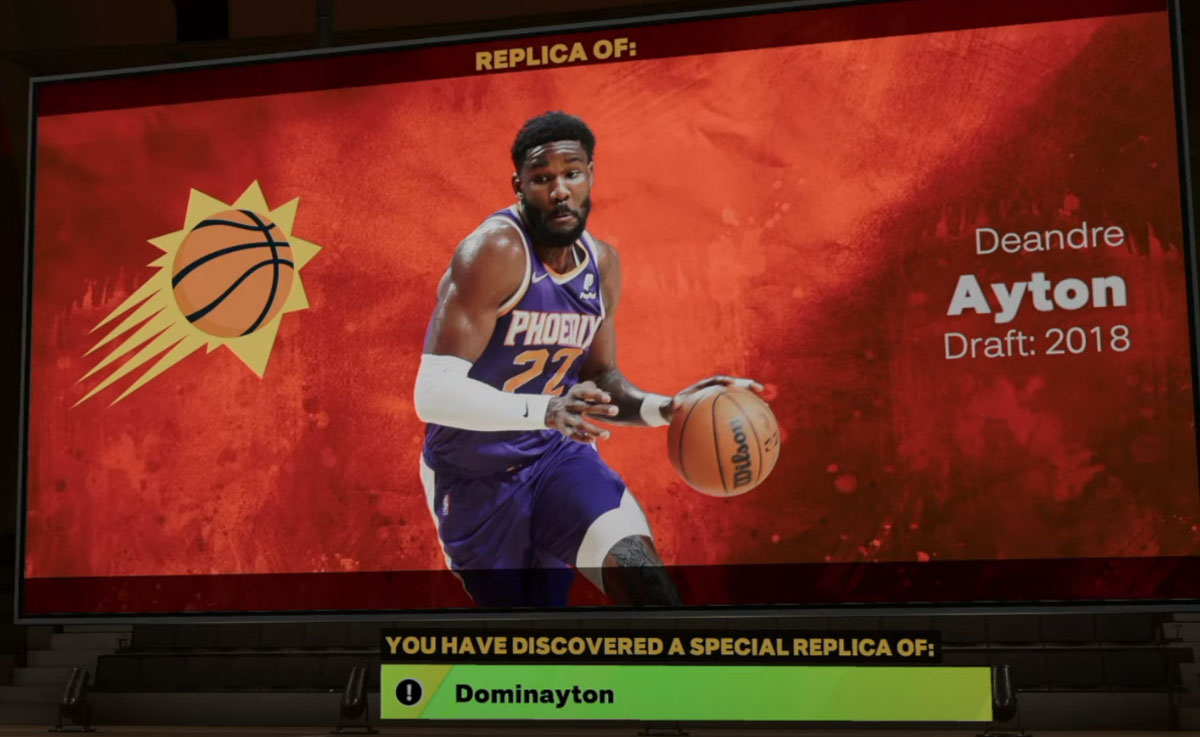 Position: C
Handed: Right
Jersey Number: 22
Height: 6'11"
Weight: 255 lbs
Wingspan: 7'7″
Close Shot: 86
Driving Layup: 70
Driving Dunk: 75
Standing Dunk: 90
Post Control: 80
Mid-Range Shot: 84
Three-Point Shot: 83
Free-Throw: 72
Pass Accuracy: 45
Ball Handle: 52
Speed With Ball: 51
Interior Defense: 80
Perimeter Defense: 62
Steal: 47
Block: 87
Offensive Rebound: 82
Defensive Rebound: 90
Speed: 68
Acceleration: 56
Strength: 89
Vertical: 75
Stamina: 88
Chris Anderson – "Birdman"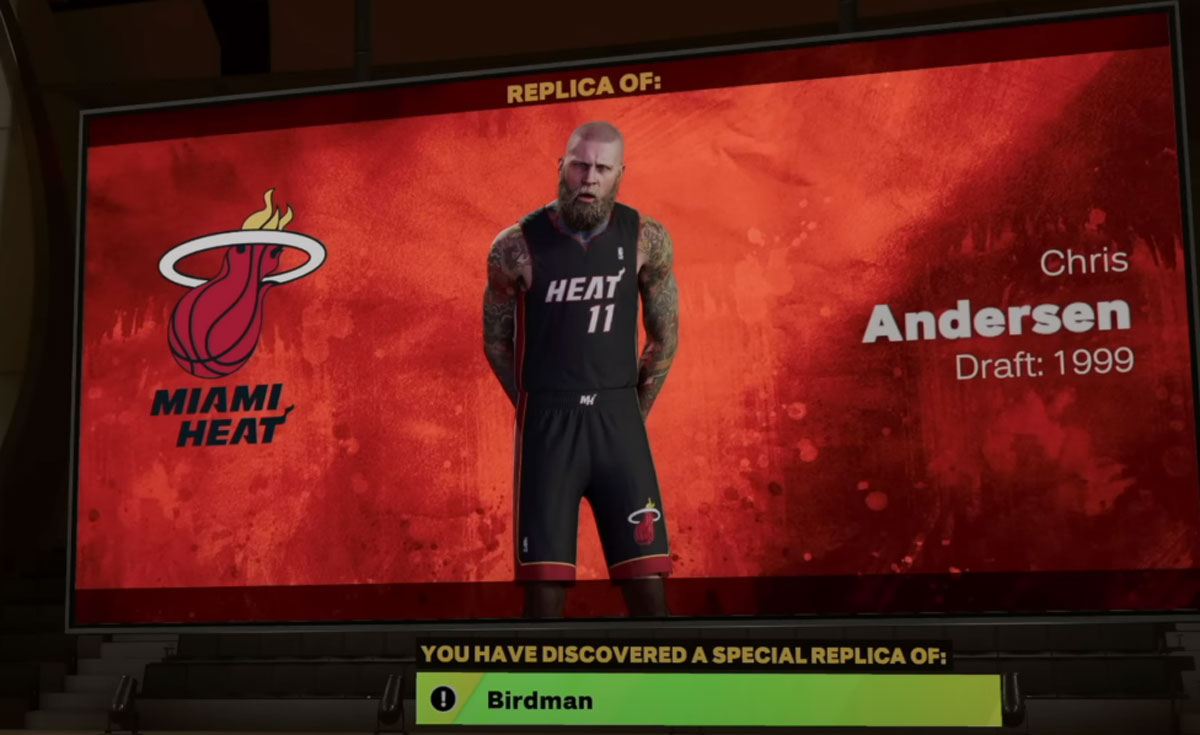 Position: C
Handed: Right
Jersey Number: 11
Height: 6'10"
Weight: 239 lbs
Wingspan: 7'5″
Close Shot: 78
Driving Layup: 77
Driving Dunk: 95
Standing Dunk: 78
Post Control: 60
Mid-Range Shot: 68
Three-Point Shot: 43
Free-Throw: 67
Pass Accuracy: 58
Ball Handle: 61
Speed With Ball: 55
Interior Defense: 90
Perimeter Defense: 44
Steal: 42
Block: 99
Offensive Rebound: 94
Defensive Rebound: 89
Speed: 73
Acceleration: 68
Strength: 76
Vertical: 82
Stamina: 90
Andrea Bargnani – "The Magician"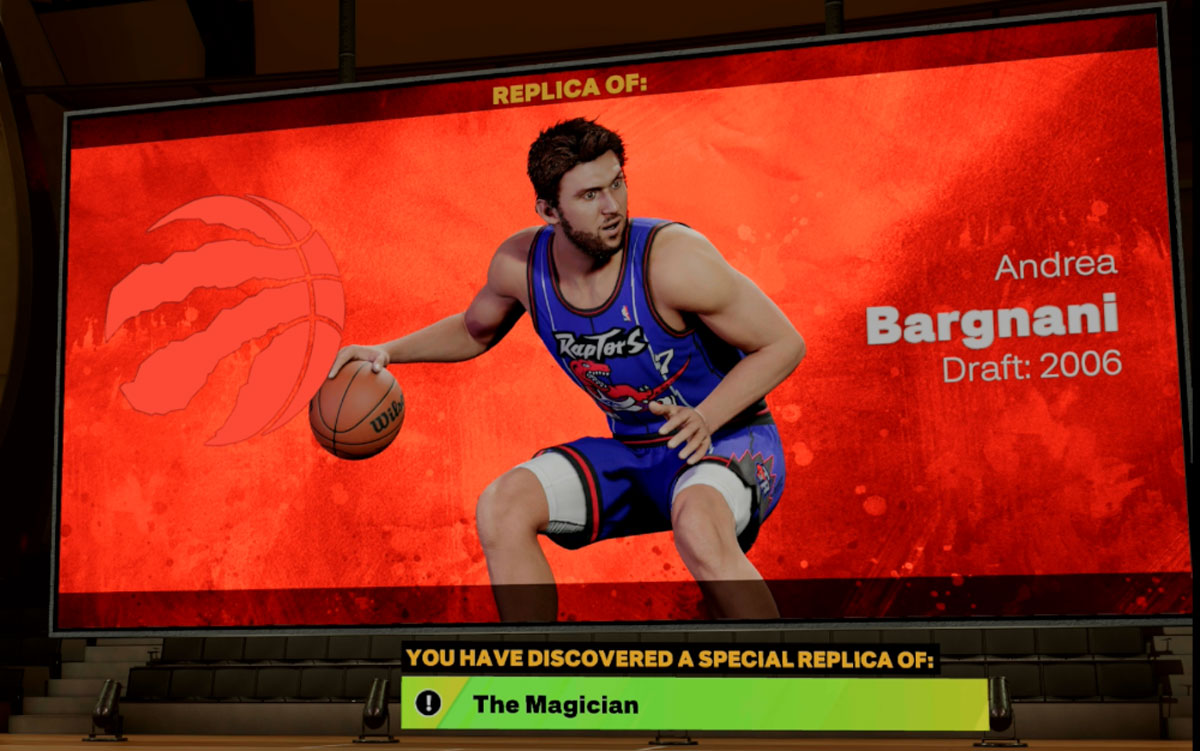 Position: C
Handed: Right
Jersey Number: 7
Height: 7'0″
Weight: 250 lbs
Wingspan: 7'4″
Close Shot: 86
Driving Layup: 70
Driving Dunk: 61
Standing Dunk: 76
Post Control: 89
Mid-Range Shot: 80
Three-Point Shot: 87
Free-Throw: 85
Pass Accuracy: 66
Ball Handle: 50
Speed With Ball: 55
Interior Defense: 85
Perimeter Defense: 48
Steal: 63
Block: 83
Offensive Rebound: 73
Defensive Rebound: 78
Speed: 68
Acceleration: 61
Strength: 90
Vertical: 76
Stamina: 94
Wilt Chamberlain – "The Big Dipper"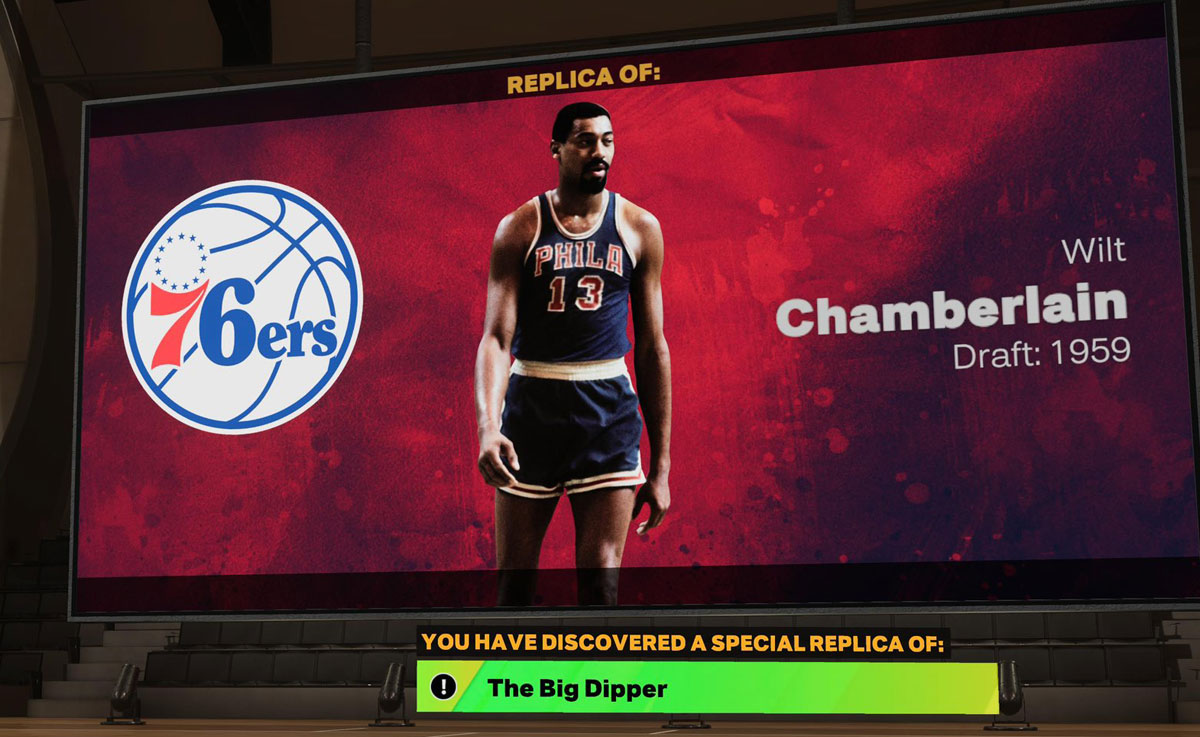 Position: C
Handed: Right
Jersey Number: 13
Height: 7'1″
Weight: 255 lbs
Wingspan: 7'11"
Close Shot: 85
Driving Layup: 70
Driving Dunk: 75
Standing Dunk: 90
Post Control: 84
Mid-Range Shot: 50
Three-Point Shot: 35
Free-Throw: 63
Pass Accuracy: 68
Ball Handle: 36
Speed With Ball:  25
Interior Defense: 80
Perimeter Defense: 40
Steal: 56
Block: 99
Offensive Rebound: 99
Defensive Rebound: 84
Speed: 62
Acceleration: 51
Strength: 89
Vertical: 78
Stamina: 90
DeMarcus Cousins – "Baby Boogie"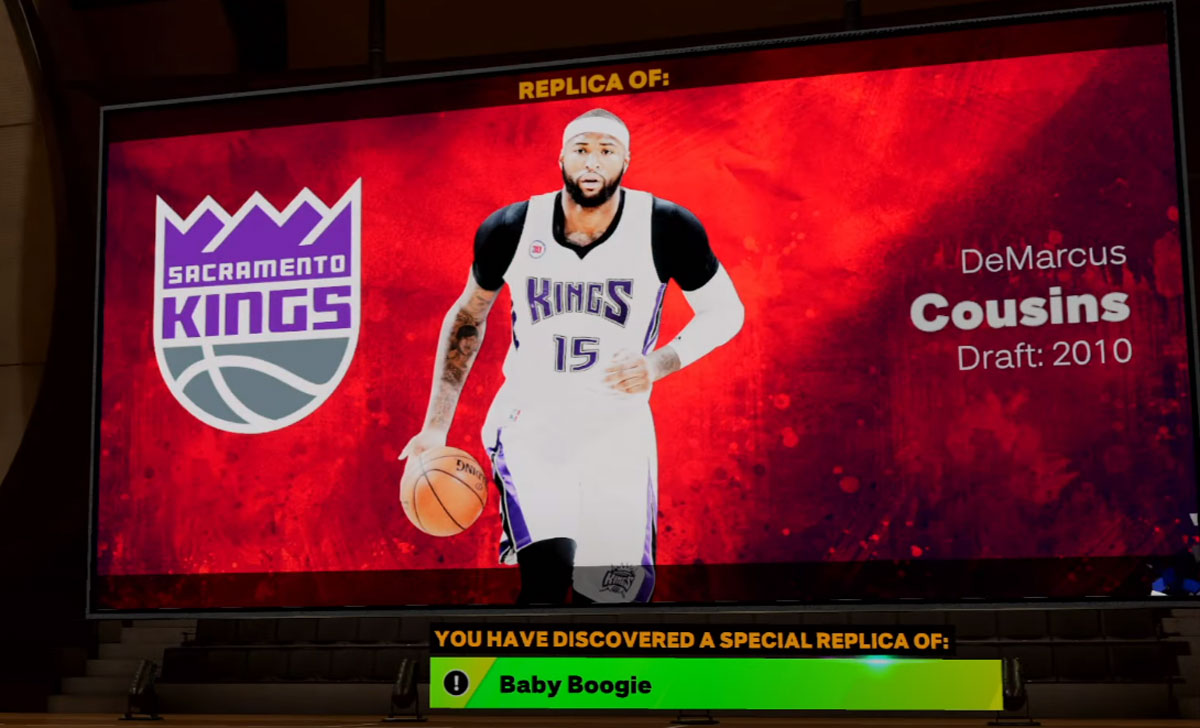 Position: C
Handed: Right
Jersey Number: 15
Height: 6'11"
Weight: 270 lbs
Wingspan: 7'6″
Close Shot: 73
Driving Layup: 87
Driving Dunk: 82
Standing Dunk: 97
Post Control: 82
Mid-Range Shot: 80
Three-Point Shot: 80
Free-Throw: 69
Pass Accuracy: 52
Ball Handle: 62
Speed With Ball: 48
Interior Defense: 79
Perimeter Defense: 38
Steal: 57
Block: 66
Offensive Rebound: 70
Defensive Rebound: 91
Speed: 58
Acceleration: 43
Strength: 93
Vertical: 63
Stamina: 90
Anthony Davis "The Brow" (Lakers)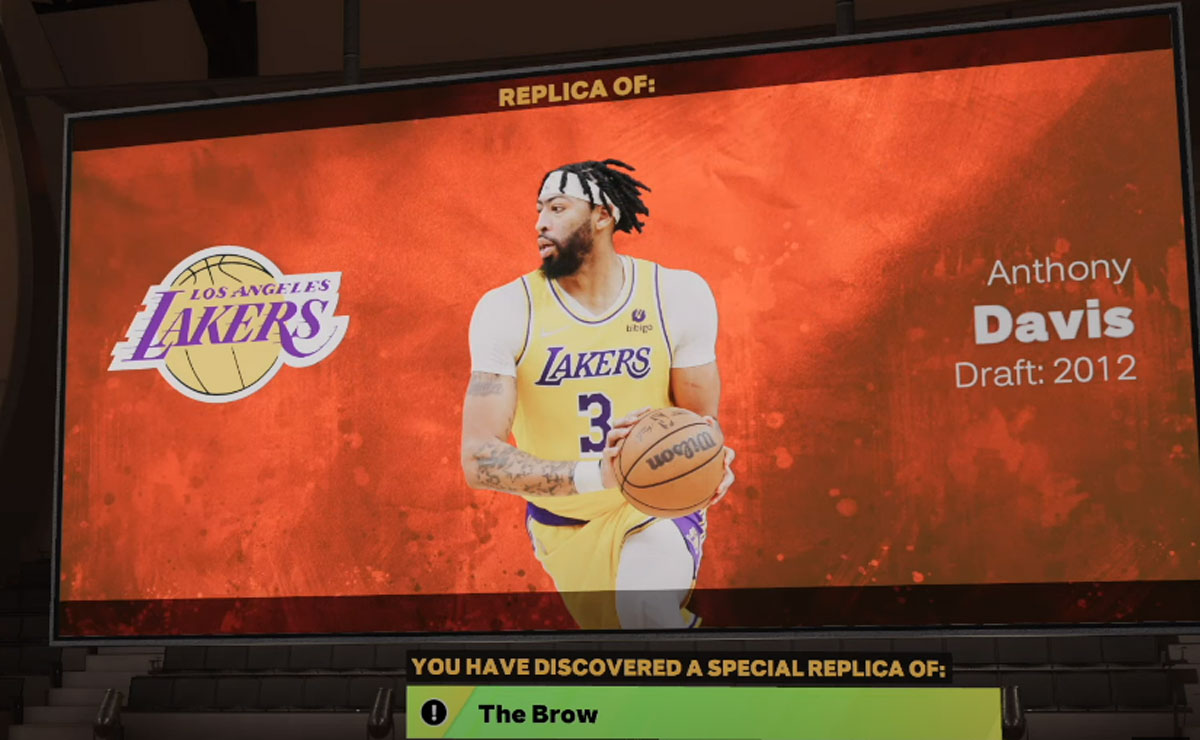 Position: C
Handed: Right
Jersey Number: 3
Height: 6'10"
Weight: 243 lbs
Wingspan: 7'2″
Close Shot: 85
Driving Layup: 82
Driving Dunk: 86
Standing Dunk: 90
Post Control: 86
Mid-Range Shot: 73
Three-Point Shot: 78
Free-Throw: 70
Pass Accuracy: 53
Ball Handle: 75
Speed With Ball: 62
Interior Defense: 86
Perimeter Defense: 72
Steal: 41
Block: 87
Offensive Rebound: 57
Defensive Rebound: 85
Speed: 71
Acceleration: 70
Strength: 84
Vertical: 78
Stamina: 90
Anthony Davis – "The Brow" (Pelicans)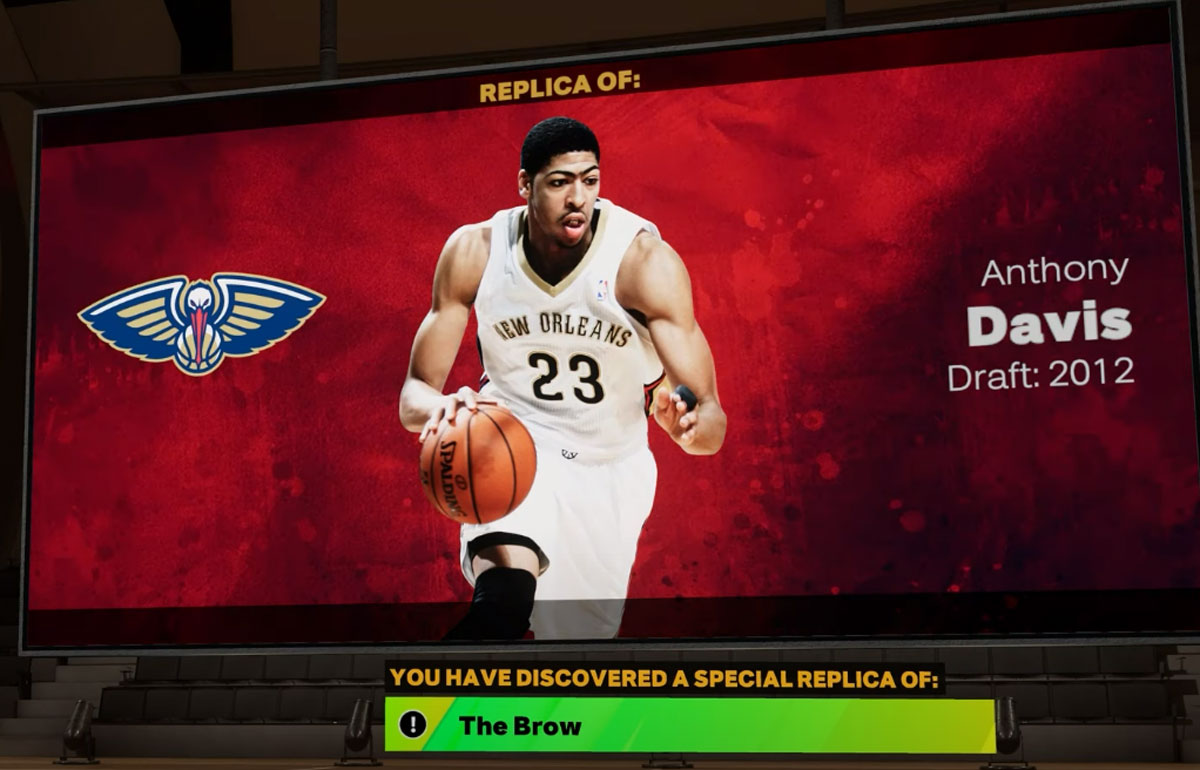 Position: C
Handed: Right
Jersey Number: 23
Height: 6'10"
Weight: 243 lbs
Wingspan: 7'2″
Close Shot: 86
Driving Layup: 86
Driving Dunk: 85
Standing Dunk: 87
Post Control: 81
Mid-Range Shot: 73
Three-Point Shot: 84
Free-Throw: 73
Pass Accuracy: 56
Ball Handle: 70
Speed With Ball: 59
Interior Defense: 87
Perimeter Defense: 56
Steal: 58
Block: 80
Offensive Rebound: 76
Defensive Rebound: 85
Speed: 71
Acceleration: 70
Strength: 79
Vertical: 78
Stamina: 95
Dewayne Dedmon – "The Mechanic"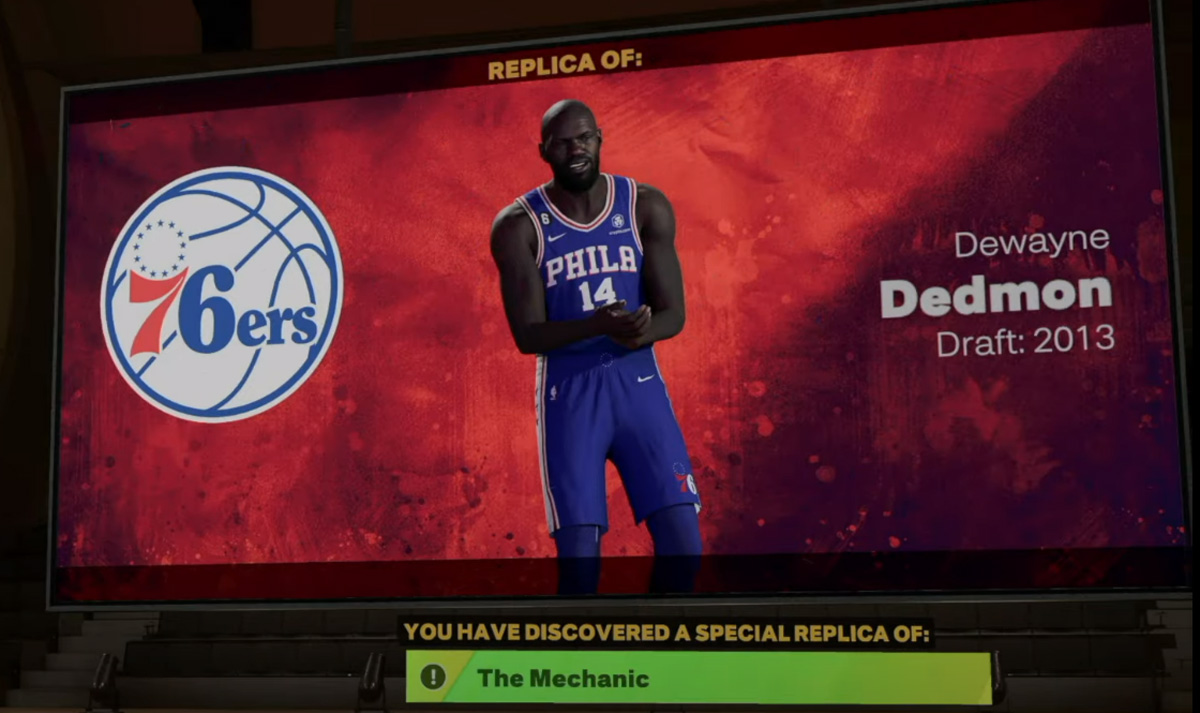 Position: C
Handed: Right
Jersey Number: 21
Height: 7'0″
Weight: 252 lbs
Wingspan: 7'7″
Close Shot: 97
Driving Layup: 75
Driving Dunk: 68
Standing Dunk: 68
Post Control: 67
Mid-Range Shot: 73
Three-Point Shot: 83
Free-Throw: 81
Pass Accuracy: 30
Ball Handle: 37
Speed With Ball: 25
Interior Defense: 90
Perimeter Defense: 56
Steal: 46
Block: 92
Offensive Rebound: 87
Defensive Rebound: 99
Speed: 56
Acceleration: 51
Strength: 90
Vertical: 74
Stamina: 85
Vlade Divac – "Floppy"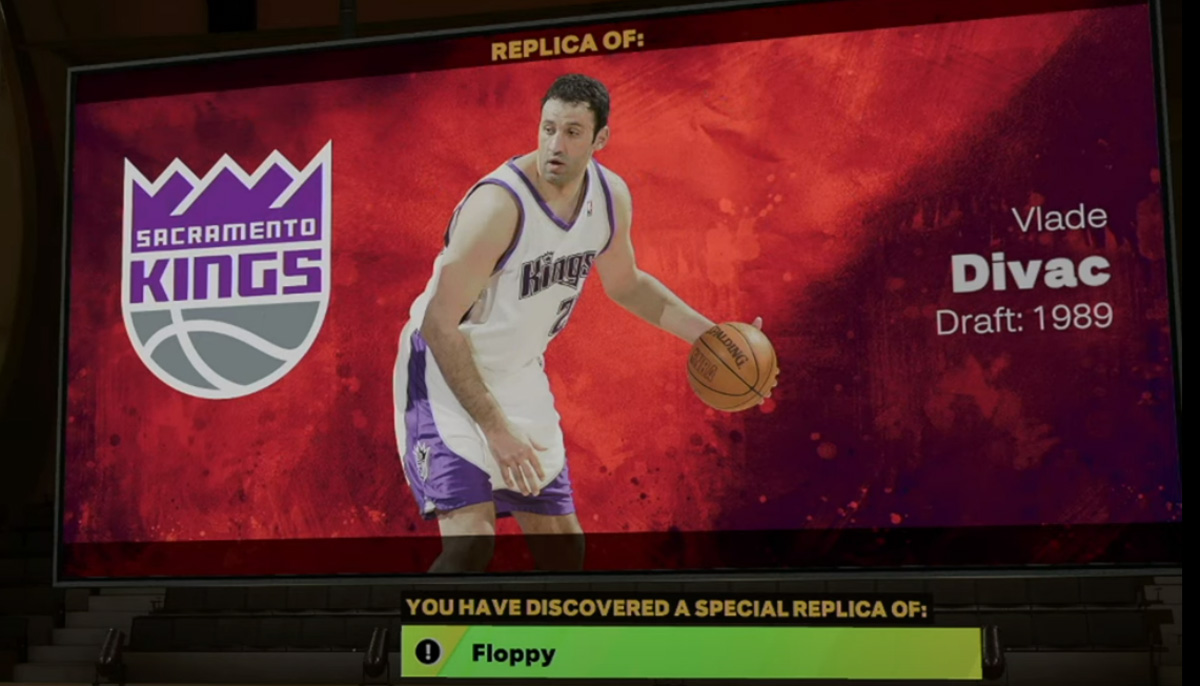 Position: C
Handed: Right
Jersey Number: 21
Height: 7'1″
Weight: 243 lbs
Wingspan: 7'7″
Close Shot: 93
Driving Layup: 70
Driving Dunk: 61
Standing Dunk: 90
Post Control: 82
Mid-Range Shot: 85
Three-Point Shot: 61
Free-Throw: 63
Pass Accuracy: 76
Ball Handle: 42
Speed With Ball: 25
Interior Defense: 85
Perimeter Defense: 35
Steal: 63
Block: 87
Offensive Rebound: 86
Defensive Rebound: 94
Speed: 44
Acceleration: 30
Strength: 76
Vertical: 59
Stamina: 90
Andre Drummond – "Big Penguin"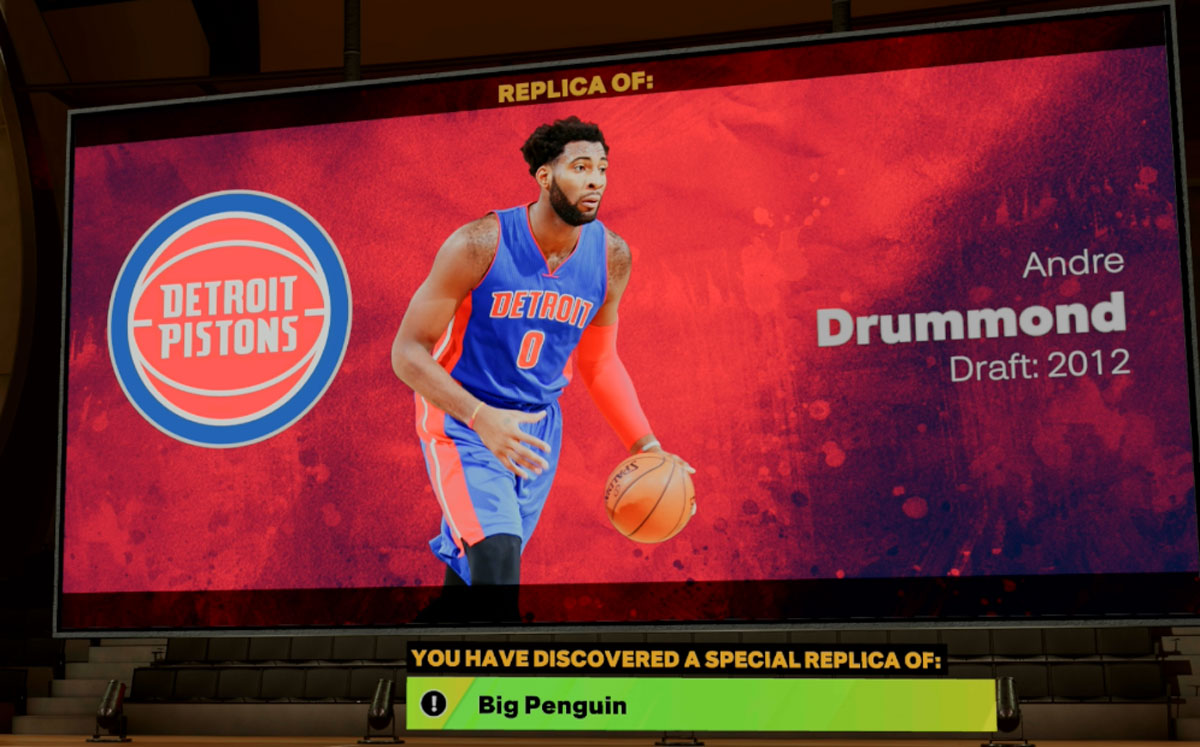 Position: C
Handed: Right
Jersey Number: 0
Height: 6'11"
Weight: 279 lbs
Wingspan: 7'6″
Close Shot: 78
Driving Layup: 80
Driving Dunk: 85
Standing Dunk: 96
Post Control: 80
Mid-Range Shot: 47
Three-Point Shot: 42
Free-Throw: 59
Pass Accuracy: 52
Ball Handle: 45
Speed With Ball: 27
Interior Defense: 84
Perimeter Defense: 52
Steal: 74
Block: 82
Offensive Rebound: 97
Defensive Rebound: 98
Speed: 54
Acceleration: 48
Strength: 95
Vertical: 79
Stamina: 91
Pervis Ellison – "Never Nervous"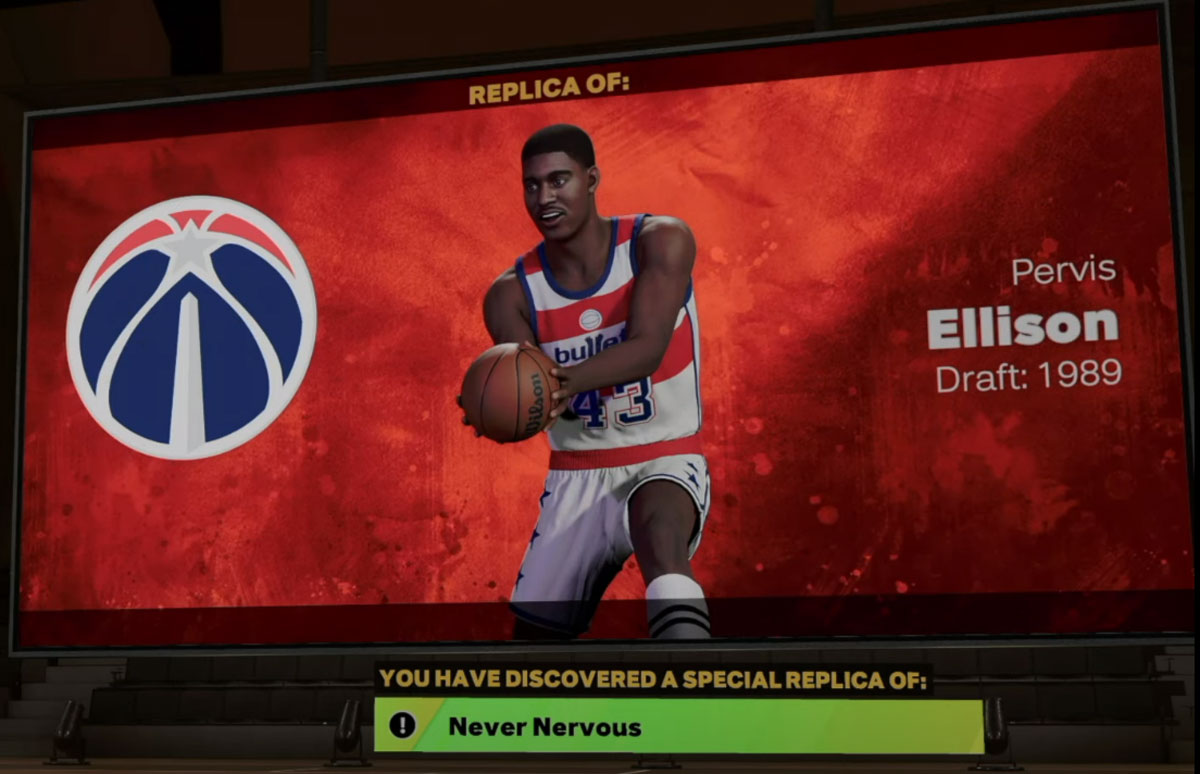 Position: C
Handed: Right
Jersey Number: 43
Height: 6'9″
Weight: 252 lbs
Wingspan: 7'1″
Close Shot: 93
Driving Layup: 96
Driving Dunk: 80
Standing Dunk: 93
Post Control: 96
Mid-Range Shot: 80
Three-Point Shot: 37
Free-Throw: 72
Pass Accuracy: 45
Ball Handle: 51
Speed With Ball: 34
Interior Defense: 93
Perimeter Defense: 59
Steal: 48
Block: 73
Offensive Rebound: 82
Defensive Rebound: 85
Speed: 54
Acceleration: 57
Strength: 84
Vertical: 81
Stamina: 98
Joel Embiid – "The Process"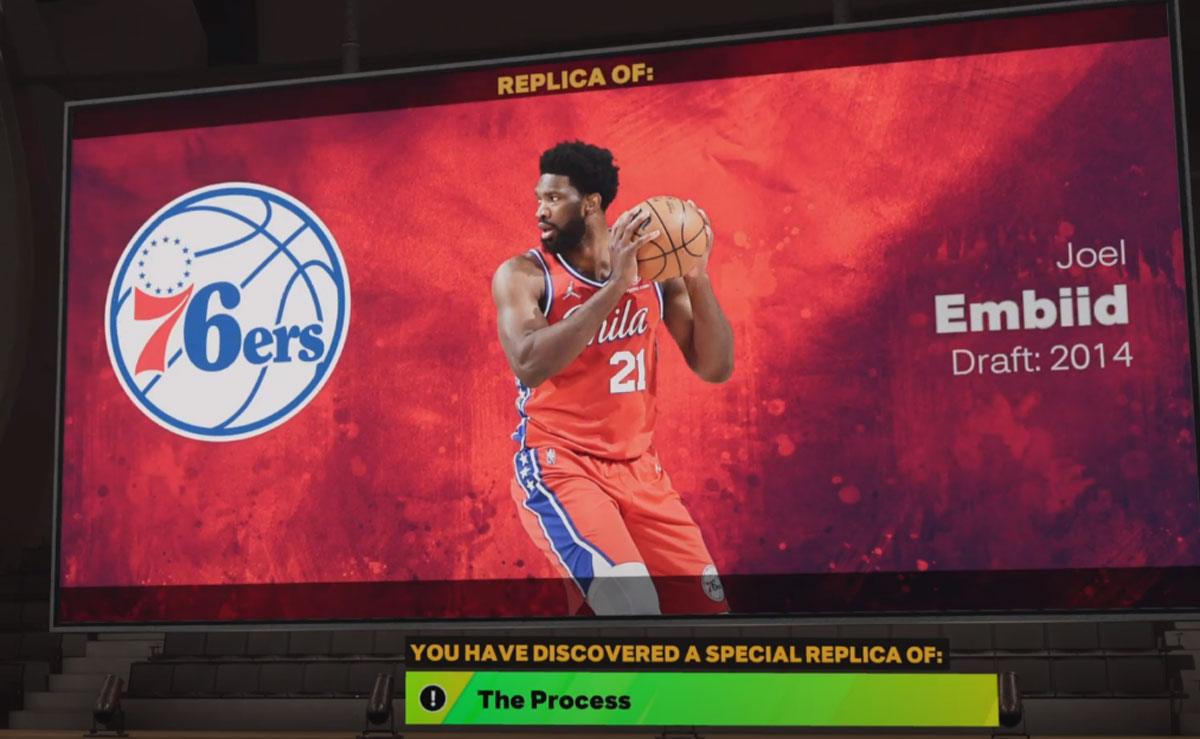 Position: C
Handed: Right
Jersey Number: 21
Height: 7'0″
Weight: 260 lbs
Wingspan: 7'5″
Close Shot: 85
Driving Layup: 80
Driving Dunk: 80
Standing Dunk: 90
Post Control: 88
Mid-Range Shot: 81
Three-Point Shot: 86
Free-Throw: 80
Pass Accuracy: 47
Ball Handle: 49
Speed With Ball: 54
Interior Defense: 88
Perimeter Defense: 56
Steal: 41
Block: 70
Offensive Rebound: 62
Defensive Rebound: 85
Speed: 68
Acceleration: 57
Strength: 89
Vertical: 70
Stamina: 92
Artis Gilmore – "The A-Train" (Bulls)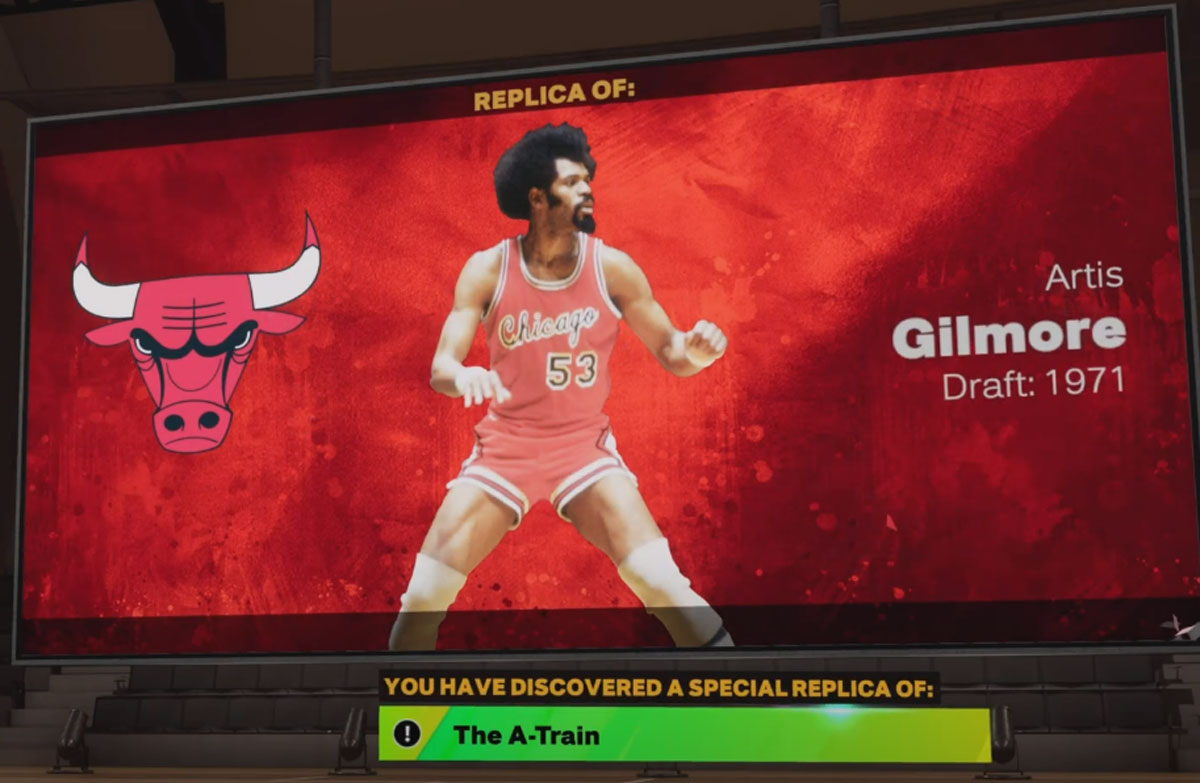 Position: C
Handed: Left
Jersey Number: 53
Height: 7'2″
Weight: 240 lbs
Wingspan: 7'7″
Close Shot: 90
Driving Layup: 76
Driving Dunk: 72
Standing Dunk: 82
Post Control: 88
Mid-Range Shot: 75
Three-Point Shot: 30
Free-Throw: 70
Pass Accuracy: 61
Ball Handle: 38
Speed With Ball: 25
Interior Defense: 89
Perimeter Defense: 42
Steal: 52
Block: 93
Offensive Rebound: 87
Defensive Rebound: 93
Speed: 57
Acceleration: 46
Strength: 89
Vertical: 68
Stamina: 95
Artis Gilmore – "The A-Train" (Spurs)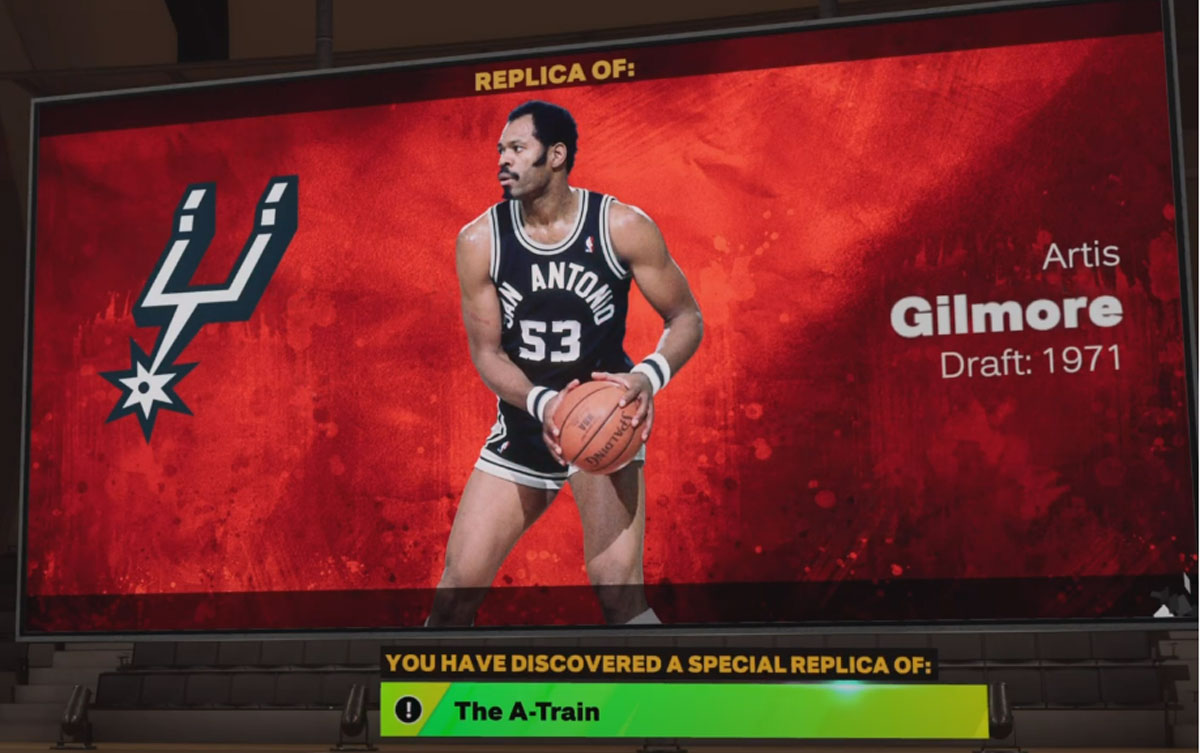 Position: C
Handed: Left
Jersey Number: 53
Height: 7'2″
Weight: 250 lbs
Wingspan: 7'7″
Close Shot: 96
Driving Layup: 76
Driving Dunk: 60
Standing Dunk: 77
Post Control: 87
Mid-Range Shot: 75
Three-Point Shot: 30
Free-Throw: 70
Pass Accuracy: 66
Ball Handle: 37
Speed With Ball: 25
Interior Defense: 89
Perimeter Defense: 42
Steal: 52
Block: 93
Offensive Rebound: 76
Defensive Rebound: 85
Speed: 56
Acceleration: 46
Strength: 95
Vertical: 66
Stamina: 91
Rudy Gobert – "The Stifle Tower"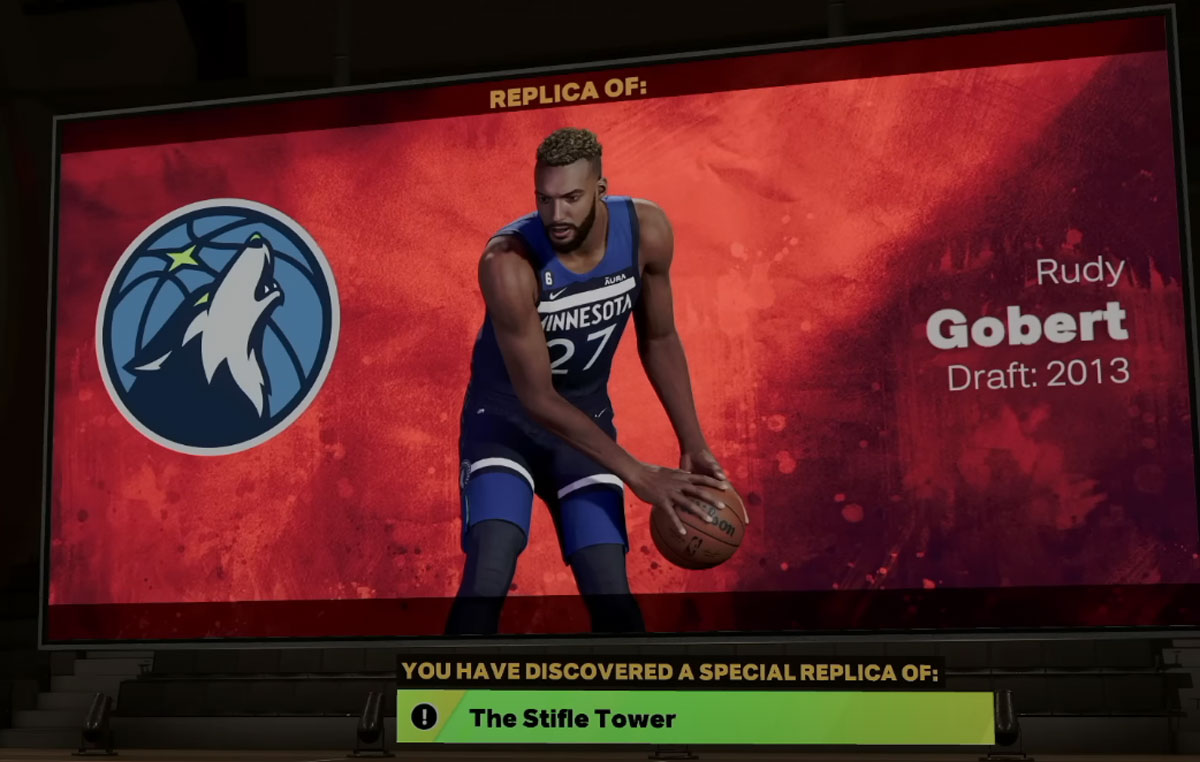 Position: C
Handed: Right
Jersey Number: 27
Height: 7'1″
Weight: 245 lbs
Wingspan:  7'8″
Close Shot: 87
Driving Layup: 68
Driving Dunk:  75
Standing Dunk: 98
Post Control:  73
Mid-Range Shot:  68
Three-Point Shot:  33
Free-Throw:  73
Pass Accuracy:  76
Ball Handle:  43
Speed With Ball: 25
Interior Defense: 92
Perimeter Defense: 54
Steal: 44
Block: 93
Offensive Rebound: 79
Defensive Rebound: 93
Speed: 48
Acceleration: 34
Strength: 89
Vertical: 60
Stamina: 90
Marcin Gortat – "The Hammer"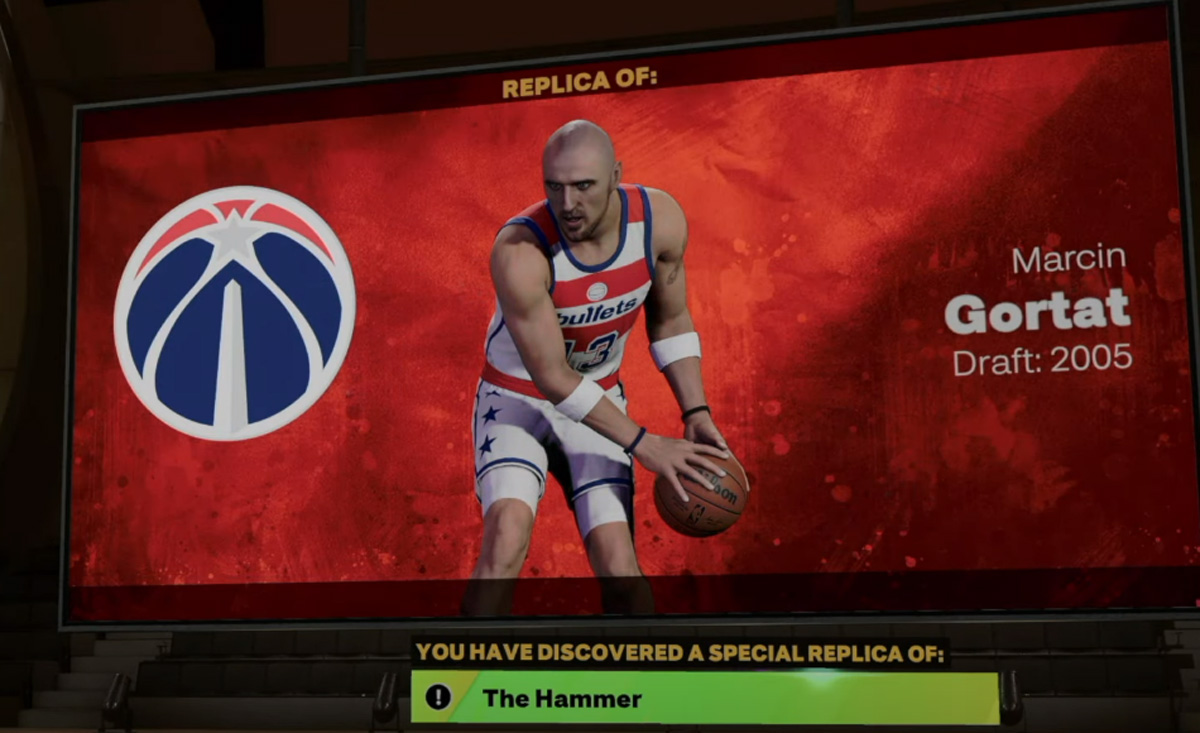 Position: C
Handed: Right
Jersey Number: 13
Height: 6'11"
Weight: 238 lbs
Wingspan: 7'6″
Close Shot: 93
Driving Layup: 66
Driving Dunk: 71
Standing Dunk: 92
Post Control: 81
Mid-Range Shot: 79
Three-Point Shot: 38
Free-Throw: 78
Pass Accuracy: 57
Ball Handle: 43
Speed With Ball: 42
Interior Defense: 85
Perimeter Defense: 70
Steal: 48
Block: 83
Offensive Rebound: 87
Defensive Rebound: 97
Speed: 73
Acceleration: 60
Strength: 89
Vertical: 78
Stamina: 92
Dwight Howard – "D12"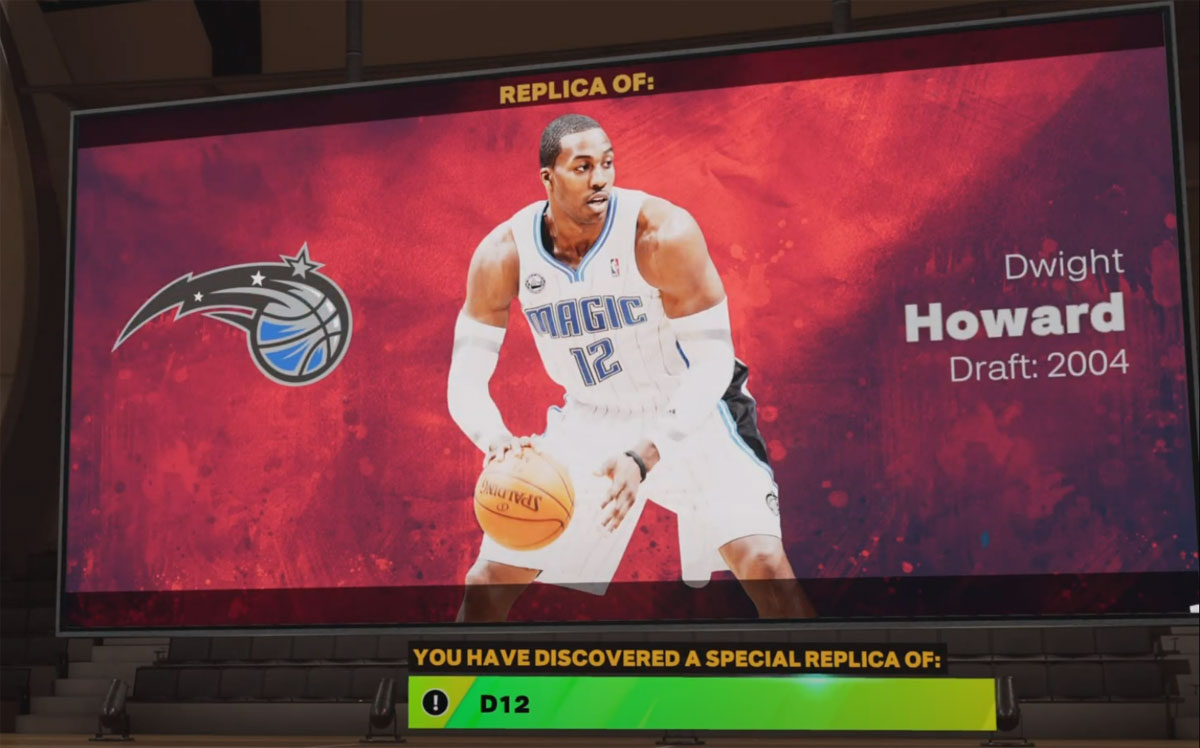 Position: C
Handed: Right
Jersey Number: 12
Height: 6'11"
Weight: 255 lbs
Wingspan: 7'7″
Close Shot: 89
Driving Layup: 77
Driving Dunk: 93
Standing Dunk: 90
Post Control: 89
Mid-Range Shot: 49
Three-Point Shot: 25
Free-Throw: 65
Pass Accuracy: 40
Ball Handle: 53
Speed With Ball: 25
Interior Defense: 93
Perimeter Defense: 68
Steal: 73
Block: 93
Offensive Rebound: 89
Defensive Rebound: 94
Speed: 71
Acceleration: 58
Strength: 89
Vertical: 82
Stamina: 90
Nikola Jokic – "The Joker"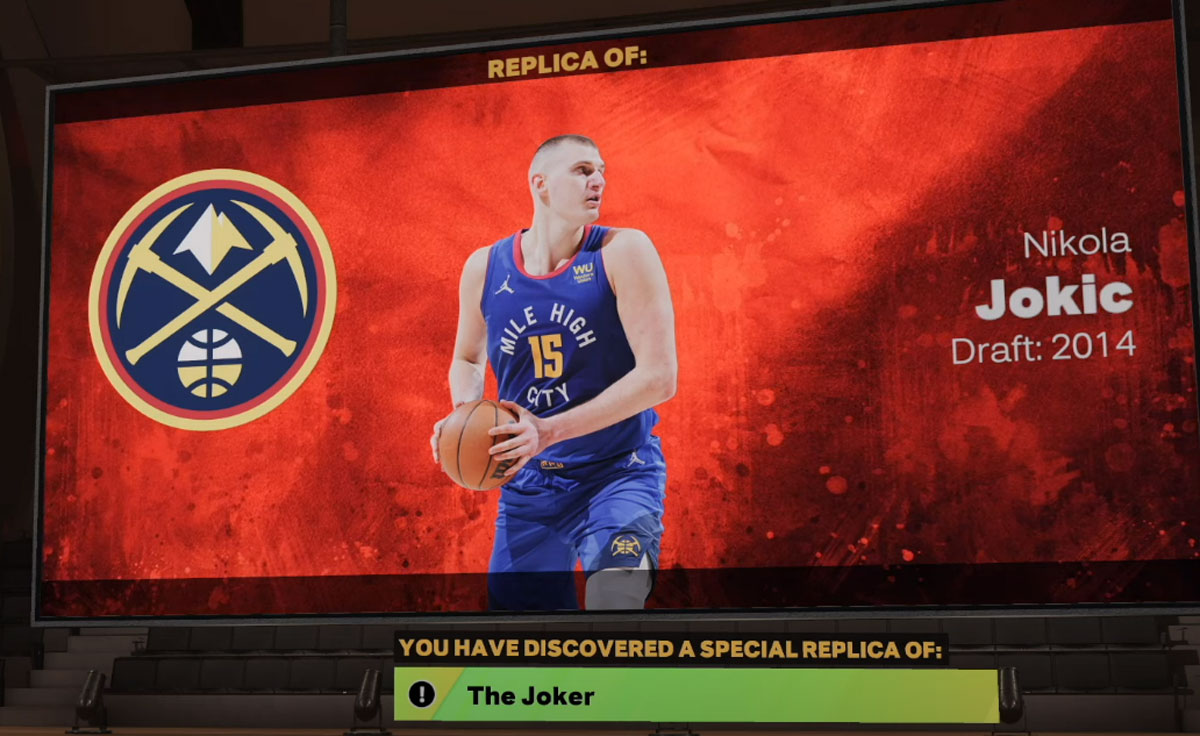 Position: C
Handed: Right
Jersey Number: 15
Height: 6'11"
Weight: 284 lbs
Wingspan: 7'3″
Close Shot: 90
Driving Layup: 83
Driving Dunk: 67
Standing Dunk: 82
Post Control: 87
Mid-Range Shot: 89
Three-Point Shot: 72
Free-Throw: 67
Pass Accuracy: 85
Ball Handle: 68
Speed With Ball: 52
Interior Defense: 63
Perimeter Defense: 53
Steal: 58
Block: 54
Offensive Rebound: 60
Defensive Rebound: 90
Speed: 55
Acceleration: 54
Strength: 85
Vertical: 55
Stamina: 89
Chris Kaman – "Caveman"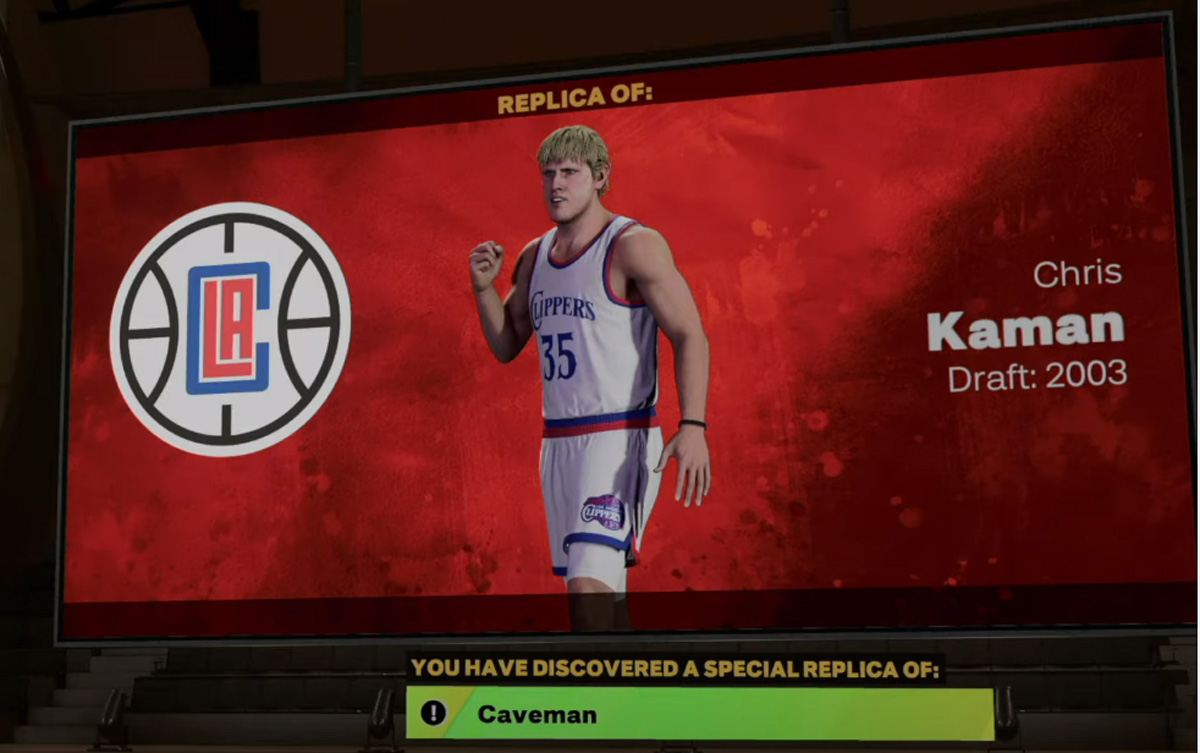 Position: C
Handed: Right
Jersey Number: 35
Height: 7'0″
Weight: 252 lbs
Wingspan: 7'2″
Close Shot: 83
Driving Layup: 78
Driving Dunk: 68
Standing Dunk: 93
Post Control: 78
Mid-Range Shot: 80
Three-Point Shot: 68
Free-Throw: 90
Pass Accuracy: 60
Ball Handle: 60
Speed With Ball: 51
Interior Defense: 85
Perimeter Defense: 48
Steal: 63
Block: 78
Offensive Rebound: 81
Defensive Rebound: 83
Speed: 70
Acceleration: 60
Strength: 90
Vertical: 83
Stamina: 90
Bill Laimbeer – "Prince of Darkness"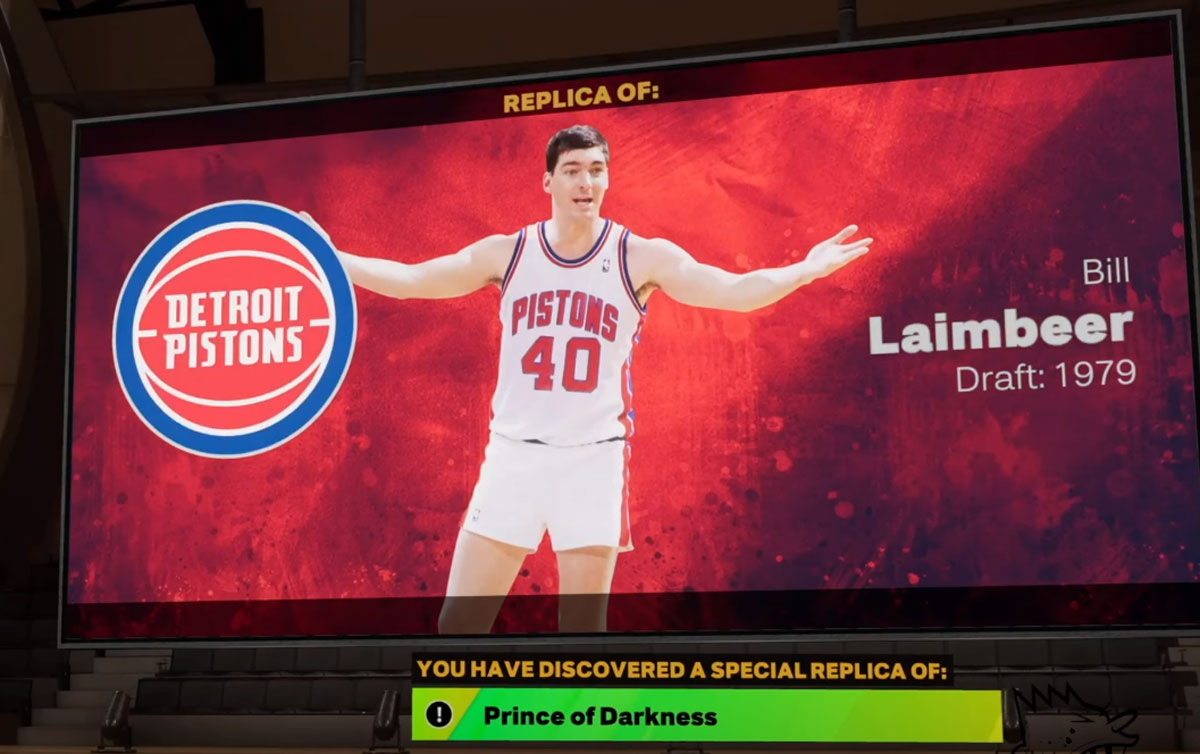 Position: C
Handed: Right
Jersey Number: 40
Height: 6'11"
Weight: 245 lbs
Wingspan: 7'3″
Close Shot: 92
Driving Layup: 73
Driving Dunk: 44
Standing Dunk: 53
Post Control: 88
Mid-Range Shot: 88
Three-Point Shot: 87
Free-Throw: 90
Pass Accuracy: 67
Ball Handle: 41
Speed With Ball: 28
Interior Defense: 91
Perimeter Defense: 45
Steal: 61
Block: 78
Offensive Rebound: 85
Defensive Rebound: 90
Speed: 39
Acceleration: 30
Strength: 92
Vertical: 59
Stamina: 97
Bob Lanier – "The Big Dobbler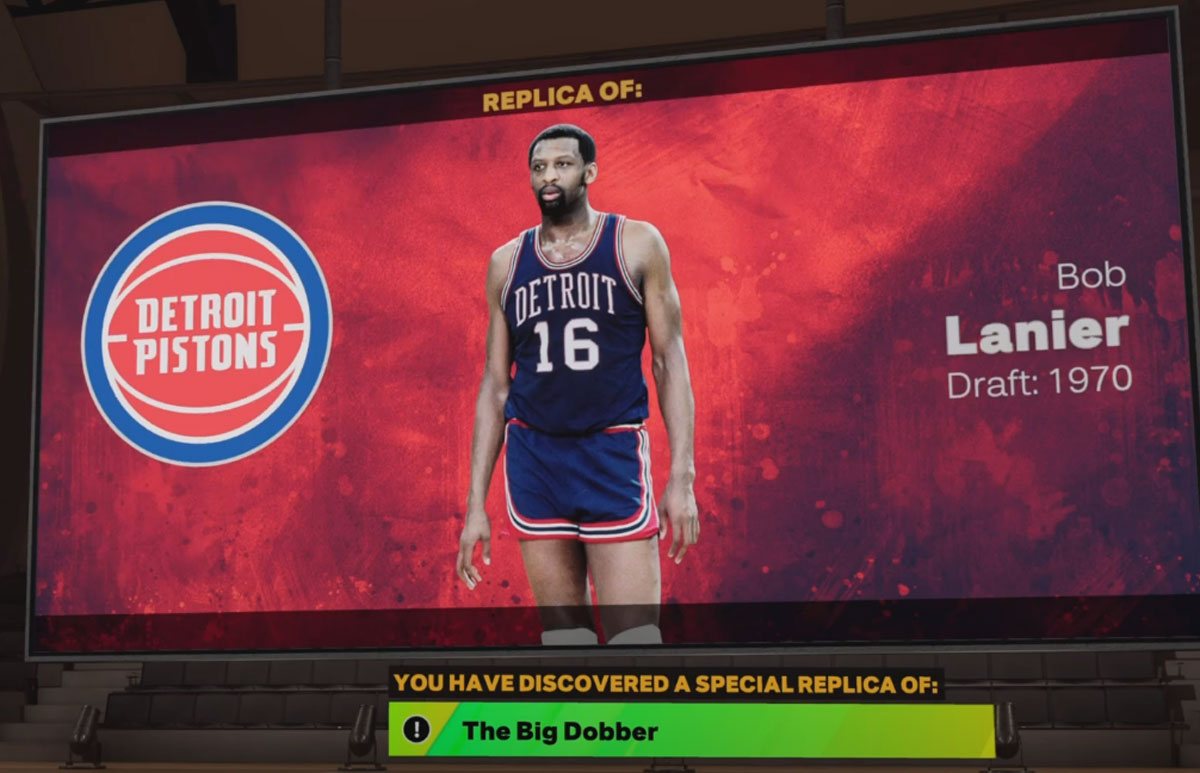 Position: C
Handed: Left
Jersey Number: 16
Height: 6'11"
Weight: 250 lbs
Wingspan: 7'5″
Close Shot: 89
Driving Layup: 85
Driving Dunk: 62
Standing Dunk: 83
Post Control: 89
Mid-Range Shot: 87
Three-Point Shot: 42
Free-Throw: 79
Pass Accuracy: 70
Ball Handle: 42
Speed With Ball: 27
Interior Defense: 88
Perimeter Defense: 60
Steal: 42
Block: 78
Offensive Rebound: 88
Defensive Rebound: 94
Speed: 72
Acceleration: 64
Strength: 86
Vertical: 72
Stamina: 90
Brook Lopez – "Splash Mountain"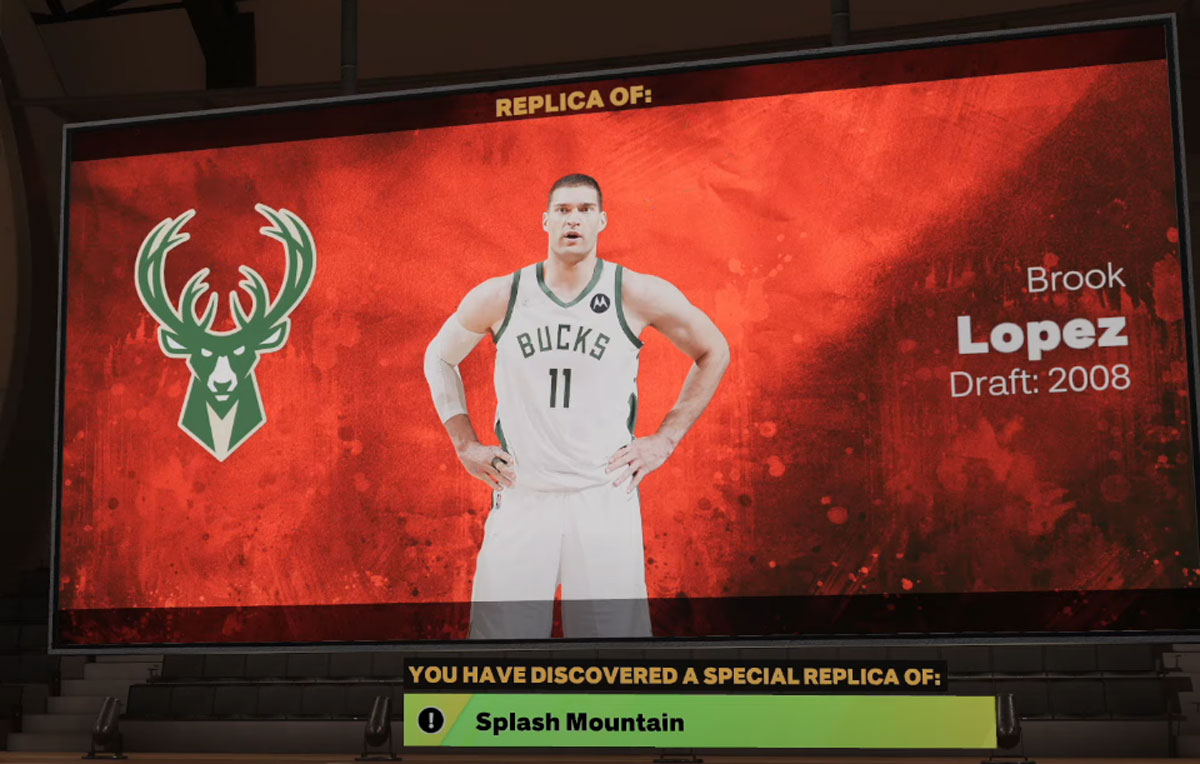 Position: C
Handed: Right
Jersey Number: 11
Height: 7'1″
Weight: 262 lbs
Wingspan: 7'6″
Close Shot: 94
Driving Layup: 70
Driving Dunk: 70
Standing Dunk: 84
Post Control: 88
Mid-Range Shot: 86
Three-Point Shot: 85
Free-Throw: 79
Pass Accuracy: 27
Ball Handle: 38
Speed With Ball: 25
Interior Defense: 97
Perimeter Defense: 47
Steal: 49
Block: 98
Offensive Rebound: 67
Defensive Rebound: 68
Speed: 25
Acceleration: 27
Strength: 83
Vertical: 63
Stamina:90
Moses Malone – "Chairman of the Boards"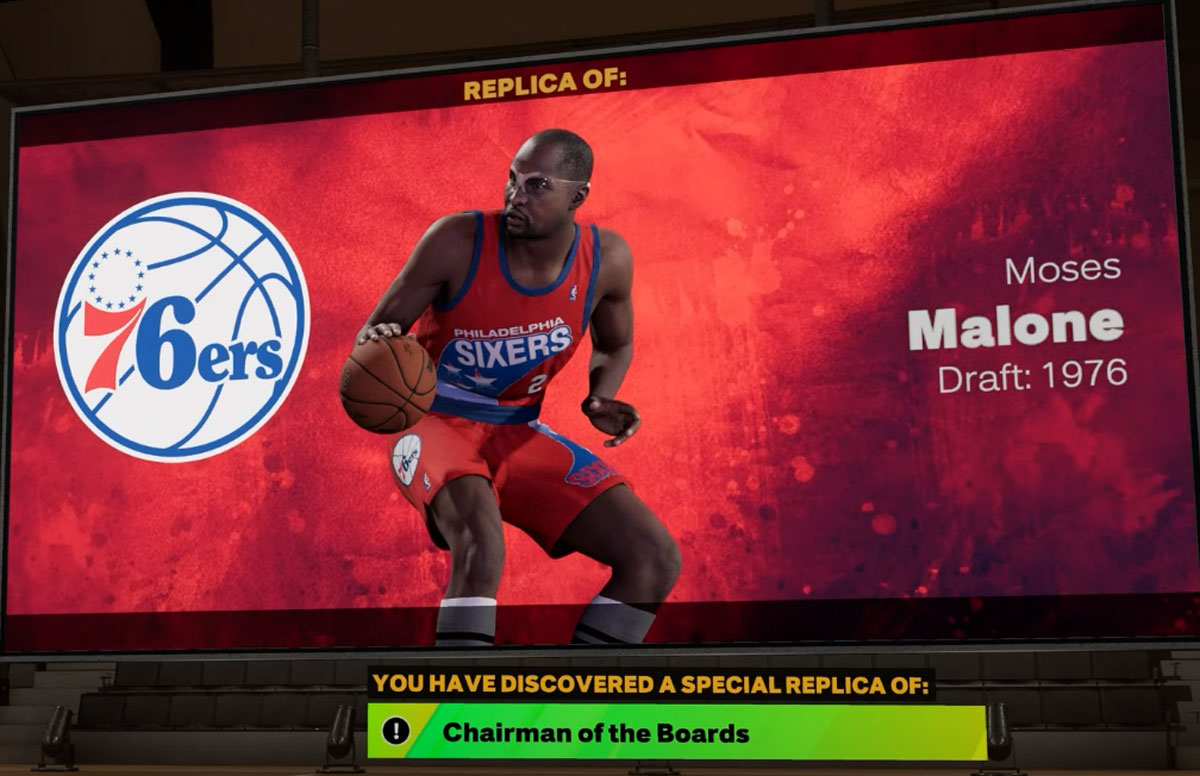 Position: C
Handed: Right
Jersey Number: 2
Height: 6'10"
Weight: 260 lbs
Wingspan: 7'2″
Close Shot: 90
Driving Layup: 80
Driving Dunk: 77
Standing Dunk: 89
Post Control: 90
Mid-Range Shot: 70
Three-Point Shot: 35
Free-Throw: 75
Pass Accuracy: 52
Ball Handle: 40
Speed With Ball: 35
Interior Defense: 90
Perimeter Defense: 49
Steal: 65
Block: 87
Offensive Rebound: 96
Defensive Rebound: 95
Speed: 71
Acceleration: 66
Strength: 89
Vertical: 77
Stamina: 91
George Mikan – "Mr. Basketball"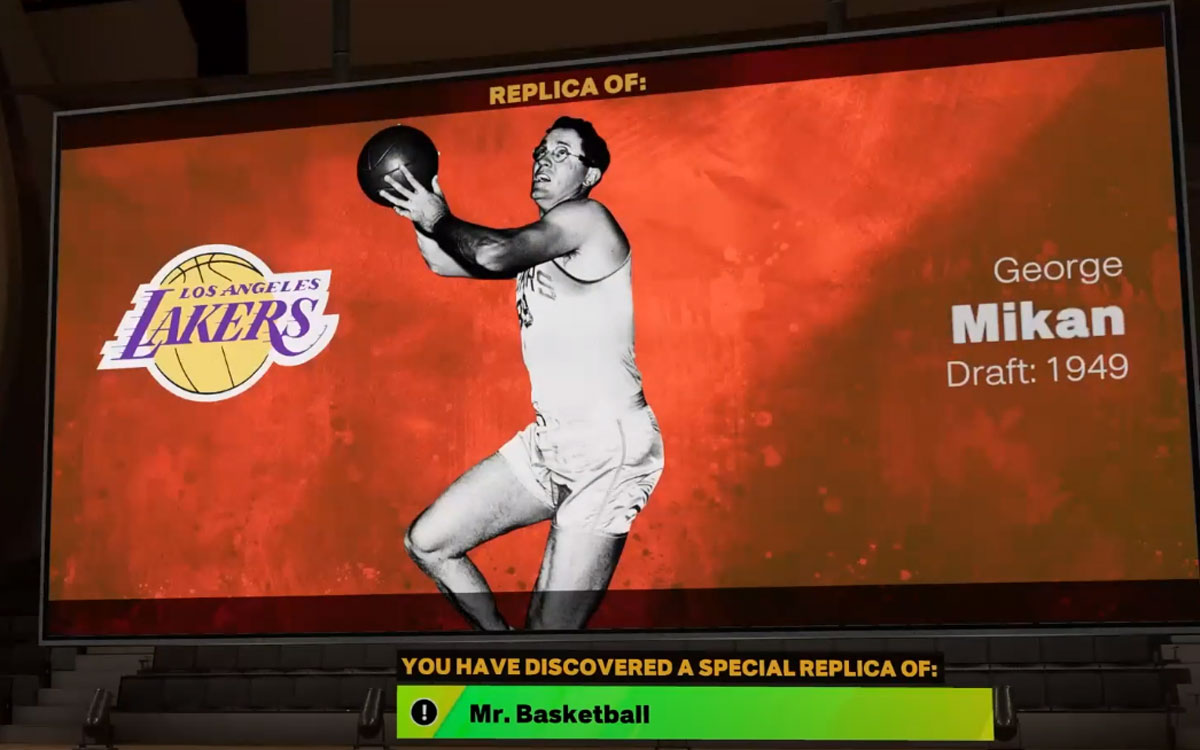 Position: C
Handed: Right
Jersey Number: 99
Height: 6'10"
Weight: 245 lbs
Wingspan: 7'3″
Close Shot: 91
Driving Layup: 78
Driving Dunk: 69
Standing Dunk: 89
Post Control: 91
Mid-Range Shot: 84
Three-Point Shot: 72
Free-Throw: 75
Pass Accuracy: 51
Ball Handle: 42
Speed With Ball: 43
Interior Defense: 88
Perimeter Defense: 40
Steal: 58
Block: 87
Offensive Rebound: 90
Defensive Rebound: 90
Speed: 43
Acceleration: 49
Strength: 87
Vertical: 73
Stamina: 97
Alonzo Mourning – "Zo"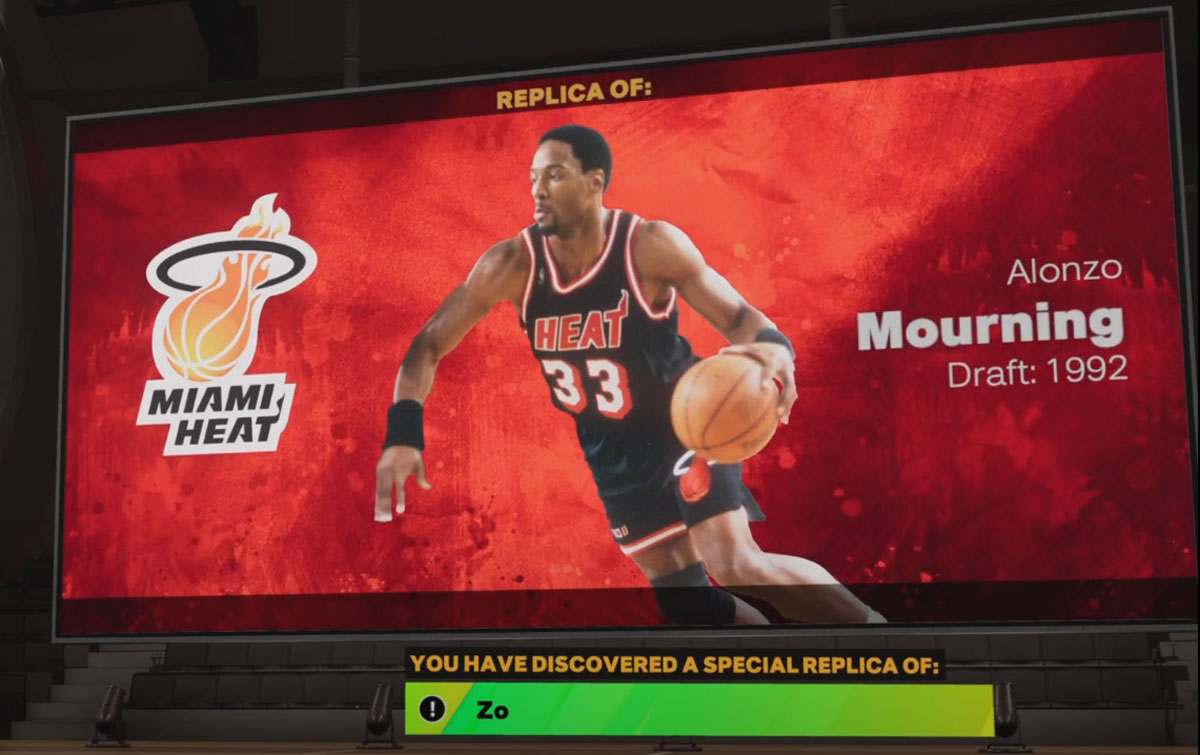 Position: C
Handed: Right
Jersey Number: 33
Height: 6'10"
Weight: 245 lbs
Wingspan: 7'5″
Close Shot: 85
Driving Layup: 75
Driving Dunk: 66
Standing Dunk: 90
Post Control: 87
Mid-Range Shot: 80
Three-Point Shot: 65
Free-Throw: 67
Pass Accuracy: 30
Ball Handle: 58
Speed With Ball: 28
Interior Defense: 88
Perimeter Defense: 65
Steal: 66
Block: 99
Offensive Rebound: 84
Defensive Rebound: 88
Speed: 60
Acceleration: 55
Strength: 94
Vertical: 74
Stamina:91
Hakeem Olajuwon – "The Dream"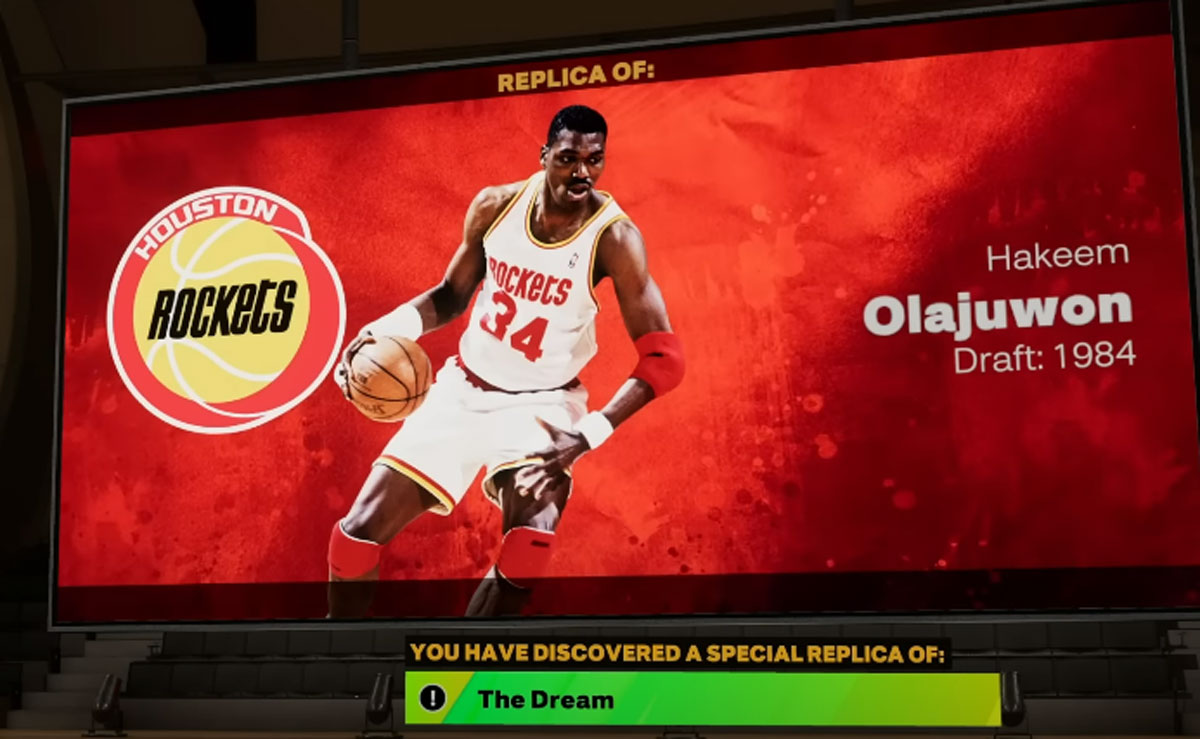 Position: C
Handed: Right
Jersey Number: 34
Height: 7'0″
Weight: 255 lbs
Wingspan: 7'3″
Close Shot: 93
Driving Layup: 71
Driving Dunk: 54
Standing Dunk: 88
Post Control: 94
Mid-Range Shot: 80
Three-Point Shot: 71
Free-Throw: 68
Pass Accuracy: 58
Ball Handle: 56
Speed With Ball: 26
Interior Defense: 91
Perimeter Defense: 42
Steal: 60
Block: 84
Offensive Rebound: 86
Defensive Rebound: 89
Speed: 50
Acceleration: 53
Strength: 84
Vertical: 60
Stamina: 90
Michael Olowokandi "Kandi Man"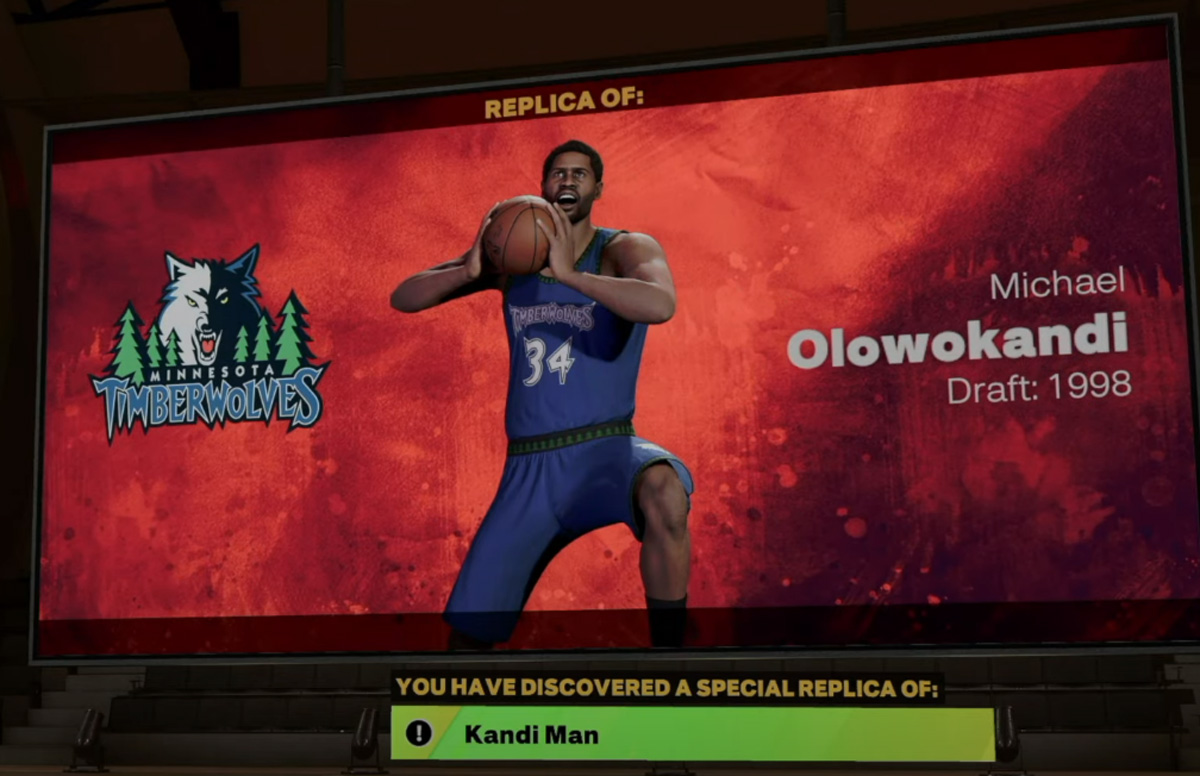 Position: C
Handed: Right
Jersey Number: 34
Height: 7'0″
Weight: 252 lbs
Wingspan: 7'10"
Close Shot: 98
Driving Layup: 80
Driving Dunk: 83
Standing Dunk: 93
Post Control: 85
Mid-Range Shot: 61
Three-Point Shot: 33
Free-Throw: 73
Pass Accuracy: 37
Ball Handle: 35
Speed With Ball: 32
Interior Defense: 85
Perimeter Defense: 55
Steal: 41
Block: 92
Offensive Rebound: 78
Defensive Rebound: 93
Speed: 66
Acceleration: 60
Strength: 93
Vertical: 80
Stamina: 91
Shaquille O'Neal – "Diesel" (Magic)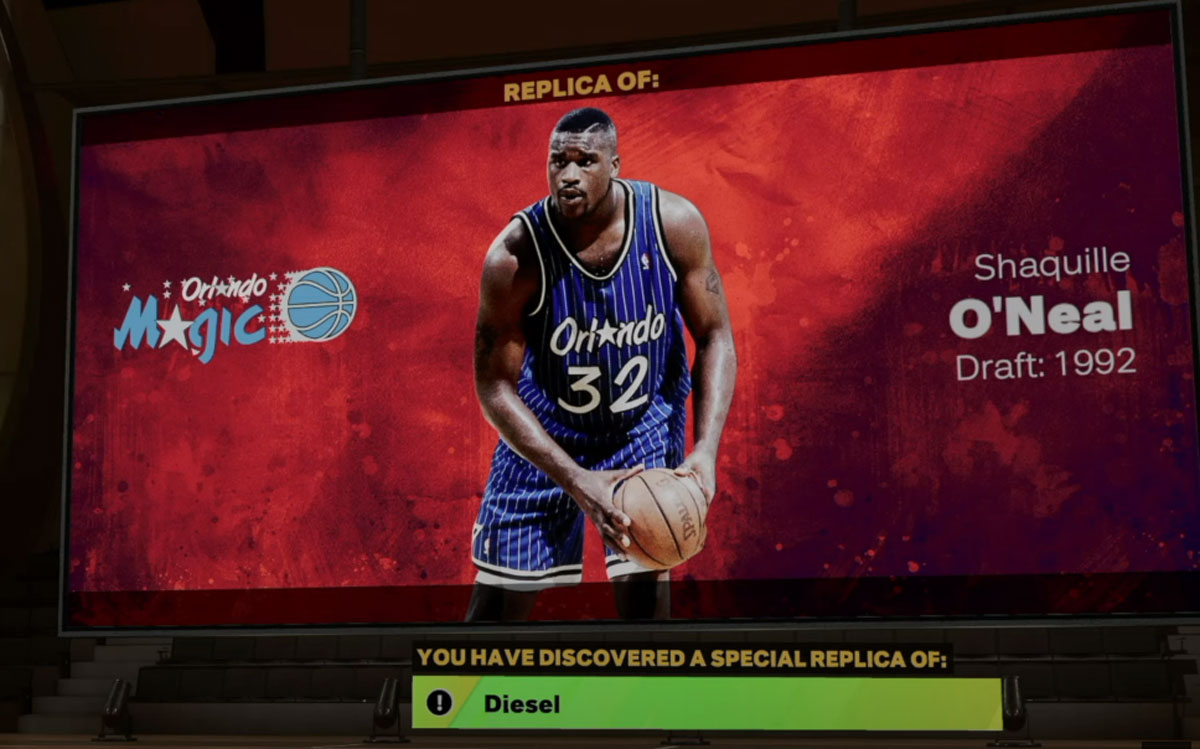 Position: C
Handed: Right
Jersey Number: 32
Height: 7'1″
Weight: 290 lbs
Wingspan: 7'10"
Close Shot: 95
Driving Layup: 60
Driving Dunk: 75
Standing Dunk: 91
Post Control: 94
Mid-Range Shot: 55
Three-Point Shot: 25
Free-Throw: 55
Pass Accuracy: 47
Ball Handle: 50
Speed With Ball: 41
Interior Defense: 87
Perimeter Defense: 40
Steal: 52
Block: 87
Offensive Rebound: 83
Defensive Rebound: 94
Speed: 52
Acceleration: 38
Strength: 95
Vertical: 71
Stamina: 90
NBA 2K23 Replica Build: Shaquille O'Neal (Lakers)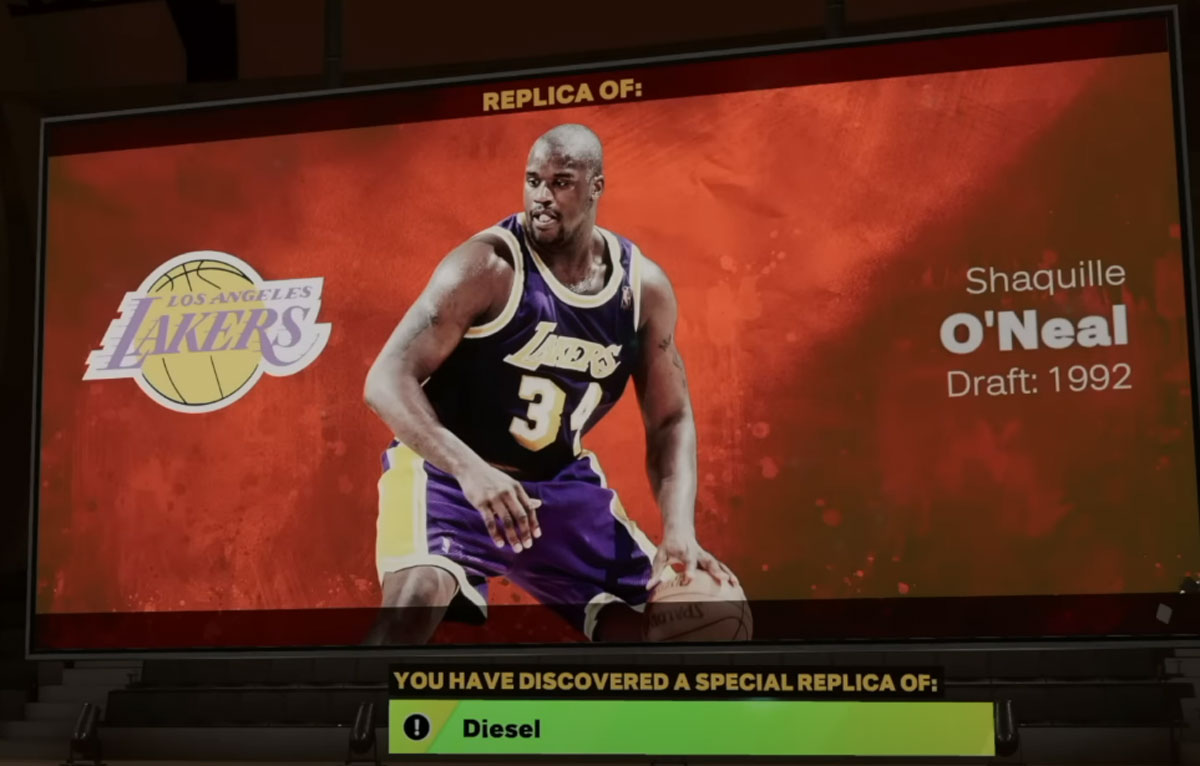 Position: C
Handed: Right
Jersey Number: 34
Height: 7'1″
Weight: 290 lbs
Wingspan: 7'10"
Close Shot: 90
Driving Layup: 70
Driving Dunk: 75
Standing Dunk: 91
Post Control: 94
Mid-Range Shot: 51
Three-Point Shot: 25
Free-Throw: 52
Pass Accuracy: 76
Ball Handle: 56
Speed With Ball: 34
Interior Defense: 87
Perimeter Defense: 41
Steal: 55
Block: 88
Offensive Rebound: 93
Defensive Rebound: 89
Speed: 47
Acceleration: 35
Strength: 91
Vertical: 69
Stamina: 90
Robert Parish – "The Chief"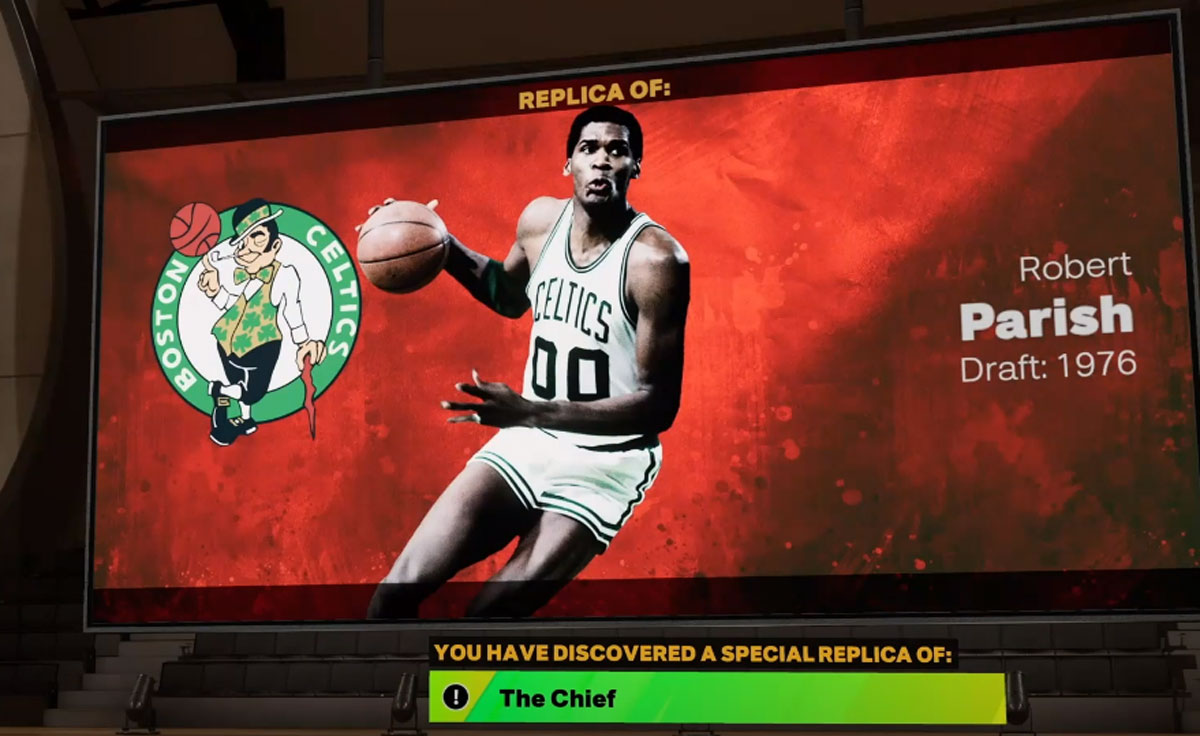 Position: C
Handed: Right
Jersey Number: 00
Height: 7'0″
Weight: 230 lbs
Wingspan: 7'4″
Close Shot: 93
Driving Layup: 78
Driving Dunk: 70
Standing Dunk: 90
Post Control: 95
Mid-Range Shot: 75
Three-Point Shot: 33
Free-Throw: 73
Pass Accuracy: 58
Ball Handle: 45
Speed With Ball: 25
Interior Defense: 92
Perimeter Defense: 55
Steal: 65
Block: 80
Offensive Rebound: 89
Defensive Rebound: 90
Speed: 63
Acceleration: 55
Strength: 87
Vertical: 67
Stamina: 95
Kristaps Porzingis – "The Unicorn"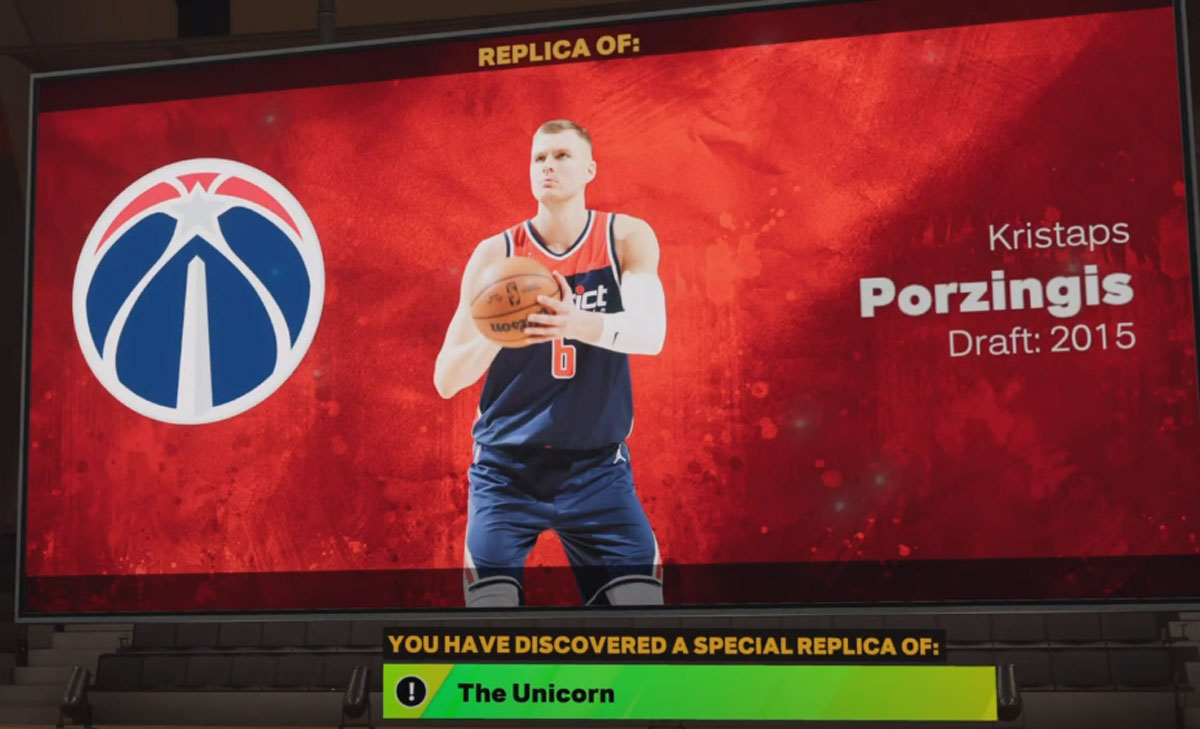 Position: C
Handed: Right
Jersey Number: 6
Height: 7'3″
Weight: 230 lbs
Wingspan: 7'6″
Close Shot: 90
Driving Layup: 77
Driving Dunk: 73
Standing Dunk: 90
Post Control: 83
Mid-Range Shot: 81
Three-Point Shot: 80
Free-Throw: 80
Pass Accuracy: 58
Ball Handle: 60
Speed With Ball: 48
Interior Defense: 81
Perimeter Defense: 62
Steal: 33
Block: 87
Offensive Rebound: 62
Defensive Rebound: 85
Speed: 59
Acceleration: 44
Strength: 76
Vertical: 75
Stamina: 90
Willis Reed – "The Captain"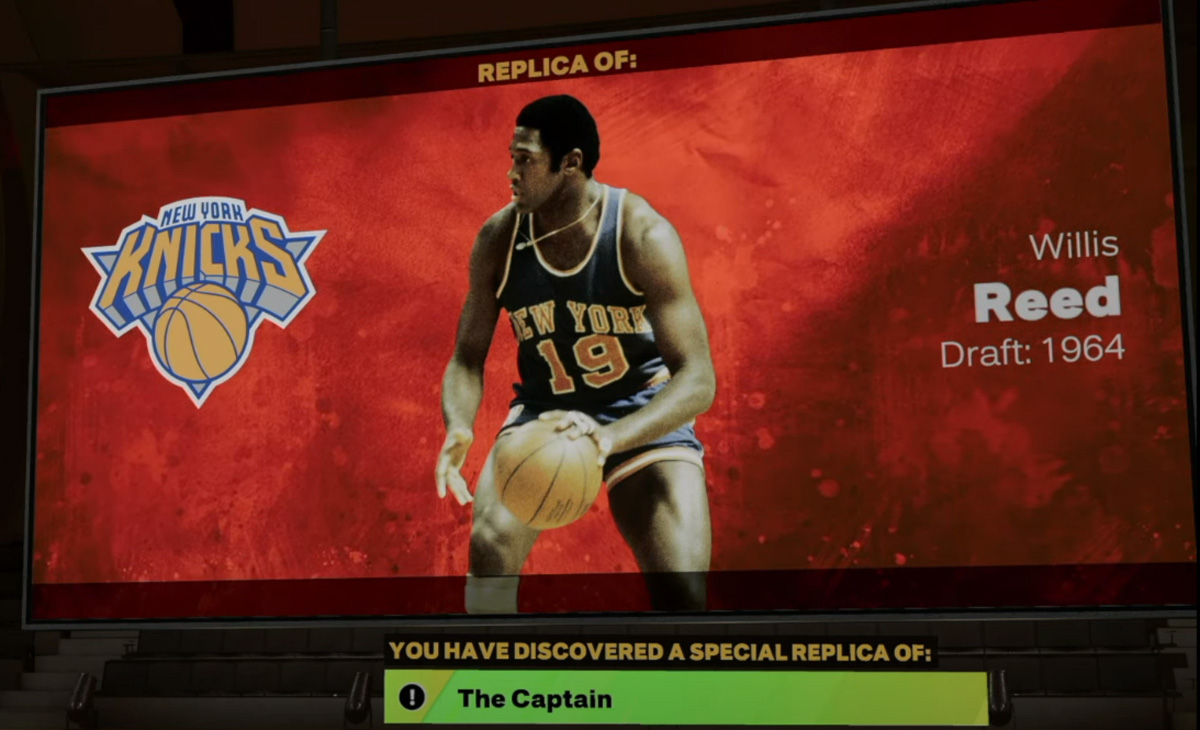 Position: C
Handed: Left
Jersey Number: 19
Height: 6'9″
Weight: 245 lbs
Wingspan: 7'3″
Close Shot: 89
Driving Layup: 80
Driving Dunk: 86
Standing Dunk: 87
Post Control: 88
Mid-Range Shot: 81
Three-Point Shot: 46
Free-Throw: 72
Pass Accuracy: 42
Ball Handle: 45
Speed With Ball: 50
Interior Defense: 87
Perimeter Defense: 50
Steal: 85
Block: 93
Offensive Rebound: 94
Defensive Rebound: 86
Speed: 70
Acceleration: 63
Strength: 89
Vertical: 77
Stamina: 90
Bryant Reeves – "Big Country"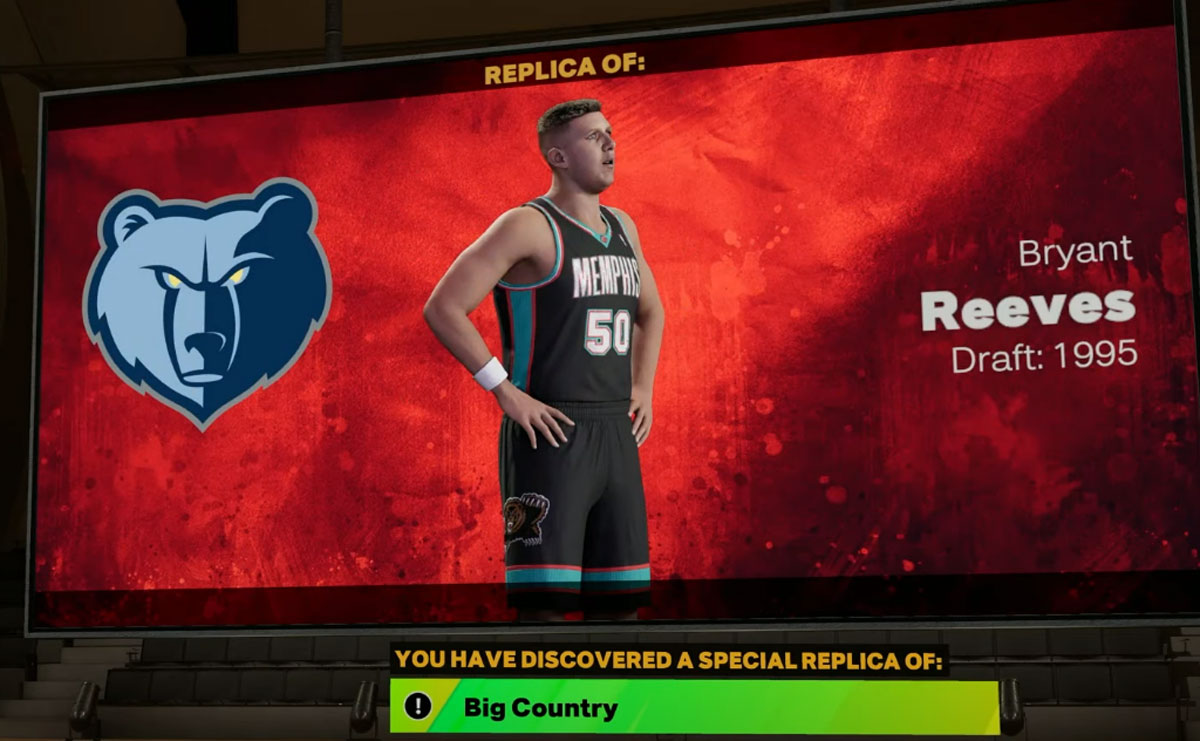 Position: C
Handed: Right
Jersey Number: 50
Height: 7'0″
Weight: 275 lbs
Wingspan: 7'2″
Close Shot: 89
Driving Layup: 75
Driving Dunk: 65
Standing Dunk: 80
Post Control: 90
Mid-Range Shot: 88
Three-Point Shot: 62
Free-Throw: 76
Pass Accuracy: 65
Ball Handle: 62
Speed With Ball: 32
Interior Defense: 83
Perimeter Defense: 41
Steal: 63
Block: 62
Offensive Rebound: 75
Defensive Rebound: 83
Speed: 60
Acceleration: 50
Strength: 96
Vertical: 68
Stamina: 95
David Robinson – "The Admiral"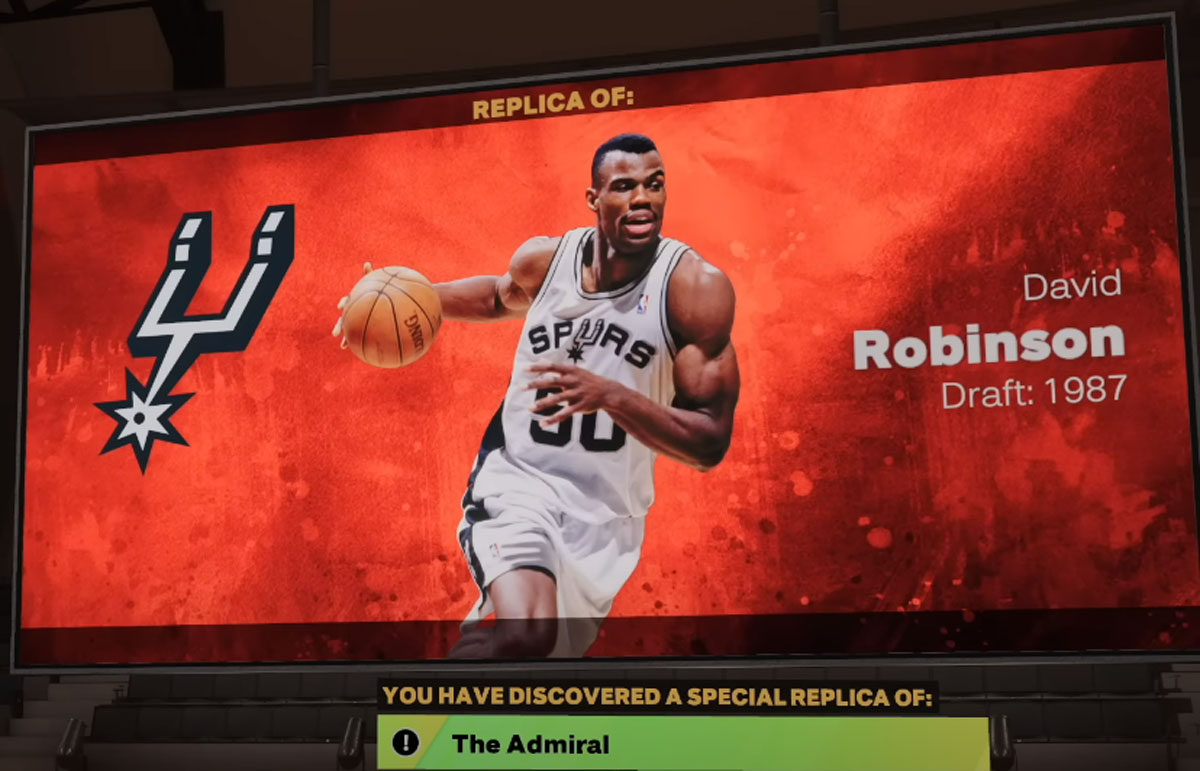 Position: C
Handed: Left
Jersey Number: 50
Height: 7'1″
Weight: 237 lbs
Wingspan: 7'5″
Close Shot:  86
Driving Layup: 72
Driving Dunk:  57
Standing Dunk: 90
Post Control: 89
Mid-Range Shot: 85
Three-Point Shot: 63
Free-Throw: 69
Pass Accuracy: 32
Ball Handle: 46
Speed With Ball: 25
Interior Defense: 89
Perimeter Defense: 53
Steal: 53
Block: 81
Offensive Rebound: 87
Defensive Rebound: 93
Speed: 63
Acceleration: 55
Strength: 89
Vertical: 72
Stamina: 90
Wes Unseld – "The Baby Bull"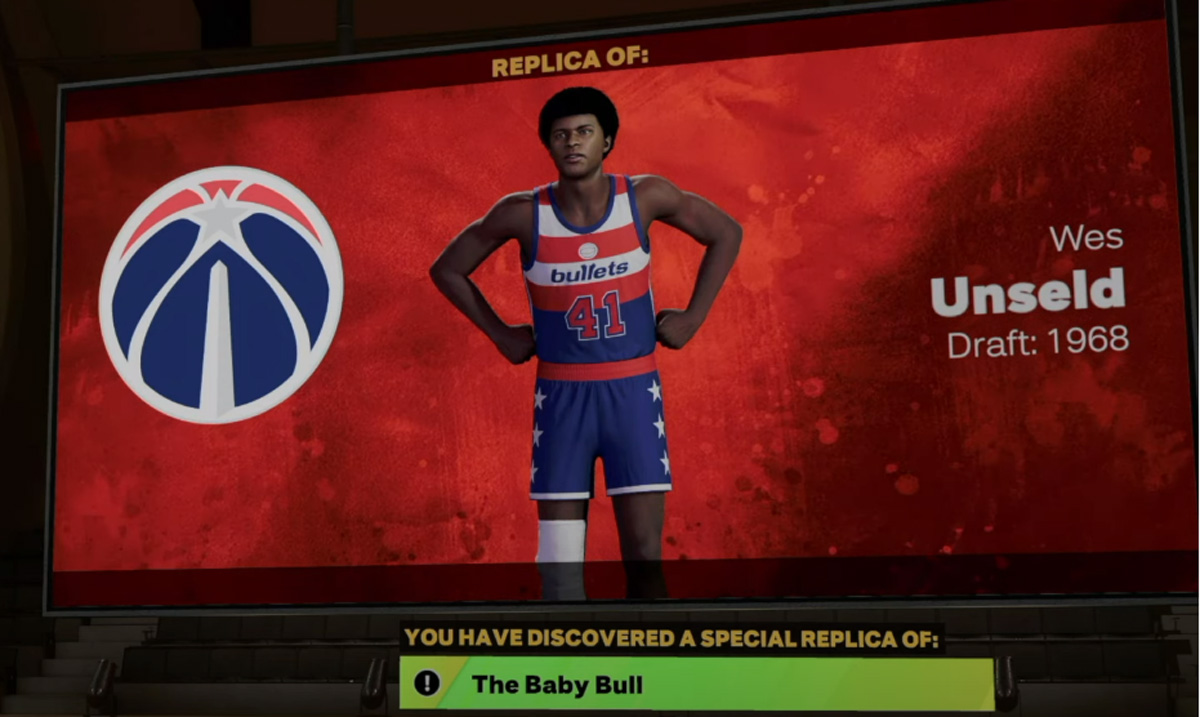 Position: C
Handed: Right
Jersey Number: 41
Height: 6'7″
Weight: 245 lbs
Wingspan: 7'2″
Close Shot: 86
Driving Layup: 85
Driving Dunk: 86
Standing Dunk: 82
Post Control: 85
Mid-Range Shot: 74
Three-Point Shot: 70
Free-Throw: 70
Pass Accuracy: 74
Ball Handle: 67
Speed With Ball: 47
Interior Defense: 78
Perimeter Defense: 60
Steal: 80
Block: 77
Offensive Rebound: 89
Defensive Rebound: 94
Speed: 74
Acceleration: 70
Strength: 87
Vertical: 88
Stamina: 90
Anderson Varejao – "Wild Thing"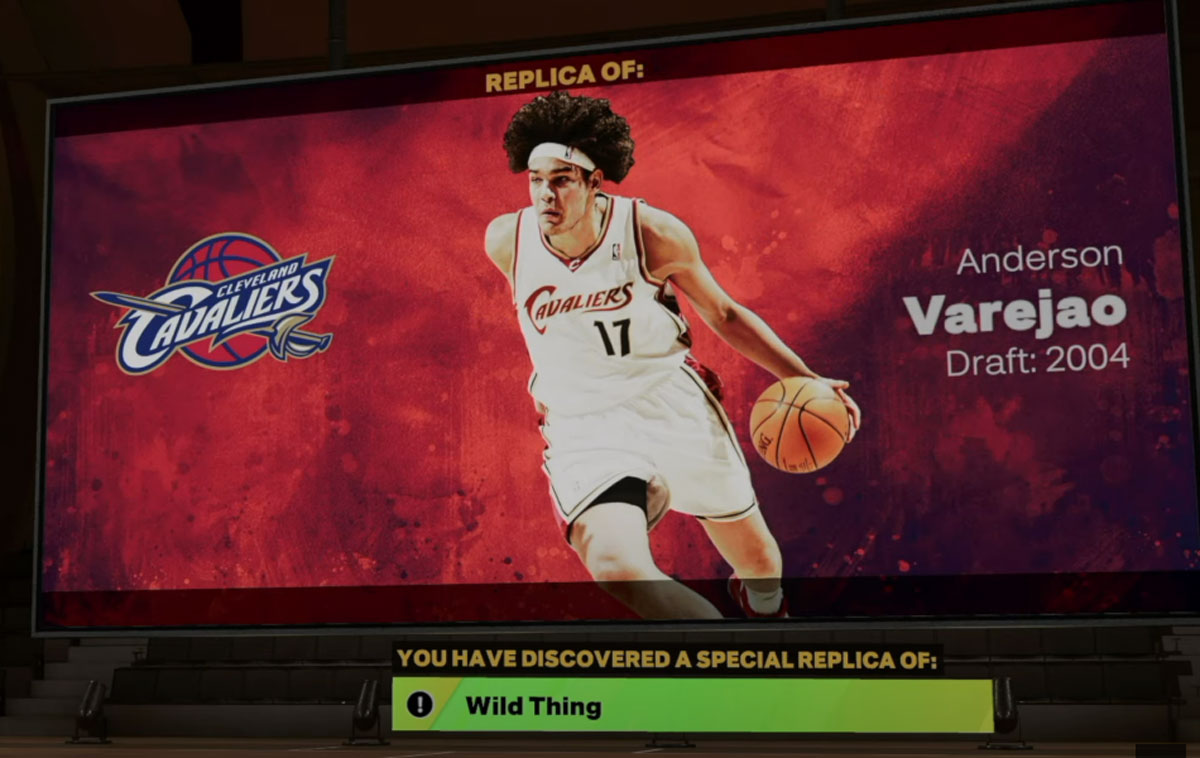 Position: C
Handed: Right
Jersey Number: 17
Height: 6'11"
Weight: 250 lbs
Wingspan: 7'5″
Close Shot: 83
Driving Layup: 71
Driving Dunk: 53
Standing Dunk: 80
Post Control: 70
Mid-Range Shot: 87
Three-Point Shot: 42
Free-Throw: 70
Pass Accuracy: 75
Ball Handle: 40
Speed With Ball: 25
Interior Defense: 93
Perimeter Defense: 43
Steal: 59
Block: 70
Offensive Rebound: 99
Defensive Rebound: 99
Speed: 60
Acceleration: 45
Strength: 89
Vertical: 68
Stamina: 90
Ben Wallace – "Big Ben"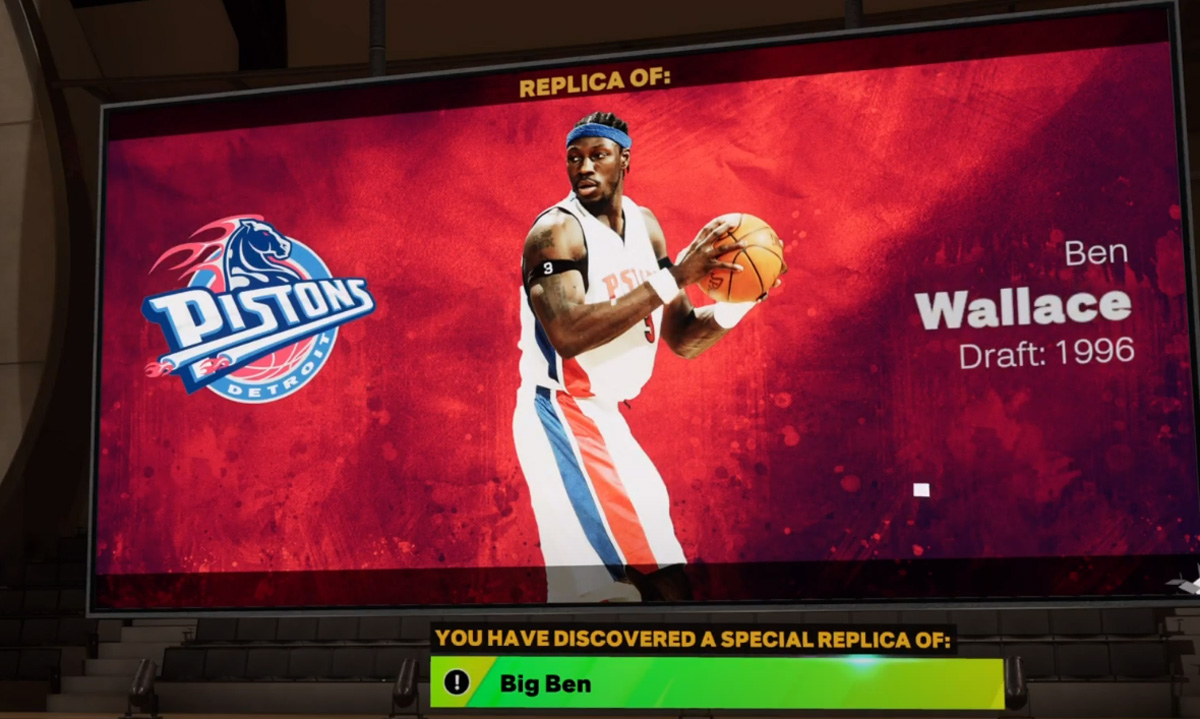 Position: C
Handed: Right
Jersey Number: 3
Height: 6'9″
Weight: 242 lbs
Wingspan: 7'3″
Close Shot: 79
Driving Layup: 63
Driving Dunk: 73
Standing Dunk: 88
Post Control: 53
Mid-Range Shot: 53
Three-Point Shot: 31
Free-Throw: 50
Pass Accuracy: 62
Ball Handle: 53
Speed With Ball: 40
Interior Defense: 99
Perimeter Defense: 57
Steal: 85
Block: 94
Offensive Rebound: 90
Defensive Rebound: 94
Speed: 79
Acceleration: 72
Strength: 95
Vertical: 91
Stamina: 95
Hassan Whiteside – "Agent Block"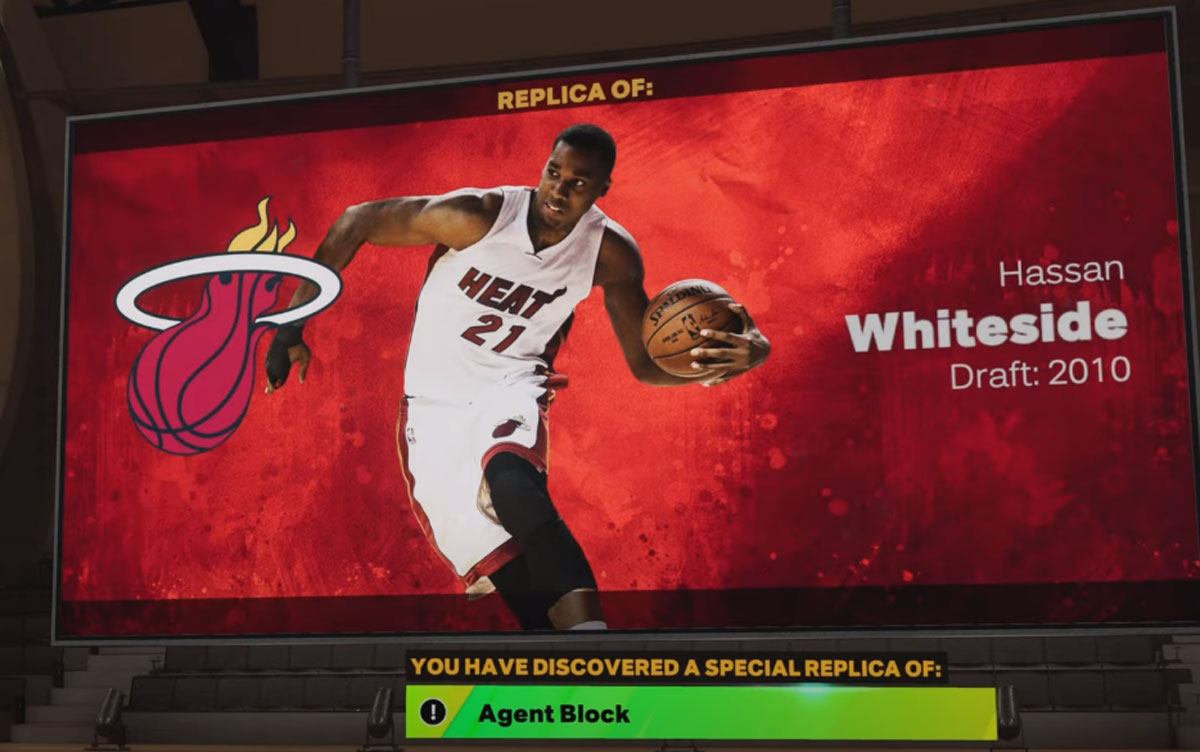 Position: C
Handed: Right
Jersey Number: 21
Height: 7'0″
Weight: 265 lbs
Wingspan: 7'9″
Close Shot: 85
Driving Layup: 71
Driving Dunk: 79
Standing Dunk: 90
Post Control: 80
Mid-Range Shot: 77
Three-Point Shot: 32
Free-Throw: 62
Pass Accuracy: 40
Ball Handle: 31
Speed With Ball: 25
Interior Defense: 96
Perimeter Defense: 46
Steal: 61
Block: 99
Offensive Rebound: 92
Defensive Rebound: 99
Speed: 66
Acceleration: 51
Strength: 76
Vertical: 68
Stamina: 90
For more newly discovered replica builds, be sure to subscribe to: