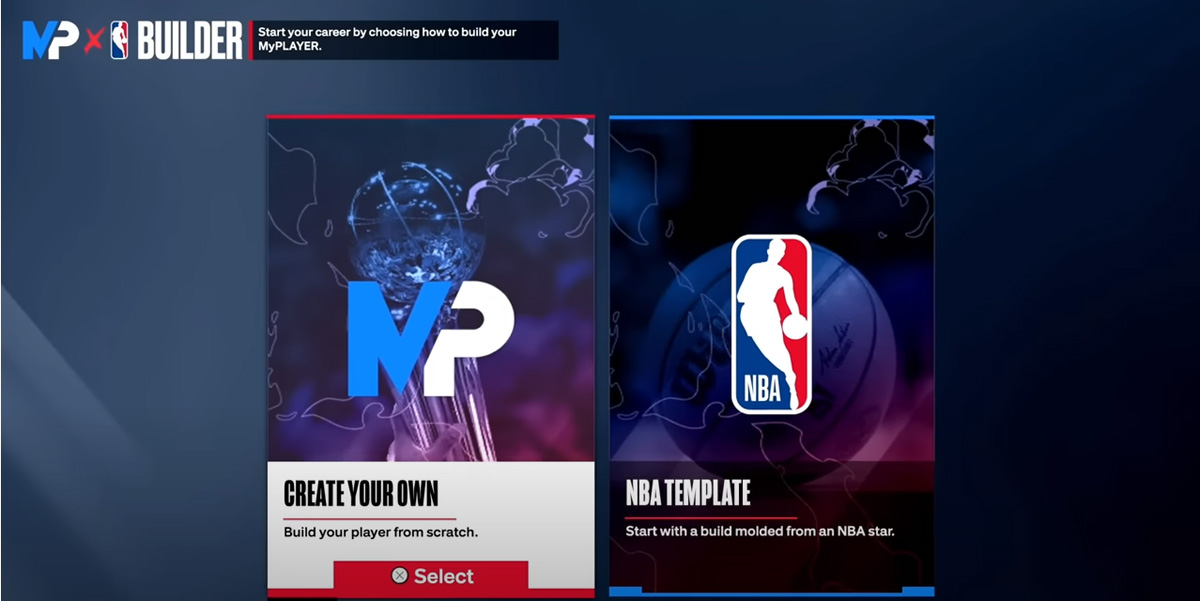 Creating your build(s) in NBA 2K24 is an exciting part of the MyCAREER journey, but also comes with the risk of potentially spending your hard-earned money (if you bought VC) or time on a "bad build". So with that in mind, it makes sense to be super thorough in figuring out what type of builds you want to create, especially with the increase in how much it costs to max out a MyPLAYER. If you're not sure what next build to make or where to start, don't worry, we've got you covered in this NBA 2K24 Ultimate Builds Guide!
Also See:
We've compiled a summary of useful tips, strategies, and factors to consider before finalizing your MyPLAYER build with VC (if that's the route you decide to go), as well as things to do afterwards to maximize your MyPLAYER's potential in NBA 2K24:
Creating Your MyPLAYER
Tip #1) Do Your 'Builds' Research
Tip #2) Learn the Badges & Requirements
Knowing what badges and animation tiers (based on minimum attributes) that your build may qualify for is a key factor you're going to want to confirm before finalizing your build (coming soon).
Check out the NBA 2K24 Badges Guide for the attribute requirements for each badge
Tip #3) Overall Talent – Skill Attributes, Athleticism, Badges, Size
Another way on deciding which build to make is to simply go for the most talented or OP builds, i.e. "demigod" or "meta" builds. Builds that are the most proficient in getting the most out of the attributes, having access to the most badges and most useful badges, with the best combination of size and athleticism.
Depending on your play style, this could mean going for the most dominant types of builds that can make the biggest impact on the court. Whether your building a scorer, lockdown defender, or a post player to bully in the paint.
Tip #4) Use NBA Templates / Replica Builds
Many 2K ballers like to try to re-create a superstar NBA player in the game. This can be a good foundation, especially if you've successfully used that player before in NBA 2K24. 2K has made it super easy to essentially "clone" a build (within the MyPLAYER framework) with NBA Templates.
Tip #5) Game Mode(s) Preference
Which game mode(s) will you be playing the most with this build? Will it be 2v2, 3v3 or 5v5? Will it be online or offline MyCAREER, Park or Pro-Am, or a combo of them all? Which game mode(s) you'll likely play should be a significant factor on which type of build to make.
Game difficulty and competition may vary depending on which mode you play the most.
Some builds may be able to get by okay in The City but have a tougher time vs better competition in Pro-Am or Ante-Up.
Tip #6) Play Style
Your desired play style is a big factor in what build to make. Will your build be running the offense, playing off-ball as a spot-up shooter, be iso-heavy, be a hustler player, etc?
The type of gameplay experience you want is another thing to consider for the type of build you create. Is the build just to mess around and have fun, or more of a 'comp' build?
Another strategy is basing it on "skills" related to your inherent and specific strengths and weaknesses as an actual gamer / player. For example, if someone instinctively has great court vision and is a disciplined passer, they may be able to get away with having lower pass attributes and less passing badges. Whereas something like the "speed" attribute is hard to compensate for even if you have high basketball IQ. Additionally, someone may want to make their inherent strengths stronger. For example, if defense and defensive instincts are already one of their strengths as a player, they could amplify that by creating a beast lockdown defender.
Tip #7) Team Role / Roster Fit
If you're a Pro-Am or Rec baller, creating a build that fills a team role will likely be a necessity for your squad, the types of sets your team runs, the team's basketball philosophy/strategy on offense and defense, as well as individual and team matchups your team will face. Roster fit and what type of build(s) fair better against competition (and their builds) is always something to consider.
You can decide on creating a build based off of how much impact you want to have, without being dependent on teammates. For example, bigs who can rebound can make an impact without needing the ball, by controlling the glass. Big are also a good build if you're running "solo Rec".
Another thing to base it on could be on what NBA team you want to play for in MyCAREER and playing time / minutes.
   Tip #8) Grinding Process
Maybe you just want to earn VC fast and rep up fast so that you can make more builds easier and have more VC for it. This can be another factor for deciding which build to make.
Bigs are generally better for earning more XP due to the opportunity for plenty of rebounds.
After Creating Your MyPLAYER
Tip #1) Test Your Build In-Game
After creating your build, make sure you take advantage of the "test your build" option that 2K conveniently included, where you get to test your MyPLAYER in a game setting of 3v3 or 5v5 with a team of your choice, vs any team. You can test out your build at different overall ratings, as well as being able to select and equip all your badges.
Use this game as an opportunity to test out dribble moves, movement, speed, jumpshot, etc.
Tip #2) Equip a Good Jumpshot
Check out the Best Jumpshots in NBA 2K24 (Coming Soon)
Tip #3) Test Out Different Dribble Moves
Check out the Best Dribble Moves in NBA 2K24 (Coming Soon)
Tip #4) Take Advantage of Quests & Boosts
Skill and Gatorade boosts can be used to help a player keep up with the competition, especially when starting out.
Take advantage of quests and different opportunities to improve your MyPLAYER's abilities.
Tip #5) Add Your Build to the NBA 2K Community
List of Archetypes:
(Note: Work in progress, based off of last year's Archetypes)
2 Way 3 Level Facilitator
2 Way 3 Level Point Forward
2 Way 3 Level Scorer
2 Way 3 Level Shot Creator
2 Way 3 Level Threat
2 Way 3 PT Facilitator
2 Way 3 PT Playmaker
2 Way 3 PT Shot Creator
2 Way Balanced Scorer
2 Way Break Starter
2 Way Diming 3 PT Shooter
2 Way Diming Big
2 Way Diming Finisher
2 Way Diming Middy Specialist
2 Way Diming Outside Scorer
2 Way Diming Perimeter Threat
2 Way Diming Sharpshooter
2 Way Diming Slashing Threat
2 Way Diming Spot Up Threat
2 Way Facilitator
2 Way Finisher
2 Way Floor General
2 Way Floor Spacing Slasher
2 Way Glass Cleaning Slasher
2 Way Inside Out Combo Guard
2 Way Inside Out Creator
2 Way Inside Out Playmaker
2 Way Inside Out Point Forward
2 Way Inside Out Scorer
2 Way Inside Out Threat
2 Way Inside The Arc Maestro
2 Way Inside The Arc Scorer
2 Way Inside The Arc Threat
2 Way Interior Threat
2 Way Mid Range Maestro
2 Way Mid Range Shooter
2 Way Mid Range Slasher
2 Way Mid Range Specialist
2 Way Pass First Guard
2 Way Pass First Point
2 Way Pass First Wing
2 Way Perimeter Shot Creator
2 Way Playmaker
2 Way Playshot
2 Way Post Playmaker
2 Way Scoring Machine
2 Way Sharpshooter
2 Way Shooter
2 Way Shot Creator
2 Way Skilled Stretch
2 Way Skilled Stretch Four
2 Way Skilled Stretch Five
2 Way Slasher
2 way Slashing Combo Guard
2 Way Slashing Playmaker
2 Way Slashing Shot Creator
2 Way Spot Up Threat
2 Way Stretch Four
2 Way Stretch Five
2 Way Stretch Glass Cleaner
2 Way Stretch Playmaker
2 Way Tempo Pusher
2 Way Threat
2 Way Walking Bucket
3 & D Guard
3 & D Off Guard
3 & D Point
3 & D Threat
3 & D Two Guard
3 & D Wing
3 Level Playmaker
3 Level Scorer
3 Level Scoring Glass Cleaner
3 Level Shot Creator
3 PT Shot Hunter
3 Level Threat
3 PT Combo Guard
3 PT Playmaker
3 PT Shooter
3 PT Specialist
All Around 2 Way
All Around Threat
Athletic Finisher
Back to Basket Big
Balanced Offensive Point
Balanced Scorer
Ball Hawk
Deep Range Shot Creator
Defender / Rebounder
Defensive Anchor
Defensive Menace
Diming 3 & D Guard
Diming 3 & D Two Guard
Diming 3 Level Scorer
Diming 3 Level Threat
Diming Defensive Anchor
Diming Finisher
Diming Glass Cleaner
Diming Inside Out Scorer
Diming Inside The Arc Scorer
Diming Inside Out Threat
Diming Outside Scorer
Diming Paint Beast
Diming Sharpshooter
Face Up Four
Face Up Glass Cleaner
Face Up Playmaker
Facilitating 3 Level 2 Way
Facilitating Finisher
Facilitating Shooter
Finesse Finisher
Finisher
Floor General
Floor Spacing Rebounder
Floor Spacing Slasher
Glass Cleaner
Glass Cleaning 3 Level Threat
Glass Cleaning 3 PT Threat
Glass Cleaning Dimer
Glass Cleaning Interior Scorer
Glass Cleaning Interior Threat
Glass Cleaning Finisher
Glass Cleaning Lockdown
Glass Cleaning Shot Creator
Handles / Passing
High Flyer
Hybrid Defender
Hybrid Lockdown Defender
Inside Out Combo Guard
Inside Out Facilitator
Inside Out Playmaker
Inside Out Glass Cleaner
Inside Out Scorer
Inside Out Shot Creator
Insisde Out Threat
Interior Big
Interior Finisher
Interior Force
Interior Playmaker
Interior Scorer
Inside Outside Threat
Inside The Arc Glass Cleaner
Inside The Arc Finisher
Inside The Arc Maestro
Jack of All Trades
Lob Threat
Lockdown Defender
Mid Interior Facilitator
Mid Range Finisher
Mid Range Maestro
Mid Range Playmaker
Mid Range Shooter
Mid Range Slasher
Mid Range Specialist
Multi Position Defender
Offense Initiator
Offensive Minded Wing
Offensive Orientated Four
Offensive Orientated Five
Offensive Threat
Paint Beast
Paint Defender
Paint Protector
Pass-First Big
Passing and Ball Handling
Perimeter Defender
Perimeter Lockdown
Perimeter Scoring Menace
Playmaking 3 Level Scorer
Playmaking Glass Cleaner
Playmaking Four
Playmaking Five
Playmaking Paint Beast
Playmaking Perimeter Creator
Playmaking Shot Creator
Playmaking Slasher
Point of Attack Stopper
Point Power Forward
Post Playmaker
Prospect
Rebounder
Rebounding Guard
Rebounding Point
Rebounding Wing
Rugged Playmaker
Scoring Machine
Scrappy Point
Scrappy Two Guard
Scrappy Wing
Secondary Ball Handler
Sharpshooter
Sharpshooting Facilitator
Sharpshooting Shot Creator
Shoot First Point
Shooter
Shot Blocking Guard
Shot Blocking Wing
Shot Creating 3 Level Threat
Shot Creating Perimeter Threat
Shot Creator
Skilled Defensive Anchor
Skilled Glass Cleaner
Skilled Interior Force
Slasher
Slashing Playmaker
Slashing Threat
Small Ball Wing
Small Ball Four
Spot Up Threat
Stretch Dimer
Stretch Facilitator
Stretch Four
Stretch Five
Stretch Glass Cleaner
Stretch Playmaker
Tempo Pushing Guard
Versatile Offensive Force
Versatile Paint Beast
Walking Bucket
Well Rounded Guard
Well Rounded Wing
Well Rounded Four
NBA 2K24 NBA TEMPLATES LIST OF PLAYERS

PG
LaMelo Ball
Jalen Brunson
Cade Cunningham
Luka Doncic
De'Aaron Fox
Scoot Henderson
Jrue Holiday
Kyrie Irving
Russell Westbrook
Trae Young
SG
Bradley Beal
Jaylen Brown
Anthony Edwards
Josh Giddey
Tyler Herro
Zach LaVine
Austin Reaves
Marcus Smart
Klay Thompson
SF
Mikal Bridges
Jimmy Butler
Paul George
Brandon Ingram
Michael Porter Jr.
Jayson Tatum
PF
Paolo Banchero
Aaron Gordon
Draymond Green
Jaren Jackson Jr.
Cam Johnson
Lauri Markkanen
Evan Mobley
Pascal Siakam
Karl-Anthony Towns
C
Deandre Ayton
Anthony Davis
Andre Drummond
Nikola Jokic
Domantas Sabonis
Myles Turner
At the end of day, it's about trying to make the best build you can and which fits your play style, along with any other factors that are important to you for getting the most out of the gameplay experience. We hope these tips and strategies for creating your MyPLAYER have helped you decide on which builds to make!