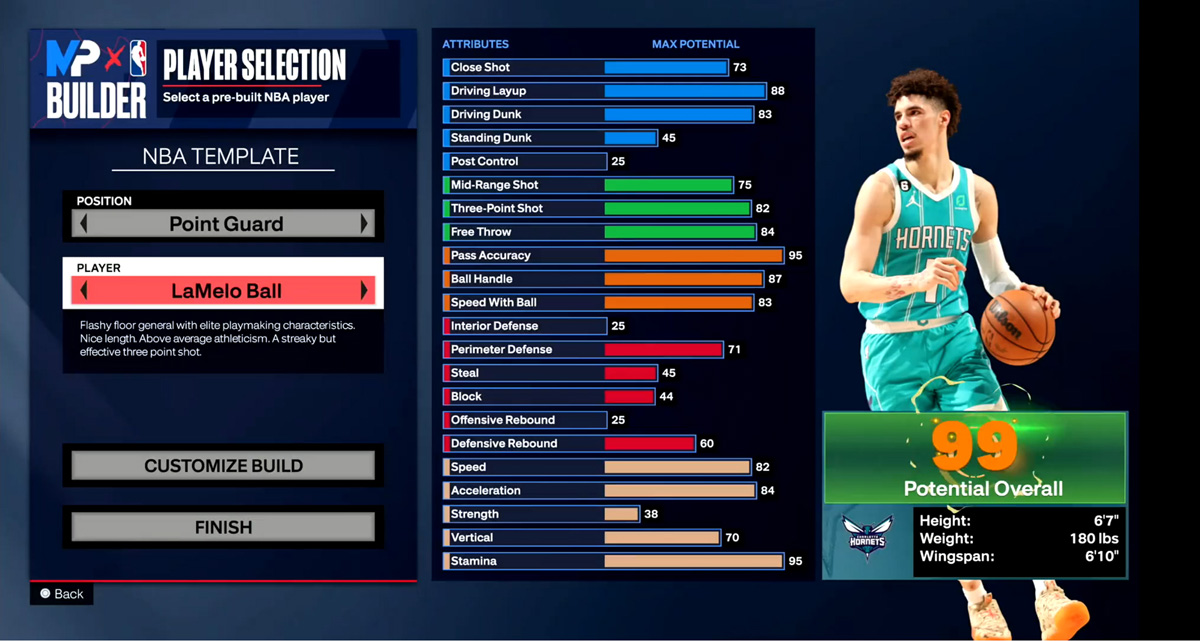 NBA 2K24 has introduced "NBA Templates" – which are similar to last year's Replica Builds – a way to create your MyPLAYER with essentially "cloning" a real NBA player's height, weight, moves, jump shot, attributes and more – as close to the real thing as possible. Read on to find the best NBA templates in NBA 2K24!
According to the 2K Devs, templates aren't carbon copies of their NBA counterparts as far as ratings go, but they were optimized to be competitive options using their NBA ratings as a mold, and then maxed to 99 like custom builds.
Also See:
Here are the full attributes and details for NBA Templates!
NBA 2K24 NBA TEMPLATES
Point Guards
Shooting Guards 
Small Forwards
Power Forwards
Centers
NBA 2K24 NBA TEMPLATES LIST OF PLAYERS

PG
LaMelo Ball
Jalen Brunson
Cade Cunningham
Luka Doncic
De'Aaron Fox
Scoot Henderson
Jrue Holiday
Kyrie Irving
Russell Westbrook
Trae Young
SG
Bradley Beal
Jaylen Brown
Anthony Edwards
Josh Giddey
Tyler Herro
Zach LaVine
Austin Reaves
Marcus Smart
Klay Thompson
SF
Mikal Bridges
Jimmy Butler
Paul George
Brandon Ingram
Michael Porter Jr.
Jayson Tatum
PF
Paolo Banchero
Aaron Gordon
Draymond Green
Jaren Jackson Jr.
Cam Johnson
Lauri Markkanen
Evan Mobley
Pascal Siakam
Karl-Anthony Towns
C
Deandre Ayton
Anthony Davis
Andre Drummond
Nikola Jokic
Domantas Sabonis
Myles Turner