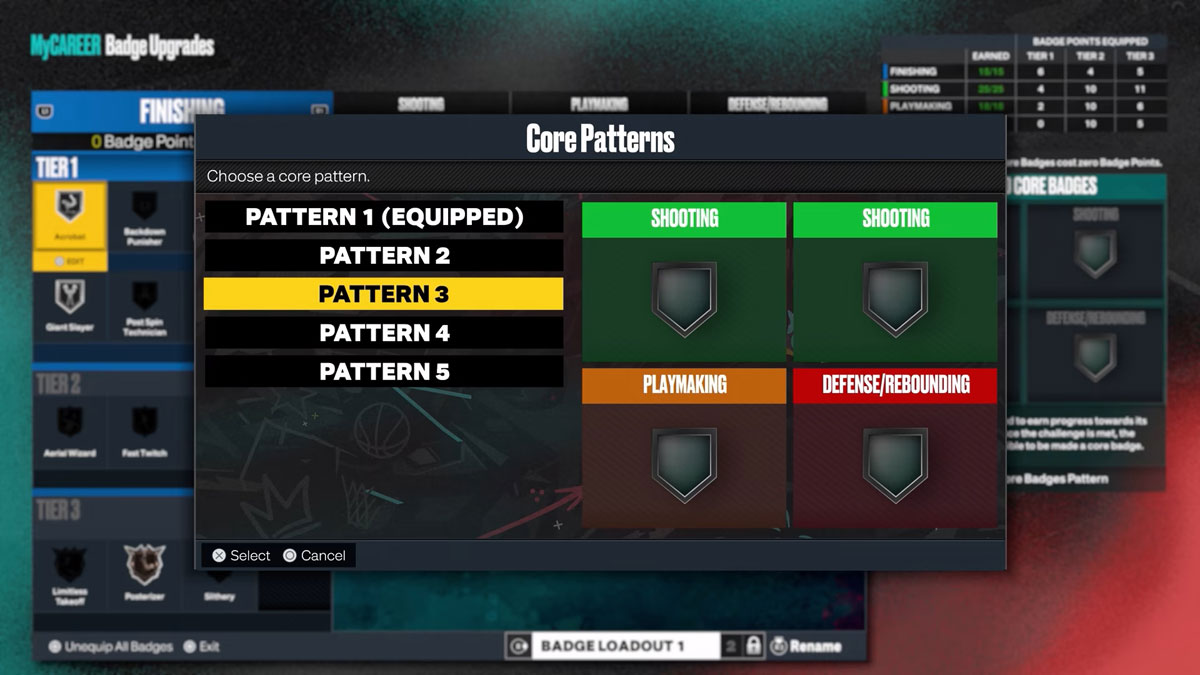 Announced in Season 3 of NBA 2K23, exclusively for Next-Gen, are "Core Badge Patterns" for the MyCAREER Level 40 Season 3 Reward. After a lot of fan feedback, 2K has taken Level 40 Rewards to a new level that now affect the actual MyPLAYER gameplay to reward users for the Level 40 grind.
Also See:
NBA 2K23 Core Badge Patterns Explained (Next-Gen)
To go along with Core Badges, you can now change the pattern of your Core Badge slots if you get to Level 40 in MyCAREER for Season 3 (next-gen only). So far, there are four core badge patterns, with more coming throughout the year:
2 Finishing, 1 Playmaking, 1 Defense/Rebounding
2 Shooting, 1 Playmaking, 1 Defense/Rebounding
1 Finishing, 2 Playmaking, 1 Defense/Rebounding
1 Finishing, 1 Playmaking, 2 Defense/Rebounding
Core Badge Patterns essentially expands on the idea of Core Badges and gives users more flexibility on which skill categories (i.e. 'Finishing') to core. This should change the builds meta, particularly for specialist type builds who have no use for some skill categories. For example, a shooting build who doesn't care about dunking could become OP in shooting badge, an inside center who doesn't care about shooting, etc.
.@Beluba breaks down the new Level 40 Core Badge Patterns on New Gen 🛡 https://t.co/HPMJDZGoFo pic.twitter.com/o9ayauS0b8

— NBA 2K (@NBA2K) December 2, 2022
NBA 2K23 Core Badges Explained
There are four default core badge slots: Finishing, Shooting, Playmaking, and Defense/Rebounding.
Badges in core slots don't cost any badge points, giving you more freedom to spend those badge points how you choose in other areas.
To add a badge to a core slot, you must first equip the badge and complete its core challenge.
Each core badge will have a challenge requirement that, once met, will allow the badge to be placed into a core badge slot.
Here's the Badge Cost breakdown:
Tier 1 Badges cost:
1 Point for Bronze
2 Points for Silver
3 Points for Gold
4 Points for Hall of Fame
Tier 2 Badges cost:
3 Points for Bronze
4 Points for Silver
5 Points for Gold
6 Points for Hall of Fame
Tier 3 Badges cost:
5 Points for Bronze
6 Points for Silver
7 Points for Gold
8 Points for Hall of Fame