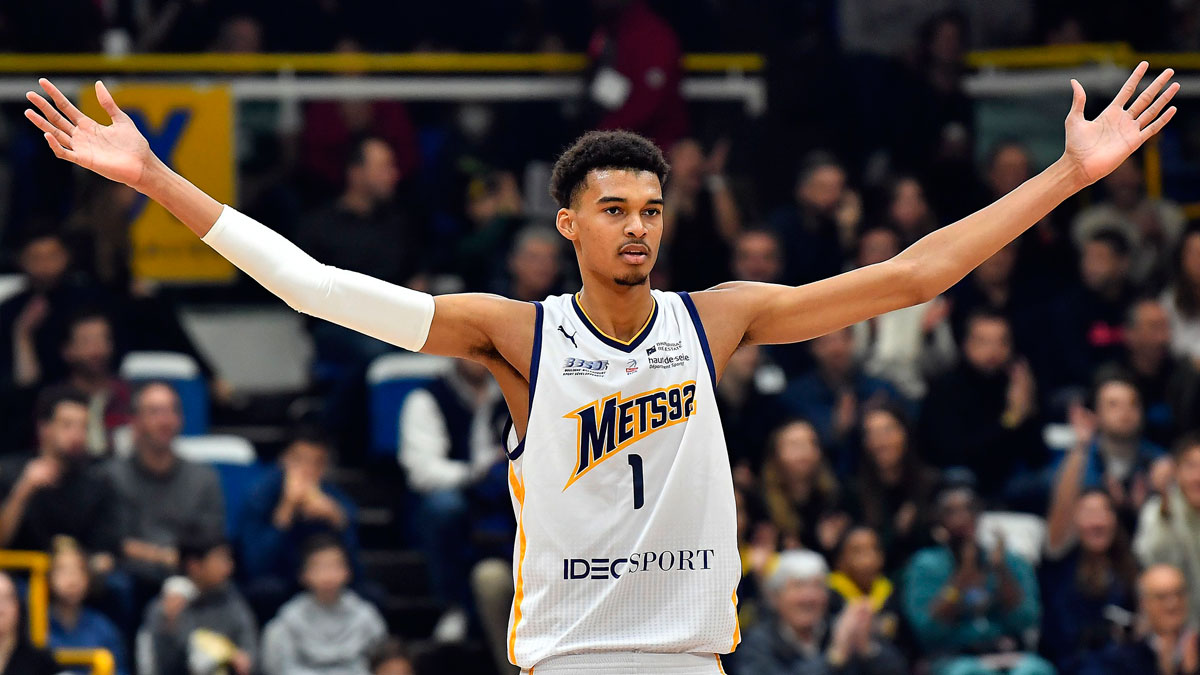 With the 2023 NBA Draft set for Thursday, June 22 at the Barclays Center in Brooklyn, New York, it prompts the question of which new rookies will we get to see in NBA 2K24? Victor "Wemby" Wembanyama, who's overwhelmingly expected to be the #1 overall pick by the Spurs, stands out as one of the most anticipated rookies to be in NBA 2K24 that we've seen in a long time – probably since LeBron James.
Also See:
Wembanyama has been called a "generational talent" by many, coined an "alien" (by LeBron), and a "2K created player" in real life, for his amazing fluidity and do-it-all skills for someone at his height.
After the NBA Draft will be the NBA 2K24 Summer League from July 7 – July 17 in Las Vegas, where all eyes will undoubtedly be on Wemby making his NBA Summer League debut. 2023 NBA rookies will also have their faces, expressions, and body types scanned into NBA 2K24 during this event as well.
Here 's the full NBA Draft list for rookies in NBA 2K24!
NBA 2K24 List of Rookies
| # | Team | Player | Ht. | Wt. | Pos. | From |
| --- | --- | --- | --- | --- | --- | --- |
| 1 | Spurs | Victor Wembanyama | 7-4 | 210 | C | France |
| 2 | Hornets | Brandon Miller | 6-9 | 200 | SF | Alabama |
| 3 | Blazers | Scoot Henderson | 6-2 | 195 | PG | G-League |
| 4 | Rockets | Amen Thompson | 6-7 | 215 | PG/SG | Overtime Elite |
| 5 | Pistons | Ausar Thompson | 6-7 | 220 | SG | Overtime Elite |
| 6 | Magic | Anthony Black | 6-7 | 210 | PG/SG | Arkansas |
| 7 | Wizards | Bilal Coulibaly | 6-7 | 200 | SF | France |
| 8 | Pacers | Jarace Walker | 6-8 | 250 | SF/PF | Houston |
| 9 | Jazz | Taylor Hendricks | 6-9 | 215 | PF | Central Florida |
| 10 | Thunder | Cason Wallace | 6-4 | 195 | PG/SG | Kentucky |
| 11 | Magic | Jett Howard | 6-8 | 215 | SG | Michigan |
| 12 | Mavericks | Dereck Lively | 7-1 | 230 | C | Duke |
| 13 | Raptors | Gradey Dick | 6-7 | 205 | SG | Kansas |
| 14 | Pelicans | Jordan Hawkins | 6-5 | 185 | SG | UConn |
| 15 | Hawks | Kobe Bufkin | 6-5 | 185 | SG | Michigan |
| 16 | Jazz | Keyonte George | 6-4 | 185 | SG | Baylor |
| 17 | Lakers | Jalen Hood-Schifino | 6-5 | 215 | PG/SG | Indiana |
| 18 | Heat | Jaime Jaquez | 6-7 | 225 | SF/PF | UCLA |
| 19 | Warriors | Brandin Podziemski | 6-5 | 205 | PG/SG | Santa Clara |
| 20 | Rockets | Cam Whitmore | 6-7 | 235 | SF | Villanova |
| 21 | Nets | Dariq Whitehead | 6-7 | 220 | SG/SF | Duke |
| 22 | Nets | Noah Clowney | 6-10 | 210 | PF/C | Alabama |
| 23 | Blazers | Kris Murray | 6-9 | 215 | SF/PF | Iowa |
| 24 | Mavericks | Olivier-Maxence Prosper | 6-8 | 210 | SF/PF | Marquette |
| 25 | Pistons | Marcus Sasser | 6-2 | 195 | PG/SG | Houston |
| 26 | Pacers | Ben Sheppard | 6-6 | 195 | SG | Belmont |
| 27 | Hornets | Nick Smith | 6-5 | 185 | PG/SG | Arkansas |
| 28 | Jazz | Brice Sensabaugh | 6-6 | 235 | SF/PF | Ohio St. |
| 29 | Nuggets | Julian Strawther | 6-7 | 210 | SF | Gonzaga |
| 30 | Clippers | Kobe Brown | 6-8 | 250 | SF/PF | Missouri |
| 31 | Hornets | James Nnaji | 6-10 | 235 | C | Nigeria |
| 32 | Nuggets | Jalen Pickett | 6-3 | 200 | PG/SG | Penn State |
| 33 | Timberwolves | Leonard Miller | 6-10 | 210 | SF/PF | G-League |
| 34 | Kings | Colby Jones | 6-6 | 205 | SG | Xavier |
| 35 | Bulls | Julian Phillips | 6-8 | 195 | SF/PF | Tennessee |
| 36 | Bucks | Andre Jackson | 6-6 | 210 | SG/SF | UConn |
| 37 | Nuggets | Hunter Tyson | 6-8 | 215 | SF | Clemson |
| 38 | Celtics | Jordan Walsh | 6-7 | 205 | SF/PF | Arkansas |
| 39 | Hawks | Mouhamed Gueye | 6-11 | 215 | PF/C | Washington State |
| 40 | Lakers | Maxwell Lewis | 6-7 | 205 | SG/SF | Pepperdine |
| 41 | Hornets | Amari Bailey | 6-4 | 190 | PG/SG | UCLA |
| 42 | Wizards | Tristan Vukcevic | 7-0 | 225 | PF/C | Serbia |
| 43 | Blazers | Rayan Rupert | 6-7 | 195 | SG/SF | France |
| 44 | Spurs | Sidy Cissoko | 6-7 | 225 | SG/SF | G-League |
| 45 | Grizzlies | GG Jackson | 6-9 | 215 | PF | South Carolina |
| 46 | Hawks | Seth Lundy | 6-5 | 215 | SG/SF | Penn State |
| 47 | Pacers | Mojave King | 6-5 | 200 | SG | G-League |
| 48 | Clippers | Jordan Miller | 6-6 | 190 | SG | Miami |
| 49 | Cavaliers | Emoni Bates | 6-10 | 190 | SG | Eastern Michigan |
| 50 | Thunder | Keyontae Johnson | 6-5 | 240 | SG/SF | Kansas State |
| 51 | Nets | Jalen Wilson | 6-7 | 225 | SF/PF | Kansas |
| 52 | Suns | Toumani Camara | 6-8 | 220 | SF/PF | Dayton |
| 53 | Timberwolves | Jaylen Clark | 6-5 | 205 | SG | UCLA |
| 54 | Kings | Jalen Slawson | 6-8 | 220 | SF/PF | Furman |
| 55 | Pacers | Isaiah Wong | 6-4 | 185 | PG/SG | Miami |
| 56 | Grizzlies | Tarik Biberovic | 6-8 | 220 | SF | Bosnia & Herzegovina |
| 59 | Bulls | Trayce Jackson-Davis | 6-9 | 245 | PF/C | Indiana |
| 60 | 76ers | Chris Livingston | 6-7 | 220 | SF/PF | Kentucky |