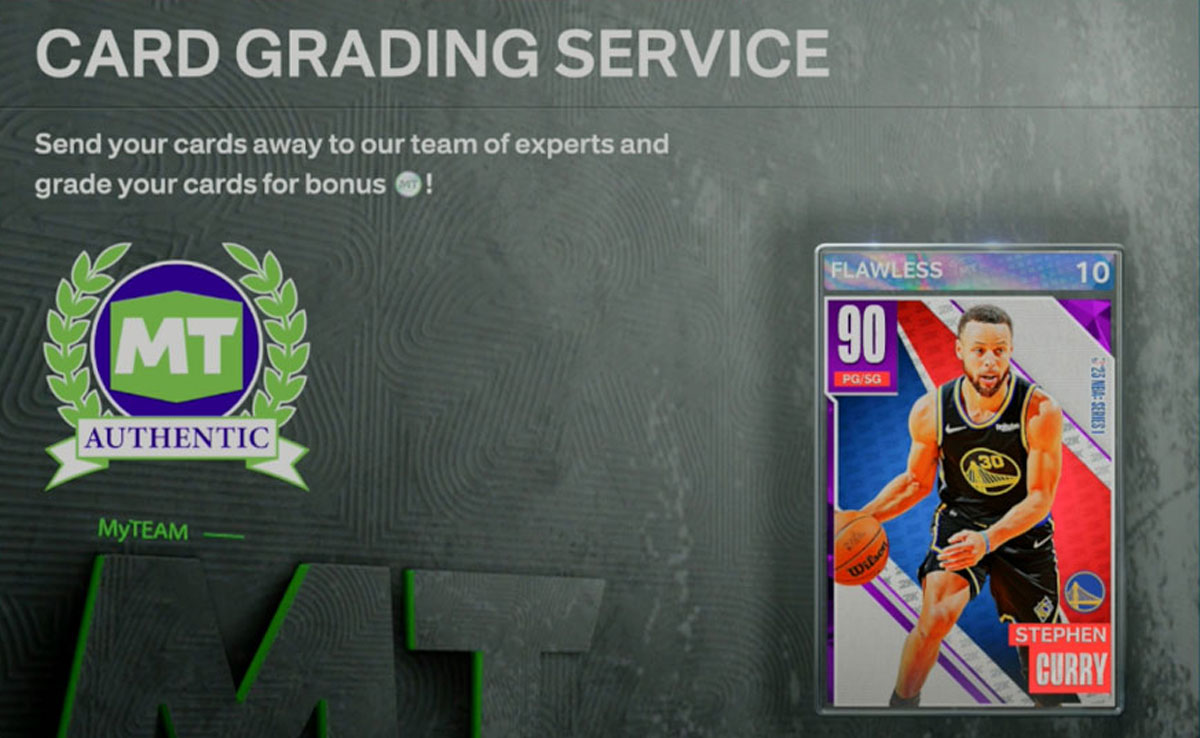 NBA 2K23's 'MyTEAM Authentic Card Grading' service is a feature in the game which let's you get your cards graded (not unsimilar from real sports cards), and in return gives you bonus MT when using the cards in a game. Here we explain what it is, how to get cards graded and more!
Also See:
MyTEAM Card Grading Explained
MyTEAM cards are graded from 1 to 10, the higher the number, the better the condition
Usually, cards with higher ratings can sell for better prices
A card that has been graded will award bonus MT when it's included in your lineup. The more tier cards you use in your team, the higher the bonus.
How to Get Cards Graded in MyTEAM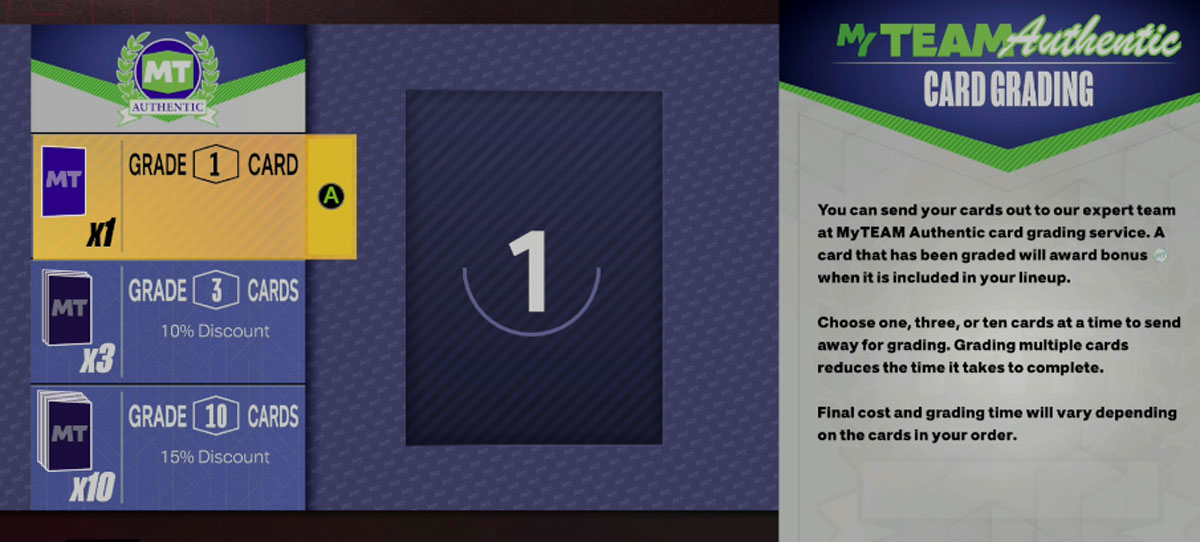 Scroll over to the My Team tab, then select 'Card Grading Service'
Choose 1, 3, or 10 cards at a time to send away for grading. Submitting an order of multiple cards at once reduces the time it takes to complete and gives discounts (10% for 3 and 15% for 10). Grading does cost MT and the cost and grading time varies depending on the cards that are in your order.
Card Grading Multipliers 
Check out the Card Grading Multiplier stats for NBA 2K23 MyTEAM!
| Grade | Gold | Emerald | Sapphire | Ruby | Amythest | Diamond | Pink Diamond | Galaxy Opal | Dark Matter |
| --- | --- | --- | --- | --- | --- | --- | --- | --- | --- |
| 7 | 0.001 | 0.002 | 0.003 | 0.004 | 0.006 | 0.008 | 0.01 | 0.02 | 0.03 |
| 8 | 0.002 | 0.003 | 0.004 | 0.005 | 0.008 | 0.009 | 0.02 | 0.04 | 0.05 |
| 9 | 0.003 | 0.004 | 0.005 | 0.007 | 0.009 | 0.03 | 0.04 | 0.06 | 0.07 |
| 9.25 | 0.004 | 0.005 | 0.007 | 0.008 | 0.02 | 0.04 | 0.06 | 0.07 | 0.08 |
| 9.5 | 0.006 | 0.007 | 0.008 | 0.02 | 0.03 | 0.06 | 0.07 | 0.08 | 0.09 |
| 9.75 | 0.008 | 0.009 | 0.02 | 0.03 | 0.04 | 0.07 | 0.08 | 0.09 | 0.1 |
| 10 | 0.01 | 0.02 | 0.03 | 0.04 | 0.05 | 0.08 | 0.09 | 0.1 | 0.13 |