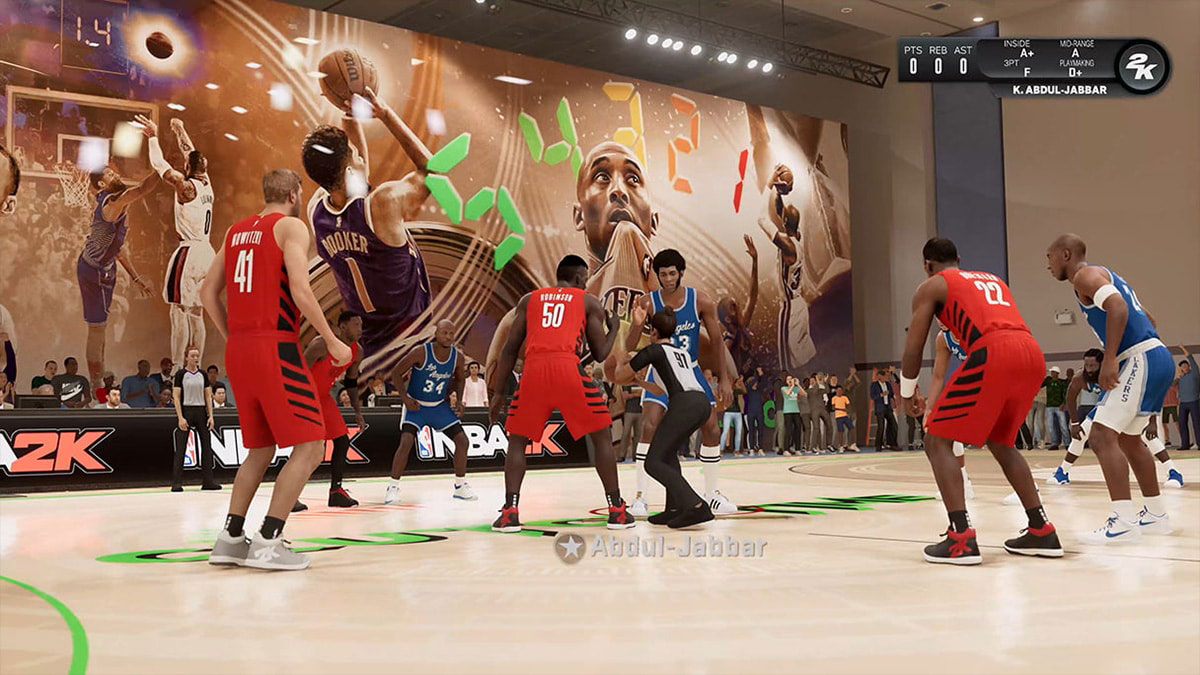 MyTEAM is a card collecting mode in the newly released NBA 2K23. MyTEAM has been in the game since 2K11 and has captivated millions into collecting their favorite players through packs, challenges, and a multitude of other ways. The development team for 2K has been hard at work crafting a unique experience for the new game. Let's look at what MyTEAM entails.
Also See:
The cards you collect have specific "gem colors" based on their given rating (67-99). Use VC to purchase packs or MT to purchase players from the Auction House or packs in the Pack Market. Use tokens in the Token Market to acquire the '23 NBA: Series 1 players.
Gold: 67-79 OVR
Emerald: 80-83 OVR
Sapphire: 84-86 OVR
Ruby: 87-89 OVR
Amethyst: 90-91 OVR
Diamond: 92-93 OVR
Pink Diamond: 95-96 OVR
Galaxy Opal: 97-98 OVR
Dark Matter: 99 OVR
Starter Cards
To start 2K23 MyTEAM, chose a starter card to begin your journey with, Choose from either Ja Morant, Jimmy Butler, or Joel Embiid. These cards all evolve from Emerald, to Sapphire, to Ruby. After evolving one card, you earn the next card, and so on.
Log-in Everyday
If you log-in every day, Saturday-Friday to MyTEAM, you will earn a wheel spin with a chance at the week's takeover player (more on that to come).
Game Modes
In MyTEAM, you can play either an offline game, or online game to earn rewards such as MT, tokens, player cards, and other rewards. Offline games consist of Domination, Triple Threat, Clutch Time, and Challenges.
Domination
In Domination, it is a rewarding 5v5 experience against the CPU. Through 'tiers', earn 99 stars through 33 games (3 stars per game), to be rewarded with the grand prize player. Other rewards along the way include MT, tokens, player cards, and pieces to the new "trophy cases" (more on that later). There are five tiers to start out this year, two more than in previous years.
Tier 1: Amethyst Julius Randle
Tier 2: Diamond Mitch Richmond
Tier 3: Diamond Mike Bibby
Tier 4: Diamond Bill Walton
Tier 5: Pink Diamond John Havlicek
Clutch Time
Clutch Time was introduced in NBA 2K22 as a multiplayer-exclusive, fast-paced, and innovative 5v5 mode. In Clutch Time, the rules are simple: one quarter, 5 minutes, sudden death overtime, 14 second shot clock, two timeouts, and a four-point line. Due to popular demand, 2K brought Clutch Time to the offline streets. Play through ten tiers, ten wins per tier (100 total), to earn tokens, trophy rewards, and MT. Watch out, if you lose three games in a row, you will get reset to the bottom of your ten-game tier. Spin the wheel after every win for a chance at the current takeover reward card: Diamond Lamar Odom.
Triple Threat
Triple Threat returns in 2K23 with a polished 3v3 experience. Play 250 games to 21 with your best cards, and with every win comes MT, tokens, shoe colorways, shoe boosts, and a chance to open the vault. Diamond Lamar Odom is also available in vaults after every win.
Challenges
Challenges entail skill challenges, pick-up challenge, spotlight challenges, and the signature challenge. Skill challenges put your skills to the test to earn MT, tokens, and promo packs. The pick-up challenge is a 5v5 game with your prize refreshing every day. Spotlight challenges are groups of challenges with various rewards upon completion. The signature challenge is reset and updated every season. Complete this one challenge every season for a hall of fame badge, shoes, shoe boosts, and more.
Triple Threat Online & Co-op
Triple Threat Online is a multiplayer version of the previously mentioned Triple Threat. You have up to three losses to win up to win up to ten games. Every 10 wins, or three losses, your rewards board will reset. The rewards board has three tiers, prizes getting increasingly better as you win more games. Diamond Lamar Odom is also available on these boards.
All new to MyTEAM, is Triple Threat Online: Co-op. In this mode, play with up to six friends (CPU fills in other spots) in this first-time-ever player locked mode in MyTEAM. You and your friends will pick one card to use and jump into action. Each win earns MT, tokens, and other rewards.
Unlimited
Unlimited has an all-new look for 2K23. The classic multiplayer 5v5 mode is different from last year, every win and loss earn you points. Get up to a certain number of points and move up tiers from gold to dark matter. See where you rank against the world on the leaderboards. Earn tokens, MT, trophy rewards, promo packs, and more. Also, after every win you earn a chance to open the Vault, with Diamond Lamar Odom available.
Clutch Time Online
Clutch Time Online is the multiplayer equivalent to Clutch Time Offline. Same deal here mode and rewards wise, but instead of the computer, play against the best in the community. Diamond Lamar Odom is available on the wheel after every win.
Limited
Limited returns for 2K23. Every weekend, follow the posted lineup rules and compete in this fast-paced 5v5 experience. Every win gives you a chance at a championship ring. Earn one ring each weekend for six weeks and obtain an 11-card option pack containing every takeover player (more on that later), and more rewards to choose from.
Draft
Draft is a mode where you can draft 2 players from a point guard, shooting guard, small forward, power forward, center, coach, and most recent promo pack to build your team. New in 2K23, customize your lineup and bench with whatever players you draft at each position. After each win, ascend to the top of the draft-ascension board for a chance at Diamond Lamar Odom.
While competing in each mode, earn XP by completing different challenges found in the agendas. Obtain 150,000 XP and receive the season's grand-prize. For this first season, claim Pink Diamond Scottie Pippen once you reach 150,000 XP.
Misc. in-game (all found in the "My Team" tab)
Find shoes in your collection and send them to the MyTEAM Shoe Lab to create the perfect shoe for whatever player. Diamond shoes last forever, while gold silver and bronze shoes all expire after a set number of games.
New to MyTEAM: Send players you're not using from your collection on exhibitions to earn rewards.
The Exchange returns, but in a different way than ever before. More on that to come.
Card evolution allows you to evo cards with a lightning bolt on the left-hand-side. Domination players and starter cards to begin the game-cycle, complete objectives to better your card.
You may also send your cards to the MyTEAM Authentic Grading Service to get graded! Grades range from 7, 8, 9, 9.25, 9.5, 9.75, and a flawless 10.
Big Additions
This year, 2K added some new things to the mode that stand out compared to the rest. There is a new "revolving" base set of new cards in every pack. Every two weeks, a new set of cards will be added to packs with special Select versions. There will be eight collections with Amethyst and Diamond rewards as completion rewards.
Takeover players are available in Vaults, Triple Threat Online, Triple Threat Online: Co-op, Clutch Time wheel spins, and Draft ascension boards as I previously mentioned. Also, find the featured Takeover player on the weekly wheel spins for logging in every day. A new Takeover player will be released every week. You may also earn the week's Takeover player by completing agendas.
And now, for the most important addition: Trophy Case's. New to MyTEAM, each NBA franchise has a Trophy Case. 15 "trophy's" per franchise, earn trophy's by completing game modes, agendas, opening a vault, spinning a Clutch Time wheel, and by completing each '23 NBA Series 1 collection. There are 15 different types of trophy's to earn throughout MyTEAM. You may also earn trophy exchange tokens, which allow you to exchange that token for that certain type of trophy for any team. Complete a trophy case, and earn a Pink Diamond player from that franchise. Lock in each team's Pink Diamond into their division collection to earn a Galaxy Opal card. Then, lock in each opal to their respective conferences to earn a Dark Matter player. Finally, turn in both Dark Matter cards for a Dark Matter Larry Bird.
Each Trophy Case requires one "Centerpiece Trophy". Centerpiece Trophy's are achievable by winning 250 Triple Threat games, 100 Triple Threat Online games, earning 6,000 points in Unlimited, winning 100 games in Clutch Time Offline, winning 100 games in Clutch Time Online, and as an option in the Limited option pack from earning six Limited rings.
Closing Remarks
This cycle of MyTEAM will be unlike any other. More rewards, challenges, ways to play, and ways to earn your favorite players from your favorite teams. Unleash your creativity in NBA 2K23 MyTEAM! Stay tuned to NBA2KW.com for updates and analysis of NBA 2K23.
---
Article contributed by Anthony Schulte