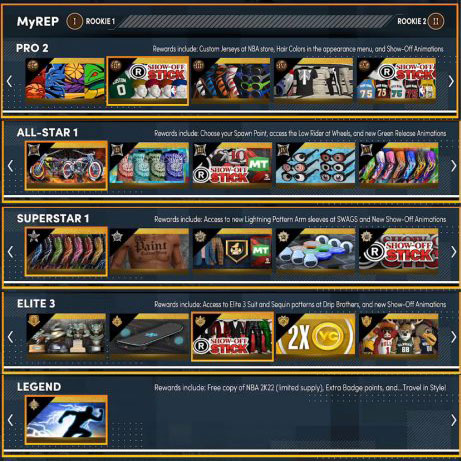 Returning to NBA 2K21 Next-Gen is "MyREP" Progression, where MyPLAYERS grind through the ranks all the way to Legend. After each level, more rewards / prizes are unlocked. Perks range from the purely cosmetic, like changing your hair color, to unlocking animations, badges, and boosts that directly affect the gameplay, to receiving a free copy of NBA 2K22.
[Also see: NBA 2K22 Next-Gen & Current-Gen Rep Rewards / Level / XP Progression (PS5, XBSX, XB1, PS4)]
Both Next-Gen and Current-Gen Rep Rewards are listed in this article.
NBA 2K21 REP REWARDS (Xbox Series X / PS5)
PRO REWARDS

PRO 1 – Time to join an Affiliation
PRO 2 – Custom Jerseys at NBA store, Hair Colors in appearance menu, and Show-Off Animations.
PRO 3 – Access to new Dry Brush Arm Sleeves at SWAGS and free MyTEAM packs
PRO 4 – Access to new Skateboard decks at Decks and Wacky Clothing at Alter Ego
PRO 5 – Access to Personalized Historic Jerseys at the NBA Store
ALL-STAR REWARDS

ALL-STAR 1 – Choose your Spawn Point, access the Low Rider at Wheels, and new Green Release Animations.
ALL-STAR 2 – Access to new Tie-Dye Collection at SWAGS
ALL-STAR 3 – Access to the Trike at Wheels, New Show-Off Animations, and free MyTEAM Packs
ALL-STAR 4 – Access to new Wacky glasses at Alter Ego
ALL-STAR 5 – Access to new Flame Pattern Arm sleeves at SWAGS
SUPERSTAR REWARDS

SUPERSTAR 1 – Access to new Lightning Pattern Arm sleeves at SWAGS and New Show-Off Animations
SUPERSTAR 2 – Ability to remove your shirt and get your Neck, Back, and Chest tattoed
SUPERSTAR 3 – Ability to wear suits in the City, Gym Rate Badge, and free MyTEAM Packs
SUPERSTAR 4 – Access to the Glider at Decks
SUPERSTAR 5 – New Show-Off Animations
ELITE REWARDS

ELITE 1 – Elite level Daily Rewards
ELITE 2 – Access to the Hoverboard at Decks
ELITE 3 – Access to Elite 3 Suit and Sequin patterns at Drip Brothers, and new Show-Off Animations
ELITE 4 – Double VC for all Online Games Played
ELITE 5 – Access to Mascots at Alter Ego
LEGEND REWARDS

LEGEND – Free copy of NBA 2K22 (limited supply), Extra Badge points, and…Travel in Style!
NBA 2K21 REP REWARDS (Xbox One / PS4 / PC / Nintendo Switch)
Repping up also unlocks these Park Badges along the way:
Iron Wall Badge – Set hard screens in The Neighborhood
Screen Crusher Badge – Blow up hard screens in the Neighborhood.
Nothing Easy Badge – Hard fouls at the rim boost your team's Takeover in The Neighborhood.
Gym Rat Badge – You're a gym rat. No more lifting for you
Takeover Booster – Your Takeover meter will now fill up faster in The Neighborhood.
To view your MyREP Progression, rewards, and the Top MyREP Players, go to:
The Neighborhood > MyREP > MyREP Progression.
Check out the full list of NBA 2K21 Rep Rewards!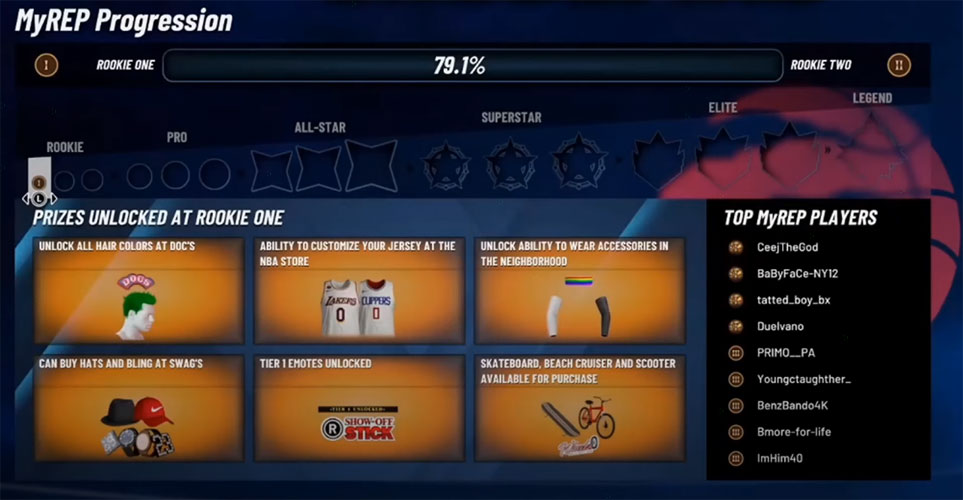 ROOKIE 1
Unlock all hair colors at Doc's
Ability to customize your jersey at the NBA Store
Unlock ability to wear accessories in the Neighborhood
Can buy hats and bling at Swag's
Tier 1 emotes unlocked
Skateboard, beach cruiser, and scooter available for purchase.
ROOKIE 2
Unlock exclusive arm accessory at Swag's
ROOKIE 3
Unlock MyCOURT backboard customization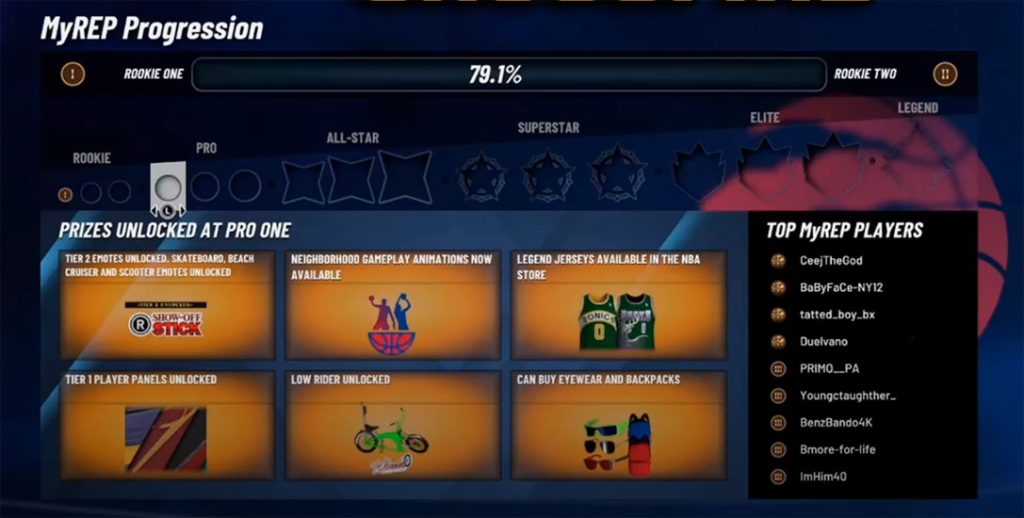 PRO 1
Tier 2 emotes unlocked
Skateboard, beach cruiser, and scooter emotes unlocked
Neighborhood gameplay animations now available
Legend jerseys available in the NBA Store
Tier 1 player panels unlocked
Low rider unlocked
Can buy eyewear and backpacks
PRO 2
Iron Wall Badge – set hard screens in Park
Unlock exclusive arm accessory at Swag's
PRO 3
Unlock MyCOURT scoreboard customization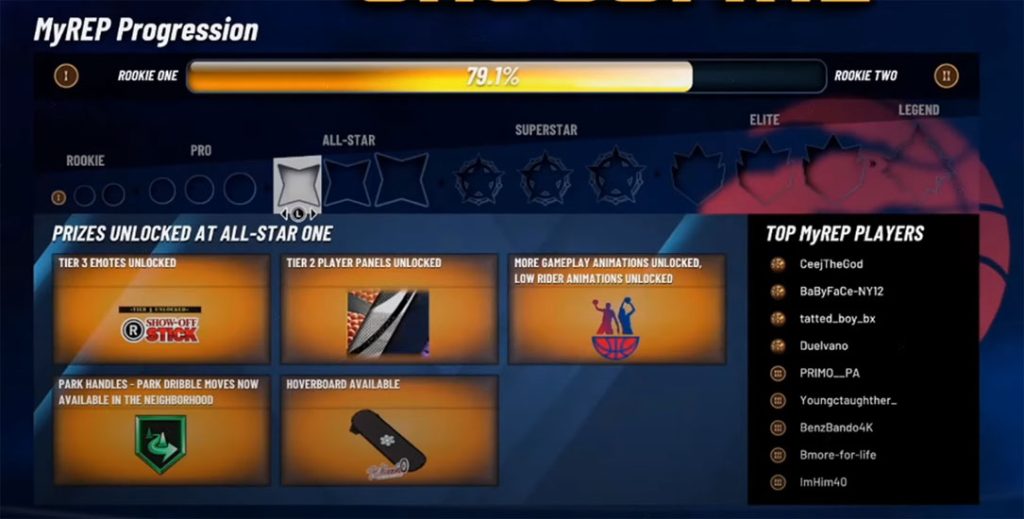 ALL-STAR 1
Tier 3 emotes unlocked
Tier 2 player panels unlocked
More gameplay animations unlocked
Low rider animations unlocked
Pack Handles – Park dribble moves now available in the Neighborhood
Hoverboard available
ALL-STAR 2
Screen Crusher badge – blow up hard screens in the Neighborhood
Unlock exclusive arm accessory
Unlock exclusive eyewear
ALL-STAR 3
Unlock DJ equipment – drop beats and perform in the Neighborhood
Unlock MyCOURT floor customizations
Use your own ball in Neighborhood games
Unlock MyCOURT mural customization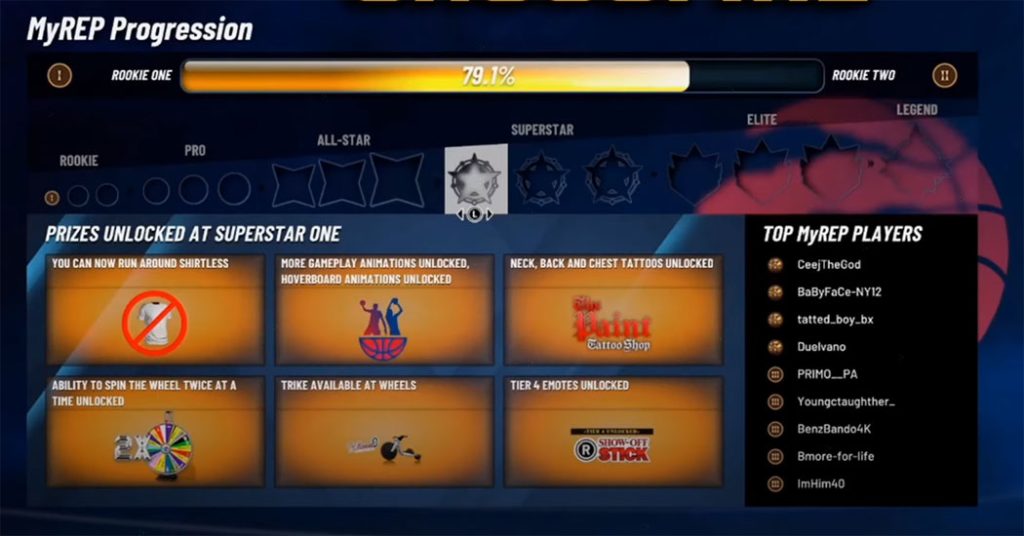 SUPERSTAR 1
You can now run around shirtless
More gameplay animations unlocked
Hoverboard animations unlocked
Neck, back, and chest tattoos unlocked
Ability to spin the wheel twice at a time unlocked
Trike available at Wheels
Tier 4 emotes unlocked
SUPERSTAR 2
Nothing Easy mode – hard fouls at the rim boost your team's Takeover in the Neighborhood.
Gym Rat badge – no need to visit the gym, bonuses permanently unlocked
SUPERSTAR 3
My own entrance!
Mini-basketball game now unlocked for your MyCOURT
Penthouse unlocked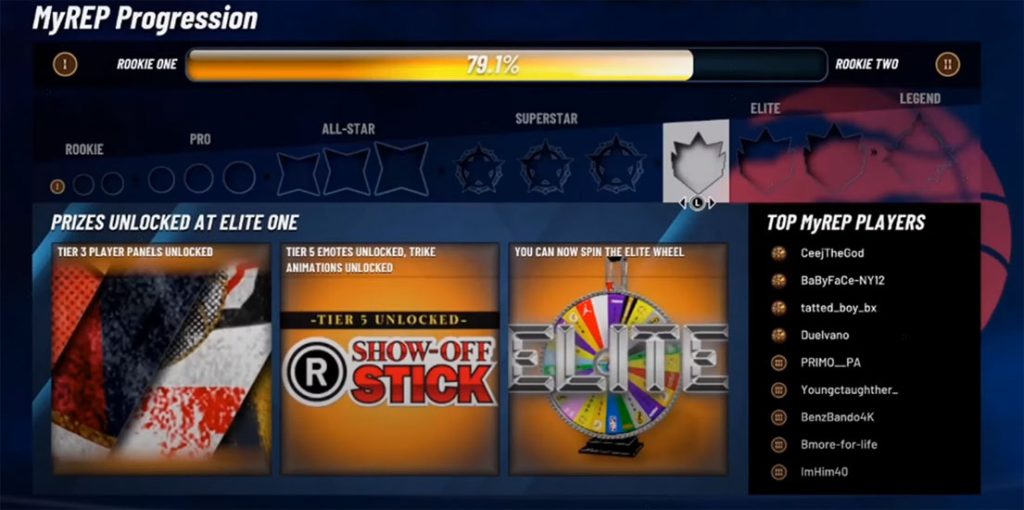 ELITE 1
Tier 3 player panels unlocked
Tier 5 emotes unlocked
Trike animations unlocked
You can now spin the Elite Wheel
ELITE 2
Create your own T-shirt
Takeover booster – Your takeover meter will now fill up faster in the Neighborhood
ELITE 3
Can now buy and shoot off fireworks
Ability to earn double VC unlocked
Can buy mascots and Elite clothes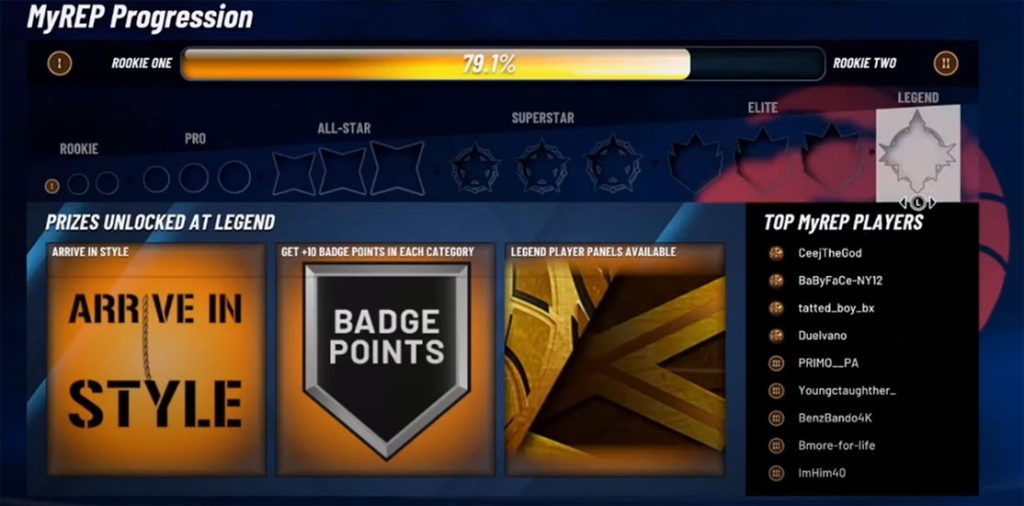 LEGEND
Arrive in style
Get +10 Badge Points in each category
Legend player panels unlocked