The annual MyTEAM Unlimited $250,000 tournament is starting Saturday, October 15th for NBA 2K23. You must reach the Emerald Unlimited tier to be entered. There will be four game days throughout the cycle, play through the tournament days, and it all culminates in a championship game where the winner receives a $200,000 check, and the runner-up earns a $50,000 check.
Also See:
What You Need to Know
As previously stated, you must reach the Emerald tier in Unlimited to be entered into each game day
You can play on either current gen, or next gen. Both are separate tournaments
There are four game days: October 15th 2022, November 26th 2022, January 7th 2023 and February 18th 2023. Play Unlimited those four days and have a chance to qualify for the main tournament!
Tournament days are March 4th, 2023, in current gen, and March 5th 2023 on next gen. Those are days to compete for a chance to go to the Championship event to go at it for $200,000.
The finals are March 18th, 2023
There will be 32 contestants per console generation
The grand prize pool of $400,000 is for two winners, $200,000 per console generation
The runner-up prize pool is $100,000, $50,000 per runner-up
You can find the official rules and terms for the NBA 2K23 $250K MyTEAM Tournament here
Tournament Schedule / Roadmap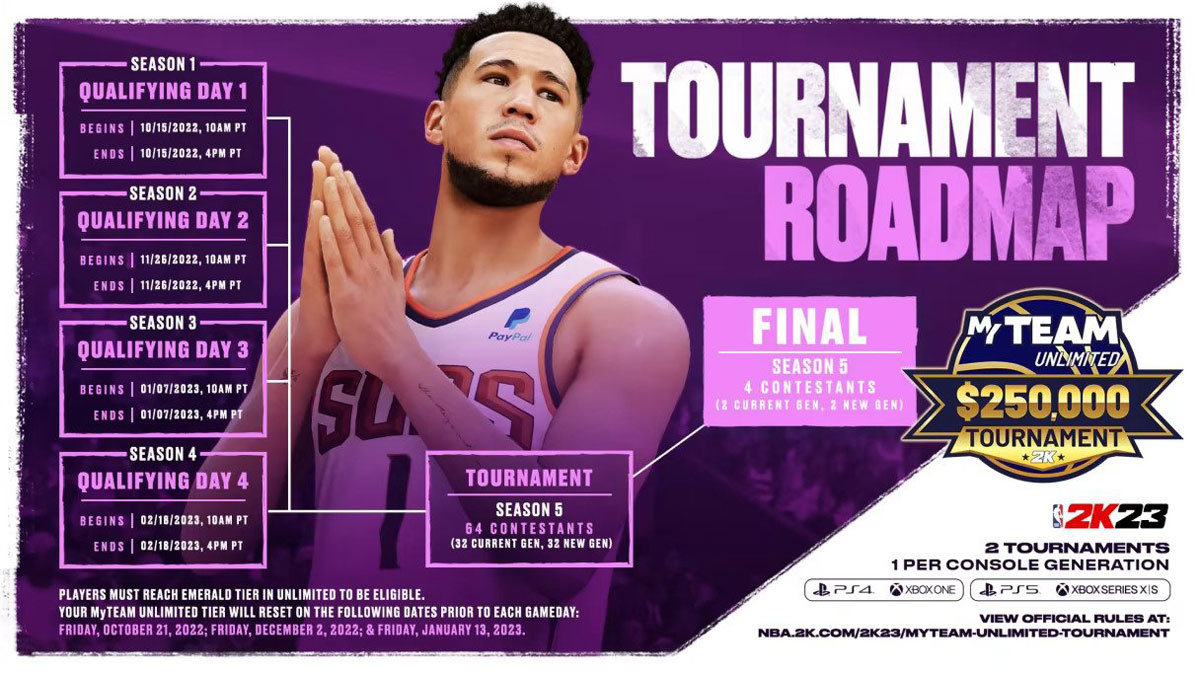 (All Times Pacific)
Season 1, Qualifying Day 1: 10/15/22, 10 AM – 4 PM
Season 2, Qualifying Day 2: 11/26/22, 10 AM – 4 PM
Season 3, Qualifying Day 3: 01/07/23, 10 AM – 4 PM
Season 4, Qualifying Day 4: 02/18/23, 10 AM – 4 PM
Season 5, Tournament: 03/04/23 (32 Contestants, Current Gen), 03/05/23 (32 Contestants, New Gen).
Season 5, Final: 03/18/23, 4 Contestants (2 Current, 2 New Gen)
Tips for Success
Study the game. Learn what the "meta" is and take advantage of it.
You don't necessarily need the best cards; just cards you are extremely comfortable with. Practice with cards that fit you and become the best you can be with those particular cards.
Don't rage at the game. As hard as it might be, composure and execution is what works in 2K.
Find out your opponent. Quickly pick up how your opponent plays. What plays they run, how they try to score, and how they play on the defensive end of the floor.
Closing Remarks
While the $250,000 Tournament has received much criticism, it is still a staple of the MyTEAM cycle. Gamedays offer Locker Codes, and often some of the best content drops.
---
Article contributed by Anthony Schulte