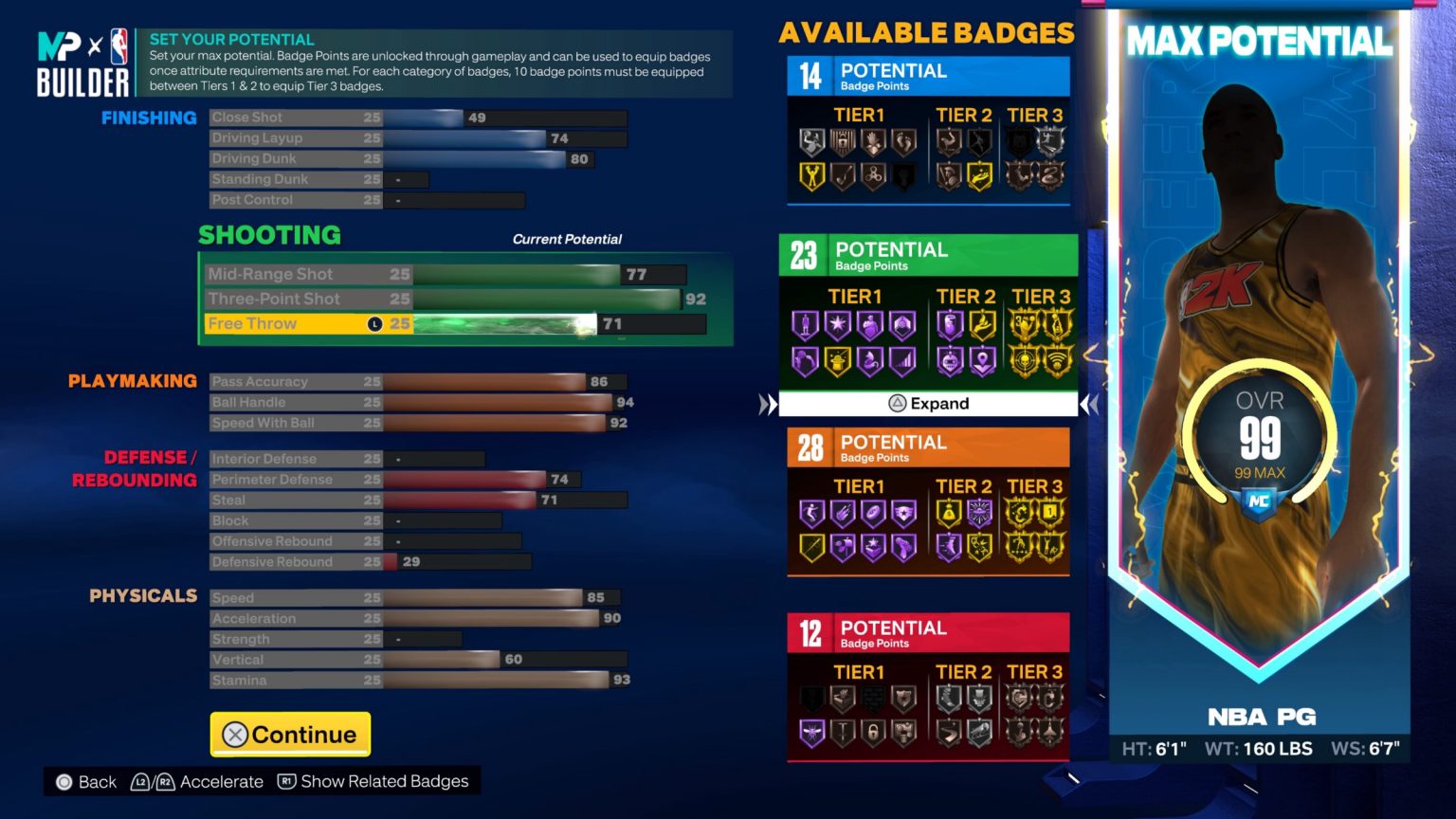 With NBA 2K23 releasing, players are going to have to figure out which build they are going to use to take on rivals in the City, Pro-Am, and the Rec Center. Like any 2K, it is always challenging making your first build of the year as you want it to be perfect before you spend your hard-earned cash. That is where we have you covered, just like the last 2K, we'll be outlining some of the best builds we've created in the newly tweaked build system and show you how to spend your badge points with the new badge tier system.
ALSO SEE:
Next-Gen Builder Details:
As an avid 2K gamer and a person who usually makes 5–7 builds a 2K, I can wholeheartedly say this is the hardest builder we've seen yet. We can often make a build that gets all the attributes that will make us unstoppable in the City, but much of the animations, badges, and badge levels are tied into attributes. If we want Hall of Fame Limitless Range we have a 97 or higher 3 and in doing so takes up a lot of overall points so we'd have to sacrifice attributes in other areas. Instead, we have to choose the 2 or 3 things we want to be good at and carve out a role within our 3v3 or 5v5 squads. In this article, we will show you some builds by position that can help cater to your playstyle/role and dominate in the City.
Keep in mind all badge spreads in this article can have +4 badges added to them upon completing the Welcome to The NBA Quest. In order to core a Tier 3 badge, you need at least 15 badge points to spend.
Best Point Guard Build: 3PT Playmaker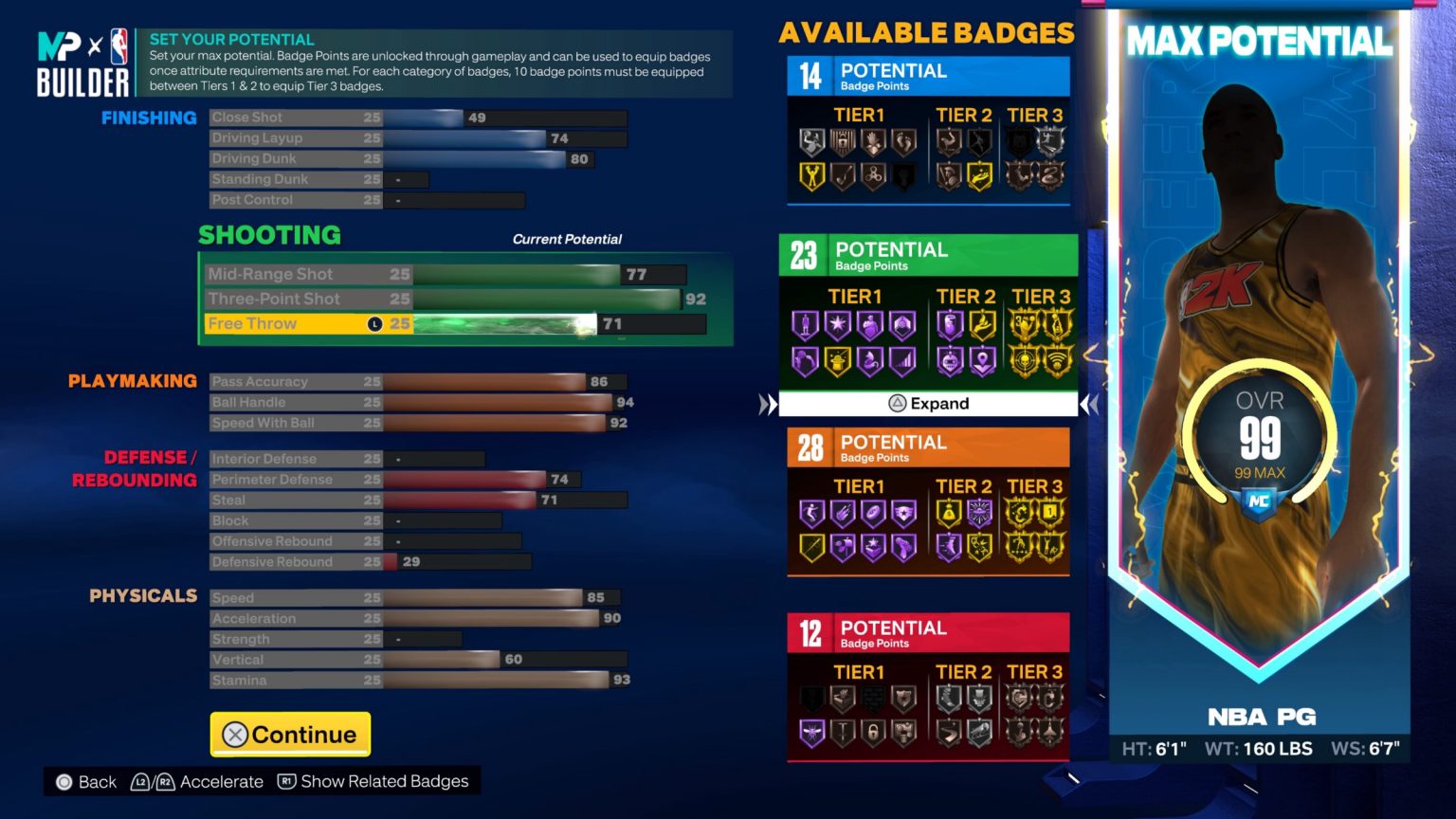 The 3pt Playmaker is going to be the closest you can get to have a point guard who can shoot a move like Steph Curry. This build is going to be those who like to run a smaller and speedier point guard that can create their own shot and slice you up in the pick-n' roll. This build should have no problems unlocking the best dribble animations as it has a 94 ball handle and 92 speed with ball. It should also have no issue with the 3pt shot with a 92 3pt rating. Defense is an issue but, with a 6'7″ wingspan you should be able to get by as an off-ball defender.
Physical Profile:
Height: 6'1"
Weight: 160 lbs
Wingspan: 6'7″
Body Shape: Personal Preference
Takeover:
Limitless Range
Pull-Up Precision
Key Attributes:
92 3pt Rating
94 Ball Handle (unlocks all dribble animations)
92 Speed with Ball
86 Pass Accuracy
80 Driving Dunk (unlocks quick drops off one dunk style)
Point Guard #2: Diming Inside-Outside Scorer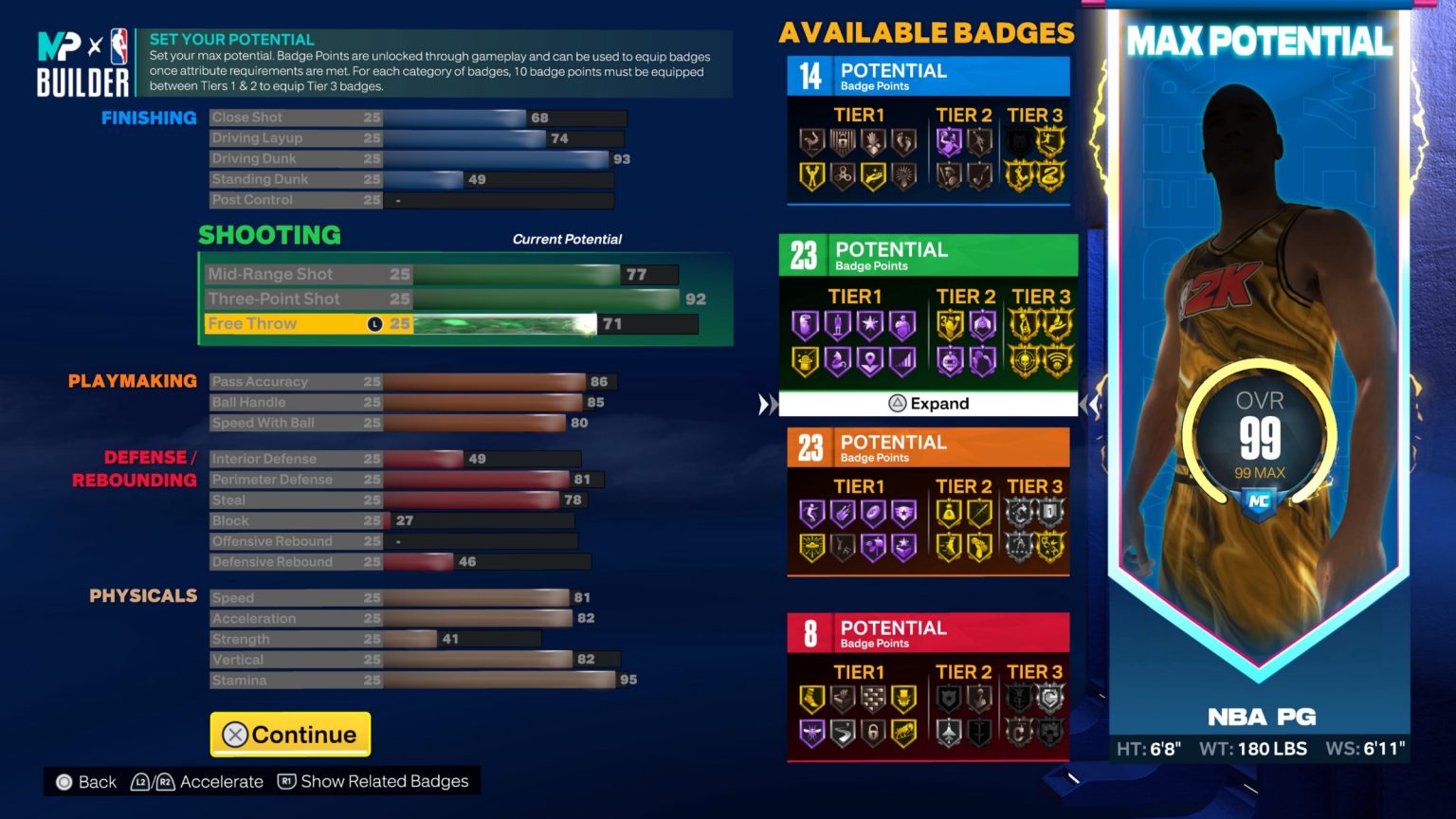 The second and final point guard build we are featuring is the Diming Inside-Outside Scorer which is essentially a point forward build at 6'8″. I can definitely see this build as being one of the more popular builds as it unlocks gold posterizer and limitless range while having a 93-driving dunk and 92 3pt ratings. The closest a build can get to doing it all, as it will be sacrificing defense but, a 6'11" wingspan should be some consolation.
Physical Profile:
Height: 6'8″
Weight: 180 lbs
Wingspan: 6'11″
Body Shape: Personal Preference
Takeover:
Finishing Moves
Pull-up Precision
Key Attributes:
93 Driving Dunk
92 3pt Shot
85 Ball Handle
82 Vertical
86 Pass Accuracy
Best Shooting Guard Build: 2-Way Inside-Out Scorer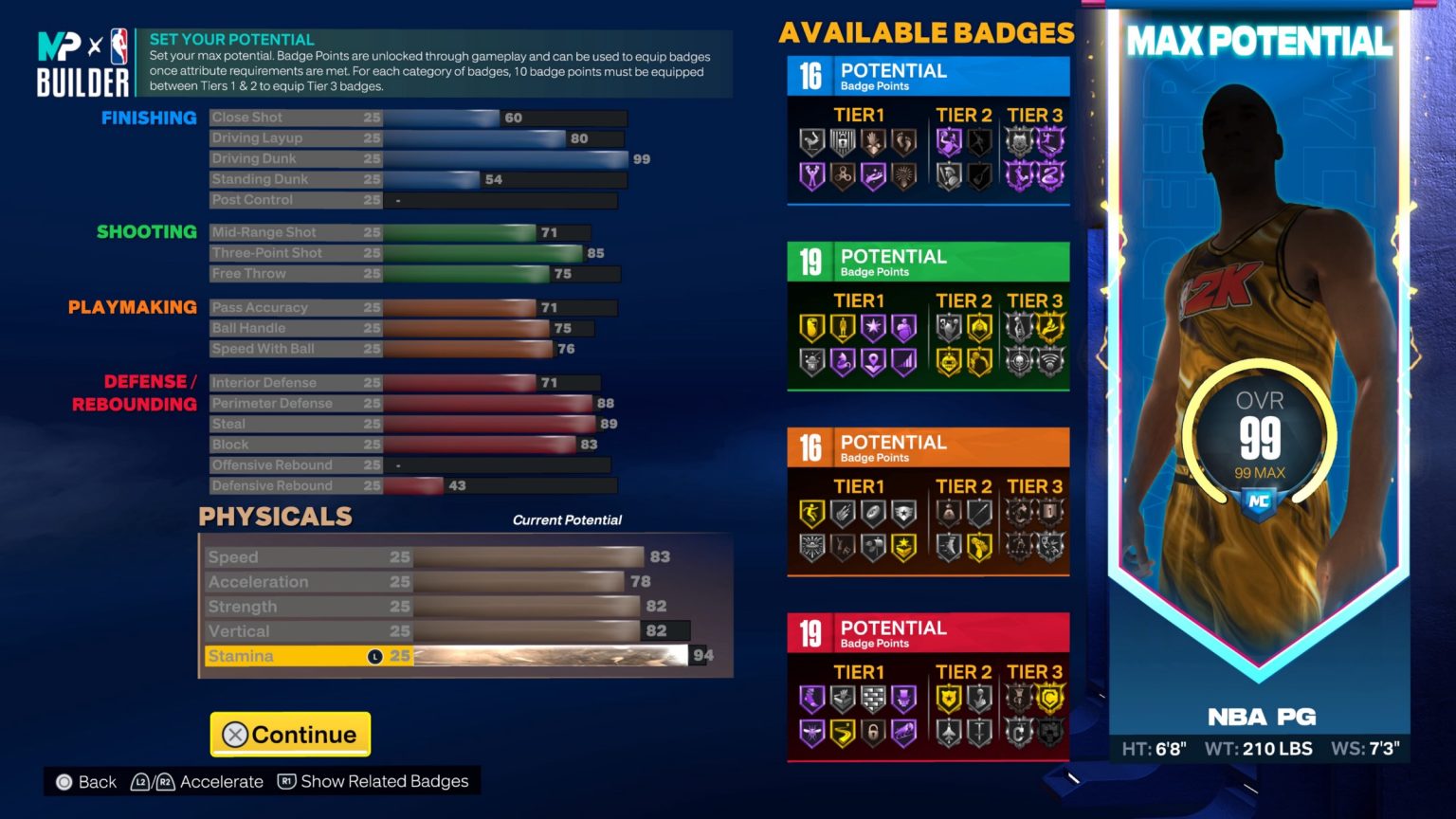 This build is for all the slashers and secondary scorers on 2K. Every team needs a 1–2 punch and this build punches harder than Iron Mike in his prime. A 99-driving dunk that unlocks hall of fame posterizer and all contact dunk animations. An 85 3pt rating to keep the defense honest and open up the driving lanes. Lastly, it is not a slouch on defense as it features 88 perimeter defense and an 89 steal with a 7'3″ wingspan. The perfect 2-guard to compliment any point guard.
Physical Profile:
Height: 6'8"
Weight: 210 lbs
Wingspan: 7'3″
Body Shape: Personal Preference
Takeover:
Finishing Moves
Spot-Up Precision
Key Attributes:
99 Driving Dunk
85 3pt Shot
89 Steal
88 Perimeter Defense
83 Block
Best Small Forward/Wing Build: 3 & D Wing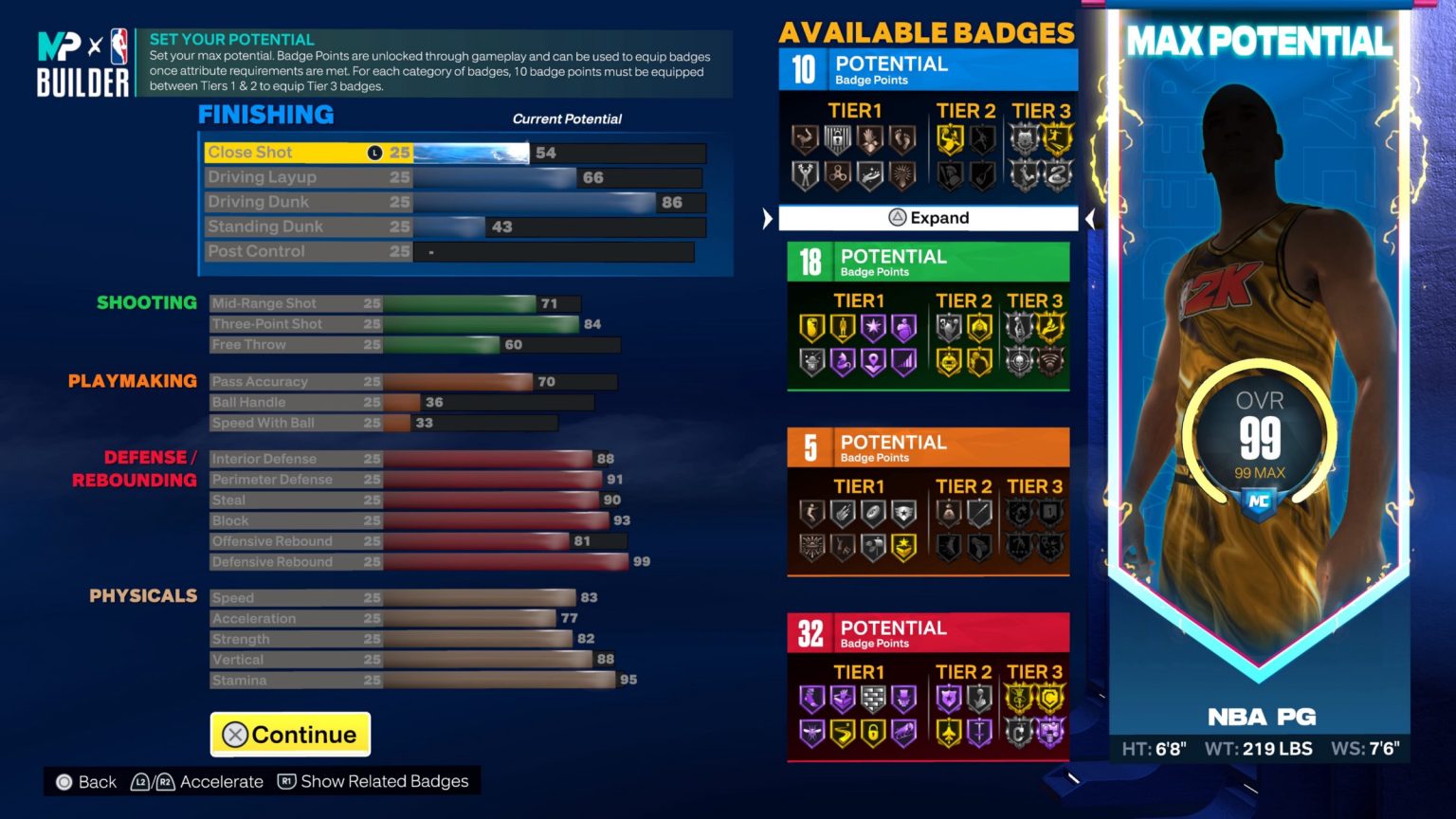 The name of the build explains itself, this is the ultimate wing/3&D in NBA 2K23. It has the attributes to guard the perimeter and the attributes to guard down low. Any defensive style you want to take up, this build has you covered. It also serves its purpose as a floor spacer to help the flow of the offense. If the defense closes out too hard it has an 86 driving to finish at the rim. One of my favorite builds so far in 2K23.
Physical Profile:
Height: 6'8"
Weight: 219 lbs
Wingspan: 7'6″
Body Shape: Personal Preference
Takeover:
Extreme Clamps
Spot-Up Precision
Key Attributes:
99 Defensive Rebound
91 Perimeter Defense
90 Steal
93 Block
84 3pt Shot
Best Power Forward Build: 2-Way Stretch Glass Cleaner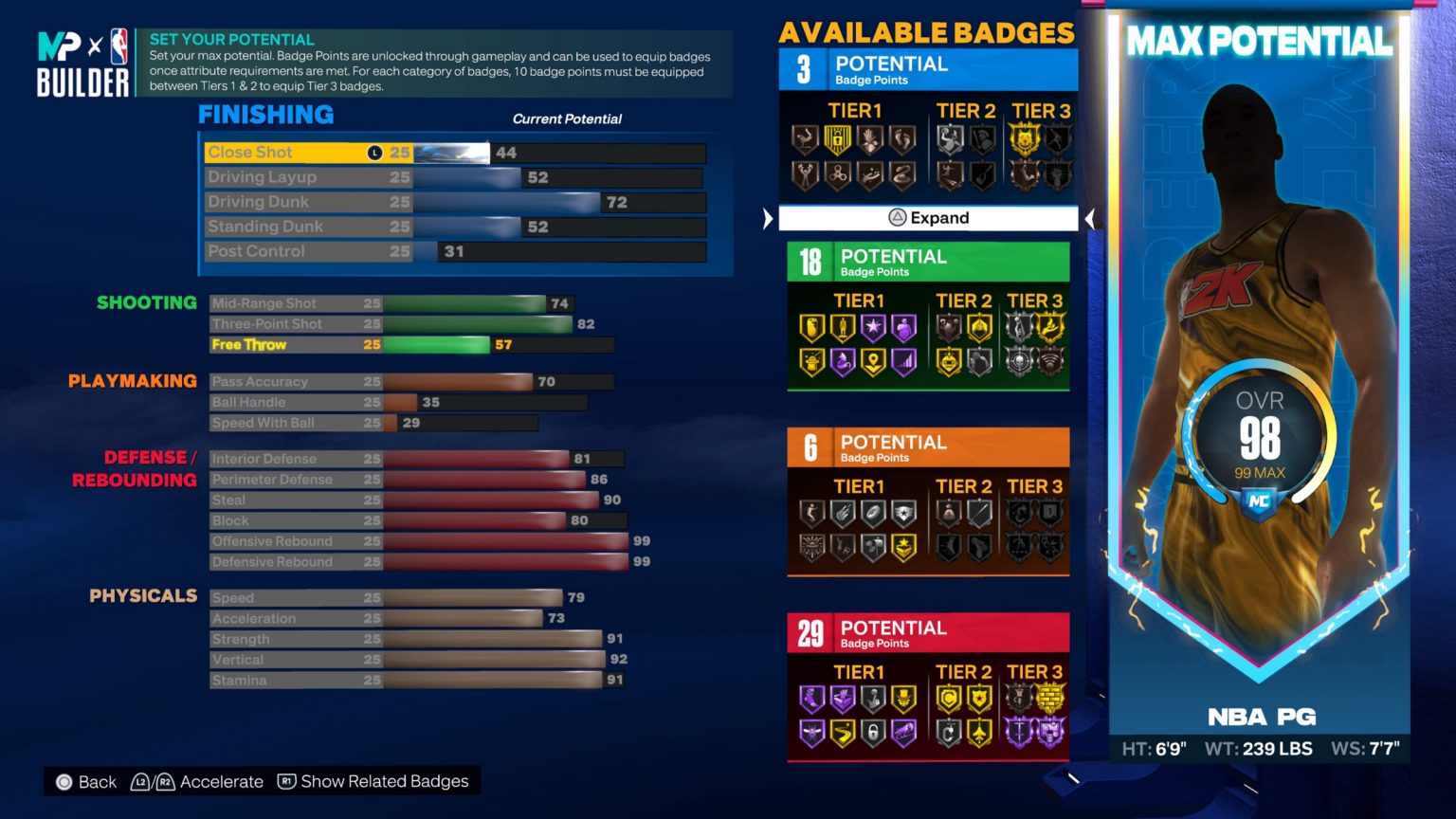 This Power Forward build is an extension of the 3&D wing build but is more suited to guard bigger bodies down low and gobble up rebounds. This build can run the 3 in the City and the 4&5 in the Rec and Pro-Am. It also comes with an 82 3pt shot as all builds should be able to shoot in some capacity to maximize spacing for the offense. You do not want to be operating down low as the build isn't suited to finish near the rim.
Physical Profile:
Height: 6'9"
Weight: 239 lbs
Wingspan: 7'7″
Body Shape: Personal Preference
Takeover:
Spot-Up Precision
See The Future
Key Attributes:
99 Offensive and Defensive Rebound
90 Steal
86 Perimeter Defense
92 Vertical
82 3pt Shot
Power Forward #2: 2-Way Interior Finisher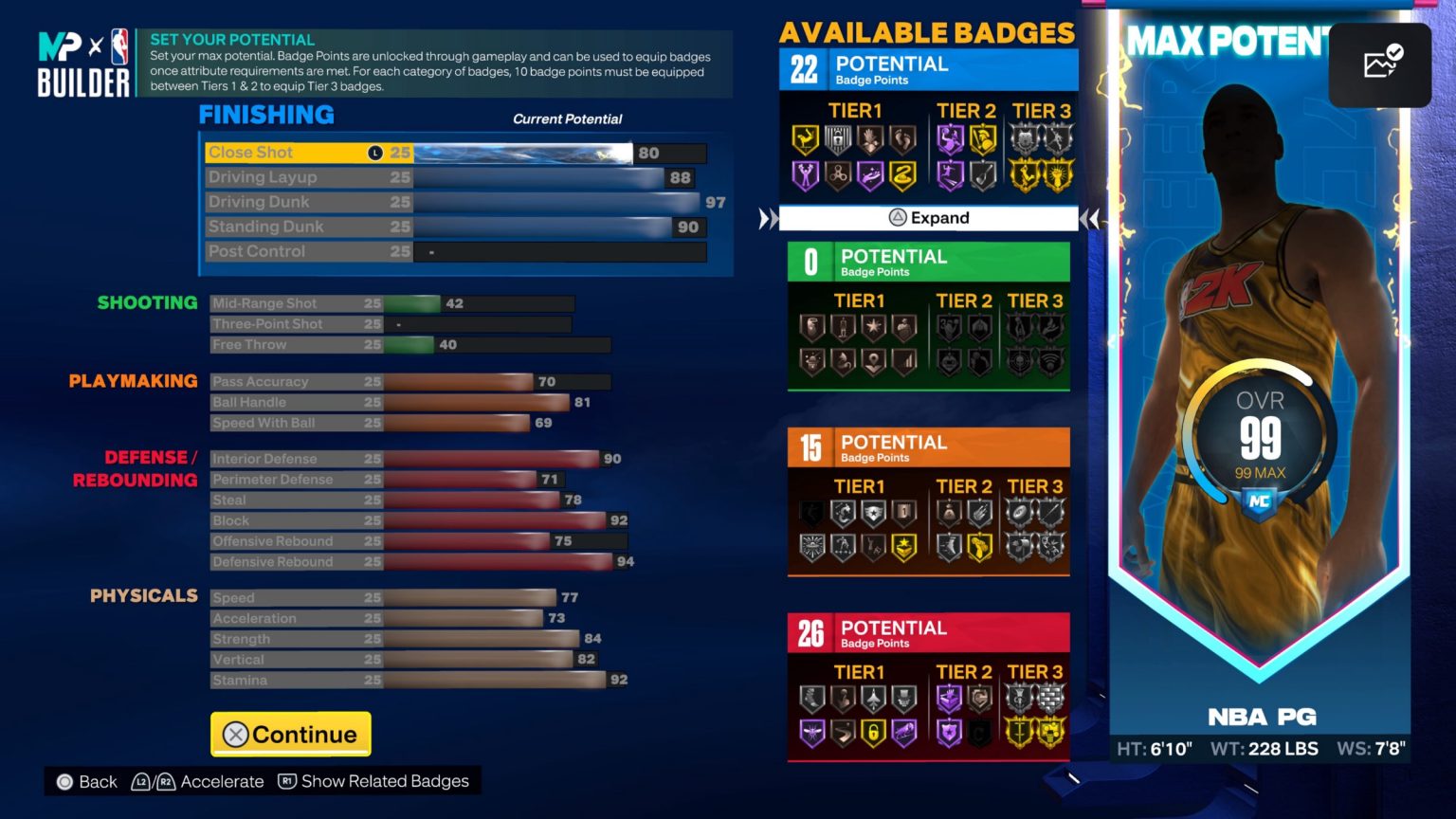 This Power Forward Giannis-type Build in NBA 2K23 has 81 ball handle at 6'10 with a 97 driving dunk. This build will create an interesting wrinkle for your offense, as it will allow the center to initiate the offense. The build lacks shooting but excels in finishing, defense, and playmaking much like Giannis in real-life.
Physical Profile:
Height: 6'10"
Weight: 228 lbs
Wingspan: 7'8″
Body Shape: Personal Preference
Takeover:
Finishing Moves
Finishing Moves
Key Attributes:
97 Driving Dunk
90 Standing Dunk
81 Ball Handle
92 Block
90 Interior Defense
Best Center Build #2: Defensive Anchor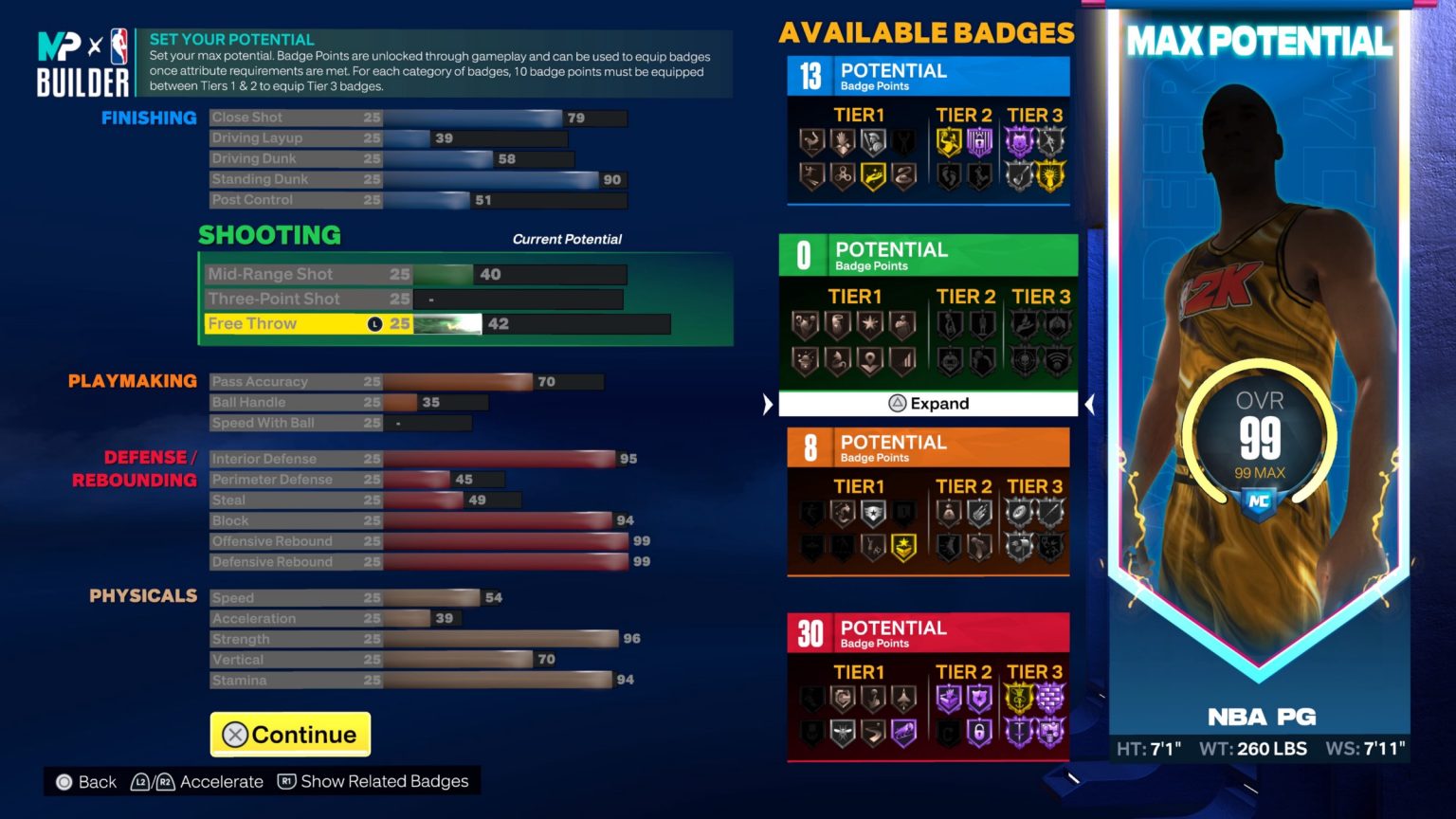 The last build that we will feature in this article is a much more traditional big body Center that can function in Pro-Am and Rec. Anything in the paint is going to be gobbled up by this defensive anchor, your team will be able to funnel all drives to the paint a la Rudy Gobert on the Jazz. The build also gets big man contacts dunks, so that is easy points on dump-off passes. The build can't shoot and it can't guard on the perimeter.
Physical Profile:
Height: 7'1"
Weight: 260 lbs
Wingspan: 7'11″
Body Shape: Personal Preference
Takeover:
See The Future
Paint Intimidation
Key Attributes:
99 Offensive and Defensive Rebound
90 Standing Dunk
96 Strength
95 Interior Defense
94 Block
Conclusion
Well there you have it, folks the best builds that we have seen so far on NBA 2K23. Whether you want to run the offense, compliment the offense, or be the defensive stopper your team needs we have you covered. Remember it is very crucial to find your role and playstyle this year on NBA 2K23 and apply to your squad to not only win but enjoy the game.
---
Article contributed by Miles Peters