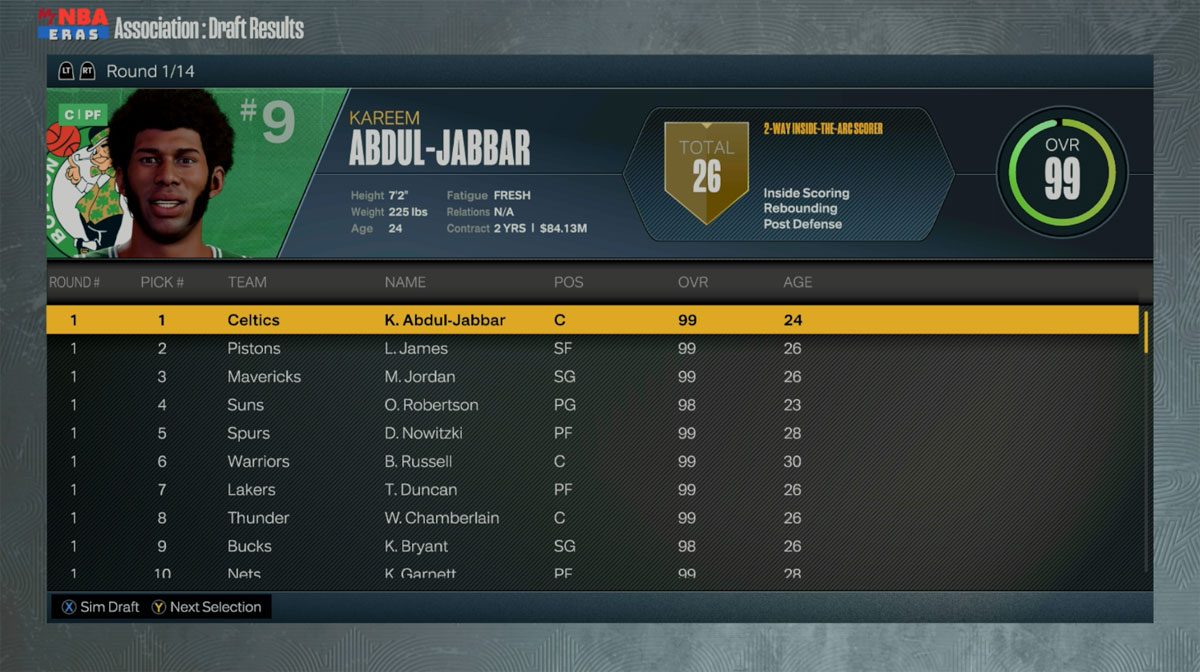 Sometimes it's a fun option to play GM from the get go and build your team from scratch, via the NBA 2K23 Fantasy Draft, which is available in MyNBA and MyWNBA. You can even choose the fantasy draft pool type, such as including the rosters from all-time NBA greats to go along with the current NBA superstars to help decide the G.O.A.T and 'Mount Rushmore' of the NBA ongoing debates.
Also See:
How to Set Up Fantasy Draft in MyNBA or MyWNBA
After selecting MyNBA or WNBA, under Association Setup > Setup Options, toggle Fantasy Draft to 'On'
Then, under Association Settings > Fantasy Draft setup you can set the following (options are in parenthesis):

Draft Order (on/off). 'Off' is random draft order, 'on' let's you choose draft order.
Draft Type (Fixed/Serpentine). Choose between Serpentine or Fixed draft order
Protect players (on/off). Choose whether teams can protect some players in your Fantasy Draft.
Player Pool (default, all teams, all NBA teams, all classic teams, all NBA and classic teams, and all-time teams). Choose which players you want to include in your Fantasy Draft.
Allow duplicates (no – keep best, no – choose, or yes). Choose whether to allow duplicate players or not.

After the Fantasy Draft setup screen is the 'Team Select' screen. Here, select whatever team(s) you want to use in your franchise and Fantasy Draft. On this screen you can also upload/save your Fantasy Draft settings to 2K Share for future use (by clicking Left Stick in).
The Fantasy Draft starts, enjoy! You can either sim the draft or make selections yourself.
Check out the Fantasy Draft tips below to make the best selections for your franchise.
Fantasy Draft Tips
Factor in a player's age, since younger players are more likely to progress and older players more likely to have their attributes decrease.
It's a good idea to scout players before drafting them (by hovering over player name and clicking in on Right Stick), to check out badges, attributes, and more.
Factor in how saturated with talent a position is. So if a position is thin on talent, that may be a position you want to target early in the draft
Keep in mind some of your favorite players that you want on your roster, who may not always be the top players, but you still may want them on your team.
Look ahead in the draft order to your next picks to see where future draft picks may go and if you should prioritize drafting a player at a certain time based on that.
Be aware of the draft picks and position-needs of other NBA teams, since that'll indicate what positions they'll go after next.
Versatile players who can play and guard multiple positions can be valuable to give your roster more flexibility. You also can edit a player's primary and secondary position after the draft.