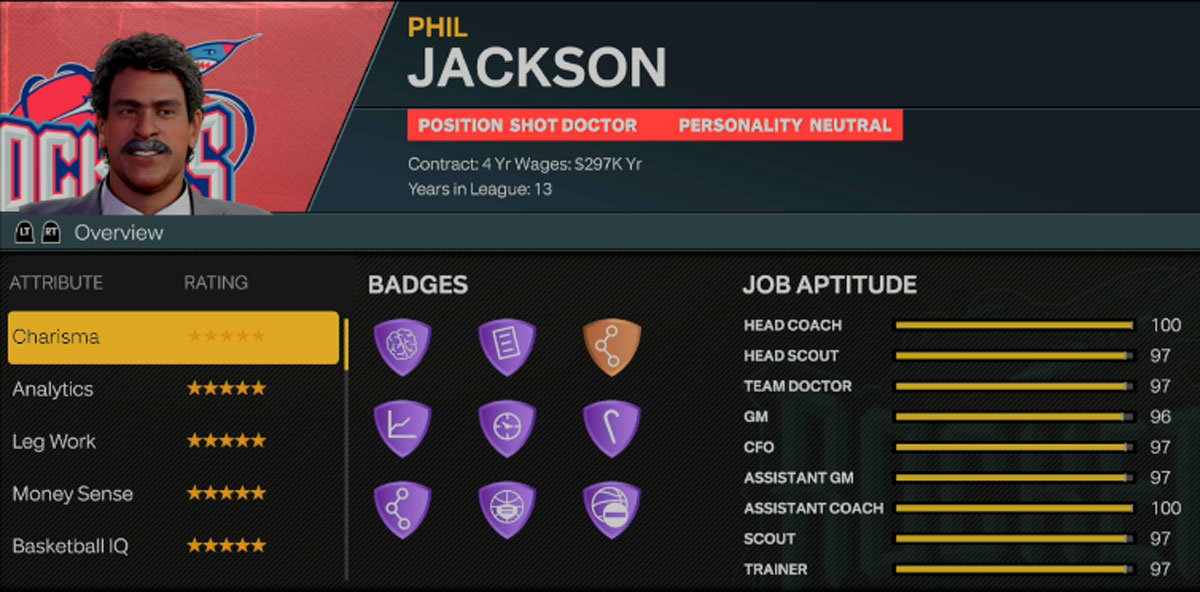 Similar to MyCAREER Badges and Attributes, NBA 2K23 MyNBA has its own unique set of Attributes and Badges – but for front office and staff. Ranging from bronze to hall of fame level, these Badges measure a staff member's abilities and their effect on the team.
Here's the full list of Staff Badges and Attributes and their definitions in MyNBA. Badges are under the categories of General, Coaching, Scouting, Sports Medicine, and Front Office.
Also See:
Staff Attributes
Analytics: The ability to track down trends and connect the dots.
Basketball IQ: Knowledge and understanding of basketball tactics and the ability to evaluative players.
Money Sense: The ability to manage money, finances, or get a great deal.
Charisma: The ability to sway staff and players. High charisma staff contribute to higher moral and trust within the organization.
Defensive Coaching: How skilled and dedicated a coach is at the defensive side of the ball.
Influence: How well respected a person is in their field. High influence Staff are desirable to work with and affect the development of their peers.
Organizing: The ability to manage subordinate staff and get them contributing at optimum levels.
Sports Medicine: Medical knowledge and the ability to affect injury prevention, healing, fatigue and the psychological well being of the players.
Staff Badges
GENERAL
Short-Timer: A coach known for only doing short stints with teams before moving on.
Experimenter: Uses unorthodox recovery methods, often extends the actual injury time.
Relentless: Tends to overwork players in the training room; players tire much quicker during games.
Sponge: Soaks up information at an advanced rate, gains skills and abilities quickly.
Single Minded: Driven to get their dream job, at any cost.
Clout: A hot name in league circles, their services are in high demand.
Touch Love: Motivates with negative reinforcement, which produces results but hurts morale.
Opportunist: Always looking to advance up the career ladder.
Brat Pack: Prioritizes potential and youth in the lineup over veteran experience.
Package Deal: Has a favorite colleague and would prefer to work on the same staff.
COACHING
Tactician: Players absorb knowledge, Basketball IQ is increased in 4th quarter for all players.
Coaching Legend: Players are more willing to sign with your team due to the coach's prestige.
Former Player: Players respect this former player, and as such, negative morale hits are reduced.
Teacher: This coach's players have a greatly increased chance of developing Signature Skills.
Clutch: Calm and poised in elimination games; this coach's players outperform their abilities in playoffs when facing elimination.
Rejuvenator: Gets great contributes from older players, who seem to turn back the clock.
Competitor: Easily frustrated by losing; teams suffer an additional Team Chemistry hit after losses.
Shot Doctor: Especially good at helping players improve their shooting skills.
Guard Guru: Well versed in coaching guard skills like ball handling and passing.
Wing Whisperer: Very capable when coaching up players to attack the basket.
Big Man Coach: A great teacher of post up skills on the offensive end.
Post D Master: Highly effective developing player ability centered around defending the basket and rebounding.
Perimeter D Master: Highly effective developing player ability centered around defending the ball.
Our House: Gets players amped and ready for home games, especially rivals.
Mentor: A master at developing players, helping them reach their potential faster.
Underdog Advocate: Spends time working with second round and undrafted players helping them overachieve.
Short Leash: Shows little patience for young players and the mistakes that they make.
Mind Games: Master of psychological motivation, pep talks are more effective.
Zen Master: Gets more out of less intense practices, helping team fatigue.
Soft Touch: Motivates with positive reinforcement, which produces results and improves morale.
SCOUTING
Bloodhound: Very adept at identifying Sleepers during scouting trips.
Sleuth: Able to quickly report back on prospects that have low potential.
Dedicated: Able to scout additional prospects during every scouting period.
Lazy: This scout's lack of effort means your team gets to scout 2 fewer players per scouting period.
Careless: This scout's hasty approach to scouting results in scouting reports being 10% less accurate.
Domestic Scout: Highly knowledgeable and effective when scouting North American prospects.
Foreign Scout: Highly knowledgeable and effective when scouting overseas prospects.
Connoisseur: Tuned in to the top prospects in the draft and gathers information about potential lottery picks faster.
Spelunker: Adept at finding the diamonds in the rough later int he draft.
Calculator: Especially good at using analytics to uncover talent.
Eye Test: Relies on film and in person viewing to uncover talent.
SPORTS MEDICINE
Strength Trainer: Advanced workouts help players build strength and vertical faster.
Stamina Trainer: Players work harder in the gym, tire less quickly during games.
Sports Psych: Uses sports psychology to increase player morale and team chemistry.
Sports Science: Players are less likely to get injured due to this trainer's preventative work.
Physio: Players heal faster when rehabbing using this trainer's sophisticated programs.
Sleep Doctor: Helps players to optimize their schedules to increase fatigue recovery.
Med-Head: Sniffs out medical issues much faster than most.
Upper Body Specialist: Has a deep understanding of upper body injuries, helping players recover from them more quickly.
Lower Body Specialist: Has a deep understanding of lower body injuries, helping players recover from them more quickly.
FRONT OFFICE
Loose Lips: Often talks to the press about trade negotiations going on within the organization.
Former GM: Opposing GM's have a higher Trust level for you due to his person's previous experience as a GM.
Wingman: Revered by the governor, your Trust loss for failing tasks is reduced by 10%
Recruiter: Players enter negotiations with an increased interest in joining your team due to their smooth-talking of their agents.
Snake: Occasionally fails to deliver you task reminders, in hopes that your failure will help them take your position.
Economical: Reduces game day expenses by 5%
Promoter: Promotional costs are reduced by 10% due to their industry contacts.
Introvert: Due to their lack of contacts, your team's merchandising prices are 10% higher.
Bully: Tends to boss other staff around, resulting in Trust decreasing by 10 for each other staff member.
Financial Advisor: Exceptional financial abilities as a CFO. Generates higher revenues at lower costs than peers.
Gambler: Takes big risks, swings for the fences when making trades and acquiring players.
Passive: Tends to stand pat with the roster, unwilling to make big sweeping changes.
Grizzled: Prioritizes veteran experience in the lineup over potential and youth.
Big 3 Or Bust: Prioritizes star-caliber players at the top of the lineup, even at the expense of bench depth and luxury taxes.