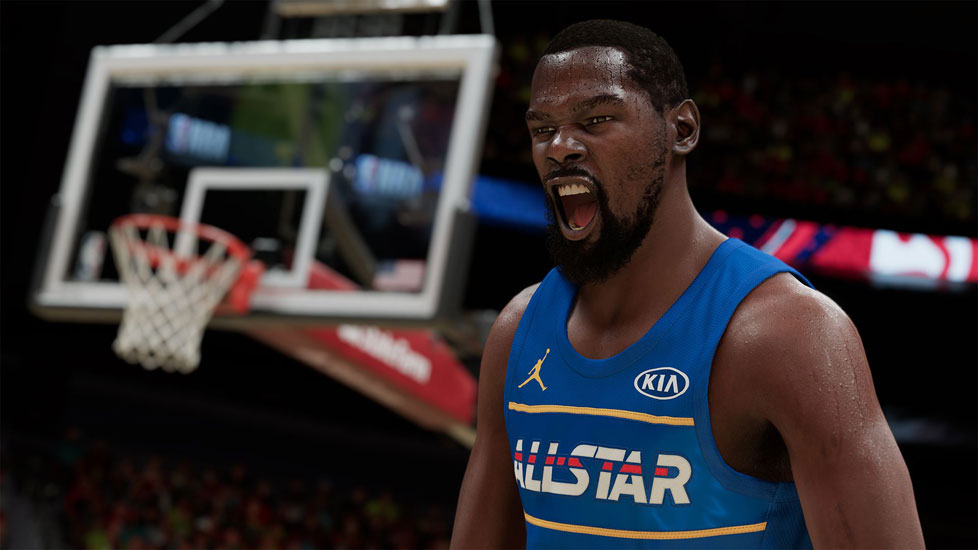 The fifth roster and ratings update of NBA 2K21 is live, check out the full ratings and press release from 2K:
It's NBA All-Star 2021 this weekend!
Following last night's Draft, the teams are ready to rock the State Farm Arena in Atlanta on Sunday March 7 where the league's annual global celebration of the game will take place on one night for the first time.
Prior to the Game, some of the Association's most skilled big men and guards will battle it out in the Taco Bell® Skills Challenge. Will Luka Dončić's 93 overall NBA 2K21 rating help him win or will one of the best point guards to play the game, Chris Paul (88 overall rating) take the title?
Also taking place before the Game, can one of the greatest three-point shooters ever, Stephen Curry (98 three-point rating) win the MTN DEW® 3-Point Contest or will 2018 champion Devin Booker (86 three point rating) reign supreme? Whoever wins, it's certainly going to be a clinic in three-point shooting prowess.
Then, at halftime of the NBA All-Star 2021 Game, the high-flying specialists take center stage with the AT&T Slam Dunk. With some fresh faces in this year's competition, will it be high-flying Knicks Rookie Obi Toppin taking home the crown or can the equally impressive Cassius Stanley of the Pacers or Anfernee Simons of the Trail Blazers leave the night victorious? All have impressive Dunk ratings in NBA 2K21 so it will be exciting to watch.
Check out the NBA 2K21 ratings for all the NBA All-Star 2021 participants below.
We also have a wealth of general rating updates that are now live in game, which can be found further down!
Taco Bell® Skills Challenge
Luka Dončić – 93 OVR
Nikola Vučević – 88 OVR
Chris Paul – 88 OVR
Domantas Sabonis – 87 OVR
Julius Randle – 87 OVR
Robert Covington – 77 OVR
MTN DEW® 3-Point Contest
Stephen Curry – 98 three-point rating
Zach LaVine – 88 three-point rating
Devin Booker – 86 three-point rating
Jaylen Brown – 86 three-point rating
Jayson Tatum – 85 three-point rating
Donovan Mitchell – 85 three-point rating
AT&T Slam Dunk
Cassius Stanley – 92 dunk rating
Obi Toppin – 90 dunk rating
Anfernee Simons – 89 dunk rating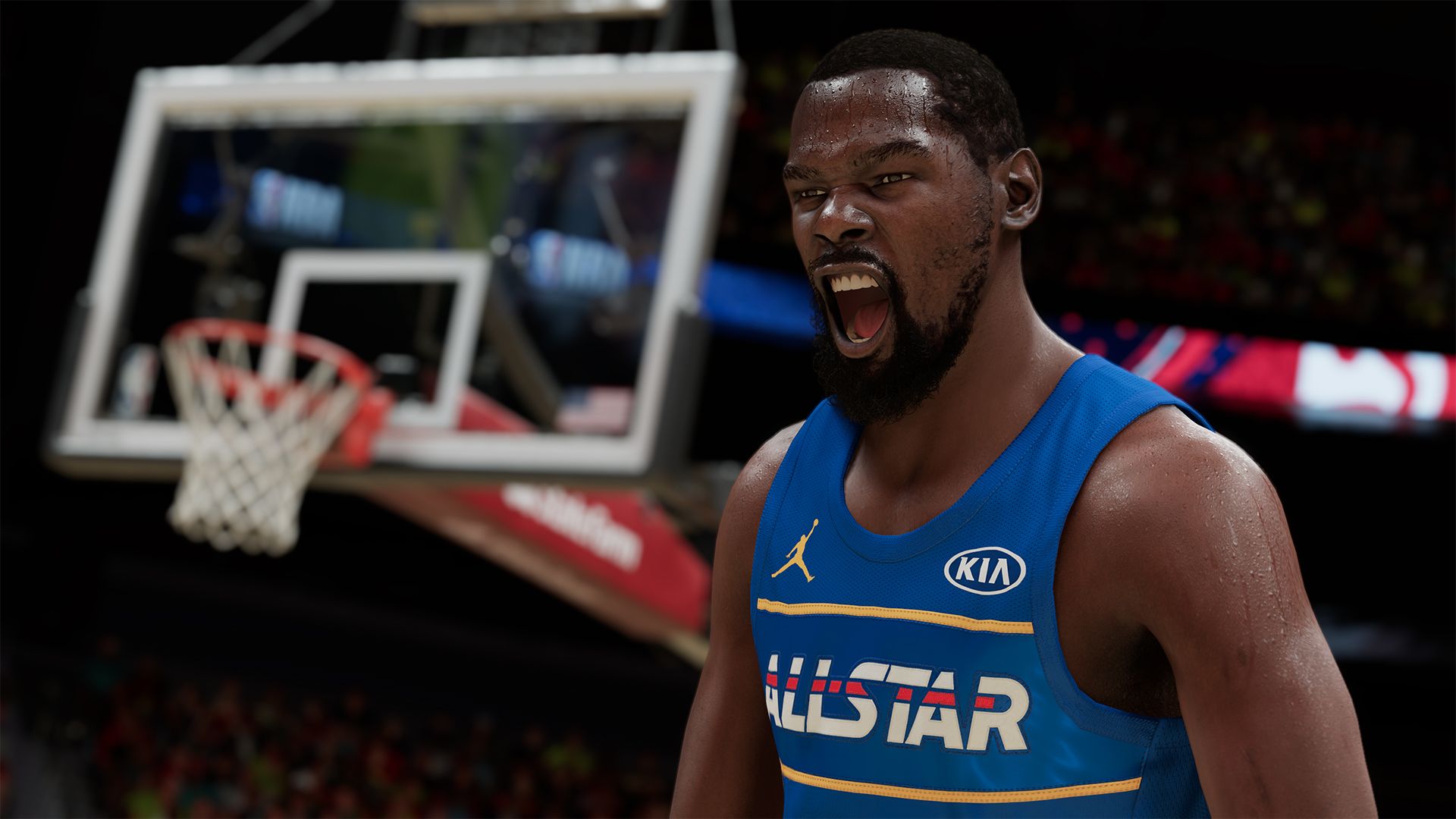 Team Kevin Durant
Starters:
Kyrie Irving – 91 OVR
Joel Embiid – 95 OVR
Kawhi Leonard – 96 OVR
Bradley Beal – 90 OVR
Jayson Tatum – 90 OVR
 Reserves:
James Harden – 95 OVR
Devin Booker – 88 OVR
Zion Williamson – 89 OVR
Zach LaVine – 88 OVR
Julius Randle – 87 OVR
Nikola Vucevic – 88 OVR
Donovan Mitchell – 88 OVR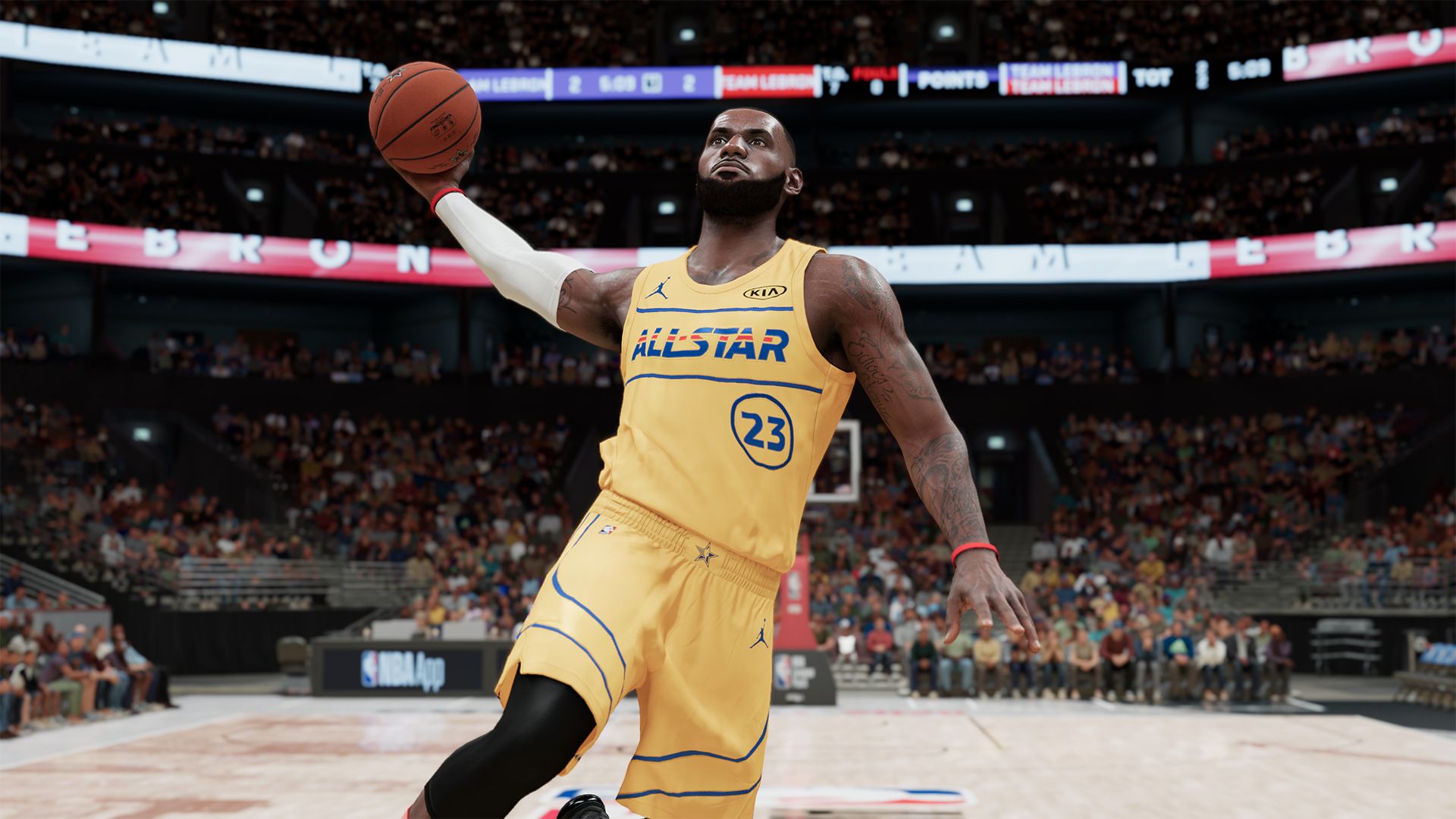 Team LeBron James
Starters:
LeBron James – 97 OVR
Giannis Antetokounmpo – 96 OVR
Stephen Curry – 96 OVR
Luka Doncic – 93 OVR
Nikola Jokic – 95 OVR
Reserves:
Damian Lillard – 94 OVR
Ben Simmons – 88 OVR
Chris Paul – 88 OVR
Jaylen Brown – 89 OVR
Paul George – 90 OVR
Domantas Sabonis – 87 OVR
Rudy Gobert – 88 OVR
NBA 2K21 All Movers Sorted by OVR
Joel Embiid: 95 OVR (+1)
Nikola Jokić: 95 OVR (+1)
Kyrie Irving: 91 OVR (-1)
Bradley Beal: 90 OVR (-1)
Jimmy Butler: 90 OVR (-2)
Zion Williamson: 89 OVR (+1)
Donovan Mitchell: 88 OVR (+1)
Chris Paul: 88 OVR (+1)
Devin Booker: 88 OVR (+1)
Julius Randle: 87 OVR (+1)
Shai Gilgeous-Alexander: 87 OVR (+1)
Trae Young: 87 OVR (-1)
Bam Adebayo: 87 OVR (-1)
Tobias Harris: 86 OVR (+1)
Ja Morant: 86 OVR (+1)
Clint Capela: 86 OVR (+1)
Mike Conley: 86 OVR (+1)
Jamal Murray: 86 OVR (+1)
Khris Middleton: 86 OVR (-1)
LaMelo Ball: 85 OVR (+2)
Brandon Ingram: 85 OVR (-1)
Fred VanVleet: 85 OVR (-1)
Jordan Clarkson: 84 OVR (+2)
Jarrett Allen: 84 OVR (+1)
Kyle Lowry: 84 OVR (+1)
Deandre Ayton: 84 OVR (+1)
Malcolm Brogdon: 84 OVR (-1)
Tyrese Haliburton: 83 OVR (+1)
Dejounte Murray: 83 OVR (+1)
Mikal Bridges: 83 OVR (+1)
Evan Fournier: 82 OVR (+1)
Terry Rozier III: 82 OVR (-1)
John Wall: 82 OVR (-1)
Thaddeus Young: 81 OVR (+1)
Kyle Anderson: 81 OVR (+1)
Brandon Clarke: 81 OVR (+1)
Norman Powell: 81 OVR (+1)
Serge Ibaka: 81 OVR (-1)
Myles Turner: 81 OVR (-1)
Al Horford: 81 OVR (-1)
Malik Beasley: 81 OVR (-1)
J. Washington: 80 OVR (+2)
Lonzo Ball: 80 OVR (+2)
Harrison Barnes: 80 OVR (+1)
Marvin Bagley III: 80 OVR (+1)
Immanuel Quickley: 80 OVR (+1)
Jalen Brunson: 80 OVR (+1)
Draymond Green: 80 OVR (+1)
Louis Williams: 80 OVR (-1)
Tyler Herro: 80 OVR (-1)
Goran Dragić: 80 OVR (-1)
Eric Gordon: 80 OVR (-2)
Malik Monk: 79 OVR (+4)
Robert Williams: 79 OVR (+2)
Dario Šarić: 79 OVR (+2)
Kelly Oubre Jr.: 79 OVR (+2)
Dwight Howard: 79 OVR (+1)
Frank Kaminsky III: 79 OVR (+1)
Danilo Gallinari: 79 OVR (-1)
Andrew Wiggins: 79 OVR (-1)
Nemanja Bjelica: 78 OVR (+2)
Tristan Thompson: 78 OVR (+1)
Precious Achiuwa: 78 OVR (+1)
Jakob Poeltl: 78 OVR (+1)
Brook Lopez: 78 OVR (-1)
Marcus Morris Sr: 78 OVR (-1)
OG Anunoby: 78 OVR (-1)
Cameron Johnson: 78 OVR (-1)
De'Anthony Melton: 77 OVR (+1)
Kendrick Nunn: 77 OVR (+1)
Bruce Brown: 77 OVR (+1)
Josh Hart: 77 OVR (+1)
Jae'Sean Tate: 77 OVR (+1)
Cameron Payne: 77 OVR (+1)
Mike Muscala: 77 OVR (+1)
Moritz Wagner: 77 OVR (+1)
Davis Bertans: 77 OVR (+1)
Doug McDermott: 77 OVR (-1)
Hamidou Diallo: 77 OVR (-1)
Rui Hachimura: 77 OVR (-1)
Dennis Smith Jr.: 76 OVR (+4)
Derrick Jones Jr.: 76 OVR (+2)
Patrick Williams: 76 OVR (+1)
Desmond Bane: 76 OVR (+1)
Royce O'Neale: 76 OVR (+1)
Willy Hernangómez: 76 OVR (+1)
Kevin Huerter: 76 OVR (-1)
Kyle Kuzma: 76 OVR (-1)
Luguentz Dort: 76 OVR (-1)
Seth Curry: 76 OVR (-2)
Saben Lee: 75 OVR (+7)
Theo Maledon: 75 OVR (+3)
Bryn Forbes: 75 OVR (+1)
Dylan Windler: 75 OVR (+1)
Nassir Little: 75 OVR (+1)
Payton Pritchard: 75 OVR (-1)
Dwight Powell: 75 OVR (-1)
Will Barton: 75 OVR (-1)
Anfernee Simons: 75 OVR (-1)
Wayne Ellington: 75 OVR (-2)
Ty Jerome: 74 OVR (+3)
Facundo Campazzo: 74 OVR (+2)
Luke Kornet: 74 OVR (+1)
Nicolas Claxton: 74 OVR (+1)
Matisse Thybulle: 74 OVR (-1)
Denzel Valentine: 74 OVR (-1)
Jeff Teague: 74 OVR (-1)
John Konchar: 74 OVR (-1)
Kelly Olynyk: 74 OVR (-1)
Alex Caruso: 74 OVR (-1)
Sviatoslav Mykhailiuk: 74 OVR (-1)
Sterling Brown: 74 OVR (-1)
Deni Avdija: 74 OVR (-1)
Justin Jackson: 74 OVR (-2)
Tony Snell: 73 OVR (+2)
Reggie Bullock: 73 OVR (+2)
Javonte Green: 73 OVR (+1)
Georges Niang: 73 OVR (+1)
Wesley Matthews: 73 OVR (-1)
Dorian Finney-Smith: 73 OVR (-1)
Rodney Hood: 73 OVR (-1)
Matt Thomas: 73 OVR (-2)
Ryan Arcidiacono: 72 OVR (+1)
Keita Bates-Diop: 72 OVR (+1)
Mychal Mulder: 72 OVR (-1)
Kira Lewis Jr.: 72 OVR (-2)
Dean Wade: 71 OVR (+2)
Justin Patton: 71 OVR (+2)
Isaiah Joe: 71 OVR (+1)
DaQuan Jeffries: 71 OVR (+1)
Jared Dudley: 71 OVR (-1)
Sean McDermott: 69 OVR (+2)
Gabe Vincent: 69 OVR (+2)