Park Rep returns to NBA 2K20 in the form of "MyREP Progression", where MyPLAYERS grind through the ranks all the way to Legend. After each level, more rewards / prizes are unlocked. Unlockables range from the purely cosmetic, like the ability to color your MyPLAYER's hair, to rewards like getting a free copy of NBA 2K21 (limited supply) and being featured on 2KTV.
Repping up also let's you unlock these Park Badges:
Iron Wall Badge – Set hard screens in The Neighborhood
Screen Crusher Badge – Blow up hard screens in the Neighborhood.
Nothing Easy Badge – Hard fouls at the rim boost your team's Takeover in The Neighborhood.
Gym Rat Badge – You're a gym rat. No more lifting for you
Takeover Booster – Your Takeover meter will now fill up faster in The Neighborhood.
[Check out the
#1 NBA 2K20 MyPLAYER Builder
]
To view your MyREP Progression, rewards, and the Top MyREP Players, go to:
The Neighborhood > MyREP > MyREP Progression.
Check out the full list of NBA 2K20 Rep Rewards below!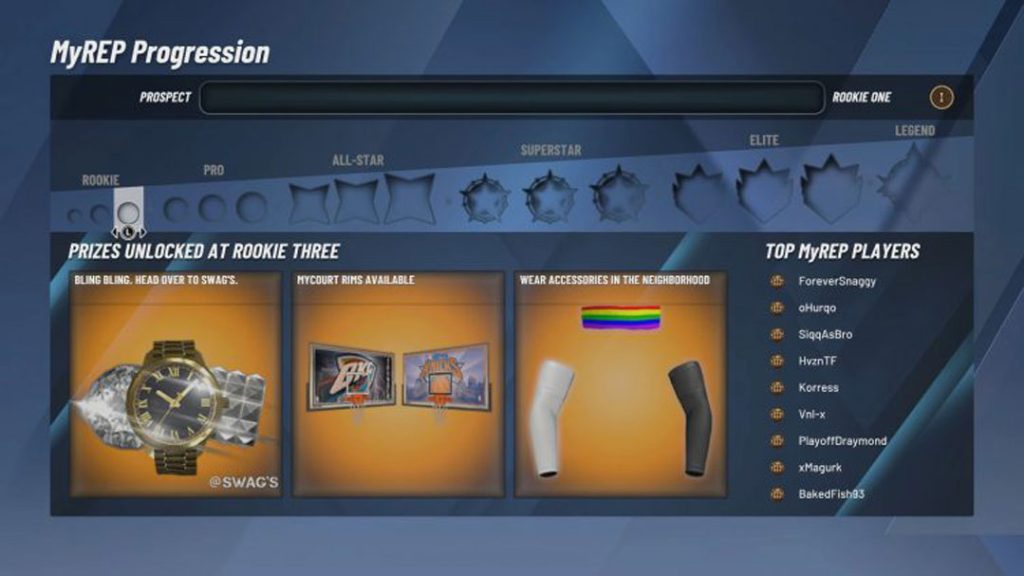 ROOKIE 1
Get your hair colored at Doc's
Customize your jersey at the NBA Store
ROOKIE 2
Show-Off Stick Tier 1 Emotes available
ROOKIE 3
Bling Bling (Jewelry). Head over to Swag's
MyCOURT Rims available
Wear accessories in The Neighborhood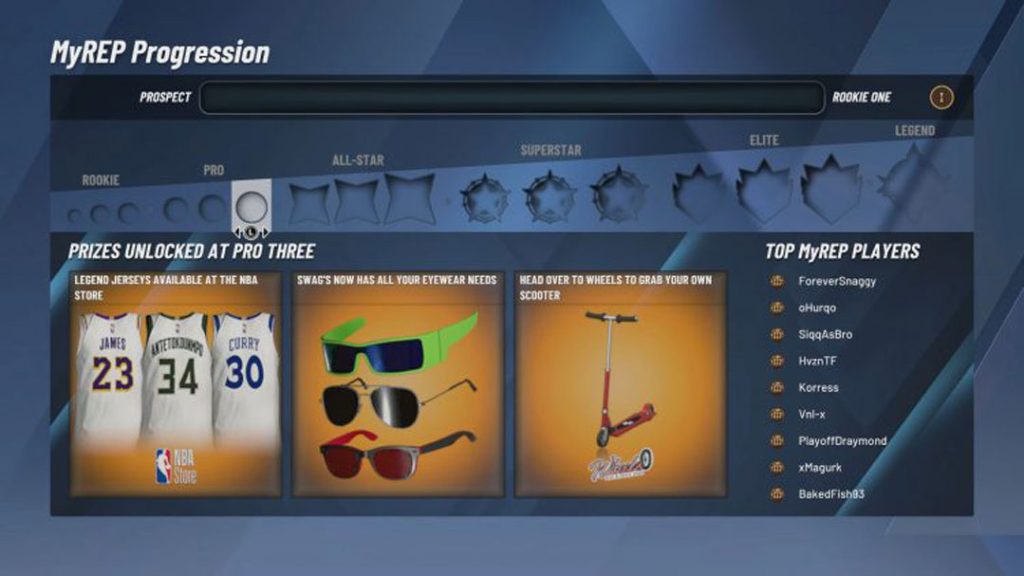 PRO 1
Show-Off Tier 2 Emotes available
Neighborhood gameplay animations now available
Pick up a skateboard at Wheels
PRO 2
Iron Wall – Set hard screens in The Neighborhood
Tier 1 Player Panels
Put on your best hat. Head over to Swag's
Customize your MyCOURT Scoreboard
PRO 3
Legend jerseys available at the NBA Store
Swag's now has all your eyewear needs
Head over to Wheels to grab your own scooter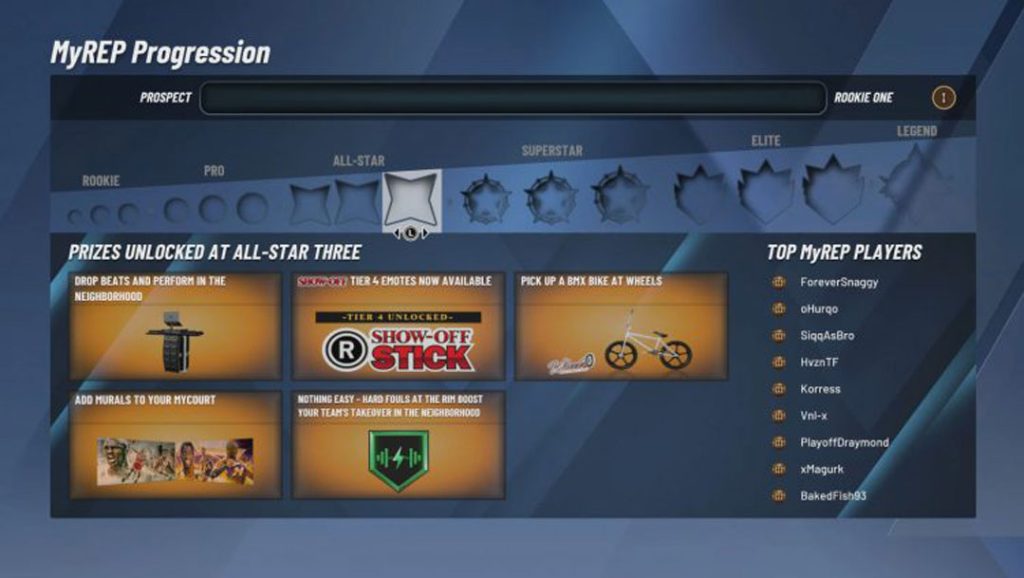 ALL-STAR 1
Show-Off Tier 3 Emotes available
Pick up a beach cruiser bike at Wheels
You've unlocked more gameplay animations
ALL-STAR 2
Screen Crusher – Blow up hard screens in the Neighborhood
Customize your MyCOURT floor
Tier 2 Player Panels
Use your own ball in Neighborhood games
ALL-STAR 3
Drop beats and perform in The Neighborhood
Show-Off Tier 4 Emotes now available
Pick up a BMX bike at Wheels
Add murals to yoru MyCOURT
Nothing Easy – Hard fouls at the rim boost your team's Takeover in The Neighborhood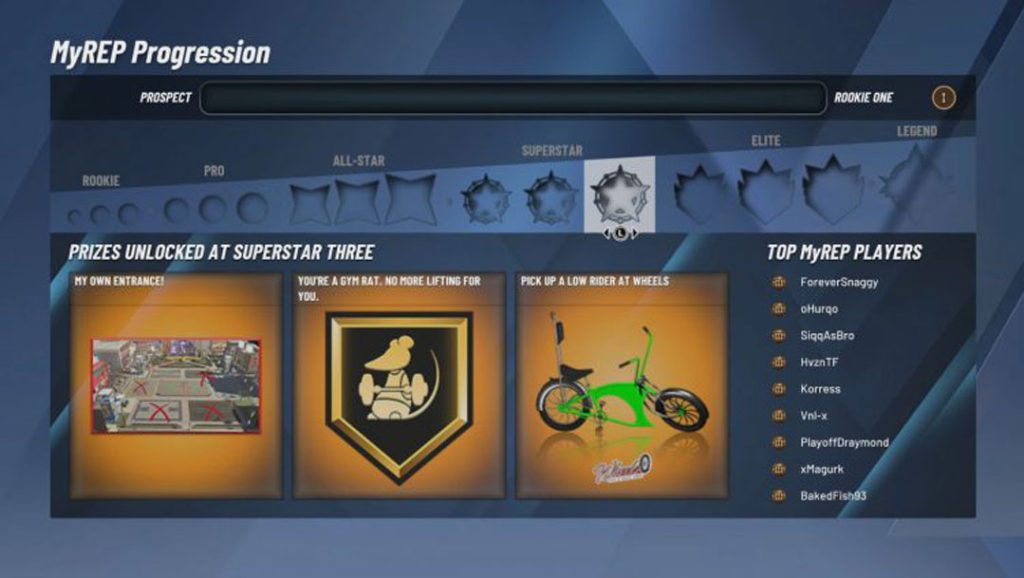 SUPERSTAR 1
Start flexing. You can now take your shirt off
Park Handles – Park dribble moves now available in The Neighborhood
You can now place tattoos on your neck, back, and chest
MyCOURT mini-basketball machine now available
Pick up a tandem bike at Wheels
SUPERSTAR 2
Backpacks available at Swag's
You've unlocked additional Park gameplay animations
Spit it again! Two spins at the daily spin wheel from now on
SUPERSTAR 3
My own entrance!
You're a gym rat. No more lifting for you
Pick up a low rider bike at Wheels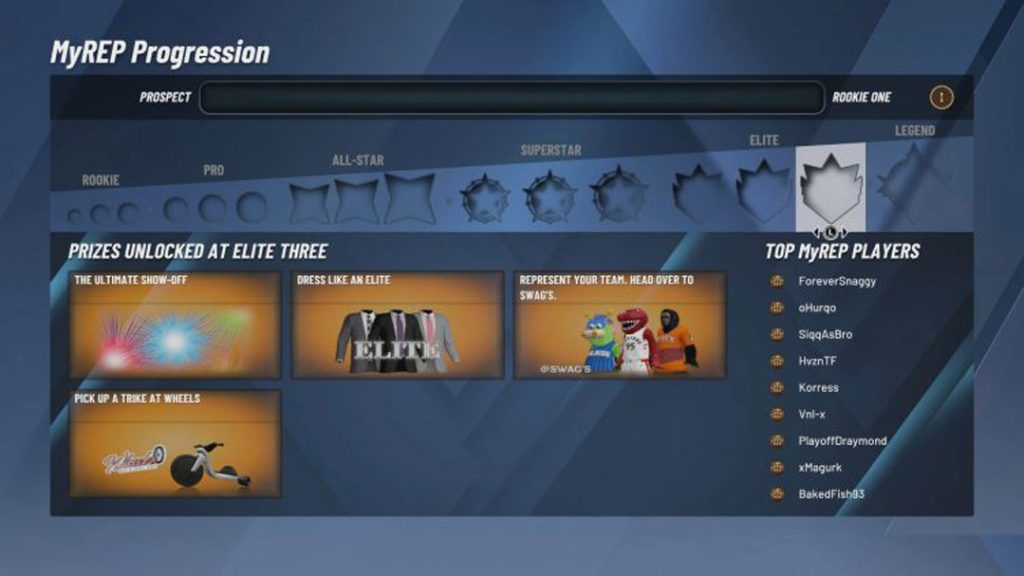 ELITE 1
First in line. Get the first crack on all store sales
Show-Off Tier 5 emotes now available
No place like MyCOURT (MyCOURT Penthouse)
Takeover Booster – Your Takeover meter will now fill up faster in The Neighborhood
Get your spins on the daily spin Elite Wheel
ELITE 2
Tier 3 Player Panels
MySTYLE. Create your own T-Shirt
Double the VC, double the fun (2X VC)
Pick up a hoverboard at Wheels
ELITE 3
The Ultimate Show-Off (Fireworks)
Dress like an Elite (Suits)
Represent your team. Head over to Swag's (Mascots)
Pick up a trike at Wheels

LEGEND
Free Copy of NBA 2K21 (Limited Supply)
Arrive in style
Be featured on an episode of 2KTV
Got next? Line starts here
Legends deserve more badge points
Legend player panels available