52 NBA 2K players were chosen in the NBA 2K League 2022 Draft today, which was held virtually and live streamed on the NBA 2K League's Twitch and YouTube channels. With the number one overall pick, Gen. G Tigers of Shanghai selected Jaiden "galloOTTR" Frank of DeSoto, Texas. Bucks Gaming selected Michael "Cooks" Campbell of Brooklyn, N.Y. with the second pick.  And with the third pick, Mavs Gaming chose Kenneth Grant "KennyZeus" Strombeck of Wake Forest, N.C.
Consisting of three rounds, the 24 NBA 2K League teams selected prospects to complete their five-person rosters. The first competition of the fifth anniversary season will be on Wednesday, March 23 with the Coinbase NBA2KL 3v3 SLAM OPEN amateur qualifying event.
With the Number 1 pick in the 2022 NBA 2K League Draft @GenGTigersSH selects @thankGod4Gallo!

Twitch 💻: https://t.co/IWibnYP9k4
YouTube 📺: https://t.co/qlvtz3YWP9 pic.twitter.com/lIEyh7vdX8

— NBA 2K League (@NBA2KLeague) February 26, 2022

The NBA 2K League draft pool included 145 draft-eligible players:
77 players who earned eligibility through the NBA 2K League Draft Prospect Series
43 unretained players from the 2021 season
11 players who were identified by the NBA 2K League and its teams as high-performing players in the 2K community
5 players from the APAC and European Invitationals
4 players from the Sony Scouting Grounds tournaments
3 players from the NBA 2K League's Women in Gaming initiative
2 players from the 3v3 Draft-Eligible Tournament.
Check out the full draft results below:
Round 1
1. Gen.G Tigers of Shanghai, Jaiden "galloOTTR" Frank
2. Bucks Gaming, Michael "Cooks" Campbell
3. Mavs Gaming, Kenneth Grant "Kenny Zeus" Strombeck
4. Bucks Gaming, Mason "JohhnyRed" Bracken
5. Blazer5 Gaming, Joshua "unguardable" Hunter
6. Mavs Gaming, Zekirri "Zayy" Dennis
7. Raptors Uprising GC, Emmanuel "FantaSZN" Gosman
8. DUX Infinitos, Waseem "BallLikeSeem" Talbert
9. Celtics Crossover Gaming, Trey "TreyDollaz" Wright
10. Magic Gaming, Justin "Kapp" Kaplan
11. Heat Check Gaming, Deondrick "DTrick" Leon
12. Grizz Gaming, Michael "BP" Diaz
13. Blazer5 Gaming, Dorian Earl "Bucket" Miller
14. Bucks Gaming, Dawson "dawsix" Thomas
15. 76ers GC, Daniel "DT" Tlais
16. Heat Check Gaming, Kennedy "sawc" Tauala Jr.
17. Knicks Gaming, Jakari "Stick" Hunt
18. Hawks Talon GC, John "Witness" Mushaben
19. Magic Gaming, Matthew "Matty" Grant
20. Warriors Gaming Squad, Austin "KayAus" Caterino
21. Gen.G Tigers of Shanghai, Julio "HesiCap" Roberts
22. Wizards District Gaming, Tyrell "Ty" Johnson
Round 2
23. Raptors Uprising GC, Xavier "Big Saint" StJohn
24. Bucks Gaming, Jeremy "Seese" Seese
25. Hornets Venom GT, Nicholas "Icyy" Clark
26. Heat Check Gaming, Josue "FutureClutch" Acosta Gomez
27. Blazer5 Gaming, Robert "CantGuardRob" Nastasi
28. Jazz Gaming, Kwan Larry "followTHEGOD" Niblack
29. DUX Infinitos, Stanley "MaJes7ic" Lebron
30. Hornets Venom GT, Damon "DJ" Jones
31. Celtics Crossover Gaming, Tamer "Bulleyy" Mustafa
32. Magic Gaming, Blaine "Reign" Wilson
33. Mavs Gaming, Jarvis "Simptoms" Thompson
34. Kings Guard Gaming, Anthony "Ant SZN" Costanzo"
35. Cavs Legion GC, Jyden "Jyden" McBath-Spencer
36. Kings Guard Gaming, Myles "MYLES" Lyons
37. Pistons GT, Ja'Ron "Bagmotion" Baylor
38. Grizz Gaming, Justin "Jayrod" Rodriguez
39. Knicks Gaming, Kerry "Kerry" Thompson
40. Hawks Talon GC, Bryson "Putback" Fleming
41. Nets GC, Shun "Streetz" Brown
42. T-Wolves Gaming, Frederick "Djay" Payton
43. Wizards District Gaming, Brandon "BRich" Richardson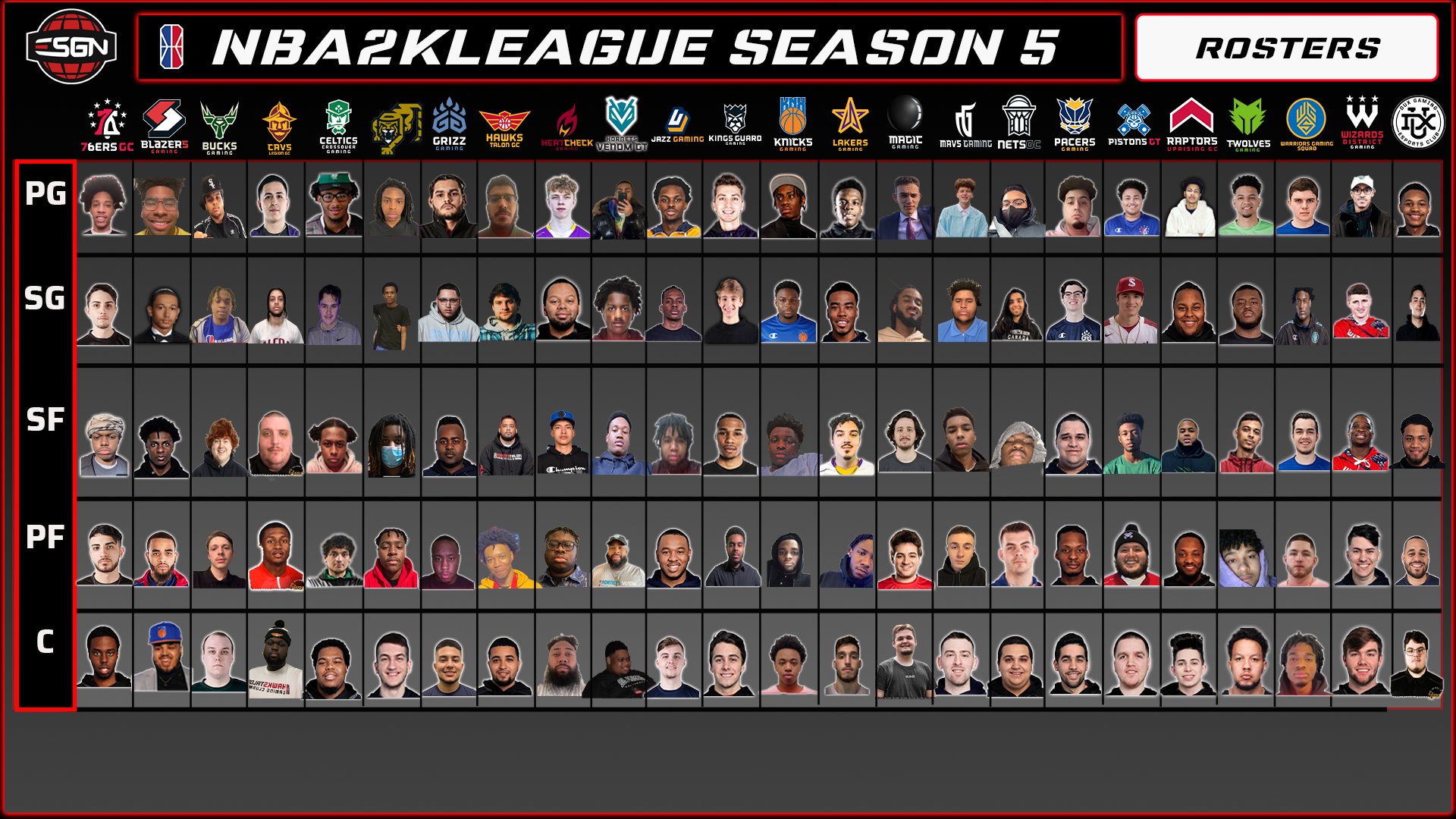 Round 3
44. Jazz Gaming, Wesley "Gen" McNair
45. Lakers Gaming, Latrell "GreenTooNice" Roberson
46. Nets GC, Michael "Hegotgame034" Tate
47. Pistons GT, Elijah "EG4Hunnid" Garcia
48. Hornets Venom GT, Jahaad "King Haad" Thomas
49. Nets GC, Alexander "Steez" Bernstein
50. Mavs Gaming, Jake "Legit" Knapp
51. Cavs Legion GC, Thomas "Fakie II" Batts
52. Gen.G Tigers of Shanghai, Darjean "ReturnOfDJ" Henderson
You can watch the full recap of the NBA 2K League 2022 Draft here: