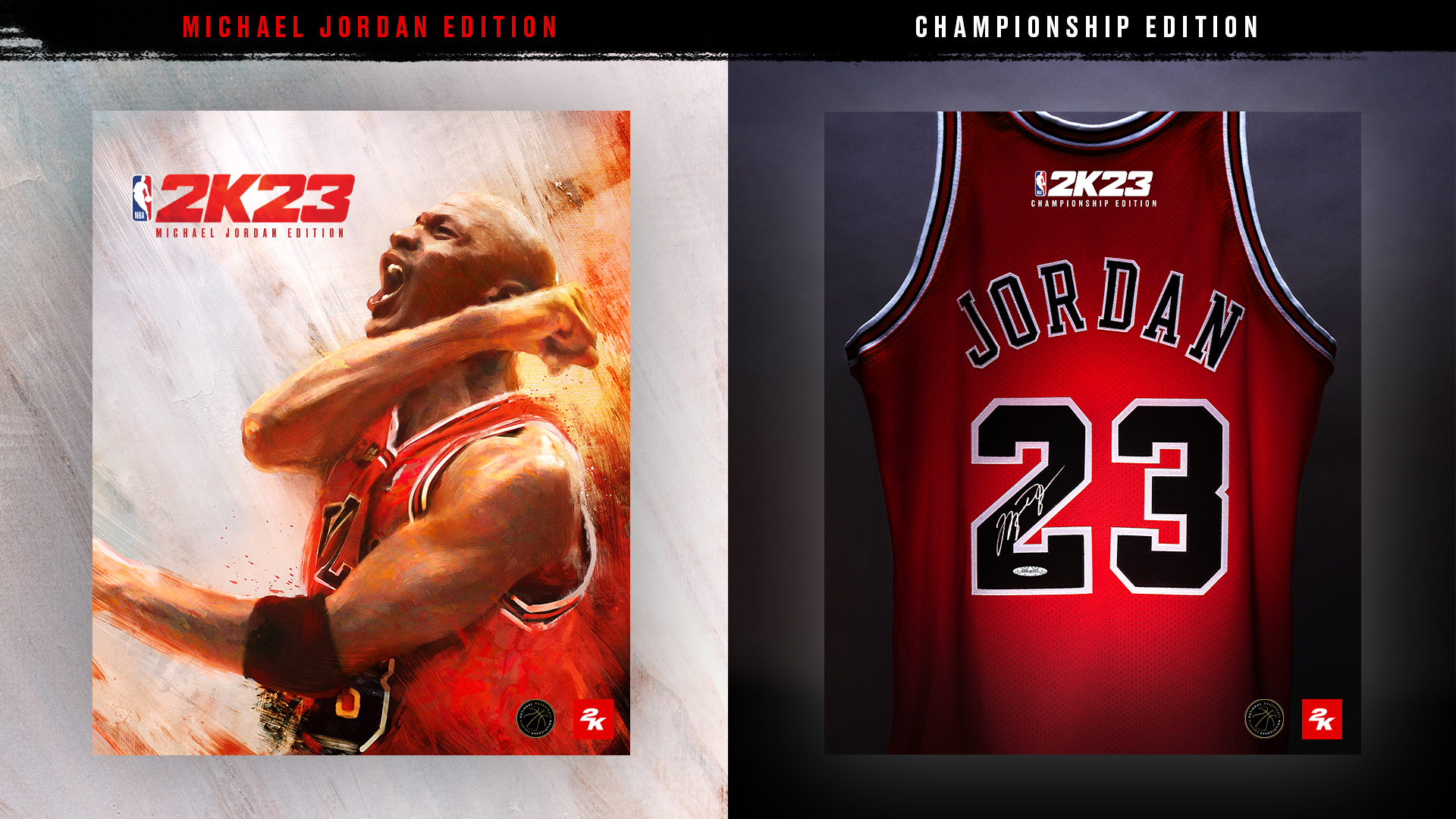 The first details of NBA 2K23 are here! The G.O.A.T, Michael Jordan, has been announced as the cover athlete for NBA 2K23!
[Also See: Devin Booker Revealed as NBA 2K23 Cover Athlete for Standard Edition]
NBA 2K23 Pre-Order Bonuses, Editions, Prices, & More
NBA 2K23 Release Date
The NBA 2K23 release date has been confirmed to launch on Friday, September 9, 2022.
NBA 2K23 Pre-Order Date & Pricing
NBA 2K23 pre-order editions, bonuses, and pricing will be available on July 7.
NBA 2K23 Cover Athlete: Jordan Edition & Championship Edition
Jordan will be on the NBA 2K23 Michael Jordan Edition and NBA 2K23 Championship Edition, which together marks his fourth time headlining an NBA 2K cover. He was previously on the cover for NBA 2K11, NBA 2K12, and the NBA 2K16 Special Edition. NBA 2K23 Championship Edition comes with a 12-month NBA LEUGUE PASS subscription.
From 2K:
"The 14-time NBA All-Star, five-time Kia NBA Most Valuable Player, six-time NBA World Champion and Naismith Memorial Basketball Hall of Famer, Michael Jordan, will appear on both covers of the NBA® 2K23 Michael Jordan Edition and the ultra-premium NBA® 2K23 Championship Edition.
Jordan's career transformed the NBA into a global phenomenon, making him a household name and leaving an undeniable impact on the basketball world. For the 24th year of NBA 2K, Jordan is the perfect embodiment of this year's campaign theme: Answer the Call. As an athlete who always rose to the occasion, Jordan returns to star on two NBA 2K23 covers, giving an opportunity for old and new fans alike to celebrate a talent who left the world in awe throughout his career."
More NBA 2K23 details and content also emerged from the cover athlete announcement:
NBA 2K23 Jordan Challenge
With MJ on the cover, the game will also reintroduce The Jordan Challenge, which "encourages players to recreate 15 iconic moments from Jordan's illustrious career. All ten of the original Challenges from NBA 2K11 have been completely rebuilt from the ground up and will make their return this year – alongside five new iconic Jordan moments – for an entire new generation of players to experience. These Challenges take advantage of more than a decade of technological leaps to provide a completely new way to play through Jordan's accomplishments – all housed within its own game mode.
The Jordan Challenge also "elevates an array of spellbinding performances across Jordan's college, NBA, and Team USA Basketball careers that players can experience across all 15 Challenges and includes unique video vignettes that come with special commentary from an array of NBA luminaries: Jordan's teammates, opponents, and other sports personalities, who saw him do it live and can bring to life his legacy to a younger generation of NBA fans." Further details on The Jordan Challenge in NBA 2K23 will be released later this summer.
NBA 2K23 Trailer
NBA 2K23 Screenshots
More NBA 2K23 News Announcements
More cover athlete reveals will be announced by 2K in the next two days. Rumors are that Devin Booker will be on a cover.
Keep it locked to NBA 2KW and the NBA 2K23 News Tracker for any and all upcoming NBA 2K23 news!
Sound off about NBA 2K23 in the NBA 2K Community here.