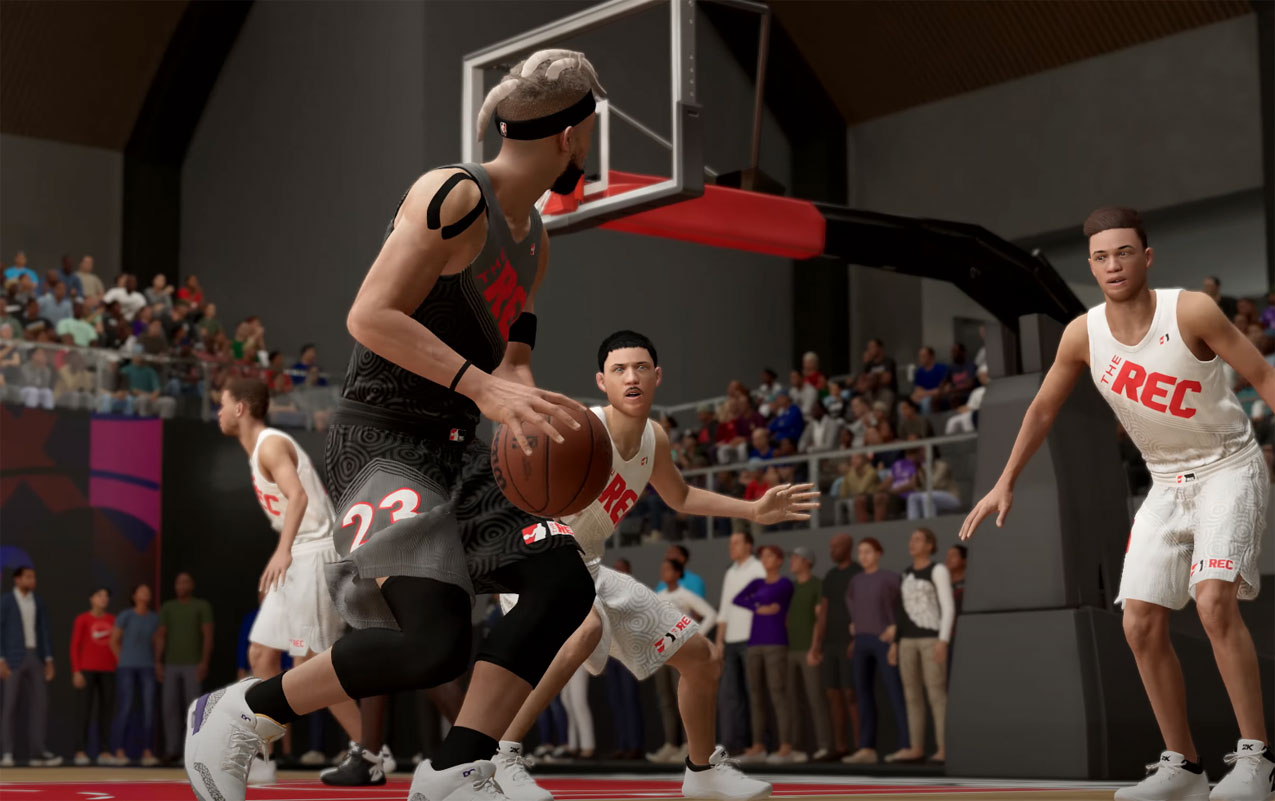 Let's be real – 'The Rec' (the 5v5 pickup game mode in NBA 2K23), is still long overdue for improvement. From awful matchmaking, to getting stuck with sucky AI teammates, to trolls, ball hogs, and buddy ballers that dampen the experience far too often for some players.
To be fair to 2K, they did add a new arena, crowd, and uniforms for The Rec in NBA 2K23, but glaring legacy issues still plague this mode.
The good news is that there are several realistic solutions to improve the game mode. Here we list out a summary of Rec's main problems and some potential solutions for how to improve it.
Also See:
Reason #1: Bad Matchmaking System
Having a squad of 'sweats' playing vs a team of thrown-together randoms is usually not a fun experience for either team, but it happens all too often in NBA 2K23 Rec. From the '92 OVR and under' squads, to brave 'Solo Rec' warriors getting stuck with buddy ballers, there is a lot of that goes wrong with Rec's matchmaking. If there's anything that needs attention in Rec the most, it's matchmaking.
Potential Solutions
Randoms shouldn't be matched up with full squads, ever
Similar to Theater game modes, there could be a "no squads" doorway. Or it could have an entry for "teams of 2 or 3" (teams of 2's would join teams of 3), "teams of 5", or some combination of them all.
Improve Pro-Am matchmaking and incentives so that more squads play Pro-Am. How about bringing back the $250K tournament for Pro-Am teams?
Reason #2: Stuck with AI Teammates (that suck)
In new-gen NBA 2K23, AI teammates fill out a roster after a set amount of time has passed if there aren't enough real players. This usually causes players to back out once or several times, which means it ultimately takes longer to get in a game.
Potential Solutions
Remove AI teammates from Rec entirely. If players really wanted AI teammates, they'd play MyCAREER vs the computer.
Push to make NBA 2K24 Cross-Platform (finally) so that there are more players available to get into games faster.
Reason #3: Trash Teammates
In Rec, you're going to find all types of players: good, bad, and everything in between — basketball purists, sweats, glitchers, noobs, ball hogs, trolls, stat chasers, buddy ballers, etc. But there are ways to improve the Rec experience, no matter the type of teammate you end up with.
Potential Solutions
Expand the Teammate Grade penalties/reward system to encourage better gameplay, i.e. harsher penalties for ball hogs, good and bad streaks (i.e. 10 heavily contested shots in a row should be a penalty), and also factoring in more metrics like FG% and advanced stats.
Expand the displayed stats. There should be more detailed stats like "Assist-to-Turnover Ratio", "PER", and more.
Add a new feature called "Playstyle Badges" that dynamically characterize how users play online (good and bad). For example, there could be a "Ball Hog" Badge, "Iso Gawd" Badge, "Dish the Rock" Badge, etc. Traits would be determined dynamically by how a user plays online, factoring in things like user tendencies, advanced stats and metrics, intangibles, how often someone quits, etc.
Be able to back out of the Rec locker room sooner
Reason #4: Gameplay
Gameplay can use improvement too, but this is a broader topic. Overall, 2K should be rewarding smart gameplay. NBA 2K23 adding Adrenaline Boosts has helped some, but there's still plenty more gameplay elements that can be improved.
Potential Solutions
Encourage team basketball, more ball movement, motion offense, etc:

Eliminate the "Handles for Days" Badge and drain stamina faster for excessive dribbling and changes in direction.
Nerf the "Interceptor Badge" and drain stamina faster for excessive passing lane steal attempts.
Increase Teammate Grade reward for assists, good team passing, and good off-ball movement.

Make the court size bigger
Fade away threes should not be easier to make than regular stand-still threes, but in 2K23 they are.
Reason #5: Too Stale
Rec hasn't seen a whole lot of in-depth improvement or innovations from when it was introduced a few years ago (known then as "2K Pro Am – Walk On").
Potential Solutions
Switch up the uniforms every Season or every month to keep it fresh
Add an option to have stats displayed 'per build'.
Add in-game announcers
Have a bigger and more lively crowd
Have more frequent 2XP Rec Events
The potential drawback to some of these potential solutions is that it may take longer to find games. Some players may be okay with that if it means a better overall experience, or adding things like cross-platform capability may negate any long wait times completely.
There you have it, our list for how to improve The Rec in the NBA 2K series. If you have any Rec ideas, you can post them in the NBA 2K Community under 'NBA 2K Wishlist'.