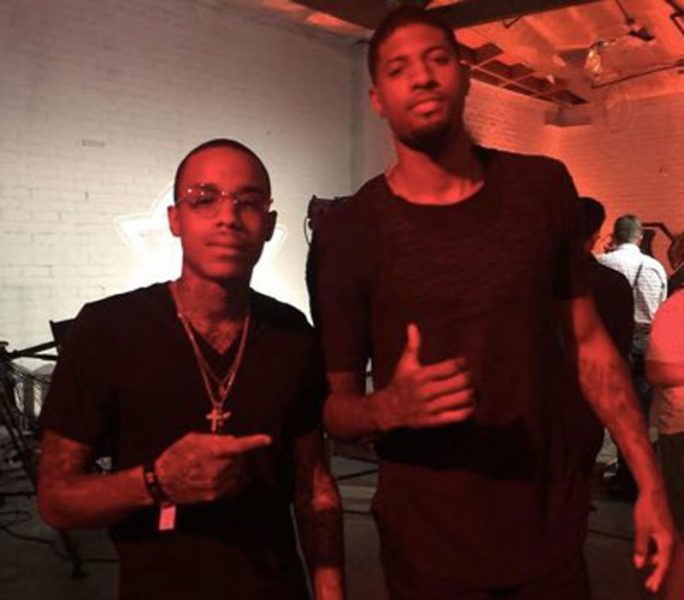 NBA 2K LEAGUE DRAFT PROSPECT SPOTLIGHT
Name: Tavius Kenney
Hometown: New Britain,CT
Age: 28
Gamertag: FMB KiLLaCaM
Console: Xbox One
Pro-Am Team(s): FMB
2KL Combine Build: SF, Offensive Threat
Jumpshot: Jumpshot 98
Twitter: @FMB_KiLLaCaM
NBA 2K League Season 3 Top 150 Draft Prospect Tavius Kenney, aka '@FMB_KiLLaCaM', recently caught up with us about his journey to the draft, AAU basketball, esports and more.
Read below for the full Q&A:
2KW:  Can you tell us a little about your background, how you got into NBA 2K, esports, and the NBA 2K League in particular?
My name is Tavius Kenney from a small town in New Britain, Connecticut. Growing up in Connecticut was very different from where I'm living now in Atlanta, as I come from a single mother of 5, with 4 brothers and 1 sister. Growing up, I always stood out as I'm the middle child and at a young age I started being active with sports. M two main ones were basketball and football. When I was 5 or 6 years old, I started playing organized sports, including playing flag football, pop Warner football as well as AAU Basketball. This was beneficial as at a young age I had to learn how to cope with others and learn discipline and structure. I also had to learn how to work with others and learned to build bonds with teammates and coaches.
I always wanted to go to the NBA or NFL; but, I loved basketball the most. I fell in love with 2K back on Dreamcast (with Iverson on the cover) and this transferred my passion from physical basketball to the video game world. Ever since then I been playing competitive for over 10 years, which has been beneficial for my family. Ten years ago, one day my mom just said it was time to move to Atlanta, which was big change for me moving from a small city where everyone know everyone and everyone know where everyone live and everyone's family's were friendly to a major city.
I eventually made a name for myself by winning Madden and NBA2K tournaments for almost 10 years straight. Through these opportunities, I met many celebrities and built relationships with them. I also was able to travel as I have been to about 30 states doing 2k stuff, events and tournaments in my last 10 years. Competing at such a high level has provided me with substantial of experience "when the lights are on" and its time for the big stage.
I also qualified for the $250,000 MyTeam tournament last year and lost in the final 4. As of result of my successes in 2K, I participated in the combine during Season 1 and 2, where I made the final 250 in both season; but, came up short twice. As they say, the third times a charm, so I'm looking forward to hopefully being in the league this season.
2KW: How would you describe your play style?
Like Paul George
2KW: Who's your favorite NBA team? NBA player?
Favorite NBA team is the Brooklyn Nets and favorite player NBA player is Kyrie Irving.
2KW: Why should a team draft you?
I honestly feel like I'm a great teammate. I've been playing competitive 2k for over 10 years and possess a top tier IQ for basketball and 2k. I try to lead my teammates with positive motivation and high energy to help them be great and perform at their best. I'm also willing to sacrifice whatever it takes to be a better teammate and build chemistry with my team. I'm ready to take constructive criticism so that I refine my skills and get better.
2KW: What are your greatest strengths?
My Greatest strengths are my Leadership, Communication, Discipline, skill in the game. I have the capability to play 1-5 positions and combine a great personality with a high basketball and 2K IQ. I'm also willing to sacrifice for the team to win and willing to play any role that helps the team win.
 
2KW: Do you have a favorite NBA 2K YouTuber or influencer?
My favorite NBA 2k streamer is Goofy
2KW: What type of traits do you look for in a teammate and team?
Traits that I look for in a teammate/coach are those with great energy and great communication. I look for people that match the hunger I bring to the game and share the vision of ultimately winning the championship.  I look for individuals to create a brotherhood, both on and off the court, and those that willing to outwork any team to complete our goal and mission for the season.
2KW: What are you looking forward to most if you get drafted?
I believe that the league is more than just drafting and producing talent. Moreover, it is about developing players with the character and leadership skills to succeed in the NBA 2K league as well as in life. I feel that joining the league would be like a dream come true. It would grants me the opportunity to develop personally, professional and financially while doing something that I love.
---
Fans can check out the latest on the NBA 2K League by visiting their official website and Twitter page.