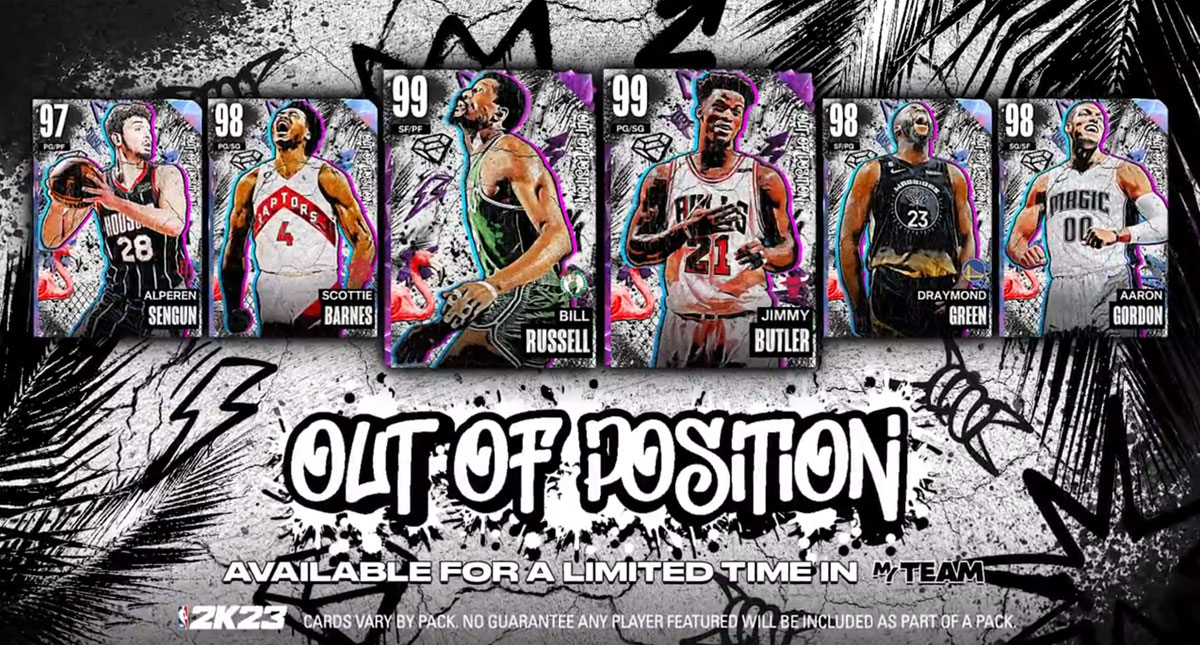 As we approach the end of March and start of April, MyTEAM is beginning to enter what is widely known as "End Game". 2K even considers it that, last year making cards in a set titled "End Game" that had the best animations stats and badges in the game.
With End Game, comes unrealistic cards for the consumer. Tacko Fall with a better three-point rating and jumper than JJ Redick, Joakim Noah at point guard, Demarcus Cousins at point guard, and Muggsy Bogues at center are just some examples of past unrealistic cards. Some fans are happy with this and enjoy the unrealistic cards since it is a video game. Most fans aren't happy because, to majority opinion, this is the start of cheesy and unrealistic cards being on every lineup.
Last night, 2K held their annual Twitter tease of the new cards coming in the big Friday drop. They said it would be big, and it is the game-changing drop most players dread every year.
Out of Position cards are available today and include some interesting players at interesting positions. Here are the Out of Position cards and challenges:
Out of Position is live🔥 pic.twitter.com/4mpTJPNwEL

— NBA 2K MyTEAM (@NBA2K_MyTEAM) March 17, 2023
NBA 2K23 Out of Position MyTEAM Cards
Dark Matter (99 Overall)
Bill Russell (SF/PF) – Celtics
Jimmy Butler (PG/SG) – Bulls
Galaxy Opal (98 Overall)
Scottie Barnes (PG/SG) – Raptors
Draymond Green (SF/PG) – Warriors
Aaron Gordon (SG/SF) – Magic
Galaxy Opal (97 Overall)
Alperen Şengün (PG/PF) – Rockets
Pink Diamond (96 Overall)
Klay Thompson (C) – Warriors
Al Horford (SF/PG) – Hawks
Luke Walton (SG/PG) – Lakers
Pink Diamond (95 Overall)
Herbert Jones (C/SG) – Pelicans
Matisse Thybulle (PG/SG) – 76ers
Tacko Fall (PF) – Celtics
Out Of Position Pack Three-Part Challenge
The NBA 2K23 MyTEAM Out Of Position Pack has a three-part Skill Challenge where if you complete all three parts of the challenge, you'll earn a free Out Of Position Pack.
Out Of Position Challenge – Part 1
Play Triple Threat game to 21 points against Pink Diamond Out Of Position theme team on semi-pro.
Win the game.
Out Of Position Challenge – Part 2
Play Triple Threat game to 21 points against Galaxy Opal Out Of Position theme team on pro.
Win the game and grab 5 rebounds with a player.
Out Of Position Challenge – Part 3
Play a four-quarter game (3 minutes each) against Out Of Position theme team on all-star.
Win the game.
Conclusion
Every year, Out of Position is one of the biggest drops of the game cycle. This year is a little different however, with the Twitter community going on a "Pack Strike". Started by content creator Matt Mojo, the pack strike is to send a message to 2K about their pack odds and their way of treating the consumer.
With a lot of MyTEAM fans not playing anymore due to ban waves and being done with the game and it's consistent problems, and a lot of hardcore fans being on the infamous "Pack Strike", this drop will be far from normal.
It will also be the first time 2K doesn't do anything particularly special for St. Patrick's Day. This year, a content drop falls on the annual Irish holiday St. Patrick's Day. Usually, 2K will drop a St. Patty's themed Irish player or a locker code for a Celtics player to celebrate the holiday. This year however, they did not do anything St. Patty's-related to celebrate. Some fans were obviously upset for no new content regarding the holiday.
This is the first year we got nothing for St Patrick's day!

Not even a consolation Celtics player 😂

— DBG (@DBGyt_) March 17, 2023
All in all, it will be an interesting weekend of content over in MyTEAM.
---
Article contributed by Anthony Schulte