NBA 2K22 "Return of Heroes" Season 7 is set to launch on Friday, May 20 at 8 AM PT for current and new gen systems. Season 7 MyCAREER Level 40 Rewards include a jetpack and NBA mascots, and the Level 40 Reward for MyTEAM is an Invincible Anthony Edwards card. There's also a new event called "TKO", and much more.
Check out the full NBA 2K22 Season 7 details:
Heroes come in all shapes and sizes, and even when immense pressure weighs on their shoulders, they rise to the occasion in the face of adversity. The NBA Playoffs are the ultimate battleground for heroes in the making, putting players through a gauntlet of grueling challenges. Those worthy of greatness embrace the moment.
NBA 2K21's Age of Heroes theme introduced and featured NBA 2K's first heroes from around the league, but NBA 2K22's Season 7: Return of Heroes takes things to a new level, marking the dawn of a new era. Headlined by burgeoning superstars, like this year's scoring champion Joel Embiid, Season 7 is setting the stage for what's sure to be an unbelievable conclusion to the 2021-2022 NBA Season. Powerful competitors will clash against one another–and you can join the fight. Exercise your gifts and carry your team to victory in the City and the Cancha Del Mar by competing for incredible new rewards, completing courageous quests, and proving yourself as a leader.
ALL-NEW MyCAREER UPDATES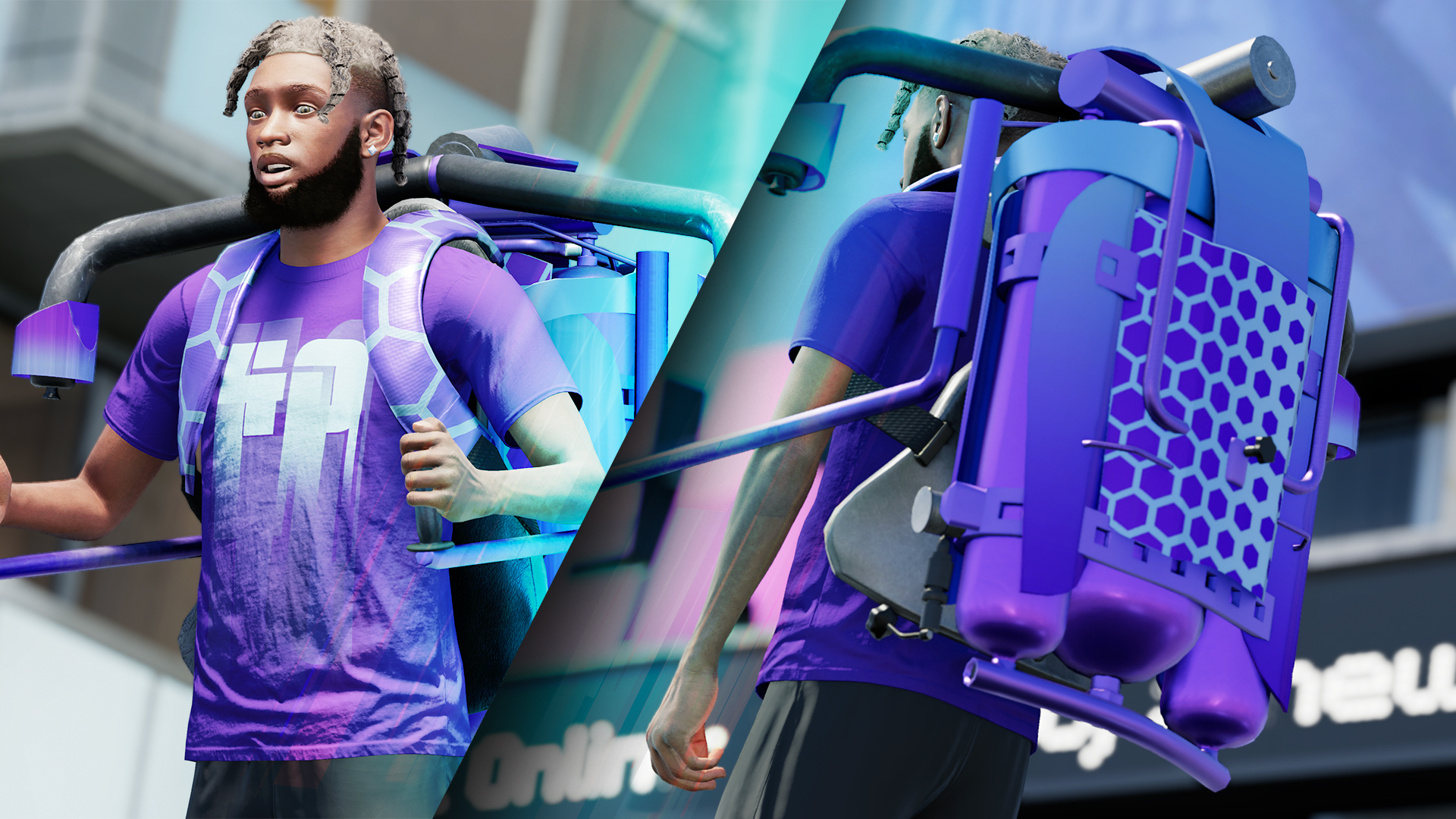 Competition doesn't sleep, especially in the City and aboard the Cancha Del Mar. Around every corner, opportunity awaits, and it's calling to you. Season 7: Return of Heroes features daring new quests, all-new heroic courts, and team-spirited NBA rewards. Your journey from Level 1 to Level 40 will be filled with useful gadgets and elaborate costumes so you can showboat around your environment.
Just as the NBA Playoffs rocket toward the NBA Finals, new-gen players will be able to rocket through the City with the Level 40 Jetpack reward. For current-gen players, flaunt your team spirit with the NBA Mascot outfit reward. You'll receive a random NBA Mascot outfit once you achieve Level 40, and if you're interested in a different Mascot, you'll be able to pick it up from SWAG's. There are many ways to show support for your favorite teams in NBA 2K22, but nothing else stands out quite like the official NBA Mascots.
In addition, new-gen players will be rewarded with a random NBA Mascot outfit for reaching Level 30; same rules apply as current-gen for additional outfit purchases. Current-gen players can also choose an Affiliation Mascot outfit by reaching Level 30 –
For new-gen players (PS5, XBS):
Season Level 40 – Jetpack
Season Level 30 – NBA Mascot outfit
For current-gen players (PS4, XB1, NSW, PC):
Season Level 40 – NBA Mascot outfit
Season Level 30 – Affiliation Mascot outfit
ASCEND IN TKO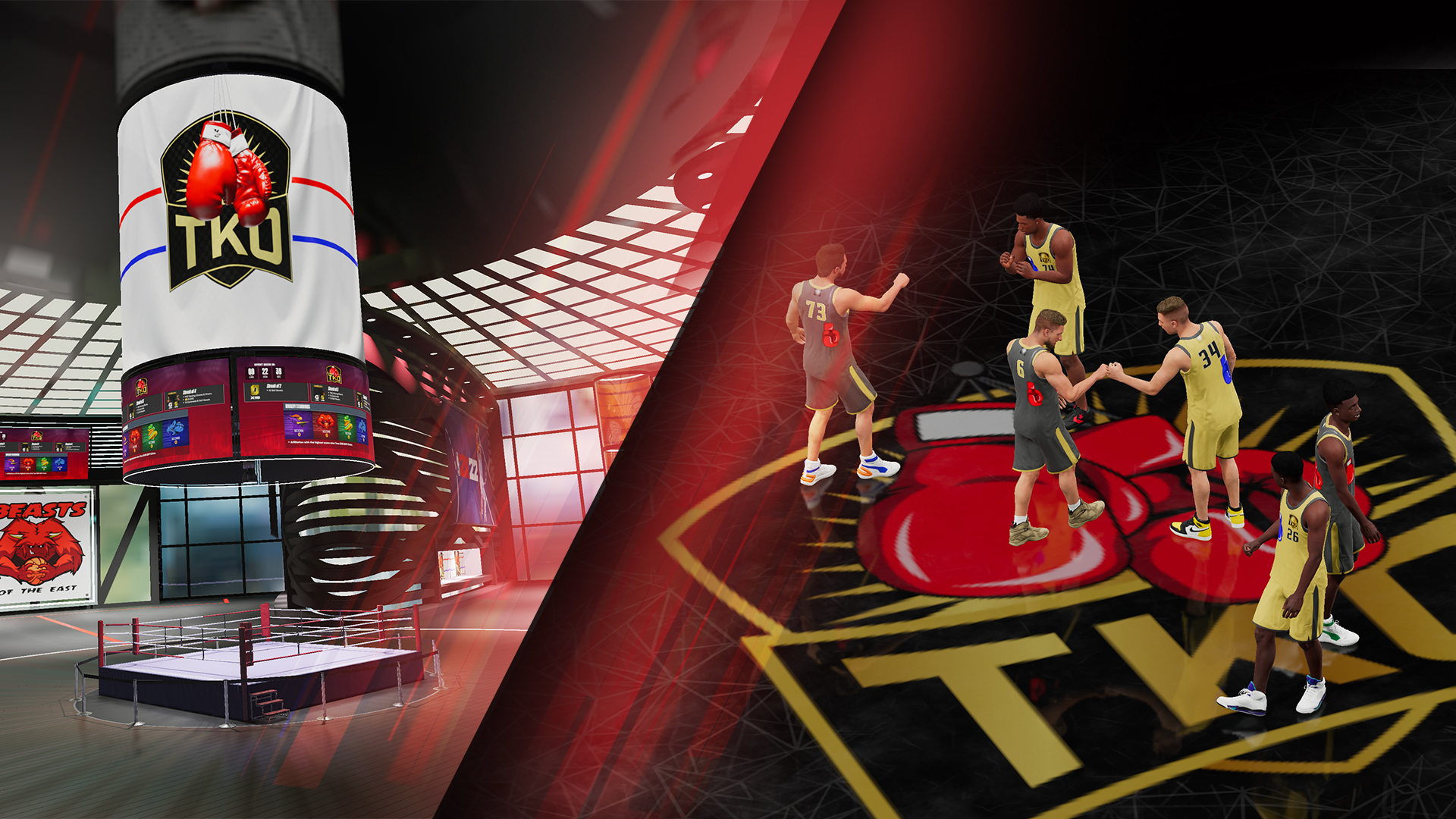 In a world of championship-caliber talent, only a select few can rise above the rest. Show the world what you're made of this season in TKO for new-gen. TKO pits you against other players, with the winner advancing up a floor, where you'll face even more fierce competitors. Keep your streak alive and you can earn up to 4XP!
The event rewards include Skill Boosts, Boxing Shorts, Boxing Gloves, and 10,000 VC. If you lose, though, your streak will end. You're allowed to be knocked down three tiers before you're officially eliminated from the competition.
MyTEAM HEROES ASSEMBLE
The Age of Heroes made a huge impression in MyTEAM last year, and in NBA 2K22, the Return of Heroes is poised to make an impact on every lineup in Season 7. First off, the Murals are back! 30 Champions and Challengers assemble to create two magnificent works of art in your collection.
To get everyone started, the Level 1 reward in MyTEAM's Season 7 is Hero Galaxy Opal Zion Williamson! Zion's powerful style led the Modern Age last year, and this year, he tips-off the Challenger mural for every player who enters the Season menu in MyTEAM.
Zion will need to go solo to start the Season, as the rest of the Galaxy Opal and Dark Matter players you'll need to complete that Mural will be earned once the NBA's best compete for their ultimate reward in the Finals. Until then, take over with Zion, and prepare your lineup for the Challenger Mural's collection complete reward: Invincible Joel Embiid!
For the Champions assembling their mural, you can look to add these 15 Dark Matter players to your collection in premium releases all Season long. This time around, the reward for completing this collection isn't a Coach card, but we'll have more on that epic reward later. Be sure to keep your eyes on the official @NBA2K_MyTEAM Twitter account for the reveal!
SEASON REWIND & EVENTS
Back to the present: a new Season Rewind Domination tier will be added on Friday, May 20. In the midst of these intense NBA Playoffs, compete against the MyTEAM-best versions of the current NBA's rosters for MyTEAM Points, Tokens, Hall of Fame Badges, and Invincible Tim Hardaway for earning all 99 Stars! Hardaway is just months away from being enshrined in the Basketball Hall of Fame, and his do-it-all Invincible Dark Matter reward represents his legacy, in MyTEAM!
Beyond Day 1, look forward to near-daily events during Season 7. From top-tier player cards appearing as rewards in your favorite mode to newly added Evolutions and more Dynamic Duos, we're adding more ways to compete with and expand your collection for the next six weeks.
Playoff Moment Agendas will also continue to drop alongside the latest performances in the NBA postseason. Pink Diamond, Galaxy Opal, and Dark Matter player cards are available right now from these completed Lifetime Agenda groups, with more coming for the final rounds of the NBA Playoffs. Earn these impactful Moment cards from the Playoffs today, and stay up-to-date with the latest Agendas dropping after every Playoff game.
END GAME IS NEAR
Every hour, every minute, the End Game nears. Are you prepared? Will your Heroes be ready? Your might will be tested. Forget what you think you know; this can only be experienced. What awaits is…
DARK MATTER REWARDS
Let's get back on track with the rest of the new 99 overall-rated cards you can pick up throughout MyTEAM in Season 7: Return of Heroes. In total, you'll be able to fill out a complete Dark Matter lineup with Season 7's reward players!
Season Level 40 – Invincible Anthony Edwards
Season Level 33 – Mike Conley
Season Ascension – Joe Dumars
Clutch Time 100 Wins – Fernando Martin
Clutch Time Wheel – Gilbert Arenas
Unlimited – Michael Finley
MyTEAM: Draft – Moses Malone
Triple Threat Vault – LaMarcus Aldridge
Triple Threat Online: The 100 – Jamaal Wilkes
Exchange – Sam Cassell
Token Rewards – Oscar Robertson & Antawn Jamison
Limited will once again feature an Option Pack so YOU can choose the Season reward for earning 6 Rings, and the Beyond 40 Option Pack returns once again with Dark Matter reward players to choose from.
THE W ONLINE
The WNBA regular season is officially underway, kicking off 12 bids for league supremacy in what's sure to be a race to the finish line. Celebrate the WNBA's return by participating in some fierce competition at The W Online, where you can test your mettle against highly skilled players all pursuing new rewards and bragging rights. For Season 7, we're featuring a pair of former college teammates and WNBA legends as Hall of Fame tier rewards: Tamika Catchings and Chamique Holdsclaw.
In 1998, this duo helped lead well-decorated basketball coach Pat Summit's Tennessee Volunteers to a third-straight national title, but their success didn't stop there. In the early 2000s, this future Hall of Fame duo duked it out on a regular basis as two All-Star fixtures in the league, and now, you can add them to your contact list in NBA 2K22. You can also earn a Takeover Perk Picker, 2K Breakthrough Gear, Extra Badge Point, 4,000 total VC, a Seasonal Clothing Bundle, and a Tattoo.
2K BEATS: THE SEARCH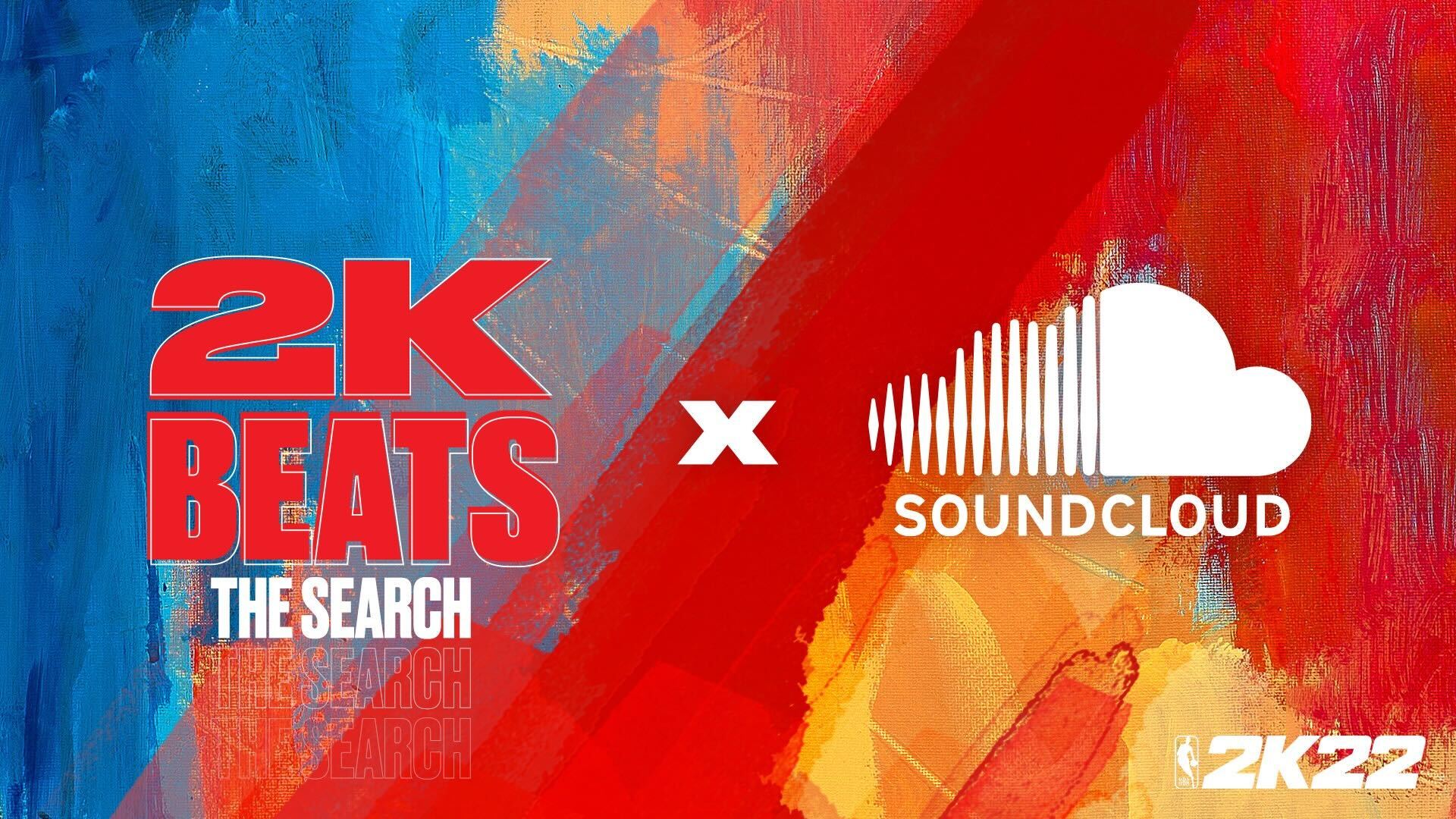 The NBA 2K22 community boasts a diverse group of talented individuals both on the court and in the recording booth. We asked players to submit original tracks for the chance to be featured in-game, and this season we're proud to highlight 10 aspiring artists on the tracklist, with an additional 10 coming next season. In partnership with SoundCloud, we're showcasing a variety of music from the community, for the community.
See the full tracklist below:
Jamari Parish (feat. Maestro Musik) – Summit
J Nolan – Splash
Lulu Be – Gimme Dat
Neek – Shaggy
Samad Savage – Mama I Made It (feat. Lex Bratcher & Drok)
Third Coast Chris – Cruise Control Pt. 2
OttoMattic – Rounds (Part 3)
4KPHIL – Young Picasso
KC Carter – Cash Flow
Shiwan – The Arrival
CLOSING REMARKS
Every hero has an origin story–what will yours be? It's time to acknowledge your gifts and put them to use by elevating your team to levels once thought unattainable. Suit up for a season of dynamic rewards, jaw-dropping highlights, and ultra-competitive basketball. Whether you're using your talents in MyTEAM or MyCAREER, there are myriad challenges and rewards to keep you occupied all season long.