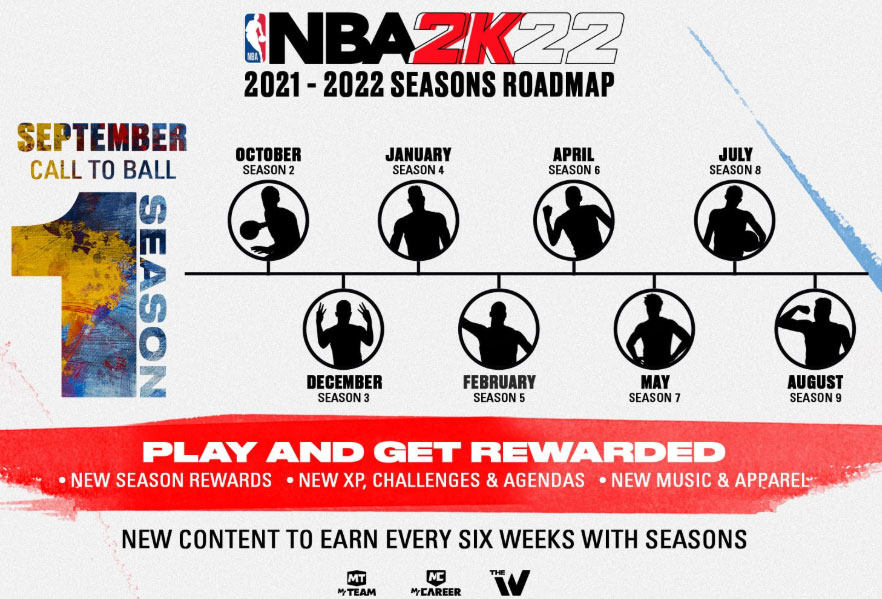 NBA 2K22 Rep Rewards and progression are now known as "Levels" with "Season Prizes" with XP, but the basic premise is still the same, where MyPLAYERS perform on the virtual court to grind / rep-up with XP to new levels and unlock various rewards / prizes along the way.
Also See:
New to NBA 2K22 are "Seasons" with the City [PlayStation 5/Xbox Series X|S] and the Neighborhood [PlayStation 4/Xbox One], where you'll earn rewards such as apparel, new Banners for your MyPLAYER, a new Grand Prize each season, and more. There are a total of 40 Levels to ascend to per season. To become a Legend in NBA 2K22, you'll need to reach Level 40 in four different Seasons.
You can earn XP in MyCAREER Seasons in NBA 2K22 via City / Neighborhood games, Rec and Pro-Am games, Event games, and by completing quests.
Specific perks in Next-Gen range from the purely cosmetic, like unlocking new clothes, to unlocking skill and badge boosts that directly affect the gameplay, to unlocking a Go-Kart you can drive around the City to get around faster.
NBA 2K22 Season Rewards
1. Legend Reward
2. Season 9 Rewards
2. Season 8 Rewards
2. Season 7 Rewards
3. Season 6 Rewards
4. Season 5 Rewards
5. Season 4 Rewards
6. Season 3 Rewards
7. Season 2 Rewards
8. Season 1 Rewards
Legend Reward
Legend – Parrot (earned by reaching Level 40 four times)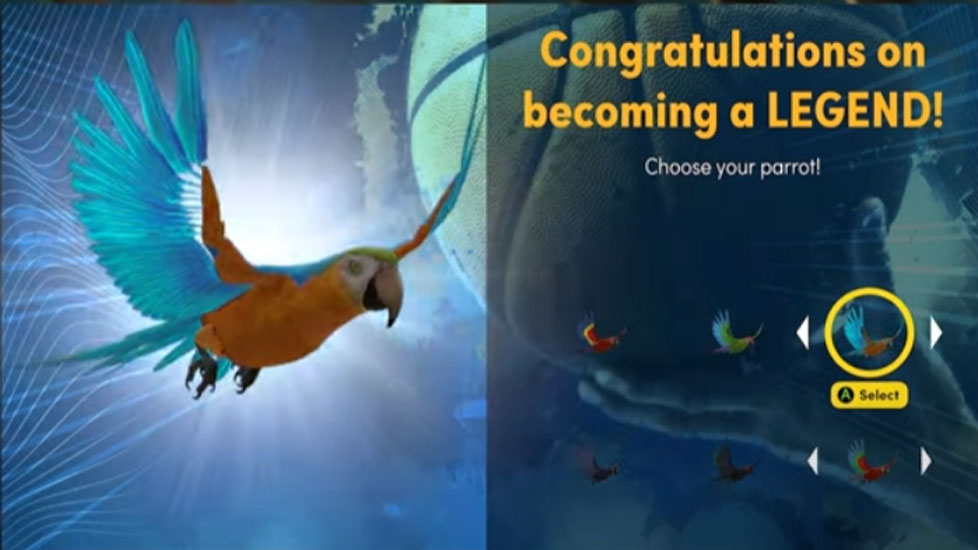 Season 9 Rewards / Prizes:
MyCAREER
Level 1: Free Seasonal Tee
Level 2: Seasonal Basketball
Level 3: New Player Indicator
Level 4: New Player Banners
Level 5: MyTEAM Paolo Banchero
Level 6: New Season Emotes
Level 7: MyTEAM: Free Agent Zach LaVine
Level 8: New Player Indicator
Level 9: New Player Banners
Level 10: New Season Emotes
Level 11: MyTEAM" Free Agent Dominique Wilkins
Level 12: New Player Banners
Level 13: Victor Solomon Kintsugi Ball
Level 14: MyTEAM: Free Agent Dwight Howard
Level 15: New Season Emotes
Level 16: New Player Banners
Level 17: MyTEAM: Free Agent Kyrie Irving
Level 18: New Season Emotes
Level 19: Free Camo Mask
Level 20: MyTEAM: Free Agent Kawhi Leonard
Level 21: New Player Banners
Level 22: New Season Emotes
Level 23: MyTEAM: Free Agent LeBron James
Level 24: Free Trike
Level 25: Free Knight Helmet
Level 26: Extra Daily Reward
Level 27: MyTEAM: Free Agent Giannis Antetokounmpo
Level 28: Free Hoverboard
Level 29: MyTEAM: Free Agent Steph Curry
Level 31: Animated Bundle
Level 32: Free Bunny Suit
Level 33: MyTEAM: 10 Origin Packs
Level 34: Free Skeleton Mascot
Level 35: Affiliation Mascot
Level 36: Free Tiger
Level 37: Free Seasonal Suit
Level 38: Jetpack
Level 39: Extra Badge Point
Level 40: Free Mascot
MyTEAM
Level 1: Dark Matter Devin Booker (0 XP)
Level 2: Gold Shoe Boost Award Pack (350 XP)
Level 3: 1 Token (430 XP)
Level 4: Shot Creator Award Pack (520 XP)
Level 5: Ascension! (620 XP)
Level 6: Gold Shoe Pack (740 XP)
Level 7: 3 Tokens (890 XP)
Level 8: Deluxe Dynamic Ratings League Award Pack (1,075 XP)
Level 9: Sharpshooter Award Pack (1,300 XP)
Level 10: Season 9 Ball (1,550 XP)
Level 11: Ascension! (1,850 XP)
Level 12: Lockdown Defender Award Pack (2,230 XP)
Level 13: 5 Tokens (2,680 XP)
Level 14: Deluxe Dynamic Ratings League Award Pack (3,200 XP)
Level 15: Glass Cleaner Pack (3,850 XP)
Level 16: 10 Tokens (4,620 XP)
Level 17: Deluxe Dynamic Ratings League Award Pack (5,540 XP)
Level 18: Slasher Award Pack (6,500 XP)
Level 19: Ascension! (7,860 XP)
Level 20: 15 Tokens (9,190 XP)
Level 21: Season 9 Shoe Pack (10,560 XP)
Level 22: Ascension! (12,150 XP)
Level 23: Season 9 Shoe Boosts Pack (13,970 XP)
Level 24: 20 Tokens (16,060 XP)
Level 25: Diamond Contract Pack (18,470 XP)
Level 26: Ascension! (21,250 XP)
Level 27: End Game Shaq & Kobe Award Pack (24,430 XP)
Level 28: 25 Tokens (28,100 XP)
Level 29: Season 9 Consumables Pack (32,300 XP)
Level 30: Ascension! (36,740 XP)
Level 31: 30 Tokens (41,600 XP)
Level 32: Season 9 HOF Badge Option Pack (47,140 XP)
Level 33: 40 Tokens (55,640 XP)
Level 34: Swish Pack (65,000 XP)
Level 35: Ascension! (75,000 XP)
Level 36: 50 Tokens (86,000 XP)
Level 37: Season 9 HOF Badge Option Pack (99,000 XP)
Level 38: Dark Matter Pack (114,000 XP)
Level 39: 100 Tokens (131,000 XP)
Level 40:  Dark Matter Luka Doncic (150,000 XP)
Season 8 "Chase Greatness" Rewards / Prizes: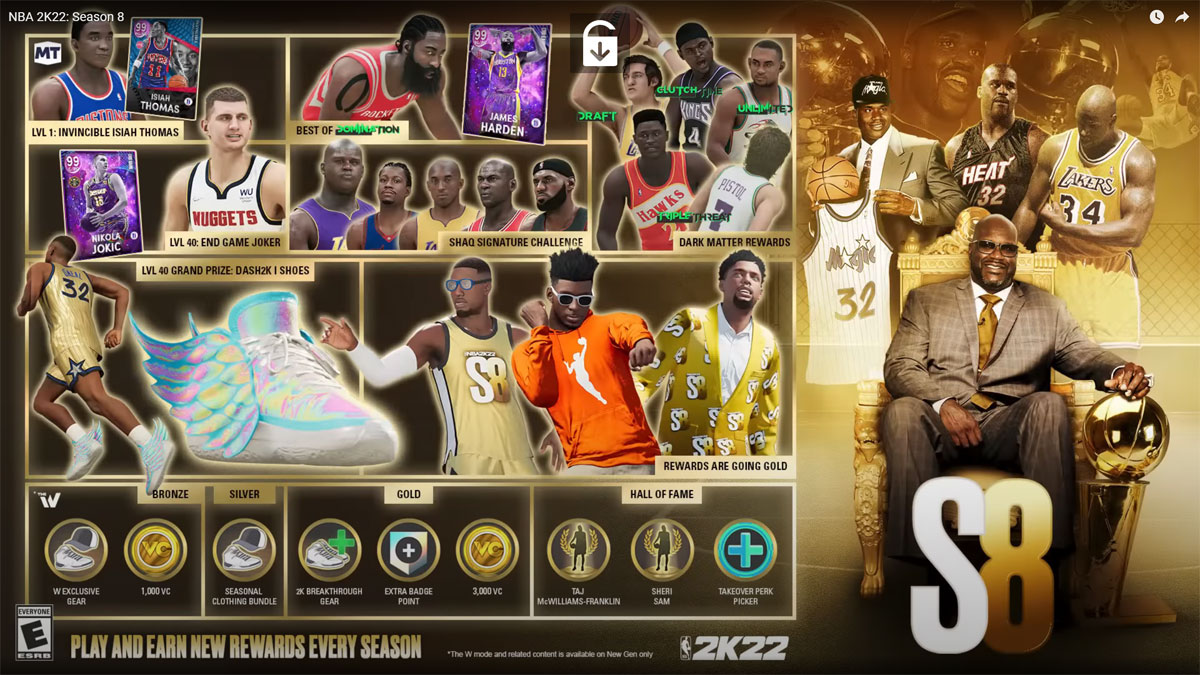 MyCAREER
Level 1: Season 8 Tee
Level 2: Season 8 Ball
Level 3: New Player Indicator
Level 4: New Player Banners
Level 5: New Breakthrough Gear (+1 Post Control)
Level 6: New Jumpshot Release Animation
Level 7: New Season Emotes
Level 8: MyTEAM: 5 Tokens
Level 9: 2XP Coin (30 min)
Level 10: New Player Indicator
Level 11: Gatorade Boosts (5 games)
Level 12: New Season Emotes
Level 13: New Player Banners
Level 14: WNBA Hoodie
Level 15: New Breakthrough Gear (+1 Perimeter Defense)
Level 16: New Season Emotes
Level 17: Season 8 Hat and Sleeves
Level 18: MyTEAM Draft Ticket
Level 19: New Player Banners
Level 20: Gatorade Boosts (10 games)
Level 21: New Season Emotes
Level 22: Skill Boosts (10 games)
Level 23: Season 8 Goggles
Level 24: New Player Banners
Level 25: New Season Emotes
Level 26: Extra Daily Rewards
Level 27: MyTEAM: Glitched Pack
Level 28: 2XP Coin (60 min)
Level 29: Season 8 Shorts
Level 30: Free Go Kart
Level 31: New Breakthrough Gear (+1 Steal)
Level 32: 2XP Coin (120 min)
Level 33: Gatorade Boosts (10 games)
Level 34: New Player Banners
Level 35: Season 8 Jersey
Level 36: MyTEAM: Jordan Poole Dark Matter
Level 37: Season 8 Suit
Level 38: 2XP Coin (120 min)
Level 39: Extra Badge Point
Level 40: Dash2K Shoes
MyTEAM
Level 1: Dark Matter Isiah Thomas (0 XP)
Level 2: Gold Shoe Boost Award Pack (350 XP)
Level 3: 1 Token (430 XP)
Level 4: Post Scorer Badge Pack (520 XP)
Level 5: Ascension! (620 XP)
Level 6: Deluxe Dynamic Ratings League Award Pack (740 XP)
Level 7: Amethyst Luc Longley (890 XP)
Level 8: 3 Tokens (1,075 XP)
Level 9: Slasher Badge Pack (1,300 XP)
Level 10: Season 8 Ball (1,550 XP)
Level 11: Ascension! (1,850 XP)
Level 12: Sharpshooter Badge Pack (2,230 XP)
Level 13: Diamond Nah'Shon Hyland (2,680 XP)
Level 14: Deluxe Dynamic Ratings League Award Pack (3,200 XP)
Level 15: Shot Creator Badge Pack (3,850 XP)
Level 16: 5 Tokens (4,620 XP)
Level 17: Deluxe Dynamic Ratings League Award Pack (5,540 XP)
Level 18: Lockdown Defender Badge Pack (6,500 XP)
Level 19: Ascension! (7,860 XP)
Level 20: Pink Diamond Steven Adams (9,190 XP)
Level 21: Glass Cleaner Award Pack (10,560 XP)
Level 22: Ascension! (12,150 XP)
Level 23: Fan Favorites Award Pack (13,970 XP)
Level 24: Pink Diamond Jae Crowder (16,060 XP)
Level 25: 10 Tokens (18,470 XP)
Level 26: Ascension! (21,250 XP)
Level 27: Season 8 Diamond Shoe Pack (24,430 XP)
Level 28: Galaxy Opal Fat Lever (28,100 XP)
Level 29: Season 8 Diamond Shoe Boosts Pack (32,300 XP)
Level 30: Ascension! (36,740 XP)
Level 31: 30 Tokens (41,600 XP)
Level 32: Diamond Contract Pack (47,140 XP)
Level 33: Dark Matter Tom Chambers (55,640 XP)
Level 34: Season 8 Diamond Consumables Pack (65,000 XP)
Level 35: Ascension! (75,000 XP)
Level 36: 50 Tokens (86,000 XP)
Level 37: Season 8 HOF Badge Option Pack (99,000 XP)
Level 38: Swish Deluxe Pack (114,000 XP)
Level 39: 100 Tokens (131,000 XP)
Level 40: Dark Matter Nikola Jokic (150,000 XP)
Season 7 "Zero Gravity" Rewards / Prizes: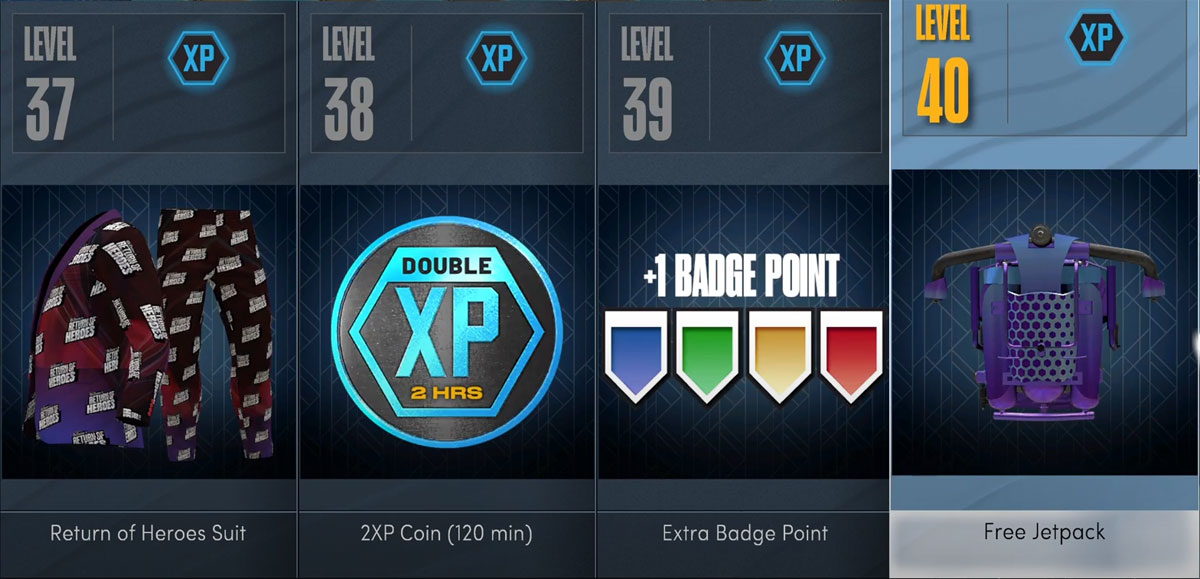 MyCAREER
Level 1: Return of Heroes T-Shirt
Level 2: Return of Heroes Basketball
Level 3: New Player Indicator
Level 4: New Player Banners
Level 5: New Breakthrough Gear (+1 Shot Close)
Level 6: New Jumpshot Release Animation
Level 7: New Season Emotes
Level 8: MyTEAM: 5 Tokens
Level 9: 2XP Coin (30 min)
Level 10: New Player Indicator
Level 11: Gatorade Boosts (5 games)
Level 12: New Season Emotes
Level 13: New Player Banners
Level 14: Return of Heroes Hat
Level 15: New Breakthrough Gear (+1 Passing Accuracy)
Level 16: New Season Emotes
Level 17: Under Armour Flow Future X Shoe
Level 18: MyTEAM: Draft Ticket
Level 19: New Player Banners
Level 20: Gatorade Boosts (10 games)
Level 21: New Season Emotes
Level 22: Skill Boosts (10 games)
Level 23: Return of Heroes Hoodie
Level 24: New Player Banners
Level 25: New Season Emotes
Level 26: Extra Daily Rewards
Level 27: MyTEAM: Maxed Out Two Pack
Level 28: 2XP Coin (60 min)
Level 29: Return of Heroes Muscle Tee
Level 30: NBA Team Mascot (next-gen), Affiliation Mascot (last-gen)
Level 31: New Breakthrough Gear (+1 3PT Shooting)
Level 32: 2XP Coin (120 min)
Level 33: Gatorade Boosts (10 games)
Level 34: New Player Banners
Level 35: Return of Heroes Animated Sleeve
Level 36: MyTEAM: 99 Overall Westbrook
Level 37: Return of Heroes Suit
Level 38: 2XP Coin (120 min)
Level 39: Extra Badge Point
Level 40: Jet Pack (next-gen), NBA Team Mascot (last-gen)
MyTEAM
Level 1: Galaxy Opal Zion Williamson (0 XP)
Level 2: Return of Heroes Shoe Boost Pack (350 XP)
Level 3: 1 Token (430 XP)
Level 4: Slasher Badge Pack (520 XP)
Level 5: Ascension! (620 XP)
Level 6: Standard Dynamic Ratings League Award Pack (740 XP)
Level 7: Amethyst Stacey Augmon (890 XP)
Level 8: 3 Tokens (1,075 XP)
Level 9: Glass Cleaner Badge Pack (1,300 XP)
Level 10: Season 7 Ball (1,550 XP)
Level 11: Ascension! (1,850 XP)
Level 12: Post Scorer Badge Pack (2,230 XP)
Level 13: Diamond Ronald Murray (2,680 XP)
Level 14: Standard Dynamic Ratings League Award Pack (3,200 XP)
Level 15: Lockdown Defender Badge Pack (3,850 XP)
Level 16: 5 Tokens (4,620 XP)
Level 17: Standard Dynamic Ratings League Award Pack (5,540 XP)
Level 18: Shot Creator Award Pack (6,500 XP)
Level 19: Ascension! (7,860 XP)
Level 20: Diamond Leon Powe (9,190 XP)
Level 21: Sharpshooter Award Pack (10,560 XP)
Level 22: Ascension! (12,150 XP)
Level 23: Deluxe Dynamic Ratings League Award Pack (13,970 XP)
Level 24: Pink Diamond Donyell Marshall (16,060 XP)
Level 25: 10 Tokens (18,470 XP)
Level 26: Ascension! (21,250 XP)
Level 27: Fan Favorites Award Pack (24,430 XP)
Level 28: Galaxy Opal Austin Carr (28,100 XP)
Level 29: Return of Heroes Diamond Shoe Pack (32,300 XP)
Level 30: Ascension! (36,740 XP)
Level 31: 30 Tokens (41,600 XP)
Level 32: Supernova Deluxe Award Pack (47,140 XP)
Level 33: Dark Matter Mike Conley (55,640 XP)
Level 34: Return of Heroes Diamond Shoe Boosts Pack (65,000 XP)
Level 35: Ascension! (75,000 XP)
Level 36: 50 Tokens (86,000 XP)
Level 37: Diamond Contract Pack (99,000 XP)
Level 38: Return of Heroes Diamond Consumables Pack (114,000 XP)
Level 39: Return of Heroes HOF Badge Option Pack (131,000 XP)
Level 40: Dark Matter Anthony Edwards (150,000 XP)
Season 6 "Zero Gravity" Rewards / Prizes: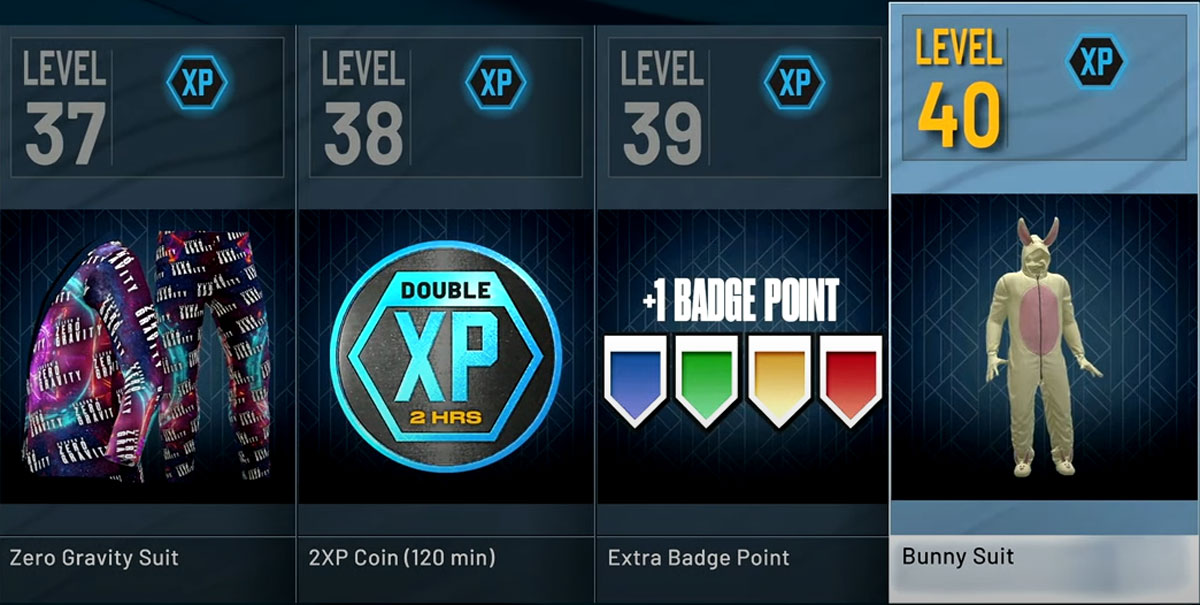 MyCAREER
Level 1: Zero Gravity Tee-Shirt
Level 2: Zero Gravity Ball
Level 3: New Player Indicator
Level 4: New Player Banners
Level 5: New Breakthrough Gear (+1 Standing Dunk)
Level 6: New Jumpshot Release Animation
Level 7: New Season 7 Emotes
Level 8: Standard Dynamic Ratings Pack
Level 9: 2XP Coin (30 Min)
Level 10: New Player Indicator
Level 11: Gatorade Boosts (5 games)
Level 12: New Season Emotes
Level 13: New Player Banners
Level 14: Zero Gravity Compression Shirt
Level 15: New Breakthrough Gear (+1 Ball Handle)
Level 16: New Season Emotes
Level 17: Zero Gravity Pants
Level 18: MyTEAM: Draft Ticket
Level 19: Level Player Banners
Level 20: Gatorade Boosts (10 games)
Level 21: New Season Emotes
Level 22: Skill Boosts (10 games)
Level 23: Zero Gravity Baseball Helmet
Level 24: New Player Banners
Level 25: New Season Emotes
Level 26: Extra Daily Rewards
Level 27: MyTEAM: NBA All-Star Deluxe Pack
Level 28: 2 XP Coin (60 min)
Level 29: Animated Sweatshirt
Level 30: Free BMX
Level 31: New Breakthrough Gear (+1 Driving Dunk)
Level 32: 2XP Coin (120 min)
Level 33: Gatorade Boosts (10 games)
Level 34: New Player Banners
Level 35: Zero Gravity Mask
Level 36: MyTEAM: 10 Pack Level Up Box
Level 37: Zero Gravity Suit
Level 38: 2XP Coin (120 min)
Level 39: Extra Badge Point
Level 40: Bunny Suit
MyTEAM
Level 1: Onxy Ja Morant (0 XP)
Level 2: Gold Shoe Boost Award Pack (350 XP)
Level 3: 1 Token (430 XP)
Level 4: Slasher Badge Pack (520 XP)
Level 5: Ascension! (620 XP)
Level 6: Base Dynamic Ratings League Award Pack (740 XP)
Level 7: Emerald DeMar DeRozan (890 XP)
Level 8: 3 Tokens (1,075 XP)
Level 9: Post Scorer Badge Pack (1,300 XP)
Level 10: Season 6 Ball (1,550 XP)
Level 11: Ascension! (1,850 XP)
Level 12: Glass Cleaner Badge Pack (2,230 XP)
Level 13: Ruby Dwayne Wade (2,680 XP)
Level 14: Standard Dynamic Ratings League Award Pack (3,200 XP)
Level 15: Shot Creator Badge Pack (3,850 XP)
Level 16: 5 Tokens (4,620 XP)
Level 17: Standard Dynamic Ratings League Award Pack (5,540 XP)
Level 18: Sharpshooter Badge Pack (6,500 XP)
Level 19: Ascension! (7,860 XP)
Level 20: Amethyst Devean George (9,190 XP)
Level 21: Lockdown Defender Badge Pack (10,560 XP)
Level 22: Ascension! (12,150 XP)
Level 23: Deluxe Dynamic Ratings League Award Pack (13,970 XP)
Level 24: Diamond Udonis Haslem (16,060 XP)
Level 25: 10 Tokens (18,470 XP)
Level 26: Ascension! (21,250 XP)
Level 27: Deluxe Dynamic Ratings League Award Pack (24,430 XP)
Level 28: Pink Luis Scola (28,100 XP)
Level 29: Zero Gravity Diamond Shoe Pack (32,300 XP)
Level 30: Ascension! (36,740 XP)
Level 31: 30 Tokens (41,600 XP)
Level 32: Bracket Busters Deluxe Award Pack (47,140 XP)
Level 33: Galaxy Opal Detlef Shrempf (55,640 XP)
Level 34: Zero Gravity Diamond Shoe Boosts Pack (65,000 XP)
Level 35: Ascension! (75,000 XP)
Level 36: 50 Tokens (86,000 XP)
Level 37: Diamond Contract Pack (99,000 XP)
Level 38: Zero Gravity Diamond Consumables Pack (114,000 XP)
Level 39: Zero Gravity HOF Badge Option Pack (131,000 XP)
Level 40: Dark Matter Josh Giddey (150,000 XP)
Season 5 "Power Within" Rewards / Prizes:
MyCAREER
Level 1: Power Within Shirt
Level 2: Power Within Basketball
Level 3: New Player Indicator (Crown)
Level 4: New Player Banners
Level 5: New Break through Gear (+1 Interior Defense)
Level 6: New Jumpshot Release Animation
Level 7: New Season Emotes
Level 8: Free Agent Paolo Banchero MyTEAM Card
Level 9: 2XP Coin (30 min)
Level 10: New Player Indicator (Heart)
Level 11: Gatorade Boosts (5 Games)
Level 12: New Season Emotes
Level 13: New Player Banners
Level 14: Power Within Rui Shirt
Level 15: New Breakthrough Gear
Level 16: New Season Emotes
Level 17: Power Within Gloves
Level 18: Flash 5 MyTEAM Pack
Level 19: New Player Banners
Level 20: New Season Emotes
Level 21: Gatorade Boosts (10 Games)
Level 22: Skill Boosts (10 Games)
Level 23: Power Within Shorts
Level 24: New Player Banners
Level 25: New Season Emotes
Level 26: Extra Daily Rewards
Level 27: MyTEAM: Power Within Deluxe Pack
Level 28: 2XP Coin (60 Min)
Level 29: Power Within Helmet
Level 30: A Free Hoverboard
Level 31: New Breakthrough Gear (+1 Layup)
Level 32: 2XP Coin (120 Min)
Level 33: Gatorade Boosts (10 Games)
Level 34: New Player Banners
Level 35: Power Within Backpack
Level 36: 10 Pack Signature Series MyTEAM Box
Level 37: Power Within Suit
Level 38: 2 XP Coin (120 min)
Level 39: Extra Badge Point
Level 40: Free Affiliation Mascot
MyTEAM
Level 1: Onyx Paolo Banchero (0 XP)
Level 2: Slasher Badge Pack (350 XP)
Level 3: 1 Token (430 XP)
Level 4: Gold Shoe Boost Award Pack (520 XP)
Level 5: Ascension! (620 XP)
Level 6: Base Heat Check Award Pack (740 XP)
Level 7: Emerald DeMar DeRozan (890 XP)
Level 8: 3 Tokens (1,075 XP)
Level 9: Shoe Creator Badge Pack (1,300 XP)
Level 10: Season 5 Ball (1,550 XP)
Level 11: Ascension! (1,850 XP)
Level 12: Post Scorer Badge Pack (2,230 XP)
Level 13: Sapphire Eric Paschall (2,680 XP)
Level 14: Standard Heat Check Award Pack (3,200 XP)
Level 15: Glass Cleaner Badge Pack (3,850 XP)
Level 16: 5 Tokens (4,620 XP)
Level 17: Standard Heat Check Award Pack (5,540 XP)
Level 18: Lockdown Defender Badge Pack (6,500 XP)
Level 19: Ascension! (7,860 XP)
Level 20: Ruby Anthony Morrow (9,190 XP)
Level 21: Sharpshooter Badge Pack (10,560 XP)
Level 22: Ascension! (12,150 XP)
Level 23: Standard Dynamic Ratings League Award Pack (13,970 XP)
Level 24: Amethyst Derek Harper (16,060 XP)
Level 25: 10 Tokens (18,470 XP)
Level 26: Ascension! (21,250 XP)
Level 27: Deluxe Dynamic Ratings League Award Pack (24,430 XP)
Level 28: Diamond LaPhonso Ellis (28,100 XP)
Level 29: Power Within Diamond Shoe Pack (32,300 XP)
Level 30: Ascension! (36,740 XP)
Level 31: 30 Tokens (41,600 XP)
Level 32: NBA All-Star Deluxe Award Pack (47,140 XP)
Level 33: Pink Diamond P.J. Brown (55,640 XP)
Level 34: Power Within Diamond Shoe Boosts Pack (65,000 XP)
Level 35: Ascension! (75,000 XP)
Level 36: 50 Tokens (86,000 XP)
Level 37: Diamond Contract Pack (99,000 XP)
Level 38: Power Within Diamond Consumables Pack (114,000 XP)
Level 39: Power Within HOF Badge Option Pack (131,000 XP)
Level 40: Dark Matter Ray Allen (150,000 XP)
Season 4 "Hunt 4 Glory" Rewards / Prizes: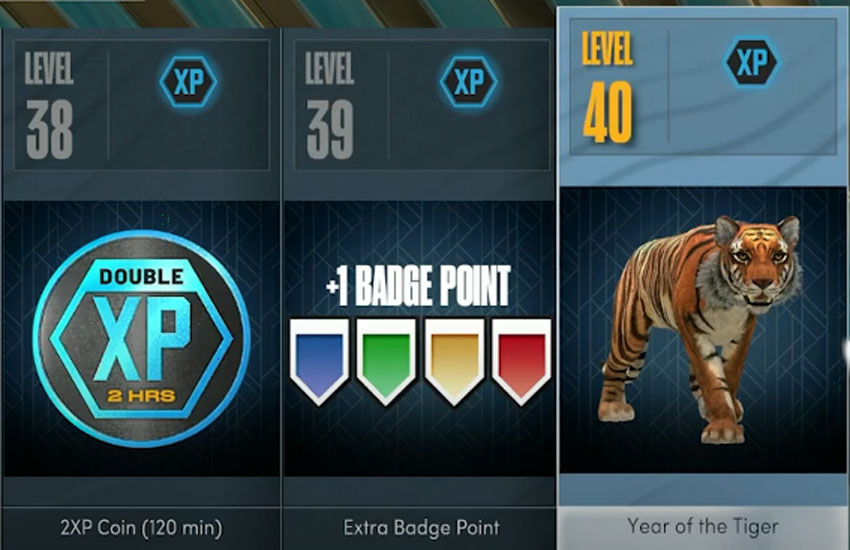 MyCAREER
Level 1: Hunt 5 Glory Tee
Level 2: Hunt 4 Glory Basketball
Level 3: New Player Indicator
Level 4: New Player Banners (Nowitzki/Mavs, Spurs)
Level 5: Victor Solomon Kintsugi Ball
Level 6: New Jumpshot Release Animation
Level 7: New Season Emotes
Level 8: Free Agent Dwayne Wade MyTEAM card
Level 9: 2XP (30 min)
Level 10: New Player Indicator
Level 11: Gatorade Boosts (5 games)
Level 12: New Season Emotes
Level 13: New Player Banners (76ers, blacktop background)
Level 14: 2K Breakthrough Gear (+1 Defensive Rebounding)
Level 15: Hunt 4 Glory Scarf
Level 16: New Season Emotes
Level 17: Hunt 4 Glory Beanie
Level 18: MyTEAM New Year's Resolution Deluxe Pack
Level 19: New Player Banners (Kareem Abdul-Jabbar, basketball background)
Level 20: New Season Emotes
Level 21: Stylish Flannel
Level 22: Skill Boosts (10 games)
Level 23: 2K Breakthrough Gear (+1 Blocks)
Level 24: New Player Banners (Kobe Bryant, Tim Duncan)
Level 25: New Season Emotes
Level 26: Extra Daily Rewards
Level 27: MyTEAM Diamond Shoe Colorway
Level 28: 2XP Coin (60 min)
Level 29: Hunt 4 Glory Varsity Jacket
Level 30: Artcamo Go-Kart
Level 31: 2K Breakthrough Gear (+1 3PT Shooting)
Level 32: 2XP Coin (120 min)
Level 33: Gatorade Boosts (10 games)
Level 34: New Player Banners (Tracy McGrady, gold background)
Level 35: Hunt 4 Glory Joggers
Level 36: 10 Pack Maxed Out MyTEAM Box)
Level 37: Hunt 4 Glory Suit
Level 38: 2 XP Coin (120 min)
Level 39: Extra Badge Point
Level 40: Tiger
MyTEAM
Level 1 – Onyx Stephon Marbury (0 XP)
Level 2 – Shot Creator Badge Pack (350 XP)
Level 3 – 1 Token (430 XP)
Level 4 – Gold Shoe Boost Award Pack (520 XP)
Level 5 – Ascension! (620 XP)
Level 6 – Base '22 NBA: Series 1 Award Pack (740 XP)
Level 7 – Emerald Yuta Tabuse (890 XP)
Level 8 – 3 Tokens (1,075 XP)
Level 9 – Post Scorer Badge Pack (1,300 XP)
Level 10 – Season 4 Ball (1,500 XP)
Level 11 – Ascension! (1,850 XP)
Level 12 – Lockdown Defender Badge Pack (2,230 XP)
Level 13 – Saphire Tim Legler ( 2,680 XP)
Level 14 – Base Heat Check Award Pack (3,200 XP)
Level 15 – Slasher Badge Pack (3,850 XP)
Level 16 – 5 Tokens (4,620 XP)
Level 17 – Standard Heat Check Award Pack (5,540 XP)
Level 18 – Glass Cleaner Badge Pack (6,500 XP)
Level 19 – Ascension! (7,860 XP)
Level 20 – Ruby Tyrone Hill (9,190 XP)
Level 21 – Sharpshooter Badge Pack (10,650 XP)
Level 22 – Ascension! (12,150 XP)
Level 23 – Standard Heat Check Award Pack (13,970 XP)
Level 24 – Amethyst Swen Nater – (16,060 XP)
Level 25 – 10 Tokens (18,470 XP)
Level 26 – Ascension! (21,250 XP)
Level 27 – Deluxe Heat Check (24,430 XP)
Level 28 – Diamond Robert Reid (28,100 XP)
Level 29 – New Year's Resolution Deluxe Award Pack (32,300 XP)
Level 30 – Ascension! (36,740 XP)
Level 31 – 30 Tokens (41,600 XP)
Level 32 – Hunt 4 Glory Diamond Shoe Pack (47,140 XP)
Level 33 – Pink Diamond Bailey Howell (55,640 XP)
Level 34 – Hunt 4 Glory Diamond Shoe Pack (65,000 XP)
Level 35 – Candace Parker Head Coach (75,000 XP)
Level 36 – Ascension! (86,000 XP)
Level 37 – Diamond Contract Pack (99,000 XP)
Level 38 – Hunt 4 Glory Diamond Consumables Pack (114,000 XP)
Level 39 – Hunt 4 Glory HOF Badge Option Pack (131,000 XP)
Level 40 – Galaxy Opal Yao Ming (150,000 XP)
Season 3 "Iced Out" Rewards / Prizes: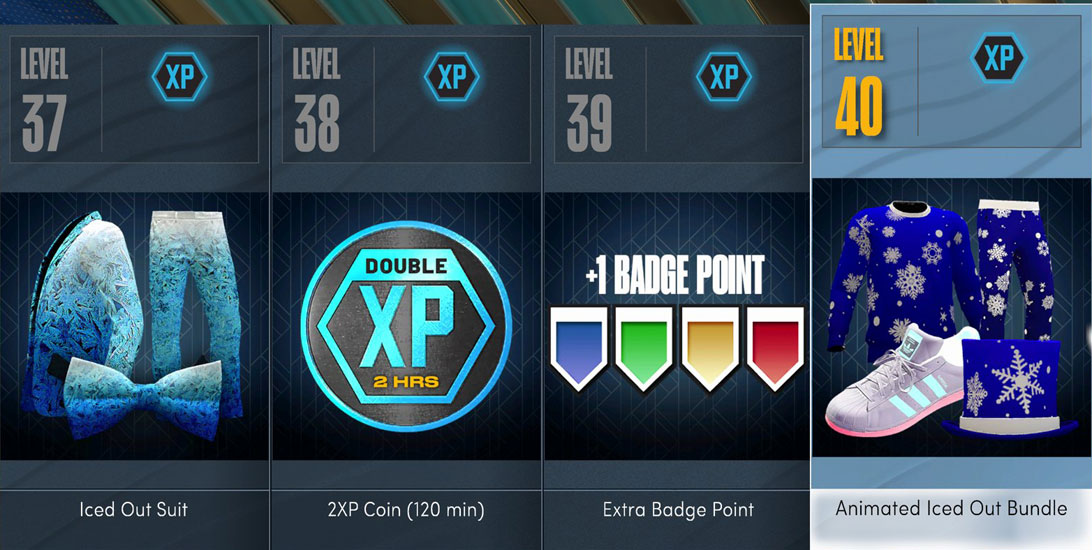 MyCAREER
Level 1: Iced Out Tee
Level 2: Iced Out Basketball
Level 3: New Player Indicator
Level 4: New Player Banners
Level 5: Tissot Watch
Level 6: New Jumpshot Release Animation
Level 7: New Season Emotes
Level 8: MyTEAM Free Agent Giannis
Level 9: 2XP Coin (30 min)
Level 10: New Player Indicator
Level 11: Gatorade Boosts (5 games)
Level 12: New Season Emotes
Level 13: New Player Banners
Level 14: 2K Breakthrough Gear (+1 Standing Dunk)
Level 15: Season 3 Jewelry Pack
Level 16: New Season Emotes
Level 17: 2XP Coin (60 min)
Level 18: MyTEAM "Clutch Shooter" Badges
Level 19: New Player Banners
Level 20: New Season Emotes
Level 21: Iced Out Scarf
Level 22: Skill Boosts (10 Games)
Level 23: 2K Breakthrough Gear (+1 Ball Handle)
Level 24: MyTEAM Diamond Shoe Colorway
Level 25: New Season Emotes
Level 26: Enhanced Daily Rewards
Level 27: New Player Banners
Level 28: 2XP Coin (60 min)
Level 29: Iced Out Ugly Sweater
Level 30: Red Glider
Level 31: 2K Breakthrough Gear (+1 Driving Dunk)
Level 32: 2XP Coin (120 min)
Level 33: Gatorade Boosts (10 games)
Level 34: New Player Banners
Level 35: Holiday Mask
Level 36: MyTEAM NBA Moments Player Pack
Level 37: Iced Out Suit
Level 38: 2XP Coin (120 min)
Level 39: Extra Badge Point
Level 40: Animated Iced Out Bundle
MyTEAM
Level 1: Onyx George Gervin
Level 2: Slasher Badge Pack
Level 3: 1 Token
Level 4: Gold Shoe Boost Award Pack
Level 5: Ascension!
Level 6: Base '11 NBA: Series 1 Award Pack
Level 7: Gold Hamidou Diallo
Level 8: 3 Tokens
Level 9: Glass Cleaner Badge Pack
Level 10: Season 3 Ball
Level 11: Ascension!
Level 12: Post Scorer Badge Pack
Level 13: Emerald Kurt Rambis
Level 14: Standard '22 NBA: Series 1 Award Pack
Level 15: Lockdown Defender Badge Pack
Level 16: 5 Tokens
Level 17: Standard '22 NBA: Series 1 Award Pack
Level 18: Shot Creator Badge Pack
Level 19: Ascension!
Level 20: Sapphire Reggie Jackson
Level 21: Rim Protector Badge Pack
Level 22: Ascension!
Level 23: Standard '22 NBA: Series 1 Award Pack
Level 24: Ruby DeShawn Stevenson
Level 25: 10 Tokens
Level 26: Ascension!
Level 27: Sharpshooter Badge Pack
Level 28: Amethyst Doug Collins
Level 29: Deluxe '22 NBA: Series 1 Award Pack
Level 30: Ascension
Level 31: Mystic Deluxe Award Pack
Level 32: Diamond Shoe Pack
Level 33: Diamond C.J. McCollum
Level 34: 30 Tokens
Level 35: Diamond Consumables Pack
Level 36: Ascension!
Level 37: Diamond Contract Pack
Level 38: Iced Out Diamond Shoe Pack
Level 39: Iced Out HOF Badge Option Pack
Level 40: Galaxy Opal Allen Iverson
Season 2 "Build Your Empire" Rewards / Prizes:
MyCAREER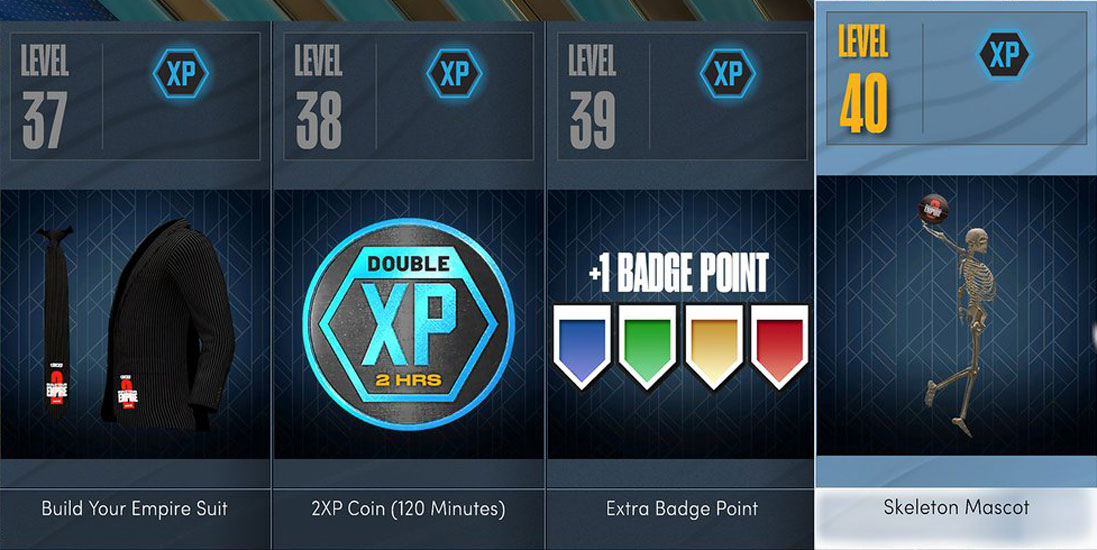 Level 1:  Breast Cancer Awareness Tee
Level 2:  Build Your Empire Basketball
Level 3:  New Player Indicator
Level 4:  NBA Current Series 1 Base League Pack (MyTEAM)
Level 5:  New Banner Options
Level 6:  NBA 75th Anniversary Tee
Level 7:  New Green Release Animation (Green Diamond)
Level 8:  Season 2 Emotes
Level 9:  2XP Coin (30 Minutes)
Level 10:  Build Your Empire Tee and Medallion
Level 11:  Gatorade Boosts (5 Games)
Level 12:  Season 2 Emotes
Level 13:  New Banner Options
Level 14:  2K Breakthrough Gear (+1 Interior Defense)
Level 15:  New Player Indicator
Level 16:  Season 2 Emotes
Level 17:  2XP Coin (60 Minutes)
Level 18:  MyTEAM Base Set Sapphire Michael Jordan
Level 19:  New Banner Options
Level 20:  Season 2 Emotes
Level 21:  Club 2K Wizard Hat
Level 22:  Skill Boosts (10 Games)
Level 23:  2K Breakthrough Gear (+1 Pass Accuracy)
Level 24:  2 MyTEAM Promo Packs & 3 Tokens
Level 25:  Season 2 Emotes
Level 26:  Enhanced Daily Rewards
Level 27:  New Banner Options
Level 28:  2XP Coin (60 Minutes)
Level 29:  Build Your Empire Top Hat
Level 30:  Gold Trike
Level 31:  2K Breakthrough Gear (+1 Close Shots)
Level 32:  2XP Coin (120 Minutes)
Level 33:  Gatorade Boosts (10 Games)
Level 34:  New Banner Options
Level 35:  PUMA LaMelo MB.01
Level 36:  MyTEAM Base Set Amethyst Player
Level 37:  Build Your Empire Suit
Level 38:  2XP Coin (120 Minutes)
Level 39:  Extra Badge Point
Level 40:  Skeleton Mascot
MyTEAM
Level 1: Free Agent 93 OVR Michael Jordan – Chicago Bulls
Level 2: Slasher Badge pack
Level 3: One token
Level 4: Gold Shoe pack
Level 5: Ascension!
Level 6: Base '22 NBA: Series 1 Award pack
Level 7: Gold 78 OVR Ben McLemore – Sacramento Kings
Level 8: Three tokens
Level 9: Post Scorer pack
Level 10: Season 2: Build your Empire ball
Level 11: Ascension!
Level 12: Glass Cleaner Badge pack
Level 13: Emerald 82 OVR Aaron Brooks – Houston Rockets
Level 14: Gold Shoe Boost Award pack
Level 15: Shot Creator Badge pack
Level 16: Five tokens
Level 17: Standard '22 NBA: Series 1 Award pack
Level 18: Rim Protector Badge pack
Level 19: Ascension!
Level 20: Sapphire 85 OVR James Posey – Memphis Grizzlies
Level 21: Lockdown Defender Badge pack
Level 22: Ascension!
Level 23: Standard '22 NBA: Series 1 Award pack
Level 24: Ruby 88 OVR Danny Ainge – Boston Celtics
Level 25: Ten tokens
Level 26: Ascension!
Level 27: Sharpshooter Badge pack
Level 28: Amethyst 90 OVR Barry Carroll
Level 29: Deluxe '22 NBA: Series 1 Award pack
Level 30: Ascension!
Level 31: Dunktober Deluxe Award pack
Level 32: Diamond Shoe pack
Level 33: Diamond 92 OVR Adrian Dantley – Utah Jazz
Level 34: 30 tokens
Level 35: Diamond Consumables pack
Level 36: Ascension!
Level 37: Diamond Contract pack
Level 38: Diamond Show Boost pack
Level 39: Build your Empire Hall of Fame Badge Option pack
Level 40: Pink Diamond 95 OVR Kevin Garnett – Boston Celtics
Season 1 "Call to Ball" Rewards / Prizes: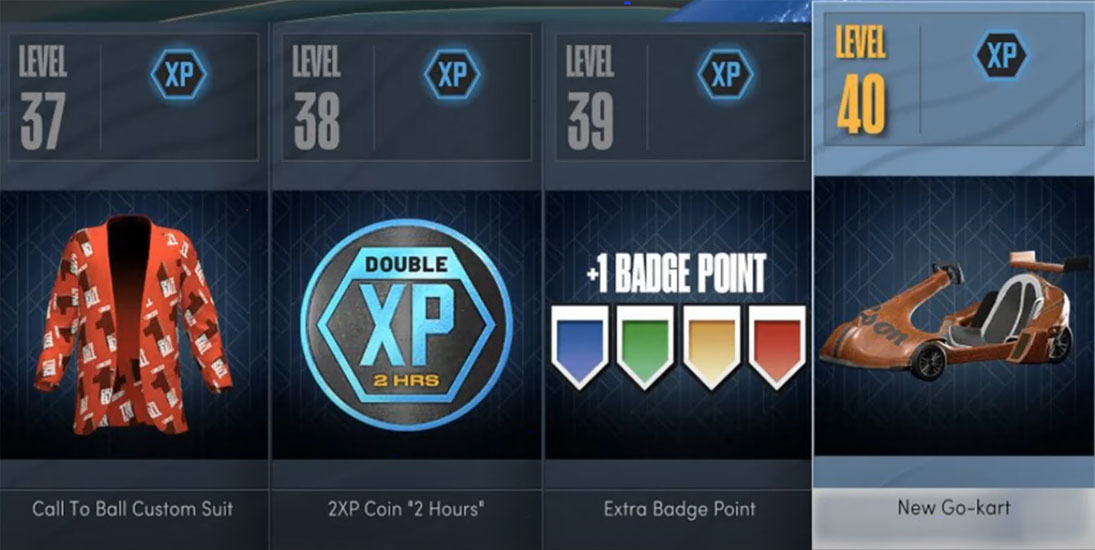 MyCAREER
Level 1:  Call to Ball Tee
Level 2:  Call to Ball Basketball
Level 3:  New Player Indicator
Level 4:  New Banner Options
Level 5:  MyTEAM Intro Pack
Level 6:  New Green Release Animation
Level 7:  Battle Ready Emotes
Level 8:  Skill Boosts (5 Games)
Level 9:  2XP Coin "30 Minutes"
Level 10:  New Player Indicator Shape
Level 11:  Gatorade Boosts (5 Games)
Level 12:  New Dancing Emotes
Level 13:  New Banner Background Options
Level 14:  +1 Defensive Rebounds
Level 15:  MyTEAM Team Customization Pack
Level 16:  New Playful Emotes
Level 17:  2XP Coin "1 Hour"
Level 18:  Gatorade Boosts (10 Games)
Level 19:  New Banner Options
Level 20:  New Crazy Emotes
Level 21:  Call to Ball Jersey
Level 22:  Skill Boosts (10 Games)
Level 23:  New Breakthrough Gear
Level 24:  MyTEAM Player Customization Pack
Level 25:  New Party Emotes
Level 26:  VIP Wheel Access
Level 27:  New Banner Options
Level 28:  2XP "1 Hour"
Level 29:  Call to Ball Backpack
Level 30:  New Inline Skates
Level 31:  New Breakthrough Gear
Level 32:  2XP Coin "2 Hours"
Level 33:  Gatorade Boosts (10 Games)
Level 34:  New Banner Options
Level 35:  MyTEAM Promo Bundle
Level 36:  Skill Boosts (10 Games)
Level 37:  Call to Ball Custom Suit
Level 38:  2XP "2 Hours"
Level 39:  +1 Badge Point
Level 40:  New Go-kart