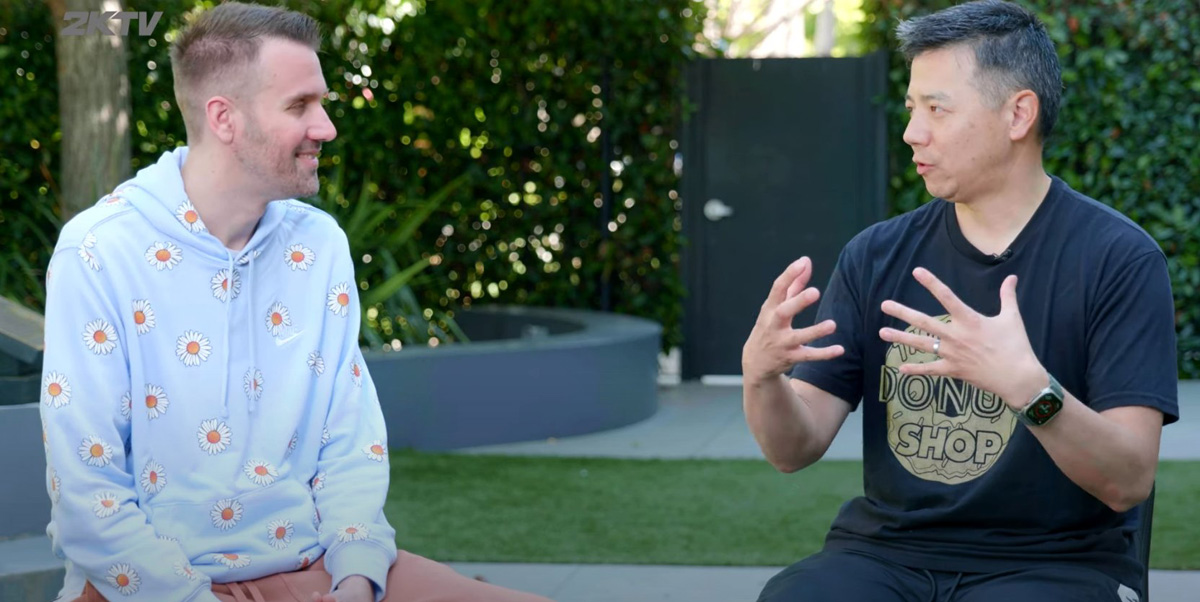 NBA 2K Gameplay Director, Mike Wang (a.k.a. "Beluba") went over details of a recent NBA 2K24 community event in an interview with Chris Manning (a.k.a. LD2K) on NBA 2KTV. The event was organized by 2K to get feedback for the upcoming game.
NBA 2K24 Community Feedback Event
Here's what we learned from Wang about the event:
The community feedback event had representatives for each game mode (MyTEAM, Pro Am, etc.) from the #2KCommunity giving feedback
Feedback event has happened each of the last 3 years, had returning people
Focused on NBA 2K24 gameplay for this event
A lot of 2K23 exploits have been fixed
According to Wang, feedback helps guides 2K's decision on things, the game is for the community, and that 2K listens to feedback
We also got a (blurry) glimpse of The Rec in NBA 2K24, which appears to be using the same court and environment seen in NBA 2K23. This was an earlier build of the game, so this is subject to change. No other details about The Rec have been released as of yet, like whether it'll have better matchmaking or not, which has been a top wish among the 2K Community.
Wang Hints that Quick Drop Dunk Animations were Removed for 2K24
Wang later tweeted out an image of a Bulls player doing a quick dunk animation and the acronym "RIP" – suggesting that this animation has been removed (or at least altered) for NBA 2K24. Quick dunk animations, along with the Limitless Takeoff Badge, were one of the more cheesy elements of NBA 2K23 gameplay.
still hard at work on 2K24 but we'll talk soon. one small tidbit for now… pic.twitter.com/tss1RbQpQm

— Mike Wang (@Beluba) August 5, 2023
Conclusion
NBA 2K24 releases worldwide on September 8, 2023, you can pre-order the upcoming game here. Stay turned for more upcoming NBA 2K24 news here at NBA 2KW!