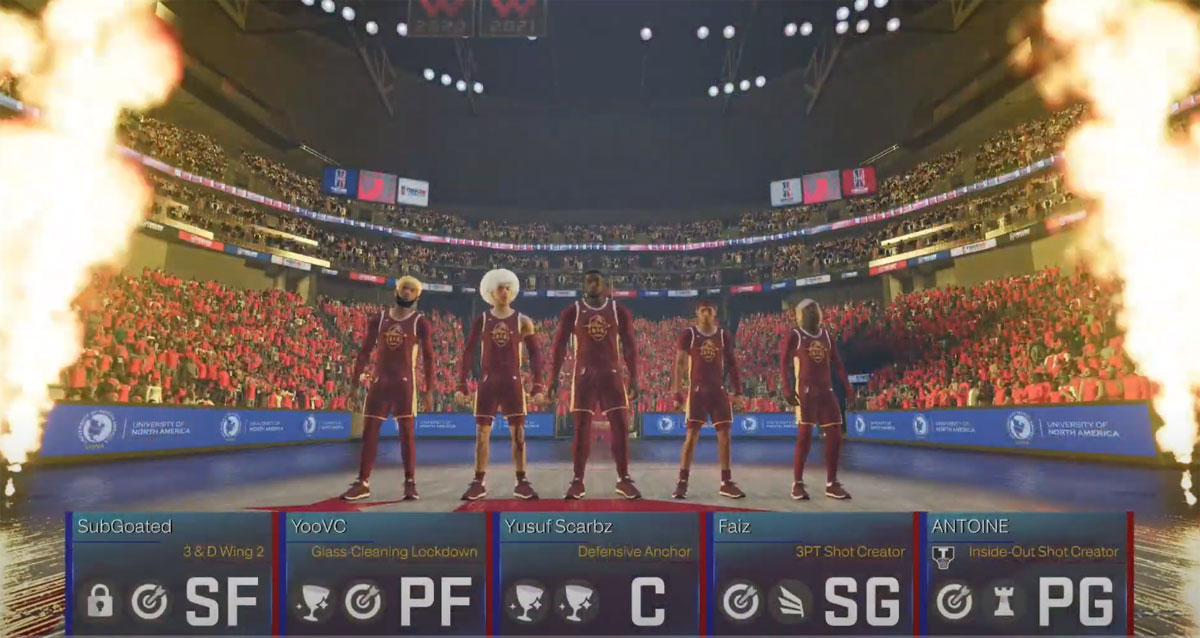 The NBA 2K League 5v5 season tipped off yesterday, and with it came the revealment of the official NBA 2K League 5v5 archetypes / builds. The NBA 2K League uses a special version of the NBA 2K23 archetype system for NBA 2K League gameplay – ideally to promote gameplay balance and fairness among the teams.  Each archetype at each position has various build characteristics (height, weight, badges, etc).
Each NBA 2KL team gets the opportunity to choose which specific NBA 2KL archetypes they want for their roster, with teams deciding on which builds to use that they think will best complement their players, desired playstyle, and strategic gameplan.
Also See:
Check out the entire list of NBA 2K League archetypes for NBA 2K23 below, including the build's name, height, weight, and notable attributes and badges.
Point Guard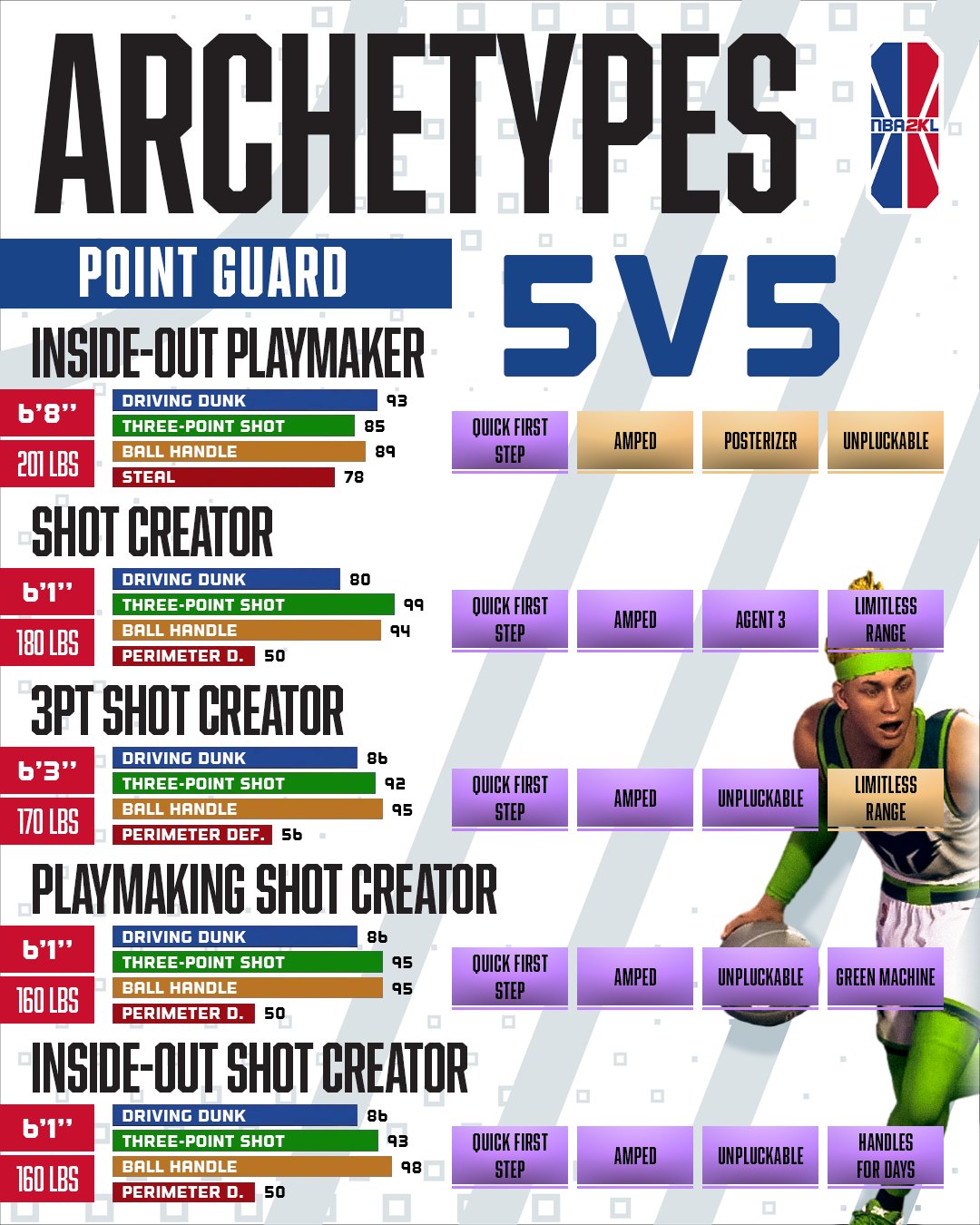 | Name | Ht | Wt | D Dunk | 3PT | BH | Stl | Per. D |
| --- | --- | --- | --- | --- | --- | --- | --- |
| Inside-Out Playmaker | 6'8" | 201 lbs | 93 | 85 | 89 | 78 | |
| Shot Creator | 6'1" | 180 lbs | 80 | 99 | 94 | | 50 |
| 3PT Shot Creator | 6'3" | 170 lbs | 86 | 92 | 95 | | 56 |
| Playmaking Shot Creator | 6'1" | 160 lbs | 86 | 95 | 95 | | 50 |
| Inside-Out Shot Creator | 6'1" | 160 lbs | 86 | 93 | 98 | | 50 |
Shooting Guard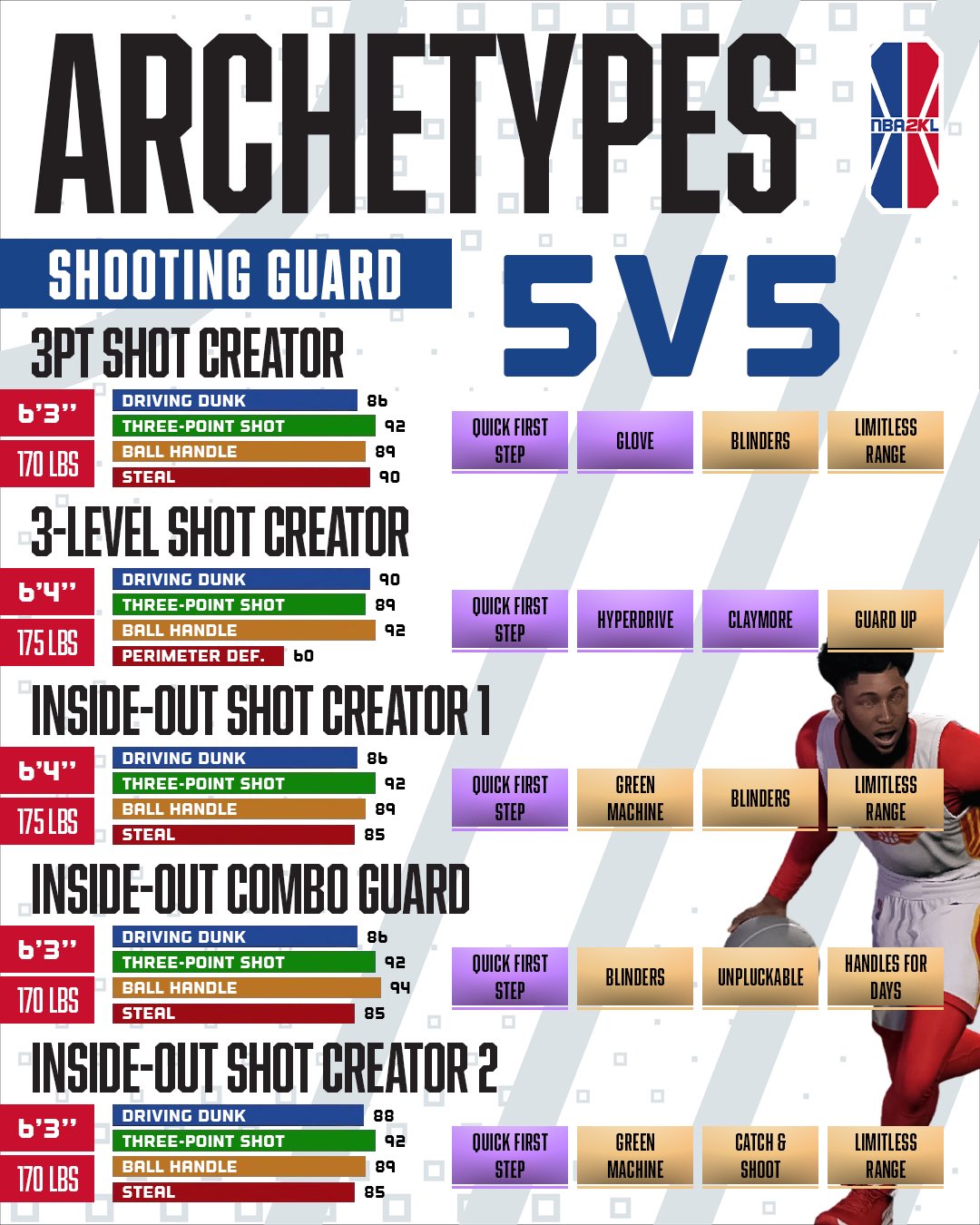 | Name | Ht | Wt | D Dunk | 3PT | BH | Stl | Per. D |
| --- | --- | --- | --- | --- | --- | --- | --- |
| 3PT Shot Creator | 6'3" | 170 lbs | 86 | 92 | 89 | 90 | |
| 3-Level Shot Creator | 6'4" | 175 lbs | 90 | 89 | 92 | | 60 |
| Inside-Out Shot Creator 1 | 6'4" | 175 lbs | 86 | 92 | 89 | 85 | |
| Inside-Out Shot Creator 2 | 6'3" | 170 lbs | 88 | 92 | 89 | 85 | |
| Inside-Out Combo Guard | 6'3" | 170 lbs | 86 | 92 | 94 | 85 | |
Small Forward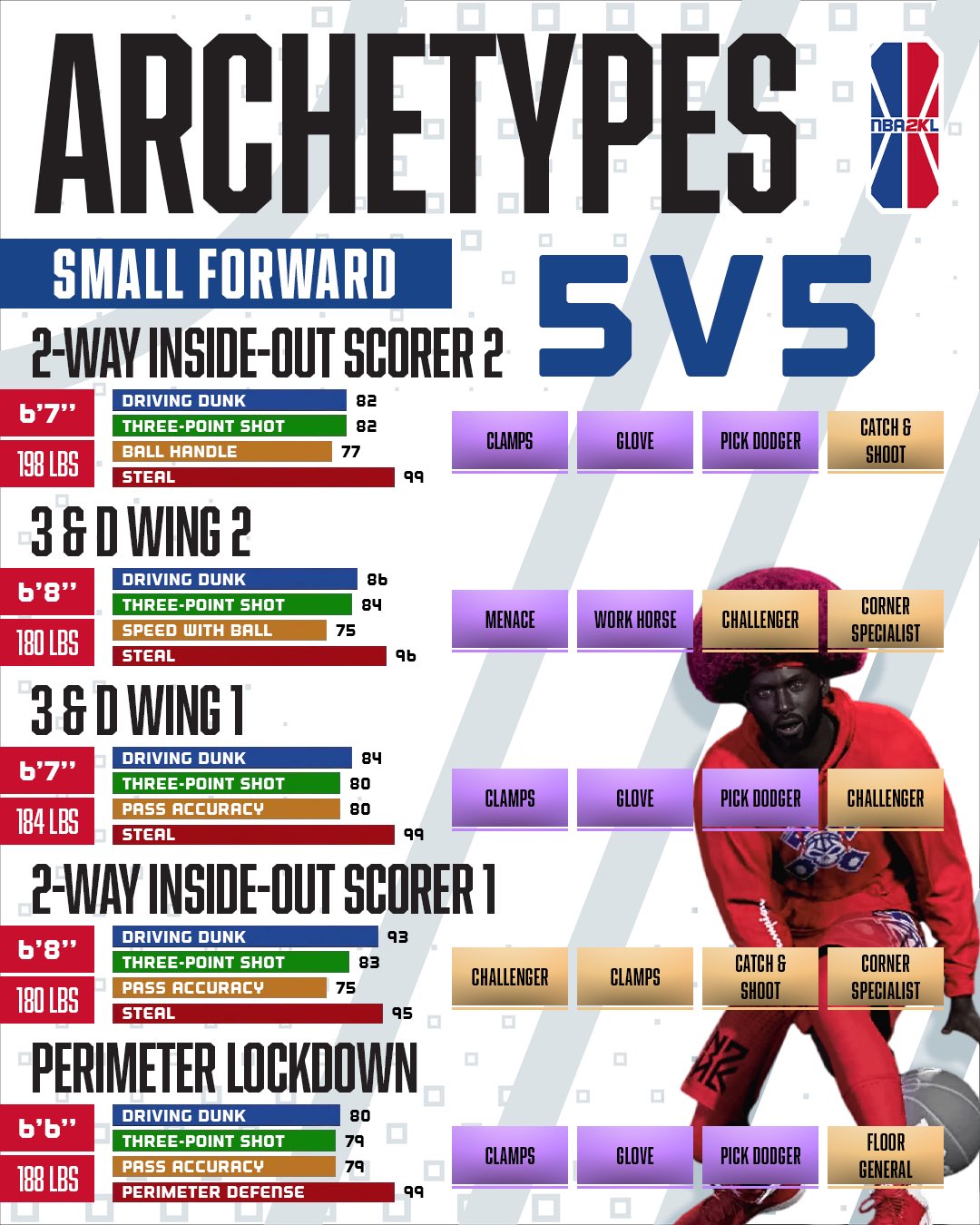 | Name | Ht | Wt | D Dunk | 3PT | BH | Spd w/Ball | Pass Acc | Stl | Per. D |
| --- | --- | --- | --- | --- | --- | --- | --- | --- | --- |
| 3 & D Wing 1 | 6'7" | 184 lbs | 84 | 80 | | | 80 | 99 | |
| 3 & D Wing 2 | 6'8" | 180 lbs | 86 | 84 | | 75 | | 96 | |
| 2-Way Inside-Out Scorer 1 | 6'8" | 180 lbs | 93 | 83 | | | 75 | 95 | |
| 2-Way Inside-Out Scorer 2 | 6'7" | 198 lbs | 82 | 82 | 77 | | | 99 | |
| Perimeter Lockdown | 6'6" | 188 lbs | 80 | 79 | | | 79 | | 99 |
Power Forward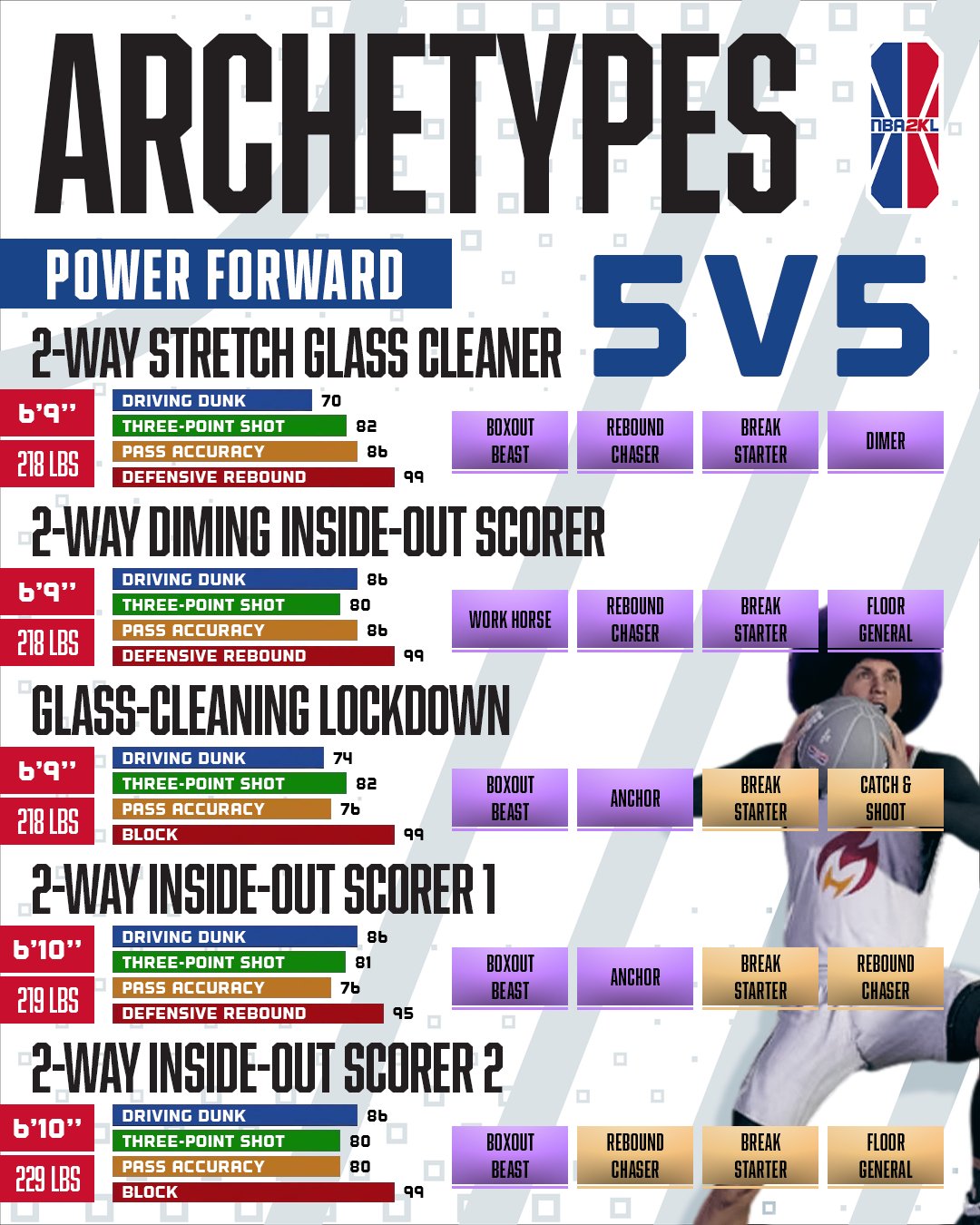 | Name | Ht | Wt | D Dunk | 3PT | Pass Acc | Def. Reb | Block |
| --- | --- | --- | --- | --- | --- | --- | --- |
| 2-Way Stretch Glass Cleaner | 6'9" | 218 lbs | 70 | 82 | 86 | 99 | |
| 2-Way Diming Inside-Out Scorer | 6'9" | 218 lbs | 86 | 80 | 86 | 99 | |
| Glass-Cleaning Lockdown | 6'9" | 218 lbs | 74 | 82 | 76 | | 99 |
| 2-Way Inside-Out Scorer 1 | 6'10" | 219 lbs | 86 | 81 | 76 | 95 | |
| 2-Way Inside-Out Scorer 2 | 6'10" | 229 lbs | 86 | 80 | 80 | | 99 |
Center

| Name | Ht | Wt | D Dunk | Standing Dunk | Close Shot | FT | 3PT | Pass Acc | Def. Reb | Off. Reb |
| --- | --- | --- | --- | --- | --- | --- | --- | --- | --- | --- |
| Diming Paint Beast 1 | 7'0" | 239 lbs | 92 | | | 65 | | 86 | | 99 |
| Diming Paint Beast 2 | 7'0" | 239 lbs | | 85 | | 60 | | 86 | 99 | |
| Glass-Cleaning Finisher 1 | 7'0" | 235 lbs | | | 85 | | 79 | 76 | 99 | |
| Glass-Cleaning Finisher 2 | 7'1" | 237 lbs | | | 85 | | 76 | 80 | | 99 |
| Defensive Anchor | 7'1" | 254 lbs | | 90 | | 70 | | 80 | 99 | |