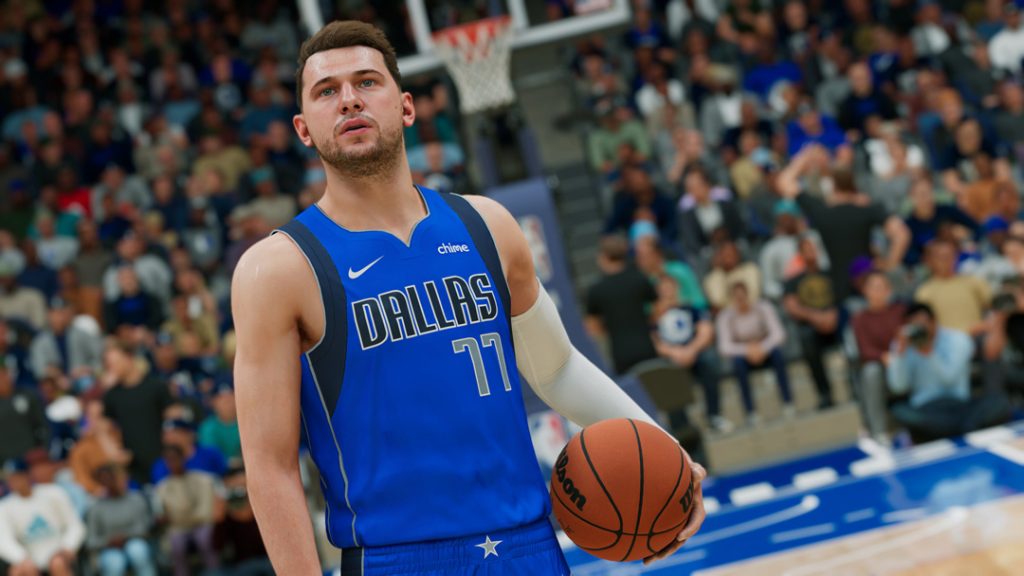 We've learned of new NBA 2K22 gameplay improvements confirmed by NBA 2K22 Gameplay Director Mike Wang, via various social media and official 2K outlets. Here are 10 gameplay improvements in NBA 2K22:
1. Badges
As of this writing, 5 new Playmaking Badges have been revealed. They are: the Hyperdrive Badge, Quick Chain Badge, Triple Threat Juke Badge, Post Playmaker Badge, and Glue Hands. These are just Playmaking Badges, so more are expected to be announced for the other three badge categories. These badges are confirmed for the female MyPLAYER / WNBA 'The W' mode, but there's cause to believe these new badges will be in the NBA modes as well. The Glue Hands Badge makes a return to the game, but with a different description: "Reduces the chances of an errant pass, while improving the ability to both catch rough passes and quickly make the next move." Descriptions of the other badges haven't yet been released, but it's likely they will provide some type of boost to speed, dribbling, and passing out of the post. If 'The W' is any indication of the badge set up rules in MyPLAYER / MyCAREER, the max cap for badges will be 32 (or more).
2. Shooting Mechanics
Shooting mechanics have been a point of contention for the 2K Community, particularly with the amount of Cronus Zen modded controller cheating we saw in current-gen NBA 2K21. From what we know as of now, some shooting mechanics remain or have been improved upon, and some mechanics have been removed. Shot Aiming as well as the vibration cue have both been removed, while a new Shot Meter has been added. Other elements like Real Player FG% and getting a shot percentage boost for having no Shot Meter are still in the game. Mike Wang also added that players don't have to be as highly rated of a shooter as last year to be a perimeter shooting threat, if you have good timing, and that shooting is more predictable in NBA 2K22.
3. Unlockable Animations
Animations, signature moves, and shots (some new, some old) will be unlocked throughout the new NBA 2K22 'Seasons'. The over-used 'Curry slide' dribble move will start out as a locked animation, and 2K is "gating more animations based on size and ability this year." New jumpshot landings have been added, and gameplay jumpshots and moves will stay in the game once they've been released.
4. Dribble Moves
New signature moves and combos have been added for dribbling to break down the defender. 'Dribble Gawds' are going to have a lot more to work with this year, and dribbling is closer to NBA 2K20's dribbling system than NBA 2K21's.
5. Defense
The shot contest and blocking system have been completely revamped, highlighting an arsenal of new defensive tools at a player's disposal. Contesting a shot carries more weight this year, and the logic was switched back to using the Perimeter Defense rating for outside jump shot contests.
Playing suffocating defense on the perimeter and in the paint has never felt more rewarding, according to 2K, giving elite defenders the ability to truly change the outcome of the game. Wang specifically listed defense as one of the pillars of gameplay that was worked on this year. Perimeter defense body-ups on the floor, movement, and how the players feel in on-ball defensive stances and different defensive situations have all been improved.
6. Dunking & Finishing
Dunking in traffic, and pulling off alley-oops have all become more skill-based with more direct control of the outcome.
7. BBALL IQ & Skill
Basketball IQ and stick skills play an even bigger role in separating top offensive players. High IQ plays get rewarded more.
8. Better Gameplay Balance
With all the improvements to gameplay, Wang added that it's "Just a much more balanced game and a much more fun game to play".
9. Luka Doncic Mo-Cap
NBA 2K22 Cover Athlete Luka Doncic was among those brought in to do motion capture moves for 2K. Luka gave 2K his patented step-back jumper and his signature moves that in turn become animations in the game.
10. Current/Last-Gen vs Next-Gen
Current and next gen are much more similar on-court this year compared to last, but next-gen has some exclusive features – foot planting improvements, a lot of tech with movements, etc. 2K also plans to release the same signature animations on both generation of consoles.
[source: 2K and NBA 2K22 Gameplay Director, Mike Wang]
Check out the NBA 2K22 News Tracker for all of the latest info leading up to the game's release on September 10.