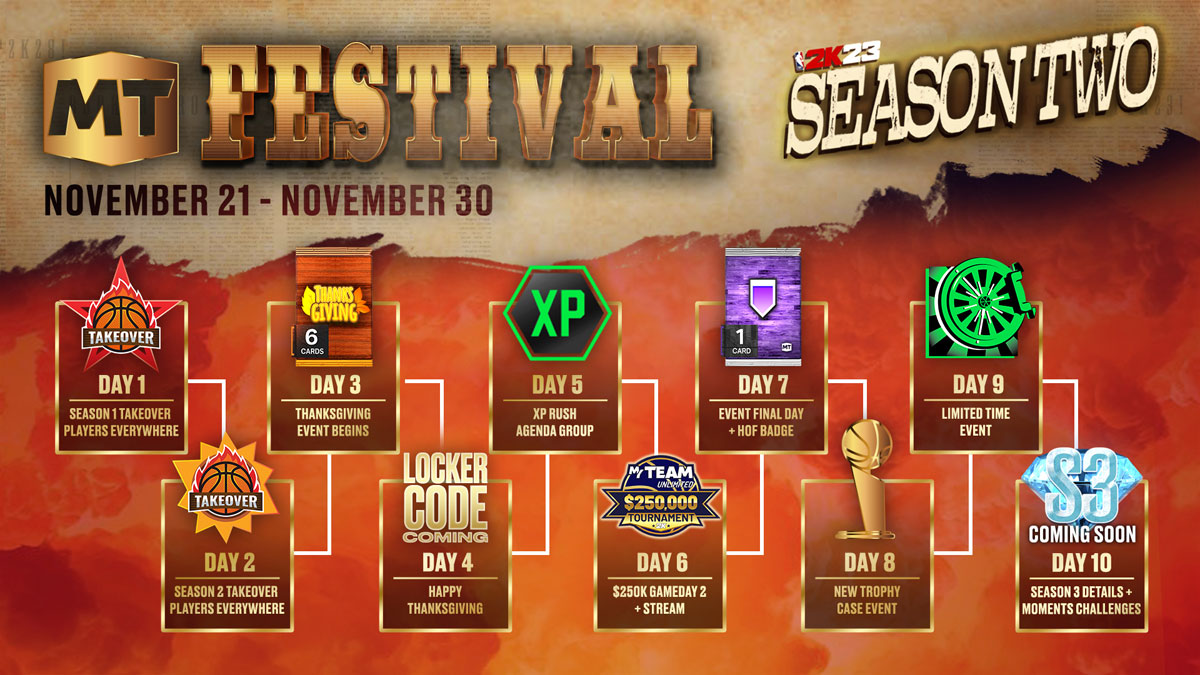 2K has brought back their annual "MyTEAM Festival". Every year, a weeklong celebration of MyTEAM commences with rewards, locker codes, player cards and content drops. This year it started today, and this event may just revive MyTEAM.
For 10 days, MyTEAM players can enjoy different events each day, all around Thanksgiving on day four.
Here is what is going down each day at MT Festival, which runs from Monday, November 21 – Wednesday, November 30.
Day 1:
Earn different Season One Takeover players throughout every game mode. This includes the Triple Threat Offline and Unlimited vaults, Triple Threat Online boards, and Clutch Time wheels.
Day 2:
Season Two takeovers fill the MyTEAM modes identical to the Season One Takeovers. New
Takeover Diamond OG Anunoby will be available, too.
Day 3:
The brand-new Thanksgiving event kicks off. Likely similar to the Halloween "Trick or Treat" event, there should be ways to earn packs, tokens, and players.
Day 4:
Turkey Day brings a fresh locker code for all to enjoy with their turkey and football. If this code entails anything like 2K22's Thanksgiving code. Expect two Amethyst players and three Diamond players, though 2K could surprise fans, for good or worse.
Day 5:
An XP agenda group will be live, giving players the option to earn a plethora of XP to inch them ever closer to Level 40 Pink Diamond Devin Booker.
Day 6:
The $250K Tournament continues with gameday number two. They will be livestreaming, likely giving out locker codes if the past proves correct. Last gameday on October 15th, there were codes for unactionable versions of Pink Diamond Ja Morant and Pink Diamond Zion Williamson.
Day 7:
The final day of the Thanksgiving event, a HOF badge was advertised along with the
conclusion of the event.
Day 8:
A new Trophy Case event tips off, likely giving players more chances at centerpieces and Trophy Case cards needed. In prior weeks, 2K released challenges earning Trophy Case pieces, including a centerpiece that was relatively easy to obtain.
Day 9:
A limited time event drops in the vault. Not much information was provided about this, but
expect new and old player cards in vaults.
Day 10:
The final day of the MyTEAM Festival concludes with news on the brand new Season Three, and new Moments challenges.
Closing Remarks
How might this festival of virtual cards change the game forever? It is pretty simple: more people will start playing the game. 2K23 just went on sale for 50% off the Michael Jordan Edition, and Black Friday brings in a lot of new players every year. Throwing a festival with new players inevitably coming in is smart, getting the new players intrigued and playing the game.
Hopefully, this festival brings in new players and 2K stays on the right track with content. They recently dropped the best content for a Friday in November ever to most, and are now following it up with a highly rewarding and fun festival for all players to enjoy.
---
Article contributed by Anthony Schulte