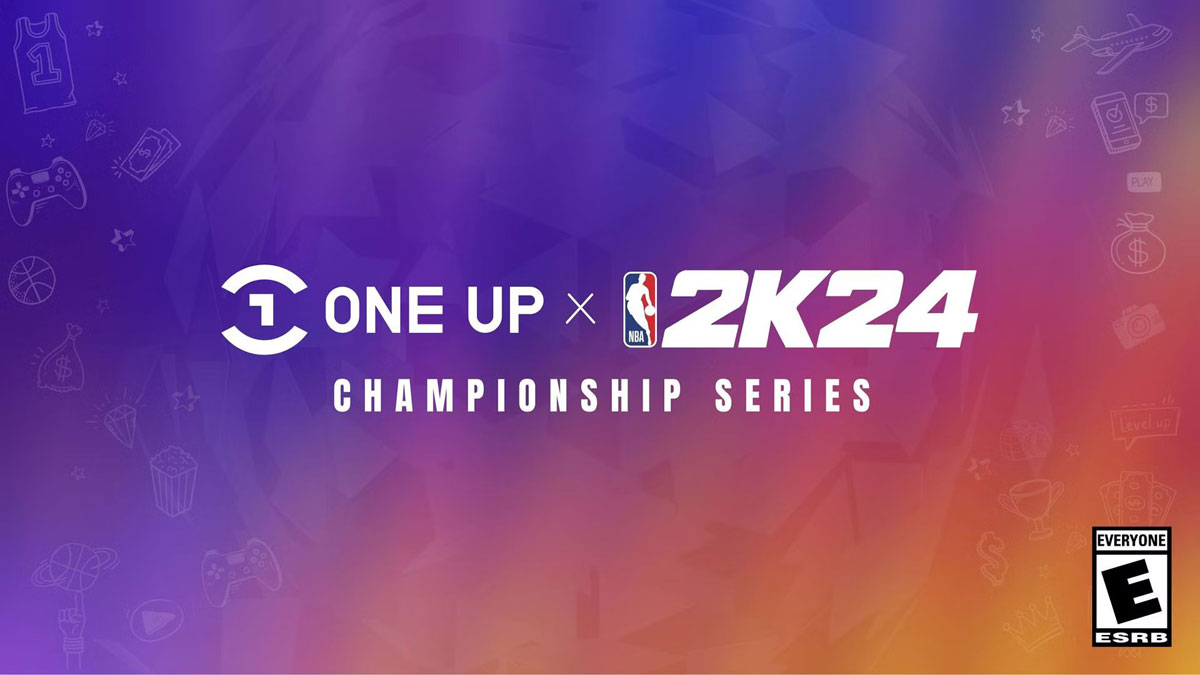 20 NBA Stars have teamed up with One Up to launch a $1M NBA 2K24 Championship Series. This groundbreaking event continues to open esports to everyone, which is typically limited to the pro level – it's free and open to the public.
Many pro athletes play video games, so this event allows them to reach a new audience and expand their brand beyond the court.
Gaming is bigger than movies and music combined globally, so this tournament is also lowering the barrier to entry and engaging the millions of 2K fans. The $1 million prize pool is one of the largest for an amateur tournament.
As a background, the blueprint for the $1 million Championship Series evolved during NBA All-Star festivities when the NBA All-Star game was hosted in Cleveland, where One Up managed a tournament hosted by Charlotte Hornets point guard LaMelo Ball. The four finalists were all flown to Cleveland together on a private jet where they competed for a $25,000 prize pool, and each took home a pair of LaMelo's Puma MB.01 signature sneakers.
Check out the full press release below:
LOS ANGELES – One Up, a leading on-demand esports company democratizing how video game tournaments and leagues are accessed and organized, announced today that its One Up x NBA® 2K24 Championship Series will tip off on September 23.  This all-new, open-to-the-public competitive gaming challenge will be hosted in collaboration with 20 NBA stars – led by Cade Cunningham, Jamal Murray, Paul George, and Donovan Mitchell – and One Up will award over $1 million in total cash prizes to participating gamers. The inaugural series will be played on the new NBA 2K24, and eligible players can enter the competition for free via the Play One Up mobile app on Apple or Android beginning today.
The news of the million-dollar challenge follows on the heels of One Up being named an official on-demand esports platform for the NBA® 2K franchise. In addition to the competitive tournaments, One Up will deliver original content only available on the mobile app to give fans behind-the-scenes moments with the NBA stars.
"Our partnership with 2K is about lowering the barrier to enter esports competitions as we believe esports should be for all," said One Up CEO Brandon Pitts. "We are pumped to be one of the first major tournaments for NBA 2K24 across multiple platforms and provide fans of the game the opportunity to compete against others with the chance to win game-changing cash prizes."
The initial 20 online qualifying tournaments will each be hosted by an NBA star and will take place from September 23 to January 20. From there, the real adventure begins. The top 16 finalists of each qualifier tournament will earn $20,000, while the 16 runners-up will earn $4,000 each, and 3rd and 4th place will earn $500 each. The top 16 finalists will advance to compete in an online tournament on February 3-4.  These final four will be flown to Miami to compete in the One Up x NBA® 2K24 Championship, taking place on February 15. Among the 16 finalists, the winner will earn $250,000, 2nd place will take home $100,000, 3rd and 4th place $50,000 each, and 5th through 8th $25,000 each. All along this journey, players will meet their NBA heroes.
In addition to the main tournament, additional NBA players will host exhibition matches, each with a $10,000 prize pool, with the winner earning $8,000, 2nd place $1,000, and 3rd and 4th place $500 each. Fans can compete in both the exhibitions and qualifiers on a first-come, first-serve registration.
One Up x NBA® 2K24 Championship Series QUALIFIER schedule with the featured NBA star host:
9/23 – Donovan Mitchell – Cleveland Cavaliers
9/30 – Paul George – LA Clippers
10/7 – Jamal Murray – Denver Nuggets
10/14 – Cade Cunningham – Detroit Pistons
10/21 – Deandre Ayton – Phoenix Suns
10/28 –  Khris Middleton – Milwaukee Bucks
11/4 – John Collins – Utah Jazz
11/11 – Karl-Anthony Towns – Minnesota Timberwolves
11/18 – Seth Curry – Dallas Mavs
11/25 – Patrick Beverley – Philadelphia 76ers
12/2 – Anfernee Simons – Portland Trail Blazers
12/9 – Terry Rozier – Charlotte Hornets
12/30 – Jalen Brunson – New York Knicks
1/6 – Brandon Ingram – New Orleans Pelicans
1/13 – Mike Conley, Jr. – Minnesota Timberwolves
1/20 – Tyrese Haliburton – Indiana Pacers
One Up x NBA® 2K23 Championship Series EXHIBITION schedule with the featured NBA host::
10/11 – Dorian Finney-Smith – Brooklyn Nets
11/1 – Andre Drummond – Chicago Bulls
11/22 – Andrew Wiggins – Golden State Warriors
12/13 – De'Anthony Melton – Philadelphia 76ers
To qualify for the One Up x NBA® 2K24 Championship Series, participants must be residents of the U.S. and D.C. (excluding Arizona) and be 13 years or older, must have a valid One Up account, have access to NBA 2K24 on PS5 or Xbox X/S, have internet access and access to a PSN ID with the PS Plus Service or an Xbox X/S with a gamertag and the Xbox Gold service. Participants will log in to their Play One Up account on iOS or Android, click on the "NBA 2K" community icon, and follow the prompts to register. Eligible players may participate in one or more of the sixteen (16) qualifying tournaments that begin on September 23, 2023, at 3:00 PM Eastern Time. Registration for the qualifying tournaments is available beginning September 14, 2023, at 1:00 PM Eastern Time. Registration for each qualifier tournament will close one (1) hour prior to the start time. For complete rules, learn more www.playoneup.com/nba2k.
About One Up
Founded in 2019, One Up provides on-demand esports competitions for gamers (ages 18+) to compete for cash prizes, meeting a huge underserved demand for play-for-pay matches.  One Up operates two flagship products: its GameChangers OS platform, their proprietary esports Software as a Service that enables anyone to create, market, and monetize their own esports tournament and leagues in literally minutes, and its Play One Up app, the world's foremost on-demand esports marketplace, that connects gamers and enables them to monetize their skills in one-on-one matchups or tournament gameplay.  Fans can compete across popular games like Call of Duty®, Fortnite, Madden NFL, NBA® 2K, FIFA, and NHL.
With over 750,000 registered gamers, One Up is the brainchild of CEO Brandon Pitts. A former college point guard, Pitts built a side hustle in college, turning his dorm into a place for people to compete in video game tournaments. Headquartered in Los Angeles, Play One Up is backed by professional athletes, including Terry Rozier, Victor Oladipo, and Denzel Ward. To learn more, visit playoneup.com.
About 2K
Founded in 2005, 2K develops and publishes interactive entertainment for video game consoles, personal computers, and mobile devices, with product availability, including physical retail and digital download. The Company is home to many talented development studios, including Visual Concepts, Firaxis Games, Hangar 13, Cat Daddy Games, 31st Union, Cloud Chamber, and HB Studios. 2K's portfolio currently includes several AAA, sports, and entertainment brands, including global powerhouse NBA® 2K; renowned BioShock®, Borderlands®, Mafia, Sid Meier's Civilization® and XCOM® brands; popular WWE® 2K and WWE® SuperCard franchises; as well as the critically and commercially acclaimed PGA TOUR® 2K. Additional information about 2K and its products may be found at 2k.com and on the Company's official social media channels.
2K is a publishing label of Take-Two Interactive Software, Inc. (NASDAQ: TTWO).
About Take-Two Interactive Software
Headquartered in New York City, Take-Two Interactive Software, Inc. is a leading developer, publisher, and marketer of interactive entertainment for consumers around the globe. The Company develops and publishes products principally through Rockstar Games, 2K, Private Division, and Zynga. Our products are currently designed for console gaming systems, PC, and Mobile including smartphones and tablets, and are delivered through physical retail, digital download, online platforms, and cloud streaming services. The Company's common stock is publicly traded on NASDAQ under the symbol TTWO.
All trademarks and copyrights contained herein are the property of their respective holders.