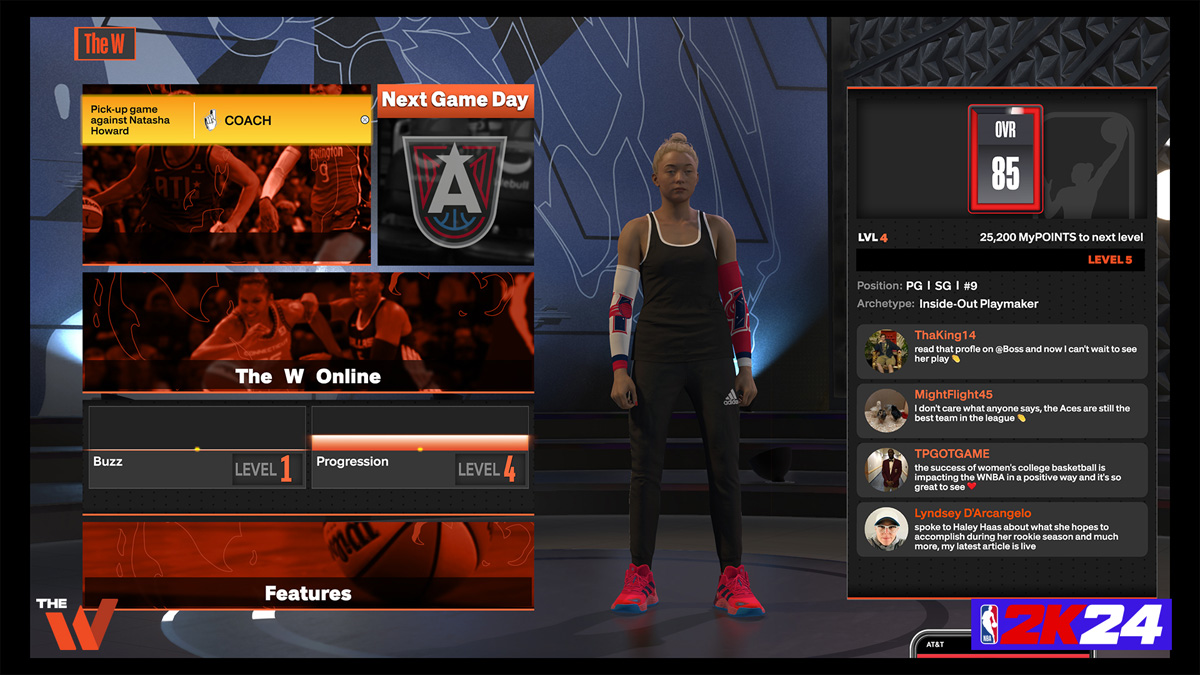 Here are the full details on the WNBA's "W" mode, including the new "In Pursuit of Greatness" feature, builder, rewards, and more.
Read the full court report below for the full details!
Pick Your WNBA Path in The W
Pick your path in NBA 2K24 and become one of the greatest players The W has ever seen. New Gen players on PlayStation®5 and Xbox Series X|S consoles will have lots to look forward to all year long; whether you're pursuing WNBA greatness on the court, competing in casual 3v3 street games, or simply chasing new rewards! Learn all there is to know about the recent changes and improvements in The W.
CHOOSE YOUR PATH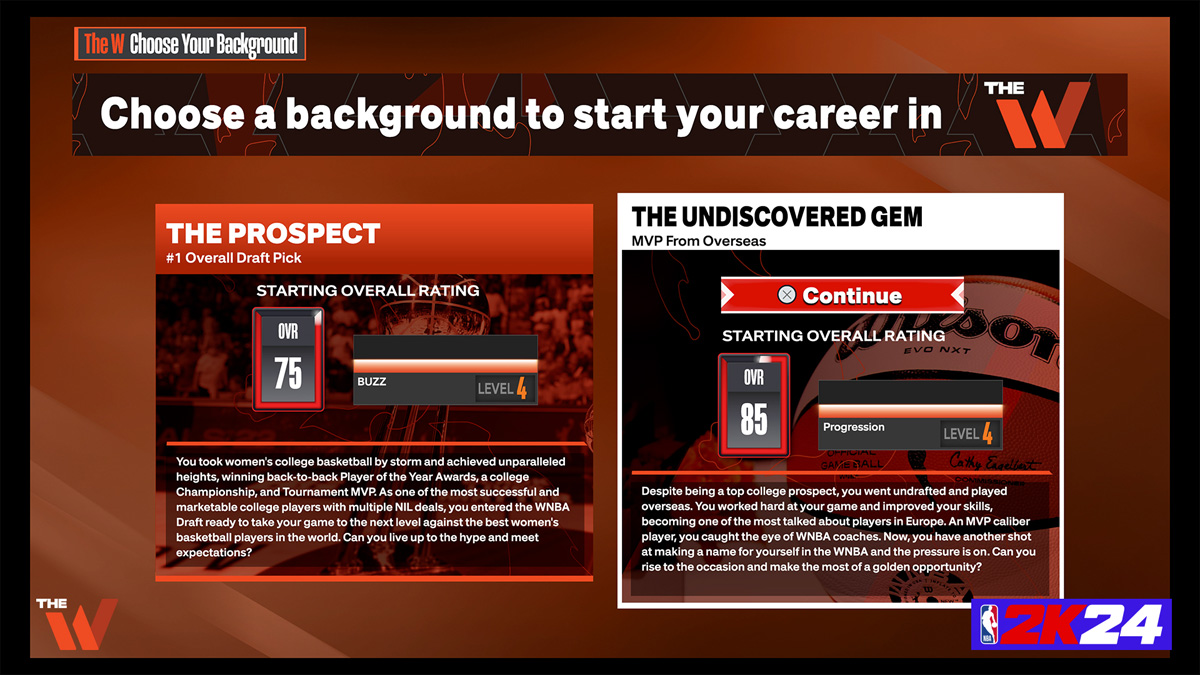 Begin your WNBA career by picking your path. This year, we're giving you two options to live out your WNBA dreams in NBA 2K24 on New Gen: you can enter the league as a college hoops sensation or an up-and-coming player with valuable international experience.
As a former college star, the media and fans are well aware of your impact on the court. Will the pressure of high expectations be too much, or are you ready to build your name?
If you're more interested in taking the league by surprise, consider the path of the under-the-radar player who took their talent overseas to develop their skills. Enter the league as an 85 overall and become a WNBA fan-favorite after starting your career as an unknown star.
Both options have their perks, but it's up to you to decide what your WNBA career looks like.
PURSUE GREATNESS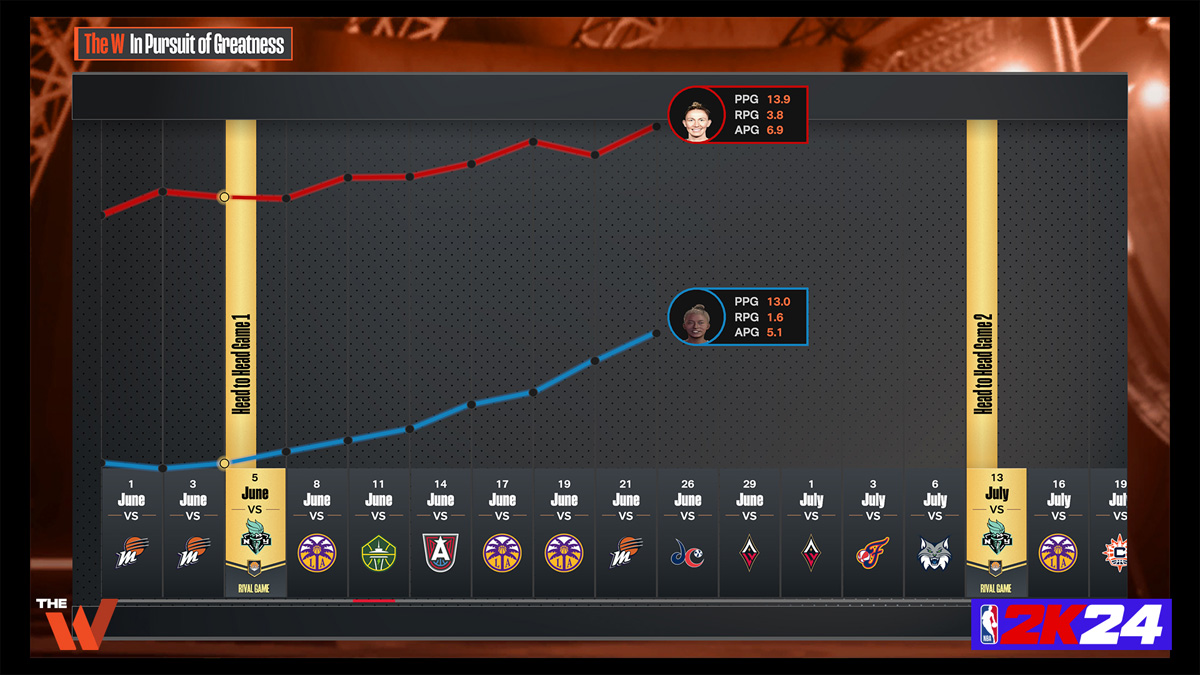 Regardless of the path you choose, the road to becoming a WNBA legend won't be easy; you'll have to fight for your spot as the best player in the league. 'In Pursuit of Greatness' is an all-new feature we've added to The W this year, pitting you against several of the WNBA's most gifted players. At multiple points throughout the season, you'll engage in a position battle with a rival star player. Based on your performances, you'll see how you compare to your rival, with fans and pundits debating across social media about who has the edge. Prove you're the premier talent, secure a coveted spot in the All-Star Game, win the high-stakes Commissioner's Cup, and lift the WNBA Finals trophy in The W.
PICK-UP GAMES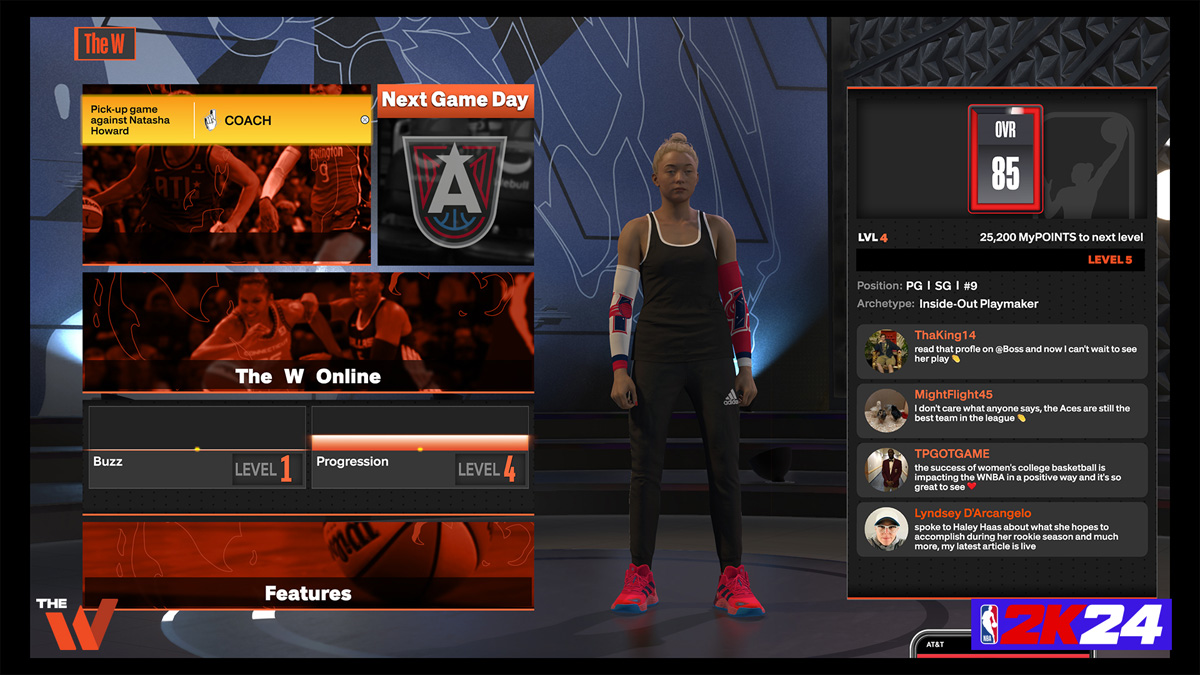 Last year, players had the chance to workout with WNBA players they encountered throughout their career, but off-day events are changing slightly in NBA 2K24.
Instead of last year's Contact Challenges where you'd choose which WNBA contacts to collect, this year you'll earn badge perks by competing against a veteran from your team, a star player you're in a position battle with, and historic legends. These three different pick-up game options will appear as off-day events throughout your seasons.
Badge perks are the key to unlocking your potential as an aspiring WNBA star, but there's more content and rewards waiting for you in The W Online.
THE W REWARDS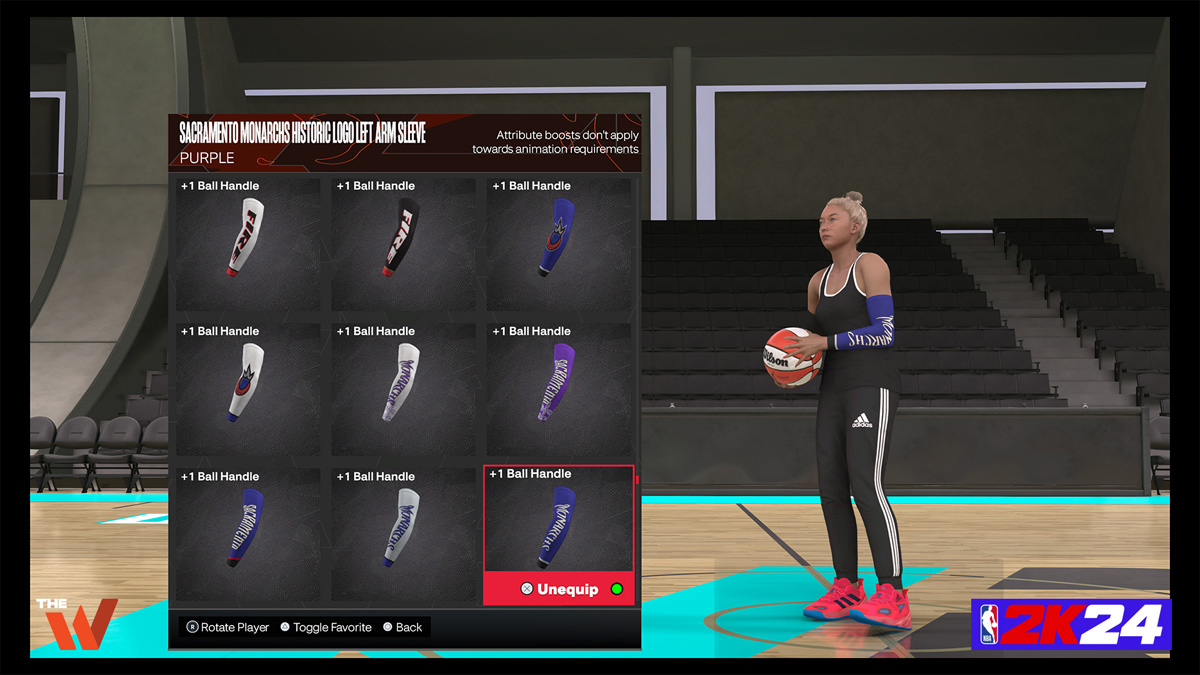 When you aren't chasing glory and accolades during the WNBA season, there are new rewards and content to further incentivize your progress. Win games and complete challenges to earn updated 2K Breakthrough Skins, flashy MyTEAM Jersey Cards, and player-enhancing MyTEAM Shoe Cards to boost your MyTEAM roster. There will also be Seasonal badge perks for you to claim for competing in The W Online.
PlayStation®5 and Xbox Series X|S players can enjoy a bevy of new features and rewards in The W and The W Online, and players across all consoles can enjoy all 12 WNBA teams in Play Now.
*The W content is only available on NBA 2K24 New Gen on PlayStation®5 and Xbox Series X | S.