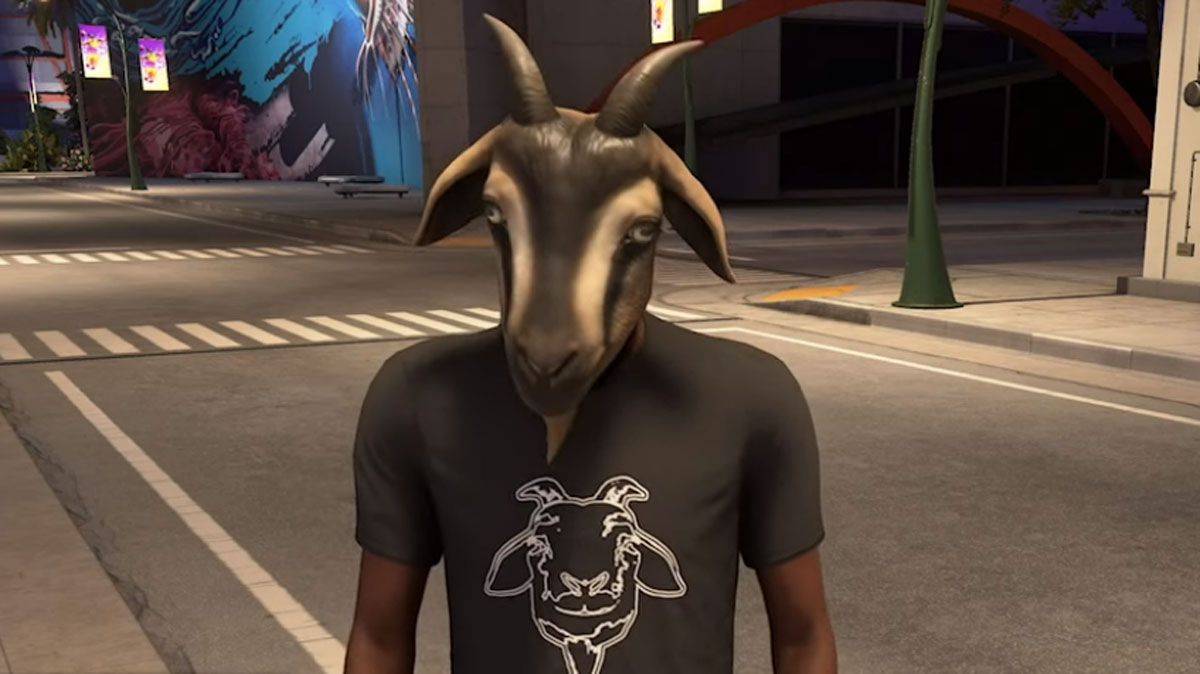 Here is the Ultimate NBA 2K24 GOAT Guide, including the full list of GOAT Tiers, GOAT Skills, GOAT Rewards, GOAT Moments, how to get the GOAT Mask, championship rings, and more!
NBA 2K24 "GOAT" Explained
As you probably already know, "G.O.A.T." stands for "Greatest of All Time". In NBA 2K24's MyCAREER mode, virtual hoopers have the chance to earn GOAT Points to pass Michael Jordan as the NBA GOAT, unlock rewards, earn GOAT Skills, and more.
How to Become the GOAT in NBA 2K24
Surpass Michael Jordan by winning 7 NBA Championships and gaining over 9 million GOAT Points
You can help speed this up by doing the following:
Play only the Key Games (around 15 per season after the 1st season)
Try to score a lot of points
Play 5 min quarters on Rookie difficulty
Foul / foul out to speed up games
NBA 2K24 GOAT Rewards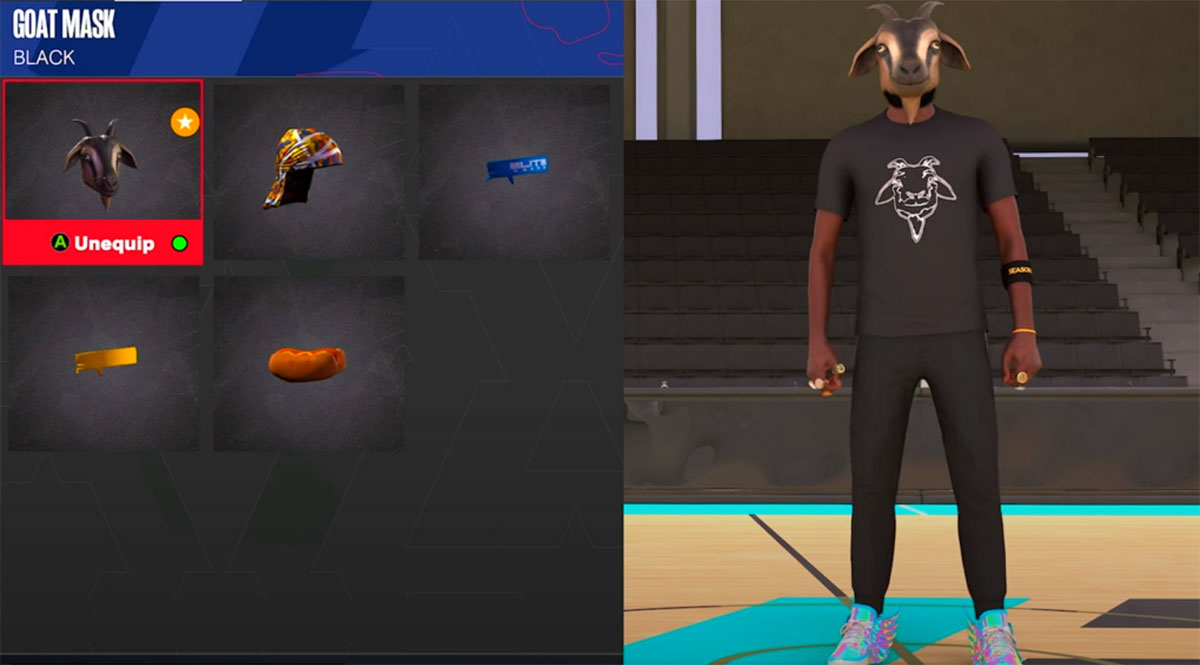 GOAT Mask
GOAT SHIRT
GOAT Jogging Pants
Wearable Championship Rings
NBA 2K24 GOAT Tiers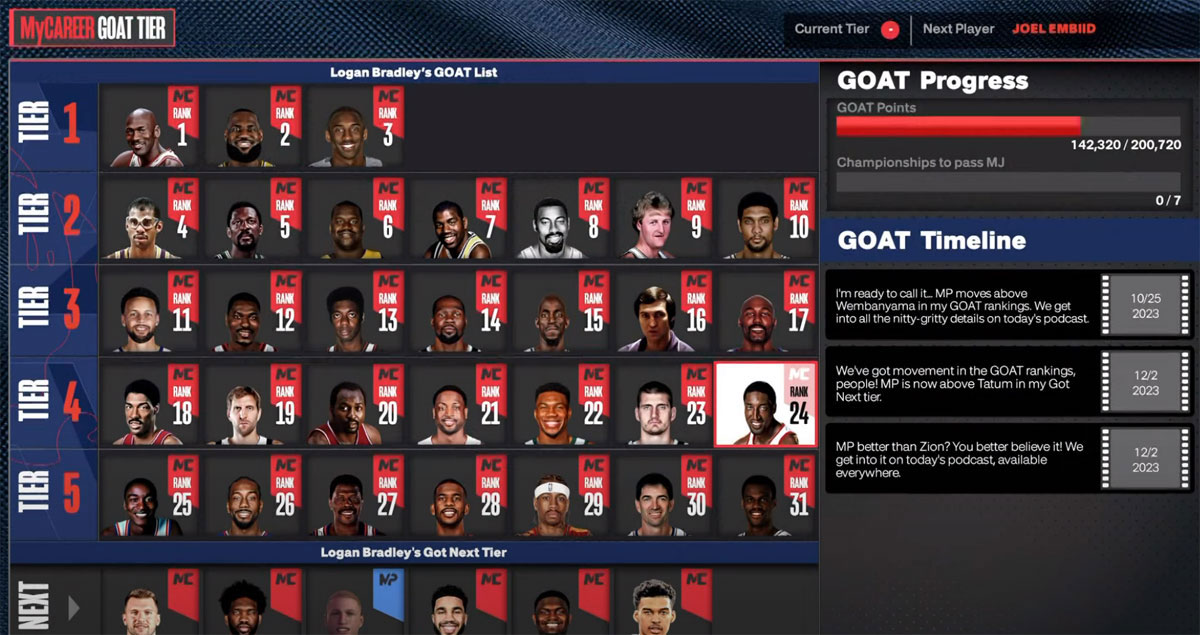 | Tier | Rank | First Name | Last Name | GOAT Points |
| --- | --- | --- | --- | --- |
| 1 | 1 | Michael | Jordan | 9,000,000 |
| 1 | 2 | LeBron | James | 7,700,000 |
| 1 | 3 | Kobe | Bryant | 6,500,000 |
| 2 | 4 | Kareem | Abdul-Jabbar | 6,300,000 |
| 2 | 5 | Bill | Russell | 6,100,000 |
| 2 | 6 | Shaquille | O'Neal | 5,900,000 |
| 2 | 7 | Magic | Johnson | 5,700,000 |
| 2 | 8 | Wilt | Chamberlain | 5,500,000 |
| 2 | 9 | Larry | Bird | 5,300,000 |
| 2 | 10 | Tim | Duncan | 5,100,000 |
| 3 | 11 | Stephen | Curry | 4,912,500 |
| 3 | 12 | Hakeem | Olajuwon | 4,700,000 |
| 3 | 13 | Oscar | Robertson | 4,500,000 |
| 3 | 14 | Kevin | Durant | 4,375,040 |
| 3 | 15 | Kevin | Garnett | 4,100,000 |
| 3 | 16 | Jerry | West | 3,900,000 |
| 3 | 17 | Karl | Malone | 3,700,000 |
| 4 | 18 | Julius | Erving | 3,500,000 |
| 4 | 19 | Dirk | Nowitzki | 3,300,000 |
| 4 | 20 | Moses | Malone | 3,100,000 |
| 4 | 21 | Dwyane | Wade | 2,900,000 |
| 4 | 22 | Giannis | Antetokounmpo | 2,700,000 |
| 4 | 23 | Nikola | Jokic | 2,500,340 |
| 4 | 24 | Scottie | Pippen | 2,300,000 |
| 5 | 25 | Isiah | Thomas | 2,100,000 |
| 5 | 26 | Kawhi | Leonard | 1,912,540 |
| 5 | 27 | Patrick | Ewing | 1,700,000 |
| 5 | 28 | Chris | Paul | 1,537,500 |
| 5 | 29 | Allen | Iverson | 1,300,000 |
| 5 | 30 | John | Stockton | 1,100,000 |
| 5 | 31 | David | Robinson | 900,000 |
| Next | 32 | Luka | Doncic | 500,040 |
| Next | 33 | Joel | Embiid | 200,140 |
| Next | 34 | Jayson | Tatum | 100,230 |
| Next | 35 | Zion | Williamson | 50,000 |
| Next | 36 | Victor | Wembanyama | 5,140 |
NBA 2K24 GOAT Skills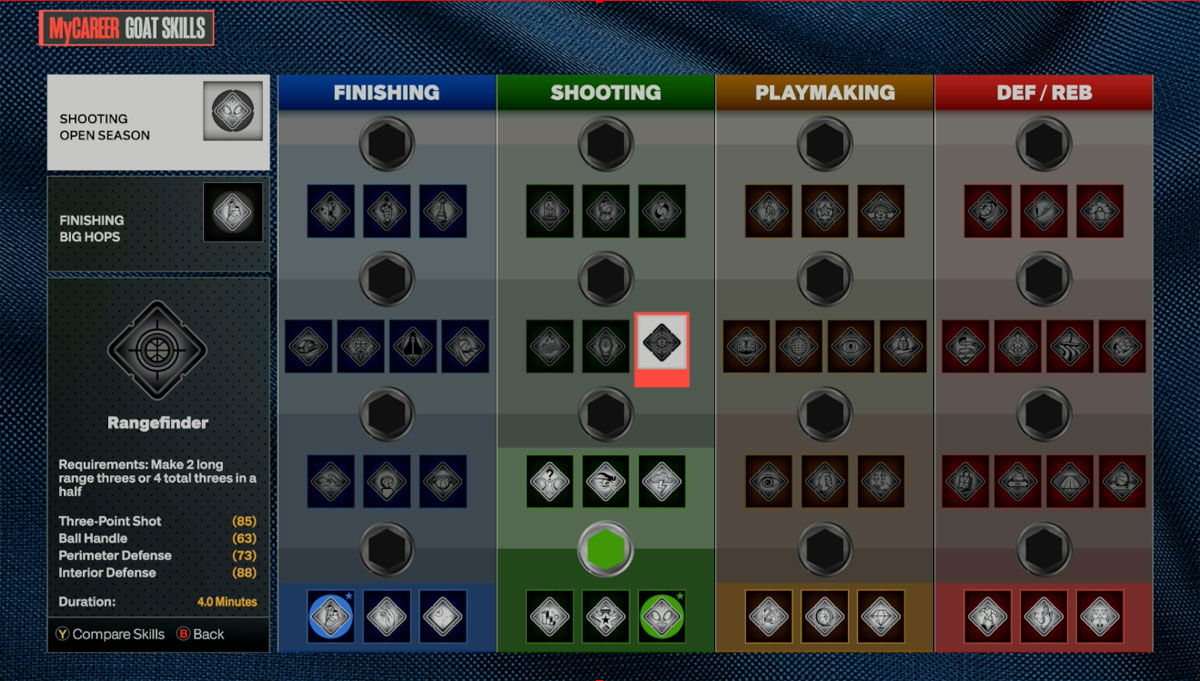 | Category | Tier | Goal Skill | Requirements |
| --- | --- | --- | --- |
| Finishing | 5 | Fancy Feet | Make 5 Eurostep, spin, reverse, hopstep, and up & under shots |
| Finishing | 5 | The Finisher | Make 4 flashy dunks, posterizing dunks, & alley-oop finishes |
| Finishing | 5 | Post Move King | Make 5 post fadeaway, hook, hop shot, stepback, & spin shots |
| Finishing | 4 | Runaway Train | Attempt 3 consecutive runners or floaters without any turnovers |
| Finishing | 4 | Sergeant Back Down | Get 5 back downs & make 5 change shot FGs |
| Finishing | 4 | Spotlight In The Paint | Score 10 points in the paint in 4 minutes |
| Finishing | 4 | Flow State | Attempte 4 Europstep, spin, reverse, hopsetep, and up & under shots |
| Finishing | 3 | Like Water | Make 3 contact layups |
| Finishing | 3 | Old Reliable | Make 4 post shots or get 4 good shot selections on post shots |
| Finishing | 3 | Mr. Posterizer | Get 2 contact or posterizing dunks |
| Finishing | 2 | Big Hops | Attempt 3 dunks |
| Finishing | 2 | Finger Rolled | Attempt 3 layups |
| Finishing | 2 | Post Fundamentals | Attempt 4 shots from the post |
| Shooting | 5 | Molten in the Middle | Make 5 mid-range shots in 3 minutes |
| Shooting | 5 | Bottomless Bag | Score at close range (2), mid-range (2), & 3PT range (2) |
| Shooting | 5 | Unrelenting | Make 4 three-points withouit taking a bad shot |
| Shooting | 4 | Green as Grass | Get 3 perfect shot releases |
| Shooting | 4 | Solo Operative | Make 3 unassisted mid-range shots withouit an assisted shot |
| Shooting | 4 | Rangefinder | Make 2 long range threes or 4 total threes in a half |
| Shooting | 3 | Under the Ark | Get 4 good shot selections on mid-range attempts |
| Shooting | 3 | Laser Focused | Get 4 good shot selections on three-point attempts |
| Shooting | 3 | Scourge of the Post | Get 4 good shot selections on low post or short-range attempts |
| Shooting | 2 | Pretty Mid | Attempt 4 mid-range shots |
| Shooting | 2 | The Long Ranger | Attempt 4 three-point shots |
| Shooting | 2 | Open Season | Make 2 wide open shots or attempt 4 wide open shots |
| Playmaking | 5 | Dance on 'Em | Get 4 double moves leading to a score |
| Playmaking | 5 | Fundamental Phenom | Get assist on pick-and-rolls on 4 consecutive possessions |
| Playmaking | 5 | Dreamwork | Get assists at close-range (2), mid-range (2), and 3PT-range (2) |
| Playmaking | 4 | Quick Draw | Get a total of 5 shots made or assists after dribble moves |
| Playmaking | 4 | Dribble Dazzler | Get 2 anklebreakers |
| Playmaking | 4 | Find the Weakness | Dish out 3 assists after double teams without committing a turnover |
| Playmaking | 4 | Stylish Playmaker | Get 4 total alley-oops assists and flashy assists |
| Playmaking | 3 | Flash and Pass | Get 3 flashy assists or 5 assists |
| Playmaking | 3 | Shake & Shoot | Attempt 3 shtos after dribble moves |
| Playmaking | 3 | Even the Odds | Get 2 assists after double teams |
| Playmaking | 2 | Back to Basics | Get a total of 3 shots made and assists from pick-and-rolls |
| Playmaking | 2 | Keep It Moving | Get good ball movement 3 times |
| Def / Reb | 2 | The Little things | Set 4 good screens |
| Def / Reb | 5 | Star Stopper | Get 4 BLKs, STLs, and forced TOs in a quarter |
| Def / Reb | 5 | Lord of the Board | Get 3 offensive rebounds or 5 total reboudns in 5 minutes |
| Def / Reb | 5 | Protect the Skies | Don't allow a point in the paint for 5 consecutive possessions |
| Def / Reb | 4 | Defensive Bastian | Get blocks and steals against 2 different players |
| Def / Reb | 4 | No Nonsense Defense | Get 4 combined forced pick-ups, forced shots, and forced turnovers |
| Def / Reb | 4 | The Board Cleaner | Get 4 rebounds in 4 minutes |
| Def / Reb | 4 | You Shall Not Pass | Prevent drives to the basket after contact 3 times |
| Def / Reb | 3 | Mr. Lockdown | Get 2 blocks or good shot defense 5 times |
| Def / Reb | 3 | Take The Ball Home | Get 2 steals or poke the ball loose 4 times |
| Def / Reb | 3 | Paint Pest | Grab rebounds on successful box outs 4 times without a turnover |
| Def / Reb | 3 | Defender of the Board | Get by screens or prevent players from backing you down 3 times |
| Def / Reb | 2 | Box Out Beast | Get 4 combined reobunds and box outs |
| Def / Reb | 2 | The Glove | Prevent wide open shots for 4 consecutive possessions |
| Def / Reb | 2 | Active Defender | Get 5 combined good shot & transition defenses |
NBA 2K24 GOAT Moments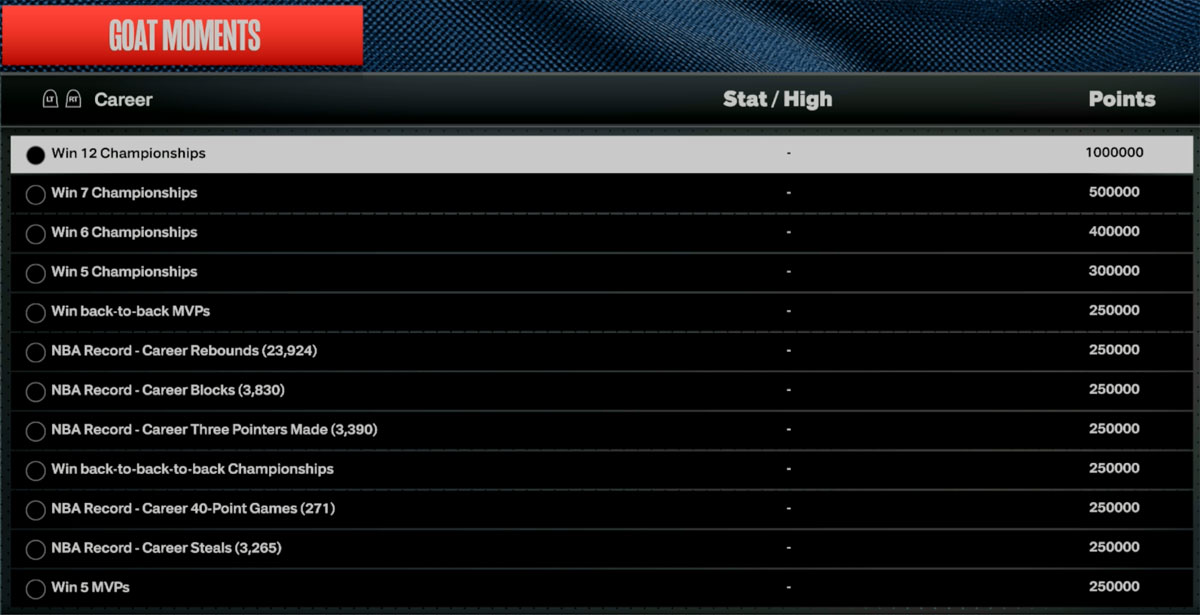 | Type | Achievement | Points |
| --- | --- | --- |
| Rookie Season | Win ROTY , MVP , Finals MVP , and the NBA Championship | 250000 |
| Rookie Season | Win a Championship as a rookie | 50000 |
| Rookie Season | Win Finals MVP as a rookie | 12500 |
| Rookie Season | Win MVP as a rookie | 12500 |
| Rookie Season | Rookie Record - Most Triple - Doubles in a season ( 26 ) | 1500 |
| Rookie Season | Rookie Record - Most Blocks in a season ( 397 ) | 1500 |
| Rookie Season | Rookie Record - Most Rebounds in a season ( 1,941 ) | 1500 |
| Rookie Season | Rookie Record - Most Points in a season ( 2,707 ) | 1500 |
| Rookie Season | Rookie Record - Most Steals in a season ( 211 ) | 1500 |
| Rookie Season | Rookie Record - Most Assists in a season ( 868 ) | 1500 |
| Rookie Season | Rookie Record - Most 3 - Pointers Made in a season ( 206 ) | 1500 |
| Rookie Season | Rookie Record - 2nd most Blocks in a season ( 319 ) | 1300 |
| Rookie Season | Rookie Record - 2nd most Assists in a season ( 690 ) | 1300 |
| Rookie Season | Rookie Record - 2nd most Steals in a season ( 209 ) | 1300 |
| Rookie Season | Rookie Record - 2nd most 3 - Pointers Made in a season ( 187 ) | 1300 |
| Rookie Season | Rookie Record - 2nd most Points in a season ( 2,495 ) | 1300 |
| Rookie Season | Rookie Record - 2nd most Rebounds in a season ( 1,500 ) | 1300 |
| Rookie Season | Rookie Record - 2nd most Triple - Doubles in a season ( 12 ) | 1300 |
| Rookie Season | Rookie Record - 3rd most Triple - Doubles in a season ( 8 ) | 1200 |
| Rookie Season | Rookie Record - 3rd most 3 - Pointers Made in a season ( 185 ) | 1200 |
| Rookie Season | Rookie Record - 3rd most Steals in a season ( 205 ) | 1200 |
| Rookie Season | Rookie Record - 3rd most Points in a season ( 2,361 ) | 1200 |
| Rookie Season | Rookie Record - 3rd most Rebounds in a season ( 1,491 ) | 1200 |
| Rookie Season | Rookie Record - 3rd most Assists in a season ( 689 ) | 1200 |
| Rookie Season | Rookie Record - 3rd most Blocks in a season ( 286 ) | 1200 |
| Rookie Season | Rookie Record - 4th most Blocks in a season ( 275 ) | 1100 |
| Rookie Season | Rookie Record - 4th most Rebounds in a season ( 1,406 ) | 1100 |
| Rookie Season | Rookie Record - 4th most Triple - Doubles in a season ( 7 ) | 1100 |
| Rookie Season | Rookie Record - 4th most Steals in a season ( 196 ) | 1100 |
| Rookie Season | Rookie Record - 4th most Assists in a season ( 681 ) | 1100 |
| Rookie Season | Rookie Record - 4th most 3 - Pointers Made in a season ( 175 ) | 1100 |
| Rookie Season | Rookie Record - 4th most Points in a season ( 2,327 ) | 1100 |
| Rookie Season | Rookie Record - 5th most Rebounds in a season ( 1,375 ) | 1000 |
| Rookie Season | Rookie Record - 5th most Assists in a season ( 663 ) | 1000 |
| Rookie Season | Rookie Record - 5th most Triple - Doubles in a season ( 5 ) | 1000 |
| Rookie Season | Rookie Record - 5th most 3 - Pointers Made in a season ( 171 ) | 1000 |
| Rookie Season | Rookie Record - 5th most Steals in a season ( 192 ) | 1000 |
| Rookie Season | Rookie Record - 5th most Blocks in a season ( 271 ) | 1000 |
| Rookie Season | Rookie Record - 5th most Points in a season ( 2,313 ) | 1000 |
| Rookie Season | Make the All-Star Team as a rookie | 100 |
| Type | Achievement | Points |
| --- | --- | --- |
| Single Game | NBA Record - Three Pointers Made in a game ( 14 ) | 2500 |
| Single Game | NBA Record - Assists in a game ( 30 ) | 2500 |
| Single Game | NBA Record - Blocks in a game ( 17 ) | 2500 |
| Single Game | NBA Record - Steals in a game ( 11 ) | 2500 |
| Single Game | NBA Record - Total Points in a game ( 100 ) | 2500 |
| Single Game | NBA Record -Rebounds in a game ( 55 ) | 2500 |
| Single Game | NBA Record - Top 2 Rebounds in a game ( 51 ) | 2250 |
| Single Game | NBA Record - Top 2 Assists in a game ( 29 ) | 2250 |
| Single Game | NBA Record - Top 2 Total Points in a game ( 81 ) | 2250 |
| Single Game | NBA Record - Top 2 Blocks in a game ( 15 ) | 2250 |
| Single Game | NBA Record - Top 2 Three Pointers Made in a game ( 13 ) | 2250 |
| Single Game | NBA Record - Top 2 Steals in a game ( 11 ) | 2250 |
| Single Game | NBA Record - Top 3 Rebounds in a game ( 49 ) | 2000 |
| Single Game | NBA Record - Top 3 Assists in a game ( 28 ) | 2000 |
| Single Game | NBA Record - Top 3 Blocks in a game ( 15 ) | 2000 |
| Single Game | NBA Record - Top 3 Total Points in a game ( 78 ) | 2000 |
| Single Game | NBA Record - Top 3 Three Pointers Made in a game ( 13 ) | 2000 |
| Single Game | NBA Record - Top 3 Steals in a game ( 10 ) | 2000 |
| Single Game | NBA Record - Top 4 Total Points in a game ( 73 ) | 1750 |
| Single Game | NBA Record - Top 4 Rebounds in a game ( 49 ) | 1750 |
| Single Game | NBA Record - Top 4 Steals in a game ( 10 ) | 1750 |
| Single Game | NBA Record - Top 4 Three Pointers Made in a game ( 13 ) | 1750 |
| Single Game | NBA Record - Top 4 Assists in a game ( 28 ) | 1750 |
| Single Game | NBA Record - Top 4 Blocks in a game ( 15 ) | 1750 |
| Single Game | NBA Record - Top 5 Steals in a game ( 10 ) | 1500 |
| Single Game | NBA Record - Top 5 Three Pointers Made in a game ( 12 ) | 1500 |
| Single Game | NBA Record - Top 5 Rebounds in a game ( 45 ) | 1500 |
| Single Game | NBA Record - Top 5 Total Points in a game ( 73 ) | 1500 |
| Single Game | NBA Record - Top 5 Assists in a game ( 28 ) | 1500 |
| Single Game | NBA Record - Top 5 Blocks in a game ( 14 ) | 1500 |
| Single Game | Team Record - Rebounds in a game ( 55 ) | 500 |
| Single Game | Team Record - Total Points in a game ( 100 ) | 500 |
| Single Game | Team Record - Steals in a game ( 10 ) | 500 |
| Single Game | Team Record - Blocks in a game ( 13 ) | 500 |
| Single Game | Team Record - Three Pointers Made in a game ( 14 ) | 500 |
| Single Game | Team Record - Assists in a game ( 28 ) | 500 |
| Single Game | Get a quintuple - double | 500 |
| Single Game | Team Record - Top 2 Assists in a game ( 22 ) | 250 |
| Single Game | Team Record - Top 2 Three Pointers Made in a game ( 13 ) | 250 |
| Single Game | Team Record - Top 2 Total Points in a game ( 78 ) | 250 |
| Single Game | Team Record - Top 2 Blocks in a game ( 13 ) | 250 |
| Single Game | Team Record - Top 2 Rebounds in a game ( 45 ) | 250 |
| Single Game | Get a 60-20-10 triple - double with Points , Rebounds , and Assists | 250 |
| Single Game | Team Record - Top 2 Steals in a game ( 9 ) | 250 |
| Single Game | Get a quadruple - double | 250 |
| Single Game | Team Record - Top 3 Steals in a game ( 9 ) | 150 |
| Single Game | Team Record - Top 3 Three Pointers Made in a game ( 12 ) | 150 |
| Single Game | Team Record - Top 3 Rebounds in a game ( 45 ) | 150 |
| Single Game | Team Record - Top 3 Total Points in a game ( 73 ) | 150 |
| Single Game | Team Record - Top 3 Blocks in a game ( 12 ) | 150 |
| Single Game | Team Record - Top 3 Assists in a game ( 22 ) | 150 |
| Single Game | Get a 20-20-20 triple - double with Points , Rebounds , and Assists | 125 |
| Single Game | Score 30+ points with at least 90 % FG % | 125 |
| Single Game | Team Record - Top 4 Rebounds in a game ( 43 ) | 100 |
| Single Game | Team Record - Top 4 Steals in a game ( 8 ) | 100 |
| Single Game | Team Record - Top 4 Three Pointers Made in a game ( 12 ) | 100 |
| Single Game | Team Record - Top 4 Total Points in a game ( 73 ) | 100 |
| Single Game | Team Record -Top 4 Assists in a game ( 20 ) | 100 |
| Single Game | Team Record - Top 4 Blocks in a game ( 11 ) | 100 |
| Single Game | Top Kobe Bryant's 81 - point game | 81 |
| Single Game | Team Record - Top 5 Assists in a game ( 20 ) | 75 |
| Single Game | Team Record - Top 5 Steals in a game ( 8 ) | 75 |
| Single Game | Team Record - Top 5 Blocks in a game ( 11 ) | 75 |
| Single Game | Team Record - Record a 60 Points and a triple - double | 75 |
| Single Game | Team Record - Top 5 Total Points in a game ( 72 ) | 75 |
| Single Game | Get a triple - double | 75 |
| Single Game | Team Record - Top 5 Three Pointers Made in a game ( 12 ) | 75 |
| Single Game | Team Record - Top 5 Rebounds in a game ( 43 ) | 75 |
| Single Game | Score 71+ points in a game | 70 |
| Single Game | Single Game - Record 60 Points in a game | 65 |
| Single Game | Single Game - Record 5+ 3 - Pointers Made in a game | 60 |
| Single Game | Single Game - Record 50+ Points in a game | 60 |
| Single Game | Single Game - Record 5+ Steals in a game | 60 |
| Single Game | Single Game - Record 15+ Assists in a game | 60 |
| Single Game | Single Game - Make at least 10 Field Goals Made without a miss | 60 |
| Single Game | Single Game - Record 6+ Blocks in a game | 60 |
| Single Game | Single Game - Record 27+ Rebounds in a game | 60 |
| Single Game | Single Game - Record 5+ Steals in a game | 50 |
| Single Game | Score 40+ points in a game | 50 |
| Single Game | Get 5+ blocks in a game | 50 |
| Single Game | Single Game - Record 6+ 3 - Pointers Made in a game | 50 |
| Single Game | Single Game - Record 15+ Rebounds in a game | 50 |
| Single Game | Grab 15+ rebounds in a game | 50 |
| Single Game | Get 15+ assists in a game | 50 |
| Single Game | Single Game - Record 6+ Blocks in a game | 50 |
| Single Game | Single Game - Record 14+ Assists in a game | 50 |
| Single Game | Single Game - Record 50+ Points in a game | 50 |
| Single Game | Get 5+ steals in a game | 50 |
| Single Game | Single Game - Record 4+ 3 - Pointers Made in a game | 40 |
| Single Game | Single Game - Record 12+ Rebounds in a game | 40 |
| Single Game | Single Game - Record 3+ Steals in a game | 40 |
| Single Game | Single Game - Record 10+ Assists in a game | 40 |
| Single Game | Single Game - Record 4+ Blocks in a game | 40 |
| Single Game | Single Game - Record 40+ Points in a game | 40 |
| Type | Achievement | Points |
| --- | --- | --- |
| Single Season | Win a Championship | 1000000 |
| Single Season | Win Most Valuable Player | 125000 |
| Single Season | Win Finals MVP | 100000 |
| Single Season | Make the All - NBA 1st Team | 50000 |
| Single Season | Win Defensive Player of the Year | 25000 |
| Single Season | Be named All - Star Captain | 12500 |
| Single Season | Make the All - Defensive 1st Team | 12500 |
| Single Season | Make the All - NBA 2nd Team | 12500 |
| Single Season | Win Rookie of the Year | 12500 |
| Single Season | Make the All - Star Team | 7500 |
| Single Season | Make the All - NBA 3rd Team | 7500 |
| Single Season | Make the All - Defensive 2nd Team | 7500 |
| Single Season | NBA Record - Blocks in a single season ( 456 ) | 3500 |
| Single Season | NBA Record - Steals in a single season ( 301 ) | 3500 |
| Single Season | NBA Record - Total Points in a single season ( 4,029 ) | 3500 |
| Single Season | NBA Record - Assists in a single season ( 1,164 ) | 3500 |
| Single Season | NBA Record - 50 - Point Games in a single season ( 45 ) | 3500 |
| Single Season | NBA Record - Triple - Doubles in a single season ( 42 ) | 3500 |
| Single Season | NBA Record - Three Pointers Made in a single season ( 402 ) | 3500 |
| Single Season | NBA Record - 40 - Point Games in a single season ( 63 ) | 3500 |
| Single Season | NBA Record -Rebounds in a single season ( 2,149 ) | 3500 |
| Single Season | NBA Record - Top 2 Steals in a single season ( 281 ) | 3250 |
| Single Season | NBA Record - Top 2 Blocks in a single season ( 397 ) | 3250 |
| Single Season | NBA Record - Top 2 50 - Point Games in a single season ( 30 ) | 3250 |
| Single Season | NBA Record - Top 2 40 - Point Games in a single season ( 52 ) | 3250 |
| Single Season | NBA Record - Top 2 Assists in a single season ( 1,134 ) | 3250 |
| Single Season | NBA Record - Top 2 Triple - Doubles in a single season ( 41 ) | 3250 |
| Single Season | NBA Record - Top 2 Three Pointers Made in a single season ( 378 ) | 3250 |
| Single Season | NBA Record - Top 2 Rebounds in a single season ( 2,052 ) | 3250 |
| Single Season | NBA Record - Top 2 Total Points in a single season ( 3,586 ) | 3250 |
| Single Season | NBA Record - Top 3 Total Points in a single season ( 3,041 ) | 3000 |
| Single Season | NBA Record - Top 3 Assists in a single season ( 1,128 ) | 3000 |
| Single Season | NBA Record - Top 3 50 - Point Games in a single season ( 10 ) | 3000 |
| Single Season | OC NBA Record - Top 3 Steals in a single season ( 265 ) | 3000 |
| Single Season | NBA Record - Top 3 Blocks in a single season ( 393 ) | 3000 |
| Single Season | NBA Record - Top 3 Rebounds in a single season ( 1,957 ) | 3000 |
| Single Season | NBA Record - Top 3 40 - Point Games in a single season ( 37 ) | 3000 |
| Single Season | NBA Record - Top 3 Triple - Doubles in a single season ( 38 ) | 3000 |
| Single Season | NBA Record - Top 3 Three Pointers Made in a single season ( 354 ) | 3000 |
| Single Season | NBA Record - Top 4 Three Pointers Made in a single season ( 337 ) | 2750 |
| Single Season | NBA Record - Top 4 Triple - Doubles in a single season ( 34 ) | 2750 |
| Single Season | NBA Record - Top 450 - Point Games in a single season ( 9 ) | 2750 |
| Single Season | NBA Record - Top 4 Steals in a single season ( 263 ) | 2750 |
| Single Season | NBA Record - Top 4 Assists in a single season ( 1,126 ) | 2750 |
| Single Season | NBA Record - Top 4 Blocks in a single season ( 376 ) | 2750 |
| Single Season | NBA Record - Top 4 Rebounds in a single season ( 1,952 ) | 2750 |
| Single Season | NBA Record - Top 4 40 - Point Games in a single season ( 32 ) | 2750 |
| Single Season | NBA Record - Top 4 Total Points in a single season ( 3,033 ) | 2750 |
| Single Season | NBA Record - Top 5 Three Pointers Made in a single season ( 324 ) | 2500 |
| Single Season | NBA Record - Top 5 Triple - Doubles in a single season ( 31 ) | 2500 |
| Single Season | NBA Record - Top 5 Assists in a single season ( 1,123 ) | 2500 |
| Single Season | NBA Record - Top 5 Steals in a single season ( 261 ) | 2500 |
| Single Season | NBA Record - Top 5 Blocks in a single season ( 369 ) | 2500 |
| Single Season | NBA Record - Top 5 Rebounds in a single season ( 1,946 ) | 2500 |
| Single Season | NBA Record - Top 5 50 - Point Games in a single season ( 9 ) | 2500 |
| Single Season | NBA Record - Top 5 40 - Point Games in a single season ( 28 ) | 2500 |
| Single Season | Make the All - Rookie 1st Team | 2500 |
| Single Season | NBA Record - Top 5 Total Points in a single season ( 2,948 ) | 2500 |
| Single Season | Top Michael Jordan's 3,041 points in a season | 2500 |
| Single Season | NBA Record - Top 10 Triple - Doubles in a single season ( 22 ) | 2000 |
| Single Season | Team Record -Rebounds in a single season ( 1,957 ) | 2000 |
| Single Season | Team Record - Three Pointers Made in a single season ( 240 ) | 2000 |
| Single Season | NBA Record - Top 10 Three Pointers Made in a single season ( 286 ) | 2000 |
| Single Season | NBA Record - Top 10 Assists in a single season ( 991 ) | 2000 |
| Single Season | NBA Record - Top 10 Steals in a single season ( 243 ) | 2000 |
| Single Season | Team Record - Blocks in a single season ( 274 ) | 2000 |
| Single Season | Team Record - Assists in a single season ( 753 ) | 2000 |
| Single Season | NBA Record - Top 10 Rebounds in a single season ( 1,868 ) | 2000 |
| Single Season | Team Record - Total Points in a single season ( 2,649 ) | 2000 |
| Single Season | NBA Record - Top 10 Blocks in a single season ( 338 ) | 2000 |
| Single Season | NBA Record - Top 10 Total Points in a single season ( 2,818 ) | 2000 |
| Single Season | Team Record - Steals in a single season ( 225 ) | 2000 |
| Single Season | Team Record - Top 2 Blocks in a single season ( 247 ) | 1750 |
| Single Season | Team Record - Top 2 Three Pointers Made in a single season ( 226 ) | 1750 |
| Single Season | Team Record - Top 2 Rebounds in a single season ( 1,952 ) | 1750 |
| Single Season | Team Record - Top 2 Steals in a single season ( 212 ) | 1750 |
| Single Season | Team Record - Top 2 Total Points in a single season ( 2,377 ) | 1750 |
| Single Season | Team Record - Top 2 Assists in a single season ( 702 ) | 1750 |
| Single Season | Make the All - Rookie 2nd Team | 1500 |
| Single Season | Team Record - Top 3 Steals in a single season ( 209 ) | 1500 |
| Single Season | Team Record - Top 3 Assists in a single season ( 667 ) | 1500 |
| Single Season | Team Record - Top 3 Rebounds in a single season ( 1,943 ) | 1500 |
| Single Season | Team Record - Top 3 Three Pointers Made in a single season ( 203 ) | 1500 |
| Single Season | Team Record - Top 3 Total Points in a single season ( 2,302 ) | 1500 |
| Single Season | Team Record - Top 3 Blocks in a single season ( 205 ) | 1500 |
| Single Season | Team Record - Top 4 Assists in a single season ( 661 ) | 1250 |
| Single Season | Team Record - Top 4 Blocks in a single season ( 203 ) | 1250 |
| Single Season | Team Record - Top 4 Steals in a single season ( 207 ) | 1250 |
| Single Season | Team Record - Top 4 Three Pointers Made in a single season ( 197 ) | 1250 |
| Single Season | Team Record - Top 4 Total Points in a single season ( 2,264 ) | 1250 |
| Single Season | Team Record - Top 4 Rebounds in a single season ( 1,194 ) | 1250 |
| Single Season | League Leader - Points | 1000 |
| Single Season | League Leader - Assists | 1000 |
| Single Season | League Leader - Rebounds | 1000 |
| Single Season | League Leader - Steals | 1000 |
| Single Season | Team Record - Top 10 Total Points in a single season ( 2,079 ) | 1000 |
| Single Season | Team Record - Top 5 Blocks in a single season ( 200 ) | 1000 |
| Single Season | Team Record - Top 5 Assists in a single season ( 635 ) | 1000 |
| Single Season | Team Record - Top 5 Steals in a single season ( 198 ) | 1000 |
| Single Season | Team Record - Top 5 Three Pointers Made in a single season ( 193 ) | 1000 |
| Single Season | League Leader - 3 - Pointers Made | 1000 |
| Single Season | League Leader - Blocks | 1000 |
| Single Season | Team Record - Top 5 Rebounds in a single season ( 1,176 ) | 1000 |
| Single Season | Team Record - Top 5 Total Points in a single season ( 2,262 ) | 1000 |
| Single Season | Win Player of the Month | 250 |
| Single Season | Win the Dunk Contest | 125 |
| Single Season | Win the 3PT Contest | 125 |
| Single Season | Win Rookie of the Month | 125 |
| Single Season | Get selected for the 3PT Contest | 100 |
| Single Season | Get selected for the Dunk Contest | 100 |
| Single Season | Average 2.5+ steals in a season | 50 |
| Single Season | Average 30+ points in a season | 50 |
| Single Season | Average 10+ rebounds in a season | 50 |
| Single Season | Average 10+ assists in a season | 50 |
| Single Season | Average 2.5+ blocks in a season | 50 |
| Type | Achievement | Points |
| --- | --- | --- |
| Career | Win 12 Championships | 1000000 |
| Career | Win 7 Championships | 500000 |
| Career | Win 6 Championships | 400000 |
| Career | Win 5 Championships | 300000 |
| Career | Win back - to - back MVPs | 250000 |
| Career | NBA Record - Career Rebounds ( 23,924 ) | 250000 |
| Career | NBA Record - Career Blocks ( 3,830 ) | 250000 |
| Career | NBA Record - Career Three Pointers Made ( 3,390 ) | 250000 |
| Career | Win back - to - back - to - back Championships | 250000 |
| Career | NBA Record - Career 40 - Point Games ( 271 ) | 250000 |
| Career | NBA Record - Career Steals ( 3,265 ) | 250000 |
| Career | Win 5 MVPs | 250000 |
| Career | NBA Record - Career 50 - Point Games ( 118 ) | 250000 |
| Career | NBA Record - Career Total Points ( 38,652 ) | 250000 |
| Career | NBA Record - Career Triple - Doubles ( 198 ) | 250000 |
| Career | NBA Record - Career Assists ( 15,806 ) | 250000 |
| Career | Complete a second three - peat | 200000 |
| Career | Go 6-0 in the NBA Finals | 200000 |
| Career | Win 4 MVPS | 150000 |
| Career | Win back - to - back - to - back Finals MVPs | 125000 |
| Career | Win back - to - back - to - back MVPs | 125000 |
| Career | NBA Record - Top 2 Career Blocks ( 3,289 ) | 100000 |
| Career | NBA Record - Top 2 Career Rebounds ( 21,620 ) | 100000 |
| Career | NBA Record - Consecutive 60 point games - Rank 1 | 100000 |
| Career | Win a Championship with no players rated 90+ OVR | 100000 |
| Career | Win back - to - back Championships | 100000 |
| Career | NBA Record - Consecutive 50 point games - Rank 1 | 100000 |
| Career | NBA Record - Total 60 point games - Rank 1 | 100000 |
| Career | NBA Record - Top 2 Career Triple - Doubles ( 181 ) | 100000 |
| Career | Win back - to - back Finals MVPs | 100000 |
| Career | NBA Record - Top 2 Career 40 - Point Games ( 173 ) | 100000 |
| Career | NBA Record - Top 2 Career Total Points ( 38,387 ) | 100000 |
| Career | NBA Record - Top 2 Career 50 - Point Games ( 31 ) | 100000 |
| Career | NBA Record - Total 60 point games in a single season | 100000 |
| Career | NBA Record - Top 2 Career Assists ( 12,091 ) | 100000 |
| Career | NBA Record - Top 2 Career Steals ( 2,684 ) | 100000 |
| Career | NBA Record - Consecutive 40 point games - Rank 1 | 100000 |
| Career | NBA Record - Top 3 Career Steals ( 2,544 ) | 75000 |
| Career | NBA Record - Top 3 Career Triple - Doubles ( 138 ) | 75000 |
| Career | NBA Record - Top 2 Career Three Pointers Made ( 2,973 ) | 75000 |
| Career | NBA Record - Top 3 Career Three Pointers Made ( 2,754 ) | 75000 |
| Career | NBA Record - Top 3 Career Assists ( 11,501 ) | 75000 |
| Career | NBA Record - Top 3 Career Blocks ( 3,189 ) | 75000 |
| Career | NBA Record - Top 3 Career 40 - Point Games ( 122 ) | 75000 |
| Career | NBA Record - Top 3 Career 50 - Point Games ( 25 ) | 75000 |
| Career | NBA Record - Top 4 Career Three Pointers Made ( 2,560 ) | 75000 |
| Career | NBA Record - Top 3 Career Rebounds ( 17,440 ) | 75000 |
| Career | NBA Record - Top 5 Career Three Pointers Made ( 2,450 ) | 75000 |
| Career | NBA Record - Top 3 Career Total Points ( 36,928 ) | 75000 |
| Career | NBA Record - Top 4 Career Assists ( 10,420 ) | 60000 |
| Career | NBA Record - Top 4 Career Steals ( 2,514 ) | 60000 |
| Career | NBA Record - Top 4 Career Triple - Doubles ( 107 ) | 60000 |
| Career | NBA Record - Top 4 Career 50 - Point Games ( 23 ) | 60000 |
| Career | NBA Record - Top 4 Career 40 - Point Games ( 101 ) | 60000 |
| Career | NBA Record - Top 4 Career Blocks ( 3,064 ) | 60000 |
| Career | NBA Record - Top 4 Career Rebounds ( 16,279 ) | 60000 |
| Career | NBA Record - Top 4 Career Total Points ( 33,643 ) | 60000 |
| Career | NBA Record - Top 5 Career 50 - Point Games ( 17 ) | 50000 |
| Career | Win a Championship with only 1 player rated 90+ OVR | 50000 |
| Career | NBA Record - Top 5 Career Steals ( 2,445 ) | 50000 |
| Career | NBA Record - Top 5 Career Rebounds ( 16,212 ) | 50000 |
| Career | NBA Record - Top 5 Career Blocks ( 3,020 ) | 50000 |
| Career | NBA Record - Top 5 Career 40 - Point Games ( 88 ) | 50000 |
| Career | NBA Record - Top 5 Career Total Points ( 32,292 ) | 50000 |
| Career | NBA Record - Top 5 Career Triple - Doubles ( 107 ) | 50000 |
| Career | NBA Record - Top 5 Career Assists ( 10,335 ) | 50000 |
| Career | NBA Record - Top 10 Career Blocks ( 2,361 ) | 25000 |
| Career | NBA Record - Top 10 Career Assists ( 9,061 ) | 25000 |
| Career | Make it to 10+ NBA Finals | 25000 |
| Career | NBA Record - Top 10 Career Three Pointers Made ( 2,221 ) | 25000 |
| Career | NBA Record - Top 10 Career Triple - Doubles ( 56 ) | 25000 |
| Career | NBA Record - Top 10 Career Total Points ( 27,409 ) | 25000 |
| Career | NBA Record - Top 10 Career Rebounds ( 14,627 ) | 25000 |
| Career | NBA Record - Top 10 Career Steals ( 2,162 ) | 25000 |
| Career | Pass Player in Points - Allen Iverson | 12500 |
| Career | Pass Player in Points - Giannis Antetokounmpo | 12500 |
| Career | Pass Player in Points - Julius Erving | 12500 |
| Career | Pass Player in Points - Patrick Ewing | 12500 |
| Career | Pass Player in Rebounds - Moses Malone | 12500 |
| Career | Pass Player in Points - Dirk Nowitzki | 12500 |
| Career | Pass Player in Points - Dwyane Wade | 12500 |
| Career | Pass Player in Points - Stephen Curry | 12500 |
| Career | Pass Player in Steals - Scottie Pippen | 12500 |
| Career | Pass Player in Assists - Magic Johnson | 12500 |
| Career | Pass Player in Points - Shaquille O'Neal | 12500 |
| Career | Pass Player in Points - Kareem Abdul - Jabbar | 12500 |
| Career | Pass Player in Assists - Isiah Thomas | 12500 |
| Career | Pass Player in Points - Larry Bird | 12500 |
| Career | Pass Player in Points - Luka Doncic | 12500 |
| Career | Pass Player in Triple - Doubles - Oscar Robertson | 12500 |
| Career | Pass Player in Points / Game ( Minimum 1045 Games Played ) - Wilt Chamberlain | 12500 |
| Career | Pass Player in Assists - Nikola Jokic | 12500 |
| Career | Pass Player in Assists / Game ( Minimum 1504 Games Played ) - John Stockton | 12500 |
| Career | Pass Player in Points - Kevin Durant | 12500 |
| Career | Pass Player in Rebounds - Bill Russell | 12500 |
| Career | Pass Player in Blocks - David Robinson | 12500 |
| Career | Pass Player in Points - Kobe Bryant | 12500 |
| Career | Pass Player in Steals - Kawhi Leonard | 12500 |
| Career | Pass Player in Points - Kevin Garnett | 12500 |
| Career | Pass Player in Blocks - Tim Duncan | 12500 |
| Career | Pass Player in Blocks / Game ( Minimum 1238 Games Played ) - Hakeem Olajuwon | 12500 |
| Career | Pass Player in Field Goals Made - LeBron James | 12500 |
| Career | Pass Player in Field Goals Made / Game ( Minimum 932 Games Played ) - Jerry West | 12500 |
| Career | Pass Player in Points - Karl Malone | 12500 |
| Career | Win a Championship with only 2 players rated 90+ OVR | 12500 |
| Career | Be named All - Star captain as a rookie | 12500 |
| Career | Pass Player in Assists - Chris Paul | 12500 |
| Career | Pass Player in Points - Michael Jordan | 12500 |
| Career | NBA Record - Top 50 Career Assists ( 5,636 ) | 10000 |
| Career | NBA Record - Top 50 Career Rebounds ( 9,383 ) | 10000 |
| Career | NBA Record - Top 50 Career Triple - Doubles ( 13 ) | 10000 |
| Career | NBA Record - Top 50 Career Steals ( 1,508 ) | 10000 |
| Career | NBA Record - Top 50 Career Blocks ( 1,327 ) | 10000 |
| Career | NBA Record - Top 50 Career Total Points ( 20,042 ) | 10000 |
| Career | NBA Record - Top 50 Career Three Pointers Made ( 1,465 ) | 7500 |
| Career | NBA Record - Top 100 Career Blocks ( 1,027 ) | 5000 |
| Career | NBA Record - Top 100 Career Rebounds ( 7,314 ) | 5000 |
| Career | NBA Record - Top 100 Career Three Pointers Made ( 1,163 ) | 5000 |
| Career | NBA Record - Top 100 Career Assists ( 4,267 ) | 5000 |
| Career | NBA Record - Top 100 Career Triple - Doubles ( 6 ) | 5000 |
| Career | NBA Record - Top 100 Career Total Points ( 16,960 ) | 5000 |
| Career | NBA Record - Top 100 Career Steals ( 1,194 ) | 5000 |
| Career | Fastest to reach 30,000 Career Points - 1,045 Games Played | 3000 |
| Career | Fastest to reach 20,000 Career Points - 499 Games Played | 2800 |
| Career | Fastest to reach 10,000 Career Points - 236 Games Played | 2600 |
| Career | Win the championship as the 7th or 8th seed | 2500 |
| Career | Fastest to reach 3,000 Career Blocks - 875 Games Played | 2500 |
| Career | Average 20 points , 10 rebounds , and 5 assists for 5+ seasons | 2500 |
| Career | Fastest to reach 10,000 Career Assists - 867 Games Played | 2500 |
| Career | Score 5,000 Points and get 1,500 Assists within 200 games | 2500 |
| Career | Fastest to reach 5,000 Career Points - 133 Games Played | 2400 |
| Career | Fastest to reach 2,000 Career Blocks - 624 Games Played | 2250 |
| Career | Fastest to reach 2,000 Career Points - 53 Games Played | 2200 |
| Career | Fastest to reach 1,000 Career Blocks - 468 Games Played | 2000 |
| Career | Set a new single game playoff high - Assists | 1500 |
| Career | Set a new single game playoff high -Blocks | 1500 |
| Career | Set a new single game playoff high - Steals | 1500 |
| Career | Set a new single game playoff high - Points | 1500 |
| Career | Set a new single game playoff high - 3PM | 1500 |
| Career | Set a new single game playoff high - Rebounds | 1500 |
| Career | Have an undefeated playoff run | 1000 |
| Career | Reverse sweep a series in the playoffs | 1000 |
| Career | Reverse sweep the top seed in the playoffs | 1000 |
| Career | Complete goals to go on a 20 game win streak | 750 |
| Career | Win Player of the Month for the first time | 500 |
| Career | Sweep the top seed in the playoffs | 250 |
| Career | Career Milestone - 1,000 Triple - Doubles | 250 |
| Career | Complete goals to go on a 10 game win streak | 250 |
| Career | Have a better rookie debut than LeBron James | 250 |
| Career | Complete goals to sweep the season series vs a team | 250 |
| Career | Career Milestone - 1,000 3 - Pointers Made | 250 |
| Career | Career Milestone - 1,000 Steals | 250 |
| Career | Career Milestone - 1,000 Points | 250 |
| Career | Career Milestone - 1,000 Rebounds | 250 |
| Career | Career Milestone - 1,000 Blocks | 250 |
| Career | Career Milestone - 1,000 Assists | 250 |
| Career | Complete goals against the previous season's champions | 250 |
| Career | Sweep a series in the playoffs | 250 |
| Career | Career Milestone - 500 Blocks | 125 |
| Career | Career Milestone - 500 Steals | 125 |
| Career | Career Milestone - 500 Rebounds | 125 |
| Career | Complete goals to go on a 5 game win streak | 125 |
| Career | Complete goals against a rival team | 125 |
| Career | Have a better rookie debut than Michael Jordan | 125 |
| Career | Complete goals vs a bottom 5 team | 125 |
| Career | Make a clutch shot to win the game and keep team alive in a playoff series | 125 |
| Career | Career Milestone - 500 3 - Pointers Made | 125 |
| Career | Win four consecutive MVPs | 125 |
| Career | Win five consecutive MVPs | 125 |
| Career | Career Milestone - 500 Triple - Doubles | 125 |
| Career | Complete goals to go 1-2 in the season series vs a team | 125 |
| Career | Career Milestone - 500 Points | 125 |
| Career | Complete goals to go 2-2 in the season series vs a team | 125 |
| Career | Come back from a 20+ point deficit in a playoff game | 125 |
| Career | Career Milestone - 500 Assists | 125 |
| Career | Win the All - Star Game | 125 |
| Career | Complete goals vs a player leading the NBA in Assists | 100 |
| Career | Complete goals to clinch the playoffs | 100 |
| Career | Complete goals vs a player leading the NBA in Points | 100 |
| Career | Complete goals vs a player recently named Player of the Month | 100 |
| Career | Eliminate a team you were previously on in the playoffs | 100 |
| Career | Complete goals against the previous season's finalists | 100 |
| Career | Complete goals vs a team that recently upset a top 5 team | 100 |
| Career | Complete goals vs a player leading the NBA in 3PM | 100 |
| Career | Complete goals vs a player leading the NBA in Rebounds | 100 |
| Career | Complete goals vs a player that is currently on a win streak | 100 |
| Career | Complete goals to break a 20 game loss streak | 100 |
| Career | League Leader - Multiple Stats | 100 |
| Career | Record back - to - back 30+ point double - doubles in a playoff game | 100 |
| Career | Eliminate one of Truck or Prince's former teams in the playoffs | 100 |
| Career | Complete goals against a team that just had a blowout win | 100 |
| Career | Complete goals in the first game after the trade deadline | 100 |
| Career | Complete goals vs a player that recently had a triple - double | 100 |
| Career | Make a clutch shot to send the game to OT in the playoffs | 100 |
| Career | Win a game in OT in the playoffs | 100 |
| Career | Complete goals in the first game after the All - Star announcement | 100 |
| Career | Get your first triple - double | 100 |
| Career | Career Milestone - 100 3 - Pointers Made | 100 |
| Career | Complete goals vs a player leading the NBA in Steals | 100 |
| Career | Complete goals vs a team on a hot streak | 100 |
| Career | Complete goals vs a player that was a lottery pick | 100 |
| Career | Complete goals vs the 2nd best team in the league | 100 |
| Career | Complete goals vs a player 2nd in the NBA in Rebounds | 100 |
| Career | Complete goals vs the top team in the conference | 100 |
| Career | Career Milestone - 100 Blocks | 100 |
| Career | Complete goals in the first game of the season vs a star player | 100 |
| Career | Complete goals vs a player ranked in the top 3 for MVP | 100 |
| Career | Career Milestone - 100 Steals | 100 |
| Career | Complete goals vs last season's MVP | 100 |
| Career | Complete goals at the start of a road trip | 100 |
| Career | Complete goals vs a player 2nd in the NBA in Steals | 100 |
| Career | Career Milestone - 100 Rebounds | 100 |
| Career | Complete goals vs a team tied with you in the league | 100 |
| Career | Complete goals vs the top team in the league | 100 |
| Career | O Complete goals vs a team tied with you in the conference | 100 |
| Career | Career Milestone - 100 Triple - Doubles | 100 |
| Career | Completed all game goals in the Truck anniversary game | 100 |
| Career | Complete goals vs a player rated 85+ OVR | 100 |
| Career | Complete goals vs a player 2nd in the NBA in Blocks | 100 |
| Career | Complete goals vs last season's Rookie of the Year | 100 |
| Career | Complete goals vs the 2nd best team in the conference | 100 |
| Career | Complete goals against your previous team | 100 |
| Career | Complete goals vs a player ranked in the top 3 for ROTY | 100 |
| Career | Complete goals in the second game of the season vs a star player | 100 |
| Career | Won the rematch of the Finals in the new season | 100 |
| Career | Complete goals vs a player leading the NBA in Blocks | 100 |
| Career | Complete goals vs a player 2nd in the NBA in Points | 100 |
| Career | Complete goals to break a 5 game loss streak | 100 |
| Career | Complete goals to break a 10 game loss streak | 100 |
| Career | Career Milestone - 100 Assists | 100 |
| Career | Complete goals vs a player 2nd in the NBA in 3PM | 100 |
| Career | Complete goals vs a player 2nd in the NBA in Assists | 100 |
| Career | Complete goals vs a team where their last game was a blowout | 100 |
| Career | Complete goals vs a player named Rookie of the Month | 100 |
| Career | Career Milestone - 100 Points | 100 |
| Career | Complete goals in the last game of the season | 100 |
| Career | Complete goals in the last game of the season | 100 |
| Career | Complete goals vs the team that has clinched the first seed | 50 |
| Career | Complete goals to clinch playoffs in the season finale | 50 |
| Career | Make a clutch shot to win the game in the playoffs | 50 |
| Career | Eliminate a rival team in the playoffs | 50 |
| Career | Eliminate the top seed in the playoffs | 50 |
| Career | Activate GOAT Mode | 50 |
| Type | Achievement | Points |
| --- | --- | --- |
| Playoffs | NBA Record - Total Points in a playoff game ( 63 ) | 1500 |
| Playoffs | NBA Record - Blocks in a playoff game ( 10 ) | 1500 |
| Playoffs | NBA Record -Rebounds in a playoff game ( 41 ) | 1500 |
| Playoffs | NBA Record - Assists in a playoff game ( 24 ) | 1500 |
| Playoffs | NBA Record - Steals in a playoff game ( 10 ) | 1500 |
| Playoffs | NBA Record - Three Pointers Made in a playoff game ( 12 ) | 1500 |
| Playoffs | NBA Record - Top 2 Three Pointers Made in a playoff game ( 11 ) | 1250 |
| Playoffs | NBA Record - Top 2 Total Points in a playoff game ( 61 ) | 1250 |
| Playoffs | NBA Record - Top 2 Assists in a playoff game ( 24 ) | 1250 |
| Playoffs | NBA Record - Top 2 Steals in a playoff game ( 8 ) | 1250 |
| Playoffs | NBA Record - Top 2 Blocks in a playoff game ( 10 ) | 1250 |
| Playoffs | O NBA Record - Top 2 Rebounds in a playoff game ( 40 ) | 1250 |
| Playoffs | NBA Record - Top 3 Assists in a playoff game ( 23 ) | 1000 |
| Playoffs | NBA Record - Top 3 Total Points in a playoff game ( 57 ) | 1000 |
| Playoffs | NBA Record - Top 3 Blocks in a playoff game ( 10 ) | 1000 |
| Playoffs | NBA Record - Top 3 Three Pointers Made in a playoff game ( 10 ) | 1000 |
| Playoffs | NBA Record - Top 3 Rebounds in a playoff game ( 40 ) | 1000 |
| Playoffs | NBA Record - Top 3 Steals in a playoff game ( 8 ) | 1000 |
| Playoffs | NBA Record - Top 4 Blocks in a playoff game ( 9 ) | 750 |
| Playoffs | Team Record - Total Points in a playoff game ( 55 ) | 750 |
| Playoffs | NBA Record - Top 4 Three Pointers Made in a playoff game ( 9 ) | 750 |
| Playoffs | Team Record - Rebounds in a playoff game ( 41 ) | 750 |
| Playoffs | Team Record - Three Pointers Made in a playoff game ( 8 ) | 750 |
| Playoffs | Team Record - Blocks in a playoff game ( 8 ) | 750 |
| Playoffs | NBA Record - Top 4 Rebounds in a playoff game ( 40 ) | 750 |
| Playoffs | NBA Record - Top 4 Steals in a playoff game ( 8 ) | 750 |
| Playoffs | NBA Record - Top 4 Assists in a playoff game ( 23 ) | 750 |
| Playoffs | NBA Record - Top 4 Total Points in a playoff game ( 56 ) | 750 |
| Playoffs | Team Record - Steals in a playoff game ( 10 ) | 750 |
| Playoffs | Team Record - Assists in a playoff game ( 19 ) | 750 |
| Playoffs | Team Record - Top 2 Steals in a playoff game ( 8 ) | 650 |
| Playoffs | Team Record - Top 2 Total Points in a playoff game ( 54 ) | 650 |
| Playoffs | Team Record - Top 2 Blocks in a playoff game ( 8 ) | 650 |
| Playoffs | Team Record - Top 2 Rebounds in a playoff game ( 39 ) | 650 |
| Playoffs | Team Record - Top 2 Three Pointers Made in a playoff game ( 7 ) | 650 |
| Playoffs | Team Record - Top 2 Assists in a playoff game ( 16 ) | 650 |
| Playoffs | Team Record - Top 3 Rebounds in a playoff game ( 38 ) | 600 |
| Playoffs | Team Record - Top 3 Three Pointers Made in a playoff game ( 7 ) | 600 |
| Playoffs | Team Record - Top 3 Blocks in a playoff game ( 7 ) | 600 |
| Playoffs | Team Record - Top 3 Assists in a playoff game ( 16 ) | 600 |
| Playoffs | Team Record - Top 3 Total Points in a playoff game ( 52 ) | 600 |
| Playoffs | Team Record - Top 3 Steals in a playoff game ( 7 ) | 600 |
| Playoffs | Team Record - Top 4 Total Points in a playoff game ( 50 ) | 550 |
| Playoffs | Team Record - Top 4 Assists in a playoff game ( 15 ) | 550 |
| Playoffs | Team Record - Top 4 Blocks in a playoff game ( 7 ) | 550 |
| Playoffs | Team Record - Top 4 Rebounds in a playoff game ( 37 ) | 550 |
| Playoffs | Team Record - Top 4 Three Pointers Made in a playoff game ( 7 ) | 550 |
| Playoffs | Team Record - Top 4 Steals in a playoff game ( 6 ) | 550 |
| Playoffs | Team Record - Top 5 Three Pointers Made in a playoff game ( 7 ) | 500 |
| Playoffs | Team Record - Top 5 Total Points in a playoff game ( 48 ) | 500 |
| Playoffs | NBA Record - Top 5 Three Pointers Made in a playoff game ( 9 ) | 500 |
| Playoffs | Team Record - Top 5 Steals in a playoff game ( 6 ) | 500 |
| Playoffs | NBA Record - Top 5 Steals in a playoff game ( 8 ) | 500 |
| Playoffs | Team Record - Top 5 Blocks in a playoff game ( 6 ) | 500 |
| Playoffs | Team Record - Top 5 Rebounds in a playoff game ( 36 ) | 500 |
| Playoffs | NBA Record - Top 5 Assists in a playoff game ( 23 ) | 500 |
| Playoffs | Record - Top 5 Assists in a playoff game ( 15 ) Team | 500 |
| Playoffs | Record - Top 5 Blocks in a playoff game ( 9 ) NBA | 500 |
| Playoffs | NBA Record - Top 5 Rebounds in a playoff game ( 39 ) | 500 |
| Playoffs | NBA Record - Top 5 Total Points in a playoff game ( 56 ) | 500 |
| Playoffs | Get a quadruple - double in a playoff game | 250 |
| Playoffs | Shoot 100 % from the field in a playoff game ( min 10 shots ) | 250 |
| Playoffs | Get a double - double with assists and no turnovers in a playoff game | 125 |
| Playoffs | Get a triple - double in a playoff game | 100 |
| Playoffs | Score 759+ points in a single playoff run | 100 |