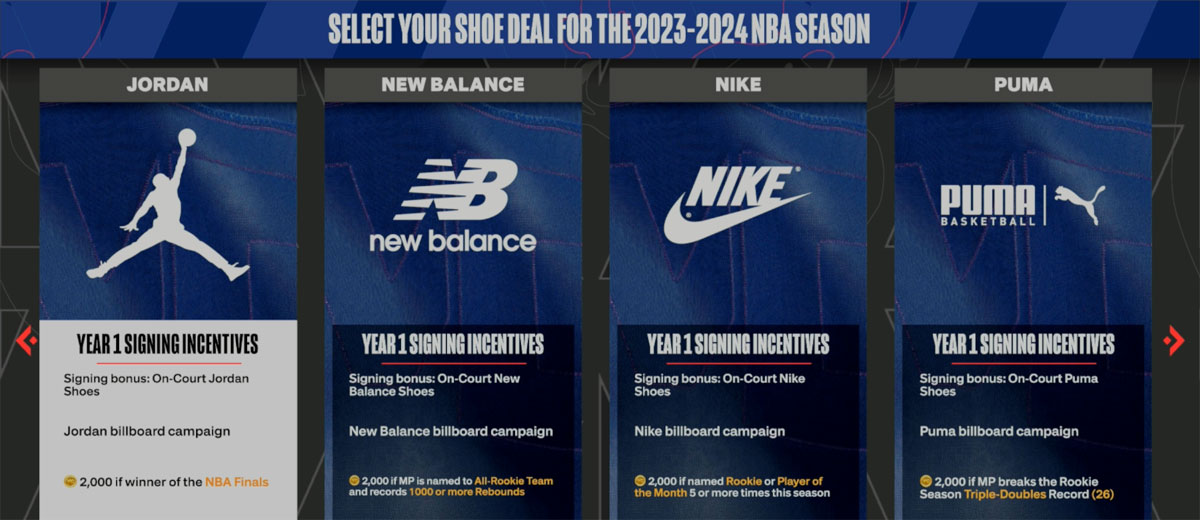 Every 2K hooper has got to have a nice pair of kicks to go with their look. Here's a quick tutorial on how to unlock and earn a shoe deal endorsement for your MyPLAYER in NBA 2K24!
How to Get a Shoe Deal in NBA 2K24
A shoe deal is available in NBA 2K24 as soon as you play your first MyCAREER game in the arena. Once you're in the home locker room, talk to the shoe rep (it will be a woman with red hair and beige outfit). Once the convo is over (you can skip the cutscene), it will trigger a screen which displays the different shoe brands to choose from.
Choosing your shoe deal
Here are the shoe brands you can choose from, along with the incentives and requirements to unlock your shoe deal. Each shoe deal is set for a "Year 1 Signing Incentives" and comes with 2,000 VC (if requirements are met), a billboard campaign, and on-court shoes for the respective brand.
Adidas – 2,000 VC if you are named Rookie of the Year
Converse – 2,000 VC if you break the Rookie Season Blocks (397) or Steals (211) Record
Jordan – 2,000 VC if you win the NBA Finals
New Balance – 2,000 VC if you get 1000+ rebounds and enter the All-Rookie Team
Nike – 2,000 VC if you are named Rookie or Player of the Month five times in the season
Puma – 2,000 VC if you break the Rookie Season Triple-Doubles Record (26)
Under Armour – 2,000 VC if you break the Rookie Season 3-Pointers Made Record (206)