NBA 2K23's MyTEAM mode features new changes, such as MTP upgrades, a new player market, crossplay, salary cap, coach cards, online co-op, and much more!
Check out the full NBA 2K24 MyTEAM details below:
NBA 2K24's fan-favorite mode, MyTEAM, is back and with more rewards, cards, packs, and modes to experience than ever before. The latest iteration of the NBA 2K franchise introduces changes to Seasons and XP, the all-new Salary Cap mode, and the various ways in which you can earn MyTEAM Points. There's all that in more in our deep dive on MyTEAM; let's get started!
MyTEAM POINTS & LAUNCH GEM COLORS
NBA 2K24 brings foundational changes to the overall structure of MyTEAM and your day-to-day playing experience. First, changes were made to the core currency in the mode, MyTEAM Points (MTP). MTP earn rates for all modes have been greatly improved, basically doubled for most MyTEAM players, bringing more flexibility to everyone just for playing games. This year is all about giving more value to MyTEAM players and it needed to start with more MTP coming from games played.
Alongside this update, there are even more ways value has increased across the mode and new ways to earn MTP, but first let's break down the gem colors that will be launching within MyTEAM this year. In Season 1 (and Season 2 as well), the top rewards in MyTEAM will max out at Diamond, and there will only be a handful available in Season 1. Community feedback is being implemented with a focus on delivering the best gameplay experiences possible, while still providing a wide variety of unique cards representing players from the NBA's past and present.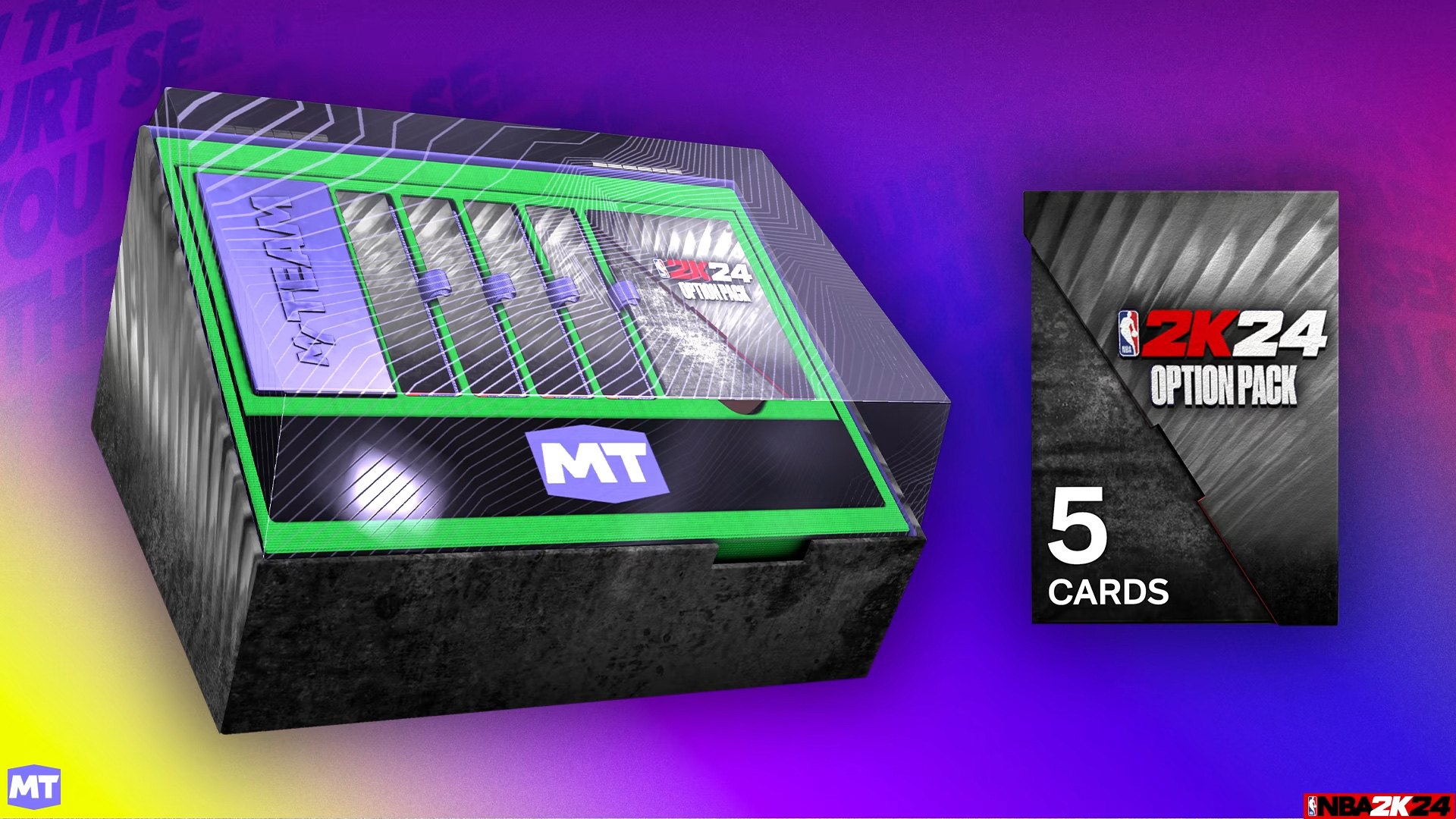 With 92-94 overall rated Diamonds being the top cards in the early part of the year, gem classes that you would not think of using in previous iterations of NBA 2K will have their time to shine in MyTEAM. For those picking up the NBA 2K24 BLACK MAMBA Edition, one of your bonus items is a Five-Player Option Pack Box, which includes your choice of an Amethyst, a Ruby, and three Sapphire Player Cards, making this one of the most powerful bonuses ever included with the game. In Season 1, the Ruby Giannis Antetokounmpo that comes with the Pro Pass or Hall of Fame Pass makes for incredible value in MyTEAM, especially with an extra Hall of Fame Limited Range Badge Card coupled with it. The Free Pass Season level rewards surpass all of these with a Diamond Player Reward Card at Level 40, plus Amethyst, Ruby, and other Player Cards to improve your lineup in Season 1. With these gem colors leading the way, you will also be able to seek out great Sapphire, Emerald, and even Gold Players Cards that fit your playstyle to contribute on the court.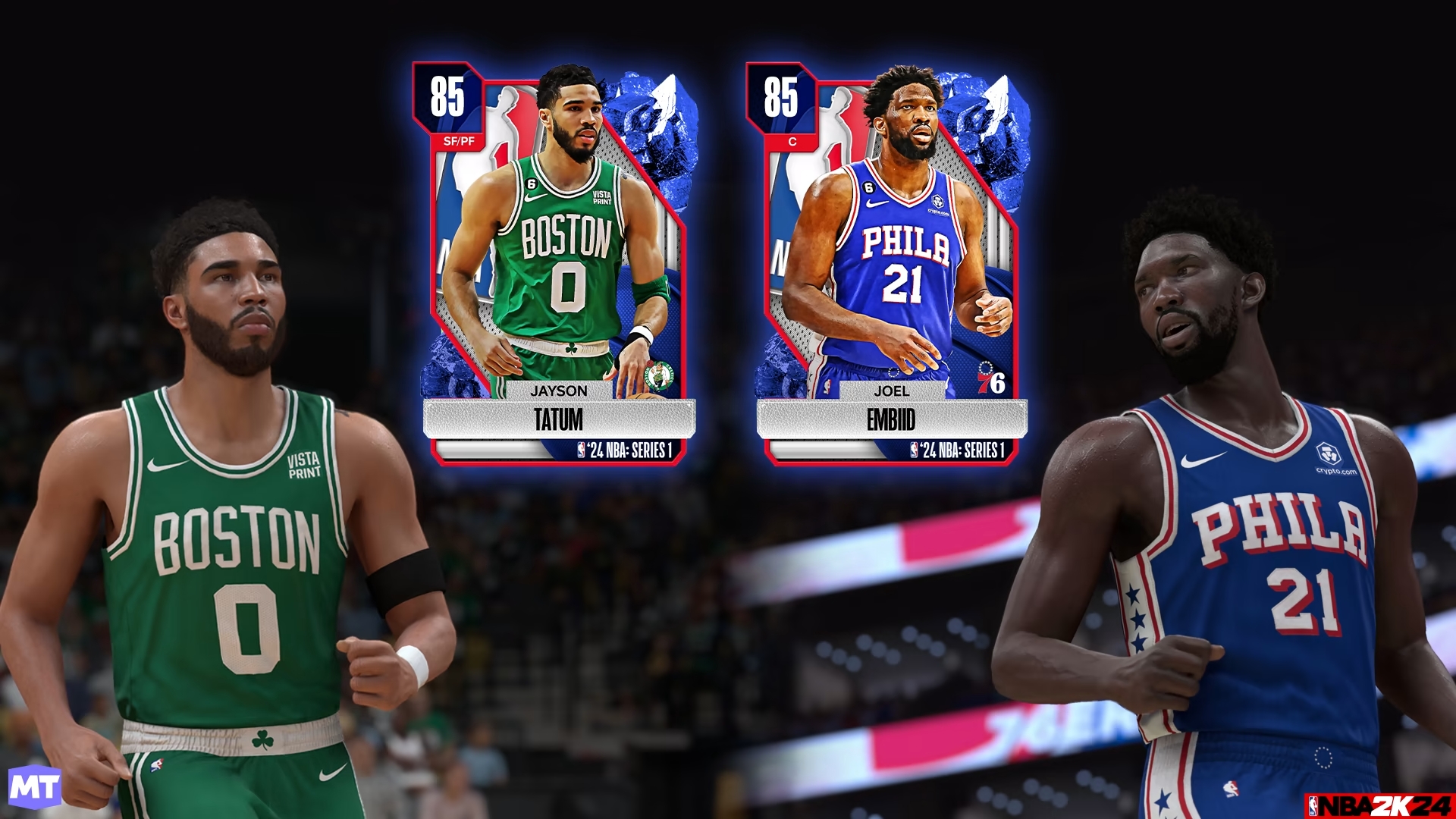 NEW PLAYER MARKET
The biggest foundational change for MyTEAM this year is all about Player Cards, specifically how you add them to your collection, and sell them when you want to get some more MTP. This year, we're introducing the Player Market, a new market that will grant access to almost any Player Card available. However, Season, Mode, and other Player Reward Cards will still only be available by earning them.
Community feedback is in action here. In previous years, the best Player Cards in the game were only directly available through the Auction House at MTP prices that could feel unobtainable; with great budget finds coming at the detriment of the players who listed Player Cards at that price. This was far from a fair system for MyTEAM players looking to add a new or favorite Player Card to their collection, and now the Player Market replaces the Auction House with a level playing field for everyone in MyTEAM.
Each Player Card here will be available with transparent prices to add to your collection with your choice of VC or MTP.  If you find yourself short on MTP for a card you really want, NBA 2K24 now allows you to bridge the gap through the purchasing of MTP for the first time ever. With each release, look for new collections to become available immediately. Collections that come with a completion reward will even show the reward and your progress alongside the cards, and if you want, you can outright get an entire set for a discount.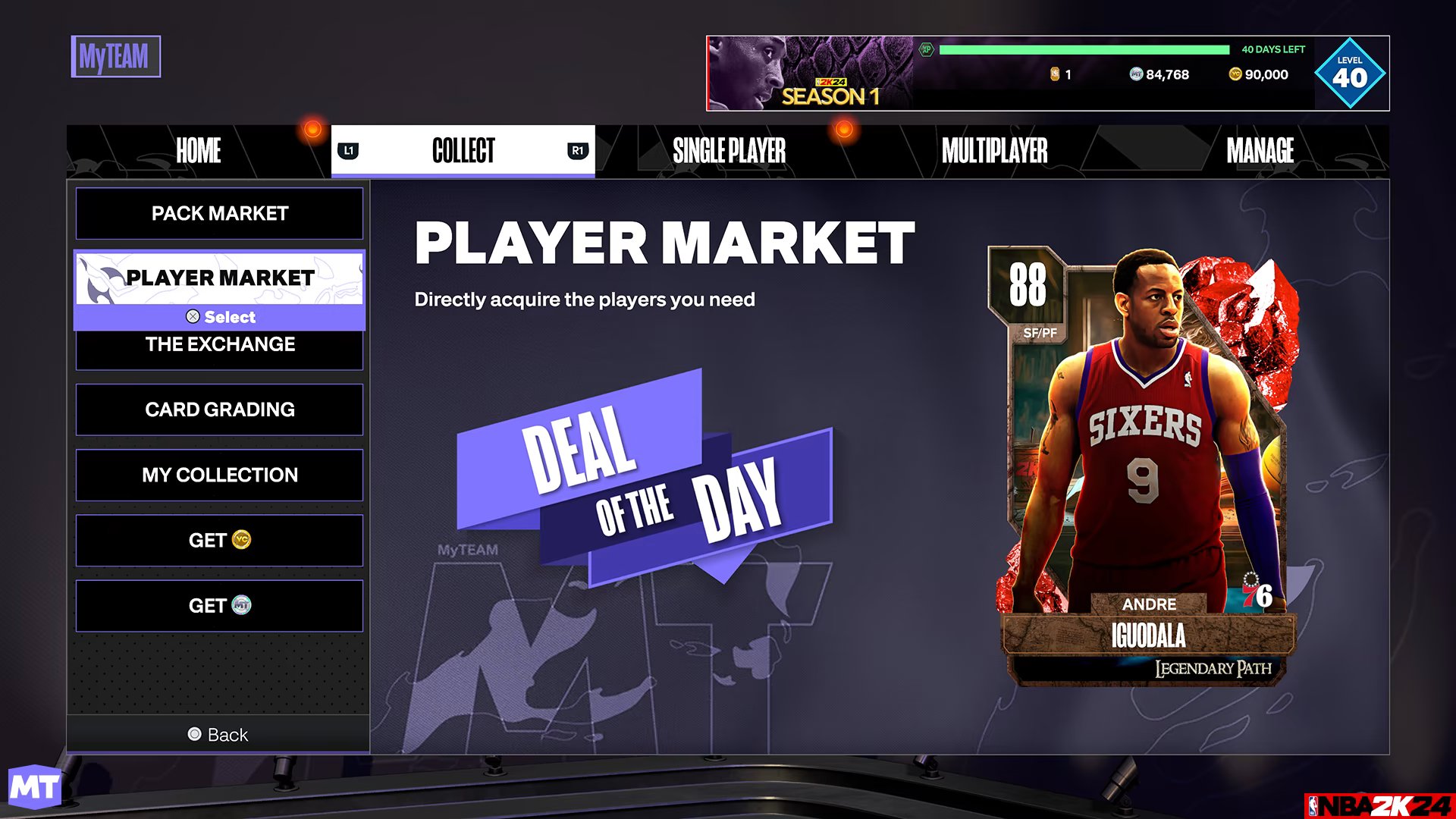 There is also a revolving Deal of the Day, which does exactly what it sounds like, making a different released Player Card available at a discount each day. Definitely something to keep an eye on as you navigate the new menu layouts across MyTEAM.
The purpose of the Player Market is to make these Player Cards accessible and straightforward for everyone to improve their lineups, or to fill in gaps in their collections. A detailed search is also available here for you to seek out your new three-point marksman, or defensive paint beast to lockdown your opponents. This search even includes a filter for a card's maximum salary for Salary Cap lineups, but more on that new mode later.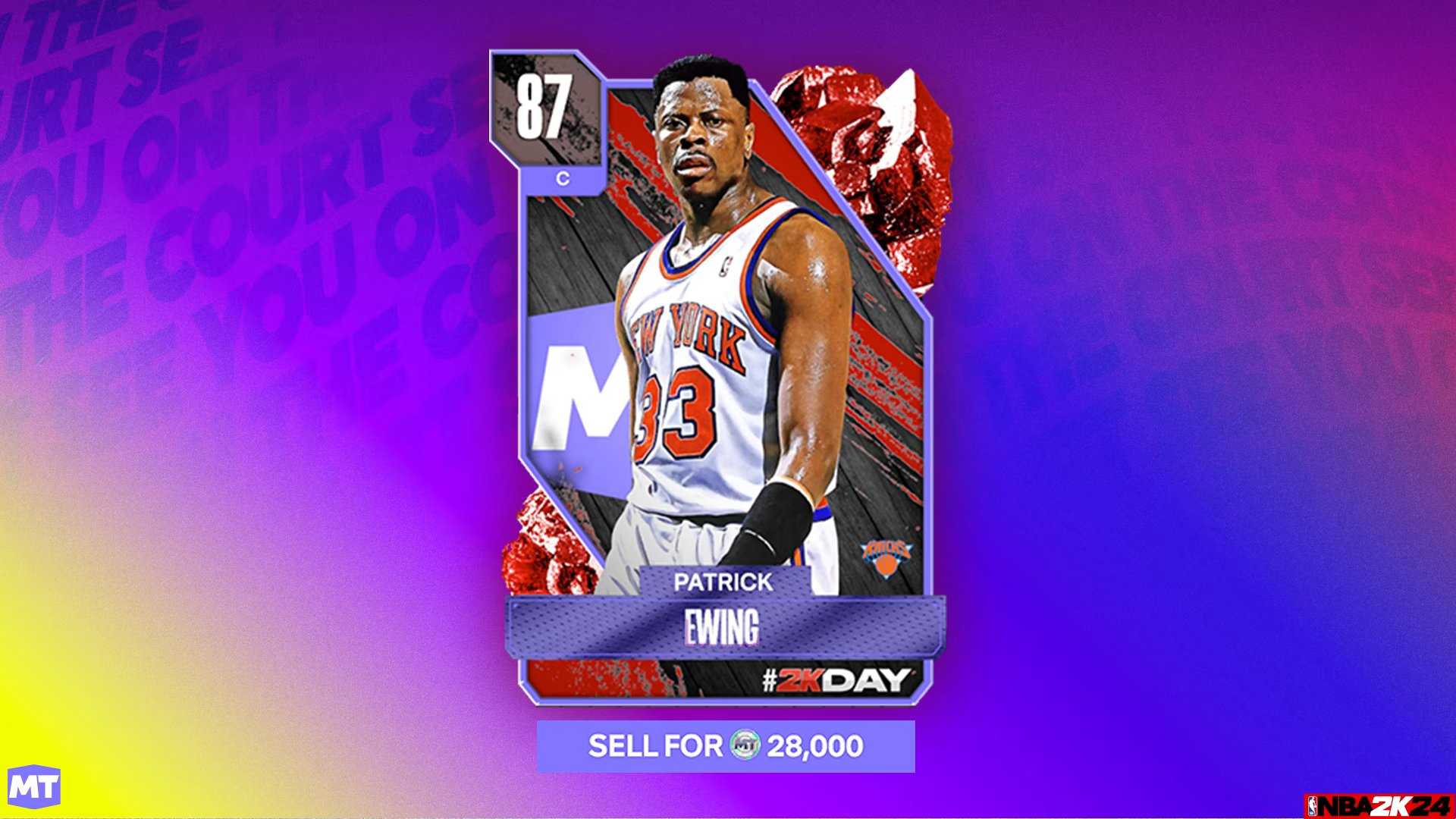 Being able to directly add Player Cards to your collection goes hand-in-hand with also being able to sell them back for MTP. To put it clearly, the amount of MTP you can get for quick-selling a player card is the highest it has ever been in MyTEAM. At launch, Ruby Player cards like #2KDAY Patrick Ewing will not only be some of the best cards available, but also can be sold directly for over 25,000 MTP, and even this value can be increased.
The MyTEAM Authentic Card Grading Service is back, and has been reworked to boost the sell value of your Player Cards. For the uninitiated, you can send your Player Cards out to be graded, and after a short wait, your cards will be returned in a sealed case. In NBA 2K24, you will definitely want to send cards out to be graded whenever possible, as receiving a "Flawless" 10 will dramatically increase the sell value of your Player Card. One more thing with Card Grading, it is no longer a one-and-done choice. You can now re-grade your previously graded cards two additional times, giving each Player Card three chances to be rated highly.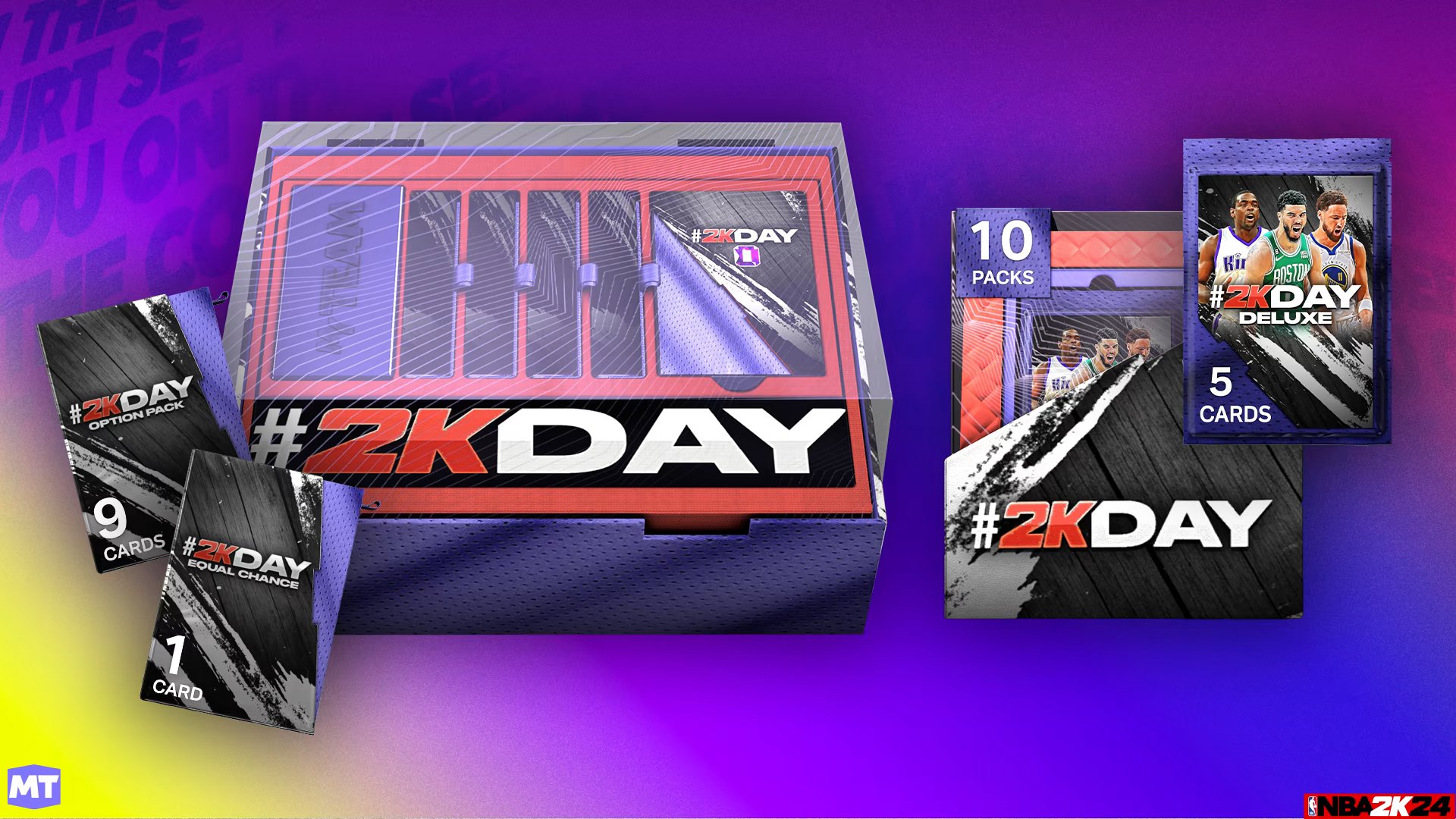 PACK MARKET
The new Player Market is definitely the way to go when you know which Player Card you want to add to your lineup, but the community's feedback was also heard when it comes to some key changes to the Pack Market.
New releases in the Pack Market will not only feature improved odds for rare Player Cards, but the Pack Market will also include more options for guaranteed pulls with fan-favorite pack types, and more. To do that, more Equal Chance and Option Packs will be included with new releases, along with the new Prime Box. These 5-pack boxes guarantee a top tier player from that release, as well as multiple Equal Chance and Option Packs, and for the first time ever in the Pack Market, a Hall of Fame badge is also included in each Prime Box.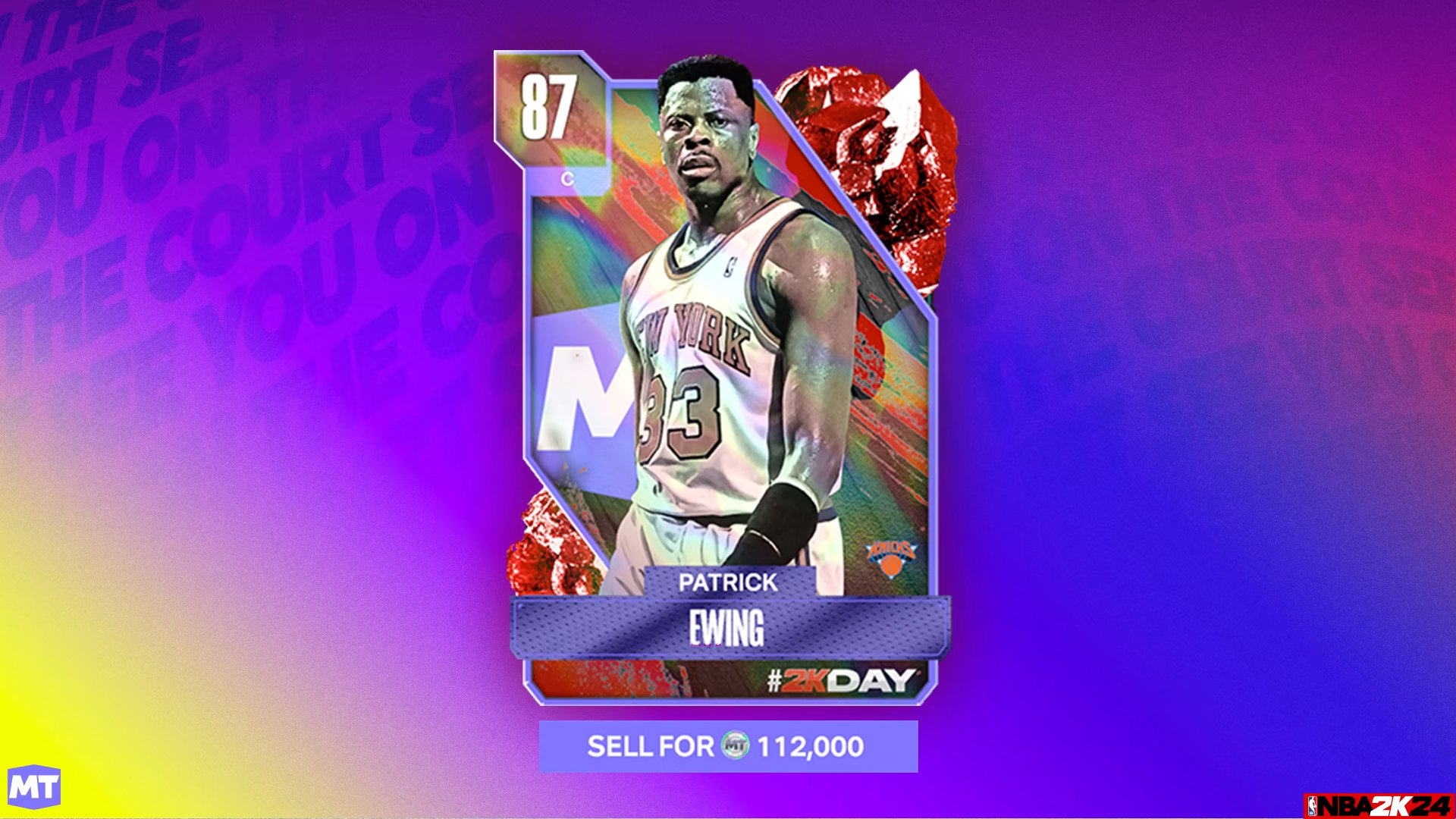 Holo cards also need a shiny shoutout here, as they will still drop from packs and boxes in the Pack Market. Previously, holo Player Cards were just a flex, but in NBA 2K24, they also bring a massive 4x multiplier to that Player Card's sell value. For example, the #2KDAY Ruby Patrick Ewing from earlier, a holo version of this Player Card would instantly quick-sell for over 100,000 MTP, and even more if you send it out to be graded.
In MyTEAM, one of the best feelings is picking up a previously released "budget" card for cheap months or even Seasons after that Player Card was originally released. The Patrick Ewing examples above show how these cards are valued on their day of release, but over time, previously released cards will have their buy and sell values decreased to better match their value at that time of year. With an exception for '24 NBA: Series 1 cards, released cards will begin to have their values reduced three weeks after they are released. Unsellable Player Cards will also be used as rewards throughout the year, including in locker codes. While these unsellable Player Cards will still be just as powerful on the court, if you happen to receive a duplicate, their sell values will be similar to previous years of MyTEAM.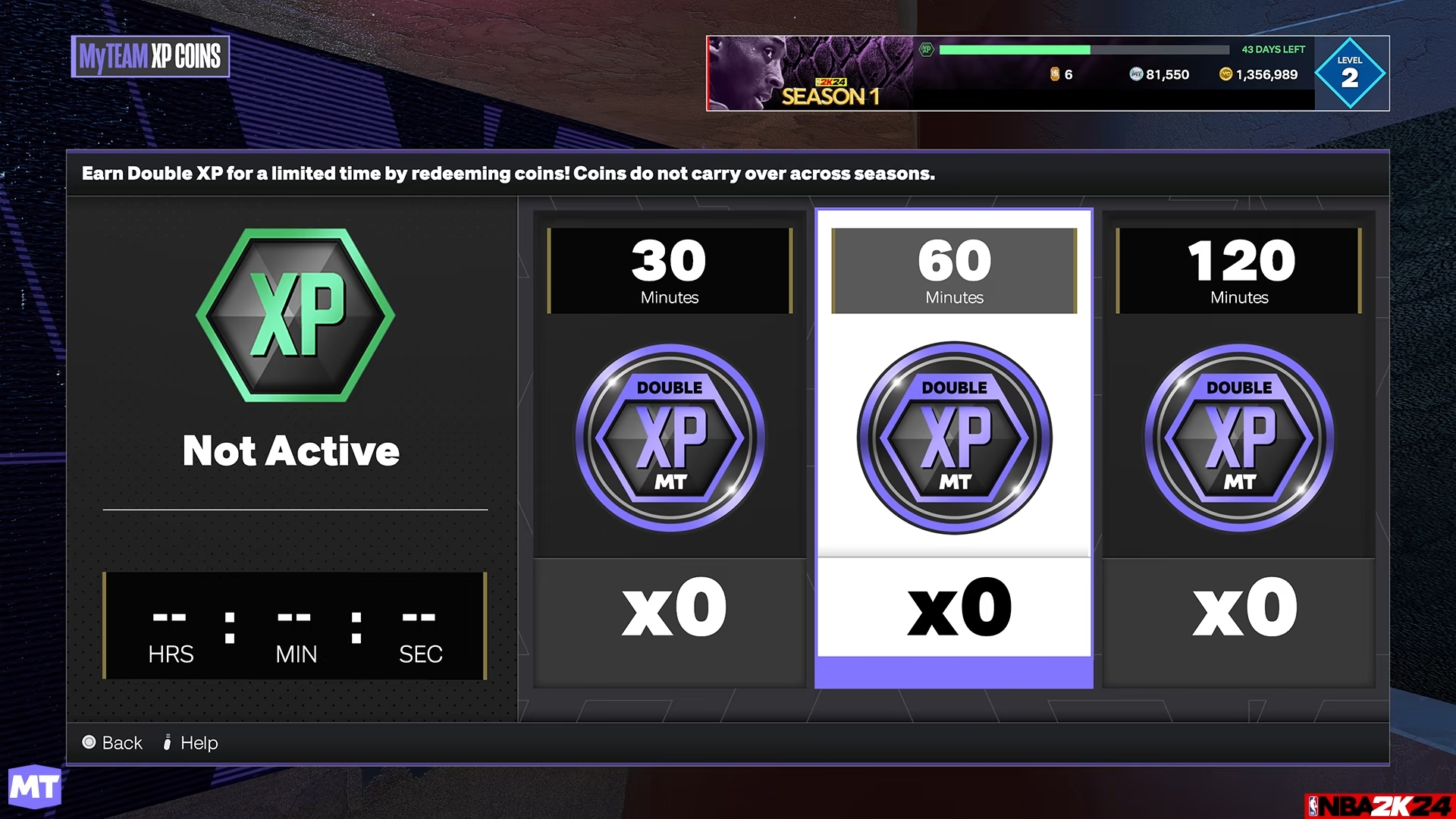 SEASON CHANGES & XP
The Player Market and MTP upgrades are two of the three major changes to MyTEAM in NBA 2K24, with the third being an overhaul to the XP system and leveling up in Seasons from within MyTEAM. As previously announced, Season level cross progression is shared between MyCAREER and MyTEAM, meaning how you get XP in MyTEAM is completely changing.
This year, all you need to do to earn XP in MyTEAM is to play games. That's it! Win or lose, every game you complete will progress you closer to leveling up during that Season. For the first time, and long overdue, MyTEAM will be able to run double XP Limited Time Events across all of the modes! Plus, this change also brings seasonal 2XP Coins to MyTEAM, where you can choose when you want to have double XP for a set amount of time. Like their equivalents in MyCAREER, 2XP Coins are only valid in the Season you received them, so be sure to redeem them before they expire!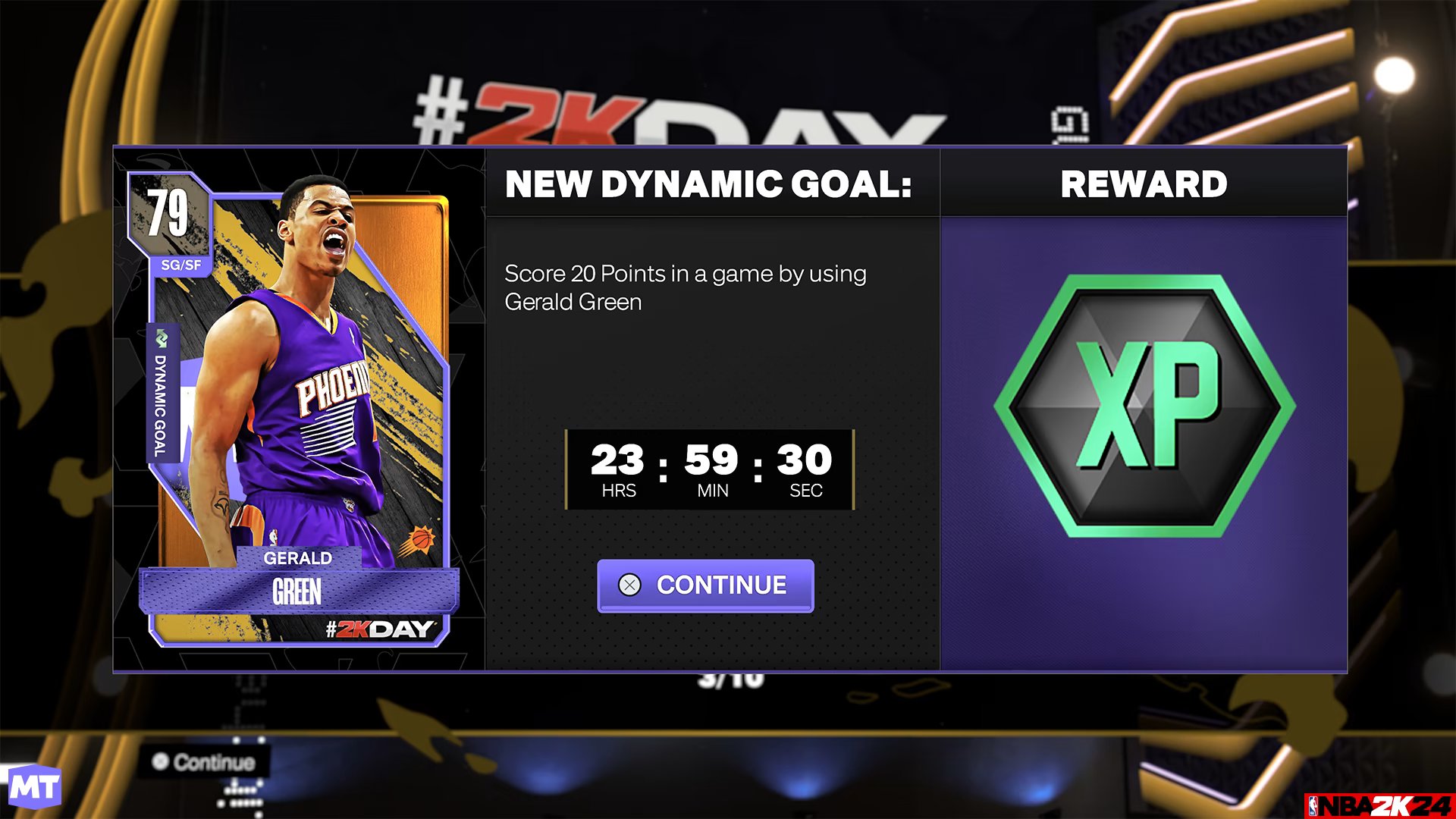 New this year, Dynamic Goals will be another way to earn additional XP and Season progress. Dynamic Goals are added for you to accomplish with new Player Cards that you received from the Pack Market. Completing the goal within 24 hours of receiving it will earn you bonus XP and Season progression.
For those playing on Current Gen (PlayStation®4 & Xbox One), MyTEAM cross-progression with the same platform on New Gen will return in NBA 2K24. PlayStation®4 players will have their entire MyTEAM collection and mode progression available on PlayStation®5, and the same is true for Xbox One players who also play on Xbox Series X|S. Season progression will also progress for your username on both Gens, however, MyTEAM rewards in both the Free Pass and Pro Pass tracks will only be available once per username. No matter how you want to play NBA 2K24's MyTEAM, you will be able to level up and earn rewards!
SEASON 1 REWARDS & TOKENS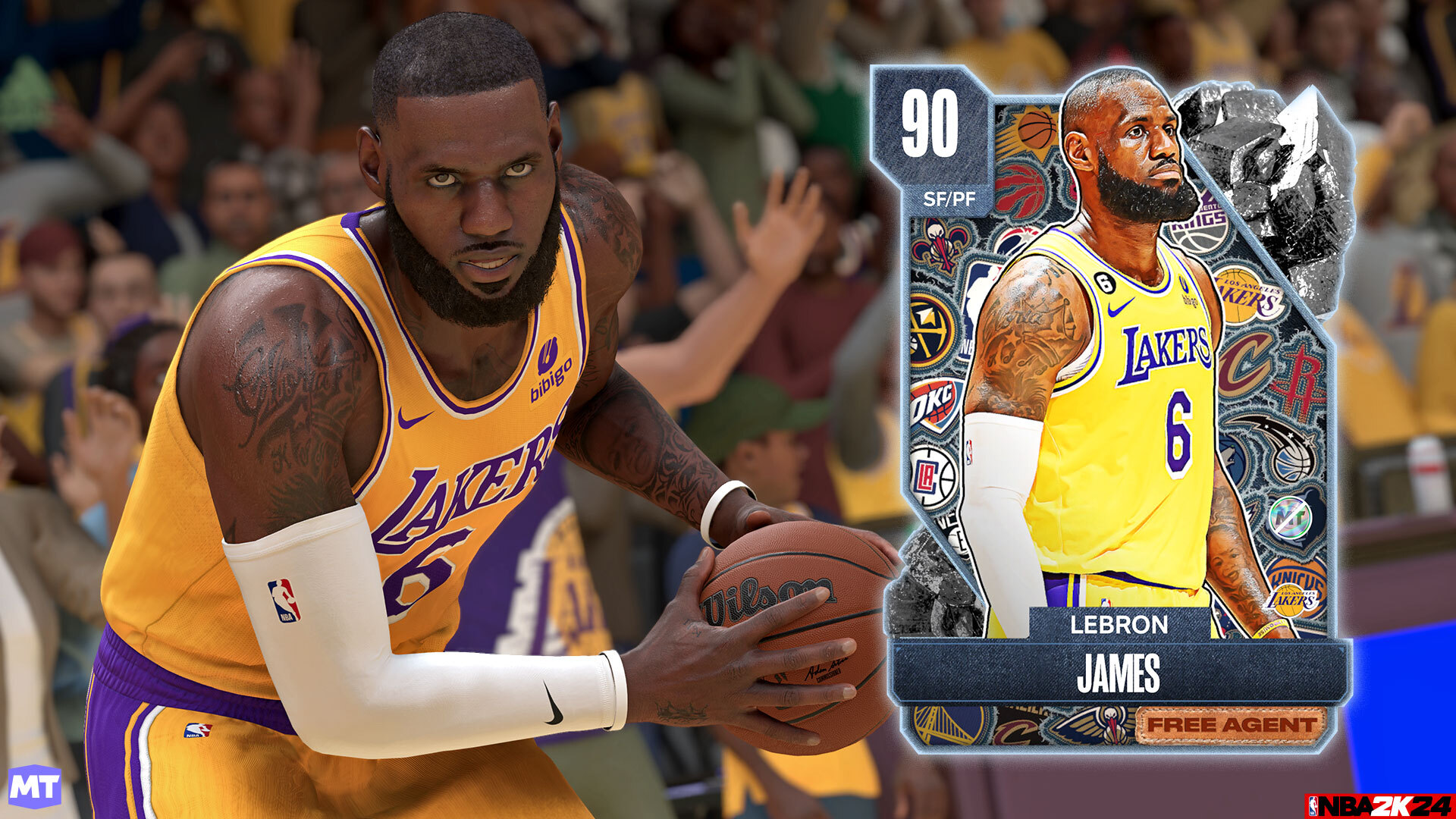 So, what are you playing for in MyTEAM during Season 1? This year, new and unique rewards are being added to the Free Pass' Season rewards, which will still resemble the Season Level Rewards from previous years of MyTEAM. Traditionally you start your MyTEAM Season journey with a powerful Free Agent card. Season 1 will be no different with LeBron James starting us off as the Level 1 reward. As you progress to Level 40 you will earn returning Prize Basketball Cards, which break open and give a reward when used in games; rise up the Seasonal Ascension board; spin a wheel featuring last year's NBA All-Stars' Series 1 cards; and get brand-new Season-themed uniforms along with the Season ball to add to your collection. You will even earn 2XP Coins to reach the next level even faster!
For more Season 1 Player Reward Cards on the Free Pass track, look to add players with competitive or inspiring connections to Kobe Bryant. Starting with an Emerald KG, Emerald Jordan Clarkson, Sapphire Vlade Divac, Ruby Bradley Beal, and a Center-position Amethyst card for another Laker great, Magic Johnson. You will also receive an Amethyst Phil Jackson Coach Card to lead your lineup with new Coach Boosts. Kyrie Irving is rated as one of a few Diamonds available at launch and is your reward for reaching Level 40 in the Free Pass of Season 1.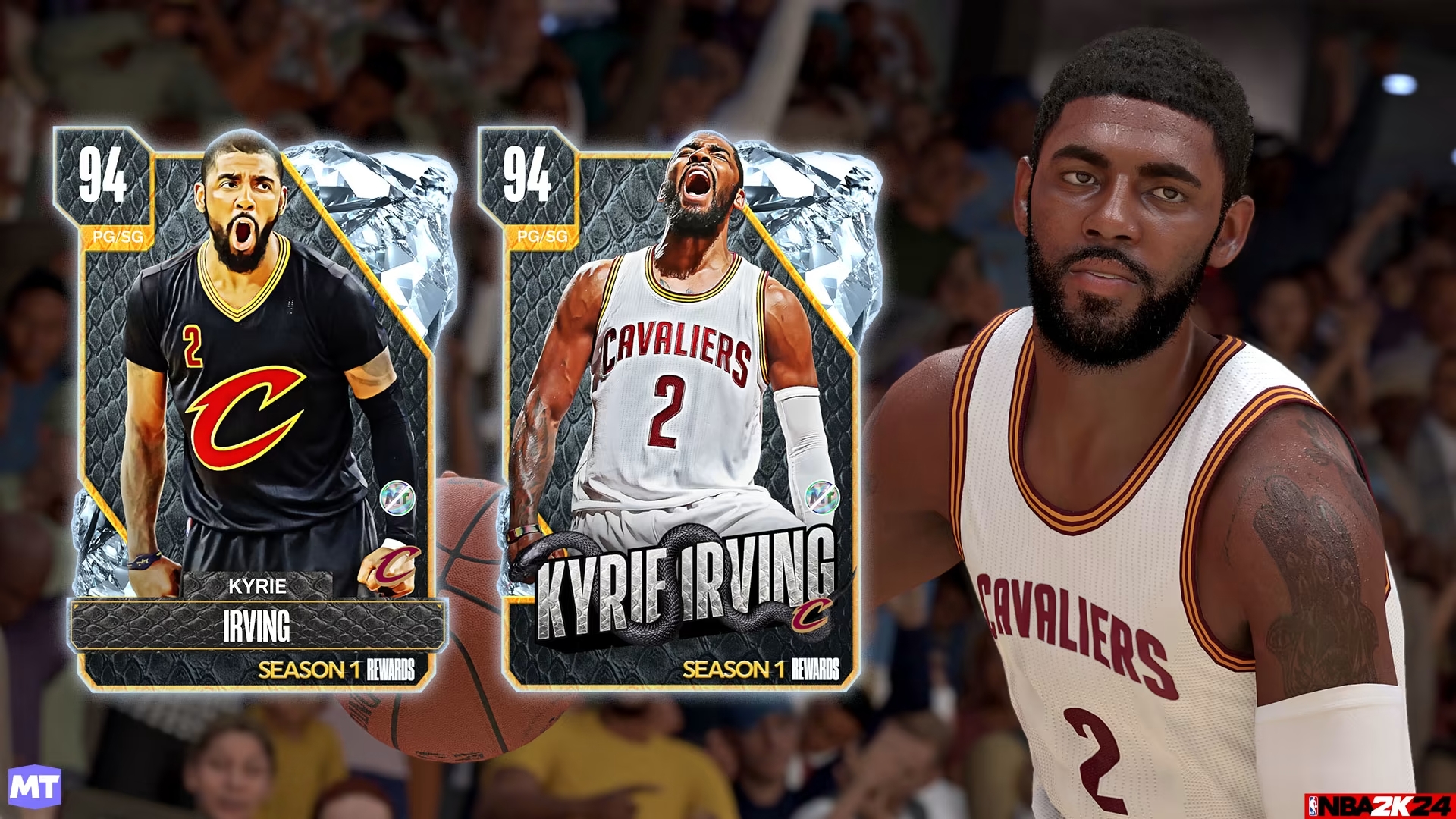 For those of you picking up the Pro Pass or the Hall of Fame Pass in Season 1; reaching Level 40 will earn you a special alternate artwork version of Diamond Kyrie Irving. Along the way to Level 40, you will also pick-up a variety of 2XP Coins, more Ascension Picks, as well as 20K MTP, 45K VC, and additional choices from the Season 1 Hall of Fame Option Pack.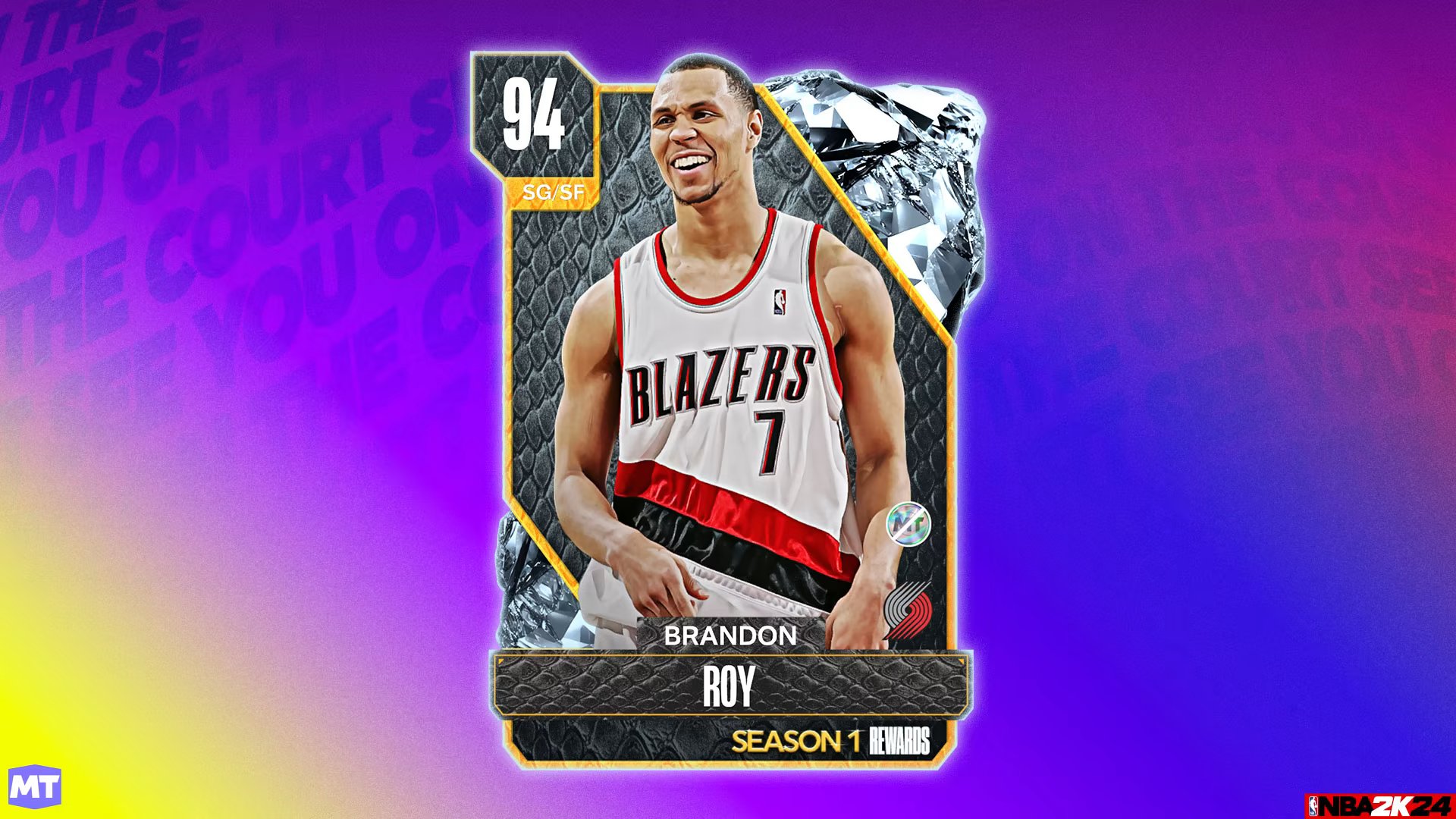 In MyTEAM, Level 40 is rarely the end of your Season journey, so an additional reward will be available to those who dedicate themselves to earning everything in Season 1. The Free Pass Level 40 Kyrie is actually only one card in a full collection of Player Reward Cards. This Season 1 collection rewards those who reach Level 40, earn all of the Ruby Player Reward Cards from each mode, and collect enough Seasonal Tokens to add three more players to this collection. If you can do it all, Diamond Brandon Roy will be available to you as the Season 1 Ultimate Reward!
You may have noticed a mention of Seasonal Tokens there. The feedback from the community has inspired a new twist on Tokens. In previous years, Tokens were too abundant while not offering enough enticing rewards in the Token Market. In Season 1, this changes with only a set amount of Tokens being available only through direct means like Season Level, Agenda, and Mode rewards. In the Token Market, Sapphire Franz Wagner, Ruby Darrell Griffith, and Amethyst Tom Gugliotta will be available, all required to complete the collection for Diamond Brandon Roy. Remember, all Tokens will now expire by the end of each Season, so don't hesitate to spend them if you got them!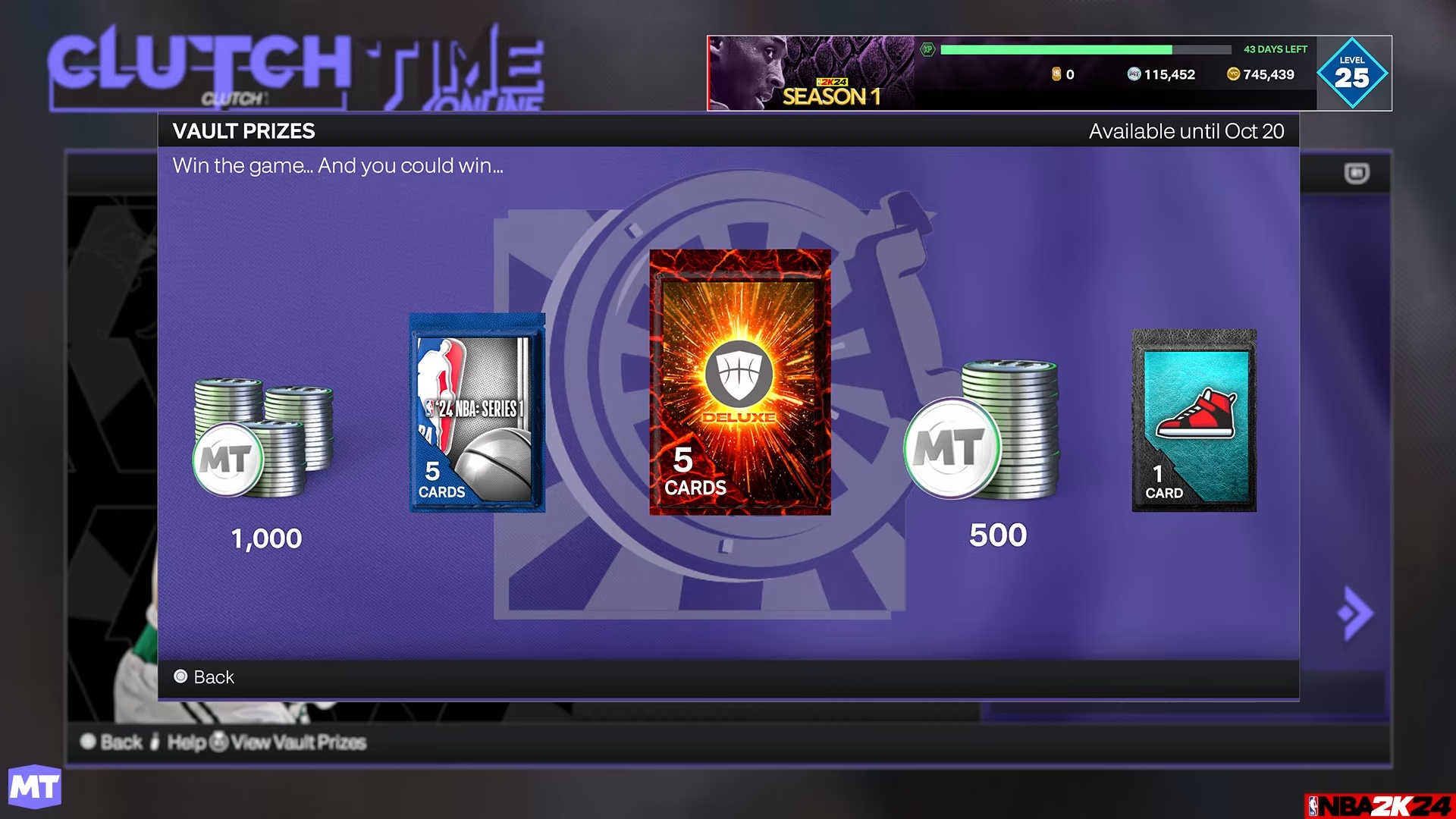 Along with Ruby Player Reward Cards being available in Season 1 for each of our Seasonal modes, major changes are also coming to the win rewards for each of these modes. Specific mini games are no longer tied to a specific game mode, meaning the Door Game could appear in Triple Threat Online, while Ball Drops are earned in Clutch Time, Ascension picks in Triple Threat Single Player, Wheel Spins in Unlimited, or even Vault in Clutch Time Online. Before you enter a game in these modes, you will be able to check a reward overlay to see what you could earn after getting a win. Triple Threat Online has also been adjusted to work more like its Single Player variant, with new win ladder rewards each Season and a mini game after each win.
One more thing to look forward to in Season 1, there will be more events to directly earn Player Reward Cards. With Agendas no longer giving XP, they will now be used to create new Seasonal and Event Agenda Groups to challenge and reward those who complete them. Season 1 will offer multiple events with powerful Ruby to Diamond Player Reward Cards as the final event rewards. There will also be earnable Player Cards from most released sets, meaning some Player Cards will be available through Packs, the Player Market, or to earn directly. Look forward to the announcements of these events during Season 1 and beyond on social media and in-game in the Community Hub.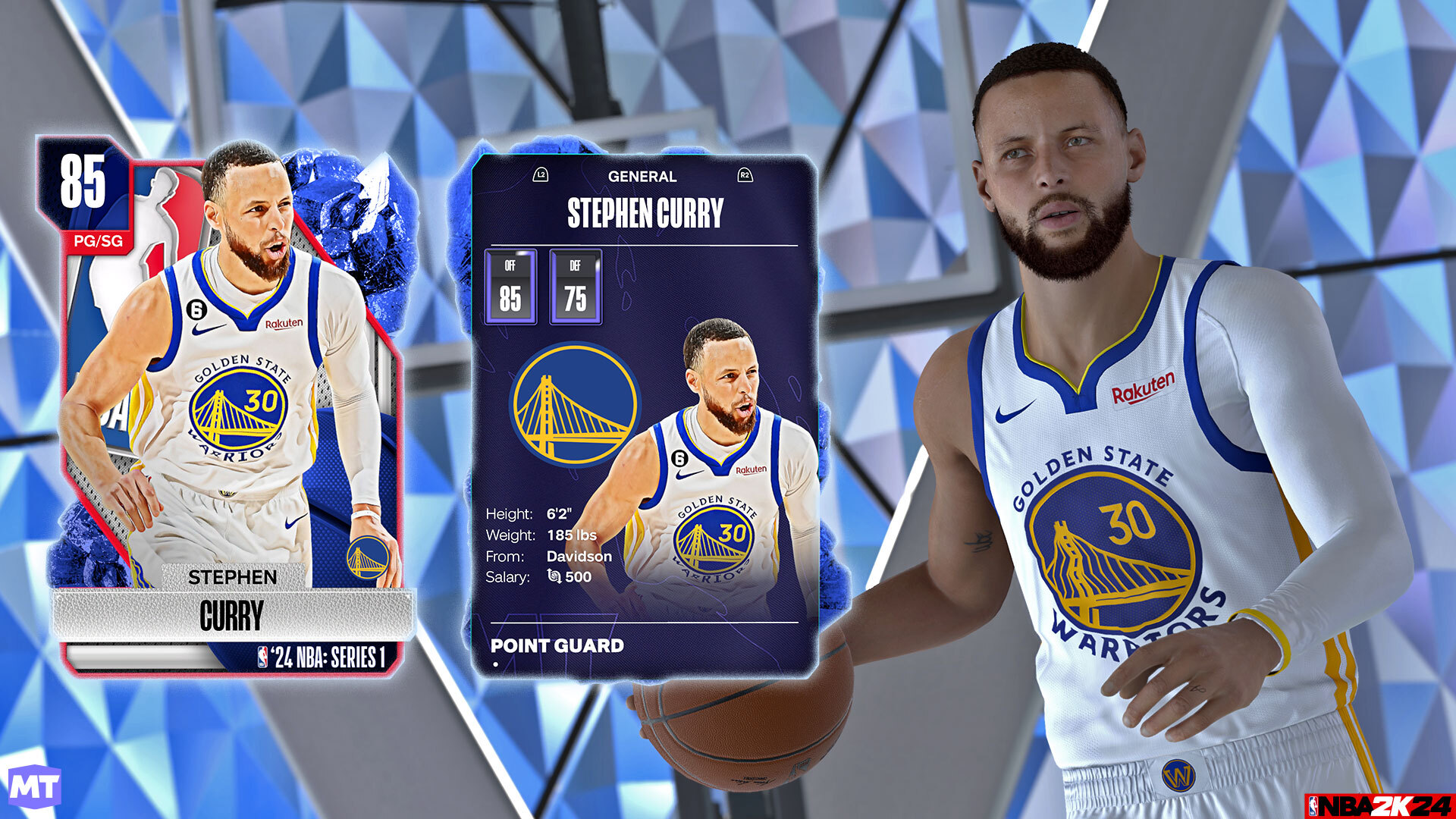 SALARY CAP & MULTIPLAYER MODES
Crossplay is in MyTEAM! For the first time, New Gen players on PlayStation®5 and Xbox Series X|S will be able to compete against each other or team-up in Triple Threat Online: Co-Op. Crossplay not only means you can play with or against more of your friends, but also shorter queues and matchmaking times across all MyTEAM multiplayer modes.
This includes Salary Cap, the new multiplayer mode coming to MyTEAM in NBA 2K24. This type of mode does have a history in MyTEAM, and this new iteration takes some of the best parts of that previous version and combines them with the latest Unlimited format for an all-new experience. Each Season, Salary Cap will be split into three, two-week rounds. Each round comes with its own leaderboard, salary limit for Lineups, and rewards. In Season 1, each round will have its own Ruby Player Reward Card, and if you earn all three in Season 1, you will also receive an Amethyst Victor Oladipo Reward Card!
While the lineup salary limit remains constant for the two-week round, the individual salaries of players will fluctuate multiple times each week. Based on each individual card's usage, a player's salary may go up or down. The previous iteration of this mode was geared towards newly released Player Cards being the cheapest available cards; this has been tuned differently for NBA 2K24, and the salaries will continue to be tuned as-needed to ensure that building an effective Salary Cap lineup takes skill and is rewarding.
Salary Cap games will be played in a brand-new format, never before seen in NBA 2K. Utilizing a two-half game setup, you will compete in the first half in a regular 6-minute period, trying to build the biggest lead you can. At halftime, the game changes to a fixed score ending. Similar to how the recent All-Star games end, 24 points is added to the leading score at the half, and the first team to reach that target score gets the win! This format has brought some of the most competitive games yet during playtesting this summer, where second half runs and multiple defensive stops have all the focus, rather than trying to run out the clock. Every game ends with excitement! With these shorter games, you get more time to earn Round Points, rise up the tiers, and get more rewards.
With Salary Cap joining Unlimited in MyTEAM, it is worth noting that two full-lineup multiplayer modes from last year, Draft and Limited, are being retired and will not be returning in NBA 2K24. These modes' strategies in lineup building and rewarding with mini games will be used in new and different ways in Salary Cap, Unlimited, and other modes.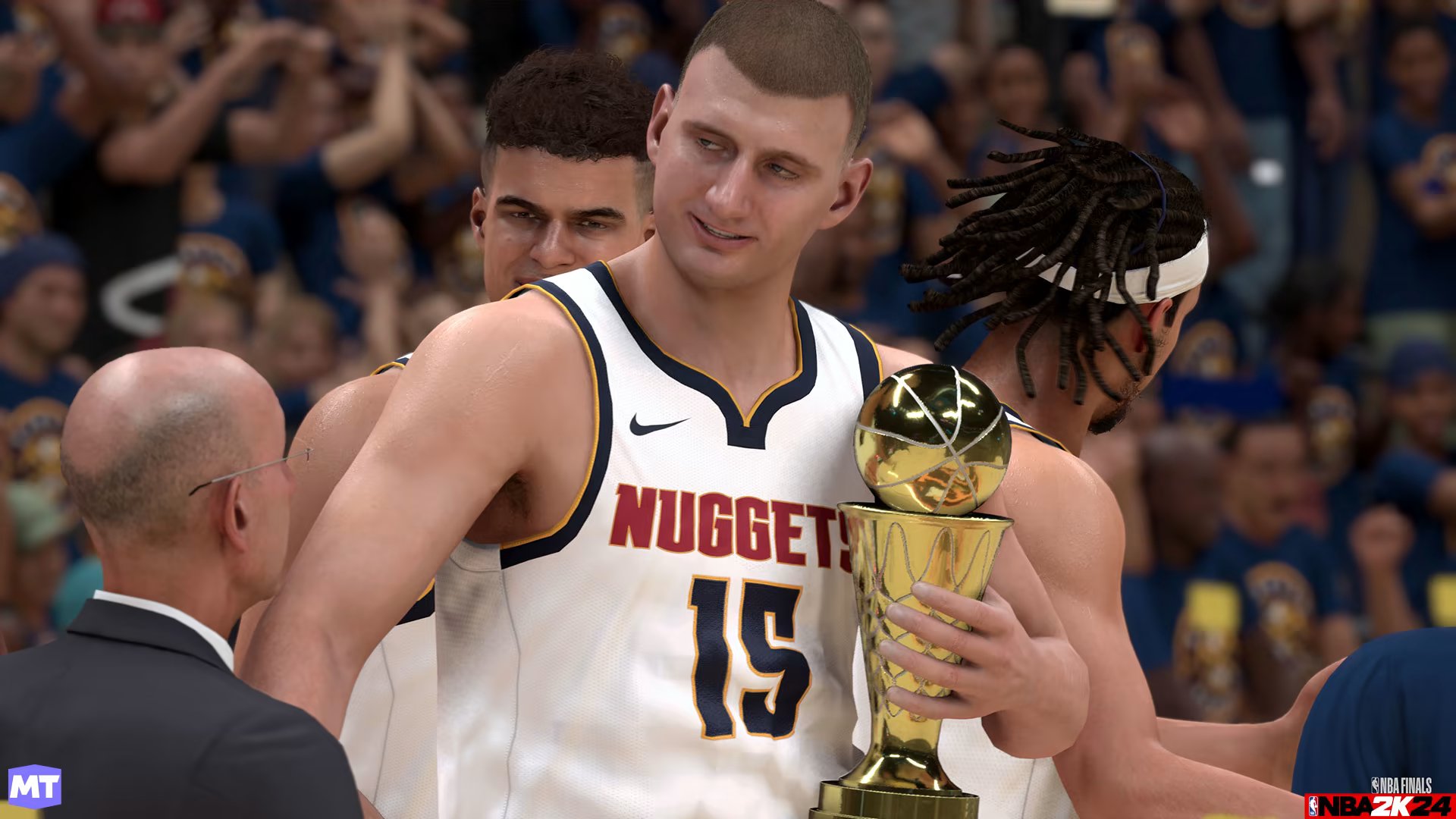 One of those experiences that was ready for an update was earning a championship ring each week. In previous years you played the Door Game to seek out the ring, but in NBA 2K24, rings will be available in new Championship Weekends in Unlimited. No opening doors for rings here, put your best lineup to the test each weekend as you compete against the MyTEAM community to get four wins in seven games. Plus, on New Gen, you will even see your MyTEAM lineup celebrate winning the championship after getting that fourth win. By the way, while there will be a ring available each weekend with rewards, and lifetime rewards for getting multiple rings, missing a ring will not ruin your chances of getting a Seasonal or other reward.
Salary Cap and Unlimited will both provide a competitive experience to anyone looking for a challenge in multiplayer, with Triple Threat Online, Clutch Time Online, and Triple Threat Online: Co-Op also returning. With MTP earnings becoming more important, as well as earning Round and Season Points in Salary Cap & Unlimited, players who decide to quit early in games can find themselves temporarily restricted from multiplayer modes after multiple quits. There is too much on the line when playing multiplayer and early quits only hurt the experience for the MyTEAM community.
Speaking of improving the experience online, sometimes your opponent can be a bit… too creative when it comes to their custom court, logo, and jerseys. In New Gen, if you want to avoid seeing a custom-color court or other custom assets and just want to focus on defeating your matchup, you can now hide your opponent's custom assets right from the pause menu and continue to play the game while they enjoy their custom works of art.
Triple Threat Online: Co-Op receives a new Looking for Group update, meaning you will no longer need to wait for your friends to get online and compete in Co-Op! After you select the option you will be sent into matchmaking to find another group of players to join. After you've grouped up, you can select your Player Cards and jump right into games together. This is not the only way to play Triple Threat Online: Co-Op, all of the friend-based options remain from last year, letting you matchmake and play Competitive online, play Cooperative games against the AI, or set up a Party game against friends in the same lobby. With crossplay on New Gen, Co-Op will provide even more competitive matchups and open up many more players to jump into the mode with the Looking for Group feature.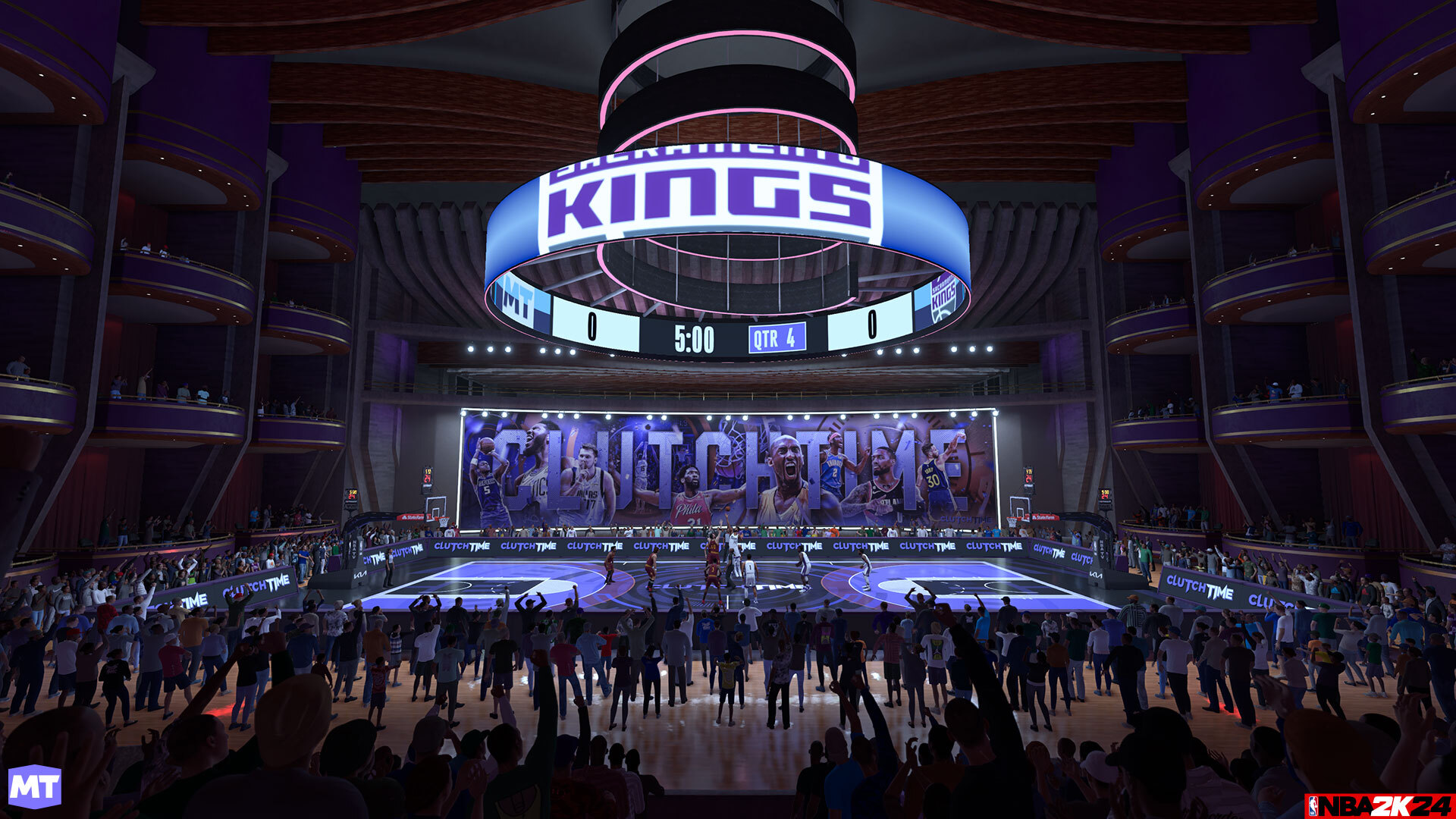 Now, let's get into the updates for Clutch Time. Welcome to the House of Clutch! Quite possibly the most awe-inspiring environment yet in MyTEAM. Featuring a new mural, opera house-style luxury boxes, ads boxing-in the competition around the court, theater seating for the crowd, and a one-of-a-kind jumbotron, this arena is truly a sight to behold. On the court, Clutch Time remains familiar, with quick 5-minute games, sudden death overtime, and a 4-point line for your best sharpshooters. However, this year the shot clock for Clutch Time will use the full 24 second shot clock rather than the less forgiving 14 seconds used in previous years.
COACH BOOSTS & IN-GAME UPDATES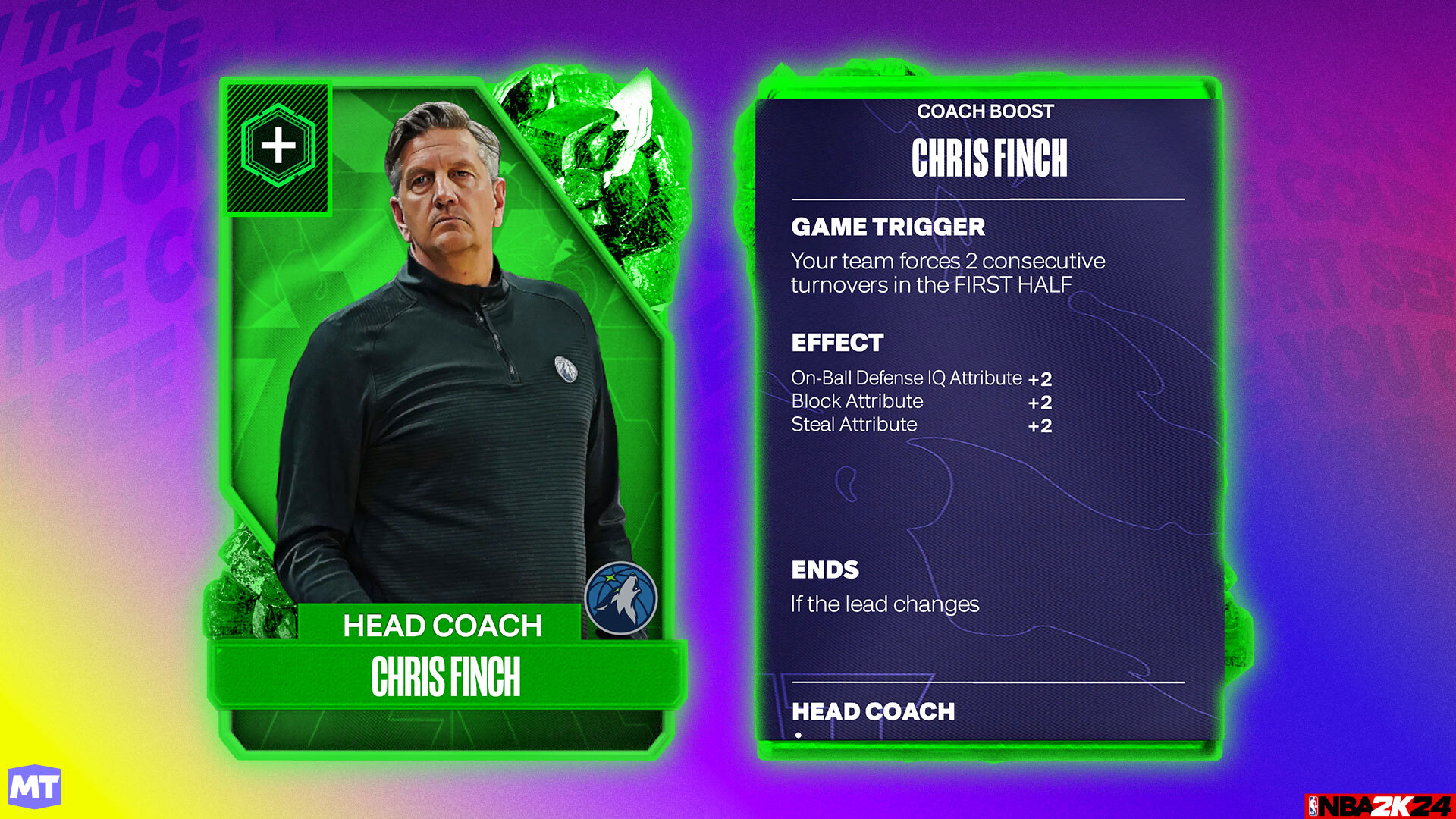 Coach Cards in NBA 2K24's MyTEAM are receiving a new way to bring the most out of your Player Cards' performance on the court with new Coach Boosts. Previously, Coach Cards were bound by a specific system. With our new triggers and effects, each Coach Card can now feature a unique boost in certain game situations. For example, those of you that complete the MAMBA MOMENTS™ mode will receive an exclusive Amethyst Kobe Bryant Coach Card. During the entire 4th quarter of a game, Coach Mamba will improve all of your players' Blinders badges to at least Gold, while players who already have a Blinders badge will be boosted to Hall of Fame. Other coaches may require you to go on a certain run of points, out-rebound your opponent, or will trigger their boosts when your opponent takes the lead to help you catch up. With attributes and badges now able to be boosted, Coach Cards bring a whole new level of strategy when it comes to building your lineup and enhancing your playstyle.
Staying with the action on the court, there are a couple new additions that appear in-game while playing MyTEAM on New Gen. First, there are hidden dialogue lines from our illustrious commentary crews that play when you use two iconic players in the same lineup. No spoilers here, but hearing Kevin Harlan reference your pairing of Vince Carter and Zion Williamson is a great feeling. Another quality of life update comes with the new scorebug used in 5v5 modes. This extra space allows for Challenge win conditions to be displayed in-game, available at-a-glance, and you will now see your Player Cards' actual stats you've accumulated with them in the in-game overlays. Now you have a new way to see who you dominate with in-game.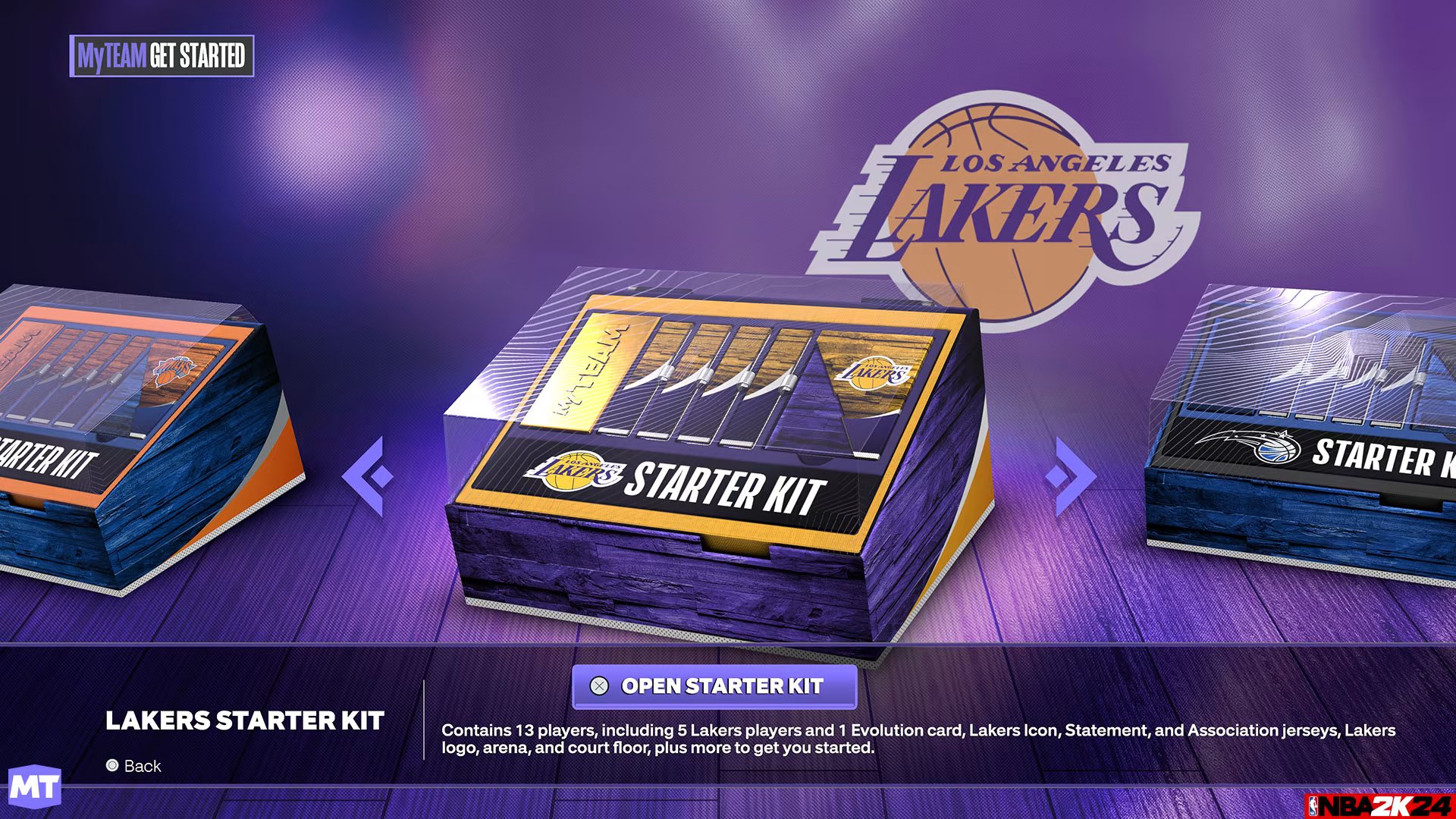 GETTING STARTED & SHATTERED PRIZES
With all of these updates, let's move to what you will experience when starting your MyTEAM for the first time in NBA 2K24. This year you can select your favorite team's Starter Kit to receive current Franchise Cards, including their uniforms, court, arena, logo, and five Gold '24 NBA: Series 1 Player Cards from that team. You will also receive your selected team's Evolution Starter Player Card, one of 30 available, that start as a Gold player and evolve to Emerald after completing their requirements. If you want to collect the other teams' Starter Player Cards, you will be able to earn them by earning two stars against that team in the Current Domination.
After naming your MyTEAM, you will be presented with a free Welcome to MyTEAM Pack, which includes an Emerald Derek Fisher. D-Fish is required to complete a handful of Welcome to MyTEAM lifetime agenda groups, touring you around MyTEAM. Each step of the way, as you add shoes to players, upgrade badges, complete an Exhibition, grade your first card, complete an Exchange, and open a prize ball, you will earn Shattered Prize pieces to assemble the Welcome to MyTEAM reward, Sapphire Robert Horry.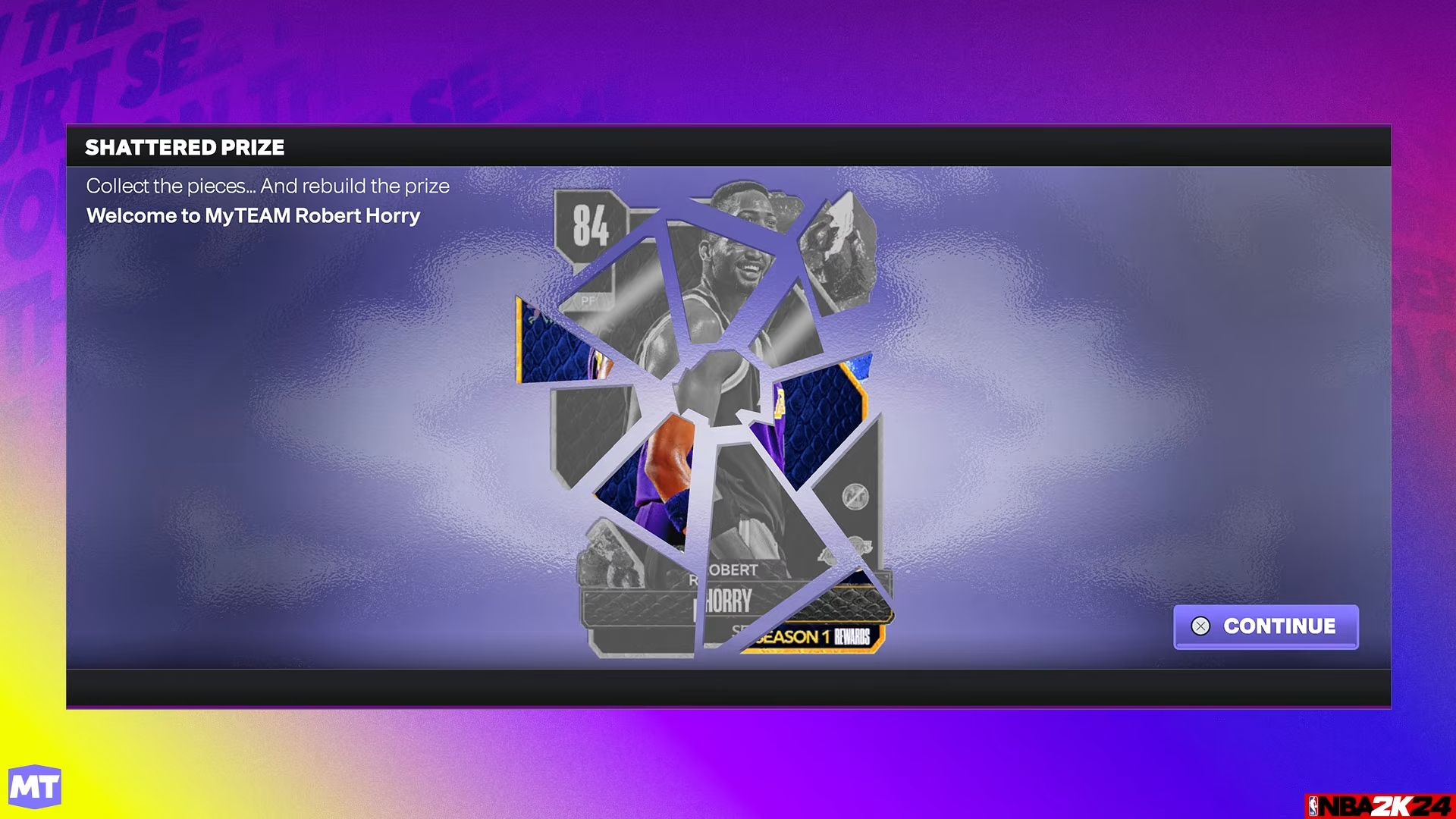 Shattered Prizes are exactly what they sound like, a Player Card or another reward that has been shattered and spread across MyTEAM. Your task? Search for their hidden pieces and reassemble the prize to keep it for yourself. These pieces can appear in many different places, including the various mini games, but for Sapphire Robert Horry they have been gathered in these Welcome to MyTEAM lifetime agenda groups. Completing these groups will also upgrade your first lineup with more Emerald and Sapphire '24 NBA: Series 1 Player Cards, and let you customize your look on the court with the custom Team Creation cards. On top of that, Emerald Derek Fisher and Sapphire Robert Horry are a Dynamic Duo; when on the court at the same time they will boost each other to a more powerful Ruby rating.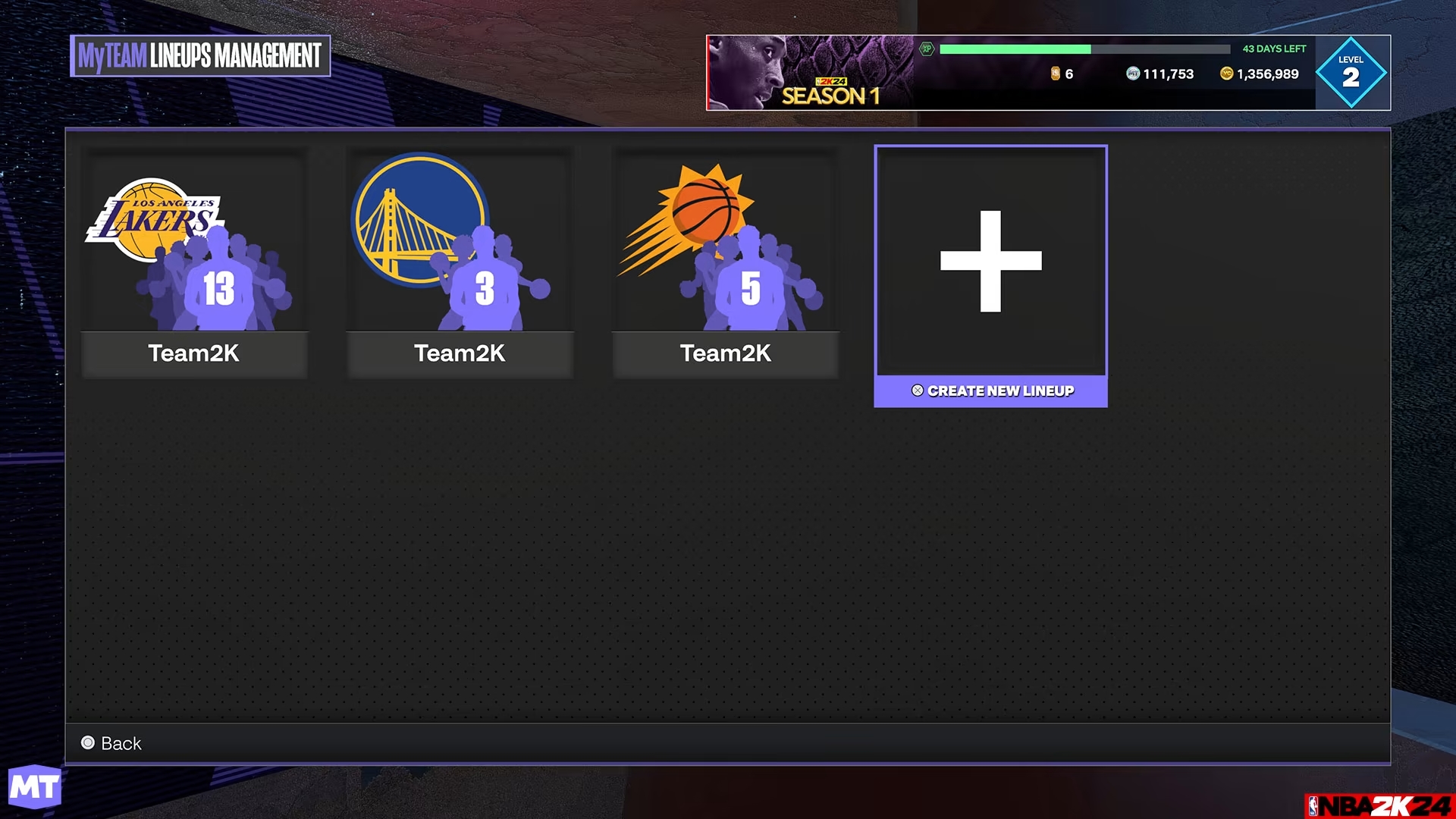 Assembling and upgrading your lineup is important across all of MyTEAM, and with how popular Triple Threat and Clutch Time have become, you can now save multiple lineups for these modes. Use a trio in Single Player Triple Threat to fulfill Evolution requirements or complete agendas, while also having a separate lineup ready to go for when you hit the Pink Diamond Plaza's rooftop in Triple Threat Online.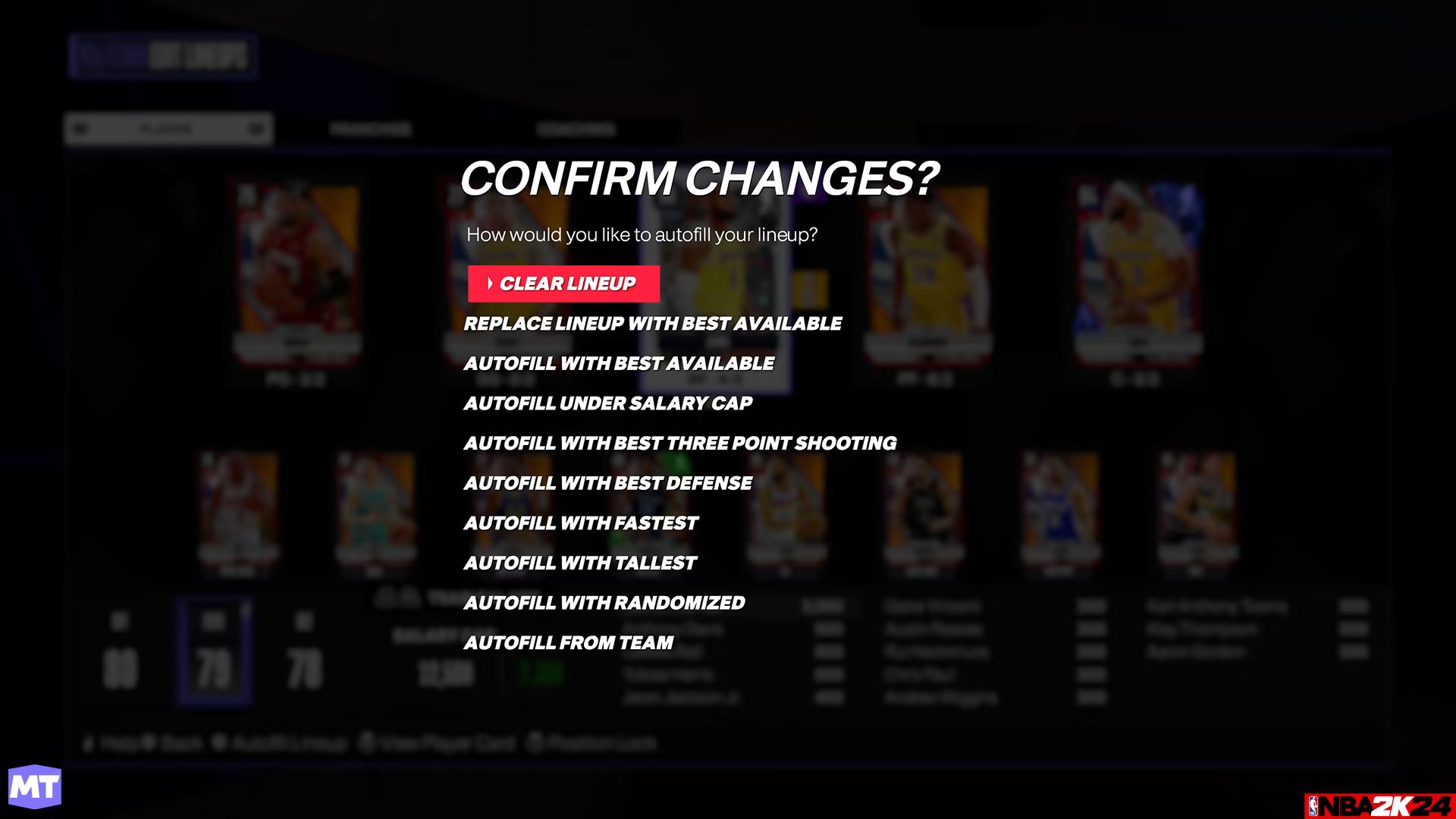 Once you are in the Edit Lineups menu, there are even more improvements to let everyone create the lineups they need to compete. New autofill options have been added, allowing you to not only quickly fill your lineup with the best Player Cards in your collection, but to autofill your empty slots with your best three-point shooters, defensive players, or even your tallest players. Want to create a new Salary Cap lineup? Choose your stars then autofill the rest of your lineup with the best players available under the lineup cap limit. Looking to quickly get into the next game of a Spotlight Sim that requires 10 Hawks players? You can now autofill with Player Cards from teams as well. There is also a new Autofill with Randomized option, if you want to make the most of your collection to adjust and play with while going through Domination.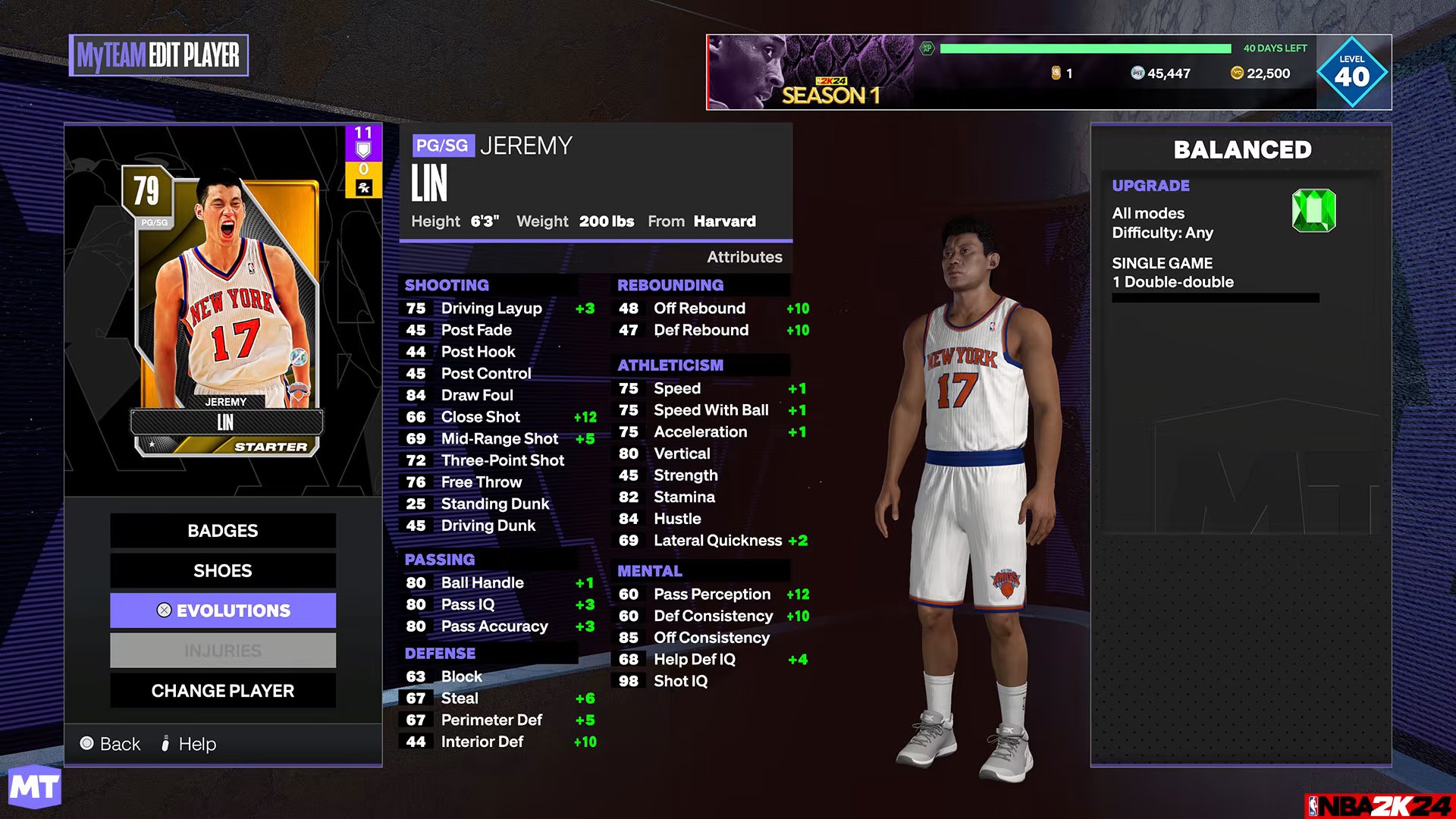 When it comes to your individual players, you can now directly enter the Edit Player suite from the menus, your all-in-one place to improve your Player Cards. Apply badge and shoe cards, complete your evolutions, and heal injuries, all right here in the Edit Player menu. New to NBA 2K24, multiple tiers of badges can now be applied all at once, rather than adding Bronze, Silver, and Gold Badge Cards in order.
Shoe Cards have also been updated. They will now have randomized attribute boosts applied to them when you add them to your collection, rather than forcing you to build the shoe first like previous years. You can still customize your Shoe Cards in the MT Shoe Lab by overwriting the boosts already on the Shoe Card, or apply them directly to your favorite player without needing to customize them first.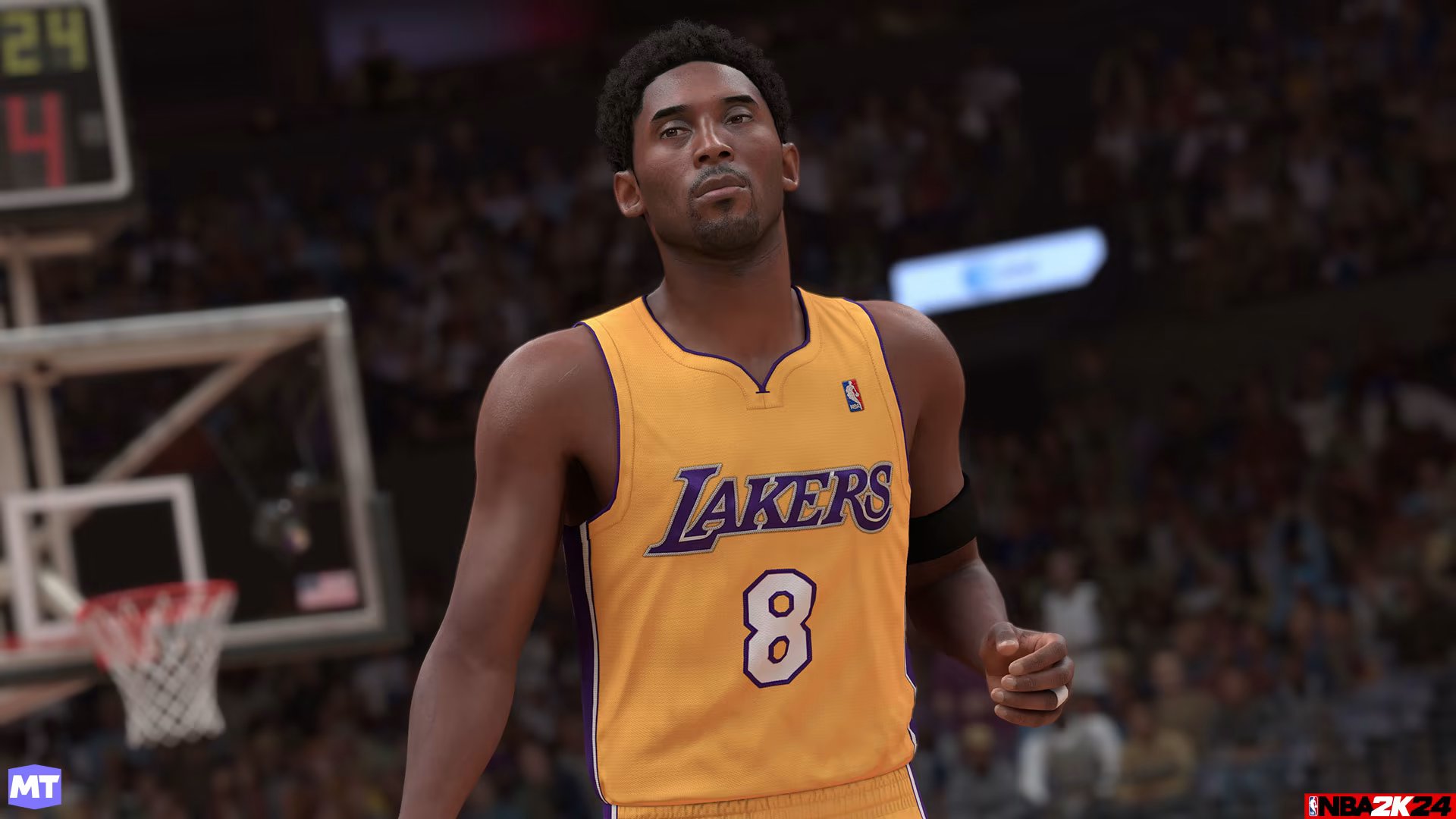 COLLECTOR LEVEL REWARD KOBE
Collector level rewards have always been important in MyTEAM, and last year the rewards came as surprises with a hidden end goal. So let's look forward a few months and reveal that Kobe Bryant will be the top reward in the Collector Level, and this reward will be available in April, during Season 6. There is plenty of time between now and then, so let's come back to launch and talk about our collections and their rewards coming next week.
At launch, '24 NBA: Series 1 will consist of nearly 450 current NBA Player Cards, ranging from Gold to Sapphire, and each team's collection reward will be a Ruby Player Reward Card. Completing a full Conference will add Amethyst Bam Adebayo for the Eastern Conference and Amethyst Jamal Murray for the Western Conference. Adding both to your collection will add a Pink Diamond Michael Malone Coach Card with powerful boosts to lead your lineup for Seasons to come.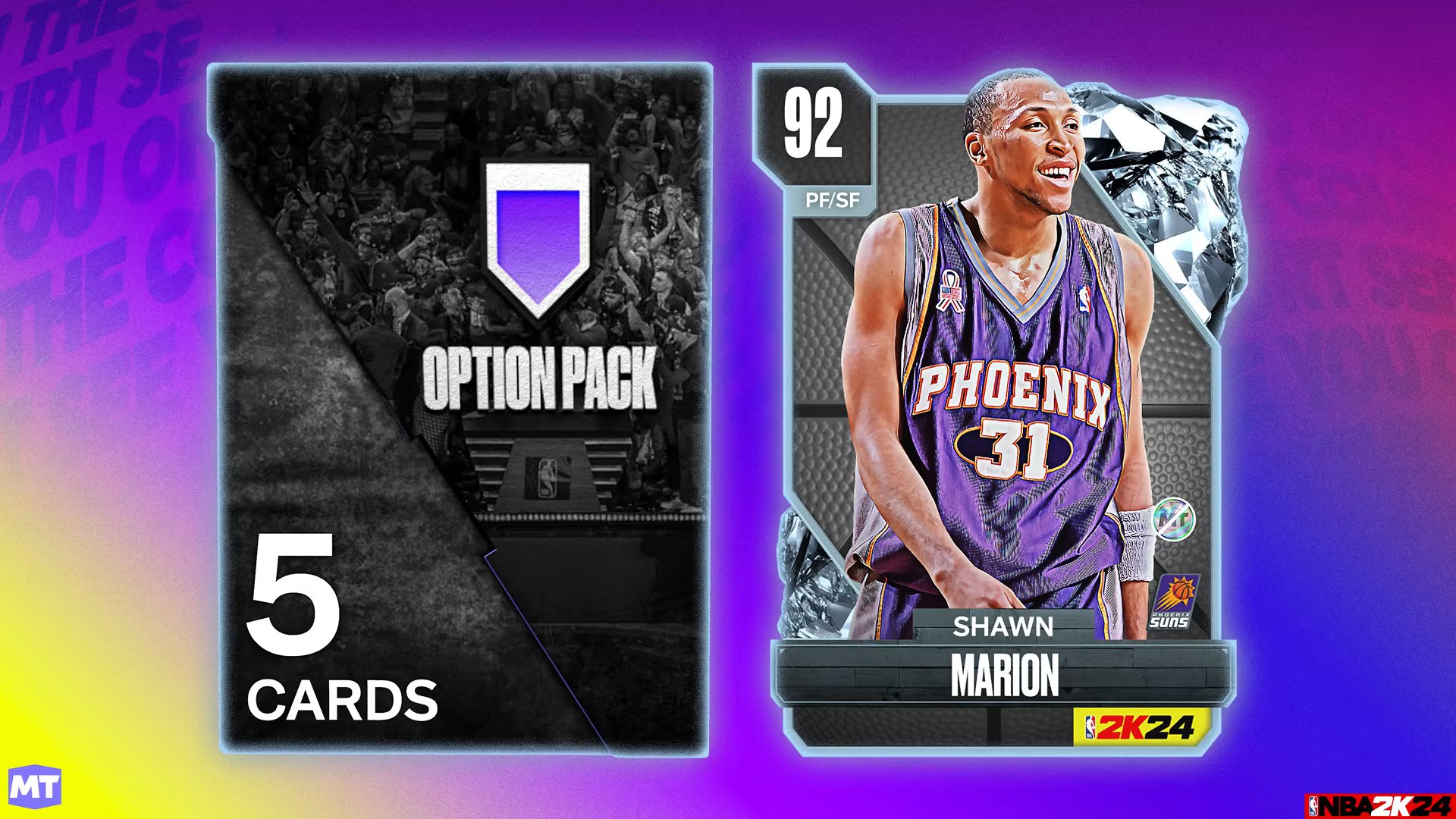 On the Collector Level side, the first powerful card you can add to your collection will be one of the few Diamonds available in Season 1. Collecting 500 Player Cards in total will earn you a powerful Diamond Shawn Marion reward card, along with Hall of Fame Badge Cards and more along the way. Plenty of Player Cards will be available throughout the year with regular releases of new cards multiple times each week. To launch the year, there will be over 50 Player Cards added across three #2KDAY collections and one collection from the first event of the year, Legendary Path. Stay tuned to our social media for more news and updates regarding NBA 2K24!
CLOSING REMARKS
NBA 2K24's MyTEAM is a paradigm shifting update to how the mode is played by new and long-time fans. The Player Market will empower players when adding Player Cards to their collection, with increased MTP earn rates giving more flexibility and choice along the way, just for playing games. New Season XP progression and the new multiplayer Salary Cap mode will reward players for just playing the mode or competing online through this new experience. A plethora of quality of life improvements available across the entire mode is just the start as MyTEAM begins the year next week.