The new NBA 2K24 MyPLAYER Builder is finally here! Check out more details below!
Also See:
The MyPLAYER Builder is an in-game "create a player" tool where gamers can choose what type of archetype they want to make, with everyone in the community vying for the best builds.
NBA 2K24 is bringing new elements to the badge system for New Gen that helps players perfect their craft and dominate the positions they love to play. There is something new for everyone to help take their game to new heights.
New to the NBA 2K24 MyPLAYER Builder
A whole new badge progression system to MyCAREER and The City (New Gen Only)
24 new skill badges
77 total badges
More balanced builds
NBA 2K24 will introduce customizable NBA Player Templates along with a new attribute builder page, additional badge tier rankings, archetype improvements that help to prevent meta builds, and more.
An all-new badge progression system that helps bring a more authentic feeling to a player's MyPLAYER build. Players will no longer have to pick and choose which badges to equip to their MyPLAYER, and they're no longer stuck within the badge points and attribute categories they were once limited to. Badges are earned by badge usage, meaning the more a player uses a badge in-game, the more they'll progress toward to the next level in which they qualify.
NBA 2K24 MyPLAYER Builder & Badges Full Details
BADGES
Define how you play in NBA 2K24 with the new badge system that encourages you to build on your strengths. We altered a few areas of the badge system and made improvements to existing badges, with new additions brought in to enhance flexibility, or removals made to bring more balance to the game; no stone was left unturned. Twenty-four new badges were added to NBA 2K24 on New Gen consoles, and with some removals, it brings us to a total of 77 skill badges across MyTEAM and MyCAREER—we're eager to see how you utilize them. Learn more about the added scoring, ball-handling and passing, and defensive badges below.
SCORING
Skilled slashers, finesse post scorers, knock-down shooters, and physical ball handlers all see new ways to show off their craft.
Float Game – A player's ability to make floaters and runners while attacking the basket is improved with Float Game.
Scooper – Quick scoop layup shot chances are improved with the new Scooper badge.
Bunny – Hop step layups and dunks receive an increased shot chance with Bunny.
Spin Cycle – Drives finished with a spin layup or dunk will receive an increased shot chance ability thanks to Spin Cycle.
Two Step – Cradle and Euro step layups and dunks receive a shot boost with Two Step.
Precision Dunker – Those who utilize the skill dunk mechanic will receive an improved chance of flushing their dunk attempt with Precision Dunker.
Hook Specialist – No love lost for post-play aficionados. Brought back from the dead, Hook Specialist increases a player's ability to make hook shots out of the post.
Post-Fade Phenom – Similar to Hook Specialist, Post-Fade Phenom will allow a player to make post-fades and hop shots out of the post at a higher clip.
Open Looks – As a way to encourage sudden opportunities, Open Looks will enhance a player's ability to make wide-open jumpers.
Spot Finder – By utilizing the "Get Open" mechanic (R2 or Right Trigger Tap), Spot Finder allows players to receive a speed boost off-the-ball to get to an open space, with a raised chance of knocking down the shot off the ensuing catch.
Whistle – Creating contact and getting to the free throw line when attacking the rim or shooting a jump shot is improved with the new Whistle badge.
Free Points – In clutch moments, knocking down free throws with the game on the line is improved with Free Points.
Bulldozer – A mix of a scoring and a ball-handling badge, think of this as Bully version 2.0 with elements of the old Clamp Breaker. Bulldozer improves the player's ability to push through physical body-ups and finish with physicality around the rim.
BALL-HANDLING / PASSING
Playmakers will find themselves with a surplus of new badge options.
Relay Passer – A hockey assist badge, Relay Passer provides a boost to shooters in a pass-to-assist situation.
Touch Passer – Players who quickly move the ball upon receiving it will get faster pass animations with Touch Passer.
Big Driver – Face-up bigs driving to the basket from within the mid-range area will receive an initial launch boost with Big Driver.
Blow-By – Quicker ball-handlers receive boosts in body-up interactions with defenders when Blow-By is equipped.
Physical Handles – During physical body-up interactions, players with Physical Handles have a higher chance of winning the outcome following a dribble move.
Speed Booster – A perimeter-only quick first step badge, Speed Booster will allow for quicker launches when coming from a stand-still dribble situation.
Triple Strike – Players excel with triple threat launches and jukes at a higher rate with Triple Strike.
DEFENSE
Championships are built on defense, and defenders in NBA 2K24 will not be left behind.
Fast Feet – It wouldn't be a fair game if only offensive players received speed boosts. Fast Feet can be looked at as a "quick first step" badge for defenders, allowing defensive specialists to stay in front of shifty ball-handlers.
Right Stick Ripper – Those who utilize the right-stick steal mechanic will receive a boost on steal attempts with Right Stick Ripper.
Immovable Enforcer – A direct counter to Bulldozer, Immovable Enforcer allows defenders to win physical matchups when it comes to body-ups and contact layups.
94 Feet – Players with 94 Feet receive fewer body-up stamina hits and improved body-up wins when pressing full court. Don't worry, those who do not have this badge will regret pressing full court.
BADGES REMOVED: Limitless Takeoff, Bully, Clamp Breaker, Menace, Mismatch Expert, Quick First Step, Vice Grip, Amped, Clutch Shooter, Floor General, Volume Shooter.
MyCAREER BUILDER AND BADGE PROGRESSION
BUILDER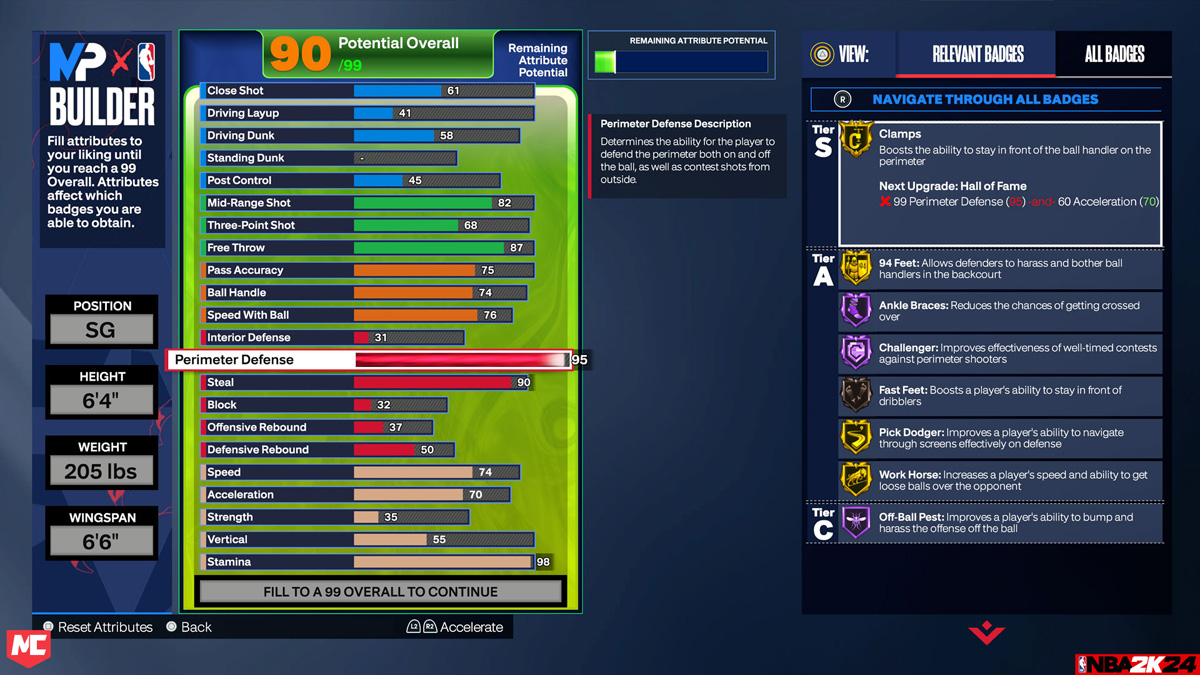 If you're like most NBA 2K gamers, one of the first things you're looking to do when you pick up the game is to head straight to the MyCAREER builder to set up your first MyPLAYER. Many changes and improvements have been made to ensure this is the best builder we've ever created.
At the start, you can choose between creating your own custom MyPLAYER or, new to NBA 2K24, starting with an NBA player template. A variety of player types are among the handful of NBA players chosen for the templates feature. The player templates are customizable, but if you wish to do so you can accept the player exactly as they are and start your career.
If you're going the custom route or you're customizing a template, you'll immediately notice some changes to the attribute builder page. Takeovers are no longer a part of the MyPLAYER builder process and are now available to you during real-time moments in-game; you can read more about this in our Gameplay Courtside Report. In addition, badges have been split into four tiers: S-, A-, B-, and C-Tier, with S-Tier badges being regarded as the best of the lot. Sticking to the course from NBA 2K23, a player's height determines Tier assignments, and each badge has a unique set of attribute requirements for unlocking the use of the badge.
In terms of archetype improvements, more emphasis was placed on preventing meta builds. Attribute caps for various size combinations saw a positive overhaul, and max heights/weights were updated per position. Also, a focus was put on the archetype naming system to ensure that the names are as descriptive of the player as possible.
BADGE LEVEL PROGRESSION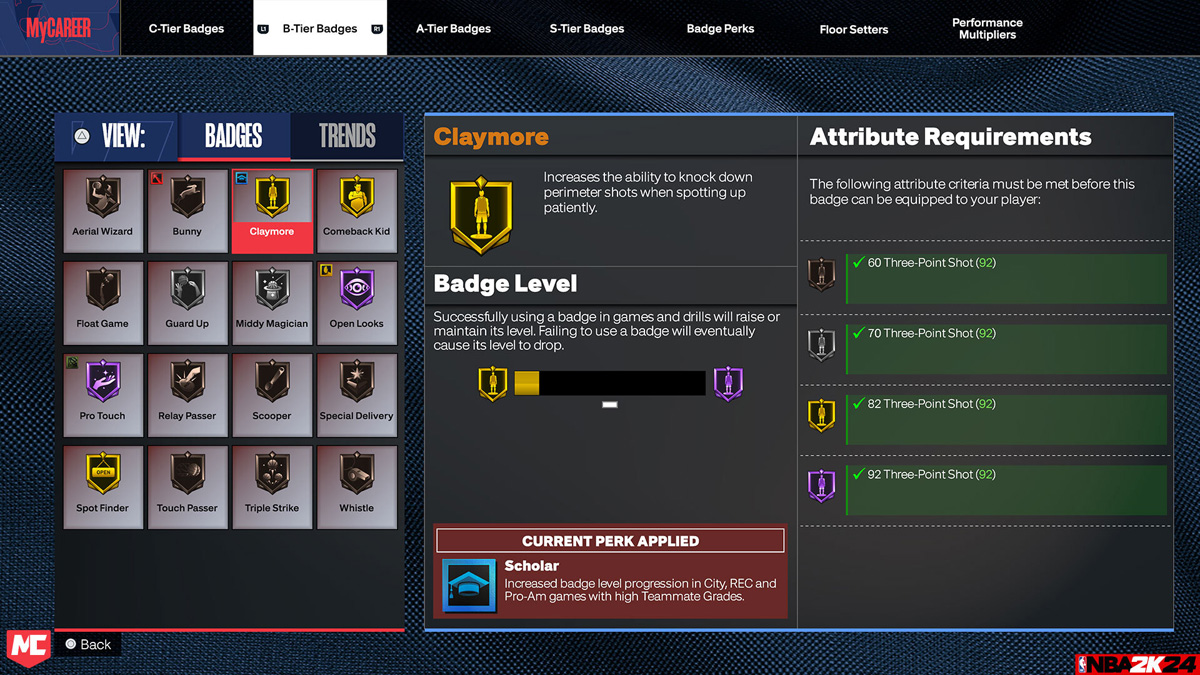 Once you've created your player and started your career, the badge-collecting journey begins. We're happy to bring you an all-new badge progression system that is all about proving who you are on the court game in and game out.
In games, badge levels are determined by badge usage, meaning how often they're firing off in the game. Over time, from game to game, your usage and skills with the badge are being evaluated, and your badge level will start to trend towards the level that matches your play. Badges with high usage and success will trend towards the higher levels within your potential, while badges with lower usage and success will trend towards the lower levels. There is a floor, however, as your badge will never drop below Bronze. Like riding a bike, if a badge drops below a level you once had, regaining that level takes less time than it did the first time around. Certain badges are also protected from games in which they cannot fire, such as the Relay Passer Badge in a 2v2 game.
The badge tiering system comes into play with this system in different ways than before. C-Tier badges, generally considered the least powerful badges in your arsenal, will be easier to gain and keep. Each tier you go up makes it progressively harder to gain and quicker to lose.
The beauty of this system is that you are who you are playing as. You've proven which skills you excel at, or which areas you like to gravitate towards. In the end, role players who have singular focuses will likely have fewer badges but at higher levels than well-rounded players who like to dabble with a little bit of everything.
They say practice makes perfect, right? Badge level progression can also be worked on in Team Practice Facility, the Gatorade Training Facility, and at Chris Brickley's Gym. In each of these modes, you will only ever improve your badge progress (in other words, you will never drop).
There are a multitude of various prizes and features to accelerate your badge-level progression: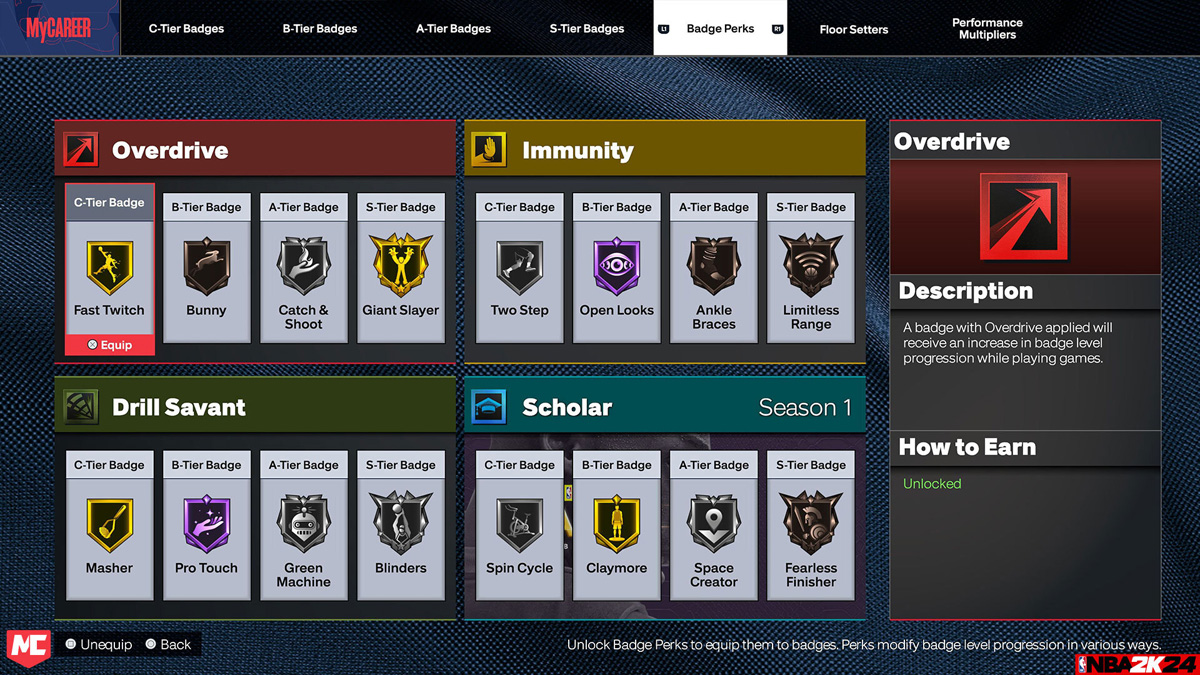 Badge Perks are prizes that provide various benefits to the progression of individual badges. The Badge Perks page consists of "slots" that the user can fill in when unlocked. There are four slots per perk, with each slot representing a different badge tier. A badge can only have one badge perk applied at a time. Here are the badge perks:

Overdrive – Increases badge level progression in games.
Immunity – Slows down badge level regression in games.
Drill Savant – Increases badge level progression in Team Practice Facility.
Scholar – A risk/reward perk that gives a significant increase in badge level progression for PvP games finished with a high Teammate Grade. However, it comes with risk: you will receive no progression for the badge if you do not finish with a high Teammate Grade. This is a rotational season prize.
Winner's Circle – A risk/reward perk that gives an added boost in badge level progression for PvP games that result in a win for the user. However, you will receive zero progression for the badge if you lose the game. This is a rotational season prize.
High-Risk – A risk/reward perk increases your badge level progression for PvP games with badge usage but accelerated regression with lack of usage. This is a rotational season prize.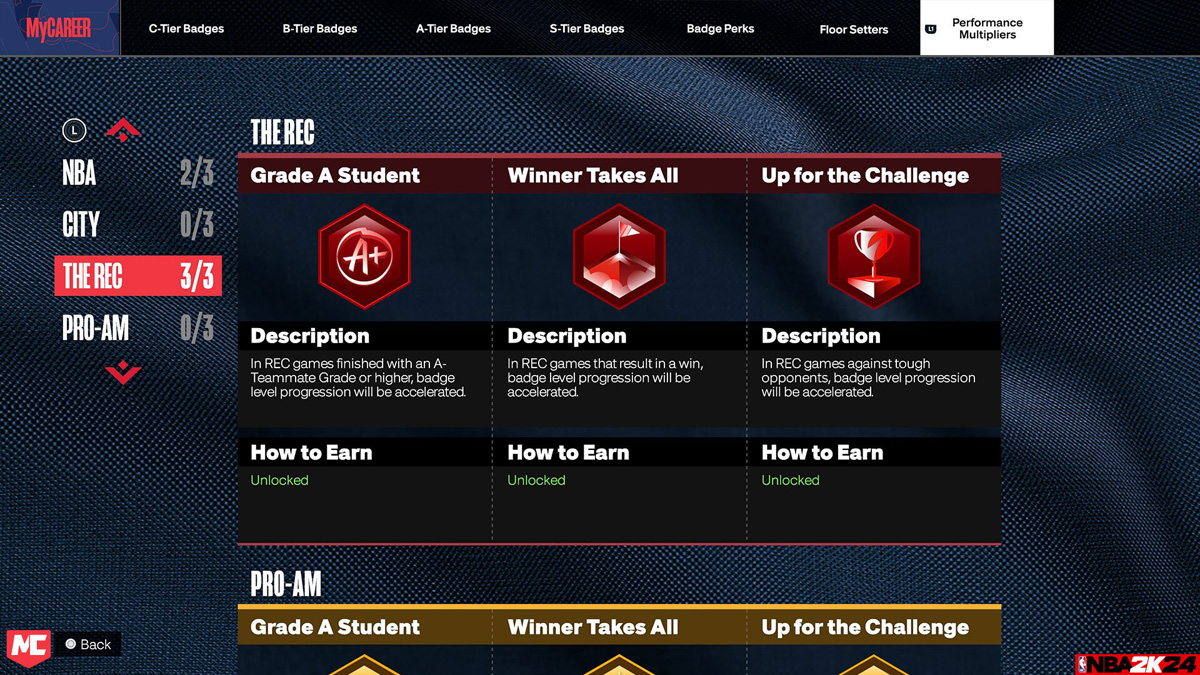 Performance Multipliers are prizes that, unlike Badge Perks, provide benefits to all of your equipped badges at once, so long as challenges from the multipliers are met in their respective modes. Each of the three Performance Multipliers has four versions—: NBA, City, The REC, and Pro-Am—for a total of 12 multipliers.

Grade A Student – In games finished with a high Teammate Grade, badge level progression is accelerated for all equipped badges.
Winner Takes All – In games finished with a win, badge level progression is accelerated for all equipped badges.
Up for the Challenge – In games played against tough opponents, badge level progression is accelerated for all equipped badges.

Floor setters are powerful prizes that are earned via Season XP, and they're included with the free Base Pass each Season. There are 18 Floor Setter slots in total, nine for Silver and nine for Gold. Adding a Floor Setter to a badge will prevent the badge from ever dropping below the listed badge level. If your badge has not progressed to the level of the Floor Setter you want to apply to it, it will auto-progress to that level (of course, you need to have fulfilled the attribute requirements for the level). They are permanent and cannot be changed. If your player can progress beyond the listed Floor Setter badge level, they will not be prevented from doing so.