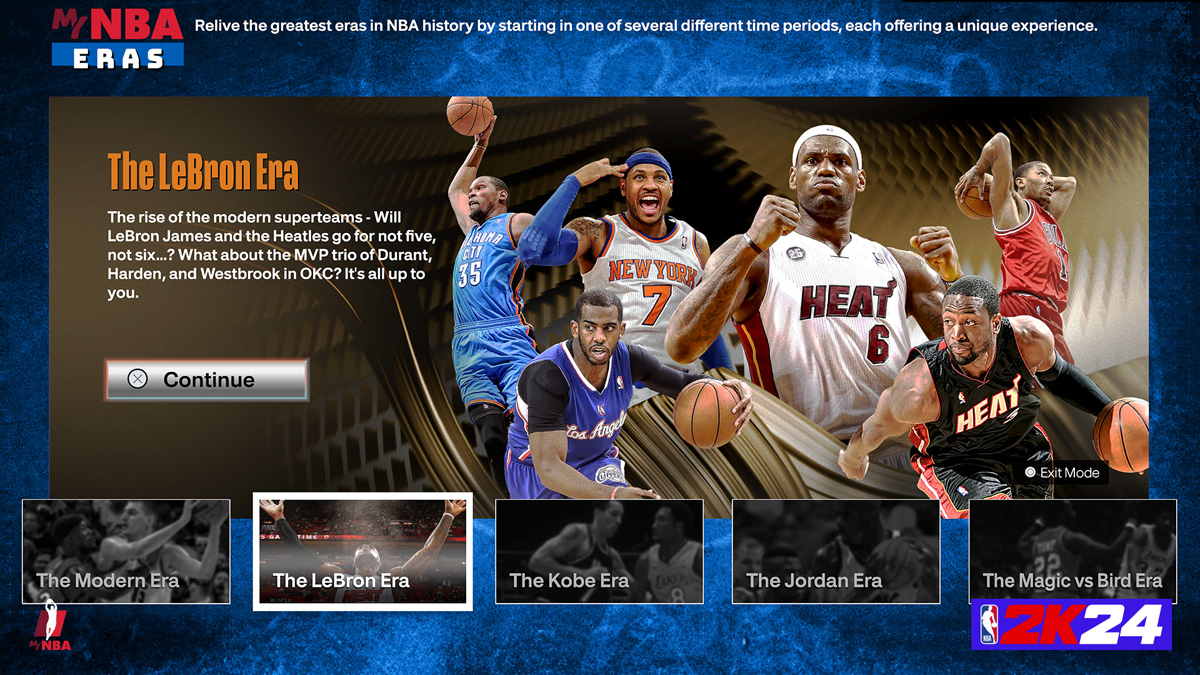 Here are the full details on MyNBA Eras and more! New to NBA 2K24 is the LeBron Era MyNBA Lite, MyNBA Online, new CBA addtions, and much more.
Read the full court report below for the full details!
Take Control of the League in MyNBA
Take control of the Association and your favorite players from iconic eras in MyNBA, the ultimate basketball franchise mode in NBA 2K24 New Gen available on PlayStation®5 and Xbox Series X|S.
Last year, NBA 2K23 introduced Eras to MyNBA. You could take the sport back to the '80s during the Magic vs. Bird Era and experience a more physical brand of basketball, or enjoy the Chicago Bulls' reign during the '90s in the Jordan Era and get nostalgic about the Black Mamba's early years in the Kobe Era. All of those beloved eras are returning for New Gen in NBA 2K24, plus an all-new era: the LeBron Era.
MyNBA gives you ample room to experiment with various lineups from different eras, whether you want to recreate history or go in a new direction and form new superteams and outcomes. Whether you keep the status quo and maintain the Magic-Bird rivalry or make them teammates is entirely up to you. There are even more possibilities in NBA 2K24 New Gen and more ways to get you in the action fast, including the all-new take on MyNBA: MyNBA Lite mode, made for a quick, casual experience.
The MyNBA you know and love is back in New Gen, but with added features and more freedom to make the trades, signings, and decisions that'll set your squad apart from the competition. Let's get started.
THE LeBRON ERA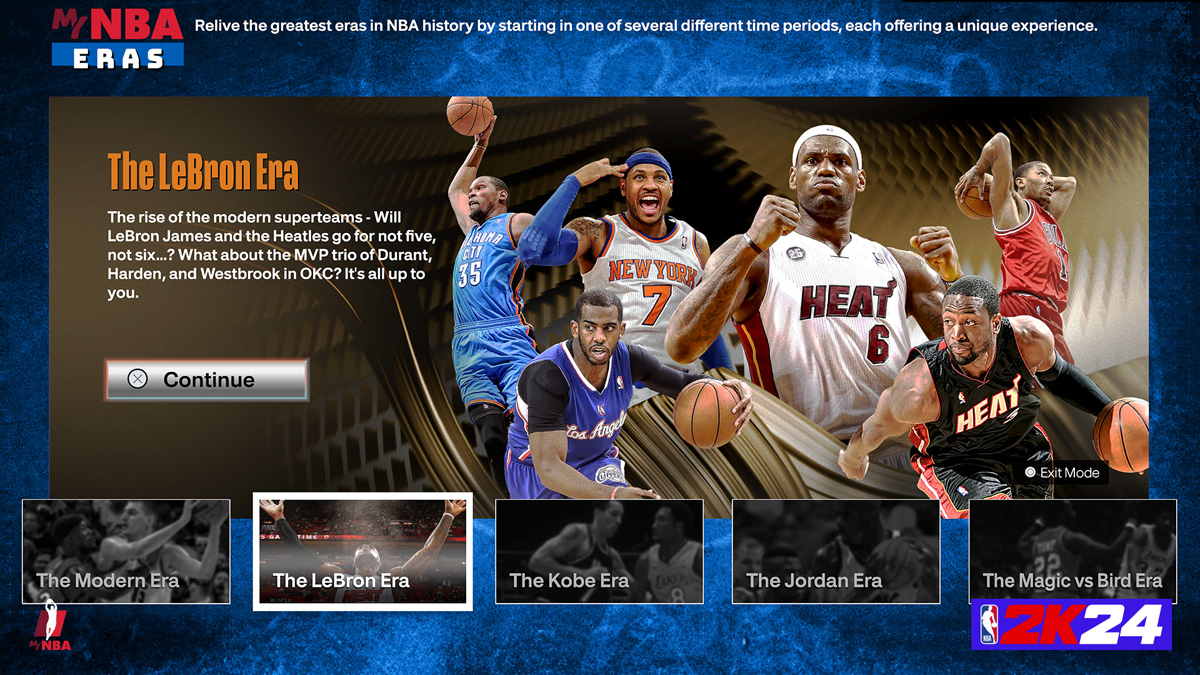 This fall, take your talents to South Beach and join LeBron James and the 'Heatles' in NBA 2K24.
The previous iteration of the NBA 2K franchise featured the Magic vs. Bird Era, the Jordan Era, the Kobe Era, and the Modern Era; now, with the addition of the LeBron Era, there are a total of five playable Eras in NBA 2K24 New Gen.
Thanks to LeBron's televised decision—which nearly 10 million U.S. viewers anxiously watched—the 2010s kicked off dramatically, as the kid from Akron, Ohio, left his hometown team to join forces with Dwyane Wade and Chris Bosh to create the next superteam. Take control of the Miami Heat's Big Three or dash their title hopes by leading another NBA franchise to glory.
While LeBron and the 'Heatles' dominated headlines and garnered the spotlight, the talented 2011 NBA Draft Class waited in the shadows for an opportunity to present itself. Featuring lockdown defenders Kawhi Leonard, Jimmy Butler, Klay Thompson, and ankle-breaking specialist Kyrie Irving, a new wave of stars could be the building blocks you need to challenge Miami's three-headed attack.
NEW ERA FEATURES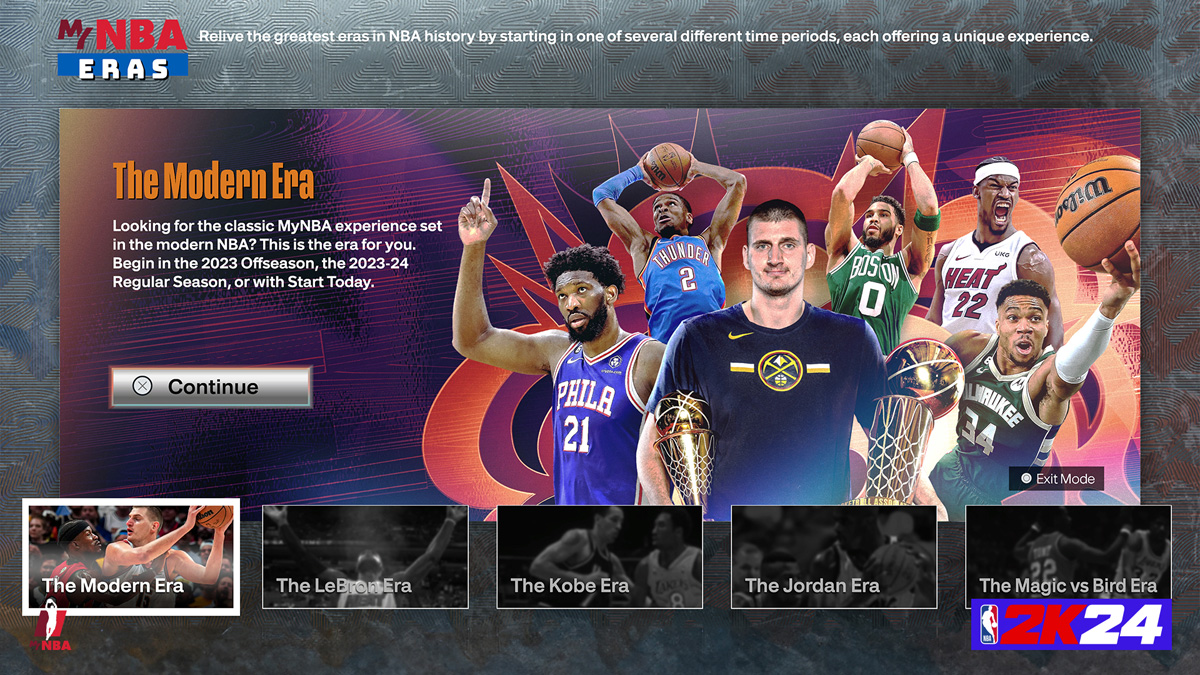 As you progress through the 2010s and into the Modern Era, you'll notice select players undergo an automatic aging transformation. This new feature in NBA 2K24 New Gen is present in all of the Historic Eras; watch Kobe evolve from young 'Frobe' in the early 2000s to the smooth-headed, cerebral Black Mamba in his later years. You'll also observe new reactions from pundits, journalists, and fans based on the Era you're playing in.
Starting from the Magic Versus Bird Era, when you complete a game, newspapers will be shared in-game and feature a brief paragraph of your most recently played game, pulling relevant stats from the game. Near the end of the '90s, print journalism transitions to a 'web 1.0' social media webpage, designed to evoke feelings from old websites that give box scores and player stats. These additional details make playing in the various Eras more authentic and true to the time.
MyNBA ONLINE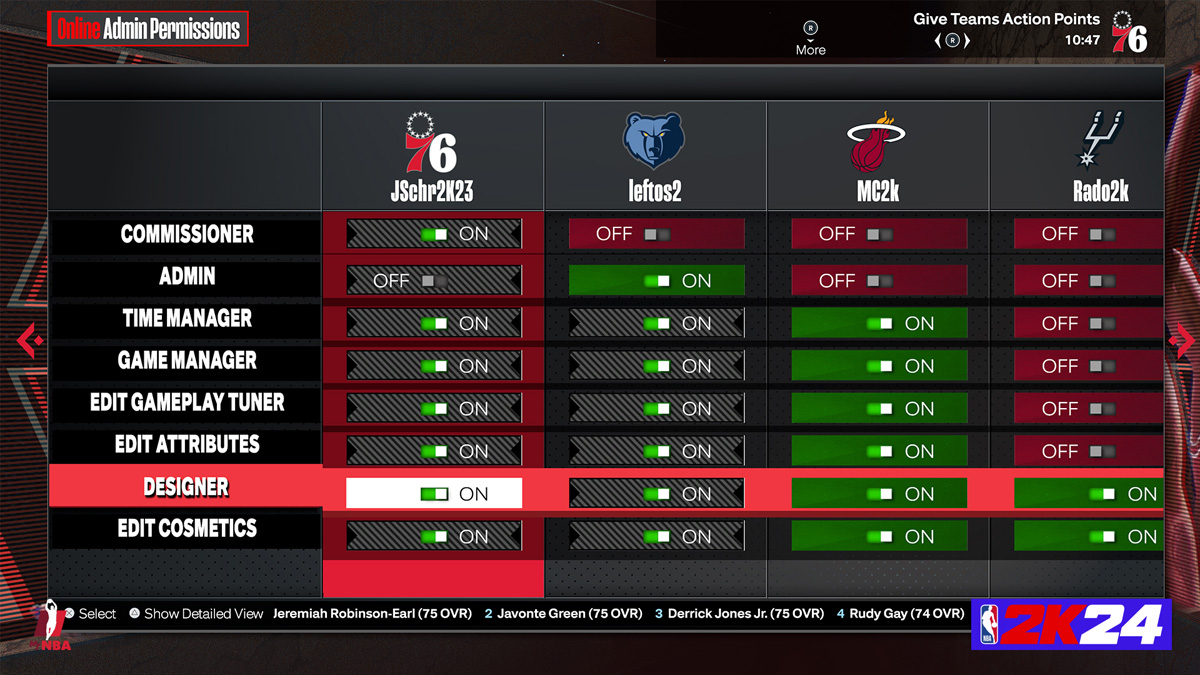 Previously, in a MyNBA online league, Admins shared mostly the same powers as regular users. This meant that to have someone that you knew could do a great job editing player shoes would have the ability to kick regular users, revert games, advance time periods, et cetera. Now, we have the following eight roles:
– Commissioner – The league owner can do everything
– Admin – Have all normal permissions, plus a few special permissions like trade veto/approval and rule change veto/approval
– Time Manager – Can pause, edit or add new timers
– Gameplay Tuner – Can edit large scale things that affect gameplay for the whole league, like sliders
– Attribute Editor – Can edit anything on a player that impacts gameplay like Vitals, attributes and badges
– Designer – Can create and edit team jerseys, arena and logos
– Appearance Editor – Can edit anything on a player that doesn't directly impact gameplay
With more clearly defined roles, you can get the most out of MyNBA Online on New Gen.
ENJOY MyNBA WITHOUT LIMITS
Welcome to MyNBA Lite—simply pick a team and go!
The entire MyNBA experience has been streamlined for MyNBA Lite on New Gen, allowing you to get in the game faster, make trades without CBA restrictions (using a soft salary cap rather than a hard cap), extend contracts when you please, have 100% accuracy and visibility on the upcoming draft classes, remove the need to scout, and condense the offseason into the Draft with a shorter free agency period.
MyNBA Lite is built on three core pillars: drafting, trading, and winning championships. All you need to do to get started is pick an NBA team from the Modern Era and play. Revamping a roster from top to bottom and abiding by the CBA like an actual GM can be a rewarding experience, but also requires time and dedication. MyNBA Lite on New Gen gives you the freedom and flexibility to make the moves and transactions you'll need to get in title contention fast.
2023 COLLECTIVE BARGAINING AGREEMENT
The NBA and the National Basketball Players Association agreed on a new CBA that will take effect immediately and run through the 2029-2030 regular season. To account for this, we've implemented the new big-ticket items in NBA 2K24 on New Gen. Take a look below:
– Luxury tax brackets scale with the salary cap.
– Cap smoothing prevents more than a 10% increase per year
– Increased value from the Mid-Level Exceptions (MLEs)
– Increased the number of two-way roster slots from two to three
– Restricted Free Agent (RFA) qualifying offers increased by 10%
– Adjusted the RFA Right of First Refusal period to 24 hours
– Rookie-scale extensions last five years
– Teams can always sign second-round picks
– Teams can have any number of Supermax contracts, only limited by the salary cap
– All-NBA teams are positionless
It's your call whether you follow the CBA in MyNBA or play with fewer restrictions in MyNBA Lite.
MORE TO COME
NBA 2K24 will feature all of your favorite modes, including MyNBA, each with a bevy of new improvements to make it an even more enjoyable and realistic experience. Throw picture-perfect lobs in the LeBron Era, get in the game quicker with MyNBA Lite, and tinker with new rules and stipulations carved out by the League. Also, build a roster of positionless All-Stars to reflect the game's cast of versatile playmakers and prove you have what it takes to earn the Kia Clutch Player of the Year award.
If you're wondering about MyLEAGUE on Current Gen consoles—don't fret, the popular hands-on mode is back in NBA 2K24! Make executive decisions as a General Manager and lead your franchise to championship glory or elevate the league's status as the Commissioner of the NBA.
We'll see you on the court.
*MyNBA mode and its features are only available on New Gen on PlayStation®5 and Xbox Series X | S