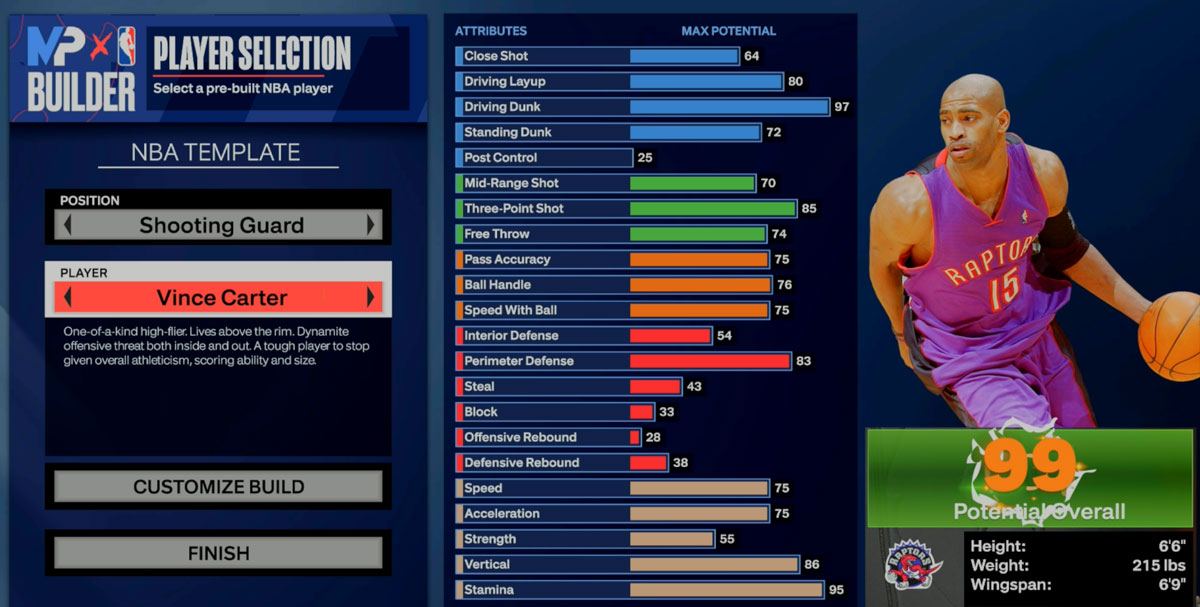 Here is the NBA 2K24 Vince Carter template build and how to make it in NBA 2K24!
Also See:
NBA 2K24 Template Build: Vince Carter
One-of-a-kind high flier. Lives above the rim. Dynamite offensive threat both inside and out. A tough player to stop given overall athleticism, scoring ability, and size.
Height: 6'6″
Weight: 215 lbs
Wingspan: 6'9″
Position: SG
Added: Season 2
| ATTRIBUTES | MAX POTENTIAL |
| --- | --- |
| Close Shot | 64 |
| Driving Layup | 80 |
| Driving Dunk | 97 |
| Standing Dunk | 72 |
| Post Control | 25 |
| Mid - Range Shot | 70 |
| Three - Point Shot | 85 |
| Free Throw | 74 |
| Pass Accuracy | 75 |
| Ball Handle | 76 |
| Speed With Ball | 75 |
| Interior Defense | 54 |
| Perimeter Defense | 83 |
| Steal | 43 |
| Block | 33 |
| Offensive Rebound | 28 |
| Defensive Rebound | 38 |
| Speed | 75 |
| Acceleration | 75 |
| Strength | 55 |
| Vertical | 86 |
| Stamina | 95 |