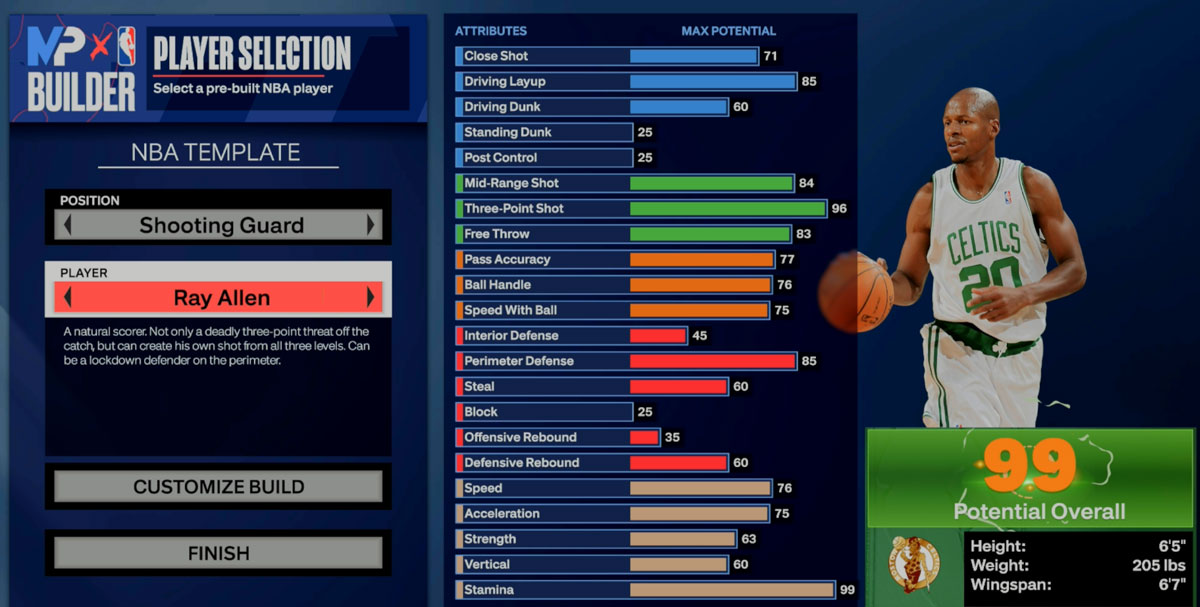 Here is the NBA 2K24 Ray Allen template build and how to make it in NBA 2K24!
Also See:
NBA 2K24 Template Build: Ray Allen
A natural scorer. Not only a deadly three-point threat off the catch, but can create his own shot from all three levels. Can be a lockdown defender on the perimeter.
Height: 6'5″
Weight: 205 lbs
Wingspan: 6'7″
Position: SG
Added: Season 2
| ATTRIBUTES | MAX POTENTIAL |
| --- | --- |
| Close Shot | 71 |
| Driving Layup | 85 |
| Driving Dunk | 60 |
| Standing Dunk | 25 |
| Post Control | 25 |
| Mid - Range Shot | 84 |
| Three - Point Shot | 96 |
| Free Throw | 83 |
| Pass Accuracy | 77 |
| Ball Handle | 76 |
| Speed With Ball | 75 |
| Interior Defense | 45 |
| Perimeter Defense | 85 |
| Steal | 60 |
| Block | 25 |
| Offensive Rebound | 35 |
| Defensive Rebound | 60 |
| Speed | 76 |
| Acceleration | 75 |
| Strength | 63 |
| Vertical | 60 |
| Stamina | 99 |