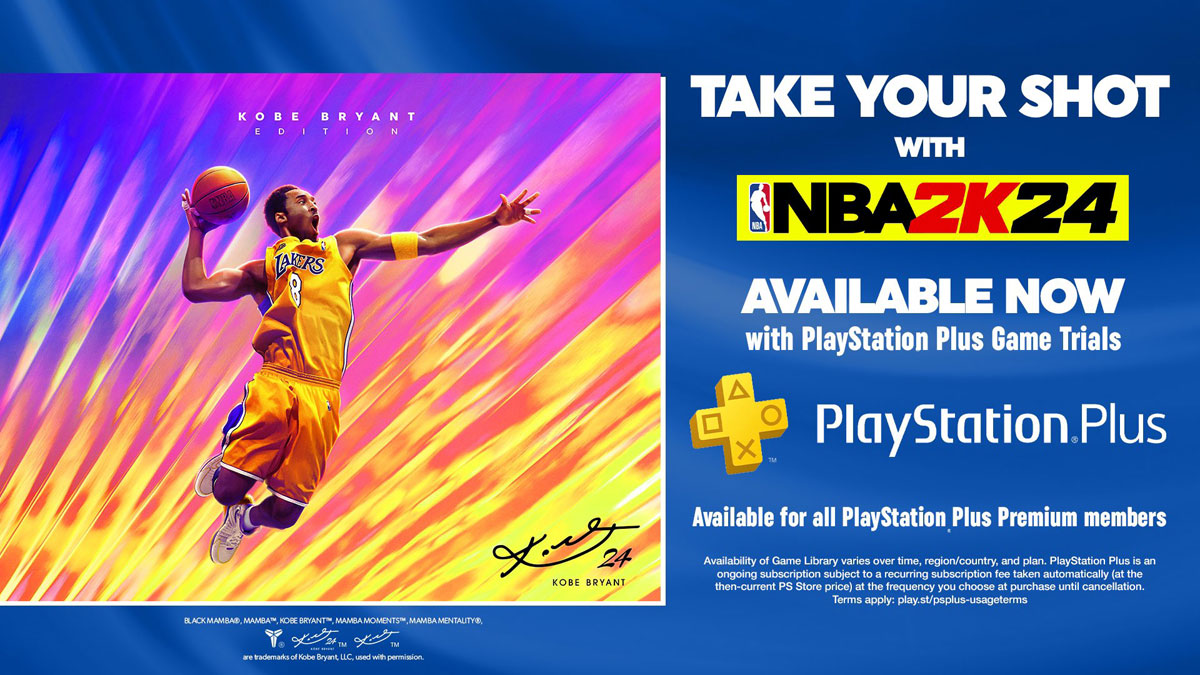 2K announced today that PlayStation Plus premium members will be able to try out NBA 2K24 for free for up to 3 hours.
🚨 PlayStation Plus Premium Members 🚨 #NBA2K24 is available to try now for 3 Hours FREE with @PlayStation Plus Game Trials 🎮#SeeYouOnTheCourt pic.twitter.com/HtL7bBKs2A

— NBA 2K (@NBA2K) September 26, 2023
NBA 2K24 GAME DESCRIPTION
GENERAL
NBA 2K24 builds on the NBA 2K franchise with enhanced features and gameplay, delivering animations and movements pulled from real-world action on the court for a groundbreaking jump in authenticity. Grab your squad and enjoy loads of pure, authentic hoops action across your favorite NBA 2K modes, including limitless personalized MyPLAYER options in MyCAREER. Collect an impressive array of legends and build your perfect lineup in MyTEAM and more, including new Mamba Moments challenges. See you on the court!
INTRODUCING ProPLAY
Introducing ProPLAY – a groundbreaking new technology that directly translates NBA footage into NBA 2K24 gameplay. ProPLAY delivers animations and movements via on-court NBA action for a generational leap in authenticity.
IMMERSIVE MODES
Packed with pure, authentic hoops action, NBA 2K24 boasts a variety of single-player and multiplayer game modes for you to immerse yourself in. Realize your NBA dreams in MyCAREER, assemble a dream team of your favorite players in MyTEAM, put on your General Manager cap in MyNBA, and play as today's stars in Play Now.
MAMBA MOMENTS
Embody one of the greatest basketball players of all time in Mamba Moments mode, recreating several of Kobe Bryant's most dominant and captivating performances. Unleash Kobe's unguardable baseline jumpers, technical savvy in the post, and ruthless will to win as you progress through the highlights of his legendary NBA journey.
2K BEATS
Every athlete needs a hype playlist to get them amped up before a big game. 2K Beats delivers a masterfully curated list of tracks for you to enjoy when you're roaming The City, building your lineup in MyTEAM, and pushing the ball up the court. Featuring some of the biggest names in contemporary music, 2K Beats brings the heat all year long with motivating tracks to keep you playing at an elite level.
NEXT-LEVEL GAMEPLAY AND LIFELIKE VISUALS
Game recognizes game as you compete as your favorite NBA and WNBA teams and showcase your deep arsenal of moves. With revamped interior defense and dribble combo controls for more rewarding skill-based actions and effectiveness, NBA 2K24 lets you enjoy pure, authentic action with up-to-date rosters and historic teams bringing you even closer to the game.
TAKE CONTROL OF YOUR LEGACY in MyCAREER
Ascend from a generational talent to a Hall of Famer as you chase greatness and championships along the way. Explore an all-new city as you flex your skills with non-stop hoops* or step up your game with your MyPLAYER in a picturesque Neighborhood** filled with streamlined quests as you rise to the top.
MANAGE YOUR MyTEAM
Craft, collect and assemble rosters as you challenge the world with your best starting 5. Experience endless hours of customization choosing from past and present, including today's All-Stars and legends of the hardwood. Compete in multiple modes testing your skills in this refined card-collecting mode.