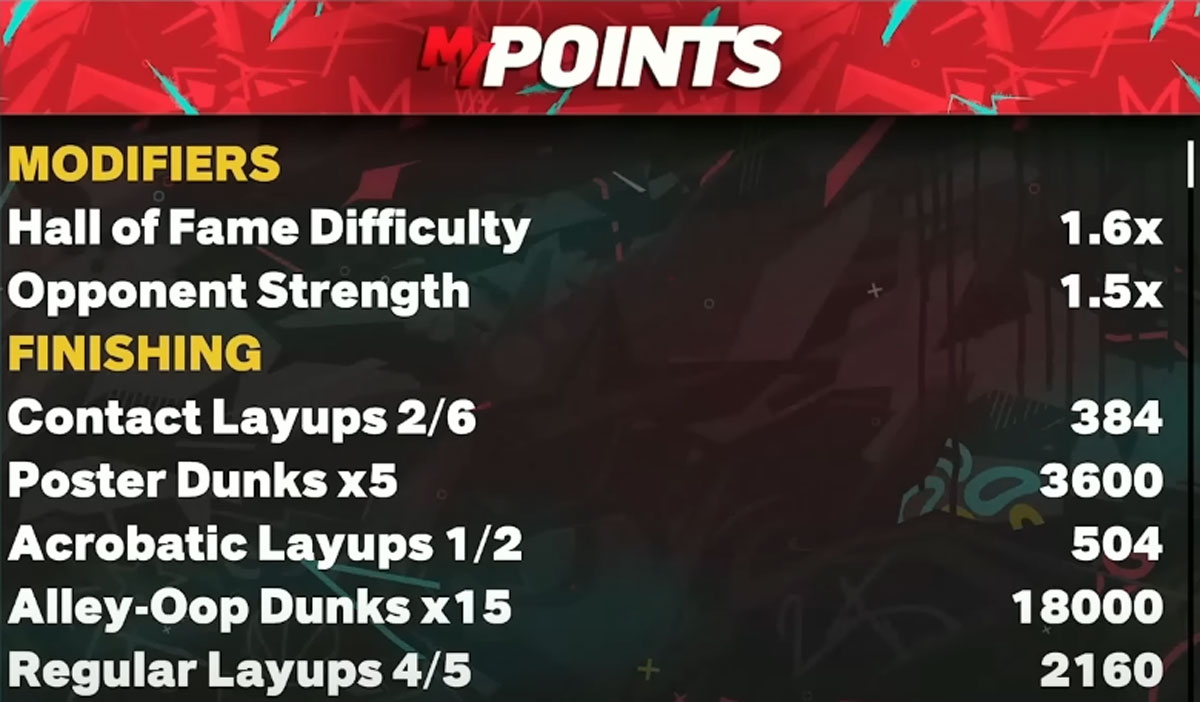 Teammate Grade and MyPOINTS in NBA 2K23 work hand in hand in rewarding a MyPLAYER's in-game performance. Read on for the full guide!
Teammate Grade Explained
Teammate grades are a feature in NBA 2K that grades the total gameplay performance for any MyPLAYER game, whether in MyCAREER, Pro-Am / Rec, or Park / City. Individual in-game action, positive or negative, contribute to the overall teammate grade.
Teammate Grade Tips
Some of the best actions to improve teammate grade include:

Alley-Oop Finishes
Assists
Blocks
Steals

Avoid
Run plays like pick and roll to get open or a teammate open
Try to 'stack' positive plays together (e.g tipped pass + steal + dunk)
Scoring alone won't optimize teammate grade scores, but versatility and making smart basketball plays will be rewarded more and help reach the A+ teammate grade.
Increasing the quarter setting (up to 12 minute quarters) allows for more time to get a good teammate grade.
Teammate Grade Actions
(note: work in progress)
OFFENSE (POSITIVE)
Made Shot
Made Shot (FT)
Good Shot Selection
Excellent Release
Scored Off Assist
Draw Foul
Free Throw
Good Pass
Assist
Pass Leading to a Score
Pass Leading to a Foul
Pass To Assist
Good Ball Movement
Find Open Teammate
Good Spacing
Fill lane Correctly
Good Screen
Screen Assist
Win Jump Ball
Highlight Play: Posterize
OFFENSE (NEGATIVE)
Call for Pass Ignored
Excessive Call for Pass
Turnover
Bad Shot Selection
Hold Ball Too Long
Bad Free Throw
Shooting Slump
DEFENSE (POSITIVE)
Multiple Defensive Stops
Steal
Block
Good Shot Contest
Poke Ball Free
Good Defensive Possession
Tipped Pass
Draw a Charge
Good Hustle
Good Double Team
Forced Turnover
DEFENSE (NEGATIVE)
Leave Assignment (vs CPU)
Bad Steal Attempt
Bad Block Attempt
Bad Transition Defense
Defensive Breakdown
Dunked On
Excessive Violations Committed
REBOUNDING (POSITIVE)
Rebound
Successful Box out
Offensive Rebound
Defensive Rebound
Rebound Your Miss
Second Chance Points
MyPOINTS Explained
MyPOINTS in NBA 2K23 are points that you can earn for your MyPLAYER based on how well you perform in a game. Earning enough MyPOINTS goes towards leveling up your MyPLAYER to 99 OVR as well as getting to Level 40 each season to unlock a variety of rewards.
MyPOINTS ACCELERATOR QUEST
You can do the following NBA 2K23 Quest to get a 5% boost to your MyPOINTS progress:
Coach Wayne Graves wants to talk to you about how you can help progress quicker towards becoming an NBA superstar.
Objectives
3 – Coach Drills Completed
Rewards
MyPOINTS Actions Tips & Info
To access MyPOINTS, press "View Game Events" after a MyCAREER game, or you can view them after Park, Pro-Am, and Rec games.
Modifiers affect the amount of MyPOINTS you can earn. The higher the game difficulty and the better the opponent, the higher the bonus to the MyPOINTS potential.
Some MyPOINTS are based off on how efficient the actions were (i.e. high shot percentage)
Some of the best actions for the most MyPOINTS include:

Alley-Oop Dunks
Alley-Oop Asists
Attack Assists
Pick & Roll Assists
Blocks
MyPOINTS Game Difficulty Modifiers
Rookie – 30%
Semi Pro – 60%
Pro – 100%
All Star – 120%
Superstar – 140%
HOF 160%
MyPOINTS Gameplay Actions
FINISHING
Contact Layups
Poster Dunks
Alley-Oop Dunks
Acrobatic Layups
Regular Dunks
Regular Layups
Inside Runners & Floaters
SHOOTING
Free Throws
Moving Midrange Shots
Standstill Threes
PLAYMAKING
Alley-Oop Assists
Attack Assists
Pick & Roll Assists
Bodyup Wins
Regular Assists
Relay Assists
DEFENSE
Balls Poked Loose
Blocks
Rebounds
Steals
Well-Defended Plays
Forced Bodyup Losses
BONUS