Full details of NBA 2K22 MyTEAM have been revealed by 2K, including a new multiplayer Draft mode.
Here are some of the features coming to NBA 2K22 MyTEAM:
MyTEAM Draft: Offers a new multiplayer mode where players pick a full lineup of Player Cards. Every Draft will net players a guaranteed League Pack and at least a single pick on a Draft-exclusive Ascension
Triple Threat Online: The 100 is a new take on the 3-on-3 mode where great defense earns players even more rewards
Season 1: Call to Ball: Earn new Seasonal Player Reward Cards, such as a Kobe Bryant 93-rated Free Agent card that will lead players' starting lineups or reach Level 40 to gain a Pink Diamond Carmelo Anthony
Community Logos: Players who have received in-game verification will now have their logos appear next to their usernames in MyTEAM, with opportunities for players to gain this recognition throughout the year as chosen by the NBA 2K Community Team
New challenges, agendas, rewards, events, and more player & team customization throughout the year.
Progress players make on PlayStation 4 and Xbox One versions of NBA 2K22 will transfer to the PlayStation 5 and Xbox Series X|S versions within the same console family via dual-access. More information is available at the dual-access FAQ.
Check out the NBA 2K22 MyTEAM Courtside Report below:
Hello NBA 2K community! I am Jonathan Smith, producer at Visual Concepts, and it's time to get you filled in on everything going into NBA 2K22's MyTEAM! Whether you are a seasoned veteran in MyTEAM or someone looking to build their first dream team, there is something for every NBA 2K player in MyTEAM!
In a nutshell, there are many different foundational changes in MyTEAM this year that I personally cannot wait for you to experience. Card collectors, online competitors, casual NBA fans, everyone has a place in MyTEAM and we are just a few short days away from getting this amazing mode into your hands.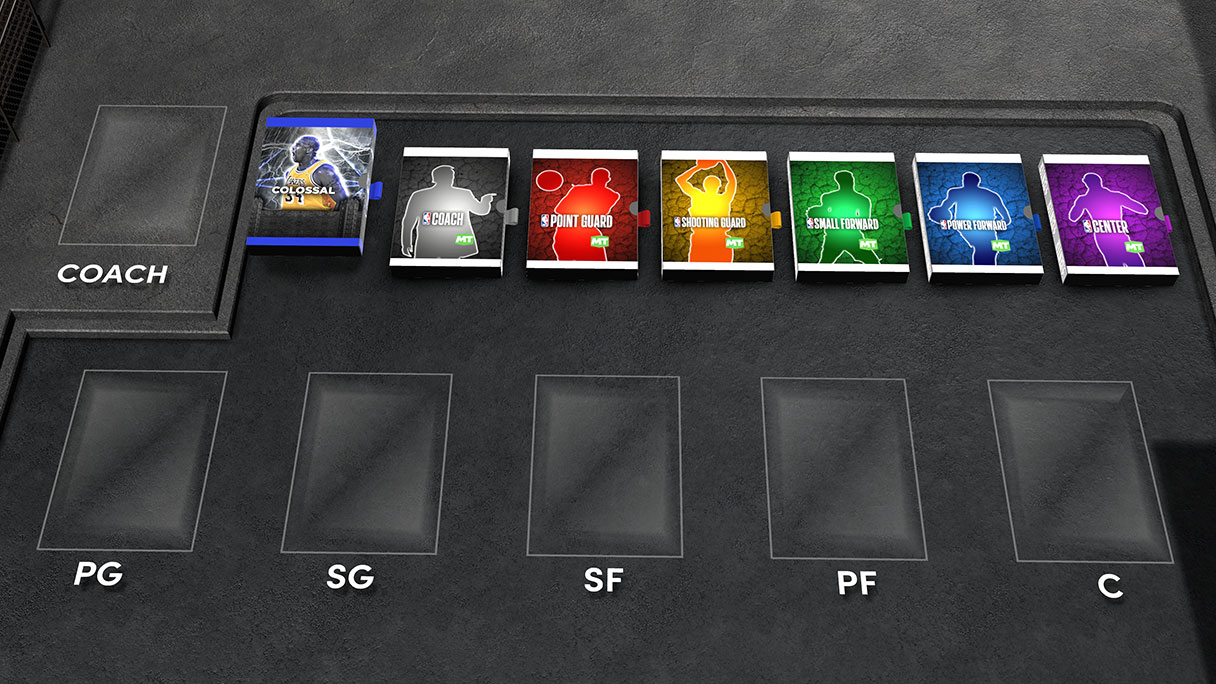 MYTEAM: DRAFT
In case you missed the first announcements, MyTEAM: Draft is a new multiplayer mode where you pick a full lineup of Player Cards which will include the latest cards in MyTEAM. When starting a new Draft you will be presented with seven packs to choose your 13 players and coach. You will pick up two players from each of the position packs, but where the Draft will shine is with that first pack on the left. That is the Featured Pack.
What is the Featured Pack? This is where the latest releases in MyTEAM will show up for you to draft and compete with. Unlike the other packs, this Featured Pack will only contain three cards which are added to your drafted lineup. You can likely count on these players being the best players in your lineup to lead your drafted team to victory! Look for the Featured Pack to be updated with the latest player cards released in MyTEAM each Friday. The positional packs will also be updated as well, but don't count on the previous Featured Pack players showing up in there immediately after cycling through.
But what are you competing for in MyTEAM: Draft? Every Draft will net you a guaranteed League Pack and at least a single pick on a Draft-exclusive Ascension; full of prizes to add to your permanent collection! For every win you get in your drafted lineup's limited run, you will earn additional Ascension picks. With the high-stakes of a Draft run, you can expect some great rewards in this Ascension, including an exclusive Grand Prize Player each Season. And for Season 1: Call to Ball, that player is Pink Diamond Glenn Robinson, a wing that ANY MyTEAM player will want to dominate with to start the year. Once you complete a run by either achieving ten wins or taking three losses, you will use all of your earned Ascension picks and then be able to Draft a brand-new lineup.
TRIPLE THREAT ONLINE: THE 100
One of MyTEAM's most popular modes, and my personal favorite, Triple Threat Online will be receiving a new way to play this multiplayer 3-on-3 mode. Enter The 100. At the start of each run in Triple Threat Online: The 100 you will receive 100 points. After every game, win or lose, the amount of points your opponent scores against you will be subtracted from your 100. Once you hit 0, run over, and you are reset back to the bottom tier of prizes. This means at a minimum, every player should now get into the second tier of prizes for this mode's Ball Drops, even if they lose every game.
Every possession matters now, and I apologize to everyone I went against in 2K21 doing some live proof of concepts for this mode. It's time to step up your game, step up your defense! Be sure to check out the defensive sections of Mike Wang's gameplay Courtside Report. You will need to shut down your opponents to reach those top-tier reward boards. Season-exclusive reward players are returning, and like last year, these Ball Drop prizes will again see regular updates all year long in MyTEAM.
PICK-UP AND SKILL CHALLENGES
Challenges have quickly become the go-to place for Single Player MyTEAM games. Whether it is our 5-on-5 full lineup games, or Triple Threat Challenges introduced last year, these games provide the most unique lineups to compete against and provide some great prizes to improve your lineup and collection. For 2K22, we've replaced Weekly and Moment Challenges with Pick-Up and Skill Challenges.
Let's start with Pick-Up Challenges. Every day you can compete against a generated lineup based on your current lineup. So, if you enter with a full 90+ OVR team you can expect to meet some tough competition. On the flipside, enter this game with a prospective Limited lineup, and your CPU opponent will match that lineup quality. The reward for winning the game is earnable once a day, so be sure to either start or end your MyTEAM sessions with a Pick-Up Challenge!
Skills Challenges are where the Weekly and Moment Challenges will reside, plus additional Challenges never-before-seen in MyTEAM. With Skill Challenges you will complete feats like hitting Klay's 9 threes with a single player, or matching the Champion Bucks' 29 threes as a team in a game. Only with Skill Challenges, getting the win at the end of the game may be optional! Drain that three, slam the last dunk, or even dish that final assist needed, and the Challenge ends immediately. In a late-game situation and don't think you can complete the requirements? Rematches are now allowed in Skill Challenges, letting you have a quick retry while still in the game. In addition, you can complete Skill Challenges out-of-order, allowing you to pick and choose which Challenge to complete in the group at your own pace. From re-living history to creating your own, Skill Challenges are going to be a brand-new way to experience Single Player MyTEAM!
Finally Spotlight Challenges. To tip-off your MyTEAM Challenge experience for the year, there are 20 Spotlight Challenges featuring our 4 NBA cover athletes for NBA 2K22. Including both 5-on-5 and Triple Threat Challenges, these games will both test and improve your lineup as you complete each challenge. The final reward? One of the 15 Event Cards needed for a Diamond Luka Dončić!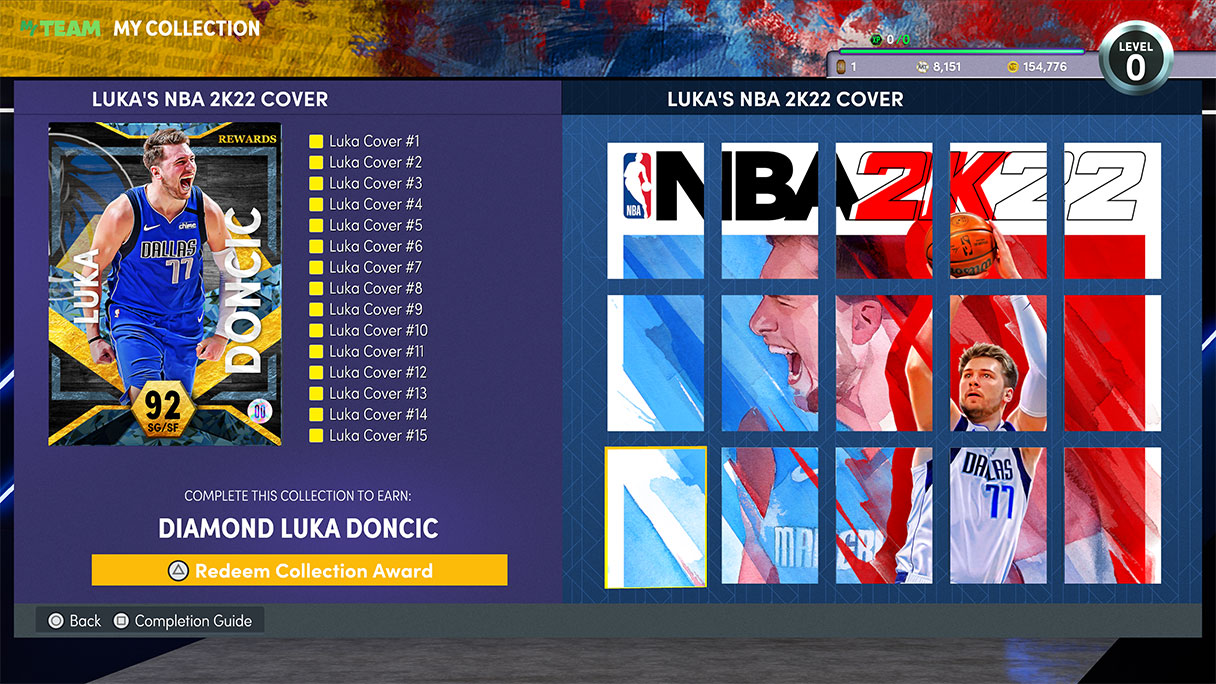 BRAND-NEW EVENT CARDS
Throughout NBA 2K22, MyTEAM will hold numerous events at the start of Seasons, during Limited Time Events, and for great Moments in the league. For these, we have created one more new card type in NBA 2K22's MyTEAM, Event Cards. Earnable and pullable, look to collect, sell, and Exchange these cards throughout the mode in different ways all year long.
To get started on Day 1, we've created a 15-card mural for you to assemble to commemorate Luka Dončić's NBA 2K22 cover. Complete Lifetime Agendas that touch on all aspects of MyTEAM, from playing and winning in different modes, applying Consumable Cards to players in your collection, and for defeating the Cover Athlete Spotlight Challenge mentioned earlier. Earn all 15 Event Cards, and Collection Complete this mural for a Diamond Luka Dončić! Again, available on Day 1!
TWO $250,000 MYTEAM UNLIMITED TOURNAMENTS!*
Before we get too far into the player cards and rewards, it's time to talk about the pinnacle of competitive NBA 2K22, the $250,000 MyTEAM Unlimited Tournament. This year, $500,000 is on the line as we will be running TWO concurrent tournaments – one on the PlayStation 4/Xbox One consoles AND one on the PlayStation 5/Xbox Series consoles. Following a familiar format as previous years, each Season will have a GameDay where everyone in the community tries to qualify for the big tournament in March. From there, the 64 qualified players (32 from the PlayStation 4/Xbox One tournament and 32 from the PlayStation 5/Xbox X/S tournament) will enter single-elimination brackets to decide our four console finalists. In the end, we will have two winners taking home $200,000 each, and two runner-ups earning $50,000 for being their console's champion.
MyTEAM does have cross-progression once again in NBA 2K22. All of your mode progress, wallet, and collection will seamlessly cross between generations within the same family of consoles, but this will be slightly different for the $250,000 MyTEAM Unlimited Tournament. Qualify by reaching the Emerald Tier in Unlimited on either generation, and you are eligible to compete in both generations' GameDays. Meaning you could qualify and compete across both console generations. It is wide-open for any MyTEAM player to make a name for themselves against the greatest in the community, and I cannot wait to see if someone tries to become a double champion!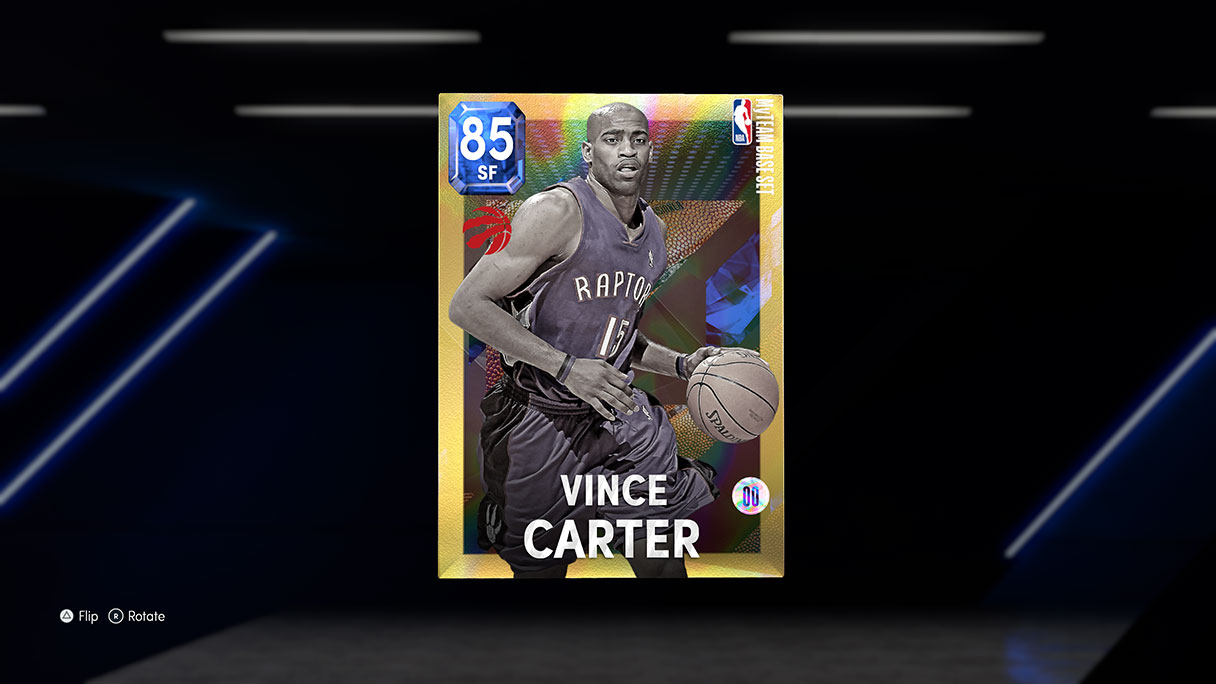 HOLO PLAYER CARDS
What are the rarest cards in MyTEAM? In NBA 2K22 this may not just be a Galaxy Opal Stephen Curry or a Dark Matter LeBron James, but Holo versions of these players. EVERY auction-able Player Card in MyTEAM will have the opportunity to become a Holo version when it is opened from the Pack Market.
These rare versions are the ultimate flex in your collection, and to show-off to the community when playing online. While Holo Player Cards have the same attributes and badges as their common versions, there will be certain Agendas and Lineup rules that can require the use of these rare and special cards. So be on the lookout for Holo versions of your favorite players when sniping on the Auction House!
MYTEAM AUTHENTIC CARD GRADING SERVICE
What if you wanted to get more out of the player cards in your lineup? To add another new layer to every Player Card in MyTEAM, you can now send these cards to be professionally graded! After some time passes to carefully grade each card, our experts will send back your Player Cards, freshly sealed, and minted with a grade.
The highest grade you can receive is a flawless 10, but every graded card returns to your lineup with Bonus MTP in every game played. So, when playing your daily Pick-Up Challenge, are you maximizing your MTP earned with graded cards? Similar to Holo Player Cards, only auction-able Player Cards are able to be graded, so be on the lookout for highly-graded auction listings from the community!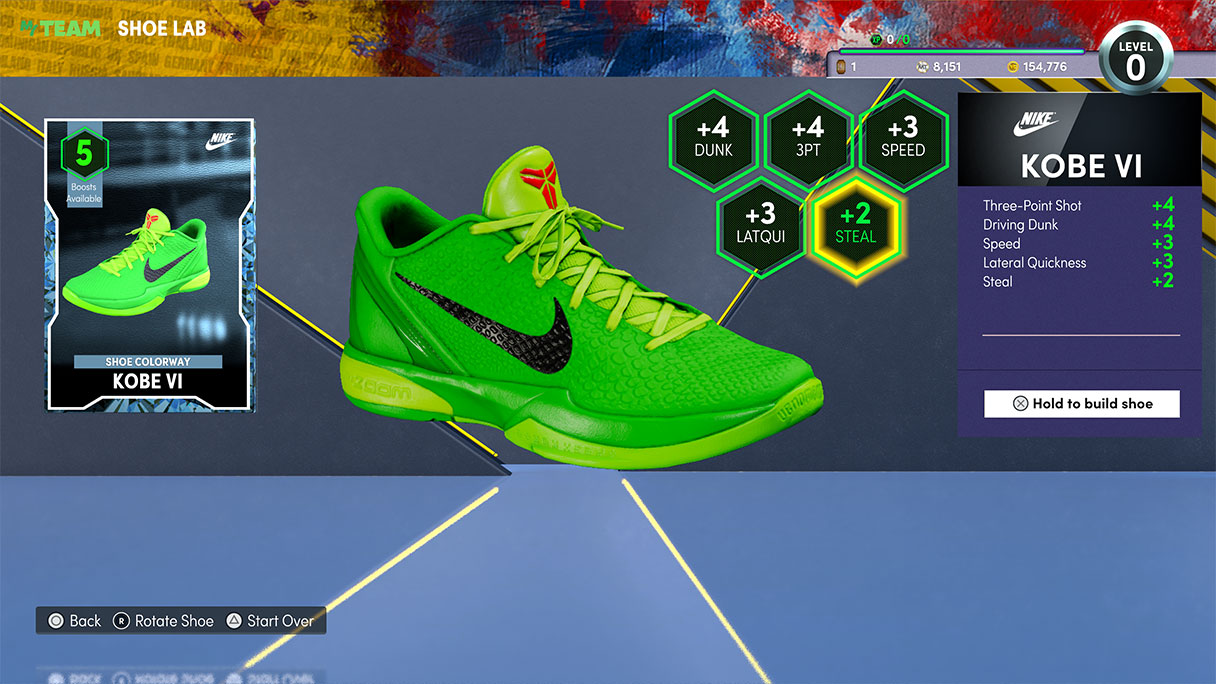 CRAFT SHOES IN THE MT SHOE LAB
Shoe Cards are no longer tied to specific attribute boosts! YOU choose the boosts by crafting your own Shoe Cards in the MT Shoe Lab! Combine your Shoe Boost Cards containing an attribute with your favorite Shoe Colorway Cards to create your own custom Shoe Card. Now if you want to deck out your Triple Threat trio with your favorite Jordan Brand sneakers, you can, with individualized boosts for each player!
With this change, every Shoe Colorway in MyTEAM now has a Bronze, Silver, Gold, and Diamond variant! This needs to be clear. MyTEAM has gone from a few dozen Diamond Shoes, to well over 500! Your on-court style has never been more your own in MyTEAM.
To get you started, if you completed the NBA 2K22 Cover Athlete Challenge in NBA 2K21's MyTEAM, there will be an 18 card pack waiting for you when you start up NBA 2K22 for the first time. This massive pack includes 3 Diamond Shoe Colorway cards of the 2K21-infamous "Grinch" Kobe VI's, and 15 Shoe Boost Cards to fill each shoes' 5 open slots.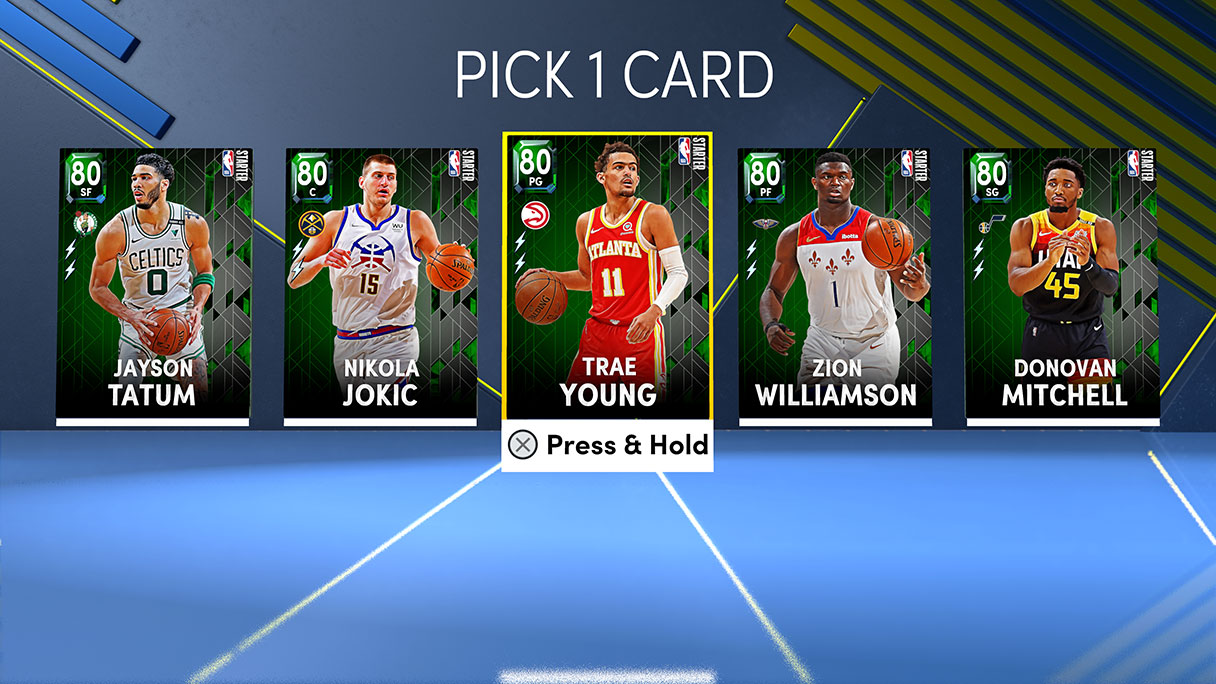 MYTEAM STARTERS & OPTION PACKS
This year you will decide between five current NBA stars. Choose to start with Trae Young for a ranged attack and flashy alley-oop passes. Fly through the air with Donovan Mitchell to catch defenders at the rim. Break down the D with Jayson Tatum… OR power through them with Zion Williamson. Maybe the best solution is to add the reigning MVP, Nikola Jokic, to your lineup immediately.
The choice of which evolution Starter to pick is yours through our brand-new Option Packs. For the first time ever in MyTEAM, you can earn all five of these Starter cards to assemble an All-Star worthy lineup. After fully evolving a Starter Player, you will unlock a new Lifetime Agenda which will let you open the Starter Option Pack a second, third, fourth, and fifth time to add all of these players to your collection. But it doesn't end there. Fully evolve that fifth Starter player and you will earn the first historic coach of the year, Emerald Phil Jackson, by completing all the evolutions in the Starter collection.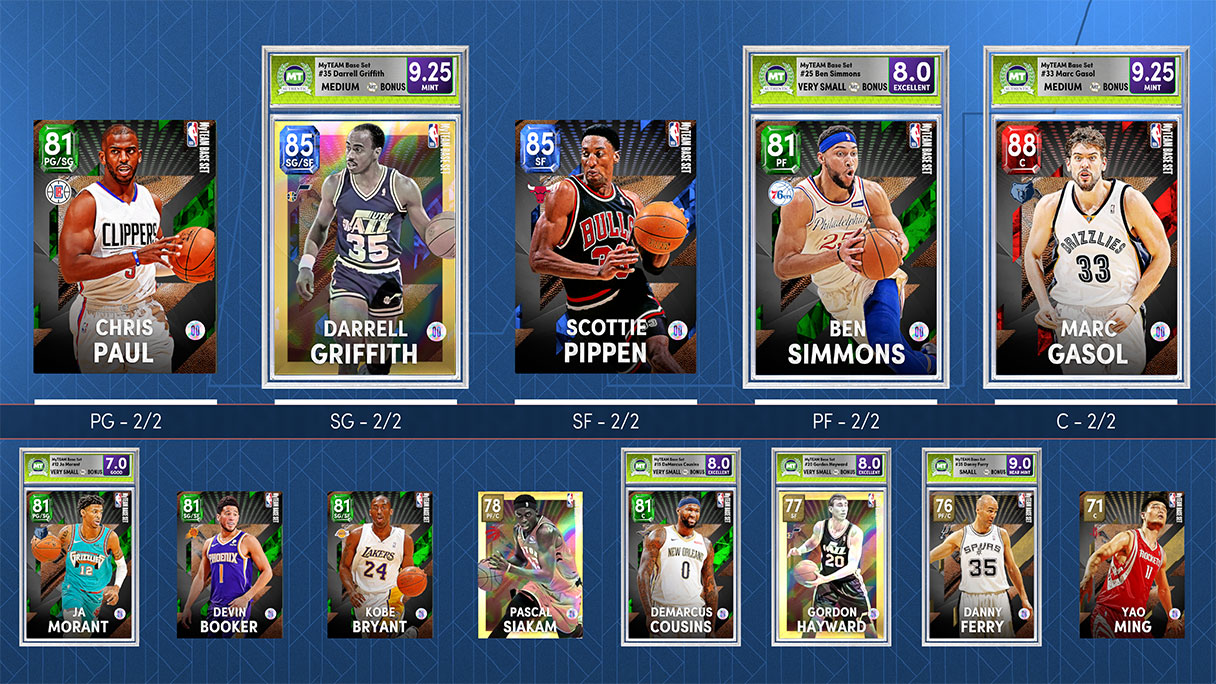 THE MYTEAM BASE SET
For something you will NOT see in MyTEAM at all this year, Bronze and Silver Player Cards have been removed from the game. All players are now Gold tier and higher, with all of the previous years' gems returning above that precious metal. Now, some of the keen-eyed members of the community are probably wondering about some of the players you're seeing labeled as MyTEAM Base Set. These aren't fake Player Cards for this Courtside Report, these current and historical players will make up, well, the Base Set of MyTEAM to start the year!
We're looking forward to dropping Current: Series 1 when the NBA Season gets underway, but for this first portion of the year you can fill out your lineup with likes of…. Michael Jordan, Larry Bird, Allen Iverson, Tracy McGrady, and even Yao Ming! Yes, MOST of the all-time greats of the sport are represented in the Base Set of MyTEAM, ready to be experienced by any and all dropping into the mode! Beyond the names are 45 different Dynamic Duos to begin the year, with each franchise getting one Duo, plus 15 additional Duos that span across locker rooms to the other teams.
TEAM CUSTOMIZATION
Now for one of my personal favorite parts of MyTEAM, Team Customization. I, generally, love seeing some of the unique and creative uniforms and courts the community makes as we compete online, but in some ways MyTEAM has never included some of the options we see in the NBA or in MyNBA.
Getting started with uniforms, you can now pick any of the hundreds of Jersey Cards in MyTEAM to be your home uniform. To make sure games are played with different color uniforms for each team, every lineup now includes both an away and an alternate uniform, whose colors must be non-conflicting. This is just one of the many ways MyTEAM allows for your style to take the court.
Court floors and Arenas are now separate cards in MyTEAM. Mix and match the Nets' court with your own custom arena, or your custom court in the Warriors' Chase Center, or… if you really wanted to… put the Celtics parquet in the Staples Center. For the first time in MyTEAM, you will also be able to earn Court Cards for the alternate versions of courts we see teams use during the NBA Season. With all of the historic courts and arenas we have in NBA 2K, you now have full control over where your MyTEAM plays, and the court you play on.
We've also changed up how you earn the current jerseys, courts, arenas, and logos. Play with any Player Cards from an NBA team to complete new Lifetime Agendas. Drop threes, slam dunks, and control the boards to earn your favorite NBA team's current Franchise Cards.
COLLECTOR LEVELS
In NBA 2K22's MyTEAM, we are bringing back over 50 different collector levels for you to earn throughout the year. Exclusive basketballs, tokens, MTP, diamond shoe colorways, "MyTEAM" jerseys, and over a dozen Player Rewards, Collector Levels are back and better than ever! Get started with a Sapphire Kobe Bryant for collecting 150 cards, and collect your way to one of 2K22's Cover Athletes Dirk Nowitzki at 4,000 cards! On your way along this epic journey, be sure to keep an eye out for the reveals of the mystery players as our available collection increases throughout the year. And look to become a unicorn along the way!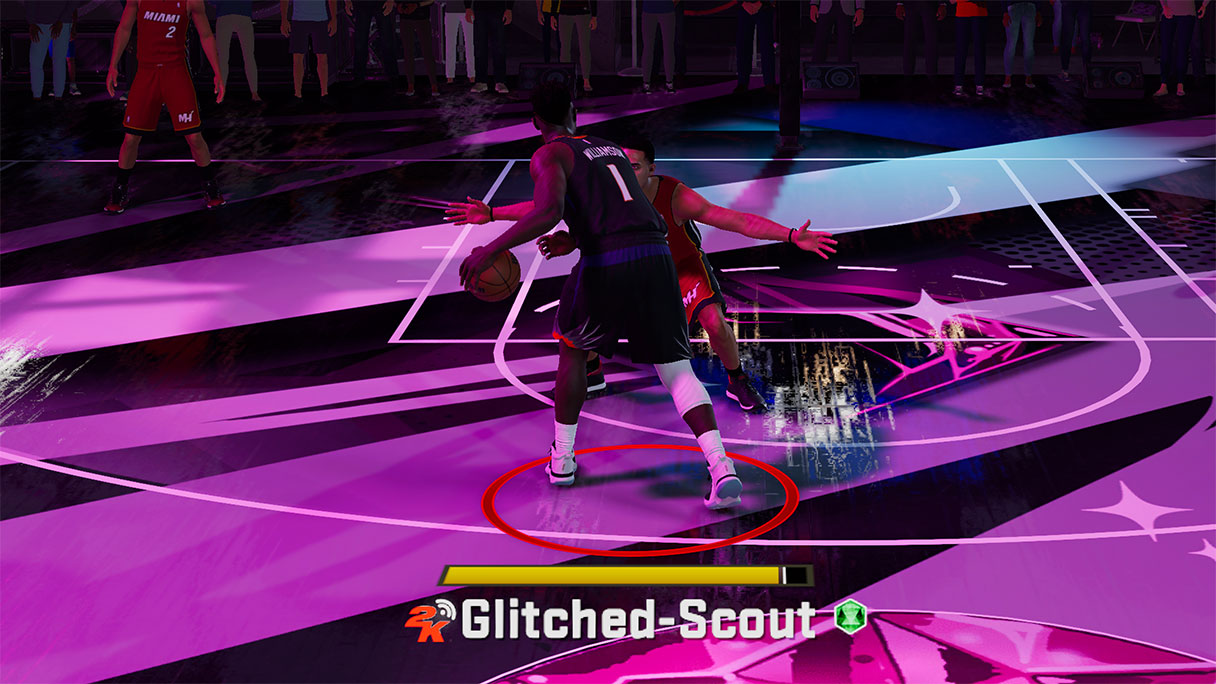 COMMUNITY LOGOS
Last year the official @NBA2K_MyTEAM Twitter account promoted around a dozen streamers each weekend, and throughout the year we backed our community pillars with exclusive locker codes, card giveaways, and more. In NBA 2K22, we want to continue to focus on shining a spotlight on the community both on social media, and within NBA 2K22.
For online games, players who have received in-game verification for being an NBA player, celebrity, musician, and streamers will now have their logo appear next to their username. Now, just like in MyCAREER, you will know if you are matched up against the real verified players! Remember that the Logo Team is always on the lookout for great community members on social media, I can't wait to see who I run into this year online in MyTEAM!
SEASON 1: CALL TO BALL
Are you ready to answer the Call to Ball in Season 1 of NBA 2K22 in MyTEAM? In case you missed last week's Seasons Courtside Report, MyTEAM will once again have new Seasonal Player Reward Cards to earn throughout the mode.
To get you started in MyTEAM, simply head to the Season Agenda menu to pick up the one and only Kobe Bryant, with a 93-rated Free Agent card to lead your starter lineup. We've already mentioned the Pink Diamond Glenn Robinson available in Draft, but you can also earn Pink Diamond Devin Booker for getting all 6 rings in Limited this Season, and Pink Diamond Wilt Chamberlain for rising up the tiers in Unlimited and going 12-0 at the top! Just a few of the over thirteen, 90+ OVR-rated, Reward Player Cards that are available on Day 1 in MyTEAM!
For those looking to complete Agendas and earn XP to increase your Season Level, you will notice familiar and new Agendas to complete this year. To help see the progress of the multiple Agendas you may be completing in a single game, all tracked Agendas will now pop-up during gameplay to inform you of your progress. Of course, earning XP is the name of the Season level game in MyTEAM, and once you do reach Level 40, Pink Diamond Carmelo Anthony is ready to drop-in and get BUCKETS!
One more new change to note while earning and rising through the levels of Season 1. Ascension is BACK, but now the plays you earn from Season Levels will save your progression between attempts. So you no longer get reset to the bottom level each time you play Ascension! Pick up right where you left off and seek out each Season's Grand Prize Player!
THANK YOU
I can not wait to see you all on the virtual MyTEAM courts next week. With all of the new types of cards and changes mentioned, there is still so much more to experience in NBA 2K22's MyTEAM mode on Day 1 (like Play with Friends Triple Threat!). Unfortunately, I don't have any "clutch" announcements at this time for the new mode being added this holiday season to MyTEAM, but I am looking forward to sharing more with you as we get closer to its reveal.
One more time, MyTEAM: Draft, Triple Threat Online: The 100, new Challenges, new Agendas, new Rewards, new Events, more player & team customization, oh, and TWO $250,000 MyTEAM Unlimited Tournaments. There has never been a better time to jump into MyTEAM than in NBA 2K22!
So, for everyone who has played in previous years of MyTEAM, to those who will check it out for the first time in NBA 2K22, and on the behalf of everyone at Visual Concepts, thank you for playing MyTEAM.
Jonathan Smith
*NBA® 2K22  MyTEAM Unlimited $250,000 Tournament
ABBREVIATED RULES
Open to legal residents of the 50 United States & D.C. (excluding AZ, CT, MD, and ND), Canada (excluding Quebec), Australia, Chile, Denmark, France, Great Britain, Greece, Hong Kong, Republic of Ireland, Indonesia, Israel, Germany, Japan, Macau, Mexico, New Zealand, Norway, Philippines, Portugal, Singapore, South Africa, South Korea, Spain, Sweden, Switzerland,  Taiwan, Thailand, and Turkey, who are at least 18 years of age and the age of majority in their state/country/province of residence. Void in AZ, CT, MD, ND, Quebec and where prohibited.  Contest will consist of 2 separate tracks for PlayStation (PS) and Xbox entrants.
To participate, you must have NBA® 2K22 game ("Game"), Xbox Gold Service or PS Plus service, and Internet connection. Game must be played on PS4 and Xbox One for Track 1 and PS5 and Xbox X/S for Track 2.  This Contest consists of: (i) the Pre-Qualifying Period; (ii) the GameDays; and (iii) the Tournament.  You must qualify during the Pre-Qualifying Period to participate in the GameDays.  The Pre-Qualifying Period begins on September 10, 2021 at 12:00:00 AM local time.  The first GameDay takes place on October 16, 2021 and the last GameDay takes place on February 19, 2022.  You must qualify for the Tournament, which is currently scheduled to take place on March 5, 2022 at 10:00 AM U.S. Pacific Time for Track 1 and on March 6, 2022 at 10:00 AM U.S. Pacific Time for Track 2.
Subject to the Official Rules, which will be posted at https://nba.2k.com/myteam-unlimited-tournament/.  Sponsored by 2K Games, Inc. ("2K"), a wholly owned subsidiary of Take-Two Interactive Software, Inc., 10 Hamilton Landing, Novato, CA 94949, USA.