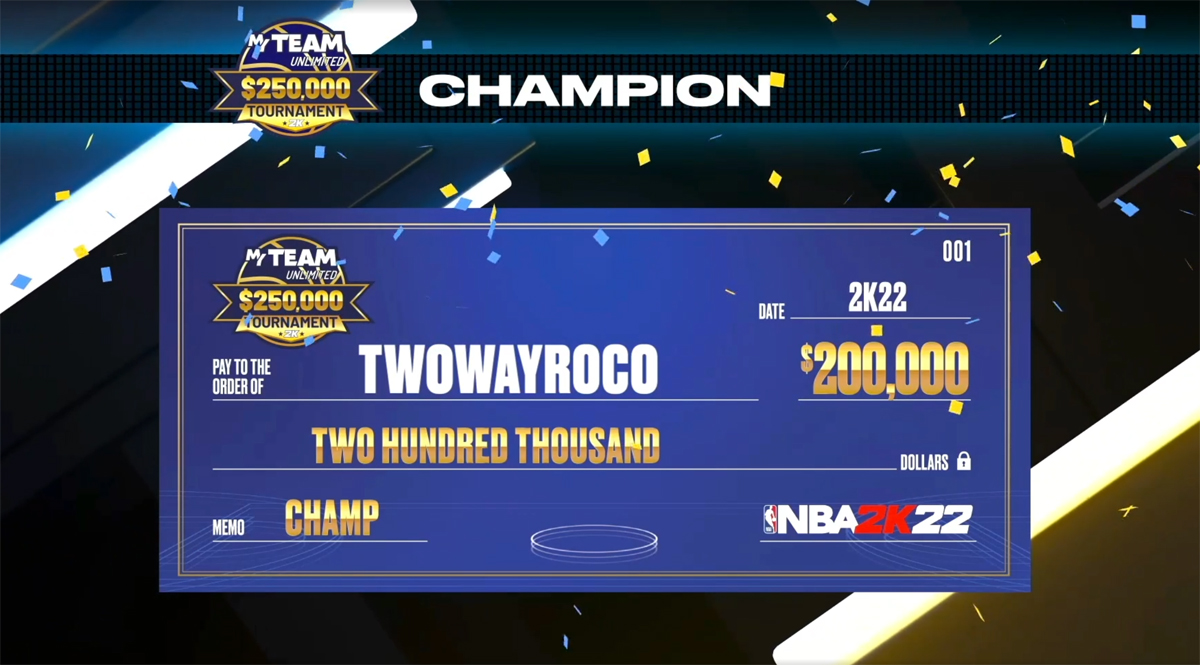 The 4th annual NBA 2K22 MyTEAM $250,000 Unlimited Tournament took place virtually today. After competitors made their way through four pre-qualifying GameDays and a 32 head-to-head single elimination qualifier tournament, the finals were set for last-gen and new-gen:
Xbox One / Play Station 4 Tournament Finals
Swaggypholmes vs. IBall_Splash
Xbox Series X/S / Play Station 5 Tournament Finals
DEFINlTIVELY vs. TwoWayRoco
The back-to-back champ @tydebo24 👏 pic.twitter.com/HlqbIUS6od

— NBA 2K22 MyTEAM (@NBA2K_MyTEAM) March 20, 2022

Both TwoWayRoco (who was also last year's tournament winner) and IBall_Splash (who also plays PG for Jazz Gaming in the NBA 2K League) each won in their respective tournaments, taking home $200,000 each and bragging rights. The runner-ups didn't leave empty handed, each taking home $50,000.
🗣 Talk your talk @SplashEdition pic.twitter.com/oVggGPW1a6

— NBA 2K22 MyTEAM (@NBA2K_MyTEAM) March 19, 2022
Hosted by NBA 2K League lead commentators Jamie "DirK" Diaz Ruiz and Scott Cole, along with NBA 2KTV host Alexis Morgan, you can watch the live-stream replay below or on the NBA 2K Twitch channel.
Full details and contest rules can be found here.



#esports #my-team #nba-2k22