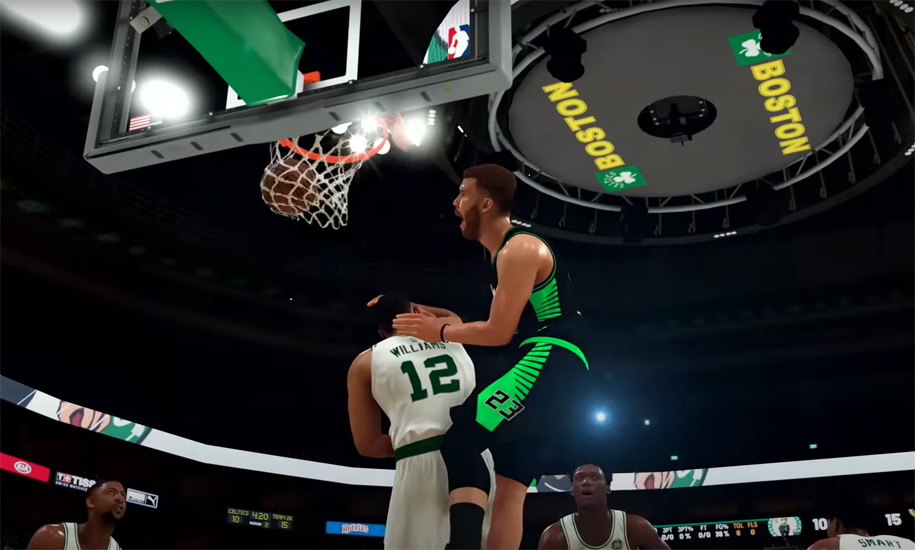 Today, 2K unveiled the details for Season 2 in NBA 2K21's MyTEAM mode. Progress will carry over into NBA 2K21 on Next-Gen consoles which come out in November.
From 2K: "Start your Season 2 journey with Free Agent Zion Williamson, play and compete across MyTEAM, through modes like Limited, Unlimited, Triple Threat, Domination and more. As you progress and complete Season Agendas, you will earn XP and rise to the highest level, earning the Grand Prize – Pink Diamond Blake Griffin."
Read below for the full details from 2K on MyTEAM Season 2:
Welcome to MyTEAM Season 2: Next is Now! I hope you're ready, because the upcoming six weeks will add a new way to play, more rewards, some of the most unique promos ever released, and, of course, the launch of NBA 2K21 on next-gen consoles.
So why Next is Now? With the '19-'20 NBA season coming to a close last weekend with the Lakers' 17th Championship, all 30 teams and their fans are looking ahead to the next in this unprecedented offseason. The league's young players are poised to take control and free agents are ready to sign. So we are using MyTEAM's second-ever Season to shine a spotlight on the NBA offseason and the young talent emerging in the NBA.
To lead the way as our Level 40 Grand Prize, is former #1 overall pick, Pink Diamond Blake Griffin! Anyone who has seen what the Season 1 Stephen Curry is capable of on the MyTEAM court will not want to second-guess pursuing Griffin, and trust me, both of these cards stay a level above the rest on next-gen as well!
So what can YOU expect in MyTEAM Season 2: Next is Now?
TRIPLE THREAT CHALLENGES
A new way to play 3v3 in MyTEAM has arrived, with Triple Threat Challenges! This new single player mode will add Triple Threat to the ever-evolving world of MyTEAM Challenges. Take on some of the best trios of all-time with players in your collection, meet new & multiple Win Conditions, adapt your trio to fit the Challenge Rules, and earn rewards to improve your lineup for every mode in MyTEAM!
To tip-off Season 2, you will find a Spotlight set of 10 Triple Threat Challenge games against almost all of the rewards for this Season. More on those players later!
You can expect Triple Threat Challenges to be the staple of our Spotlight Challenge releases, which will roll out on different days of the week in Season 2. If you complete all of these Challenges, you will earn a player making his MyTEAM debut, Diamond Rafer Alston! Who better than "Skip to My Lou" himself?
WIN THE WEEKEND
Season 1 let us all experience MyTEAM Limited for the first time. The lineups we encountered every weekend were creative to adapt to each new restriction and we cannot wait to see what you come up with as everyone's MyTEAM collections get deeper. With the grand seasonal prize of Limited requiring 6 Championship Rings, missing one is the definition of HOF Heart Crusher.
We have heard your feedback and in Season 2, the Lakers-inspired rings will be easier to get, showing up after just a few wins in Limited. You will not want to stop playing after getting your ring though, as we are adding more unique and great rewards to improve your lineup each weekend.
Accompanying Limited each weekend will be new "Win the Weekend" Agenda groups. This will be your chance to earn more XP every weekend in MyTEAM, in all modes. Expect to get your reps in each weekend, and doing so will earn you a free award pack from the latest release!
MORE AGENDAS, MORE REWARDS
In Season 1, we had the NBA postseason to inspire Moment Agendas, but it looks like we have at least a few months until they can make a return. Thankfully, the young players of the league made some impressive early-season stat lines that you can recreate in MyTEAM for that all-important XP!
You may have encountered a handful of Original Owner Agendas in Season 1, and they will be returning as bonus XP Agendas in Season 2's Agenda groups. Meaning if you aren't the Original Owner of a particular card, you are still very much in the running for that Level 40 Blake Griffin.
As mentioned in the MyTEAM unveiling blog, a new Season brings new rewards. Over 40 new reward cards will be added by the end of the Season, enough to run three full lineups! 12 new players for the Reward Market, three new Exchanges, and for the newly expanded Triple Threat Offline, 450 wins will see your collection pick up a Diamond Victor Oladipo. A new Pink Diamond reward will also be available for completing all of the Next is Now collections this Season, the now two-time champ, J.R. Smith!
Start your Next is Now journey with NBA 2K21 Next-Gen cover athlete Zion Williamson as this Season's Level 1 Free Agent card. Luka Doncic, Rui Hachimura, Trae Young, Shai Gilgeous-Alexander, and more will unlock as you level up. Like Season 1, each season level reward player is waiting to earn you even more XP.
No matter what mode you play in MyTEAM, there are rewards and XP waiting to be earned by you!
NEW SIGNATURE CHALLENGE
I sincerely hope you all enjoyed cover athlete Damian Lillard's Signature Challenge to launch NBA 2K21's MyTEAM. His epic game against the Thunder in the 2019 Playoffs was a moment to behold, and an incredible challenge to undertake in MyTEAM. Thank you Dame!
Up next is a player who I have been waiting to play with, making his NBA 2K21 MyTEAM debut with his own Signature Challenge, Vince Carter! After a career that played games in FOUR different decades, he was able to pick one game for MyTEAM fans to recreate.
On January 8th, 2006, Vince Carter hit a clutch game winning three over the Raptors, from a hand-off assist from Nets teammate Jason Kidd. It was his second game in the away locker room in Toronto, and needless to say, a very important moment in his career.
If you can complete Vince Carter's Signature Challenge by matching his 42 points and dropping a few threes on the Raptors, then you will earn 15 Tokens and a Hall of Fame slashing badge. Not bad for a single game! Here is the issue though, if Vince Carter is making his debut in NBA 2K21's MyTEAM, you'll need to get him somehow to play in his Signature Challenge…. Enter the locker code VINCE-CARTER-GAME-WINNER to pick up the card you will need to complete this challenge. Locker code expires Friday November 27, 07:59:59 AM PT.
NEXT IS NOW
Yes, the Next is Now in MyTEAM! Remember, if you are playing on PlayStation 4 or Xbox One, ALL of your MyTEAM progress, lineups, and collection will carry over to the next generation of consoles. So, if you were one of the players who earned Season 1's Level 40 Grand Prize of Stephen Curry, you already know what he will look like in your lineup in less than a month!
We cannot wait for you to experience MyTEAM on the next generation of consoles and being able to carry over ALL of your progress is an absolute game changer. The Next is literally NOW in MyTEAM. Earn these lineup-changing rewards and get ready for the next-gen release of NBA 2K21 in November!