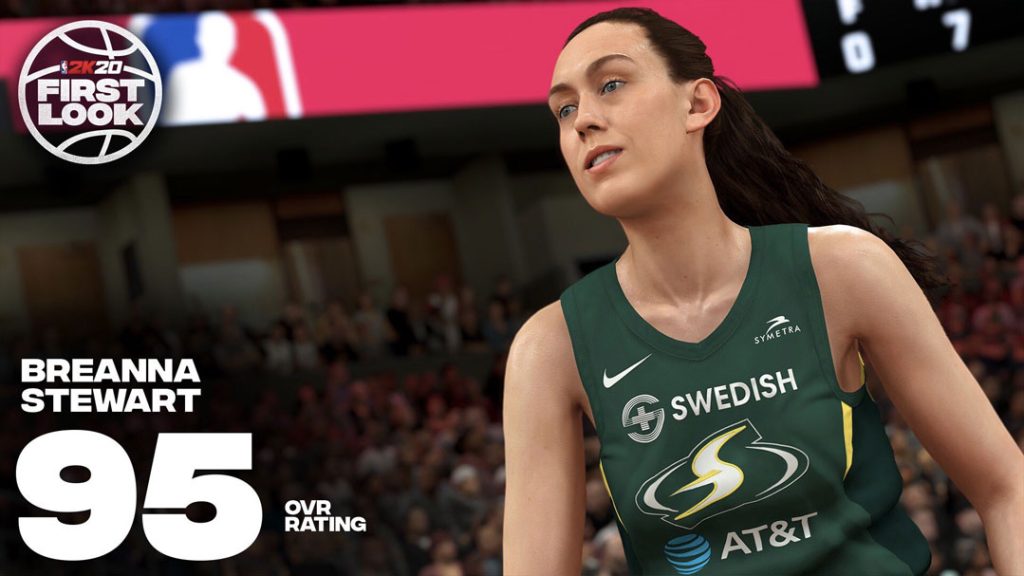 A new NBA 2K20 trailer and developer blog was released today and features WNBA gameplay, mo-cap footage, and interviews with WNBA stars Canace Parker and Breanna Stewart.
WNBA teams available in Play Now and Season modes
Gameplay animations, play styles and visuals built exclusively around the women's game.
At least 3,000 to 5000 animations were added to the mode.
Specific AI, playbooks, and defensive schemes for each WNBA team were created to
accurately portray their real-life styles.
& More
Check out the trailer and blog below!
Welcoming the WNBA to #NBA2K20 🙏 Get an inside look at gameplay and hear what it means to @Candace_Parker & @BreannaStewart to officially be in the game

WNBA Gameplay Blog ➡️ https://t.co/E0uJdMb27t pic.twitter.com/IyIOP71kaC

— NBA 2K20 (@NBA2K) August 8, 2019

NBA 2K20 WNBA Developer Blog:
Hi, Felicia Steenhouse here, long time NBA 2K producer, first time Dev Diary contributor. With me is Ann Sidenblad our Lead Character Artist, here to talk to you about the WNBA in NBA 2K20. I'm going to set the stage for you here, and then pass things over to Ann to get into the artsy stuff. So let's dive right in!
Let's talk about representation in sports. Sports are an important public stage. It's a space to lift up the best of us. Right now we find ourselves in an exciting time where women are getting to take their rightful place on that stage – front and center.
When my mom was young, she and her friends snuck out to the basketball courts to play without being caught by the disapproving nuns from the Catholic school she attended. Of course, there have been women playing sports forever and there always will be. Representation is about respecting the work and honoring the accomplishment with no caveats, exceptions, or qualifiers. In doing so we pave the way for something bigger. When the younger generation can see it, they can do it, and that makes space for them to do even more. And all of us sports fans get to benefit. We get to marvel at what they do next.
So when we found out we were getting the privilege to represent the WNBA in our game, we were thrilled and also felt the weight of the task at hand. While we have come a long way from having to sneak out to the basketball court, we still have a long way to go. We have an opportunity to represent these women to millions of 2K fans in all of their strength and swagger, from their hair to their shoes to their moves on the court, and we want to get it right.
And you might ask why we chose to focus our Dev Diary on Character art? When we watch the WNBA we see these athletes in all their unique style and swag. From how they wear their shorts to their tattoos, they are individuals defining how they want the world to view them. There aren't many public stages that allow this and it's something we wanted to respect. Second, Ann and her team put in a herculean effort to get this done right, and that is something worth showing off. With that let me pass this on to Ann…
Working on the characters for NBA 2K is a big task. The players, uniforms, shoes, accessories, hairstyles, and tattoos are always evolving, and we are constantly re-evaluating all aspects of our players in-game. We are so excited to be adding the WNBA to our game this year, and want to make sure we give it the attention to detail that the NBA 2K franchise is known for. So how do we start? Research… lots of research! We break the tasks down into manageable pieces, and attack them as directly as we can for each piece. Many of the big picture components, such as uniforms and shoes, are the same between NBA and WNBA, but that's not enough. We need to dig down to find the specifics of the WNBA, the teams, and each individual player!
The first thing we knew we needed was to capture the athletic look and feel of all the different types of players. We looked through reference images of everyone in the WNBA and identified key aspects that we wanted to target. We ensured that the WNBA models would have all the features and functionality of the NBA models, advancing our internal tools to ensure we captured each unique player's likeness.
WNBA hairstyles were another area that we needed to build from the ground up. A common misconception is that hairstyles come complete through the player scans, but that is not the case. For any new hairstyle, artists need to craft every strand, braid, and curl from scratch. So we spent a great deal of time cataloging all of the WNBA hairstyles and broke them down into classifications such as bun, ponytail, braids, and started to create a collection of hairstyles. So much individuality comes through a player's hair that we try to capture it as best we can in-game.
In creating the hairstyles, we immediately knew that we needed to add hair simulation into the mix for more realistic movement of the hair. Longer hairstyles will now flow behind the player as they run down the court, have bounce and follow through with every crossover and jump shot! This is an area we have been interested in exploring already, and so it was a great opportunity to push this tech forward in our game. It's always a challenge to add any sort of new simulation to the game as it is costly to run, and we are already squeezing every ounce we can out of performance! But, with an overhaul, our Tech Art and Engineering teams were able to refine the hair technology enough to run at the quality we expect! We're very excited with the direction this extra movement is heading, and are looking forward to pushing it even more in the future.
And then it comes down to the volume of faces. Adding the WNBA face scans to the game is a huge increase in player likenesses the art team has completed this year. For example, the WNBA has doubled our usual player face scan count for this year! Our team was committed to getting every scan we possibly could into the game.
After scanning the face, artists and animators work to capture the complete emotional range the players show on court. There are several steps the Character Team takes to digitally recreate the individual players as accurately as possible and get their files game-ready. We were able to complete all of this new art by improvements to our technical pipeline and an incredible effort from the NBA 2K Art Team! For 2K20, the Character Art Team has updated more NBA and WNBA faces than any year before! We can't wait to share our game with you this year, and are excited with how we can continue to push ourselves going forward.
Thanks Ann! At this point I'm sure you are saying to yourself "Wow, this looks gorgeous, but how's it going to play?" I want to be clear about this: we didn't just put WNBA players in our game. We added WOMEN'S BASKETBALL. If you are new to the W, buckle up, because you have a whole new world of basketball to explore in NBA 2K20. New players and new teams with new play styles and strengths to master, and weaknesses to exploit. True to the history of our franchise, we worked hard to make sure every player played like themselves and every team felt like the real-life counterpart.
It started with motion capture. We had the privilege of capturing some of the best WNBA talent to ever play the game: Candace Parker of the LA Sparks, Breanna Stewart of the Seattle Storm, Amaya Valdemoro Madariaga of the Houston Comets (a Spanish basketball legend), and Maite Cazorla from the Atlanta Dream. In addition to these ladies, we also brought in several former college athletes to help us build our library of animations specific to the new mode. Not only was it a delight mocapping such talented women, but we learned a lot working with all of them, and talking to them in person about what makes the WNBA unique.
In many ways, we felt like we were building a basketball game from the ground up. But even as a first year effort, we were able to build a huge content library. You can look forward to thousands of new animations from jump shots, layups, dribble moves, in-air and on ground collisions, motion, free throws, celebrations, and more.
We also spent a great deal of time developing specific AI, playbooks, and defensive schemes for each WNBA team to accurately portray their real-life styles. If you are already a tried-and-true WNBA fan you are going to experience the game you love in a brand new way. Cambage and Griner banging down low, Vandersloot and The Point Gawd herself Chelsea Gray slinging passes and everything in between. The grit, the hustle, the precision, the finesse. You'll find it all in NBA 2K20.
As a longtime fan, something I am having fun with and can't wait to share is having our greats back on the court! In NBA 2K20, we can have Diana, Stewie, Candace, Bird (and way too many more) on the hardwood. Can you build a championship line up around Candace Parker and the Ogwumike sisters? Can you take the Seattle Storm back to the Finals? Find out in WNBA Season mode where you can play as any or all of the 12 WNBA teams through the 2019 season.
Knowing the history of what it has taken to make NBA 2K the franchise it is today, we know this is just a small first step into the world of women's basketball with the WNBA. Getting to where we ultimately want to be is going to be a much longer journey. In true NBA 2K spirit, we intend to be trailblazers and we will push every year for the highest level of authenticity possible. Make Way!
The WNBA in NBA 2K20 is what's NEXT!