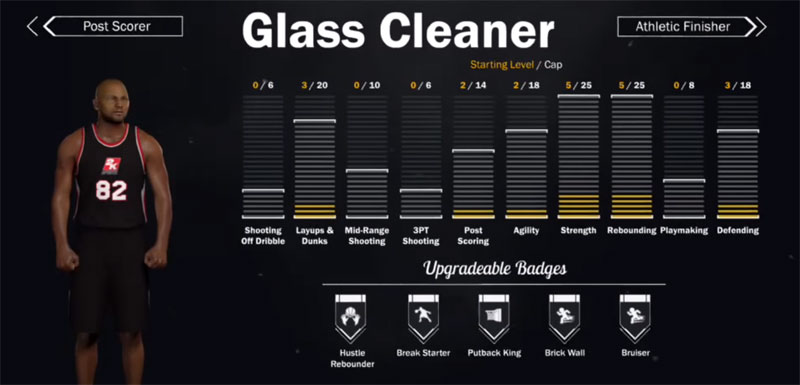 GLASS CLEANER ANALYSIS, GUIDE & BUILDS
INFO
Positions: Power Forward, Center
HOF Badges: Hustle Rebounder, Putback King, Bruiser, Brick Wall, Break Starter
Attribute Caps: (See MyPLAYER Builder)
Strengths: Rebounding, Strength (Great), Layups/Dunks, Defending (Good)
Weaknesses: 3 PT Shooting, Shooting Off Dribble, Playmaking, Mid-Range Shooting
NBA Comparisons: Andre Drummond, Moses Malone, Tristan Thompson.
TIPS & STRATEGY
Play Style:
The Glass Cleaner archetype is great at getting rebounds and out-muscling opponents in the paint. Utilize the default high rebounding and strength attribute caps along with HOF rebound badges to always be looking to be in position to rebound on the offensive and defensive glass. The Bruiser and Brick Wall badges will help overpower defenders setting screens.  This archetype is all about doing the dirty-work inside, but can also finish inside with decent default layups and dunks.