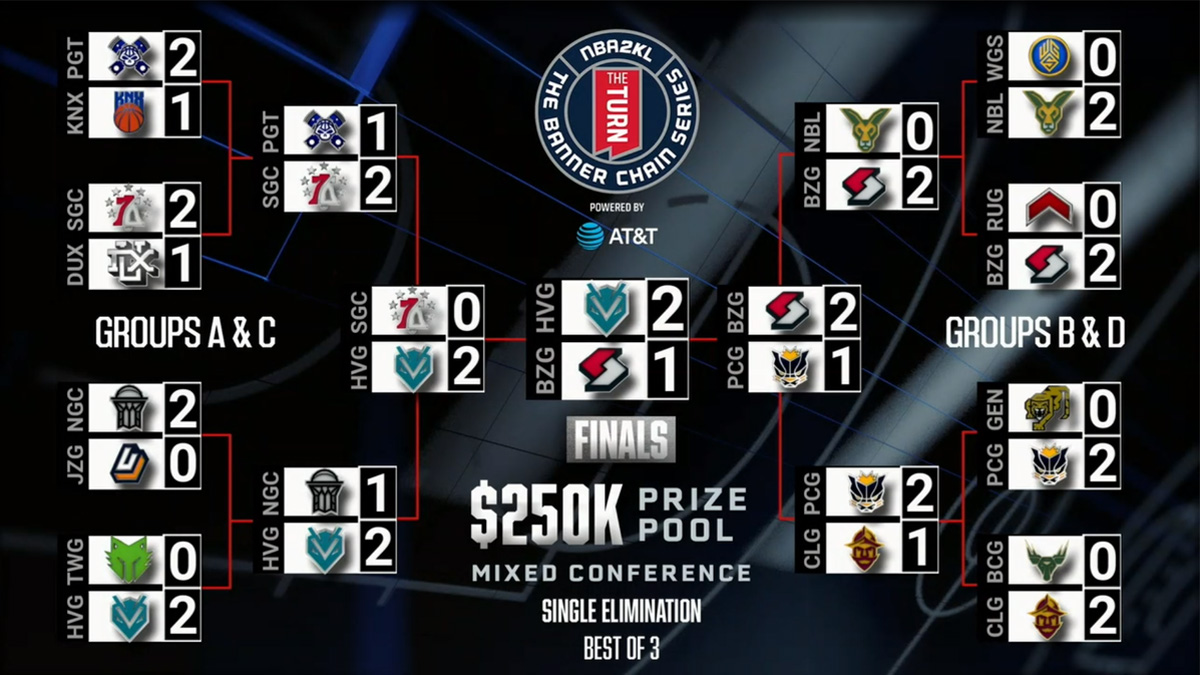 The Hornets Venom GT defeated Blazer5 Gaming 2-1 in a best of 3 series on Saturday to win THE TURN Tournament and $100,000. Hornets Venom GT became the NBA 2K League's first two-time winner of THE TURN tournament, having also won in 2021. Blazer5 won the first ever THE TURN Tournament in 2018.
THE TURN Finals Results & Stats
Game 1: Hornets Venom GT 77, Blazer5 Gaming 47
Game 2: Blazer5 Gaming 66, Hornets Venom GT 57
Game 3: Hornets Venom GT 68, Blazer5 Gaming 57
Antoine "antoinelove" Times, point guard for the Hornets Venom GT, won the tournament MVP, averaging 23.0 points and 8.7 assists in the Finals. Center Kingsley "Crown" Braggs added averages of 12.7 points, 12.0 rebounds and 3.7 assists.
THE TURN the second of three in-season, 5v5 tournaments (THE TIPOFF, THE TURN and THE TICKET) that are part of THE BANNER CHAIN SERIES powered by AT&T.
TURN. CHAMPIONS. x2.#HIVEVoltage | @NBA2KLeague pic.twitter.com/wiJi4DUd7j

— Hornets Venom GT (@HornetsVenomGT) July 23, 2023
NBA 2K League THE TURN Prize Pool
The teams competed for a total prize pool of $250,000.
1. $100,000 — Hornets Venom GT
2. $50,000 – Blazer5 Gaming
3-4. $25,000 each — Pacers Gaming, 76ers GC
5-8. $12,500 each — Pistons GT, NetsGC, NBL Oz Gaming, Cavs Legion GC