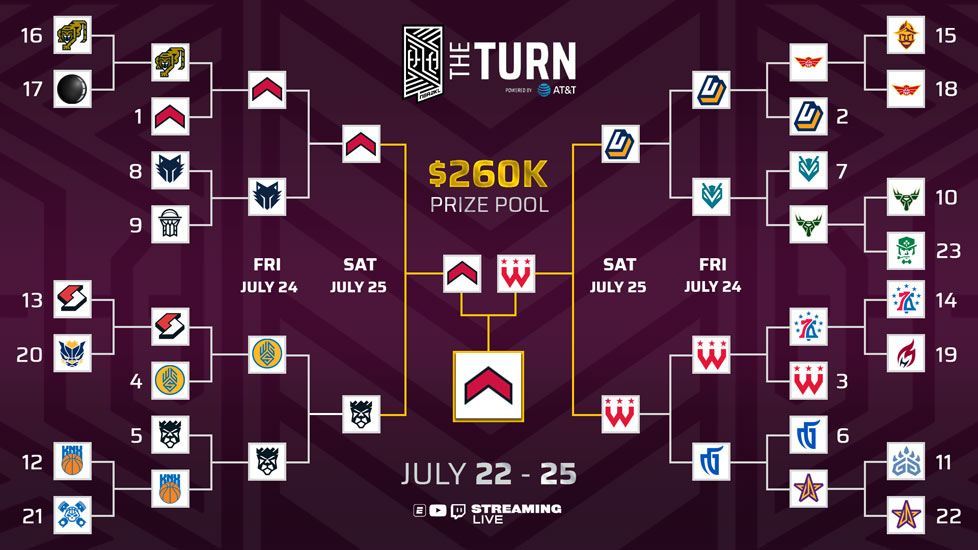 Raptors Uprising GC completed a 2-0 sweep of Wizards District Gaming on Saturday to win the NBA 2K League's 'The Turn' tournament. It was their second tournament victory this season, as they also won 'The Tip-Off' Tournament in June. The win also keeps their perfect season alive, who are 13-0 in the regular season. They will take home $117,000 of the $260,000 prize pool, with the Wizards DG earning $52,000.
Congrats to @RaptorsGC, the champs of THE TURN Powered by @ATT!! 🏆 pic.twitter.com/EoRL5ENgOg

— NBA2KLeague (@NBA2KLeague) July 25, 2020
Check out the Raptors best plays of the tourney:
"Kenny Got Work" was named the MVP, becoming the first multi-tournament MVP in NBA 2K League history, who also won the award in The Turn tournament this year. He averaged 28.8 points and 8.6 assists in nine tournament games.
NBA 2K League's The Turn Tournament Prize Pool
1. $117,000 — Raptors Uprising GC
2. $52,000 — Wizards District Gaming
3-4. $22,100 — Jazz Gaming, Kings Guard Gaming
5-8. $11,700 — Warriors Gaming Squad, T-Wolves Gaming, Hornets Venom GT, Mavs Gaming